When we upgraded our bathroom vanity to include double sinks, I used to have two different soap dispensers in there.  After a while, that didn't make sense to me – since I always had two different soap dispensers to fill and clean all the time!  I find it's more cost effective (and less wasteful) to just buy a big tub of liquid hand soap for refilling, rather than always buying new soap dispensers whenever they run out.  This is the story of my DIY custom soap dispenser!
– Note: This post contains affiliate links. See more information about affiliates here –
I don't think I've ever bought a "fancy" soap dispenser before, you know something made of glass and/or that matches the bathroom décor (like the one I mentioned here).  I've always just gotten the plastic dispensers (and still refilled them – talk about being extra frugal!).
Fast forward a few months after I switched to one soap dispenser, and my Grandpa gave me my Grandmaman's lipstick holder that he had in his bathroom (he was selling his house and most of his things) and wanted me to have it.  I also inherited/grabbed the two statues on our wedding shelf (and some other things that I have throughout my house).  But anyways, back to the bathroom!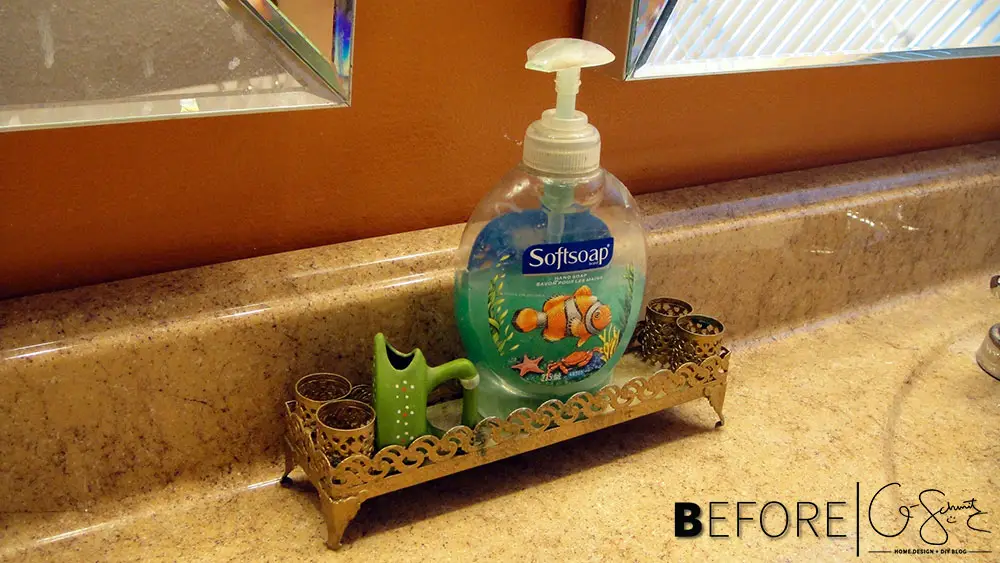 So I put my plastic soap dispenser in the center part of the lipstick holder, and it just happened to fit perfectly. All the while I would visit stores and check out their soap dispenser options to see if I could get something as narrow as the one I had… but fancier…
It's actually harder to find a skinny soap dispenser than you might thing!
Finally, I decided that I was going to make this plastic soap dispenser a bit prettier (goodbye fishies!) so I could at least pretend we were fancy people.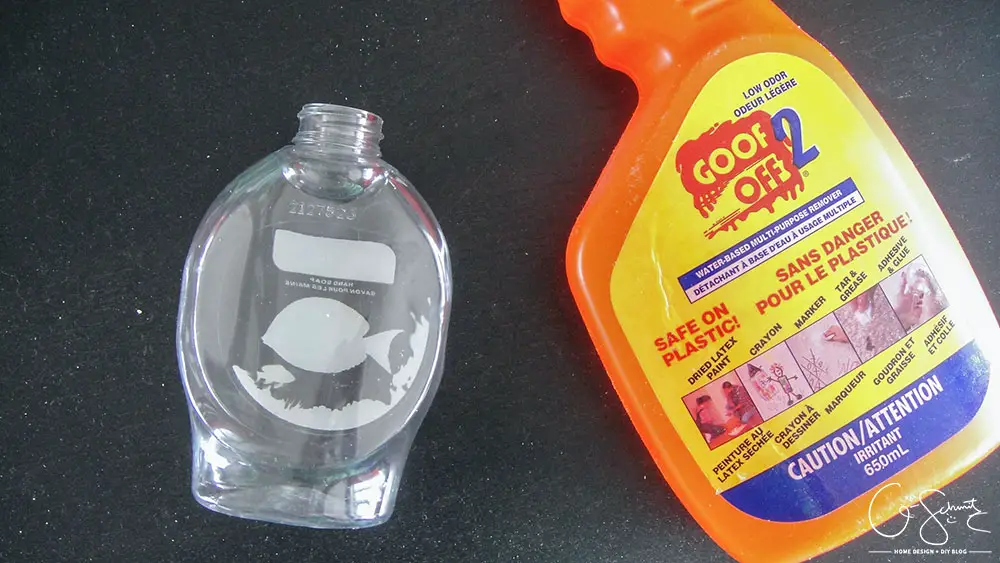 The first thing I did was clean out the bottle and remove one of the labels.  I used Goof-Off to take the sticky residue off, but if you wanted to do this without using a "chemical" I've had a lot of success with peanut butter (you slop the peanut butter on, then leave it for a few hours or overnight and wipe it off).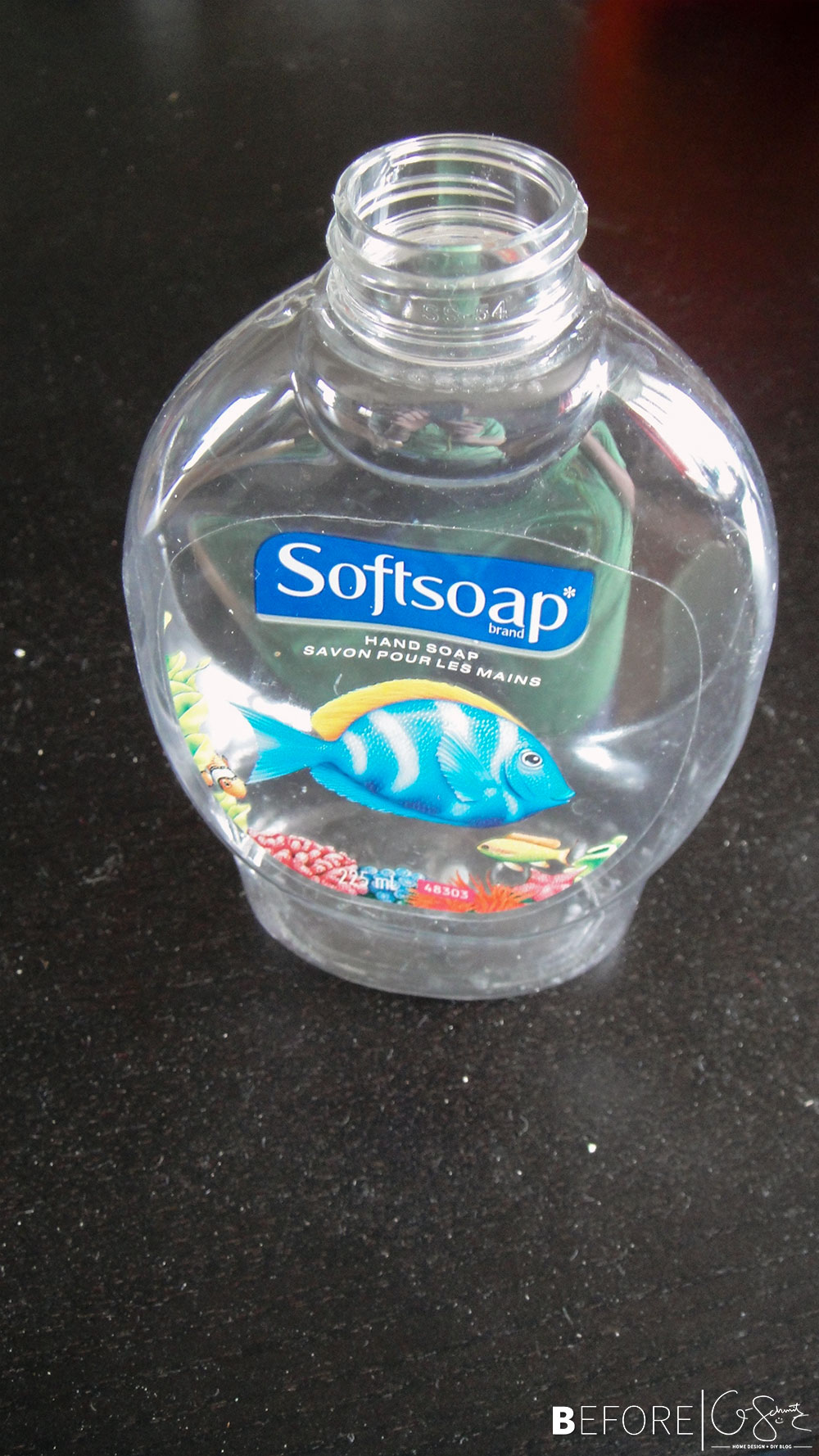 I kept one of the labels on because I was planning on removing it after I had given it a good coat of spray paint (to have a clear window and see how much soap I had left!).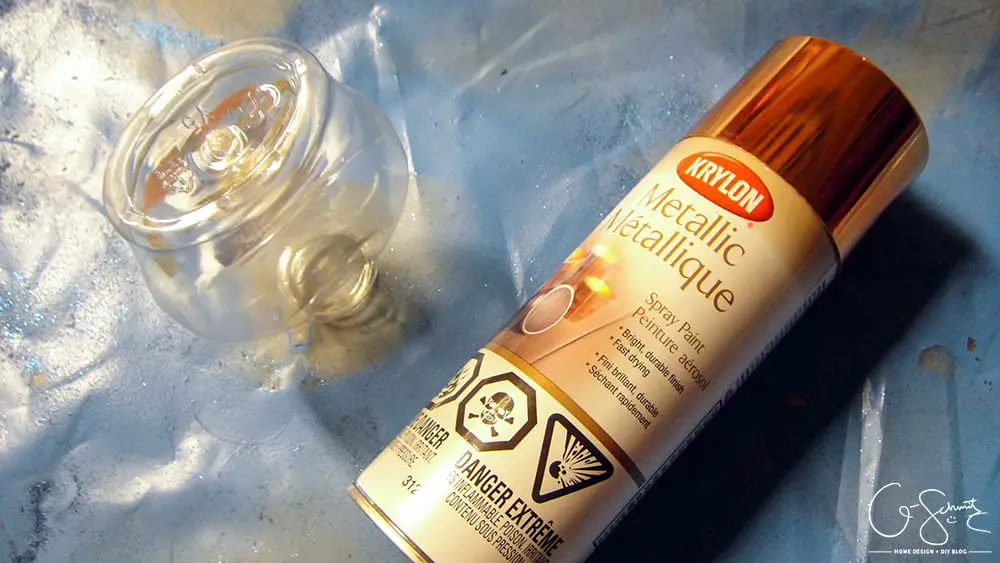 I use this copper spray paint a lot!  (For example: on the Christmas balls I painted and the Halloween lanterns too).  Fun Fact: this was actually the reason why I bought this spray paint in the first place – to paint my DIY custom soap dispenser :)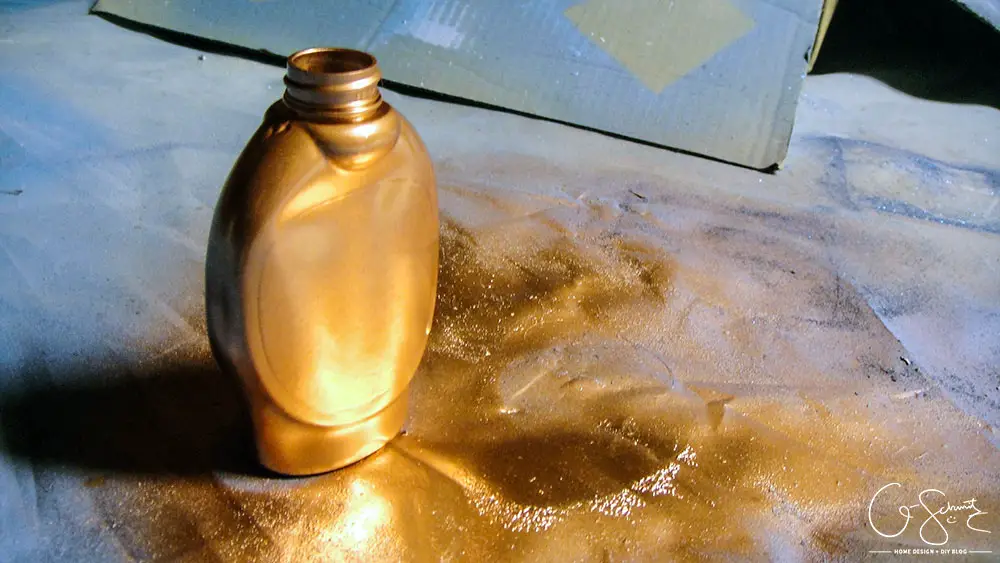 After giving it a good coating in my spray paint zone (aka the crawlspace) I let it dry for a bit and did any touch-ups if necessary (it looks a lot more gold in this photo than copper).
Here we go – this colour is more accurate!  Once dry, I took a utility/X-acto knife and carefully traced along the seam left from the label.
I didn't want to cut through the bottle of course (that would have been a disaster!); I just wanted to score along the tape to separate the paint so it wouldn't peel when I removed the label.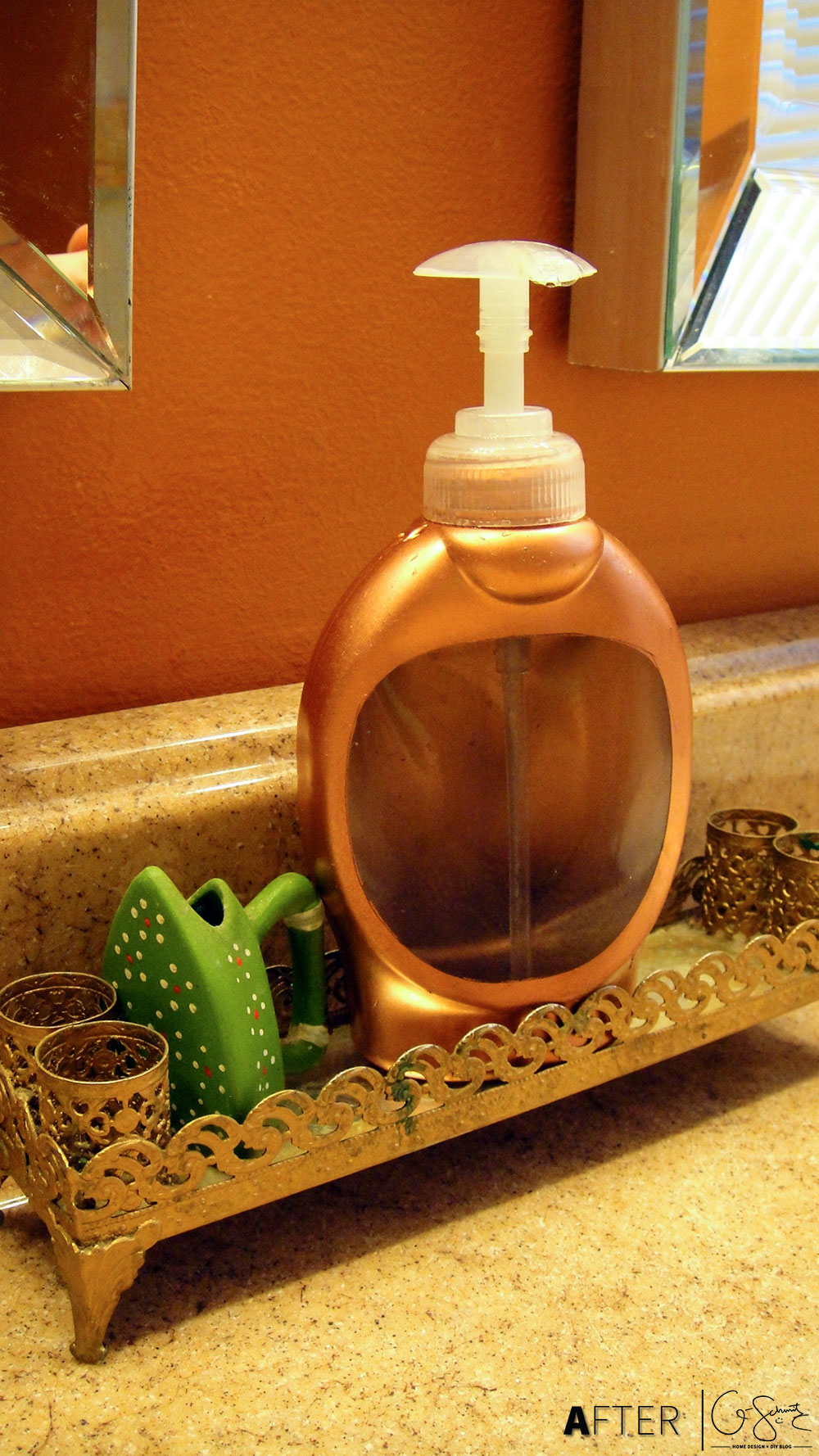 Another quick spritz and wiping of the Goof Off and my DIY custom soap dispenser was ready to be filled!  We normally use clear soap around here, but I've known to go "crazy" and add some coloured soap every now and then!  At one point I also had stuck a letter "S" sticker on the front (you know, to tell guests it was soap in case they were confused) but it eventually fell off… hopefully people have figured out it was soap by now?
And, in case you want a more accurate picture of how our little bathroom display looks, here she is!  I keep my floss in the center and used the lipstick holders for tube shaped things like lipgloss, After Bite, etc.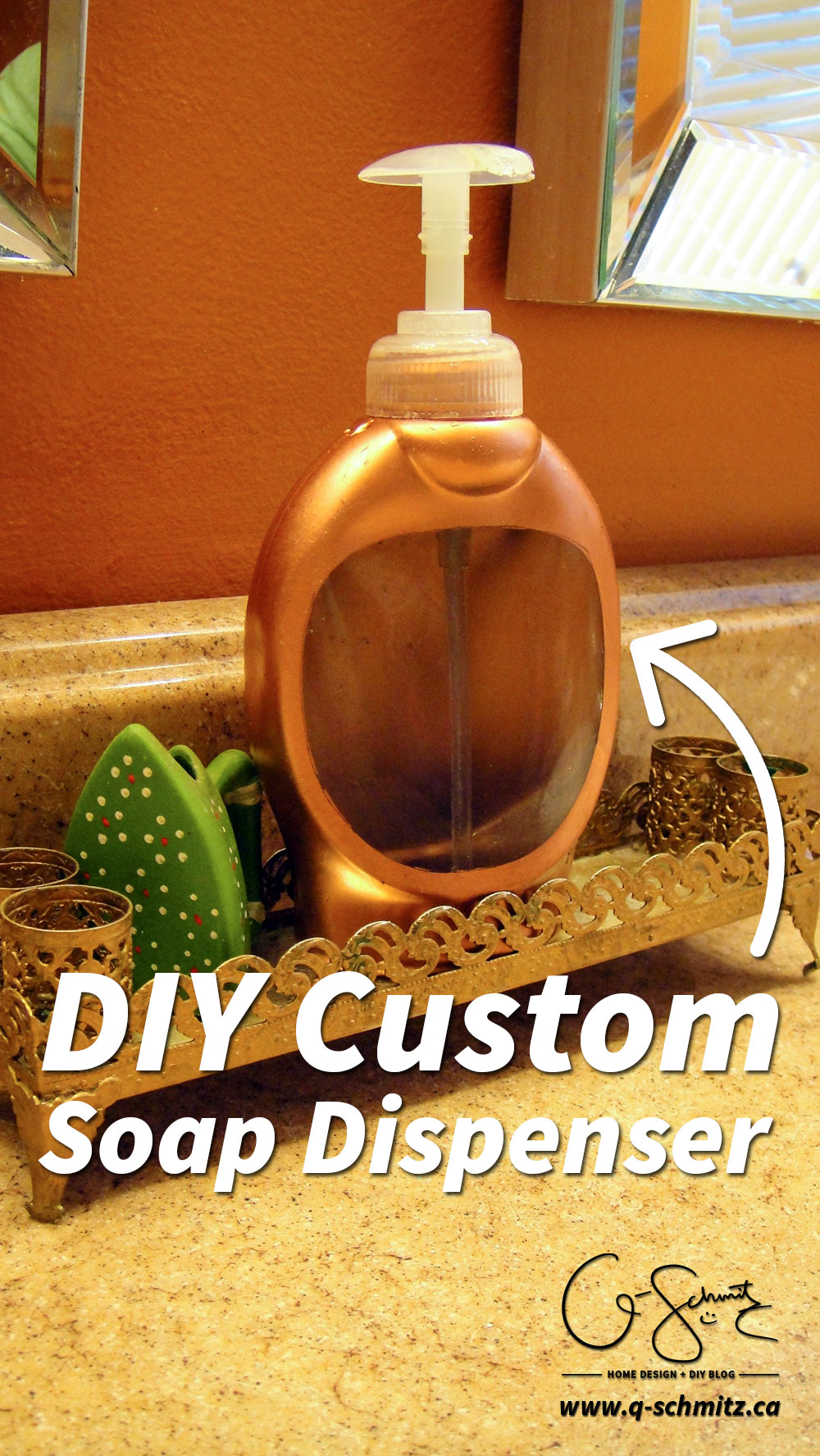 We've used this DIY custom soap dispenser for well over a year now, and the paint hasn't really worn off.  There are some water spots/stains, but for some odd reason it makes it look like real aged copper rather than plastic (or maybe I just tell myself that?).  It was only meant to be a temporary solution until I found a replacement, but it does the job and I can't see myself buying a new soap dispenser anytime soon.
What kind of soap dispensers do you have in your house?  Fancy or thrifty?  Liquid or bar?  Let me know!