I have loved bold black and white stripes for as long as I can remember.  My teenage bedroom was even painted with black and white stripes!  Even now, years later, I still cannot resist black and white stripe decor!  So, I figured I'd round up a bunch of different home decor products that fit this theme.  So let's browse together :)
– Note: This post contains affiliate links. See more information about affiliates here –
Would I do a whole room in black and white stripe everything?  Maybe not, but maybe yes?  I don't think there's anything I wouldn't be open to, décor-wise!  In case you're not as wild as me, I'm sure adding one or two of these items would still work :)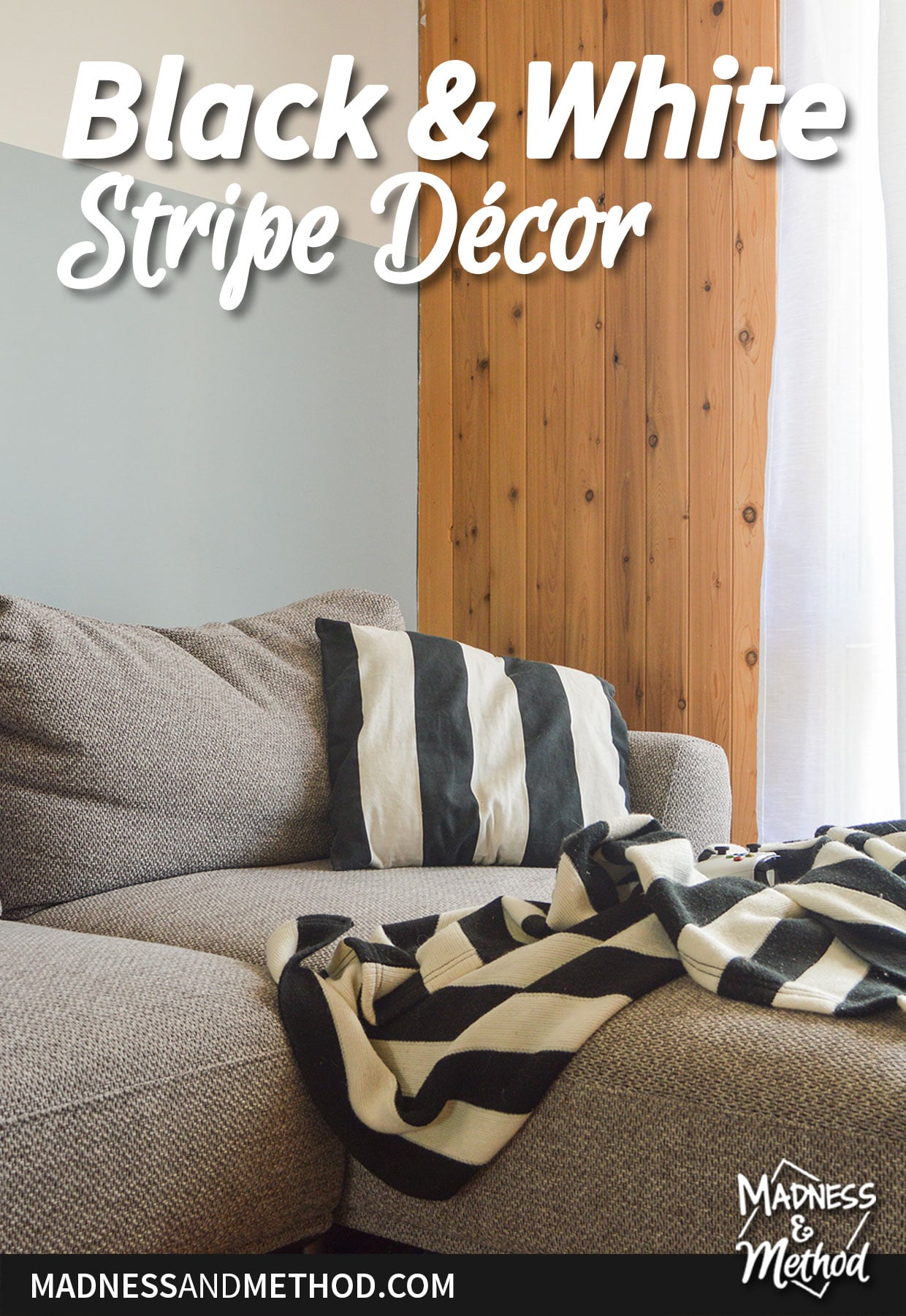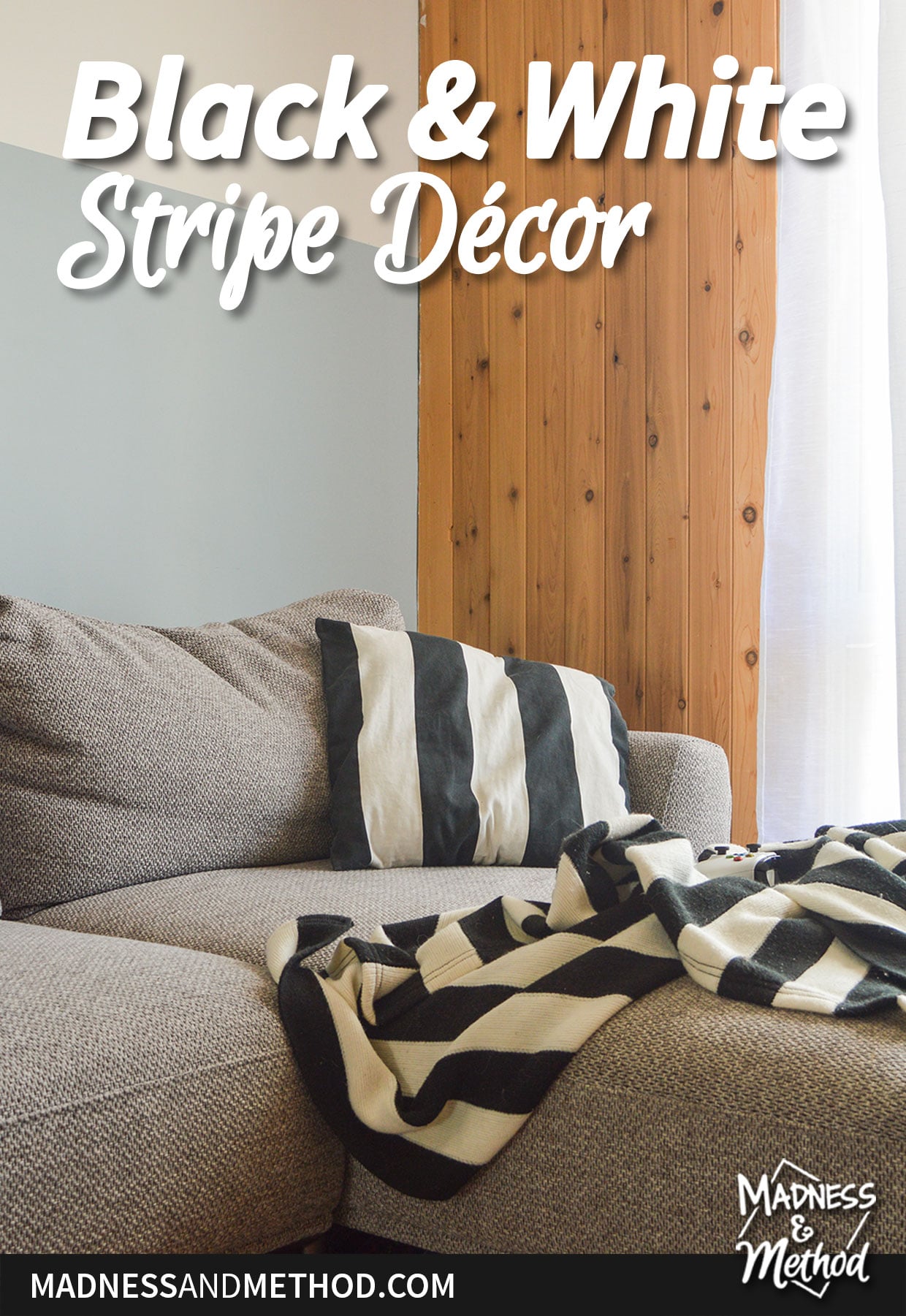 This post was originally written August 22, 2015 and titled "Bold Stripes and Black: Room Décor Ideas". It has been updated with new information and links, and republished February 25, 2022.
In my original post, I was inspired by a black and white striped shirt the Husband was wearing.  I envisioned three different spaces with black and white striped walls, and the decor that would go with them.
While virtually anything goes with black and white, I came up with three colour combos: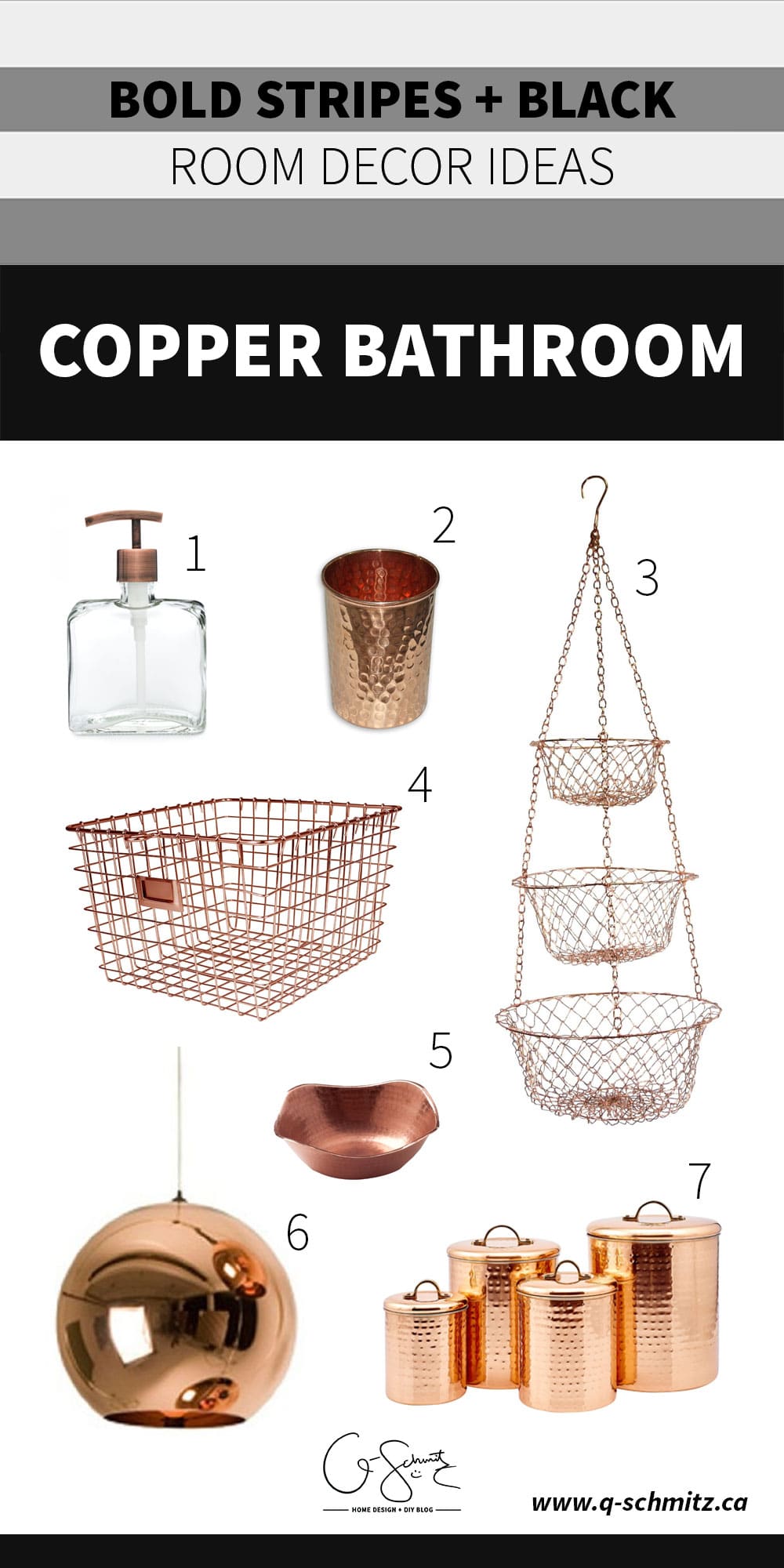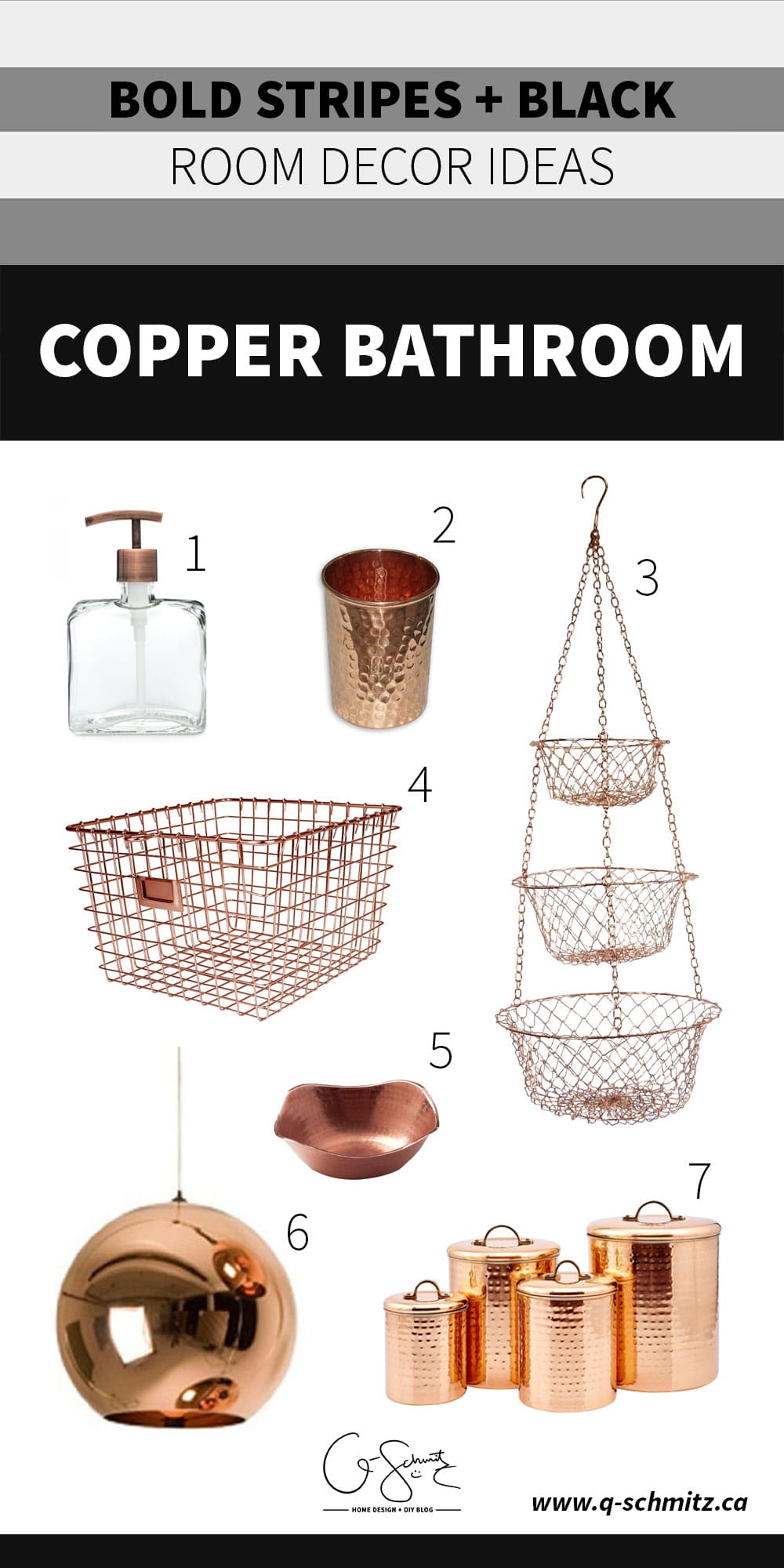 I'm working on each of the newer versions of these posts.  But figured I'd include the original ones here as a reminder until then.
>> CHECK OUT THE UPDATED COPPER POST HERE <<

>> CHECK OUT THE UPDATED RAINBOW POST HERE <<
Aqua Office Links:
1. Similar Utility Cart | 2. Lamp | 3. Mugs | 4. Pencil Holder | 5. Garbage Dispenser | 6. Chair (similar) | 7. Curtains
Now imagine that those rooms fit into these spaces:
Black & White Stripe Room Inspiration
How fun are those walls!?  I could totally see myself recreating any of those options! 
Either way, today I'm going to focus on black and white striped decor.  No need to paint anything, simply add one (or two) of these items to your home for instant fun!
Black & White Stripe Decor
1. Armchair | 2. Bowl | 3. Planter | 4. Wallpaper | 5. Similar Pouf | 6. Duvet Cover | 7. Headboard | 8. Fabric | 9. Knobs | 10. Outdoor Sofa | 11. Outdoor Rug | 12. Bins | 13. Throw Blanket | 14. Roman Shades | Pillows 15: a) Side Stripe  b) Lumbar  c) Wide Stripe
I have #11 in a 2×3 size I think? And, while we do own a few white and black striped pillows (and blankets!), I got them at Ikea and I don't see them anymore…
Other Black & White Stripe Projects/Posts
I hope you enjoyed all of this black and white stripe decor!  I'll have a rainbow decor post soon, and eventually a copper and teal one too?  Putting these moodboards together is a lot of fun :) 
Now tell me, do you like black and white stripes?  And/or, do you see how they can work in a multitude of spaces?  
Like I said the first time I wrote this, "I've painted lots of walls in colours that other people might not always consider, and I don't think I'll be slowing down anytime soon."
Thanks for reading!