I've been thinking of stripes recently.  And not just any stripes, but large bold stripes of course.  Not sure if it was the return visit to my childhood bedroom, but I keep thinking of ways to incorporate stripes into my life.  We don't have any plans to paint any rooms in the house anytime soon, so for now, I can just dream and look at possible accessories right?
– Note: This post contains affiliate links. See more information about affiliates here –
Actually, I have to admit that the Husband's ridiculous outfit choice when we were removing the sod got me to think of this room combination.  And yes, he's probably thrilled that I am using the picture of his bum again…
Imagine: the bottom half of the room painted a nice black, then the top half with alternating grey and white stripes.  While I do love black and white stripes together, as evidenced by my teenage room; I think that they would be a bit strong on the top and might outweigh the grey.
Now, you may be thinking of these gorgeous grey and white bold stripes with a nice black base; and wonder what types of rooms could you honestly paint this way, right?  Moreover, what accessories could you bring in to help liven up the space and bring in some colour.  While virtually anything goes with black, white and grey – today I'll show you my three favourite combos, in three completely different spaces as well!
Let me know which you prefer :)
When pulling together lists of items you need to decorate any room in your house, it's best to be mindful that each item has a purpose (so you're not sitting in a room filled with pretty, un-useful things that don't really go together). And yes, I did say un-useful instead of useless… because I think things that are un-useful ARE NOT the same as things that are useless. Know what I mean?
Copper Bathroom
Full bathrooms require a bit more items than a half-bath (aka powder room); but they are usually larger so you have more space to place these items. I tried to come up with a list that incorporated elements that could potentially belong in either a half or full bath. Let's look at some black and white bathrooms to get a sense of how they can work:
Pin: Striped Bathroom    Pin: Black Bathrooms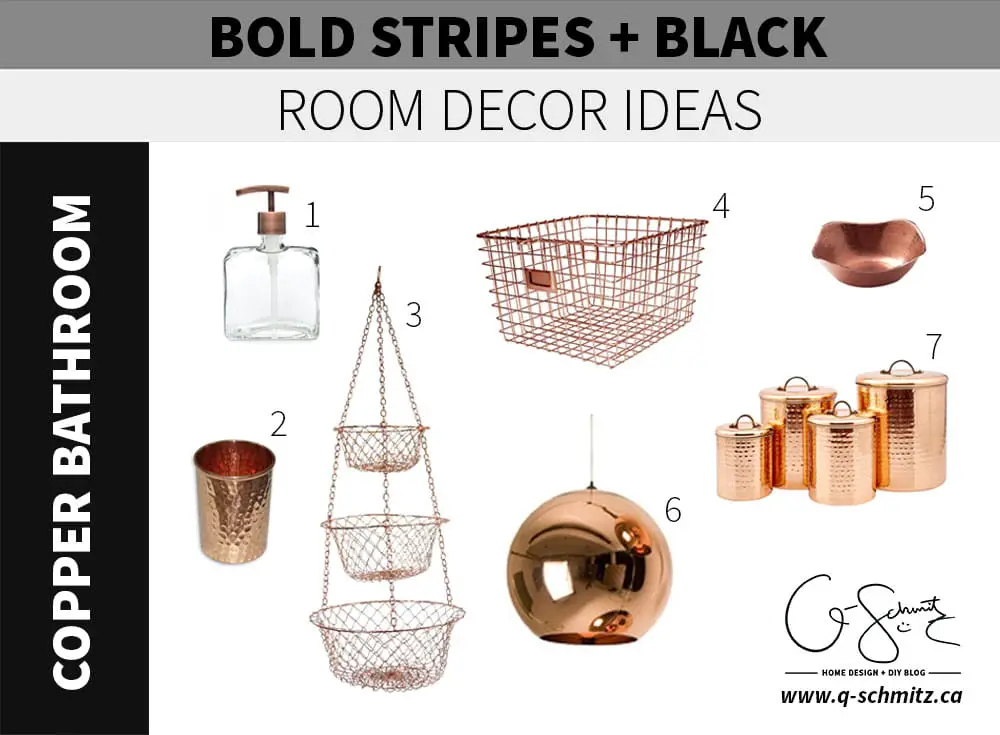 1. Soap Dispenser: (Link updated to a similar option, because the original one is no longer online).  Every bathroom needs a soap dispenser right, and I always believe it's more economical (and better for the environment) to buy a dispenser and fill it up with bulk soap. Because this one is clear, you can even get coloured soap to add another pop of colour to the bathroom! Hey… you could also match your towels to your soap if you wanted to go crazy.
2. Tumbler (Similar Set of 2): A nice hammered tumbler is another great copper accent for the bathroom. I would use mine to hold toothbrushes, and you could always get two (the other would be used for filling with water and rinsing).
3. Hanging Baskets: These hanging baskets are actually for fruit/veggies in your kitchen, but just imagine it hanging in your bathroom! You could maybe put some plants (provided they aren't too heavy) OR what I would do – fill each basket with different sized rolled towels! I'm actually in love with this copper hanger and might actually have to get this and bring it into our house!
4. Basket: This is another item I might need to purchase for our house, although I'm not sure where I would use it at the moment. For this bathroom décor idea, I was thinking this basket could be used to hold rolls of toilet paper near the toilet. Don't you hate when you're visiting someone and you finish the roll of TP and can't find another nearby? I don't like having to rummage through people's cupboards, so I always try and have some handy and visible. You could always throw towels in these baskets, bathroom items… you name it!
5. Bowl: This bowl would be a nice place to store your belongings while you're in the shower (think watches or jewelry) or could also be a handy spot to throw your junk at the end of the day (ie: all the stuff in your pockets).
6. Hanging Light (similar): I could picture a row of these hanging over a kitchen island, so why not hang some over the sinks in your bathroom, or in the center of?  Not sure what type of light they cast… but I love the shape!
7. Canisters: Another supposed to be kitchen item you can repurpose in the bathroom. You can fill these with cosmetics/toiletries – think cotton balls, Q-Tips, etc.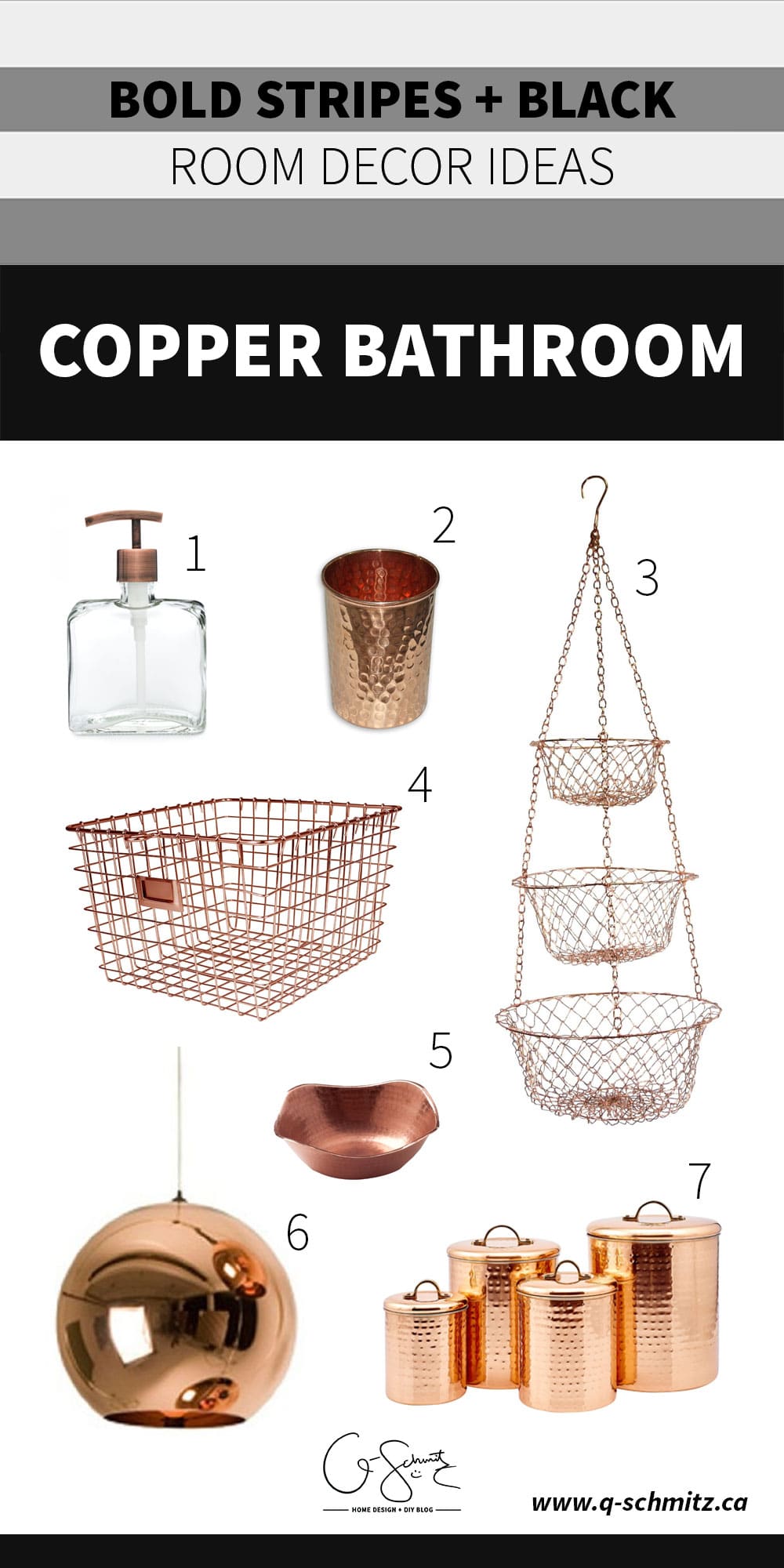 Aqua Office
Are you still thinking about those grey and white bold stripes and black walls? In an office, stripes seem to be both sophisticated and fun, playful and serious – so before we dive into the accessories I chose for an aqua office, let's look at some examples of how stripes can work in this space:
Pin: Black White Accent Wall    Pin: Storage Cart    Pin: Grey Stripes    Pin: Console Table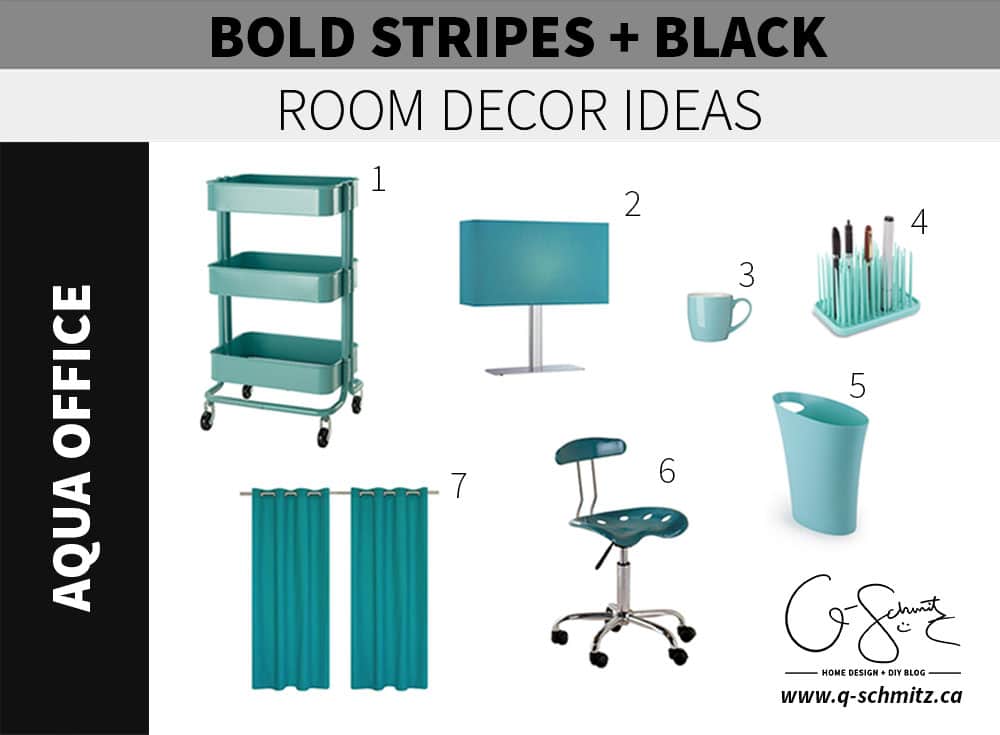 1. Rolling Cart: I love this cart! I know I have this cart in the office décor, but it could be useful in any room of the house! I've seen similar carts in the Home Decorators Collection catalogue, but this version is from Ikea (also, if you're in the States it's much cheaper compared to the Canadian version).
2. Lamp (no longer available – another teal option here): Desk lamps are essential at night or early in the morning when the sun is gone (or even if you have your curtains closed and you still need to illuminate an area). Sometimes I even find myself working with the overhead light on, and my lamp on – so even if you have a room light, it might not be adequate all the time.
3. Mugs: Whether you use your office to meet clients and customers, or just as a space to calculate expenses for your home, sooner or later everyone will get a little thirsty.
4. Pencil Holder: What a funky pencil holder I found! It seems like it could accommodate a variety of different pencils, pens, papers, etc. and still looks nice on your desk. Besides, I think it you ever dropped something (like a pen cap) it would be easier to remove than if you have a cup and had to take everything out dump it.
5. Garbage Dispenser: I like to have a recycling bin next to my desk, because I feel like in an office you go through more papers – but you can use your aqua dispenser however you like!
6. Chair (similar): If you're working at a standard height desk, you will need a chair. I think it's always more convenient to have one that rolls, and slides up and down so you can always adjust depending on your mood.
7. Curtains: You know when you're trying to work on your computer and the sun is at the perfect height to shine through the windows and create an awful glare on your screen? These curtains are a great solution, and while I haven't actually seen these in person, they look bulky enough to block the light out.
Muted Rainbow Bedroom
I knew I wanted to show some accessories for a grey/black/white bedroom – but I honestly had some difficulties choosing the colour I wanted to highlight for this room. I even thought about going neon green, but thought that there would be too many vivid contrasts for one room. In the end, I thought, why not have all the colours and do a rainbow room! But of course, to downplay the saturation, I went with "muted rainbow" accessories, in what could be the perfect bedroom for a child. Heck, you could even go wild and paint the black bottom section of the walls using chalkboard paint and let them draw to their hearts content! (Using multi-coloured chalk of course).
There were actually a few examples of bedrooms that used a similar striped paint idea – so check them out:
Pin: Striped Teen Room    Pin: Black Nurseries    Pin: Striped Nursery with Orange    Pin: Striped Nursery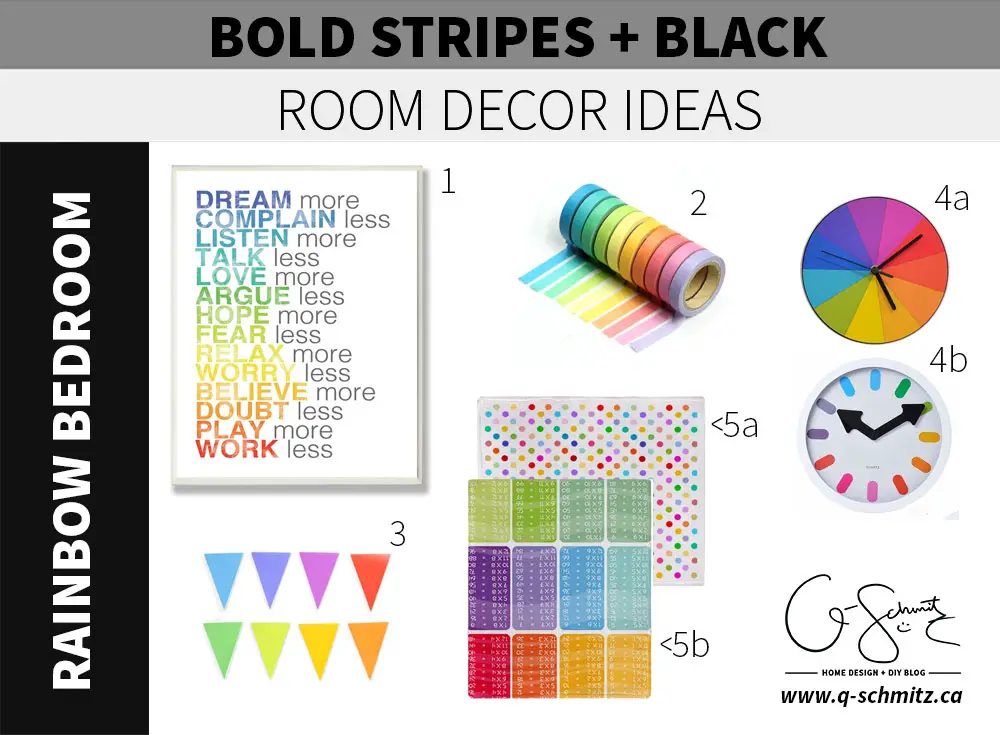 1. Inspiration Plaque: What great words of wisdom for a bedroom, and I'm even thinking this could be good for an office too!
2. Washi Tape: If you thought having grey and white stripes weren't enough, think about adding a small row of rainbow tape in between where the colours meet! This is such a cute idea, and I really need to figure out a reason why I would need to buy this tape… because I love me some rainbows!
3. Triangle Stickies: These are actually sticky notes that you can use like the normal square variety to remind yourself of to-do lists and what not. For a child's bedroom, they can be used as a place to write chores, goals, or even just use them as décor for playing!
4. Clocks: Okay, I could really decide which one I liked better, so that's why there are two here. Actually, I think Clock 4A works much better with the muted rainbow theme, because Clock 4B is much brighter (and didn't really match the other items in the room). However, it was much cheaper… so…
5. Blankets: I actually like both of these blankets, and they could both easily fit into the muted rainbow bedroom décor. Blanket 5A has cute polka dots, and I like better design-wise. But Blanket 5B has math equations on it… so it could definitely be useful in a child's room to help them learn multiplication.  Update! Both original blankets no longer sold, here are some other options: rainbow chevron blanket, rainbow ombré, rainbow amplifier or this rainbow blanket option.
---
This was a fun post to write, and a bit different from what I have done before. But I honestly couldn't get those stripes out of my head since reminiscing in my old bedroom,  and then seeing the Husband's outfit within the same month, so I figured I had to share.
Let me know what you think, and if you can see yourself living in any of these rooms.  Actually, feel free to tell me which board you liked the most (that would be fun!) by commenting here or on social media.  Just a reminder, here they are again: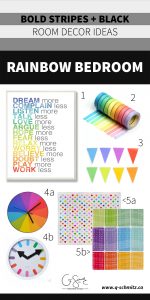 Now do you understand how bold stripes could be used in any room and still look stylish, and not crazy!?  I've always LOVED bold paint colours, and usually tend to choose furniture that is black or white so they can go with almost any wall colour.  And trust me, I've painted lots of walls in colours that other people might not always consider, and I don't think I'll be slowing down anytime soon.
Thanks for reading!