I have a simple project to share with you today that I thought of making a couple of weeks ago.  It's pretty quick and easy (seriously, anyone can do it!) but you will have some additional time to wait for paint to dry.  Check out the simple process of painting an Ikea rug, which I did so it would match my new black and white striped décor!
– Note: This post contains affiliate links. See more information about affiliates here –
First, I should mention that Sharon at Pretty Practical Home did a great makeover of her mudroom.  The reason I am saying this is because she bought some new black and white striped dog bowls and I HAD TO HAVE THEM.  Well, actually I wanted them… and I'm pretty smart smart enough to know the difference between wanting and needing something.
Actually, I thought the black and white striped bowls would clash with the multi-coloured striped rug…
Tootsie had red dog bowls that matched our previous red living room accessories (aka the pillowcases, blanket, blinds, etc).  We had the bowls next to the fridge on top of an Ikea rug and everything was fine and dandy.  Until of course Tootsie ripped up the pillowcases and blankets beyond repair and I had to get new ones in December.  So now our colourful striped rug didn't really match the black and white stripe décor I was going for.  (I mean, it didn't match 100% from the starting, but it did the job and I had it anyways because it was originally supposed to go in the bathroom).
Operation: Painting an Ikea Rug was then thought up!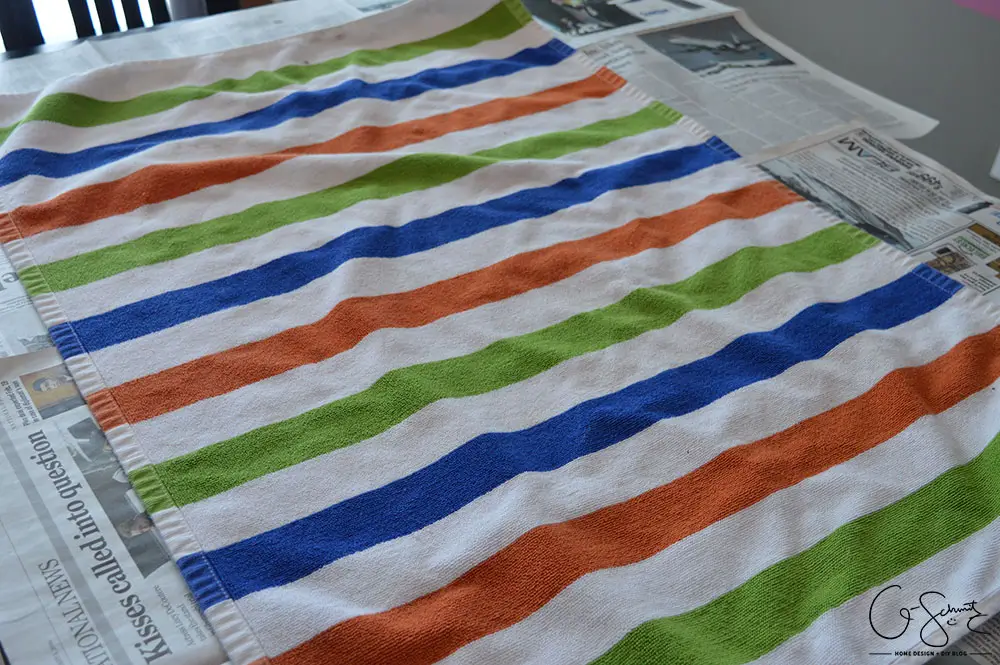 First thing I did was wash the rug (twice in a row actually, but I guess there are some stains that won't come out).  I do wash it periodically and then just hang it to dry, but this time I wanted it super clean.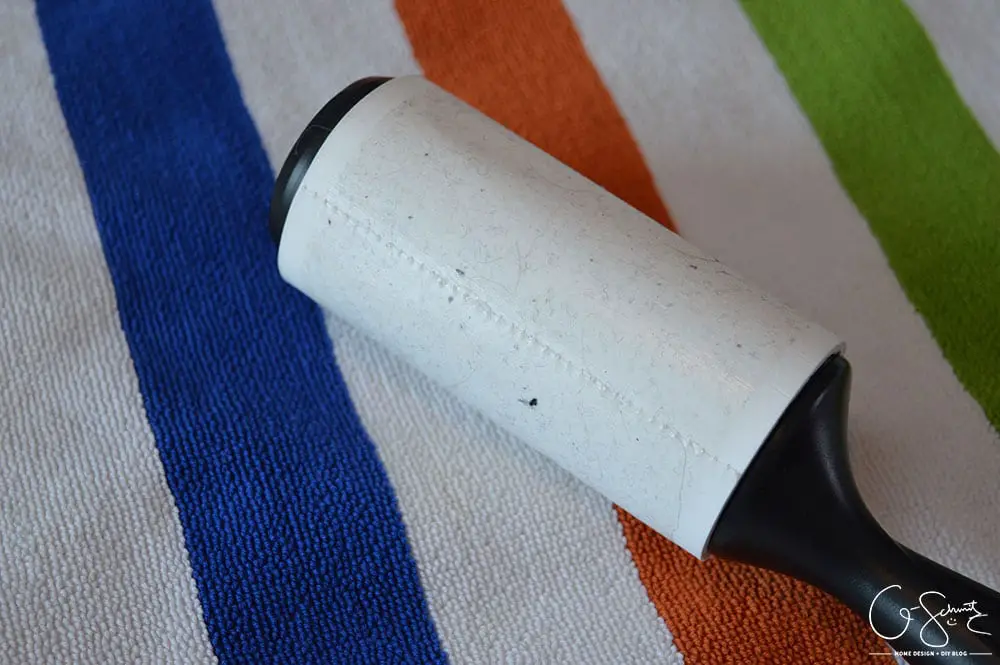 I then did a quick swipe or two with a lint roller to get any fuzz/hair off.  Seriously, if you have a dog that sheds you need to invest in some of these.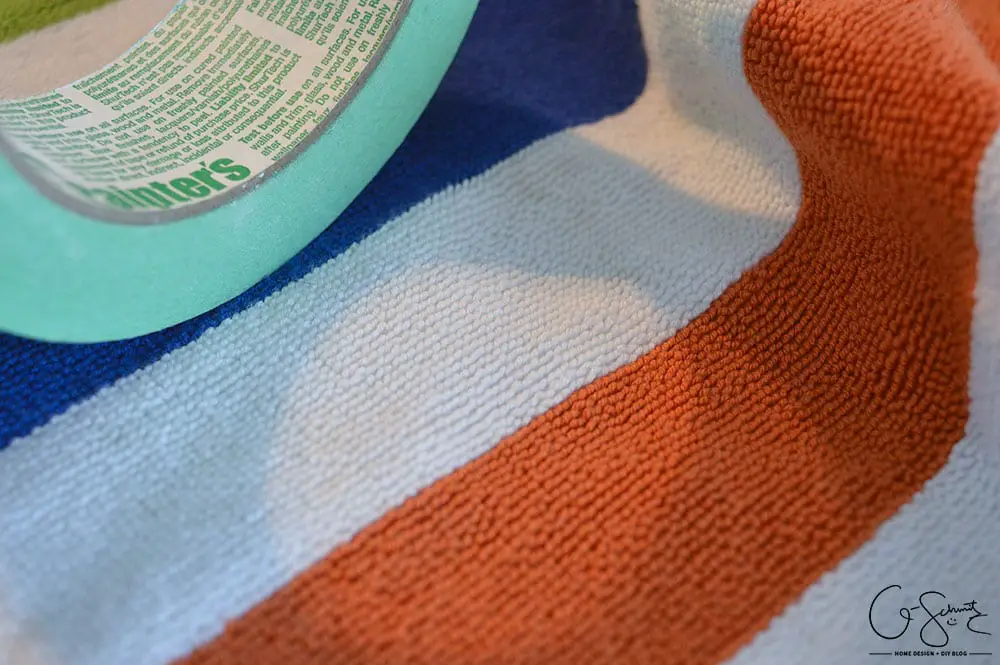 Because the rug was already striped, I decided to use the same lines as my guide for taping.  My painters tape was just a bit narrower than the coloured lines, but at least I wouldn't have any colours popping through.  If you're starting with a blank rug, than you can have your stripes/design however you want!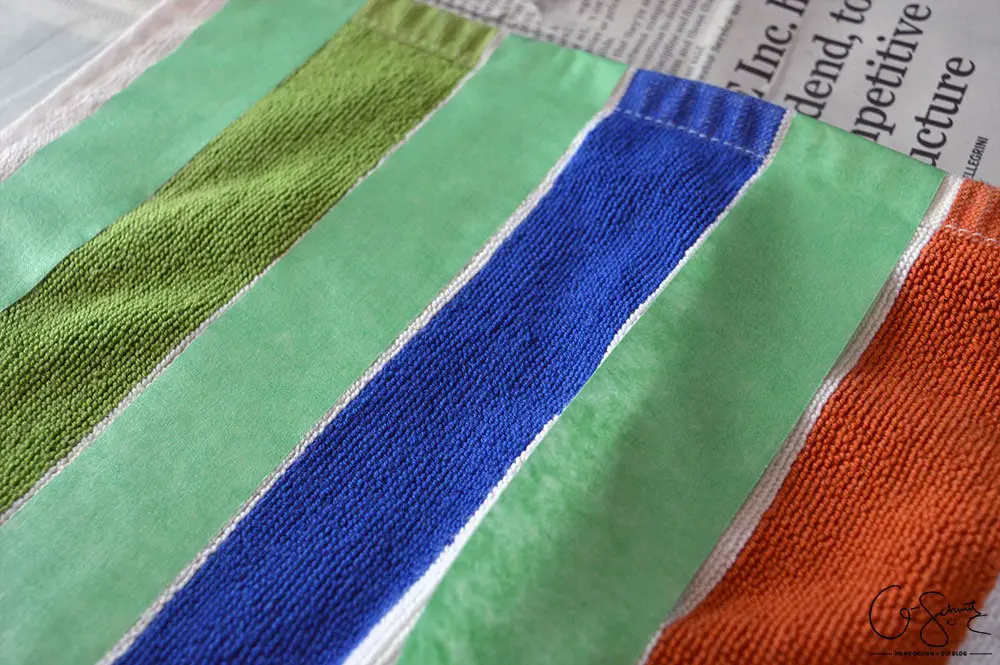 I started by taping around the edge on one side of the rug, then slowly unrolling the tape and pushing down the edges as I went.  This was probably the most time consuming part, but it still only took a few minutes.  Some of my paint did end up bleeding through a bit, but you can't really notice it unless you look closely.
I then mixed up some fabric medium and black acrylic paint (the medium instructions say to go 2 parts paint, 1 part medium) and off I went.  Note: the medium did lighten the paint a bit, but you don't really notice it once dry.

At first I was just using a small paintbrush, but I quickly realized that it was going to take forever! Time to bring out the big guns, aka a foam brush. My technique was to spread then dab the paint onto the rug.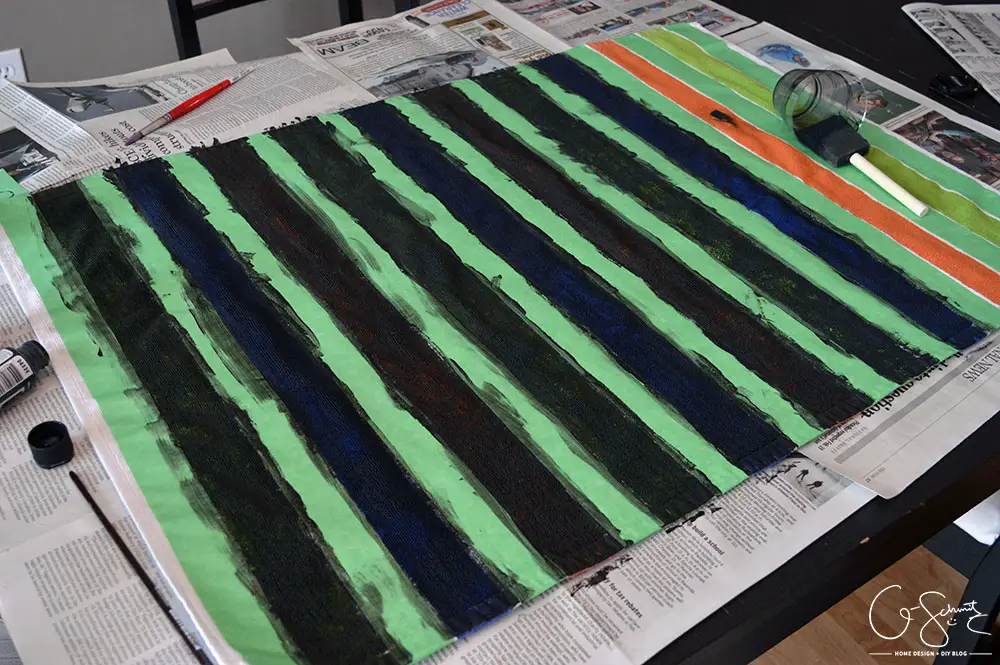 This first coat, including the tape setup, took just under 30 minutes.  But as you can see, I did run out of paint at the last two stripes, and the ones just before were a bit thinner.  I had to go back to the store to grab 2 more black paints and one more fabric medium (but I did still have half a container of medium left).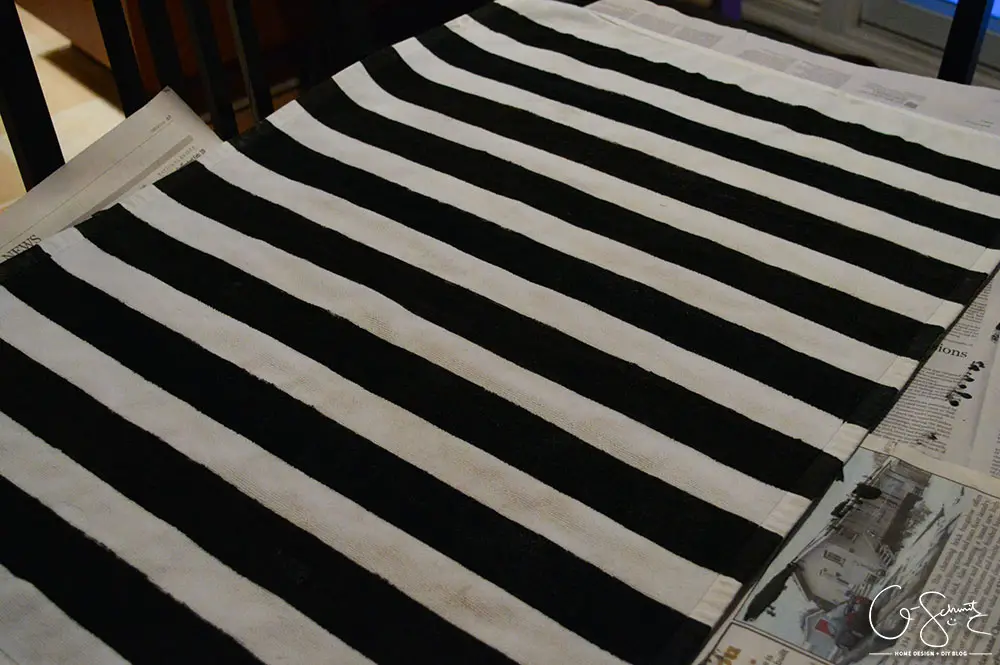 I was able to get two more coats of paint on, and then waited 2 days to remove the tape. The instructions on the fabric medium bottle say to iron the fabric once done; which I did. Not sure if it sets the paint in, but it didn't really change the texture (which feels just a bit crunchier than the unpainted parts).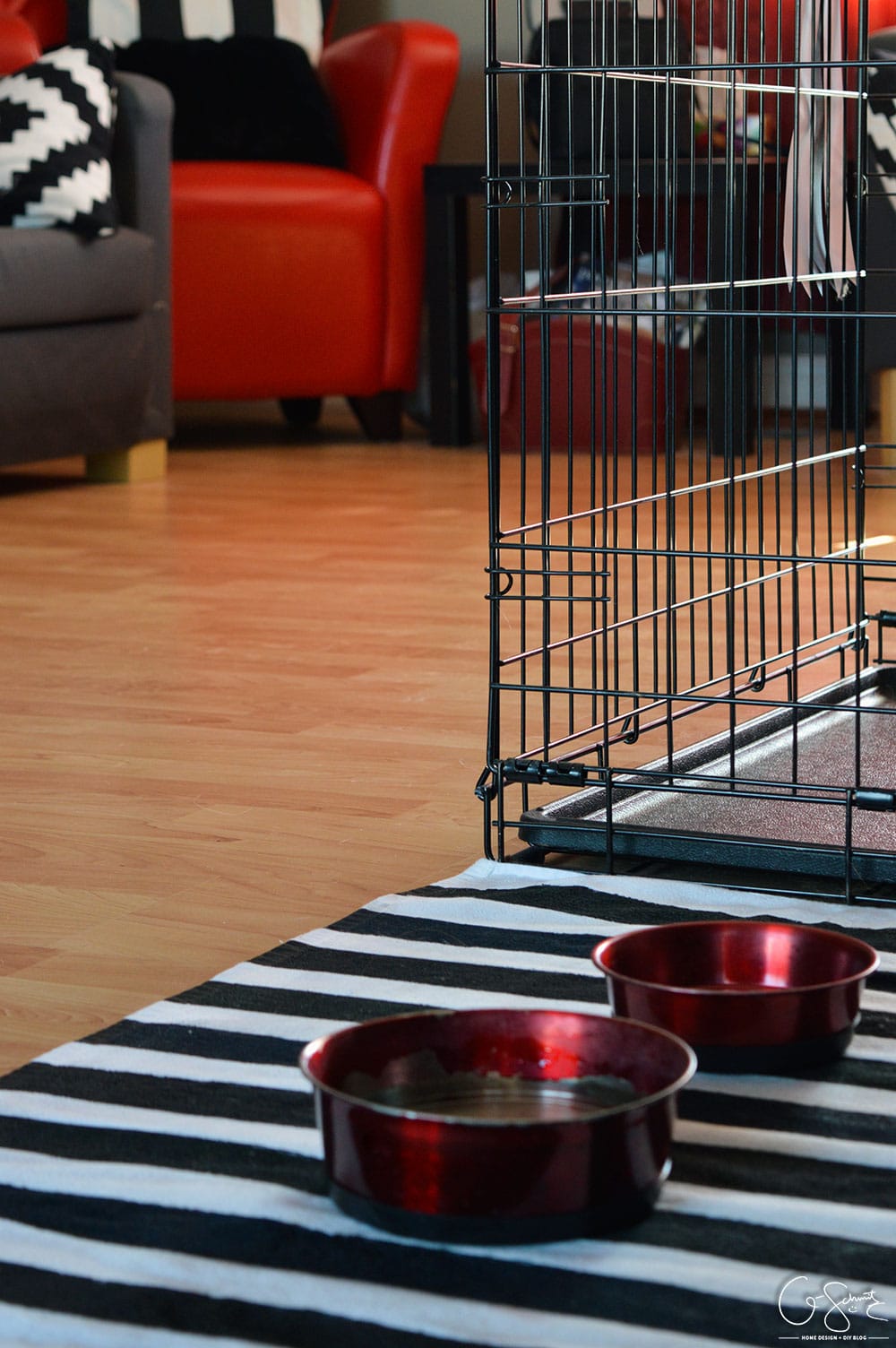 And now Tootsie has a newly painted (and matching) rug under her food bowls, and she couldn't be happier. Just kidding, I don't think she cares at all – but at least her Momma (that's me) can rest assured that everything blends better together and it's one less thing to worry about.
I haven't washed the rug yet, so I will make sure to let everyone know how the paint holds up when I do. AND I did paint the bottom (the stripes were visible on both sides) so if the paint screws up (or if I had screwed up while I was making it) I can just flip it back over and pretend like nothing ever happened :)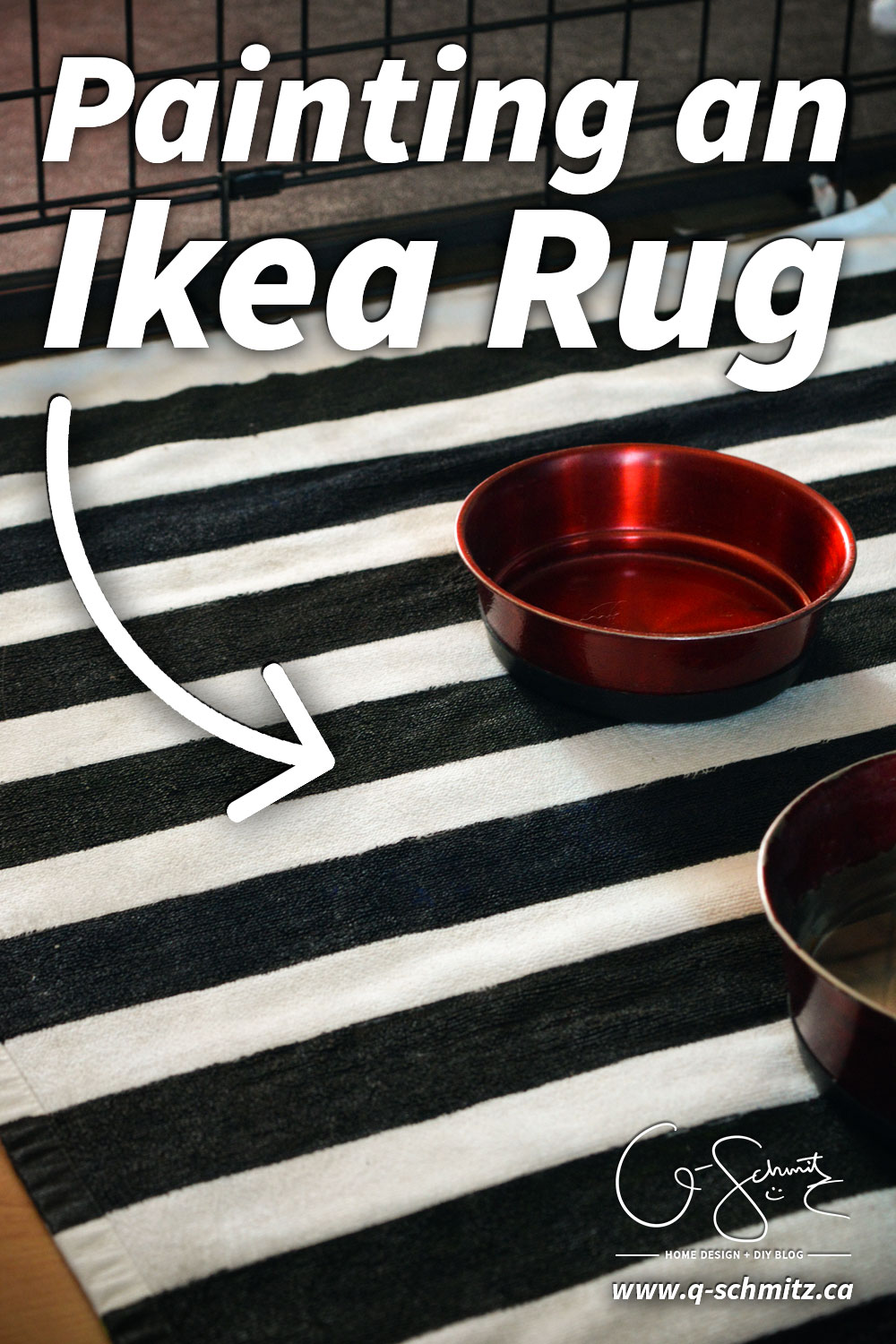 I had another fabric painting project I was thinking of tackling in the future, and this small little DIY of painting an Ikea rug was a great way to get my feet wet (or my paintbrush haha!).
What do you think?  Have you ever attempted a fabric painting project?  The process is the same as painting anything, just be prepared to do a bunch of coats to get a good coverage!