We've had our nice black wood and white fabric dining chairs for over 10 years now.  The dining set (along with most of our upstairs furniture) was originally purchased for my house in university, then everything moved with me after that.  Unfortunately, what once was a nice white fabric has now turned into an abstract expressionist display of old food messes.  Check out these nice and easy upholstered dining chairs, the perfect alternative for never-stays-clean soft fabric!
– Note: This post contains affiliate links. See more information about affiliates here. –
Yes, our chairs stayed white for all the years living with students, but could not handle just a few months with a messy toddler.  Once our baby started eating solid foods, Mr Zachary did not want to sit in his highchair anymore.  And while he can physically sit in a chair and eat properly, somehow stains always happened (especially since his hands would get messy and he'd move around a lot).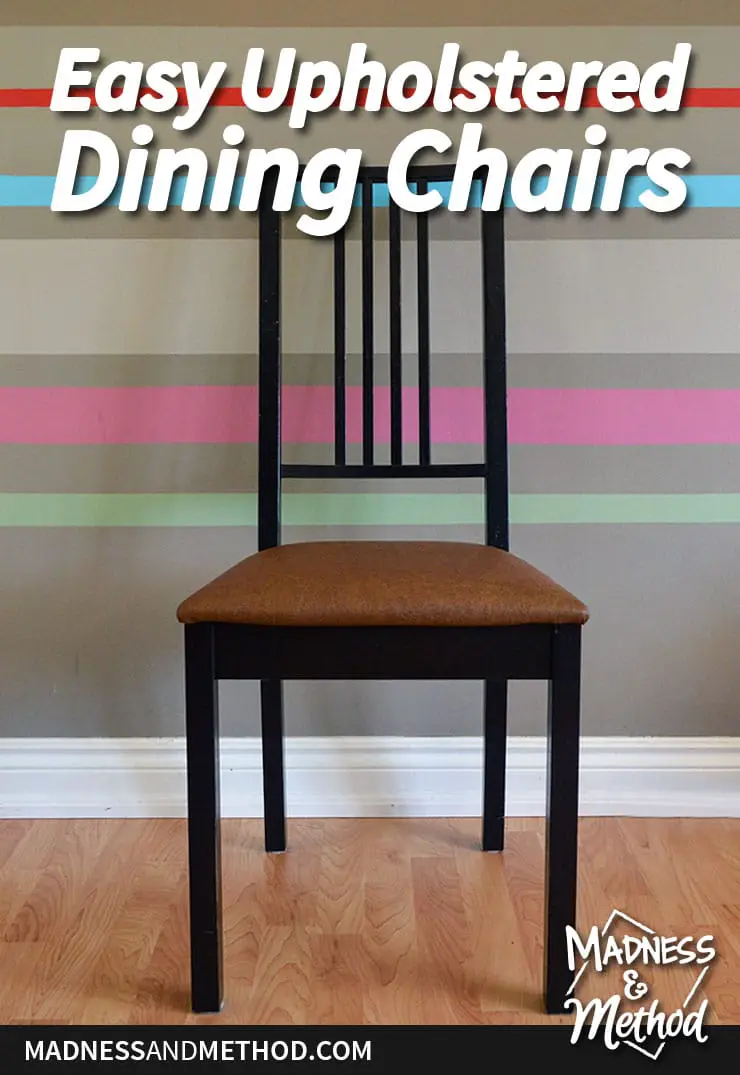 Side note: does anyone know how to keep a toddler's butt glued to the chair while they're eating?  He's getting better… but some days it's musical chairs around here!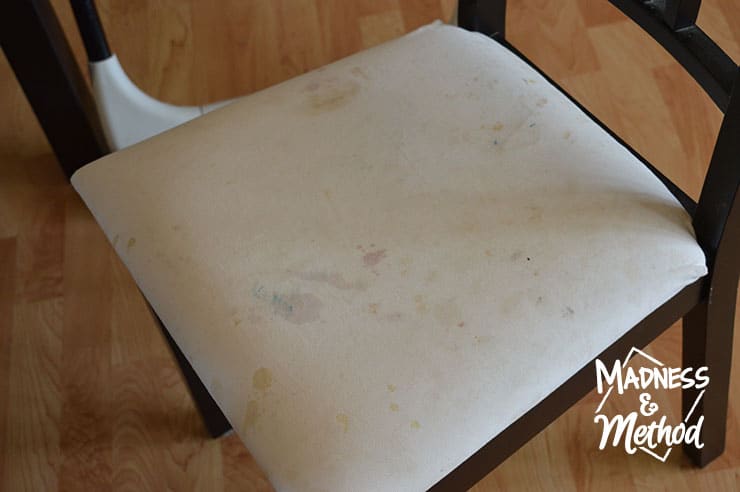 Pretty soon after I realized that the chairs were getting dirty, I took off the covers and gave them all a wash.  We'd normally clean them maybe every 6 months to a year, so I was pretty upset when almost days after I had cleaned the chairs, they had gotten dirty again!
(Our dining table and chairs, like most of our furniture are from Ikea.  Here is a similar dining set, although ours are the black/brown colour, and the covers are white).

As I mentioned, we've had these chairs for over 10 years now, and the covers were starting to get a little worn.  The string wasn't as elastic as it once was, but somehow they were just as difficult to squeeze back on after washing!
Anyways, after the last cleaning attempt (in mid-March), I was feeling especially hopeless and posted on Instagram/Facebook about our chair situation.  I actually got a lot of comments saying to look for more durable fabric, so off I went to get a leather-like (aka easily wipe-able) material!
Supplies Required for Upholstered Chairs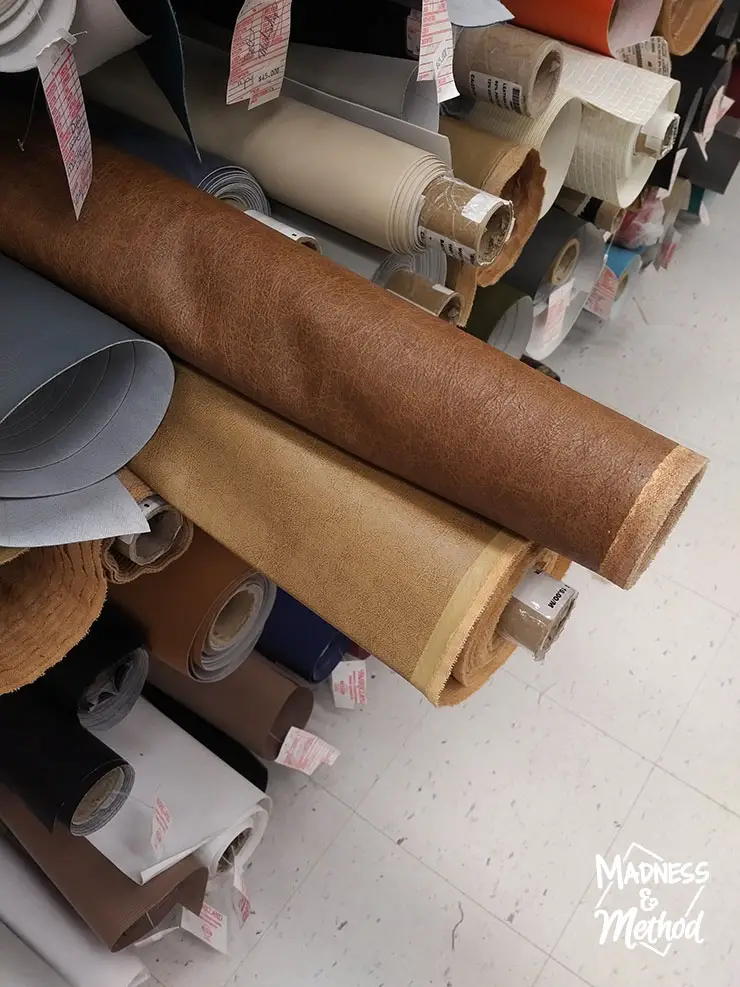 I had considered a gamut of colours ahead of time but eventually decided on a nice caramel faux leather material.  I figured it would be the easiest to match with future furniture/decor, and wouldn't be too dark (black) or too wild (sparkles or stripes).
In the store, the lighter leather (on the left) looked way too tan to me, while the one on the right seemed like the perfect medium tone.  Spoiler: once I got it home I realized it was a bit too dark compared to what I wanted.  Oh well, lesson learned!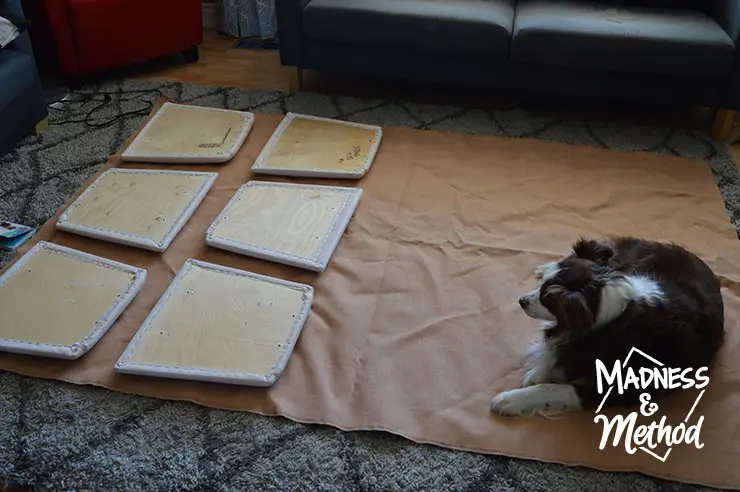 Unfortunately, my fabric sat for a month or so before I got around to actually doing the chairs.  (And I was working on our bedrooms and needed the staple gun for our headboards.)
I was originally estimating about 2′ x 2′ squares for each chair seat, but once I laid them out, I realized I might be able to get by with a lot less.  I was hoping to squeeze a pillow out of the extras, but I may have lots of pillows now!

Nevertheless, I cut one as a test piece just to make sure, and it was good because it helped me realize there were some tricky corners where the back of the chair comes up.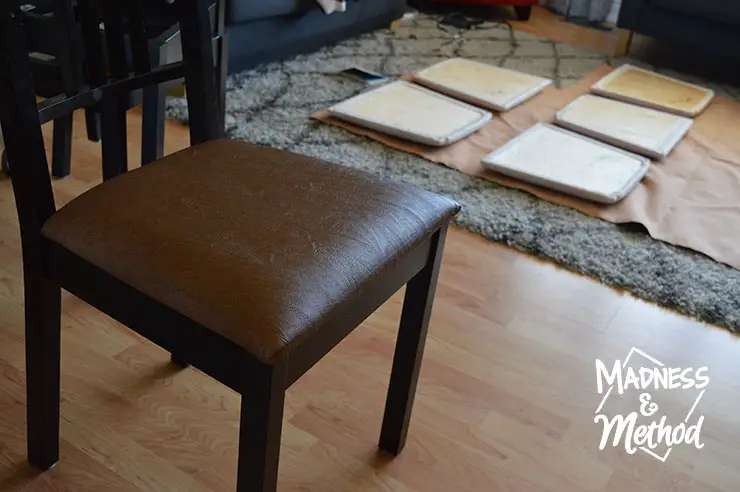 Even so, the first chair cover came out pretty seamlessly, so I hunkered down and finished stapling the rest before I attached them.
I eventually came up with a pretty good system, so here's a bit of an overview: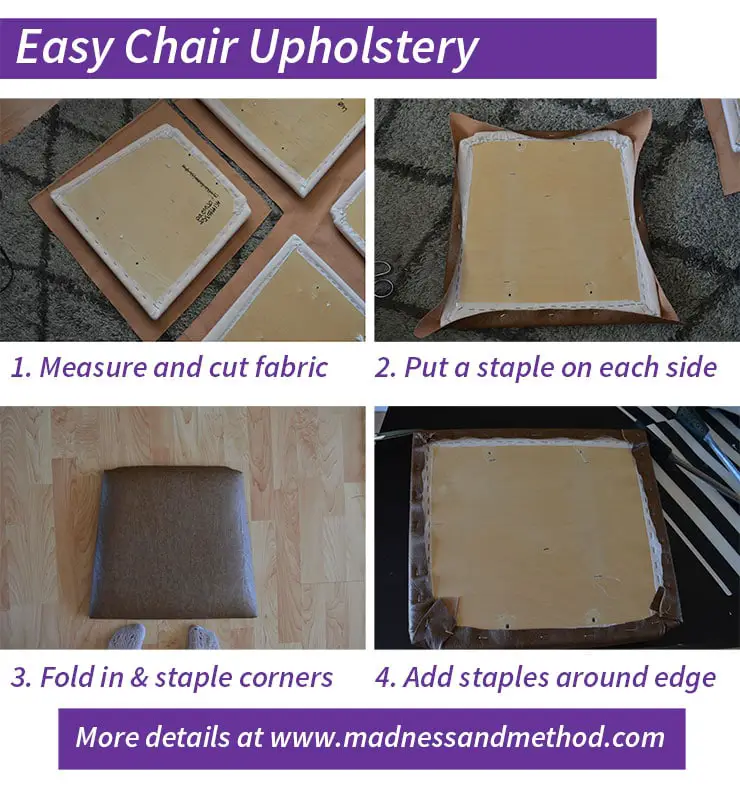 Easy Upholstery Dining Chair Steps
I just needed an extra inch or so of fabric to cover the front and sides of the chairs, so I used the seats and cut around them.  (I did make sure to account for the weird cut edge of the fabric, it was a different colour than the rest).
After struggling with getting the corners nice on a chair or two, I realized it was much quicker to add three staples to the front (where I wanted it the most perfect) and then one centre staple on each side.
That way, I could focus on the corners without the rest of the sides falling towards me and getting all misaligned.  Sometimes, to get a nice tight edge, I'd cut a little square out of the corner to give a bit more space to staple.  (I think I show this method more when I added the faux grass on my outdoor games).
From there, I could go around the edge and add staples to hold the fabric better.  Note: I would do one corner at a time, then do that edge, then the next corner, and so on.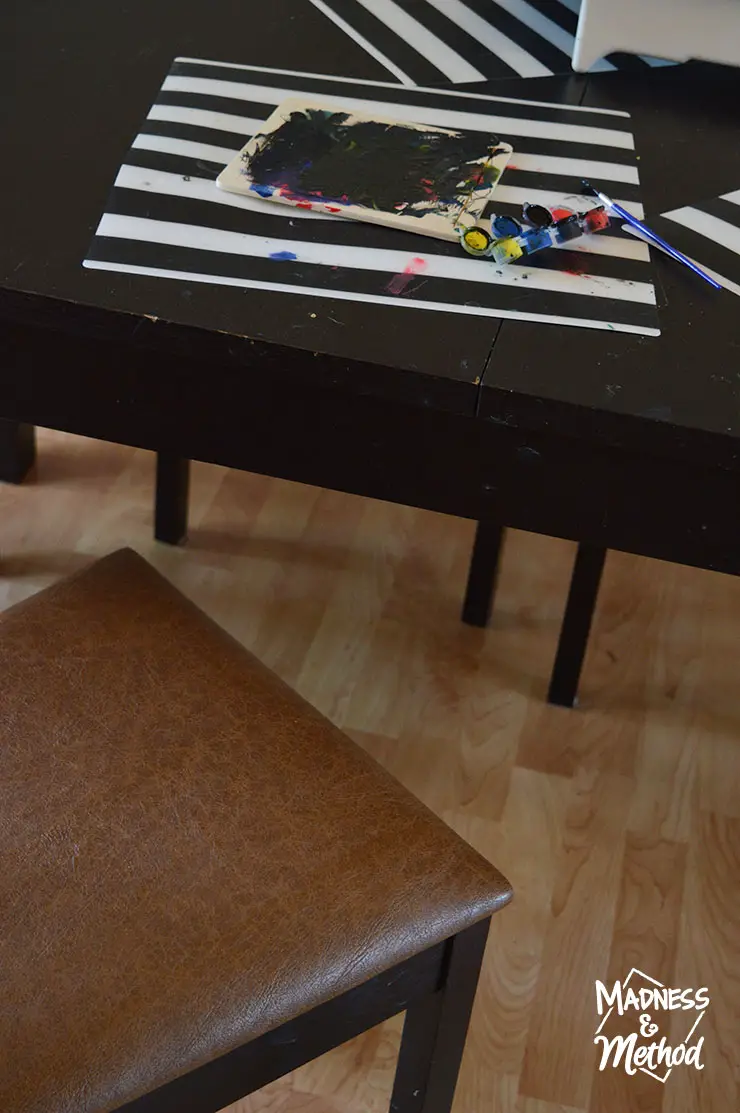 All in all, it probably took just under 2 hours to do all the chairs, but considering I had a toddler "helping" me for the last 4 chairs, I'd say that's pretty good!
He was quite antsy to get the chairs re-assembled because he had gotten a paint kit for his birthday and wanted to get it opened!  Luckily, there were no paint messes on the chairs, but even if they were, they could have easily been wiped away :)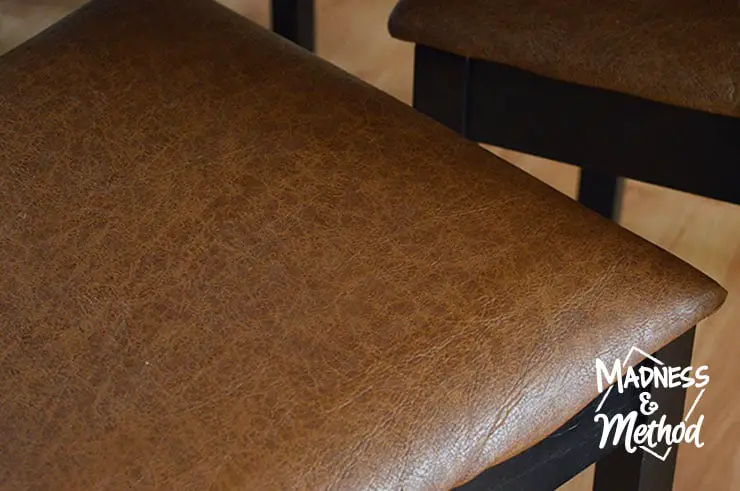 Our new easy upholstered dining chairs look completely refreshed, and I'm only sort of bummed that they're a bit darker than I would have wanted.  Anything is better than the multi-coloured now off-white, so that's a bonus!
(Oh, and even before I got the chairs assembled I knew that the fabric would be the perfect choice because I already had to wipe it down…)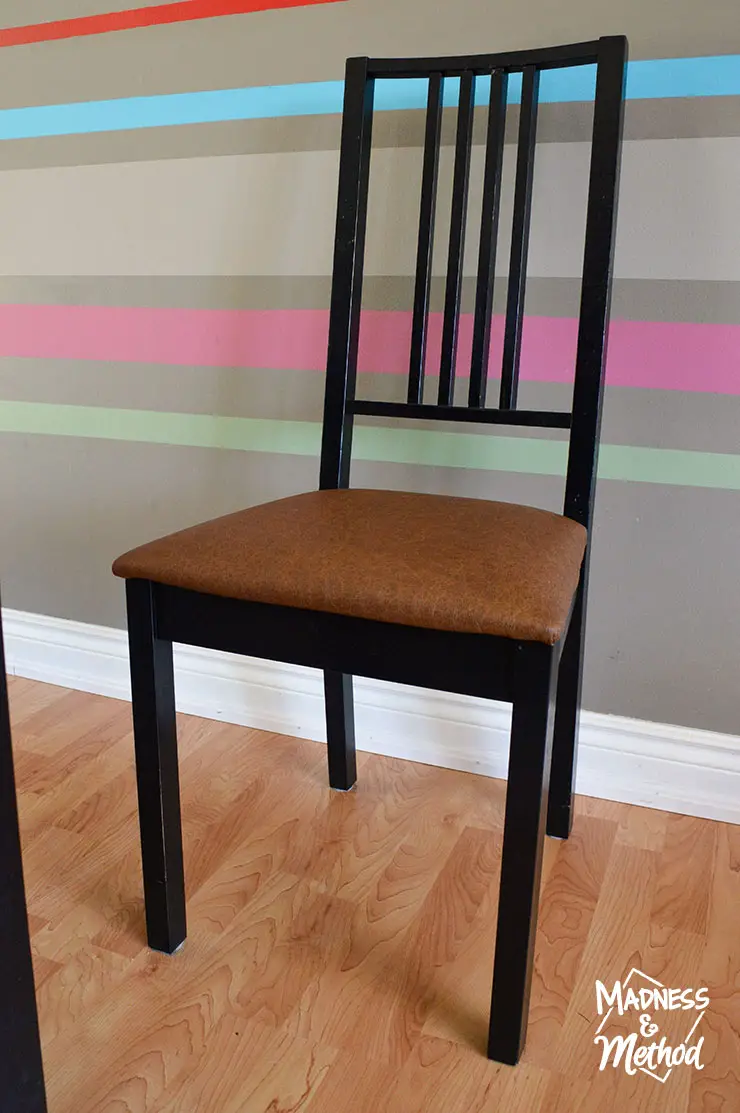 What do you think of the colour choice and how they turned out?  Would you have gone with something else?  I was also considering black and white stripes (probably would have been overkill AND hard to line up), all black, all white, grey or some sort of sparkles, maybe red to tie into our nearby leather chair.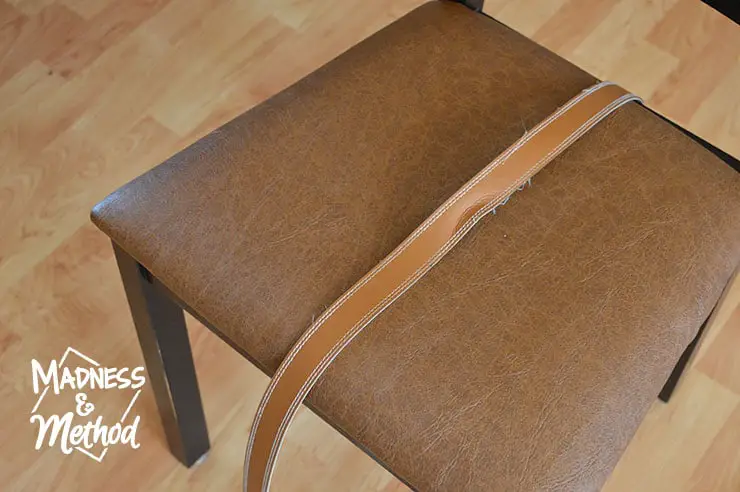 Oh, and here's a photo that kind of shows the colour I was originally hoping for.  They don't look too dark in the bright light, but sometimes photograph really dark, especially in the shadows under the table.  They are definitely brown compared to caramel.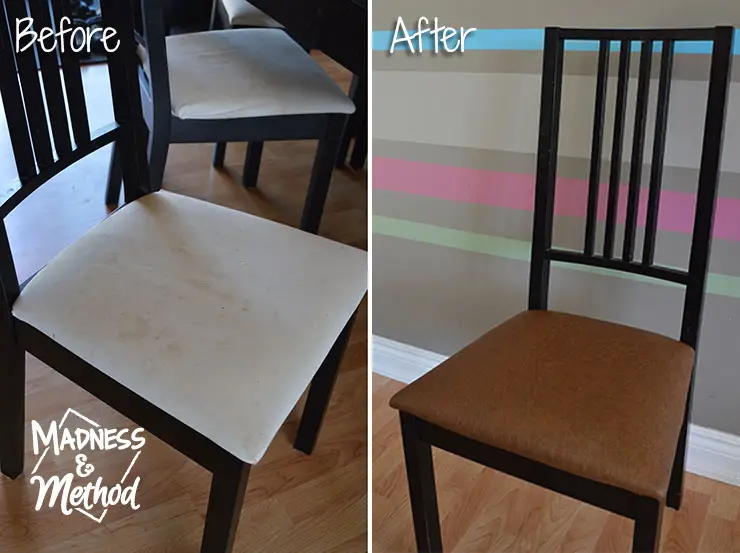 But yes, a big difference compared to before!  I'm going to see how they fare in the next little while.  I did notice one spot where I had to go back and add an extra staple after screwing it into the chair – but other than that, they're sitting pretty good!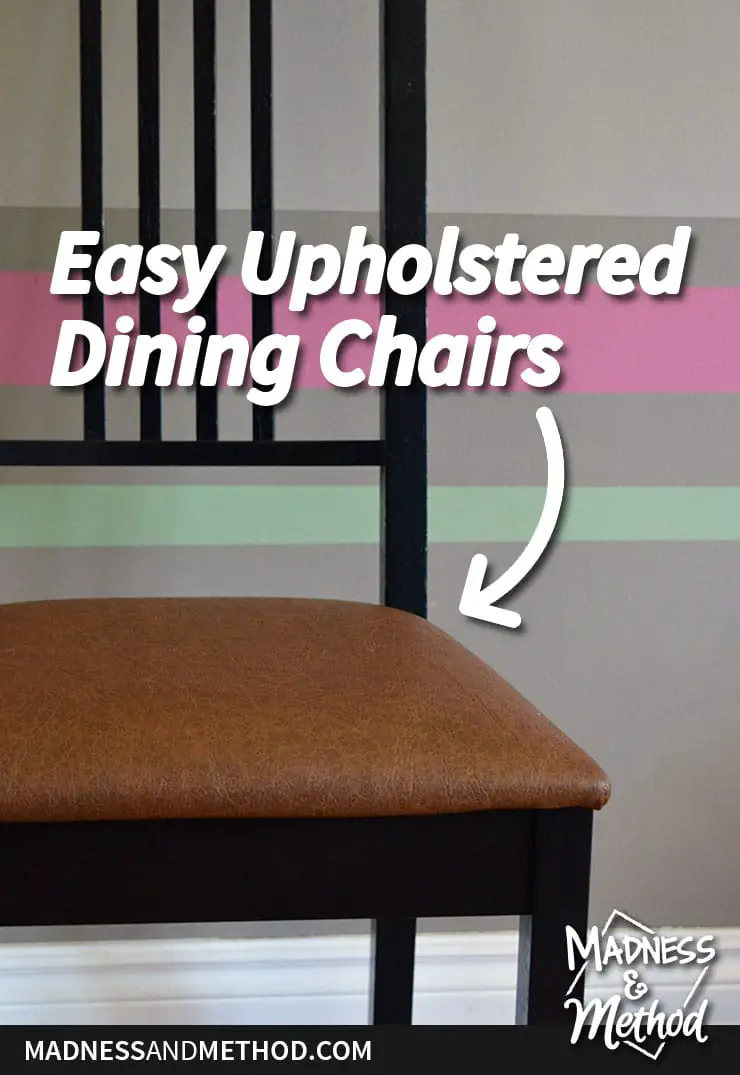 Now, I did notice one negative thing about the chairs – so I'm going to share it here.  I think it's because it's a leather/vinyl material (and the fact that it doesn't let air/water through – which was the reason I got it).  BUT sometimes, when you sit down, you do hear an air squishing out sound.  There hasn't been a proper fart noise yet, but a "shooooooosswwshsh" on some of the seats.  Nothing major, but it definitely didn't happen with the white fabric covers.
Other than that, the easy upholstered dining chairs were a success so far!  Having a mess maker toddler has caused me to be more conscious of fabric choices, and I can certainly say that I won't ever consider a porous fabric for our dining chairs again.
(I even sourced some plastic/wood ones in case I replace them completely, but this was a good, cheap solution for the time being!).