Hello everyone, I hope your day is going well so far :)  Today is extra special because I get to share with you a fun project I'd been thinking about implementing for some time… AND you get the chance to enter a giveaway (the giveaway is now over) to receive a FREE canvas!!!  Let's try and contain the excitement on the potential of winning a fun prize, and focus on my custom graphic canvas first (you know, to give you some ideas in case you win!).
– Note: This post contains affiliate links. See more information about affiliates here –
For those of you all caught up in my life, feel free to read this ramble super quickly – but if you're new (or need a refresher) here's a quick recap of what's been going on around here lately.  We live in a 3 bedroom side-split house (see the floor layout details here), one bedroom is called the Pink Room and is currently used as an office, and the other is called the Blue Room and is our guest bedroom.  Then I shared with everyone that we would be expecting a baby, so now the Blue Room is going to be semi-painted and turned into a nursery, and the Pink Room (will also be semi-painted) and that will be the guest bedroom.
All caught up so far and where does that bring us now?
Well!  I am constantly thinking of ways I want to decorate the future nursery, and by decorate, I mean paint and that's pretty much it (no baby themes here!).  Buttttt it would be nice to hang some posters or pictures on the walls (maybe one of these nice prints could work).
I'd also had a song* stuck in my head for a few days, and I figured a few lines from the chorus would be the perfect display for a custom graphic that would fit in a nursery.
Now, I ALSO wanted to do some sort of custom designed artwork that would incorporate an image of the baby from the ultrasound.
Then the most amazing thing happened! 
Canvas Factory reached out and offered to send me a free canvas print AND wanted to send one to my lovely readers (that's you guys!) too.  I had to use this opportunity to turn my ideas into a custom graphic canvas, so let's look at what I did!
Here is the shelf area where I would be placing said custom graphic canvas.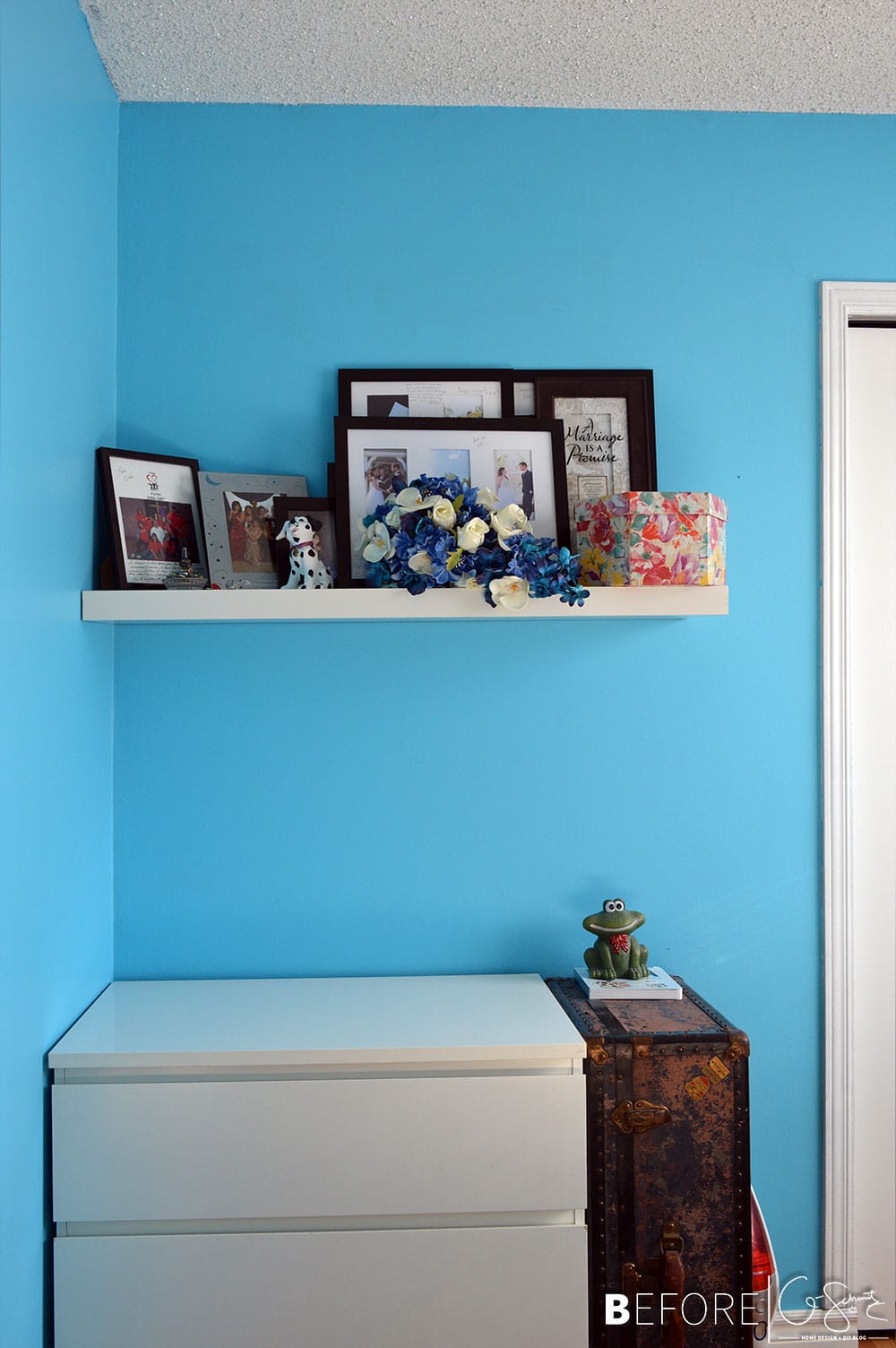 You may remember a different dresser (and messier dresser top) from when I talked about our custom wedding guest programs/signed frames.  Yes, I have been switching out the dressers in here from time to time.  We mostly used this dresser to hold things that I need to return to people after I borrow them.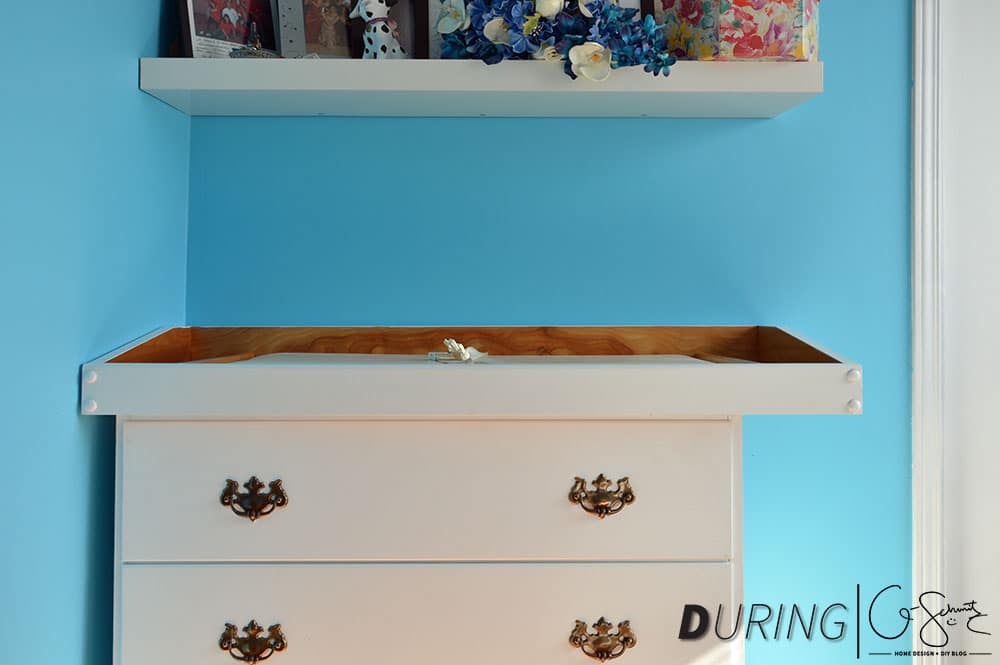 Now bring in a new dresser!  Way back in October I picked this one up from my parents (along with the change table top that I cleverly hid in the closet during the Blue Room tour).  This area will of course be the baby changing area, and where the bed is will be the crib.  And yes, I can see that the change top is not centered, but it can move in either direction and I just placed it like this for now.  It's also almost the exact same size as the Ikea Lack shelf (although in this picture looks bigger… but it's an optical illusion!).
So back to the custom graphic canvas!
I had scanned the ultrasound image of the baby and picked one where the baby is just chilling normally (not sucking its thumb and what not).  I then stretched it out to fit a 16″ x 20″ size, then tweaked around with the colours and some filters to make the baby look less… well baby-ish (I didn't want the background to look too much like a baby in a womb, but more subdued).
Then I did a few font and layout options, and emailed them to my fellow multimedia design friends to help me narrow down my choices.  They were torn, and managed to each pick a different option.  I sent the short-list to the Husband and he was no help…  Okay, he did end up picking a favourite – but only after I had twisted his arm and forced him to choose (and after I had already ordered through Canvas Factory… I had a deadline to adhere to!).
Without further ado, here is the one I went with: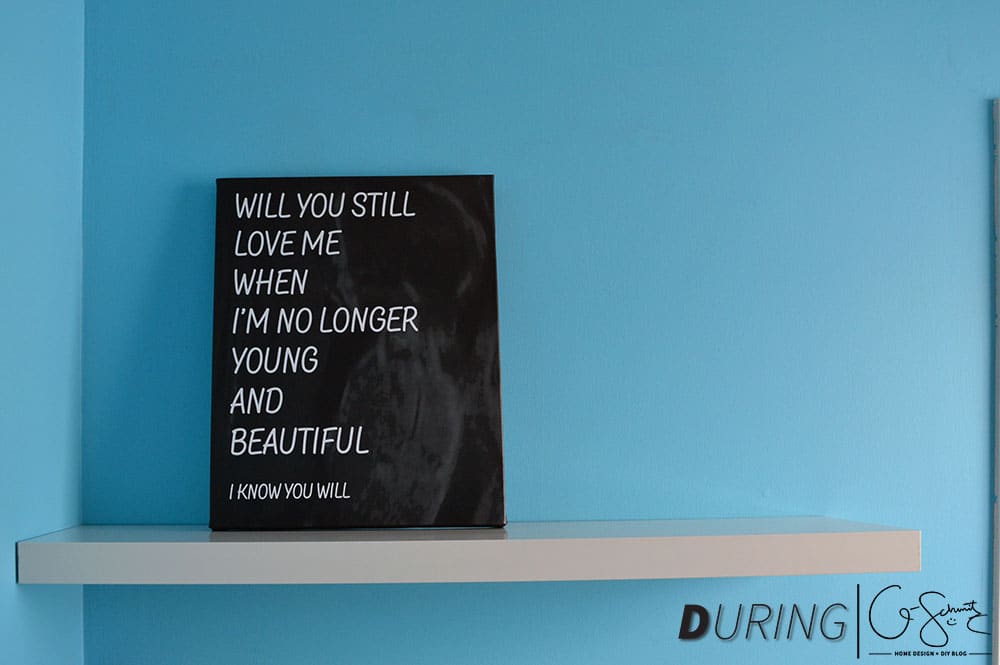 I thought it was nice and easy to read, and I really like the left alignment juxtaposed against the hidden baby in the background on the right.  Can you tell it's a baby back there?  Would you have known if you hadn't been following along with my process?
I should also mention that I had to re-adjust and tighten the screws on the shelf because the Husband had hit his head on it a while back and it was never as straight as it was before…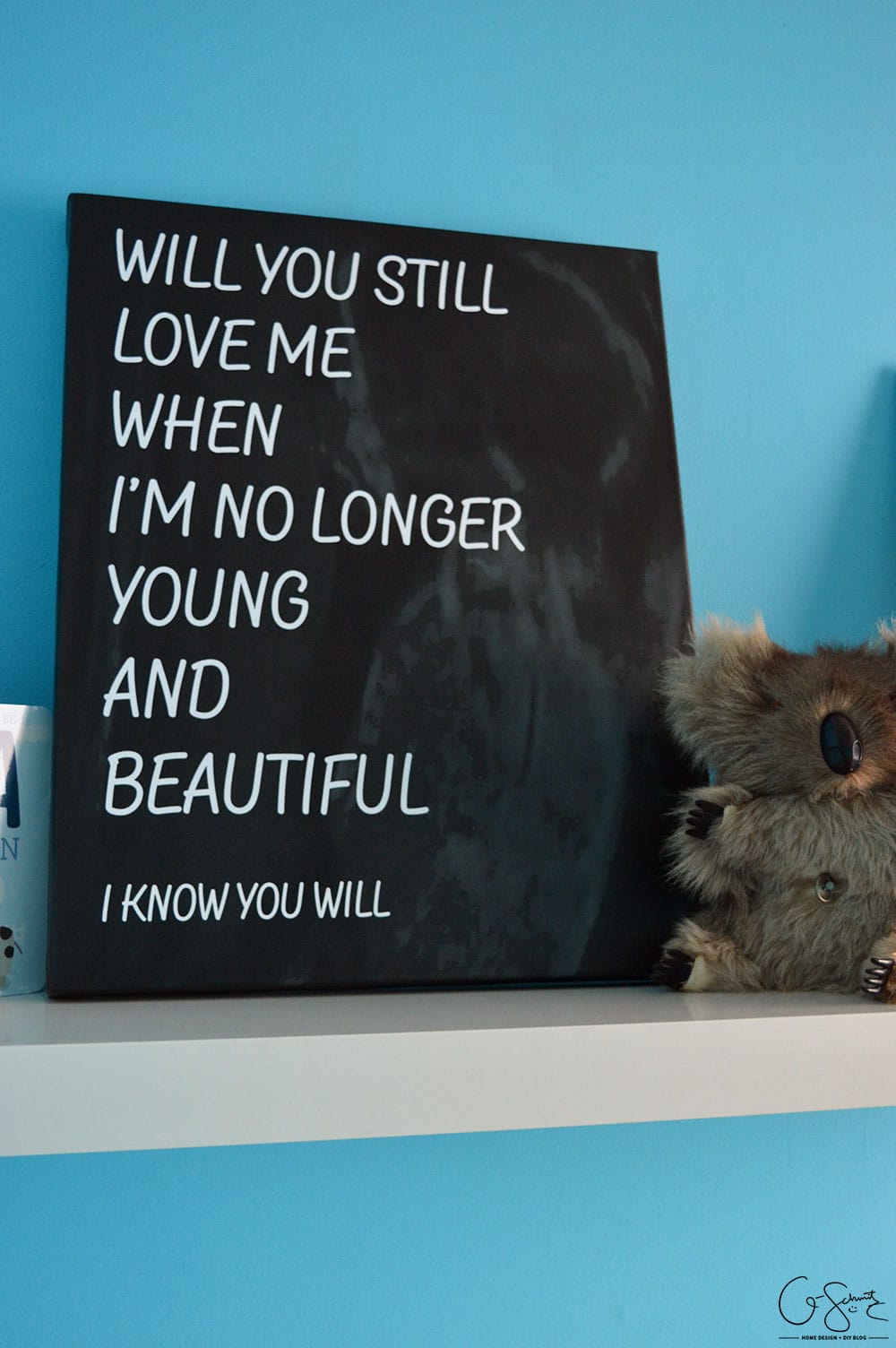 Anyways, I then decided it was time to jazz up this shelf with some baby themed decor things, so I checked out my limited stash and started placing things around.
And this is pretty much all the baby stuff I have so far (minus a bin of stuffed animals in our crawlspace).  There's the Dada Book by Jimmy Fallon I received at Christmas from my parents, the wind-up Koala that was apparently a gift to my Mother from my Grandmaman before she had me (it's like a baby charm I guess?), the floral hex-shaped basket I got from my Grandpa's house (I just really like the pattern, colours and shape… it's currently empty!) and Oh the Places You'll Go – Dr. Seuss Book that I received from a former employer (the blue matches our walls perfectly apparently!).
We just registered for our baby shower yesterday, so I've definitely been thinking "all things baby" for the last couple of days!  This is so far the only little baby area we've setup in the room (there's the whole moving furniture all around our house debacle)… but thanks to Canvas Factory and my new custom graphic canvas, it's helping me push through just a little bit more to get this room complete!
AND NOW FOR THE MOMENT YOU'VE BEEN WAITING FOR!
Fill in your email (just once) in the little box below for your chance to win a FREE (shipping included!) 16″ x 20″ canvas.  I obviously did a custom graphic canvas, but you can easily upload an image and use that!  You can always check out the Canvas Factory website and see the different options they have.
The giveaway is now closed.  It was open to all USA + Canadian blog readers.  Your chances of winning depend on how many people enter, and the giveaway draw is completely anonymous and not chosen by me (no Mom, just because you read the blog a lot doesn't mean you'll win!).
Do you like the custom graphic canvas I designed?  I know it might not be everyone's cup of tea (something strange about a baby ultrasound picture with the words I chose maybe?) – but I thought that the song lyrics* and graphic were a good fit together… because is a baby in an ultrasound picture really that "beautiful"?  They're cuter when you can actually hold them, with their chubby little cheeks and fat little arms :)
Thank you again to Canvas Factory for providing a free canvas to review, and for offering a giveaway to my readers!
Are you looking to work with me in promoting your products or services?  The Madness and Method Blog would love working with relevant/useful/appropriate businesses, please contact me to discuss ways we can coordinate and partner together!
* Note: There are a lot of tricky gray areas around printing lyrics for posters, as it is a violation of copyright.  This is especially true if you are planning on selling your prints commercially, however I am only using mine personally; and wouldn't have shared it with others if it were not for this blog.  You need written permission from the owner of the song (and yes, even if it's a song by an artist who is deceased, the rights are not released and may be the property of the production company, etc.).  I did however reach out and get permission to use these lyrics for personal use from the co-writer.