The exterior of your house should reflect what's inside, right!?  Well, if that's the case, than our house must be sad and dilapidated… ha!  You see, the concrete slab on our front porch has been sinking (for years, before we moved in) and it's finally gotten to the point where we NEED to get it fixed.  Today I want to discuss some of our front porch plans, so hopefully it will motivate me to have it done soon :)
Now, don't get me wrong… we've done a LOT of work on our front yard since moving in (about 5 years ago).  My original plans were to completely update the front walkway, and we finished that extensive work about 2 years ago: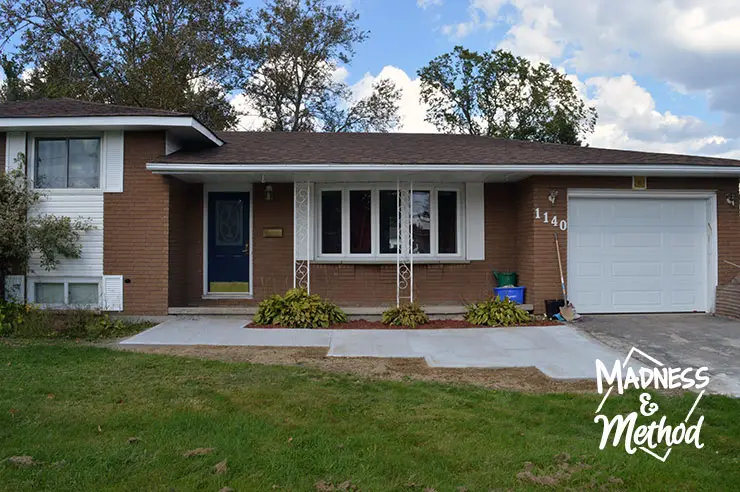 We took out the old patio stones, removed some sod, added extra dirt, framed and poured concrete, and enjoyed our new walkway for a bit!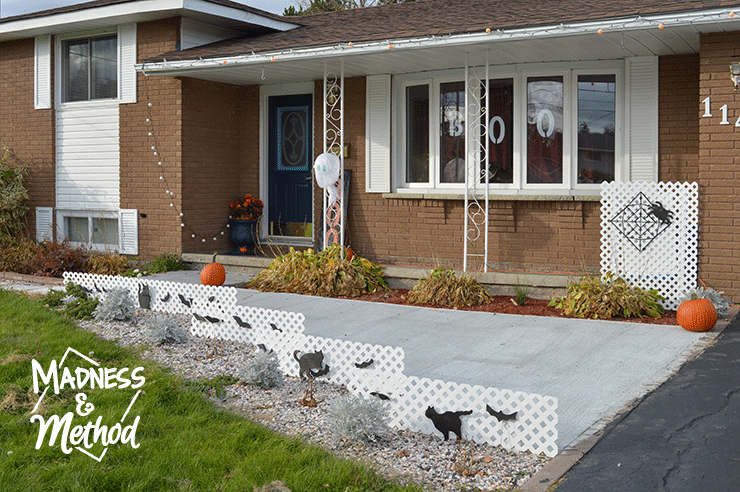 Last summer, we prettied up the area by adding a rock garden and plants.  I only really decorated the front porch for Halloween, so the photo above shows the Halloween version, and the most recent spring version (before we planted the new plants).
Front Porch Plans + Inspiration
Since painting our door navy blue, I've been inspired to add some bright pops of yellow to our front porch.  I pictured a nice yellow metal bistro set and maybe some yellow flowers in our blue planter.
I asked some fellow home bloggers to share their front porches, so here are great (finished) options to inspire you!
(Please visit the links and Pin the great images from the original sites)
A Designer at Home really nailed the bright accent colours for her front porch!  I know the Husband doesn't like the colour of plain concrete, so maybe we can paint ours a fun shade :)
You have to see the fun swing on Little Bits of Home's front porch… wouldn't that be a great feature to add!?  I'm thinking a family wreath might be a good idea too.
I think if we added a patio set to our front porch, it would become Tootsie's favourite spot!  The porch from Making it in the Mountains is also a long narrow space, so I might be able to copy this layout.
I LOVE the black furniture and pops of colour in the decor accents on My Life From Home's porch.  Maybe instead of a bistro set, we could do a bench?
North Country Nest's front porch could have a similar layout to ours (just mirrored) and I'm not going to lie when I say that I literally just bought the same black and white striped rug for ours :)
These bright Adirondack/Muskoka chairs from Our House Now a Home are such a showstopper!  Maybe I could have yellow Muskoka chairs?
Twelve on Main's front porch is what porch dreams are made of right?!  While my style is definitely not farmhouse, there are still so many great elements that I could incorporate into our front porch plans (present and future!).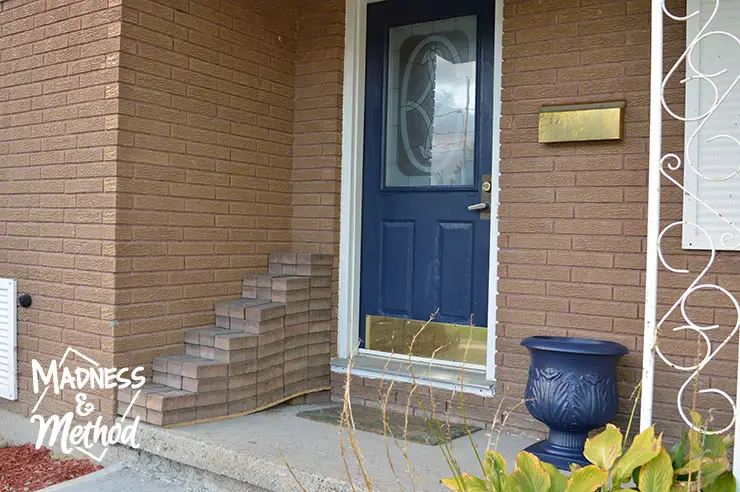 Unfortunately, we still have to actually fix our front porch!  The photo above was taken 2 summers ago (I think?) and you can sort of see how the back of the porch is sinking down into the house.  It's dropped another inch or so in the 5 years since we've moved here, and we don't want to take any chances that it will survive another winter.
It's going to be a huge project, and we're completely leaving it up to the pros.  They'll be ripping up the old concrete and re-pouring a new slab from scratch; so as long as there aren't any hidden issues, it should be straight forward.  (They are concerned that there might be something that's actually causing the concrete to shift, but our house was built in the 70s so I'm hoping it's just years of thawing ground…)
The Husband found this video for a cool concrete raising material a while back… but sadly we live in the middle of nowhere and there's no one near us that provides it :(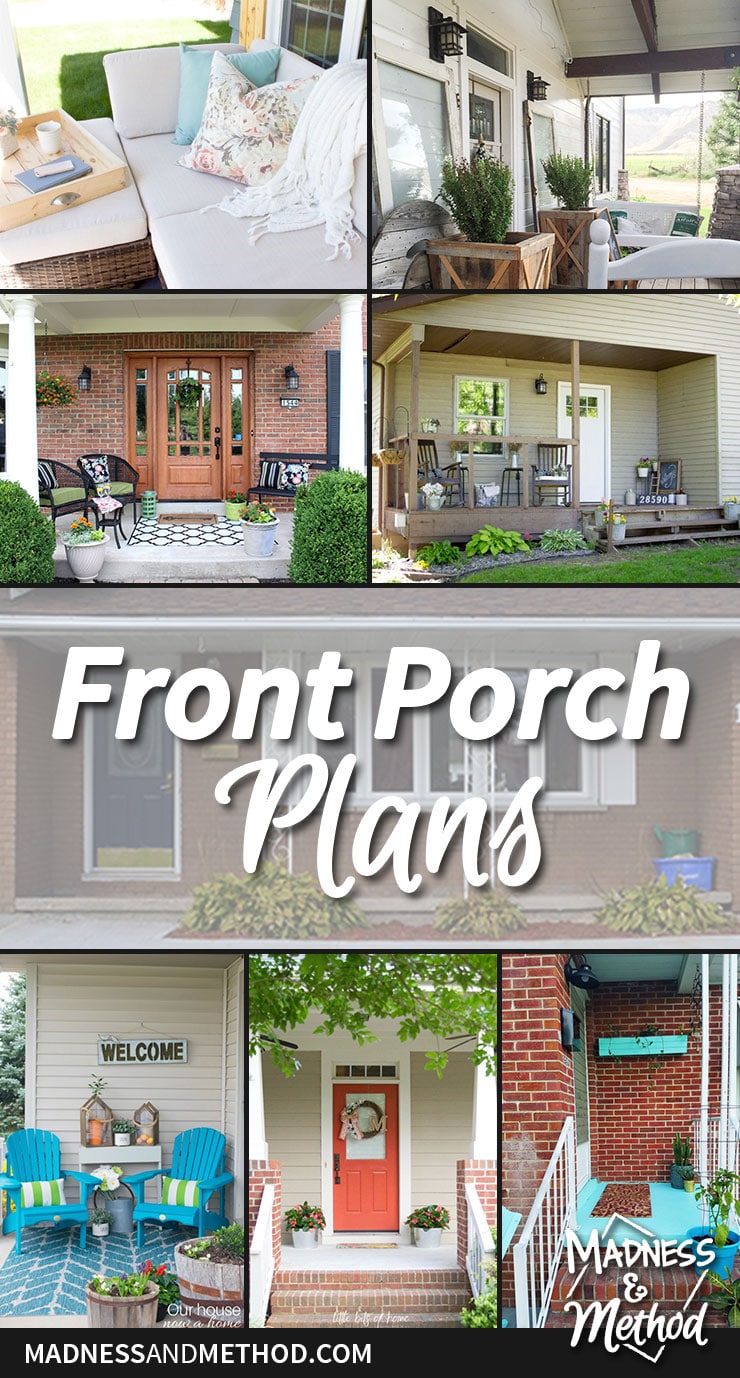 Anyways, I'll keep you updated with that project as it happens – and we'll be confined to the house during that time (sort of, we'll have to use the back door for a bit at least!).  I'm hoping it gets fixed sooner rather than later, but I still haven't finalized our front porch plans, so maybe a bit of time to think it over won't hurt :)