When the nice weather comes around, I just can't wait to get outside and enjoy the warmth!  Since we have two little ones now, I don't always get to spend as much time outside as I would want (or at least, my plans don't always go as scheduled).  I finally got the chance to weed everything (fun right!?) and do a front garden plant refresh, and I can't tell you how much happier it makes me now that one small area is looking good again!
Our front garden consists of a few different areas, the one with red mulch directly in front of our porch: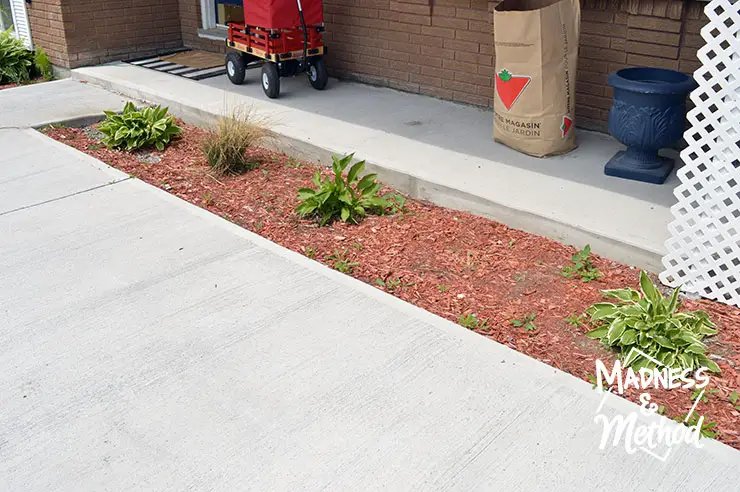 It sort of came with the house, but we've since updated the concrete walkway and enlarged this space.  And just last summer we had our front porch redone, so the plants got a bit of an update then since I had to take them out for the workers.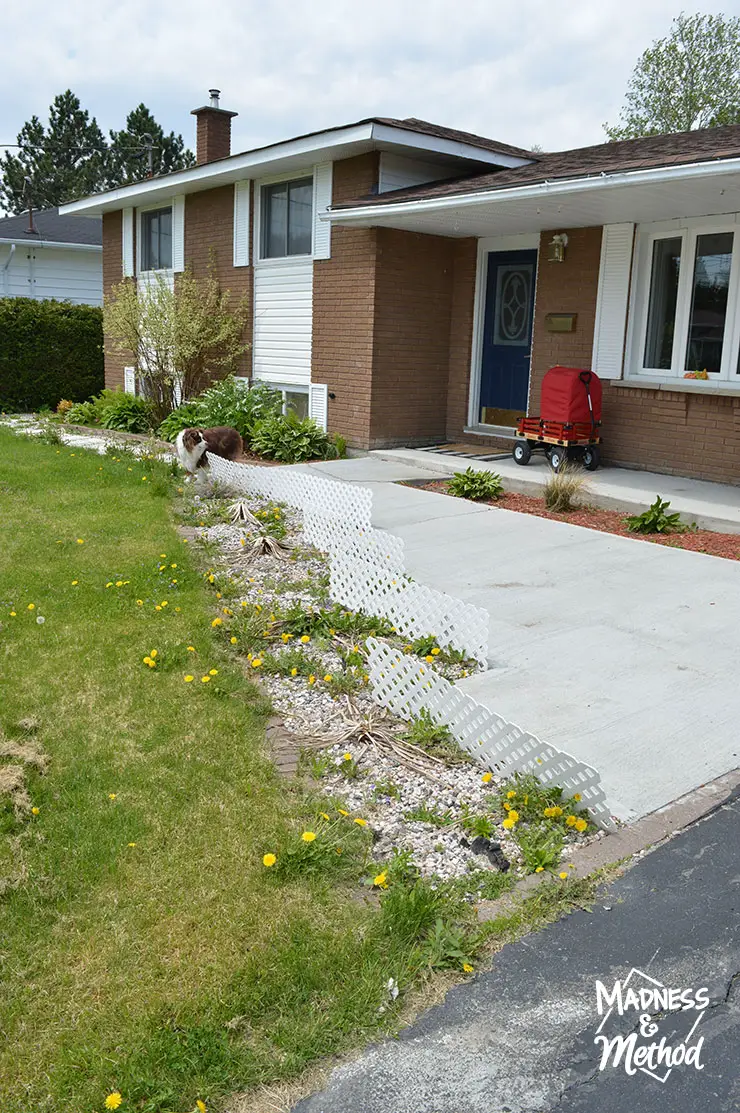 We also have the rock garden area (that was added when we planned the walkway), but it could definitely use a good weeding AGAIN (and a plant refresh too…).  And some of my little fences are coming apart, so I need to secure those a bit better too.

Finally, we have the other front garden area that wraps around to the side yard and is comprised of our large paver walkway.
I wish I could tell you that all three of these spaces got a nice refresh, but alas I only have so much free time!
(Actually, they really just need a good weeding, I've already pulled a bunch and we sprayed all the weeds in the rocks, so here's hoping they go away!).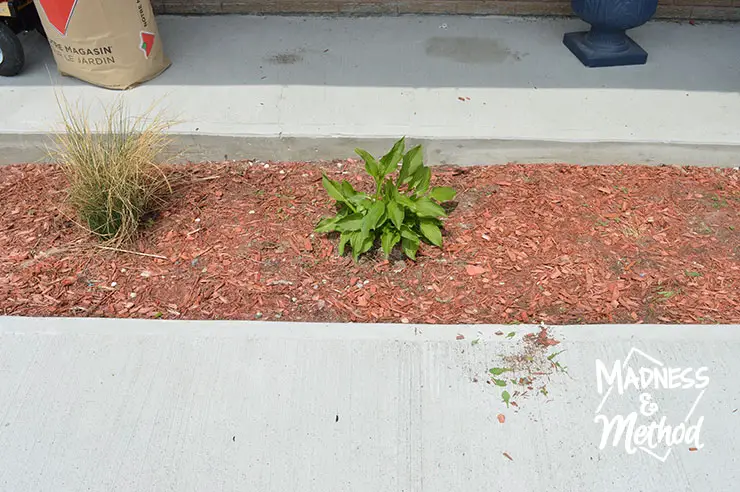 First thing I needed to do was get another grassy plant.  Do you see the one on the right of the Hosta in the photo above?  No?  Well, it was super small and didn't make sense that it never grew as much as the one on the other side.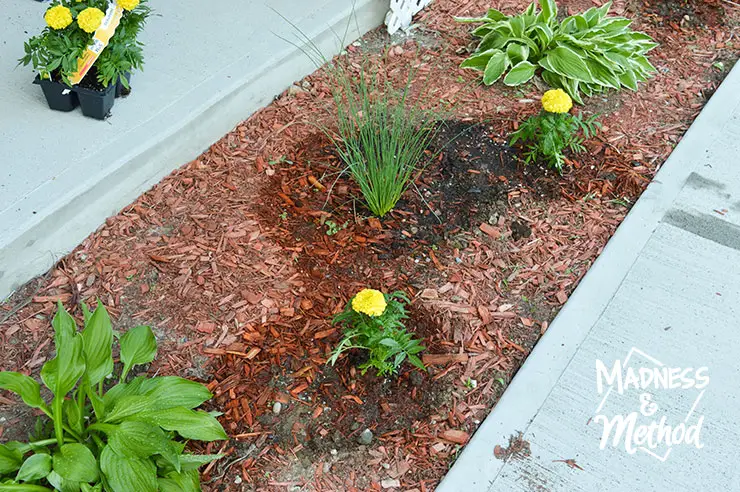 It's called a Blue Arrows Juncus, and is either a perennial or annual (as in, the one I had before said it was a perennial, but this new one I bought said annual…).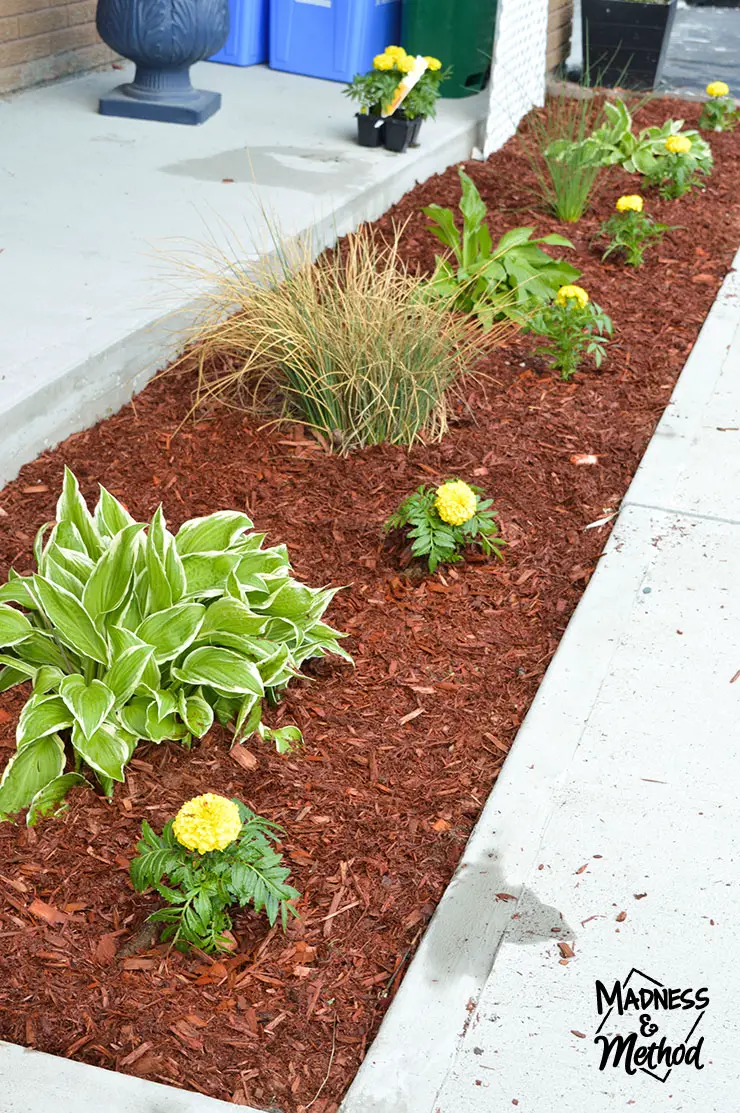 Anyways, I also got some yellow Marigolds and planted them along the front of the garden, in between all the plants.  Before we got the front porch redone, our Hostas used to be HUGE but I've since separated them into smaller bunches which leaves me room for more plants.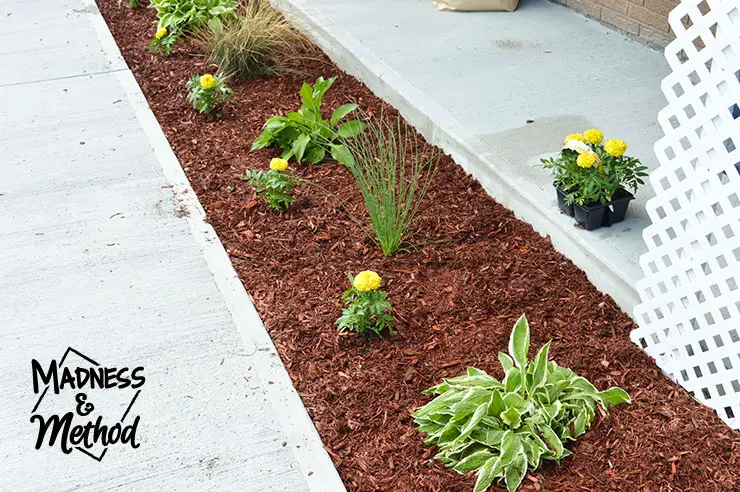 I also picked up a couple of bags of new red mulch, and everything looks instantly better!  We used to have some Dusty Millers in this area too, so I might add some again along the back.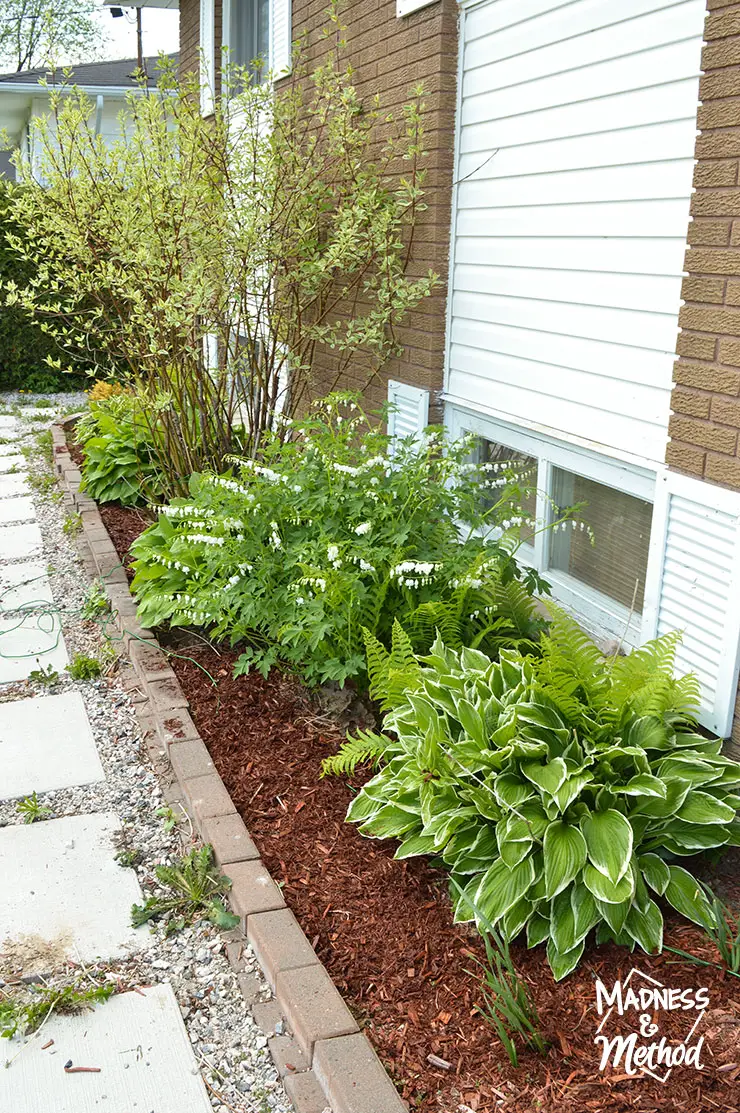 After removing all the weeds from the other front garden again, I added some new red mulch and it looks much better!  The plants on this side are quite large, so I may have to transplant a few so there is more room.

Finally, I also added plants to our two planters in front of the garage.  The smaller one is called a Dragon's Blood Sedum and is a perennial (hopefully it comes back!) and I don't know what the pink flower is, but it's an annual so will definitely die out in the winter time (we literally leave these planters out here all year).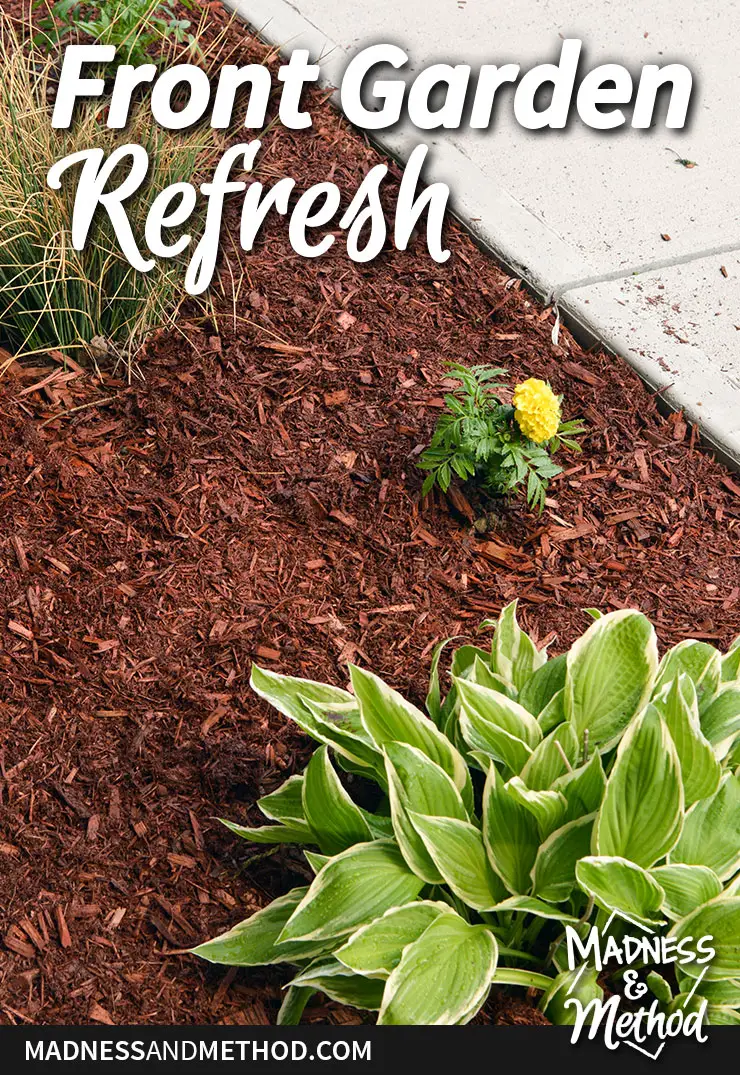 Do you have a front garden area at your house that needs a plant refresh?  Ideally, all my plants would be perennials so I wouldn't have to add more every year, but considering I need to add mulch and weed everything, it isn't too much of a hassle to put in some new little plants too.  Besides, it's fun to change up the flower type and colour scheme, right?!
We still have to plant our veggie garden this year (and also weed and fix the rock garden) but then I think our landscaping projects will be done!  If only things could stay weeded though…
Oh and I still have to re-stain the deck, probably reseal the driveway, and who knows what else!  At least it's only the start of June right?