Whether you celebrated American Thanksgiving last week (or Canadian Thanksgiving last month), the big holiday season is approaching!  You know I'm all for the holiday desserts and would love to just binge on chocolate and sweets… but apparently, that's not healthy.  So, I decided to share a different recipe that you can bring to your holiday gatherings and it's one that has a bit of history at our family events: my Grandma's make-ahead mashed potatoes!
But first, a back-story!
Last year we were in charge of bringing the mashed potatoes to the Husband's family gathering, and let's just say that it didn't go as smoothly as I would have liked.  Because we were spending all day with the family, I just brought all the potatoes and ingredients to make in the evening.  Fast-forward to an hour before dinner and we're peeling potatoes, taking up space on the stovetop for multiple pots and I'm trying to delegate the Husband to help while also taking care of a busy little toddler.
For the record, we made these mashed potatoes (a basic butter and milk recipe) with my special mashed potato seasoning and they were delicious.  Of course, I'm a well-known potato-lover who has been known to order potatoes with a side of potatoes (true story!), so obviously, I'm a bit biased and particular with my mashed potatoes.
Either way, I was ready for mashed potato redemption and I'm not even joking when I say that this recipe fell from the heavens a couple weeks ago.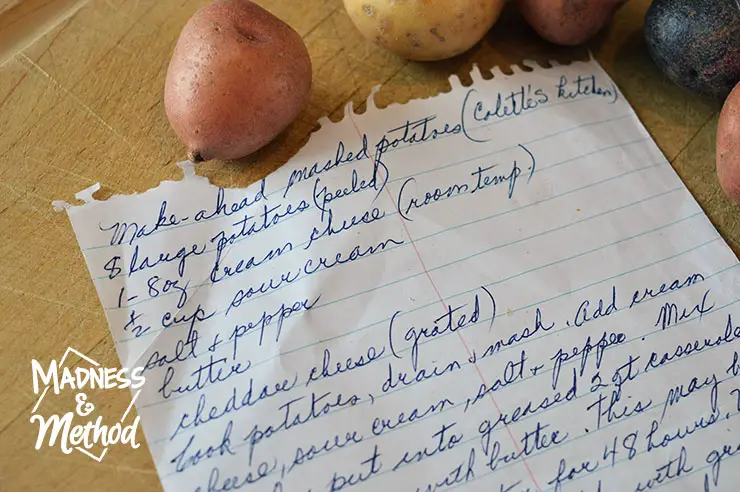 I have a recipe box in our kitchen pantry and I discovered this loose paper recipe wedged between my baking books (because you know I was looking for a brownie recipe!).  I have a few loose paper recipes, but they're mostly placed together off to the side.  This recipe is one of the few that was written by my Grandma, and apparently comes from "Colette's Kitchen".
Not sure if Colette's Kitchen was a TV show, a person she knew or what – but I didn't have too much luck nailing down the source when I did an internet search the other day.  (My grandma died before 2010, so it's very unlikely it was a blog!).
So I decided to make these cheesy mashed potatoes the other day, and I'm sharing the full original recipe, photos and thoughts below :)
Oh, and also my mashed potatoes seasoning recipe too!
Make-Ahead Mashed Potatoes
First things first, I had no idea what "dotting the top with butter" meant so I just guessed and turns out I was right!  I used about 1/4 cup of stick butter cut into pieces, and about 1 cup of shredded cheese (neither of those were quantified in the recipe, so just letting you know what I did!).

The recipe mentions that the potatoes can be refrigerated for up to 48 hours, but I baked them right away and just reduced the cooking time.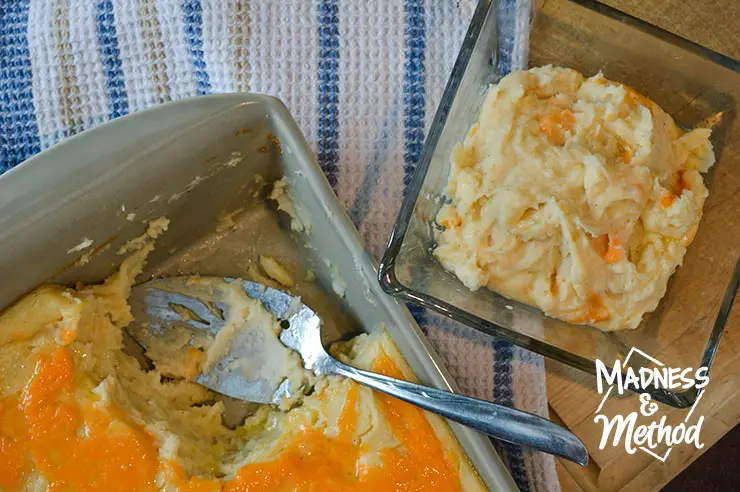 Print Recipe
Make-Ahead Mashed Potatoes
Are you in charge of making a holiday side dish? These make-ahead mashed potatoes are simple to prepare and are reheated in the oven like a casserole!
Ingredients
8 Large Potatoes (peeled)

1 8oz Cream Cheese (room temp)

1/2 cup Sour Cream

Salt + Pepper to taste (or potato seasoning mix!)

Butter

Cheddar Cheese (about 1 cup grated)
Instructions
1
Cook potatoes, drain and mash
2
Add cream cheese, sour cream and seasonings
3
Mix well and put into greased 2qt casserole
5
Refrigerate for up-to 48 hours
6
When ready to serve, sprinkle with grated cheese and bake uncovered at 350º for 35-45 minutes
Ready to see how it turned out?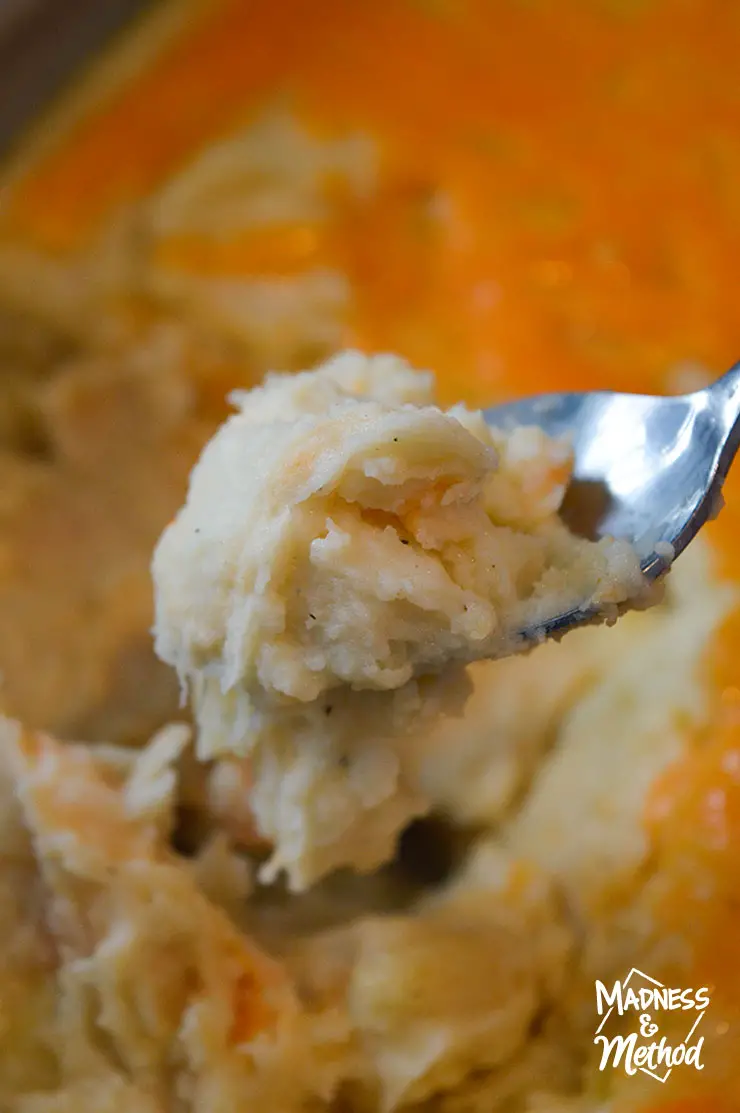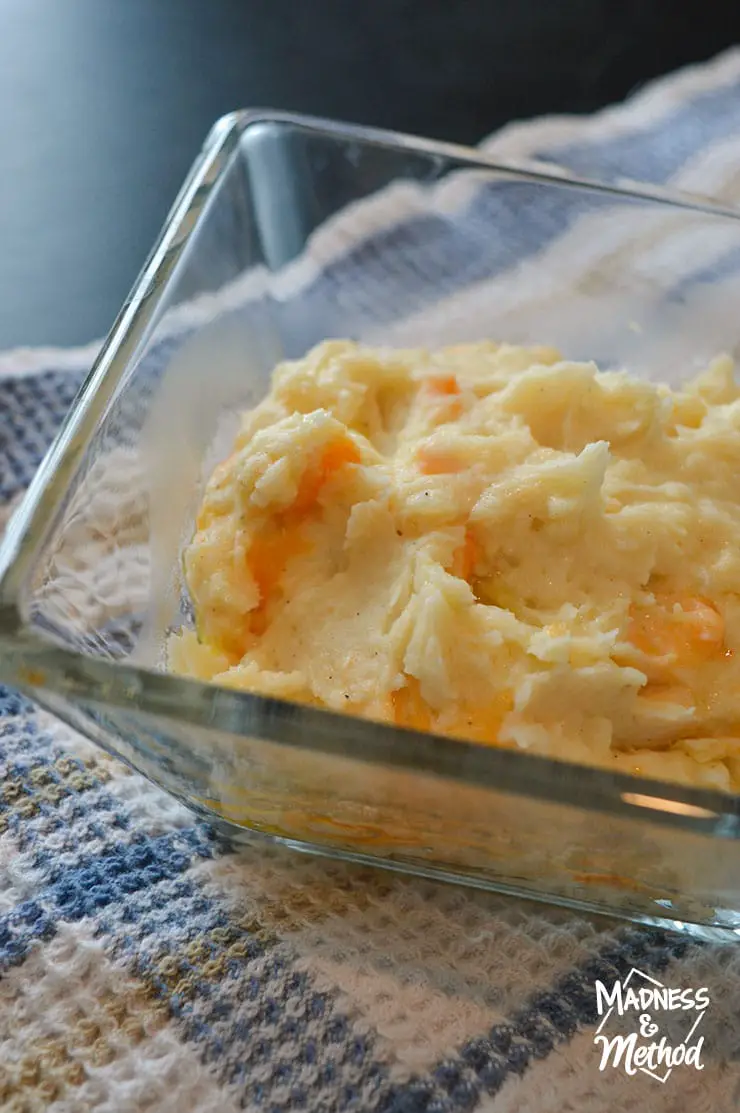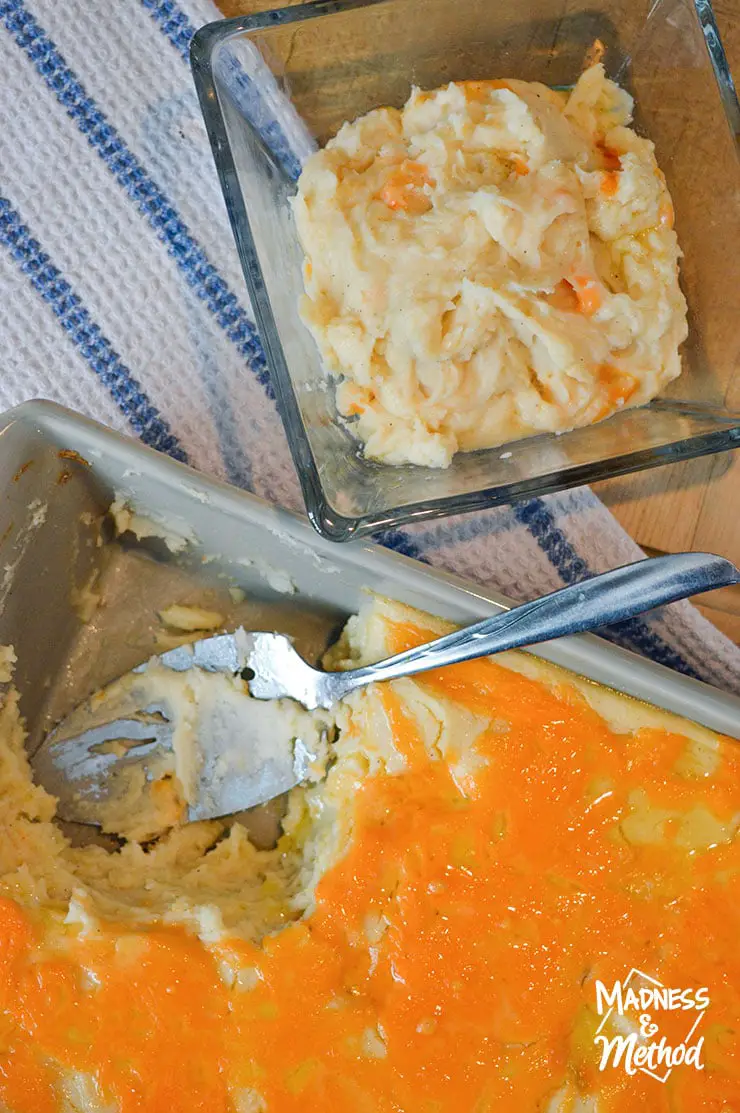 I'm not sure if I would be ready to completely switch out the regular butter and milk mashed potatoes for this recipe, but it was still delicious and the flavour reminded me of my past family gatherings.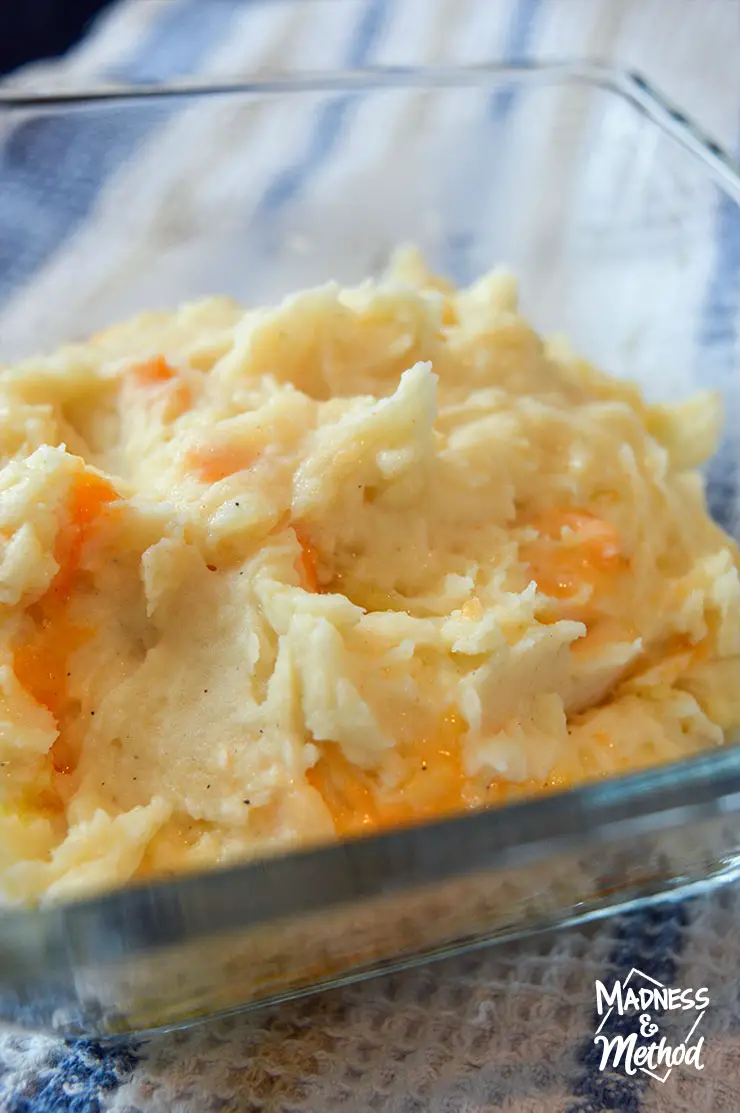 The Husband said he preferred these stiffer mashed potatoes, but I would probably add the butter to the potatoes rather than dotting the top.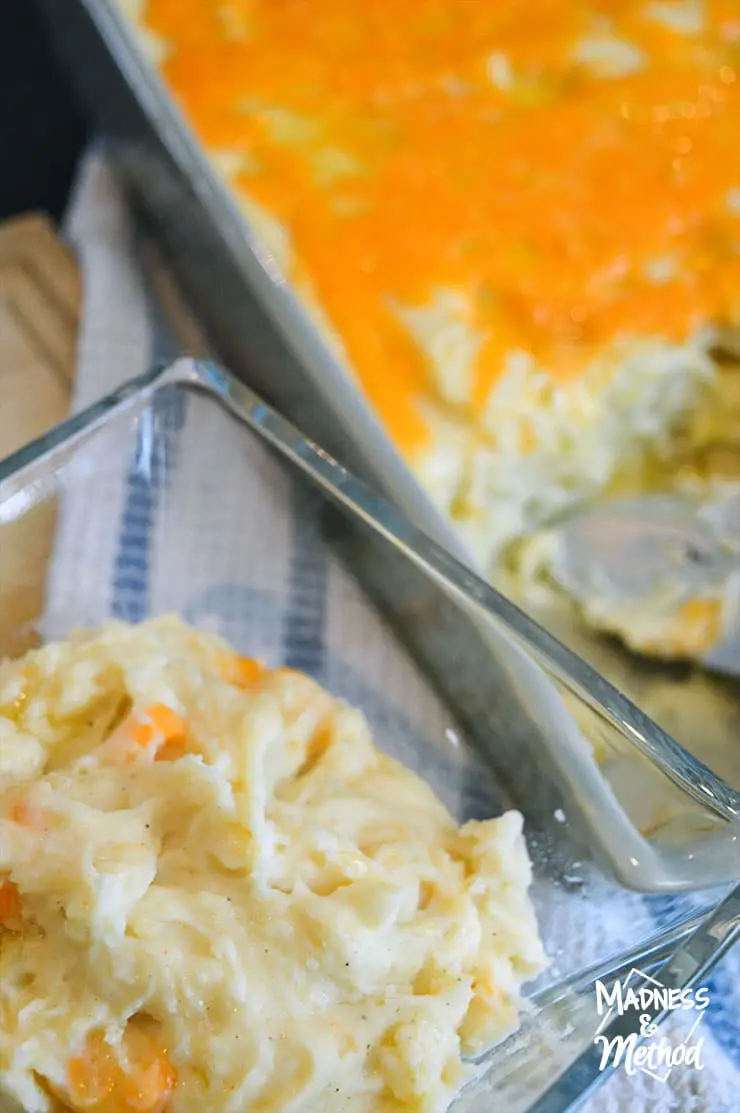 And I mean, if you're going to do cheesy mashed potatoes, go all out and add the cheese to the inside too!
Here's my custom potato spice mix that I usually just mix up a bunch all at once and add as I need:
Mashed Potato Seasoning Mix
1/2 tsp Black Pepper
1/2 tsp Onion Powder
1 tsp Salt
1 tsp Valerie's All-Purpose
Valerie's Original Flavours is a seasoning mix that is produced near where I grew up.  It's kind of my go-to spice mix, but I know that it's not very common (my parents bring it to me now).

This recipe was the perfect amount for these make-ahead mashed potatoes, but you might need to add a bit more salt and pepper if you don't have the Valerie's.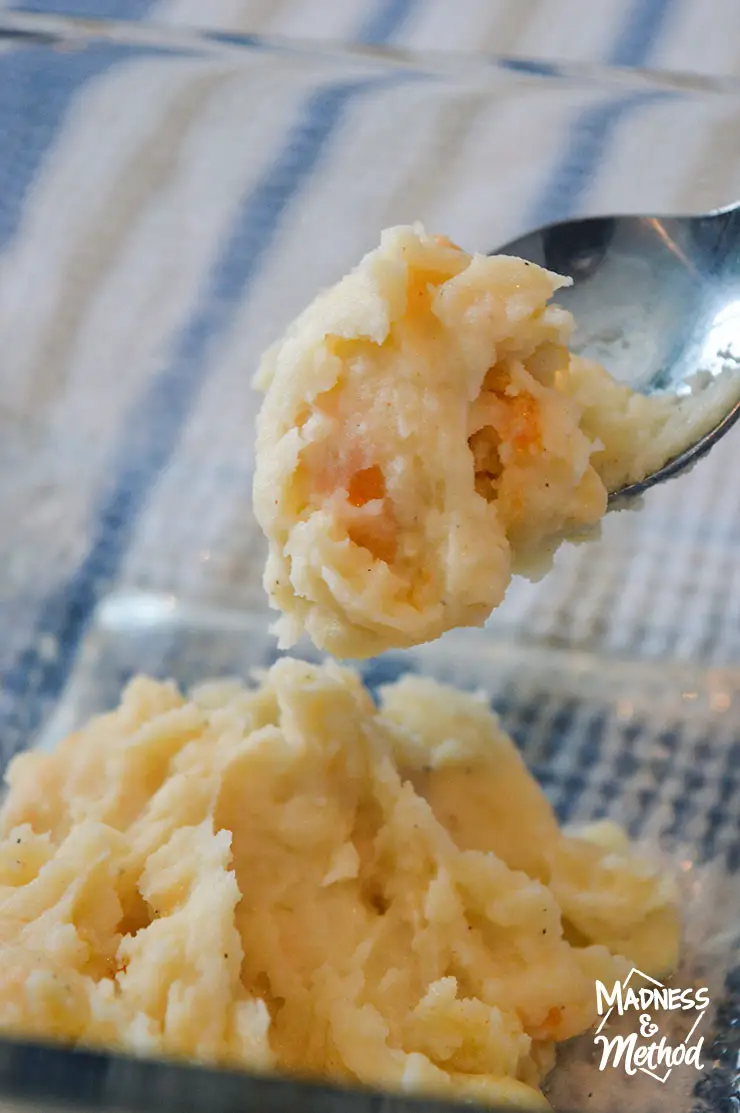 If you're in charge of a side dish or the main Christmas mashed potatoes, definitely give these make-ahead mashed potatoes a try!  Making these cheesy mashed potatoes ahead of time and heating them in the oven when you need them is more convenient and takes up less space than trying to make your mashed potatoes right before dinner :)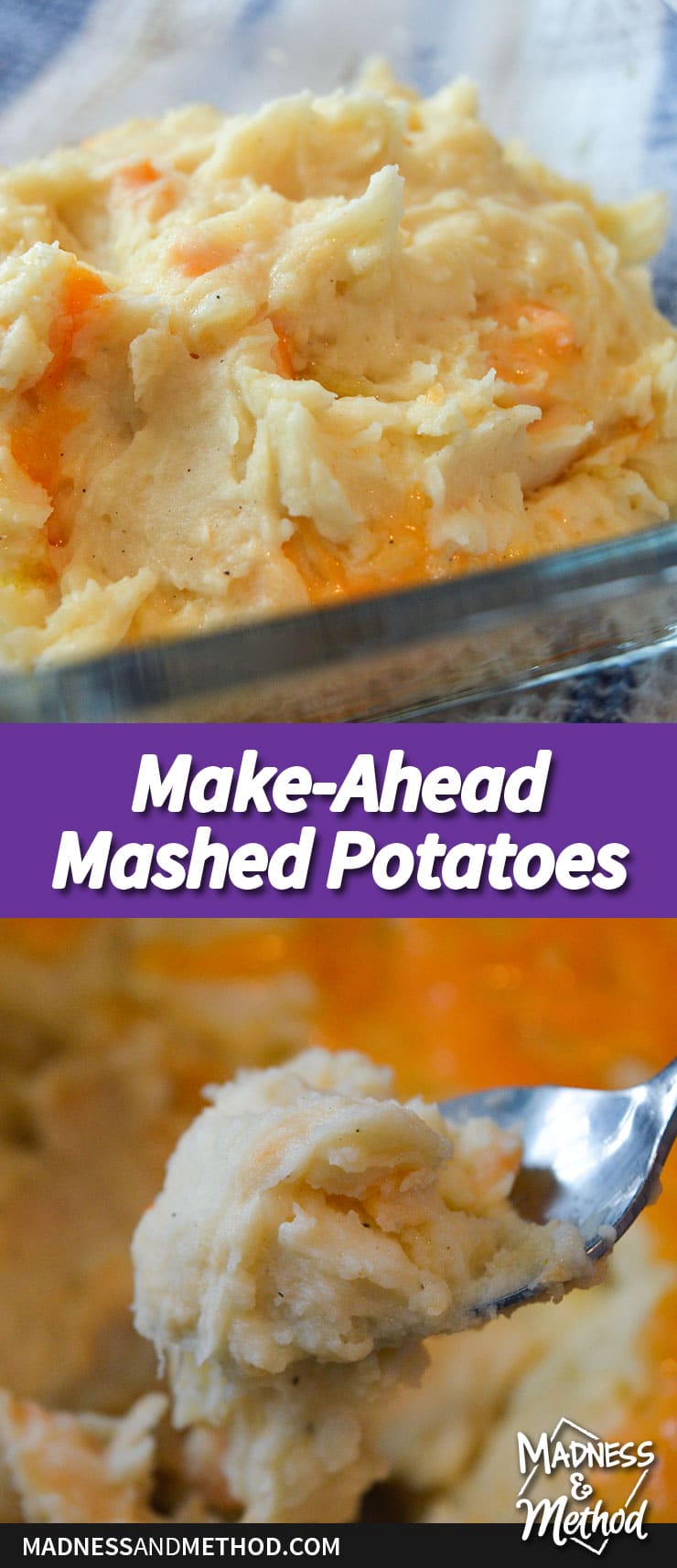 Serving-wise it would be good for about 6-10 people as a holiday side dish, and it's lasted us a couple of meals with just our family of 2.5 (although the little mister would have eaten the whole thing right away if I let him!).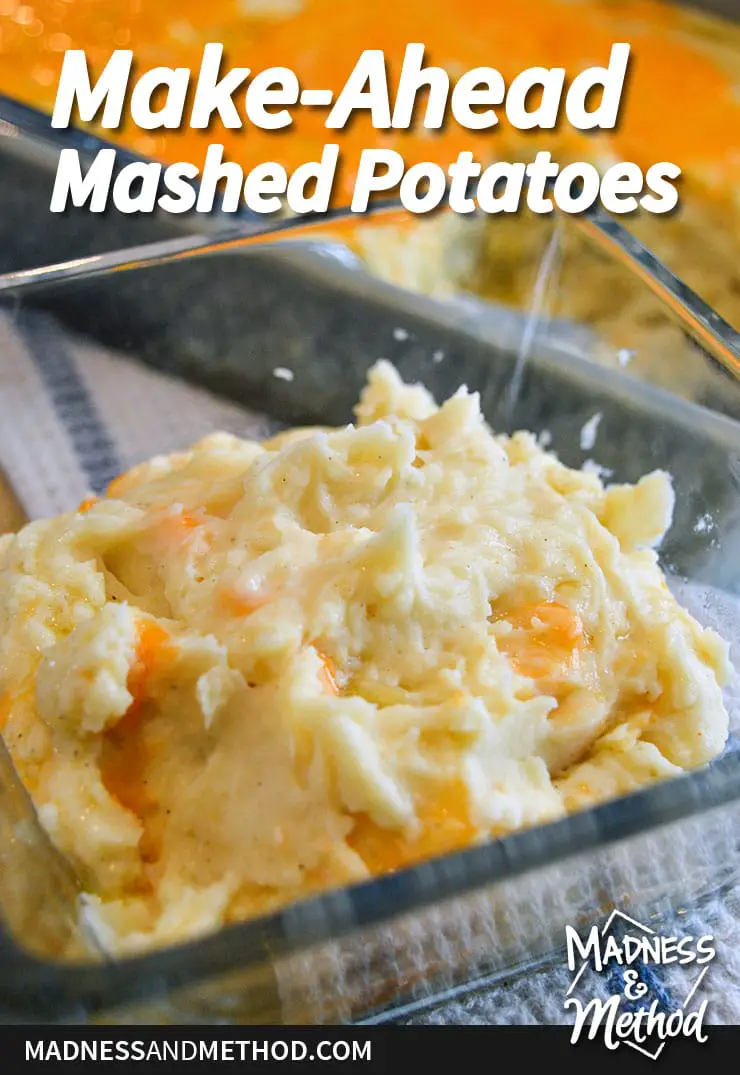 I hope these make-ahead mashed potatoes turn out well for your holiday gatherings (or just a random family dinner if you make a smaller batch), and I'm looking forward to serving these next month for Christmas (oh my goodness I just looked down at the date and realized that Christmas is just under a month away!!!).
And in case I'm not on mashed-potato-duty, hopefully I get to make a dessert instead :)