I've talked about my love for haystack treats before, and today I'm back with an idea for some cute "Pile of Bones" Halloween haystacks!  I'm trying to reduce the amount of recipes I share here, but I couldn't resist doing a Halloween themed dessert (remember my cereal brains from last year?)!  With just a few simple ingredients, these yummy skeletons will be a hit at your Halloween party.
In case you don't know, haystacks are a melted chocolate dessert with a base of chow mein noodles.  Traditionally made with melted butterscotch chips and added peanuts, they're a crunchy handheld (and sometimes messy!) treat.  Not sure what chow mein noodles are (or what type to buy?) check out this comparison: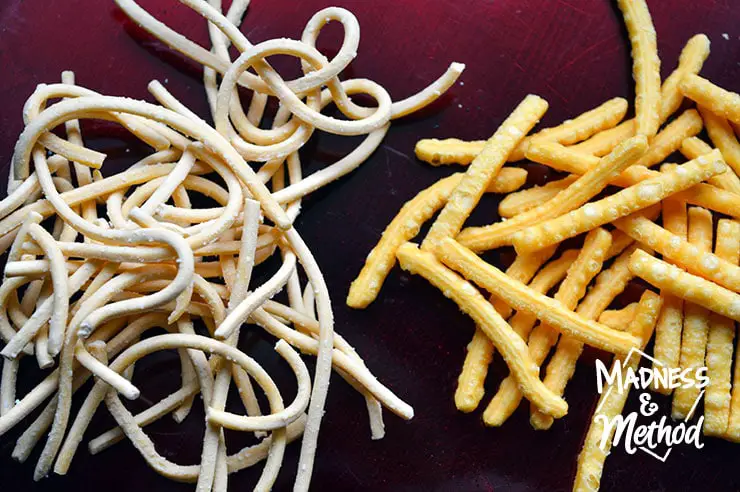 While both of these are labelled as "chow mein noodles", there is a bit of difference. The ones on the left are usually easier to find, and I get them at the grocery store in the "Asian foods" aisle, and/or near the pasta and rice.  Essentially, they are long-ish skinny noodles that you would use for cooking.
The chow mein noodles on the right I get at Bulk Barn (a bulk food store) and they are a bit chunkier and shorter.  I believe they are a cooked and deep fried version of the "regular" chow mein noodles, and are much better suited for making haystack desserts (although both do work).
Here's how I made my pile of bones: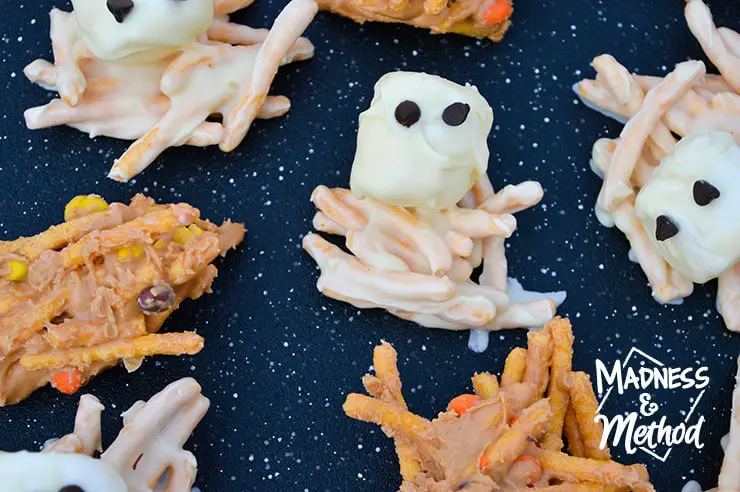 Print Recipe
Pile of Bones Halloween Haystacks
Here's an idea for some "Pile of Bones" Halloween haystacks! With just a few simple ingredients, these yummy skeletons will be a hit at your Halloween party.
Ingredients
1.25 cups of white chocolate (about a 225g bag of chips)

2 cups of chow mein noodles (approx.)

8 marshmallows

16 mini chocolate chips
Instructions
1
Melt 1 cup of white chocolate chips
2
Slowly incorporate chow mein noodles until fully covered
3
Using a tablespoon, scoop piles of chocolate covered noodles onto a covered flat surface
4
Melt remainder of white chocolate (about 1/4 cup)
5
Dip marshmallows in melted white chocolate, and stick one "head" per pile
6
While still wet, add two mini chocolate chip "eye balls" per marshmallow
7
Let cool until Halloween haystacks have hardened
Notes
If using the skinnier chow mein noodles, you can substitute smaller marshmallows for a more realistic skeleton (possibly omit mini chips) Haystacks can be any shape/size you want, have extra marshmallows and mini chips on hand just in case!
Aren't they cute?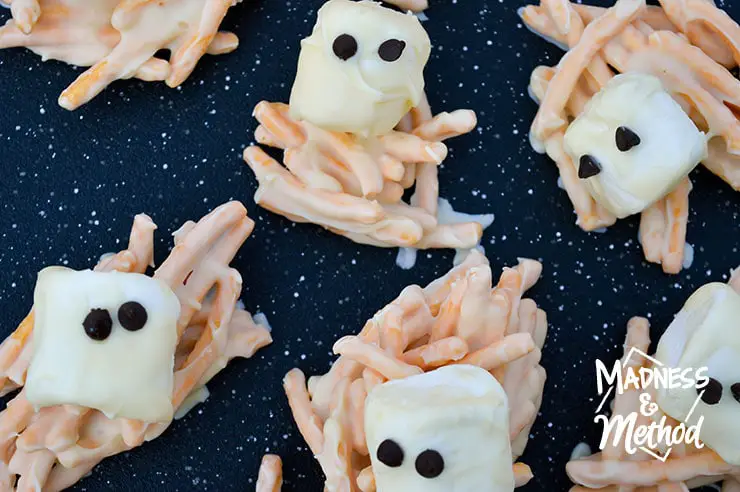 Because of the messy-looking nature of the haystacks, each pile of bones skeleton will look a bit different. You can play around with their head placement as you like, but I kind of just plopped it on wherever it made sense.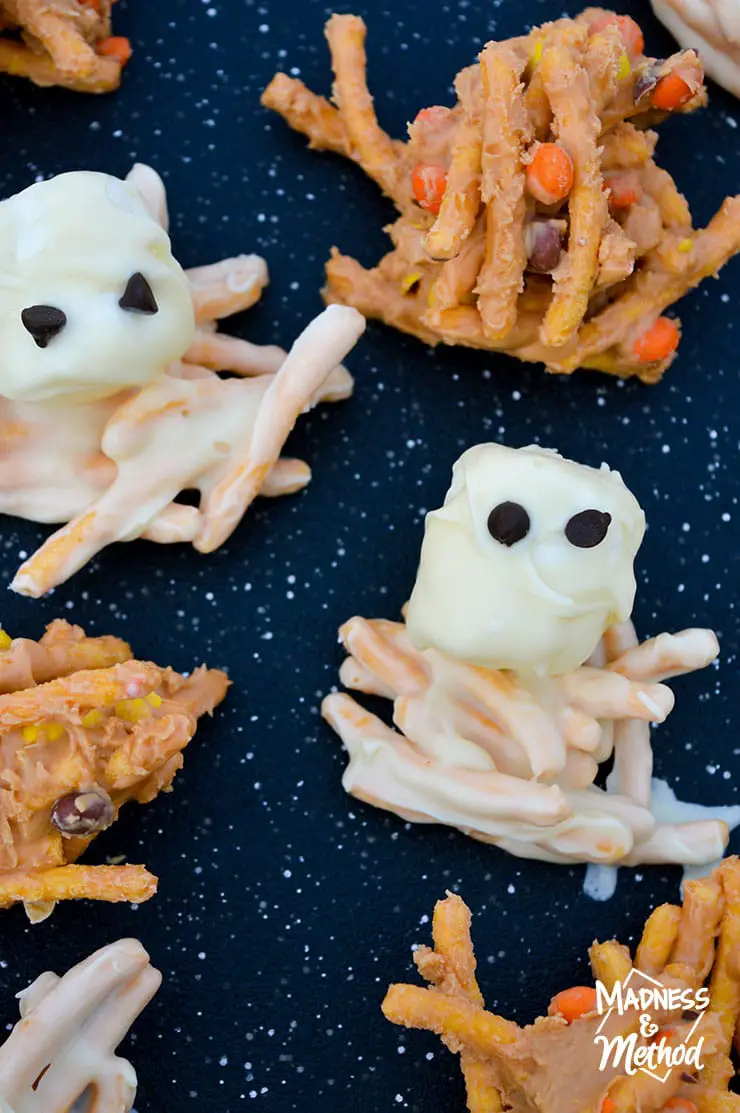 Since I had an abundance of chow mein noodles, I made some more traditional Halloween haystacks with butterscotch chips and mini Reese's pieces.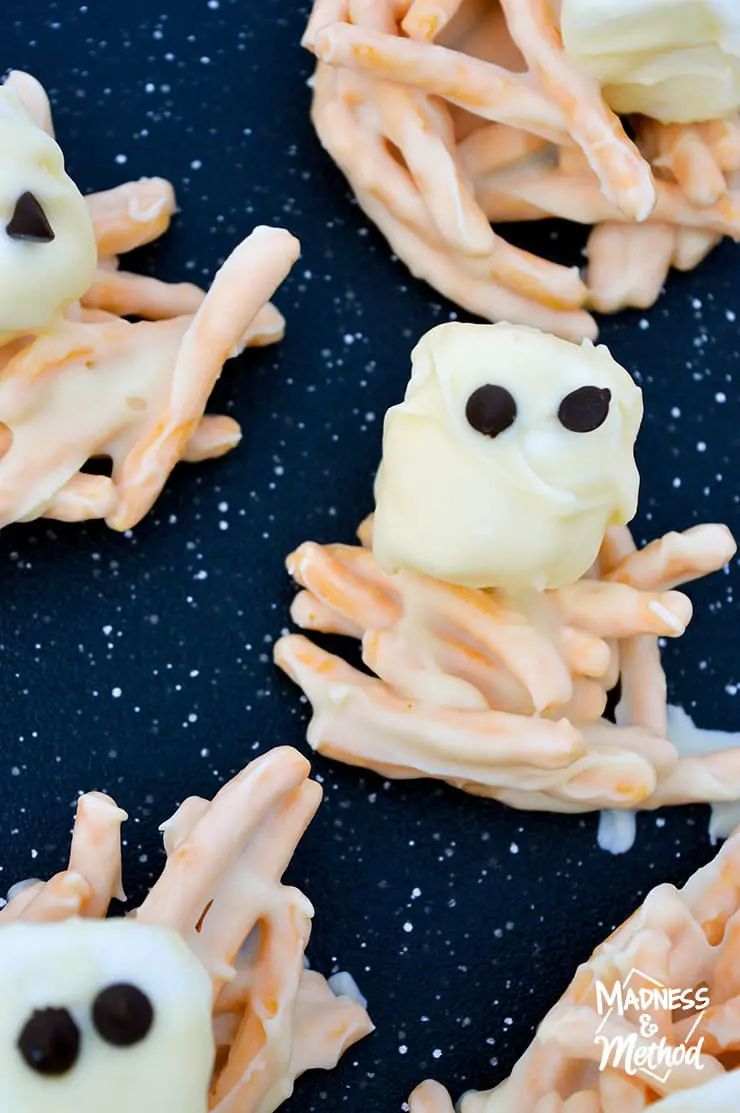 Ha, I will eat all the regular haystacks and save the "pile of bones" ones for the Husband (he LOVES marshmallows!). I prefer my marshmallows toasted in a graham cracker and surrounded by chocolate, but at least they make cute little skeleton heads for these haystacks!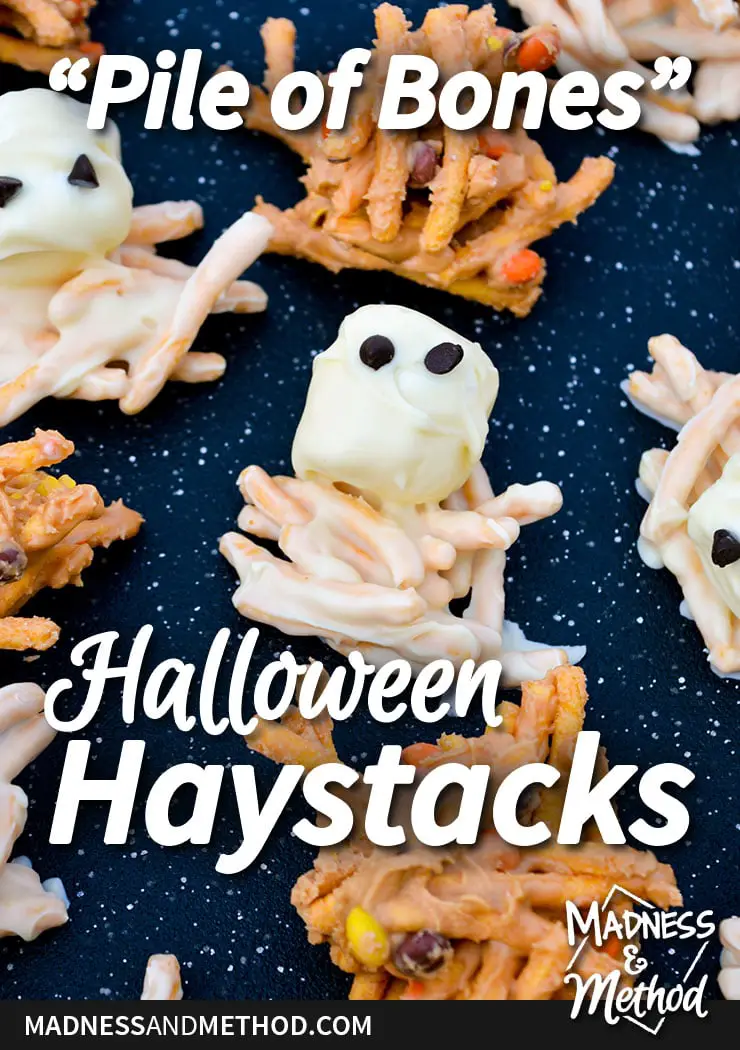 Hopefully I shared these pile of bones Halloween haystacks early enough so you can make them for your Halloween get-together. Or you can be like me and totally make them a month early just for fun :)
Looking for other gruesome Halloween snacks? Don't forget to check out my cereal treat brains for another fun idea!