Are you thinking of remodelling your kitchen and installing the cabinets yourself?  Want to know which options we were considering, and which one we ultimately decided on?  Read on for all the details of pre-made cabinet makers we were looking into at the time of our kitchen planning stages.  But first, are you dying to find out which layout we decided to go with!?
We went with… layout #3!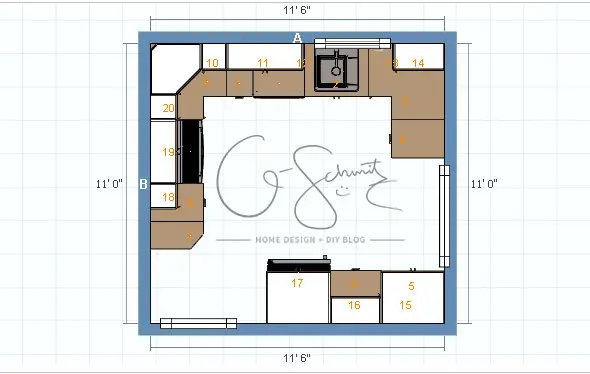 Basically, we loved that this option had the most cabinet storage AND the most countertop space (two things that were very important to us from the get-go) and we didn't have to take down a support wall, but were still able to open up the room from the East side (into the dining room).
Why We Chose Ikea Kitchen Cabinets
So now where do we get these cabinets?  As I mentioned before, I had been designing the layout using Lowes' Virtual Kitchen Designer, Ikea's 3D Kitchen Planner and some options were done with the Home Depot online designer as well (again, not a very user-friendly interface), so I naturally considered all three stores for the potential cabinet purchase.  I slightly considered Rona, but the stores that are near us here don't have a large enough kitchen section… and they didn't have an online planner (that I was aware of at least).
I visited the local Lowes and Home Depot on separate occasions, and browsed the different cabinet selections they had.  Because we were planning on installing ourselves, and wanted to get the cheapest option, we could eliminate all the custom order cabinets they had in store (which is about 90% of their selection).  I also knew that I wanted the cabinets to be a medium wood tone, and both stores had one door/wood option that matched the colour I wanted in their pre-fabricated cabinet lines.  With the prefab cabinets, you are limited to the cabinet shapes and sizes that they have, however there is still a pretty large amount of cabinets you can choose from.
For Ikea, because the closest store is about 4 hours away from us, I couldn't just drop in for the occasional visit.  However, because we had been planning this renovation for a couple of years, I made sure to stop into the store and visit the kitchen section whenever we drove by (usually on the way to visit my family back home).  I also picked up the designated kitchen catalogue and would refer to it whenever I was comparing my cabinet and design options.  At Ikea, there were three colour/wood options that I would have considered, and their prices were very comparable to the prefab cabinets from Home Depot and Lowes.
While each store had their pros and cons, we ultimately decided on Ikea.  Why?  Check out our reasoning below:
More cabinet colours to choose from in our price range
Wide tall cabinets (the prefab at Home Depot only came in a 24″ wide piece)

I was really picturing a double door opening pantry, not a single

Soft close drawers and doors
30″ sink cabinet (we had a 36″ before, and I felt it was a waste of space… and we never used our double sink anyways)
More cabinet sizes to choose from
Great accessories and add-0ns for the cabinets as well
By now, we knew where we were going to buy the cabinets, I already had the floor tiles at this point… all that was left was to actually get this remodelling process going!  Ok ok, and create a game plan, re-organize our whole main floor living area to relocate our kitchen stuff, actually clean out the cabinets of all our stuff… and demo the current kitchen.  But I'm getting to that!
So, be sure to check in next week for the demolition!