It's been crazy cold lately, although last week we did have a warmer patch (that has since frozen). Not sure how long these temperatures will last, so maybe it would be a good idea to stock up on some gifts for Canadians (or other cold-weather dwellers) just in case!
– Note: This post contains affiliate links. See more information about affiliates here. –
I grew up near the US border, so I tend to use Fahrenheit temperatures in the summer (80 is nice, 90 is hot!) and Celsius in the winter. It's just much simpler knowing that 0 means freezing, and everything below that just gets worse… Although, if I had to pick a preferred winter temperature, I'd say between -10 and -20; that way it's cold enough that we shouldn't get any snow, but "warm" enough that you can still breathe properly and don't have to bundle up too excessively.
I also tend to avoid winter activities if I can, and love curling up in the house with some hot chocolate and a blanket. The Husband on the other hand will regularly go ice fishing, snowmobiling, snowshoeing and whatever other crazy things (no matter the temperature).  Hopefully, this list will appeal to you whether you like my cold-weather style, or the Husband's!
Note: Since publishing this post, some of the items have become no longer available :(  I've tried to find substitutes that were similar!
Cold-Weather Accessories
Long John/Onesie: The Husband has a onesie, although he calls them "long johns", which to me are just the pants.  Either way, he sports these under his normal clothes whenever he's planning on being outside all day.
Plaid Throw Blanket (Similar): My kind of winter activity!  This red plaid throw blanket is the perfect addition to your Canadiana décor.
Stadium Throw (Similar): For those on-the-go times you want a blanket.  Trust me, real Canadians keep a spare blanket in their car – you never know when you'll need one!
Mittens: When it's really cold, I actually wear two pairs at the same time!  Some tight fitting gloves, then a pair of larger mittens on top; of course if you're doing an activity where your hands might get wet, it's always good to invest in a waterproof/resistant pair!
Plaid Scarf (similar): Technically this is a men's scarf, but the neutral pattern is universal and it's just a bit larger than normal.  And when it comes to scarves, you definitely want something a little longer and wider so you can wrap it around a lot.
Travel Mug (Similar): Because Canadians really love their coffee.  Double-insulated to keep your beverages hot for over 6 hours – this one should fit in most cup holders too.
10-in-1 Survival Tool: (Similar) While probably useful in the summer too, this kit comes with a thermometer (so you know just how cold it is) and a fire starter, so you can hopefully warm up (and cry) while you're stranded in the wilderness.
Even MORE Winter Gift Ideas
Campfire Candle (similar): For those who like to watch the fireplace channel in the comfort of the living room.  There are a bunch of other scents that would also be good!
Reusable Hand Warmers: These reusable ones would definitely be handy if you go outdoors often.  Or you can buy a bunch of disposable ones to give to your cold-weather loving friends :)
Ergonomic Snow Shovel: The Husband actually doesn't like the ergonomic shovel (we have another one that scrapes the snow better); but if you have a lot of snow to shovel, these really do ease the pressure on your back.  (Take it from the person who does most of the snow shovelling!).
Floatation Jacket: Ya seriously, the Husband has a winter coat that floats – if you fall through the ice and don't want to drown right away.  He says his is a Mustang Survival one, but there's also a medium priced version and super cheap one.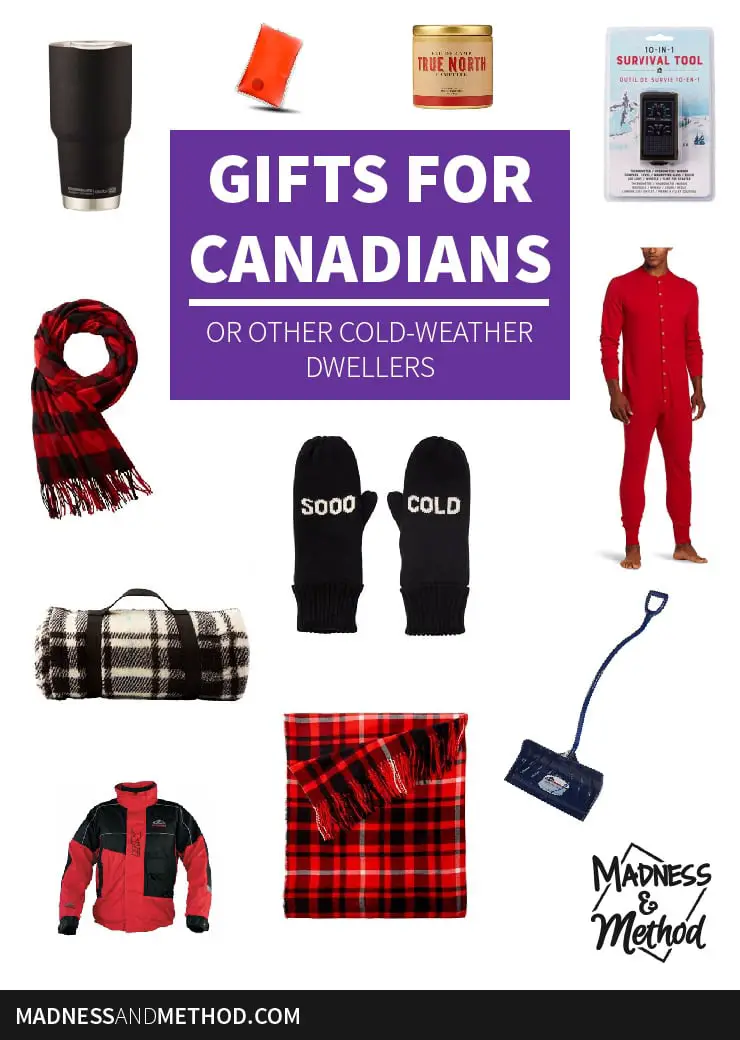 Whether you're the type to stay indoors, or venture outside into the blistering cold – something on this list of gifts for Canadians might be for you!  Ha, I tried to also keep it within the red/black Canadiana look, just in case you really wanted to go all out :)