I'm here today to share another Halloween outdoor décor project!  This time, I created some cool Halloween silhouettes using three classic creatures – cats, bats and spiders.  As with most of my other seasonal décor, I wanted to make something that would be cheap, and easily reusable for next year.  Plus, I've included the same files I used, so you can recreate these Halloween silhouettes at home!
– Note: This post contains affiliate links. See more information about affiliates here –
I knew that I wanted to place my silhouettes in front of our walkway mini-trellis', so figured they would have to be around a foot tall or smaller.  I also wanted them to be black so they would contrast against the nice white fence, and was super excited when Krylon agreed to send me some free spray paint!
I first started out by drawing up some silhouette shapes of cats, bats and spider(s) on the computer, then printed them out.  I had two scrap pieces of plywood (about 1/2″ thick) and I knew that these would work perfectly!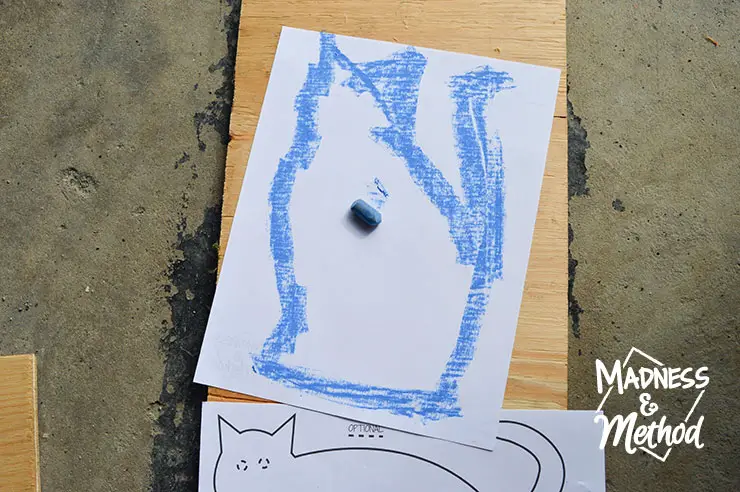 Similar to the technique I used for my DIY gravestones, I smeared some chalk along the back of the paper.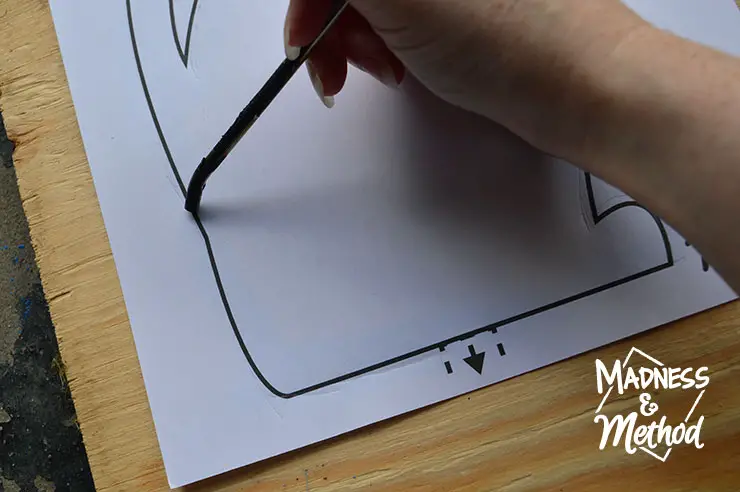 Then you simply take something pokey (I used some sort of metal stick) and trace along the outline of the shape.

This will transfer the chalk to the wood, and it's much quicker than cutting out the shape and then drawing the outline from there.  I also decided to squish all my silhouettes onto the one piece of wood, although it was trickier to cut this way.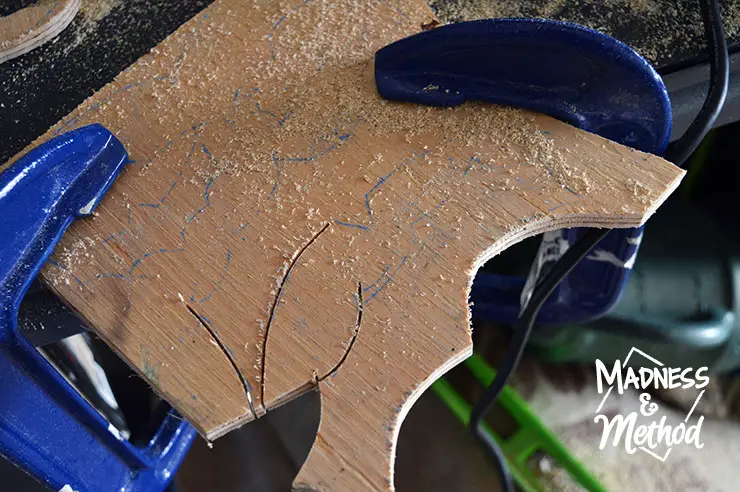 I simply clamped my piece of plywood down and used a jigsaw to cut the shapes.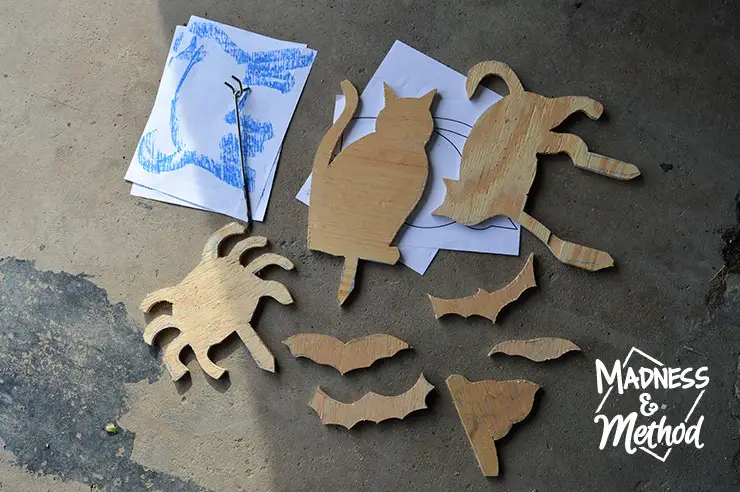 The standing cat lost one of its legs, and some of the little bats were very difficult to cut (it was hard to clamp the tiny little pieces of wood).  So I went back to the drawing board (literally) and altered some of the designs, then cut a few more shapes on my spare piece of wood.
Halloween Silhouette Printables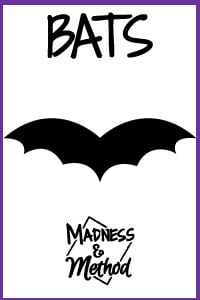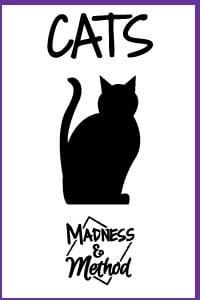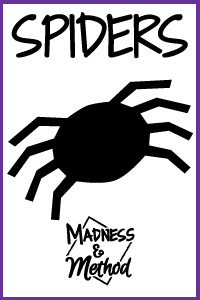 Click on the images above to download the same PDF files I used!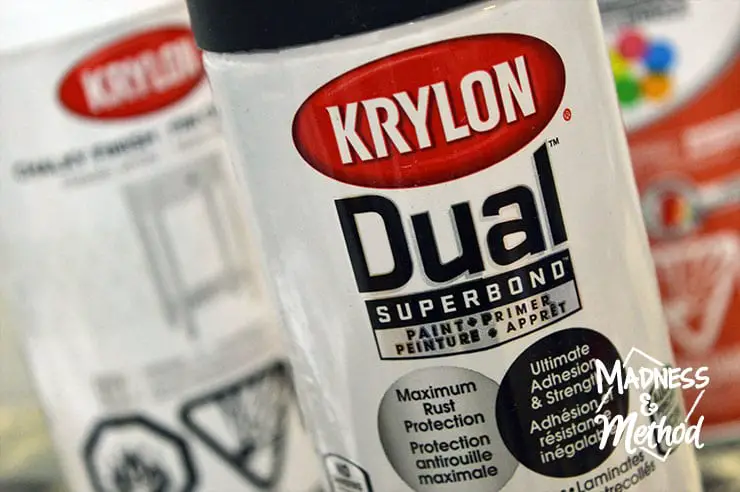 Like I mentioned before, Krylon had sent me some spray paint for this project – and I was super excited to add some nice colour to my Halloween silhouettes.  I cut another cat, and a few more bats too – so I had a bunch of creatures for my décor!
I used the Dual Superbond in Satin Black, (you can buy a similar one online) and gave everything a quick coat on one side (plus the edges).  I do need to paint the back section, but you can always omit that side if it won't be visible.

I also spray painted some little wooden dowels with silver metallic Krylon paint (here is a similar one online).  Once my bats were dry I drilled a 1/8″ hole into the bottom of each (the size of the dowels).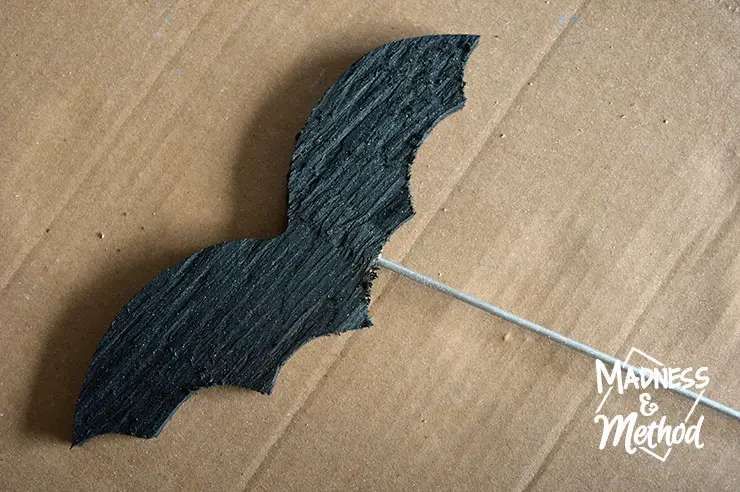 Then I simply inserted the dowels in!  I thought about gluing them for extra strength – but they were already pretty tight and snug.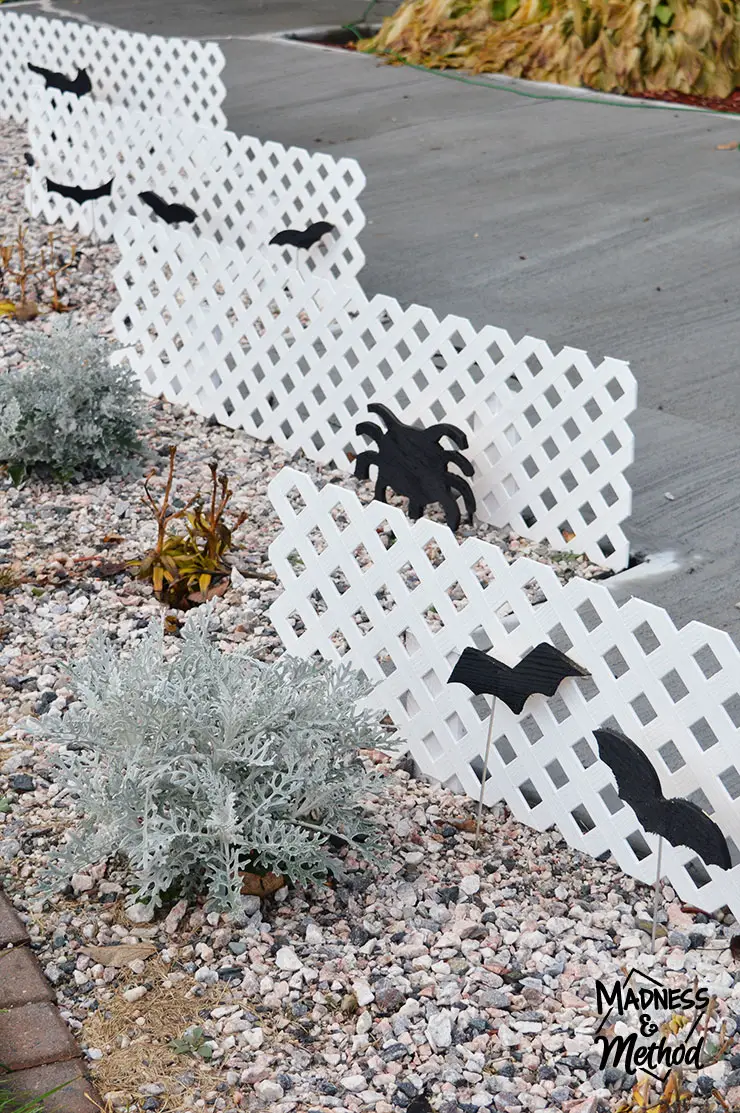 And wouldn't you believe it, once the paint was dry (in about an hour) the sun actually came out so I could place my Halloween silhouettes outside and take pictures!

The drawings for the cats and spiders have an "optional" section included to cut-out a piece on the bottom, kind of like a stake.  I knew that I would need that extra wood so I could stick them into our rock garden, but you don't need that if you are planning on placing them somewhere else.  Actually, I think I may chop the stake off of the spider and move him before Halloween comes.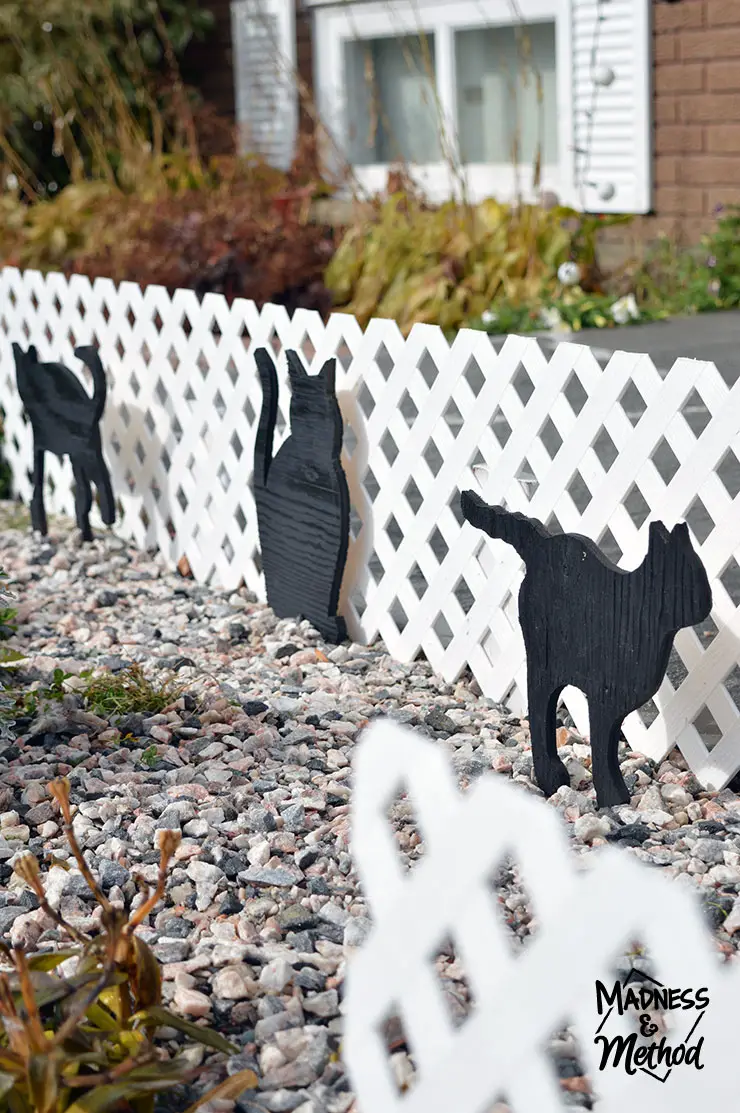 Right now, I have each different "creature" in their own trellis sections, but I will definitely be doing some moving around before the big night.  (I'm planning on perfecting all my projects and sharing what my final look is next week).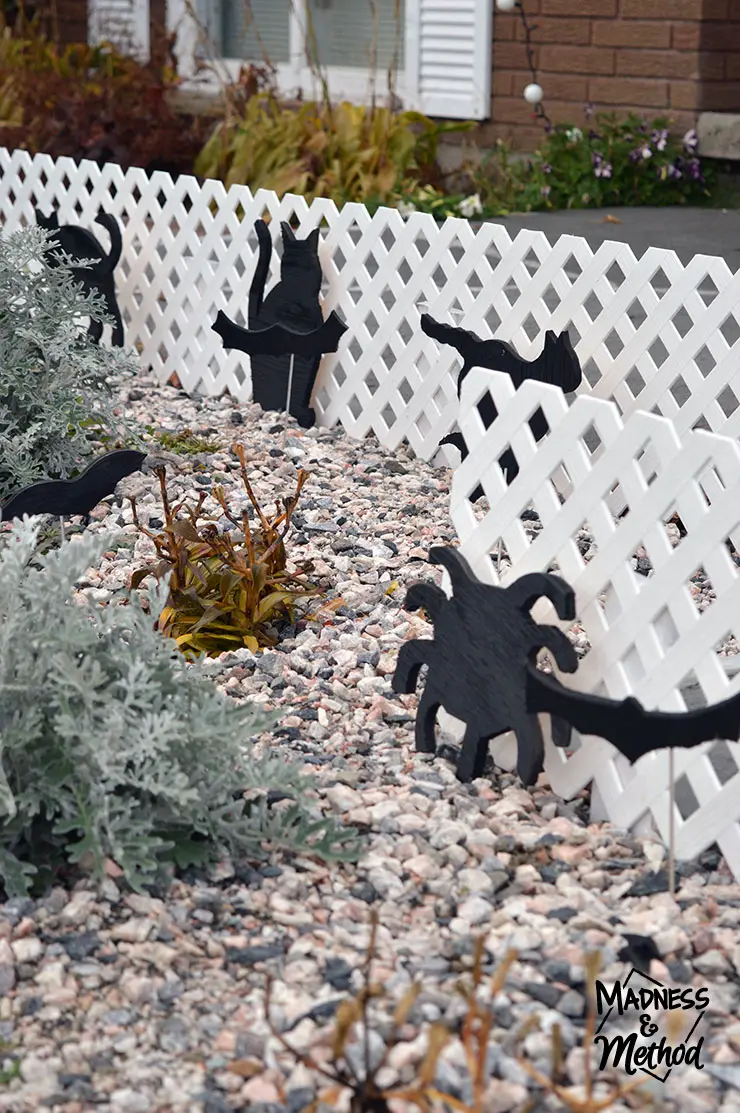 I might also drill out some eyeballs for the cats and spiders – but they do seem pretty cute as they are.  Ha, I actually hate spiders and that's why I made mine more "cute" looking with curly arms, although you can make a scary version if you wanted to (with angled arms).  Cute spiders have little curly arms, scary spiders have angry angled arms.
Please pick a picture to Pin!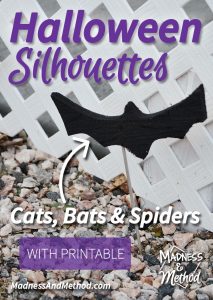 These Halloween silhouettes were actually super easy, and you can literally make hundreds of them as long as you have enough scrap wood.  Right now I have 3 cats, one spider and just under 10 bats; but I still have a teensy bit of wood left – so I may cut out some more shapes!
Thanks again to Krylon for sending free paint for this project :)
Are you looking to work with me in promoting your products or services? The Madness and Method Blog would love working with relevant/useful/appropriate businesses, please contact me to discuss ways we can coordinate and partner together.
I have one last Halloween décor project to share with you, and then I'll do a recap next week with everything!
Shop this Post