I wanted to add a bit of Halloween décor to our yard, but I wanted something that would last more than one season.  You see, a few years ago I bought some small cheap foam gravestones from the dollar store, and they stuck into the ground with a small wire (and kept blowing away!).  Every day I would find them scattered across our yard, and I'd have to reshape the wire and stick them back in the ground.  By November 1st, they were so damaged I had to throw them away (which was fine since they didn't cost that much, but not very earth-friendly…).  This year, I planned on making my own cheap DIY gravestones, similar to the foam ones – but much sturdier!
– Note: This post contains affiliate links. See more information about affiliates here –
Cheap DIY gravestones you say?  How cheap?  Well, would you believe me if I told you I made these for free (no… seriously!).  To make these, I used all materials I had laying around – but assuming you didn't have any materials and you were to make these from scratch, they wouldn't cost too much.  (Compared to similar sized foam ones in the store that can cost upwards of 20$).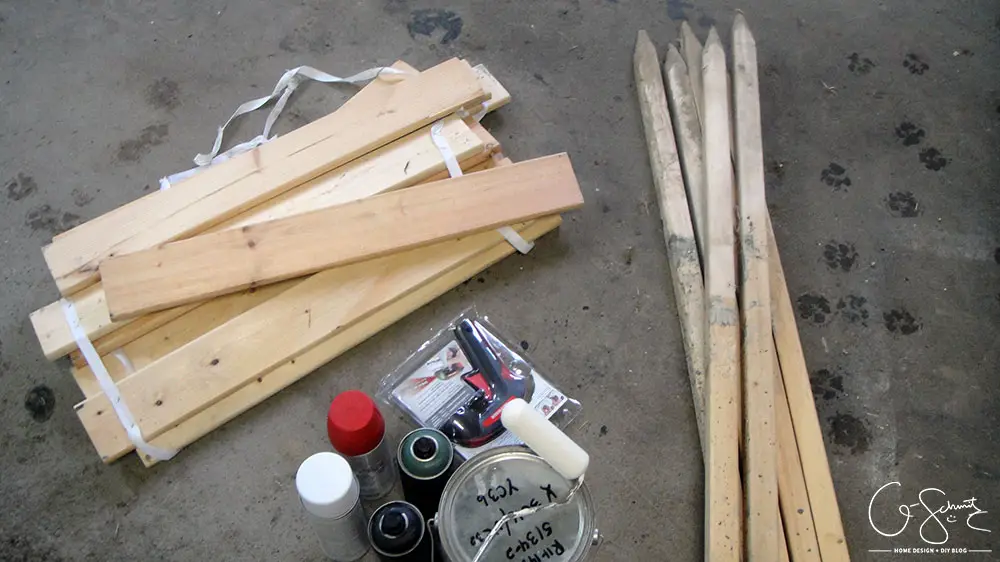 (And some tools like a saw, drill, hammer, etc).
If, like me, you have some leftover bed slats lying around you may need to remove the strap that holds them together.  I use two methods, 1) the shoe method: you step on one slat with your shoe and rip the others off with your hands (very technical, I know!); and 2) the plier method: basically using some pliers to take the staples out.  If you don't have any slats, you could substitute 1×4 lumber, or 1×3, etc.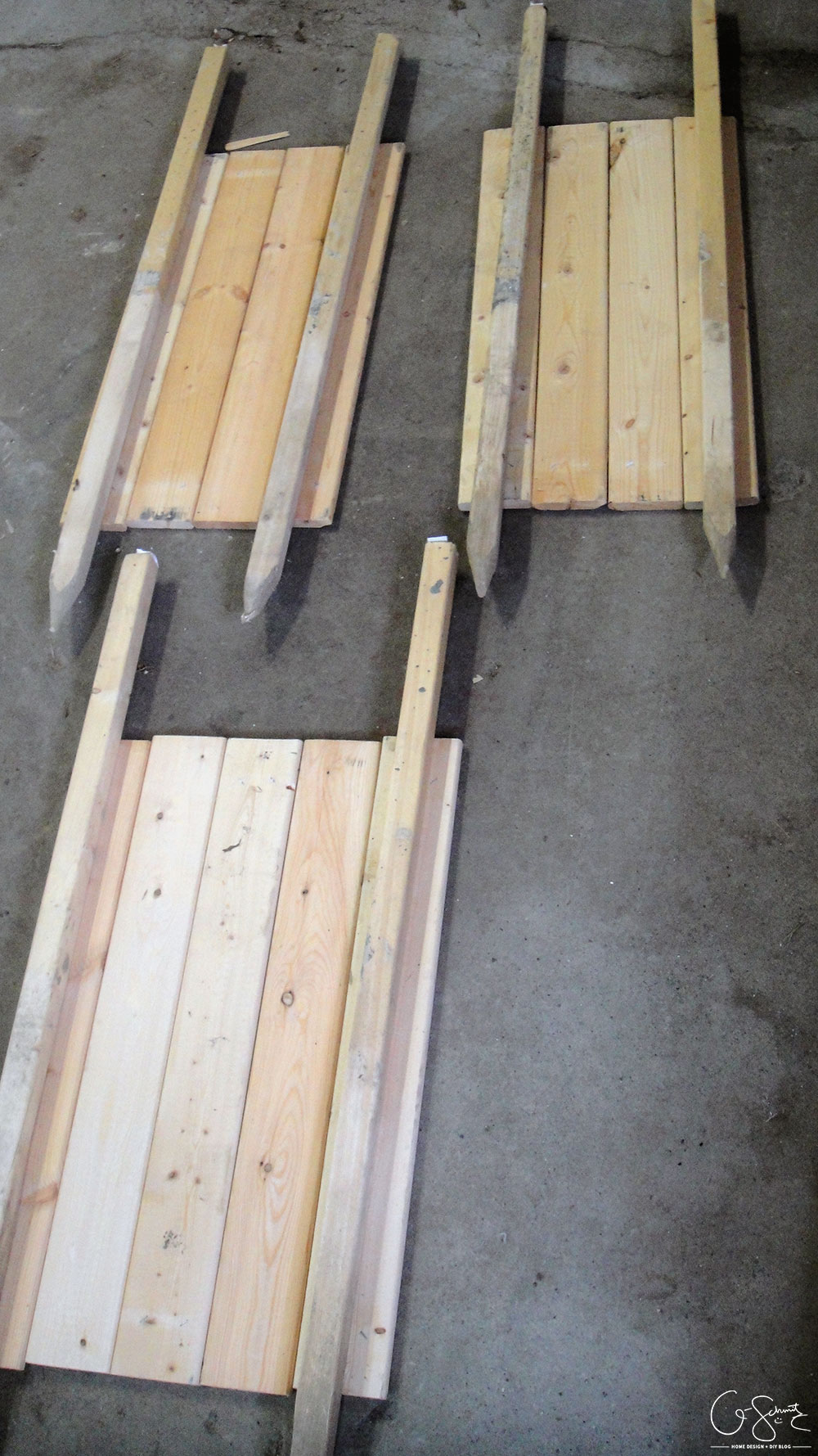 We managed to salvage 6 of the posts from the concrete frames, but we did have some leftover fresh ones just in case (that I will save for something else).  If you needed to buy these, they sell them at Home Depot for just over 1$ each.
I laid my slats and stakes out and had two "skinnier" gravestones, and one wider one.  I then measured the distance in between the stakes when they were placed in the center of the end piece (NOTE: if you are making these, place your stakes at the outside ends, it will save you later!).
I simply cut off the measured lengths from the non-poky part of my stakes.
These will then be placed in between the tall ones to hold all your boards together; and obviously the wider gravestone needed wider pieces.
Speaking of the wider gravestone, I decided to make it a bit fancier by creating a curved top.  This did add a bit of a cutting challenge since our miter saw does not cut curves, and I had to use the saws-all and create the curve myself.
Once all my pieces were cut, I simply took some screws that were the right length and drilled from the front of the slats into the stakes.  At Haven, someone made a joke about how you shouldn't use drywall screws for all your projects, and you should use appropriate hardware.  While 100% true, I did use drywall screws for these gravestones because I had them on hand, they were the right length, and I didn't care about aesthetics :)
Okay, remember above when I mentioned to place your stakes on the ends of the outside slats instead of the middle like I did?  Well, it's because it was hard to catch the ends of those stakes, and one of my slats did split.  I could screw into the sides to join the pieces together, but it was an extra hassle.
At this point your gravestones should be assembled and ready for paint.  I did all this work in my garage, and although I do want to paint the floor eventually, I figured it was better to cover it so I wouldn't get paint everywhere.
I also figured it was time to use my handy Rustoleum Comfort Grip spray can holder (that I got for free at Haven!).
The plan was to paint the backs of the gravestones black, and do the fronts in grey.  The cans of black spray paint turned out to be duds, so I had to recycle them.  (Note: they were very old and may have been stored in the garage for a few years… freezing in the winter…).
I did the backs first, so of course I ran out of spray paint for the fronts.  Drats!  Not wanting to go to the store or spend any money, I had to improvise and use some red and white spray paint for my primer instead.  Good thing I had the spray can holder, because it really did make the spray painting easier; and I didn't get any on my hands (normally my finger goes over the little nubbin and gets covered in paint).
I then rolled on a coat of house paint (the main colour in our living room, called "Taupe") for the two skinnier gravestones.  I then mixed some black acrylic paint into a small pot of the grey to darken it up, and free-handed "RIP" on them.
For the wider gravestone, I did the entire surface in the darker colour and used the handy chalk transfer method I read about here and traced out the letters I printed.  If anyone wants to know, you can get the skull and crossbones symbol by using the font Wingdings, and doing a capital N.
I painted in the chalk lines using the lighter grey colour, and once everything was dry just wiped up any chalk mess.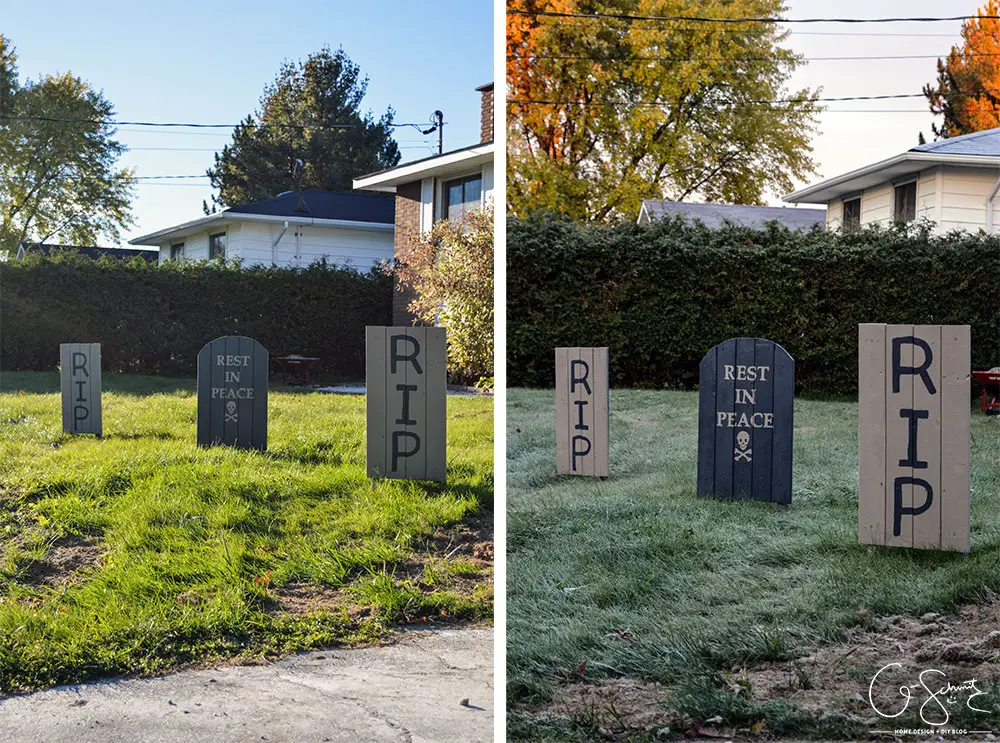 To place them in the ground, all you have to do is carefully hammer down the stakes until they are sturdy.  If the wind can blow these things around the yard, that will be the least of my worries!  And, look at what a difference the time of day makes when I took the picture!  The image on the left is in the late afternoon when everything looks nice and sunny, and the one on the right is early in the morning when the sun is just coming up and the grass is still frost covered (much spookier!).  It probably also helps that we have random patches of dirt where I tried to fill in some holes.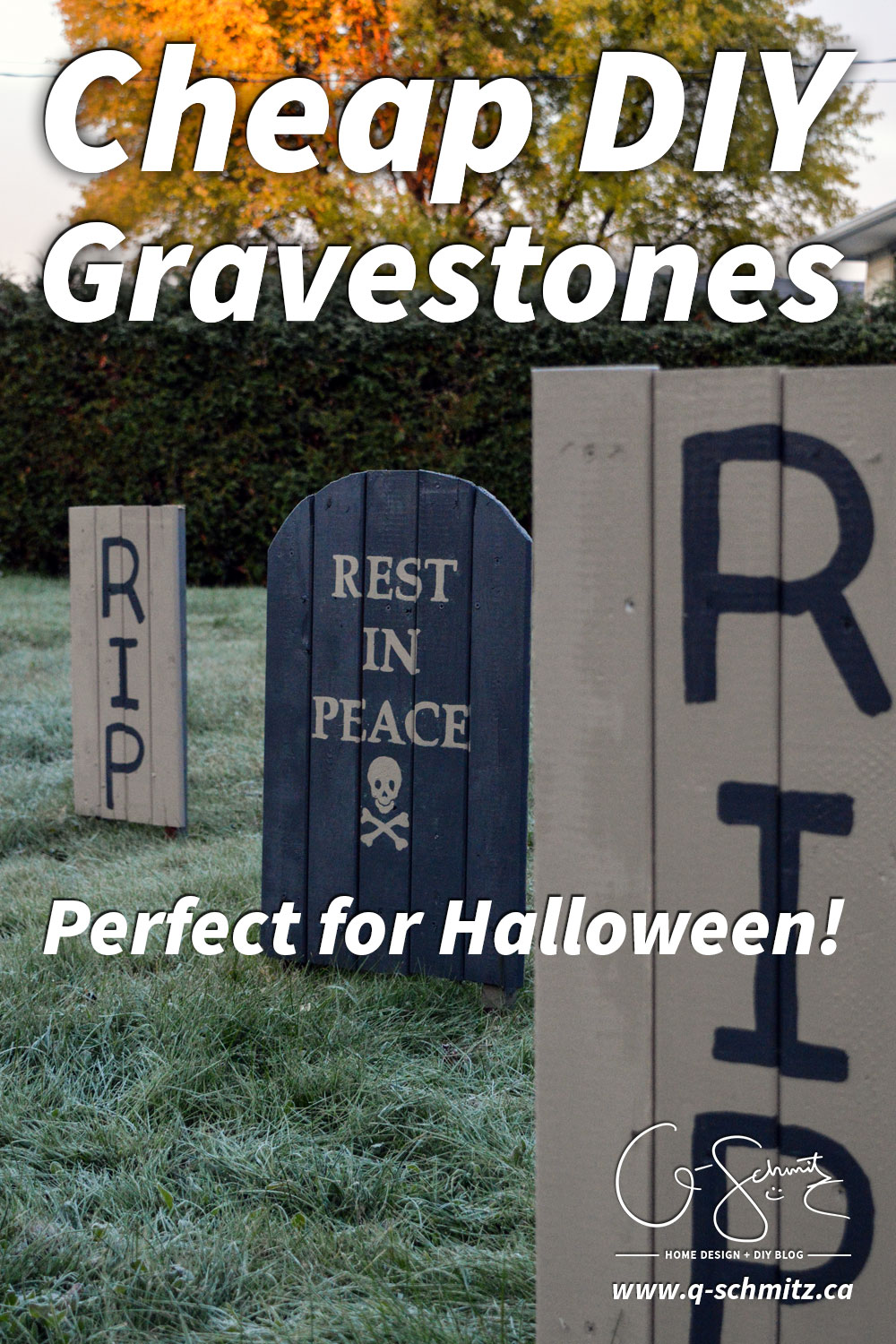 So there you have it; some easy to make, cheap DIY gravestones that are perfect for Halloween!  Even though these are made with normal lumber (ie: not weather resistant) I think they'll last several seasons.  And even if they don't, at least they were free :)
Once the leaves start falling from our front tree, I just might strategically rake some large body-shaped piles in front of them, to give the illusion that there is actually something buried there (it's what I did in the past, and it's a really good décor technique where you're too lazy to actually lift the leaves into a bag to compost).  Nothing but good tips here haha!
They also look cute from behind if you wanted to know :)
And, although this post has nothing to do with beef, writing the word "stake" all the time has gotten me craving some "steak"… I hope I didn't entice you meat-eaters too much!
Are you looking to work with me in promoting your products or services?  The Madness and Method Blog would love working with relevant/useful/appropriate businesses, please contact me to discuss ways we can coordinate and partner together.
Rustoleum did not sponsor this post; however I did receive the free sprayer by attending the Haven Conference.  If you're interested in purchasing your own, you can buy one on Amazon.ca or at Amazon.com.