I'm excited for today's blog post!  Not only do I get to share our new purple Christmas tree decor, I'm also participating in a blog hop.  That means that you can see a BUNCH of other great Christmas trees too.  Ready for lots of Christmas tree decor!?
– Note: This post contains affiliate links. See more information about affiliates here. –
This is my first year with a purple Christmas tree.  Last week, I discussed how I flocked my tree, and today is all about the decor!  If you're joining me from Betsy at Happily Ever After Etc., welcome :)  She did such a pretty pastel tree (also flocked!), so if you like that style – then you'll be at home here :)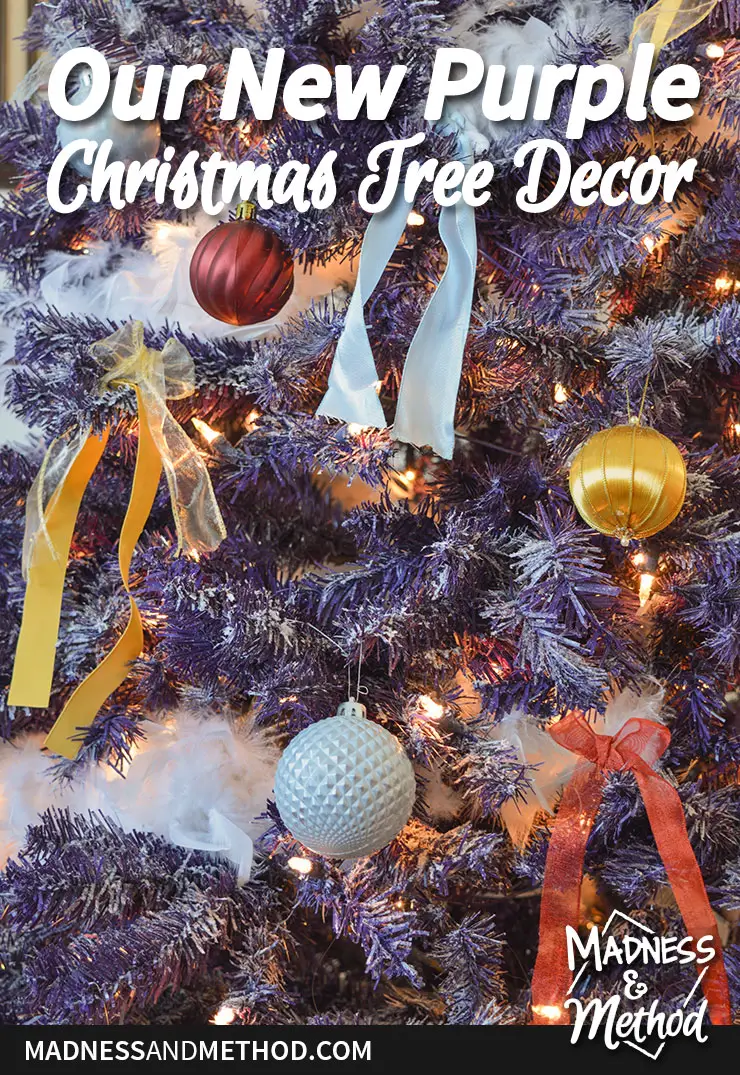 Well, other than the fact that my tree is purple, ha.  If you didn't know, my name is Nicole and I live in Northern Ontario Canada.  Yes, we already have snow outside, and yes, it came a bit late this year (the end of November).  Anyways!  For my first time decorating my new purple Christmas tree, I decided to pay homage to the other colours I have in the house. 
I'll get into that a bit more later – but here are a couple of sneak peeks of the tree: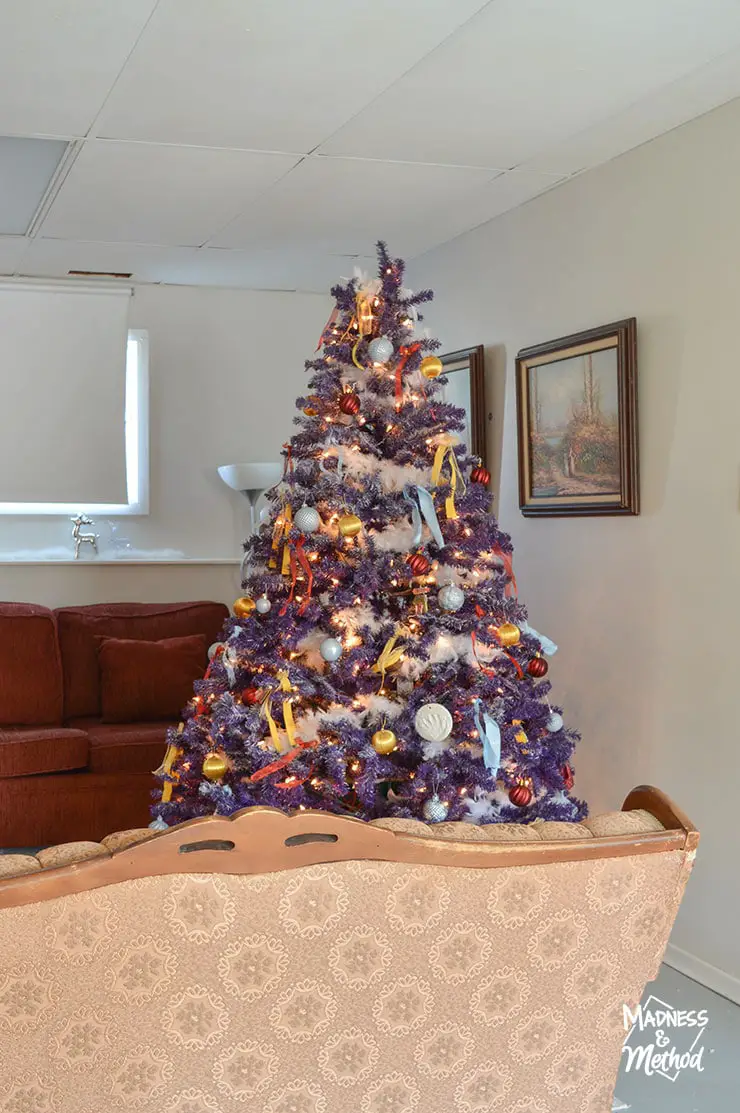 I recently completed a makeover in my basement.  While the main goal was definitely getting things cleaned and organized (for sanity's sake), part of me also knew that Christmas was coming and we'd need a place to put our tree!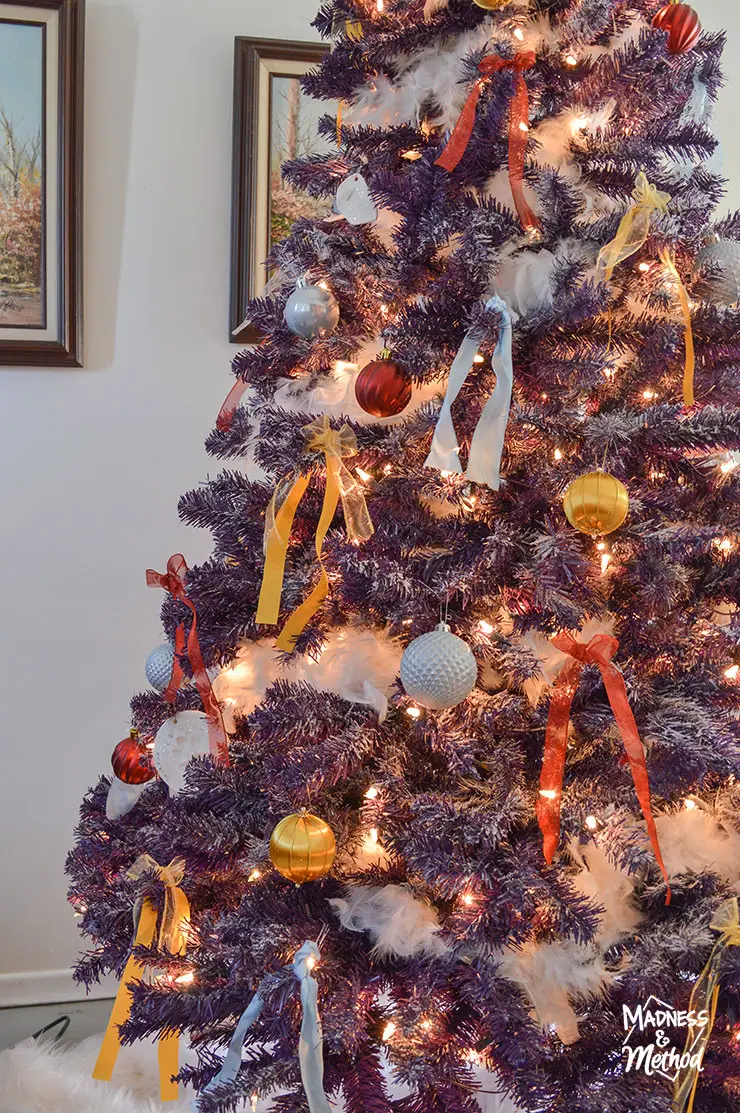 We have 3 little ones (5, 3, and 2 tomorrow!), so having a tree upstairs (where we spend 95% of our time), doesn't make sense right now.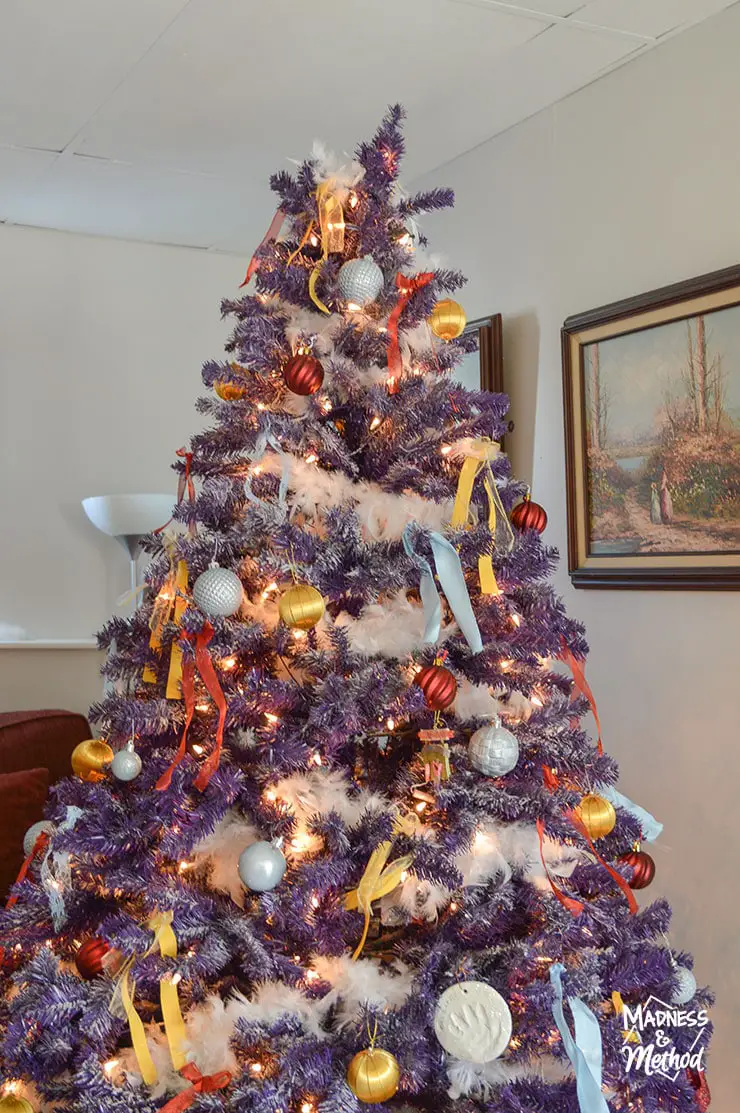 They would most likely be touching the tree, or asking about presents all.the.time.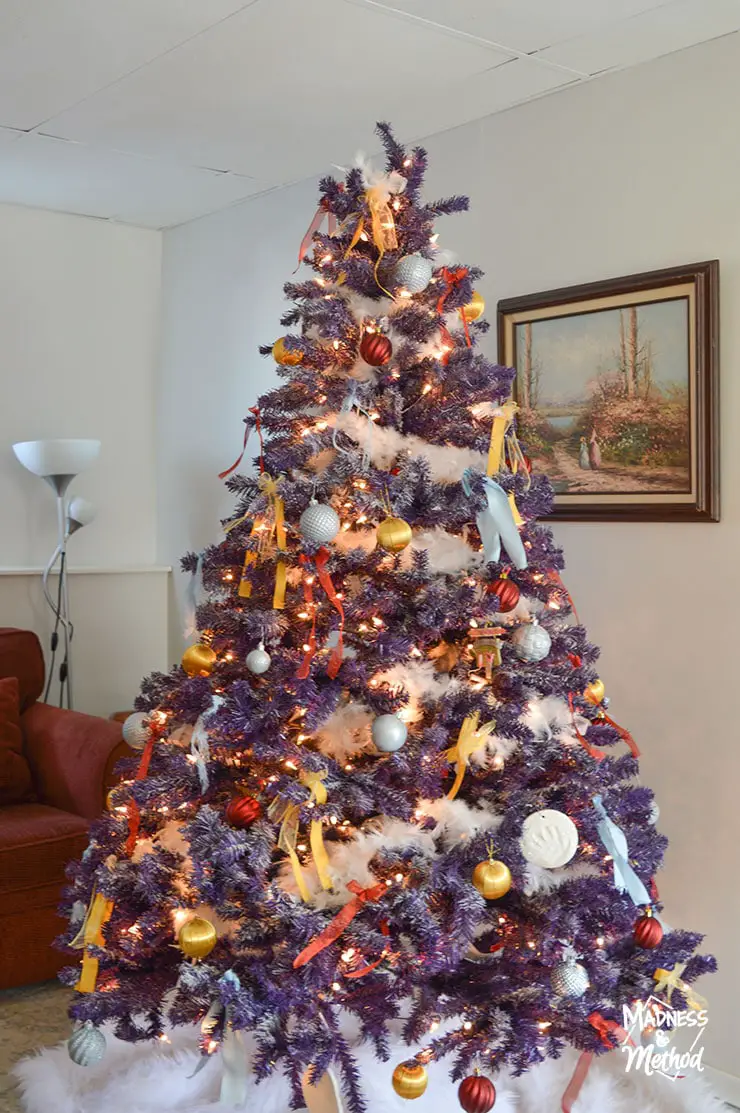 Plus, I like the idea of the tree tucked away. 
Purple Tree Decor: Primary Colours
You almost forget about it until you turn the corner in the basement…
Recently, I painted a small mural in the basement. I incorporated all the main colours we had in the house.  (The big swatches).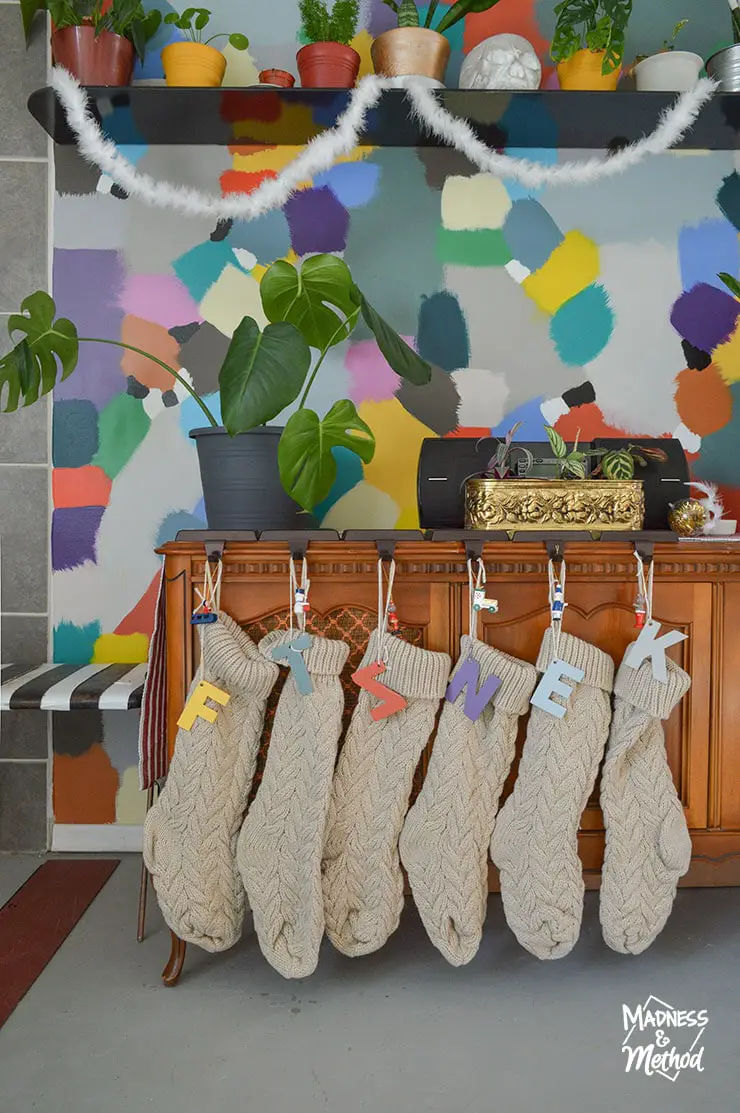 Last week, I also shared this view of our stockings.  Since I had the paint out, I decided to do each letter in the person's favourite colour.  Or, at least that matched my home colour scheme.  (Because, does Tootsie have a favourite colour, right!?).
I also a few DIYs for this tree – one of which was a 60% fail… ha.
You see, I bought some ribbon specifically to decorate the tree in the tree main colours: red, yellow and blue.  They didn't have any yellow ribbon in the darker colour I wanted, so I figured I'd just dye my own.  Fast forward months later when I need to decorate my tree and didn't actually buy the yellow dye. 
(Maybe I should mention that I live about 2 hours away from Michaels.)
DIY Ribbons
So, I improvised and used a watered-down paint instead!  I dipped the full length of the ribbon in a bowl with the watery-paint, then dried it on a cardboard box.  I moved it a couple of times so it wouldn't harden anywhere.  The colour was perfect, albeit there were some minor sections missing.
I then cut the ribbon to length (although that might have been easier before I dipped it), then tried to hang them on the tree.  My other ribbons hung nice and loose, but the paint really stiffened these.  (It was also a different type of ribbon… so maybe that was a factor too).  I just couldn't get them to look nice and cute.  And/or they'd easily fall off the tree.
I noticed that our local dollar store had some ribbon, so I bought some yellow/gold to replace the DIY ones.
But they were way too sheer to use as-is :(  I had already fallen in love with the bold yellow ribbons, and just wished that they hung nicer and didn't fall all the time…
I should mention that I've been slowly "decorating" the Christmas tree for over a week now.  It sat around for a few days after getting flocked.  Then, the kids helped put up the ornaments, but that was mostly clustered at the bottom.  Then I tried with the yellow ribbons, and finally just finished it a few days ago. 
The above photo on the right shows the flocking powder that fell.  We'll see how much more we lose, but it should all be stuck in the tree skirt now ha.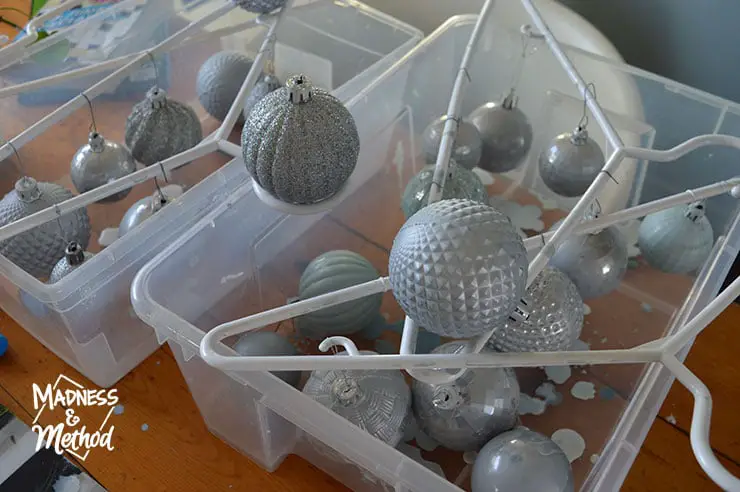 Oh, and I also dipped my thrifted balls in a watered-down paint too.  Spoiler, they didn't really change that much.  But it was fine since they were already a super subtle blue.
Our Primary Colour Christmas Tree Decor
It didn't even occur to me that I had chosen primary colours until just yesterday.  I just went with the colours of our upstairs (our purple bedroom, the big kids' red room, the blue living room, and the future painted yellow room).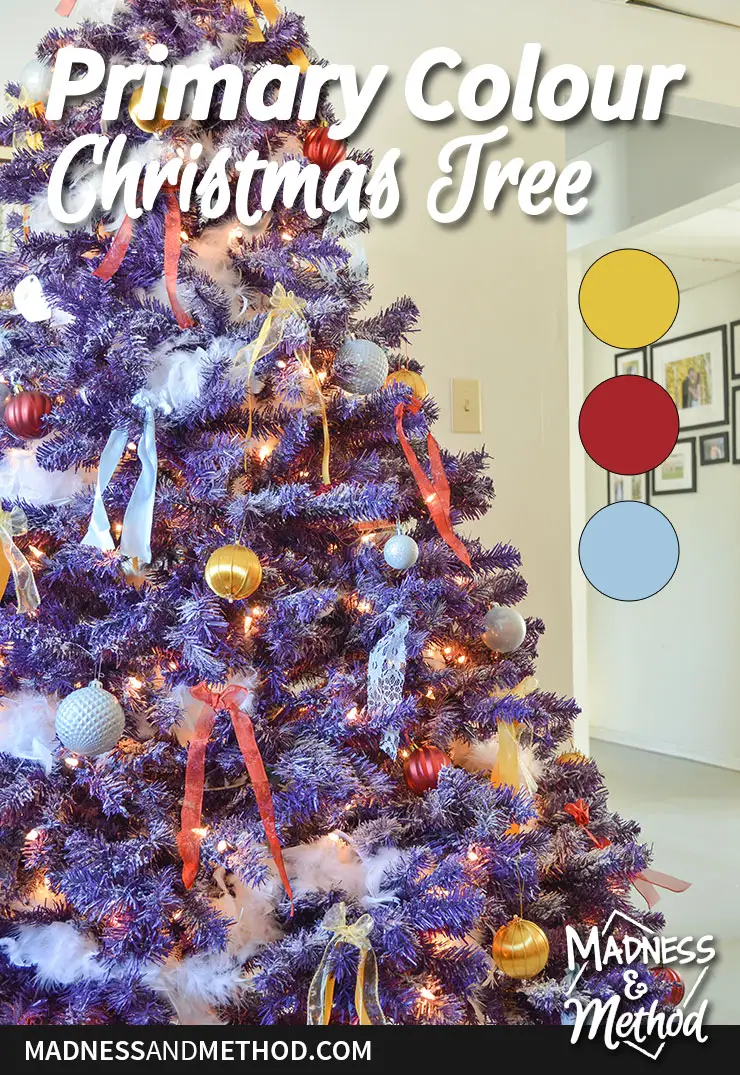 Can you tell that I like colour!?
Keeping with past Christmas trees I've done, I still have my white fur tree skirt and white feather boas.
Although, now that our Christmas tree is a bit bigger, I realized that I may need to get another boa or two.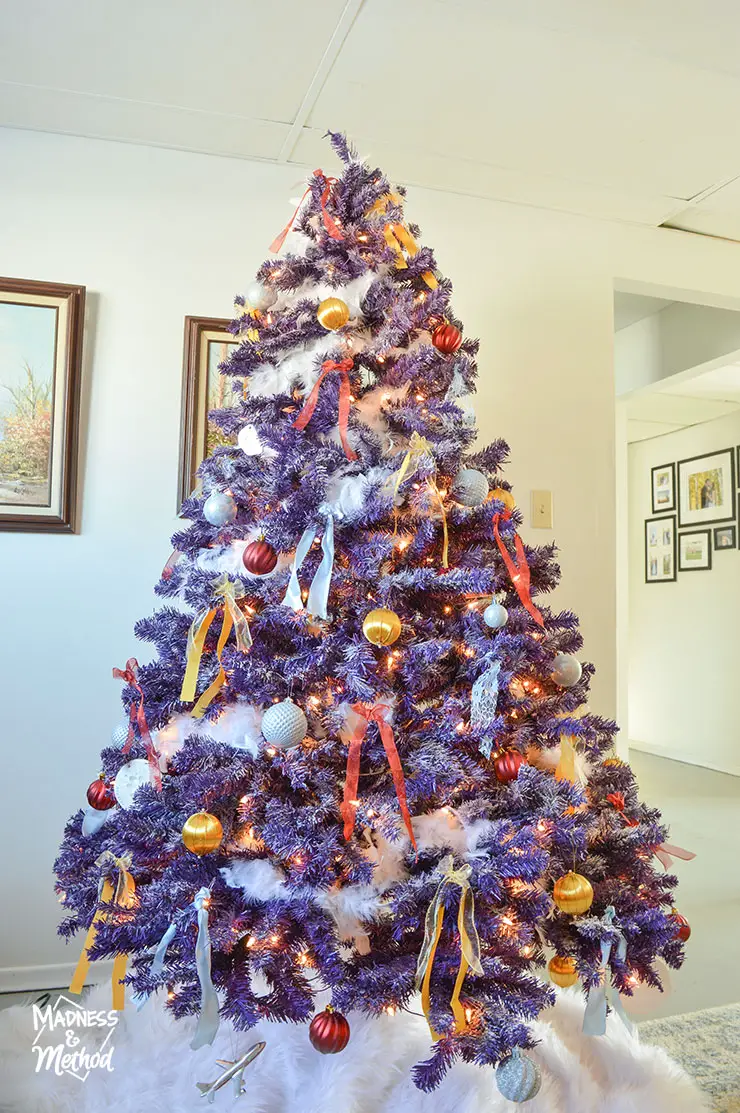 This was my first time doing ribbons (clearly!), and I like the cuteness they add.  I totally got the idea from Jenny Komenda last year.
OH, and if you didn't notice my solution – I just stuck the sheer yellow ribbons on top of the bright ones.  I also stapled the hard yellow ones together so that they didn't fall.  The blue ribbons are kind of just placed/knotted, and the red ones have cut little bows and long arms.
You may also notice that our tree doesn't have a topper.  We got rid of our lighted star last year.  It was a hand-me-down-hand-me-down and was missing some pieces.  I have my eyes on a fun gold burst one from CB2, so fingers crossed for next year!
Speaking of hand-me-downs, the red and gold balls were also from my original (pre-used) stash.  I got a pack of the light blue ones at the thrift store a few weeks ago, and my ball collection is slowly growing.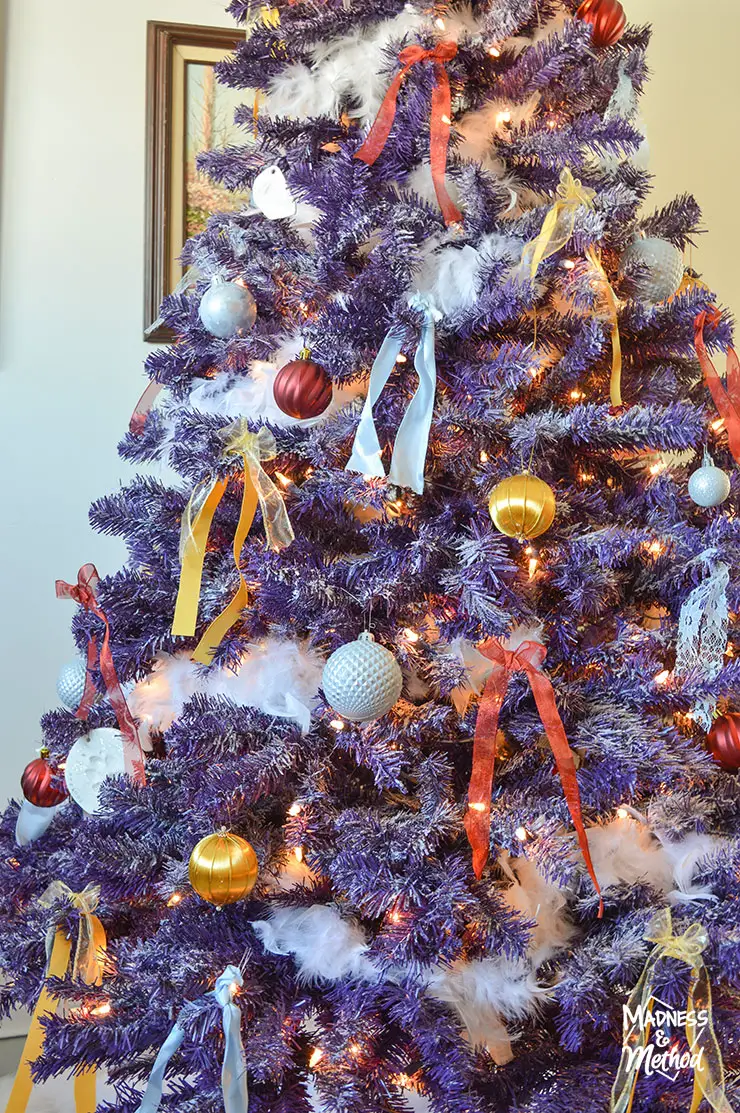 I already decided on my colour scheme for next year (and purchased new balls on sale!).  Since you're probably itching to know, it's going to be black, white and burgundy.  There will be some DIY involved too, but hopefully I learned my lessons from this time :) 
More Decor + Christmas Tree at Night
Oh, and unrelated, but sort of related – I also want to start a reindeer collection.  I've had the clear plastic one for years, but bought another one this year.  And another one (after I took this photo!).  I'm a wannabe minimalist, but apparently my crutch is Christmas decor.
I'm trying to not go too crazy with buying all.the.reindeers.  I do want to keep it in the black/white/gold/silver/clear colour-scheme, so that could narrow it down.  But also, how do you start a collection?  Do you get a new one each year, or buy a bunch at once, then keep adding slowly over time?  
The reindeers are sitting on the ledge under the window.  And the photo above shows more how the tree works in our basement living room.  We also have an ottoman across from the tree, so PLENTY of spots to sit while opening presents!  (Last year, we just had the little brown couch).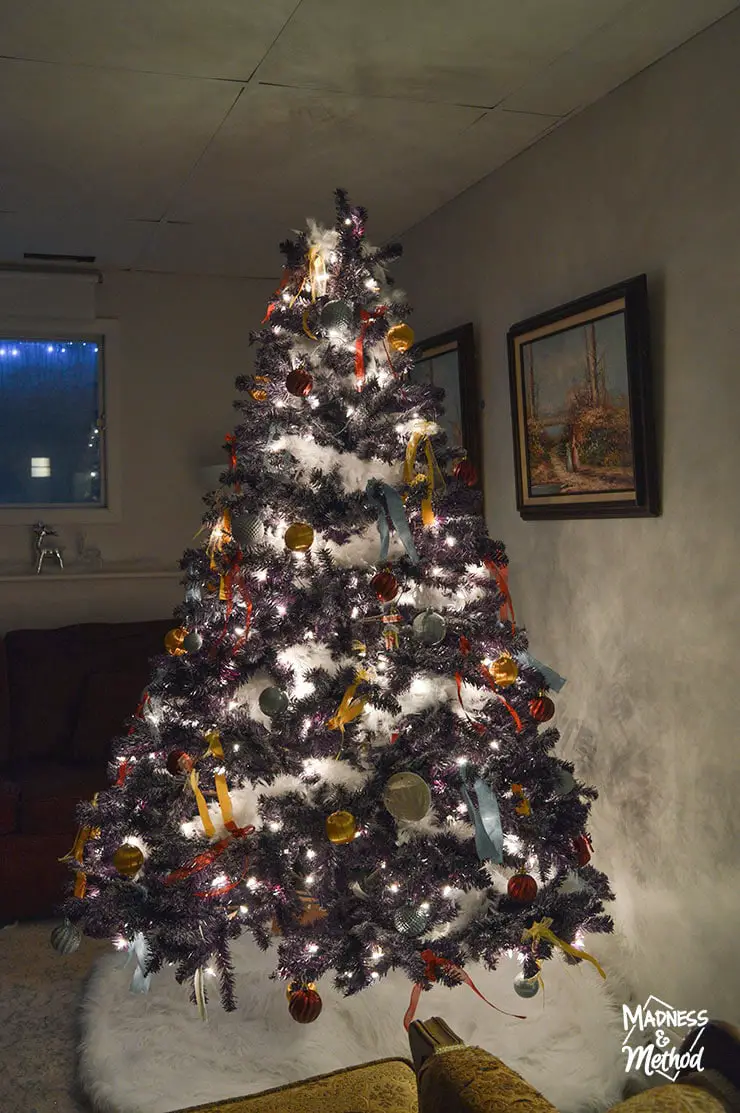 Finally, here's how our Christmas tree looks at night.  You can see it through the window, and I love that!  (Although, we don't turn it on every night yet).
Such a magical sight :)  Oh! You can see our key mould really well in the photo above.  Not sure if you could tell, but our tree also has all of our sentimental ornaments too.  I try to add one new ornament per year, and the kids are in their prime craft-ornament-making-stage. 
But most of those may be on the back :) 
Recreate this Tree with Similar Items
I hope you enjoyed my (lengthy) new purple Christmas tree decor story!  If you're here from the Christmas tree blog hop, you can either check out some other posts OR head over to Rebecca at Zucchini Sisters.  She also has a flocked tree!  And, make sure to start back with our host, Michelle from Our Crafty Mom (if you're just joining here:). 
Interested in my other Christmas trees!?  Check these out:
More Christmas Tree Decor Ideas
Be sure to visit all the participating bloggers for decorating inspiration for your Christmas tree…
Our Crafty Mom // Red Cottage Chronicles// From House to Home// Simple Nature Decor
Virginia Sweet Pea// 2 Bees in a Pod// First Day of Home// Across the Boulevard
Simply Beautiful by Angela // Happily Ever After, etc.// Madness and Method// Zucchini Sisters
Purple Hues and Me// Tribe of Burton// My Pinterventures// Modern on Monticello
Jenron Designs// Design Morsels// Oh Fiddle Dee Dee // Redneck Rhapsody
I'm excited to check out all the trees in the blog hop – I hope you do too!  Let me know if you would ever have a purple tree OR if you think our colours would work on a traditional tree.
I think they would, but then again, I like colour :)