I'm asking the hard-hitting Halloween questions today and I'm looking for feedback!  I'm also going to chat about my experience as both a trick-or-treater and a Halloween candy-giver.  (And maybe as a candy eater too, ha).  Plus, the thing we're trying this year for the first time – DIY included!  Anyways, if you haven't figured it out, today's post is all about Halloween candy ideas!  (Or non-candy ideas too).
– Note: This post contains affiliate links. See more information about affiliates here. –
The questions I'm asking/answering/ranting about all have to do with Halloween candy.  Like, how many pieces do you give per child?  How much do you spend on candy?  Do you try to spend per person (say 2$), or do you have an overall budget (say 50$) and stretch it for how many kids you get.  The one dollar per person seems reasonable, but doesn't account for people who get hundreds of kids.  How many trick-or-treaters do you normally get?!  (PS: I included links below for typical spends per person).
What's your favourite Halloween candy?  (I'm a chocolate bar person!).  What about non-candy options?  Do you give different candy based on the age of the trick-or-treater!?  How early do you buy your candy?
These are all things I'm wondering about as we approach my favourite holiday :)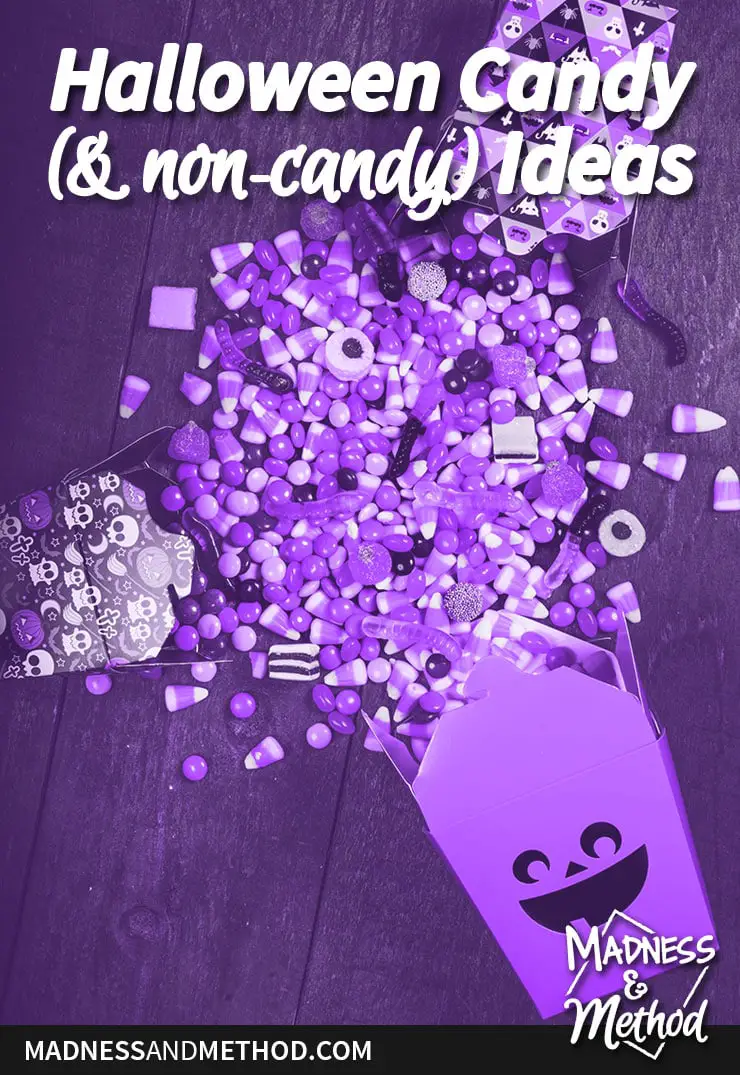 So, what sparked this content idea?  Well, last year was our first time giving out candy at our new house.  Plus, it's only really been a few years that we've gone out with the kids.  Before that, we hadn't been trick-or-treaters ourselves in many years.  And, things have changed!
Our Halloween Trick-Or-Treating History
AKA Trick-or-Treating "In the Old Days"
The Husband and I did most of our trick-or-treating in the 90s/early 2000s.  We both had different experiences, and it's definitely shaped how we view candy-giving now.  I grew up on a country road with fields that separated most of the houses.  We never trick-or-treated on our street, and I don't think anyone else did either (my parents left candy out, but it was always untouched).
From what I can remember, we'd always gone trick-or-treating at my uncle's house.  He lived in a tight subdivision and that's where ALL the kids were (or so it seemed).  They would buy hundreds of candies, empty all the big boxes/bags into laundry hampers, and hand them out.  As I recall, it was one candy per person, and there were times you couldn't even close the door because there were so many kids coming.  We'd walk to as many houses as we could, fill up our pillowcases, return when it was too heavy, dump our stuff out, and go out again.  Some places would have haunted houses set up, and one year we even had one in the garage!
By comparison, the Husband ALSO lived on a country road with fields, but there were a lot more kids his age.  When he was younger, one of his parents would drive to each house.  As he got older, they'd ride their bikes.  Everyone knew everyone else on the street, so sometimes his mom would even prepare candy bags with people's names on them.  To this day, she still prepares huge Ziploc bags of candy to give out to the kids that visit.  But it was like that at most houses – less kids meant more candy per child.
So where does that leave us?
Halloween Candy-Giving Now
Well, as you might guess, I've always been a bit stingier with the candy-giving compared to the Husband.  In the past few years, I've typically bought a few different candy options and asked the trick-or-treaters to choose one that they want.  I'd include things like gum, chocolate, caramels and candy-candy.  After the first year or two, we'd had a better idea of how many kids came to our house, and I started giving out more candies.  I'd try to incorporate a few different options for each kid, or the Husband would just ask them to choose a few.
I should note that I've always been the candy BUYER.  There were complaints about my one-piece-policy, but I'm always so worried we'll run out.  (And besides, if you want to give out more candy, then you can buy the candy – know what I mean!?).  Anyways!  I will mention that when I was in university, I was also the candy buyer.  I lived with roommates, and I remember the year that handfuls were given…
Guess what?! We ran out!  We raided our cupboards and offered an assortment of packaged items: popcorn, granola bars, anything we could pass off.  Some people commented that they loved the variety, ha.
SO that brings me to this year, wherein I think I'm going to try to do more non-"candy" options.  Oh, and I'd love to do Halloween goody bags too!  It seems like most of the people in our neighbourhood (and our old neighbourhood especially), give out candy bags.  Little pre-assembled bags with an assortment of treats.  It's certainly much quicker to hand out compared to having kids select their own.
I have a cute little Halloween goody bag DIY we did below, but let's explore the Halloween candy we can put in the bags :)
Halloween Candy Ideas
I'm going to break down the options into a few different categories.  Feel free to comment on things you think I missed!
Traditional Halloween "Candy" Ideas
Gum
Suckers (regular/tootsie pops/etc.)
Soft and Hard Candies (caramels, rockets, taffy, starbursts, jellybeans, jolly ranchers, etc.)
Little Chocolate Bars (or big ones if you're that household!)
Traditional Halloween Non-Candy Ideas
Cans of Pop/Juice Boxes
Bags of Chips/Popcorn/Cheezies
Goldfish/Crackers
When I was a kid, I got a lot of pop cans!  It was always the worst option since I don't even drink pop, but it also weighed down the bag.  Recently I've seen more juice boxes (or pouches) so it's a bit healthier too.  Our kids have also gotten Goldfish, which is a great option that I don't feel guilty giving them!  I'd put little crackers/cookies in the same category here.
Non-Candy Ideas
Hot chocolate pouches
Granola Bars
Popcorn (the microwave packs)
Crystal Light/Tea Bags (more for adults?)
Small toys
Pencils/pens/erasers
Stickers/tattoos
I personally don't like toys, because it's typically stuff that doesn't last long.  But it is good to have non-food options in case there are allergies.  Can you think of anything that would be a good non-food to give?  (Seriously, looking for tips!)
One year, we got snap pea packs – it was so unique and healthy!  As a parent with young children, I really appreciate things that aren't sweet.
I think that I'm going to prepare 3 goody bags this year.  One for kids under the age of 5, one for general kids (ages 6-15?) and one for adults.  Think about all the adults that go trick-or-treating.  Wouldn't a little goody bag just for them be fun!?  (I mean, you could go all out with the adult things too, little drink bottles anyone, ha!)
DIY Halloween Candy Goody Bags
For our goody bags, I grabbed a bunch of small lunch bags I had on hand.  I like that they can be recycled and decorated, but plastic bags would work too.
I wanted to add some Halloween stencils/designs to the bags.  Lucky mistake, we figured out that the back part of a cookie cutter is way better at holding paint than the thin front.  (Where you traditionally cut cookies).  Plus, you don't have to worry as much about using it for food later.
I set up each kid with their own little plate of paint.  The "ghost" cutter is really just a holiday bell :)
I was hoping they'd dip the cutters into the paint and stamp them on.  They much preferred using the cutters as a guide to paint inside.
But mostly around and near the bags :)

I also added some "boo" stamped letters.  Honestly, most of our holiday crafts involve cookie cutters and stamped letters.
There were also some haunted houses.  In total we have 26 decorated bags.  BUT I think we had more kids last year!  I'll either have to pick up more paper bags to decorate, or do different goody bags.
I may also have some loose candies in case we run out of bags.  I'm hoping all this prep now will ensure that we aren't rushing at the last minute :)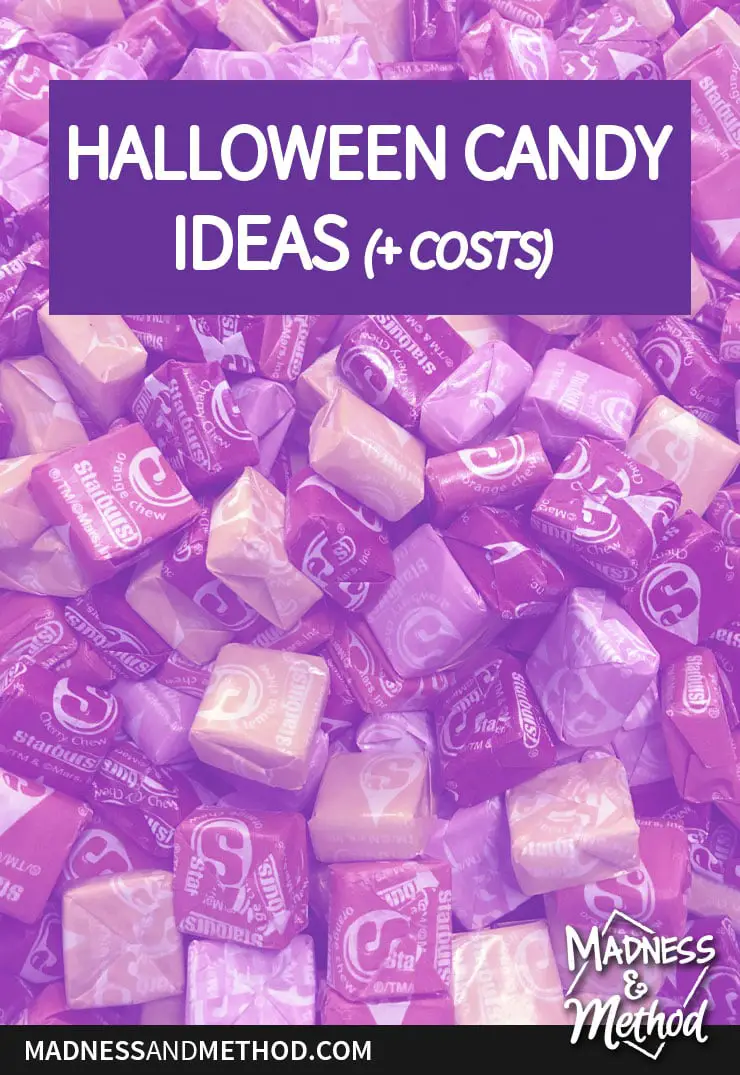 Other Halloween Candy Resources
I'll try to cap our candy spending at 50$ (including taxes).  That's about average, and I'll include any bags I may have to buy in that amount.  Oh, maybe I'll do an Instagram story closer to Halloween with what we actually bought!  From what I remember, that should be around 1-2$ per person…
I went to the grocery store the other day and looked at random packed things that we could give.  I wrote all the prices down to get an idea… and now can't find it…
Anyways, let me know what you think about Halloween candy!  Or if you have a good resource on where to find things.  (I'm going to guess that Costco is where most people check?).  Our nearest Costco is 2 hours away, so getting things more local might be best!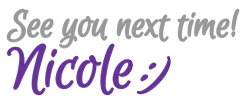 Note: Stock photography by Taylor Rooney, Vishnu Mk and Nicole De Khors.