I'm diving right into the holidays with a round-up of minimalist gift wrapping supplies!  Last year, I shared a bunch of gift tag ideas, so these gift wrapping suggestions should work perfectly with those.  If you're starting to think about creating a gift wrapping station, want to scale back on the multitude of papers/bags/etc you already have, or just want to see how I'll be wrapping my presents – this post is for you!
– Note: This post contains affiliate links. See more information about affiliates here. –
Last year, I used all the brown kraft paper I had, and most of my gifts were wrapped like this:
This year, I decided to switch things up and get black kraft paper, and I thought it would be fun to create a little round-up of "plain" wrapping paper.  AND more importantly, share some ideas of how to make them a bit more unique.
Here's the whole graphic/list if you want to save it to Pinterest: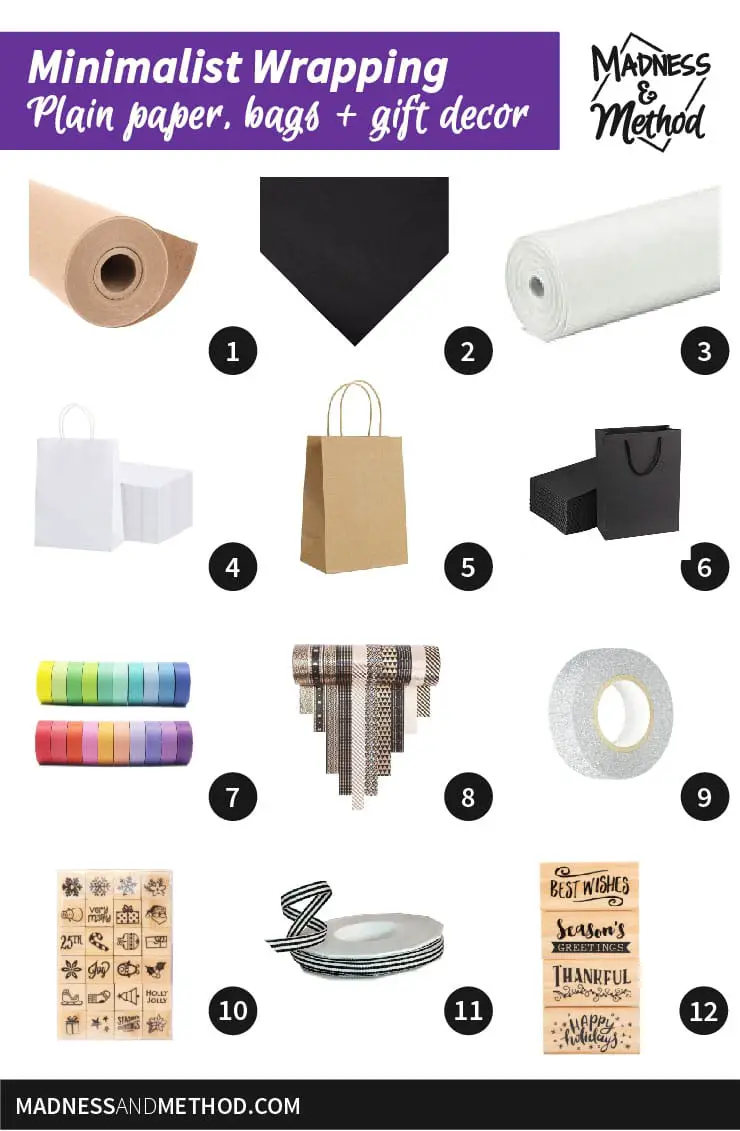 For now, I'll break it down into the wrap/bags – then the décor/embellishments.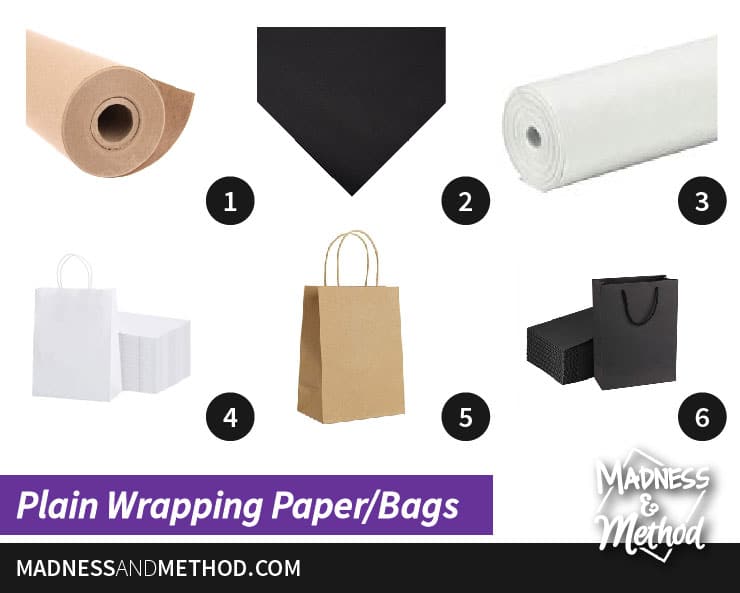 Plain Wrapping Paper + Bags
Looking to save money?  You can buy nearly identical kraft brown wrapping paper at Home Depot!  It's supposed to be for covering surfaces when you're painting.  But no one will know the difference :)  Along the same vein, you can also get this red rosin paper for a good price too!
Oh, and want to know my super-secret money-saving tip?  Re-use shipping paper! You're more likely ordering more things around the holidays, right?  A lot of times, they'll be extra "shipping fluff" they add so that items don't move around.  I'm definitely going to use some of this paper for gift wrap this year!

Now, you may be wondering how to jazz up this plain wrapping paper and bags.  Remember, I have a whole post on gift tags, so check that out too.  But let's chat about the gift wrap "decor" you might want to get:
Gift Wrap Décor
Okay, for the actual wrapping part of the present, I like to stick to plain scotch tape (or double-sided if I'm feeling extra perfect).  Then, I'll just add a few little strips of the fancy washi tapes on top.  You could probably forgo the regular tape and just use the fancy ones.

I also like to use the washi tape to mark our kids' initials on their gifts.  It makes it easy to see from a distance so they should be able to find their gift right away.
If you want to get some festive stamps, you'll either need to add stamp pads to your stash, or use paint.  Other fun suggestions include drawing/colouring on the paper, using stencils, or writing messages with letter stamps.  I kind of wish there were more gift tag looking stamps (here's one) – but again, there are so many gift-tag options, I'm sure you'll find something fun!
PS: the black gift is Félix's birthday present (my baby turns one next week!).  And the other two are just random boxes I wrapped for photos :)
(I let the kids stamp them a bunch after, but for some reason, they didn't want to open them, ha).
Looking for more minimalist gift wrapping ideas!?
I'm "one of those" people who save almost all the tissue paper I get, but buying this assorted tissue paper pack would be great for those starting out.  Or, how about these all-white tissue papers for a real minimalist look?
If you're like me and prefer to wrap presents, why not buy a bunch of bows to make them really fun.  (Babies love bows!).  Wondering where to store all your gift wrapping supplies?  This handy case would be great to pull out when you need to wrap something!  It's a bit too small to hold the huge roll of paper I have though :(
At our house, I have all my supplies in our linen closet upstairs.  (Although, I've temporarily moved my stash downstairs while I'm actively wrapping things that come in).
In true minimalist fashion, I also bought reusable wrapping paper this year too.  I think I'll use it to store all the miscellaneous stuff for the family.  You know, things that are gifts for more than one person, or random things the kids ask for after I've already wrapped their presents (and are too big to fit in the stockings).
I'll let you know how it goes!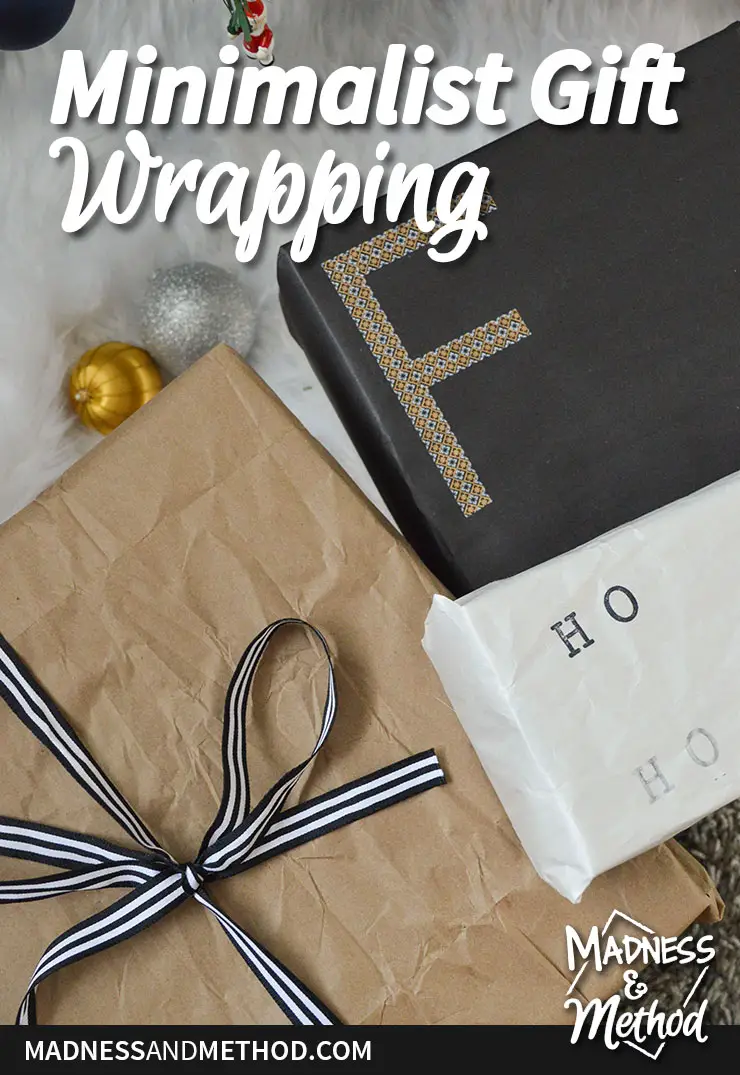 About Santa's Gift(s)…
Oh, and if you think our house is one with perfectly wrapped gifts and are worried that the kids don't have anything "fun" to unwrap… that is not the case.  I usually ALSO get a small roll of "Santa" wrapping paper, something so bright and garish that mom never could have chosen it.
This year, the Husband picked different character-themed papers for each child.  If it was up to me, I would have bought a cross between plain wrapping paper and something super bright.  Either way, I know they'll like their Paw Patrol/Frozen gifts…
They're still young and don't really ask for anything yet, so I only had one present to wrap and still have paper leftover!  I think I'm going to try and donate it to someone (like on a buy/sell site) because I'd rather it go to someone that needs it.  (I obviously hid the Santa paper where no one will find it… but I don't want to risk it).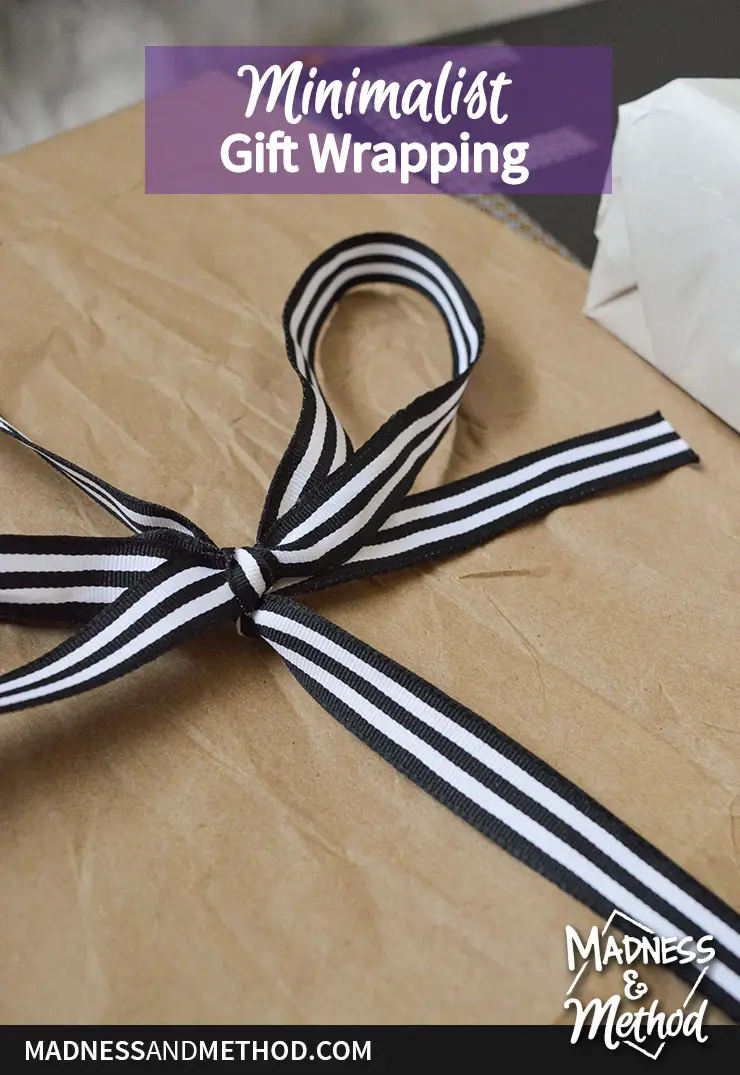 Let me know what your family does for Santa gifts.  And, is there anything you'd add to your minimalist gift wrapping stash that I didn't include?  I think I might get some of that rainbow washi tape, and possibly the Home Depot paper, but otherwise, I should be good for a few years at least :)
Oh, and I wouldn't recommend the papers for each person thing – I realized after that we have to get a new roll for us (me and the Husband) and Tootsie too.  Although, I might do our "Santa gifts" in the brown kraft paper… and maybe get something for the dog?  Who knows!
Happy wrapping :)