We're sharing our Halloween costumes already!  And guys, I think this is the Husband's favourite costume idea yet :)  Something we could easily do with 2 boys and a girl… Without further ado, let me introduce our family Pokémon character costumes!
– Note: This post contains affiliate links. See more information about affiliates here. –
With just over a month to go until the big night, there's still plenty of time to get your costumes in order.  BUT the One Room Challenge is kicking off next week (a bit early) so I knew I'd be busy blog-wise for the next few weeks.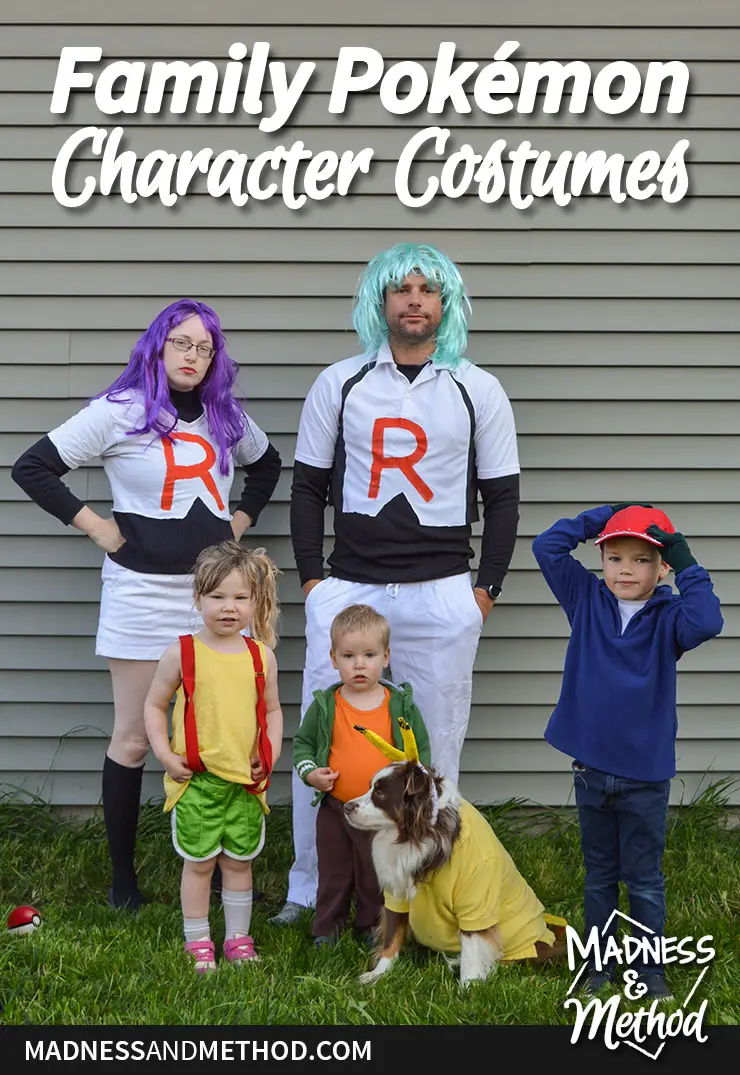 So let's get into more details about these costumes!

There was very little DIY involved, just a bit of cutting (the white t-shirts) and painting some red. We did make a cute little Pikachu tail out of cardboard.  But again, just cutting and painting.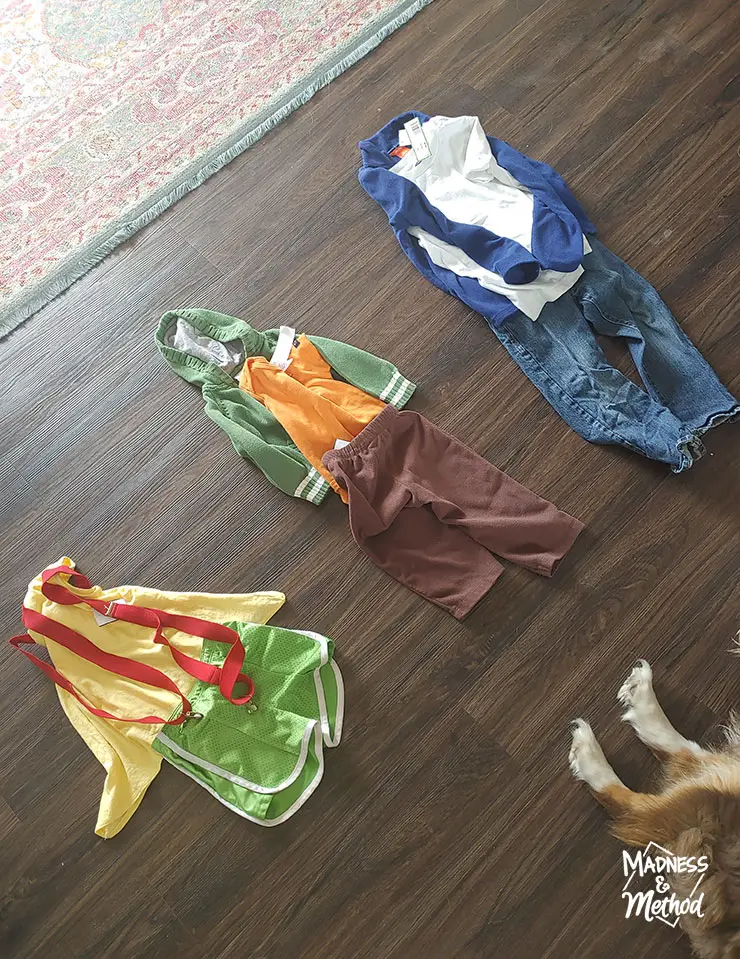 For the three main human characters (Ash, Misty, Brock), I picked up some similar looking secondhand clothes.  I like to shop for our costumes early, that way I can buy items that fit the bill.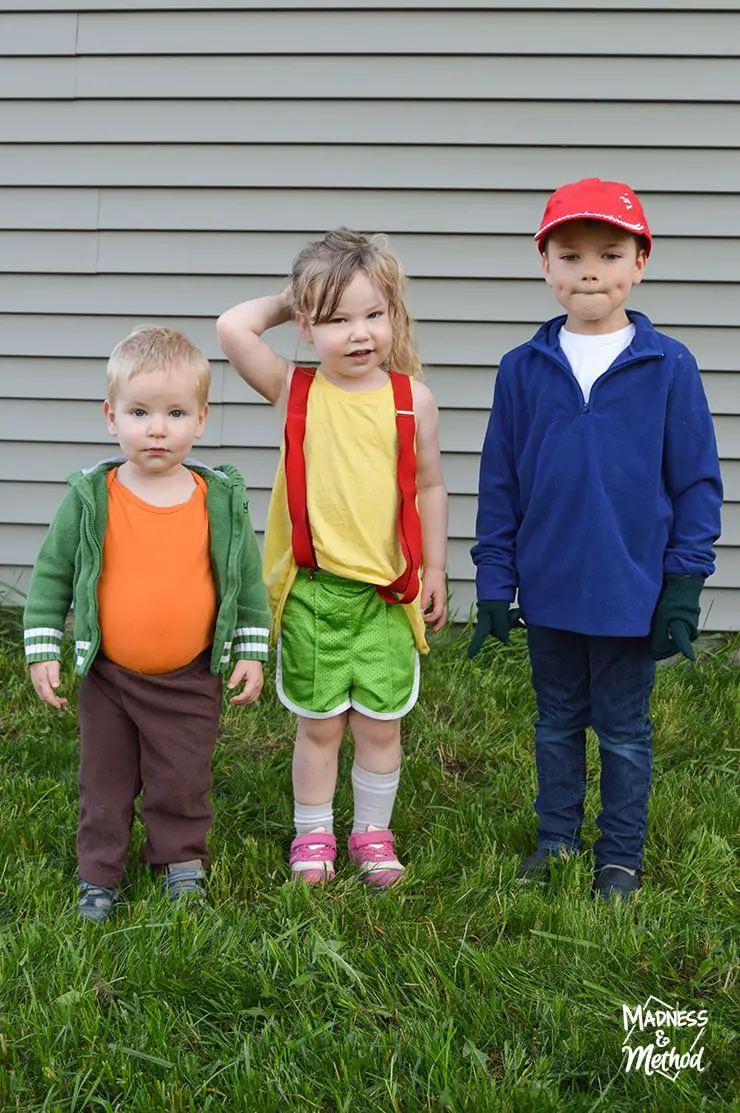 For Halloween night, we'll probably double-layer the clothes if it's cold.  (It was freezing last year!).  Little Misty will most likely get tights and a long sleeve under her outfit.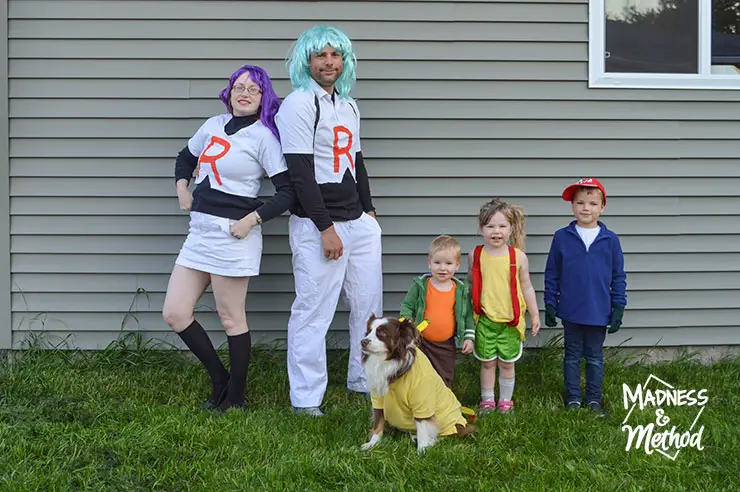 For me, I'll wear black tights instead of the tall socks, and probably gloves.  (Team Rocket usually wears gloves).
Let's dive into each costume/character a bit more.
Brock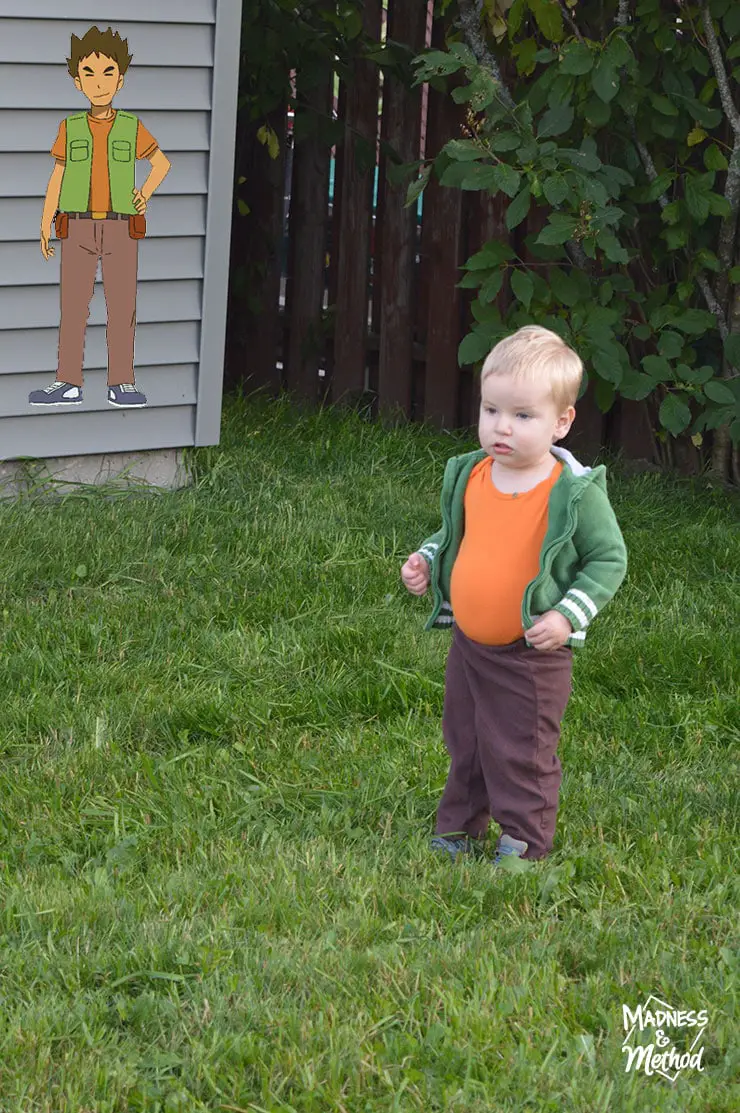 If you're not familiar with the Pokémon series, there are 3 "good" characters.  Brock is played by Félix and usually wears some sort of orange, green, brown combo. Haha, we had just gotten back from eating out before we took these photos, so Félix's tummy is extra large :)  Do you think he needs a dark wig or spiky hair to match?
Misty
Misty is the next "good" character, and she wears a yellow crop top, green shorts and red suspenders.  The suspenders are an adult size, so a bit big – but that's fine!
Ash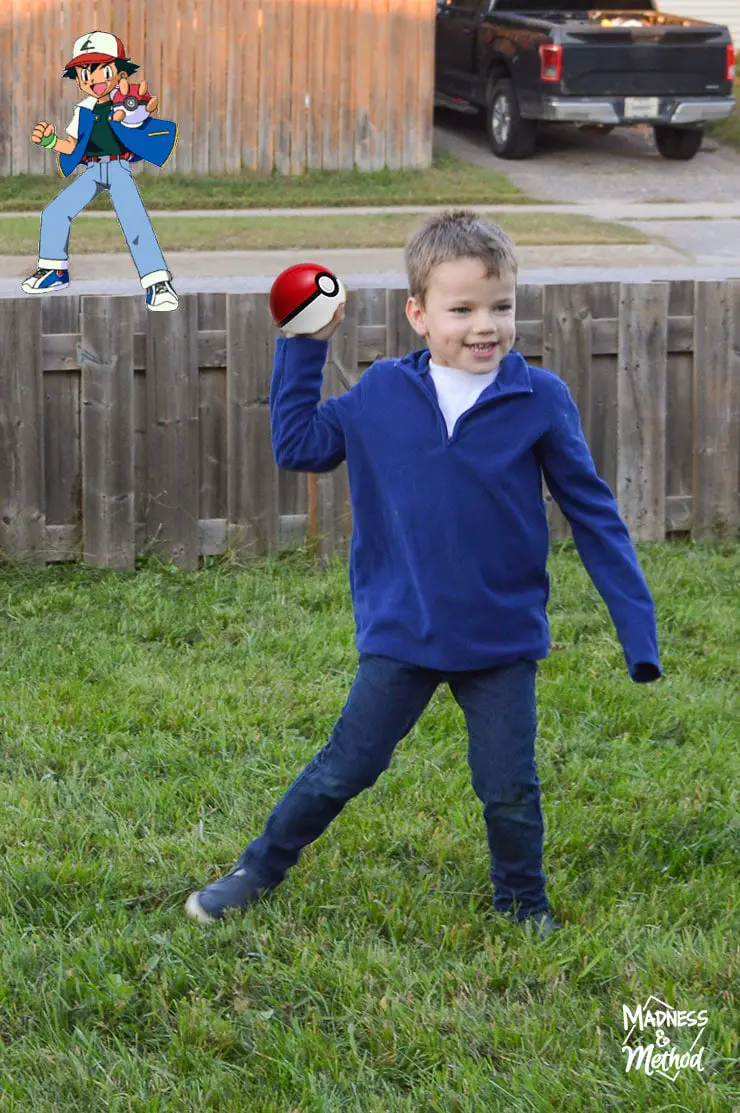 Ash is the main character in Pokémon.  He does have the most outfit changes between the years, so I tried to do something basic.  Haha, the kids were playing with the football after/during the photos, so I just changed it to a pokeball :)
Ash wears a red cap, and although I couldn't find one that matched perfectly – this one will do.  (There are bedazzled jewels that spell "Canada", but I took them out for most photos).  Do you think he needs dark hair too?
Pikachu

His sidekick, and probably the most known Pokémon is Pikachu.  So we put Tootsie in a yellow t-shirt with painted stripes, stuck a tail and added ears.  They're bunny ears that I added yellow tape to (so they can be re-used).  In hindsight, I probably should have used red tape for the stripes.  That way, we could have worn the shirt afterwards too.
Team Rocket
The two "bad" characters are Jesse and James, aka Team Rocket. They also have a Pokémon partner, Meowth, that we debated using Tootsie for.  I thought that Pikachu was more recognizable though.  Either way, you can see that I just had to cut the tops and paint an R on each.  We also have wigs, which was an easier solution than dyeing our hair.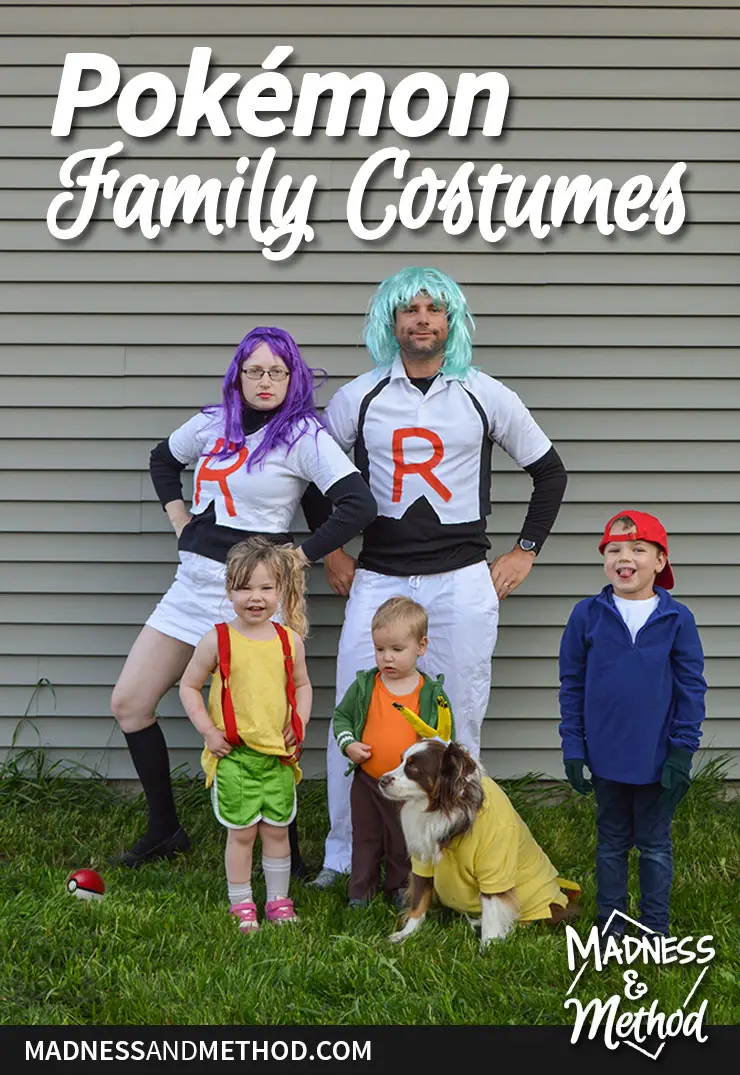 I hope you enjoyed getting a glimpse at our family Pokémon character costumes!  I pulled most of the Pokémon photos from this website, and I obviously don't own the copyright to them or the names.
Looking for more family costume ideas?  Check these out!
Do you have a favourite?  Any suggestions of what we should be next year?!  I honestly don't have a clue!  (And although it may seem odd that someone would know their costume for the following year… that's usually how I roll ha).
Let me know!