Last year for Valentines' Day, I made some delicious heart-shaped brownie bars and I was pretty tempted to make them again – but I figured I would go with a different dessert this year.  Then a strange idea hit me in one of my dreams (weird how these things happen!) so I gave it a go!  Check out these kissing mustache and lip shaped cookies :)
– Note: This post contains affiliate links. See more information about affiliates here –
First, you'll want to whip up a batch of sugar cookies (or another rolled cookie recipe you prefer).  Other supplies you will need:
Lip Shaped Cookie Cutters (buy them here)
Mustache Shaped Cookie Cutters (buy them here)
Red melting chocolate
Regular brown chocolate chips (I used semi-sweet)
Red sprinkles
I used my family's super-secret recipe, but I substituted whole wheat flour (since that's what I had on hand) which is why my dough looks brown speckle-y.
Because I didn't have any lip or mustache shaped cookie cutters, I had to improvise.
And as you can see, the super technical cookie cutter I used was indeed just some thick pieces of paper stapled together. Like I said on Instagram last night, a DIYer's gotta do what a DIYer's gotta do!  (It reminds me of the time I used a plastic cup to make a football shape).
I looked online afterwards and found this cute set on Amazon with glasses and this one with a bowtie.  Who knew that lips and mustaches went together already (I thought I was being creative here!).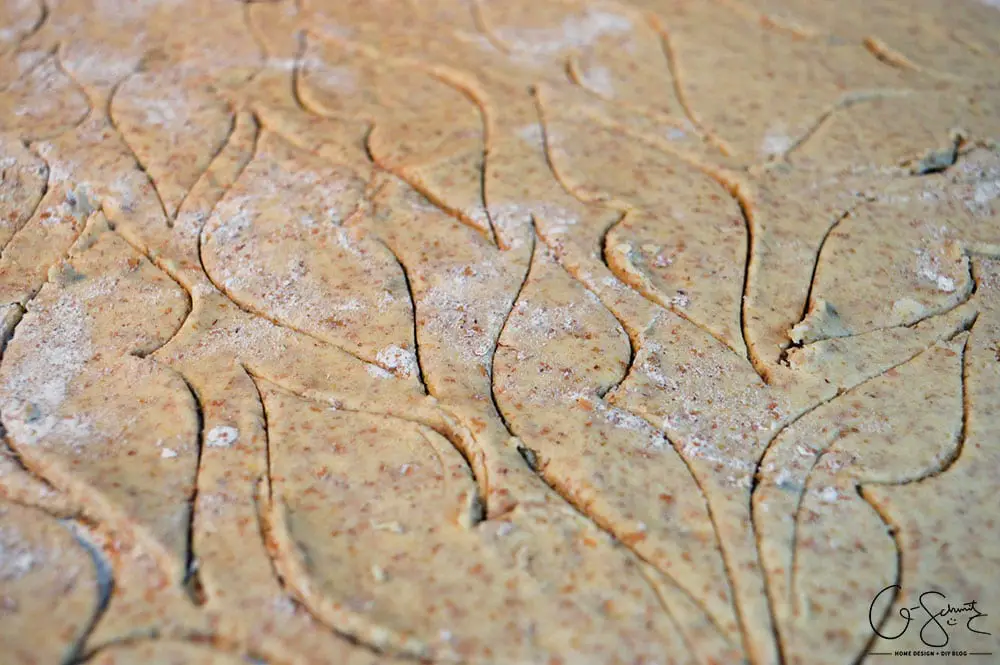 For me, I had to carefully squish/mould my homemade cookie cutter into the shape I wanted.  I went extra wide to make some luscious lips, and then squeezed it tighter to get some thinner mustaches.  (I did try making a "mustache cutter" using a different shape, but it was not working out well).
I made an even-ish amount of each, but you could count them if you wanted a perfect match.
Once you have all your cookies baked and cooled, you'll want to melt some red chocolate (I used some leftover from my Ice Cream Cone Santa Hats, but did buy a bit more too).
I had an assembly line going where I would grab a cookie, spread some melted chocolate on it with my rubber spatula then dip it in the plate of red sprinkles.
Note: if your chocolate is too warm, it could spread/melt a bit more after the sprinkles are on.  You can either hold it in the air longer (to cool it) or leave it on the plate a bit more before turning it over.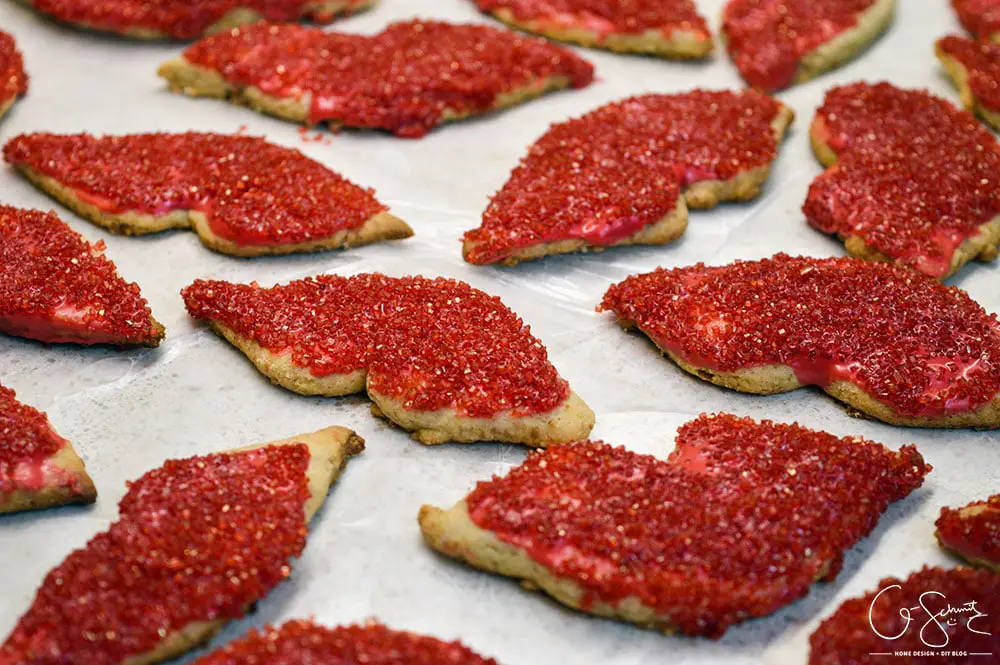 Simply place them right-side up to cool off.
I did do a few hearts too, but I just kept them plain red since I was running out of sprinkles.
For the mustaches, I followed the same chocolate technique, but I tried to be a bit sloppier so it would better resemble facial hair.  I then hand-sprinkled a couple of red sprinkles at the base.
The idea was that the manly mustache man would kiss his luscious lipped lady and get a bit of "lipstick" on his mustache (hence the little sprinkles on the mustache cookies).  Now, if you didn't get that concept, can you just pretend and say that you did?  (Oh, and tell me it's the best thing you've heard of since rolled cookies, okay thanks!).
Can I tell you something?  They taste EVEN BETTER than they look!
Normally, for sugar cookies we just add the sprinkles on top before they go in the oven, but by adding this chocolate-y layer and then a LOT of sprinkles, they are oh-so-much-sweeter (it was hard to hold back for the pictures type of good).
Think of the other possibilities you could do with this melted chocolate technique (rather than doing a "normal" icing) – heck, you could even sandwich them together and they would permanently stick once the chocolate cools.
These kissing mustache and lip shaped cookies were a cute little idea I had (again, in my sleep of all places) and I think they turned out great!  Can you just imagine if I had actually gotten the real cookie cutter shapes?
(Well the mustaches would definitely be more even, but I can always say that mine are more "organic" and "real" haha!).
Let me know what desserts you're planning on making for Valentine's Day this year :)