Do you have ripe bananas and are tired of making banana bread or muffins?  These chunky monkey brownie bites are the solution!  Chocolate, bananas, peanut butter and walnuts come together in the perfect combination.  Influenced by the popular ice cream flavour, these bite-sized brownies will be your new favourite banana recipe!  
The first time I made this recipe, I was convinced that "Chunky Monkey" was a mixture of chocolate, peanut butter and bananas.  Turns out, there is NO peanut butter, it's walnuts!  But when peanut butter and chocolate go so well together, why not include it too!? 
Don't worry though, you can substitute/remove the peanut butter and still get a great flavour.  Oh, and did I mention that this chunky monkey brownie recipe is egg-free with no added sugar!?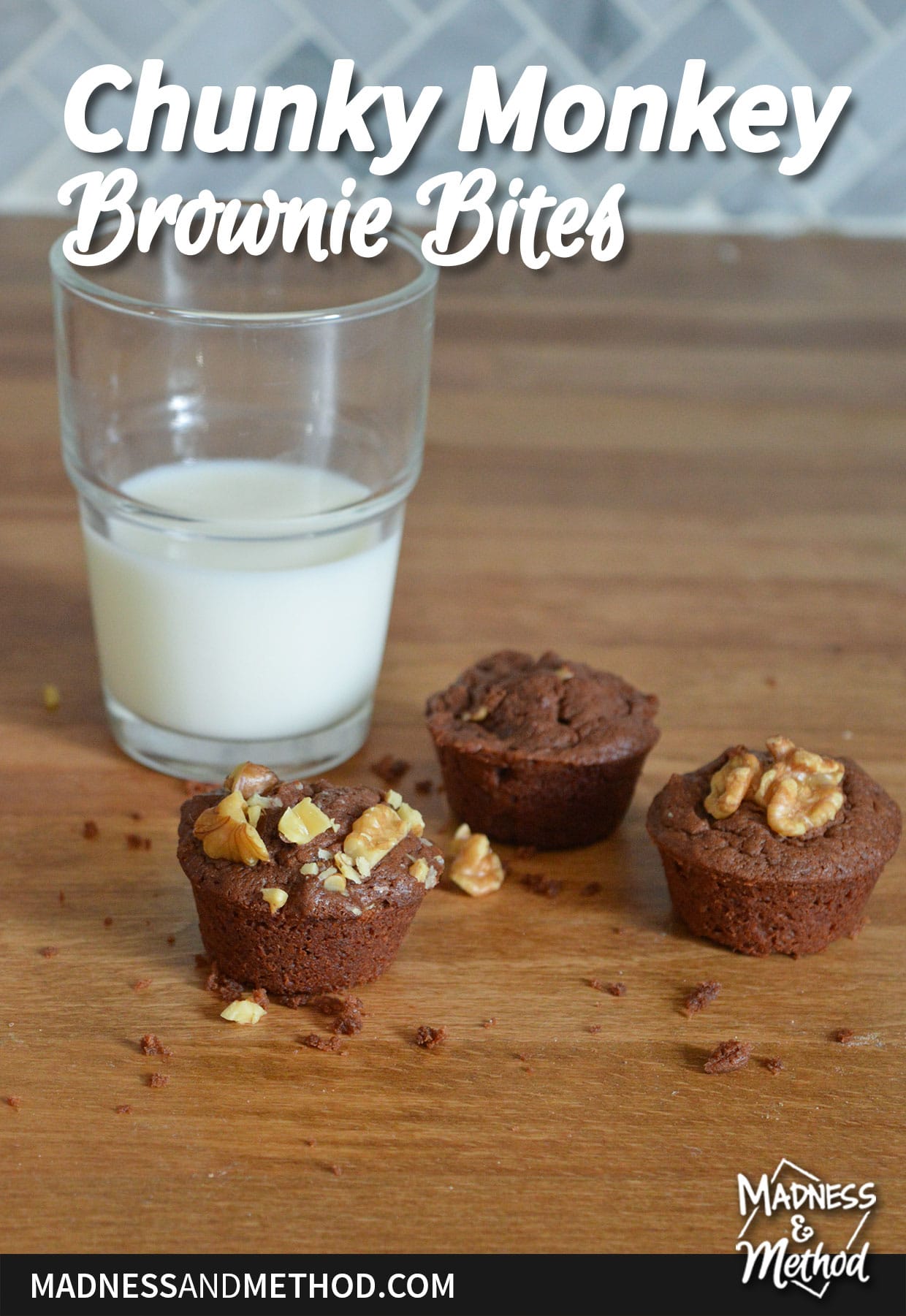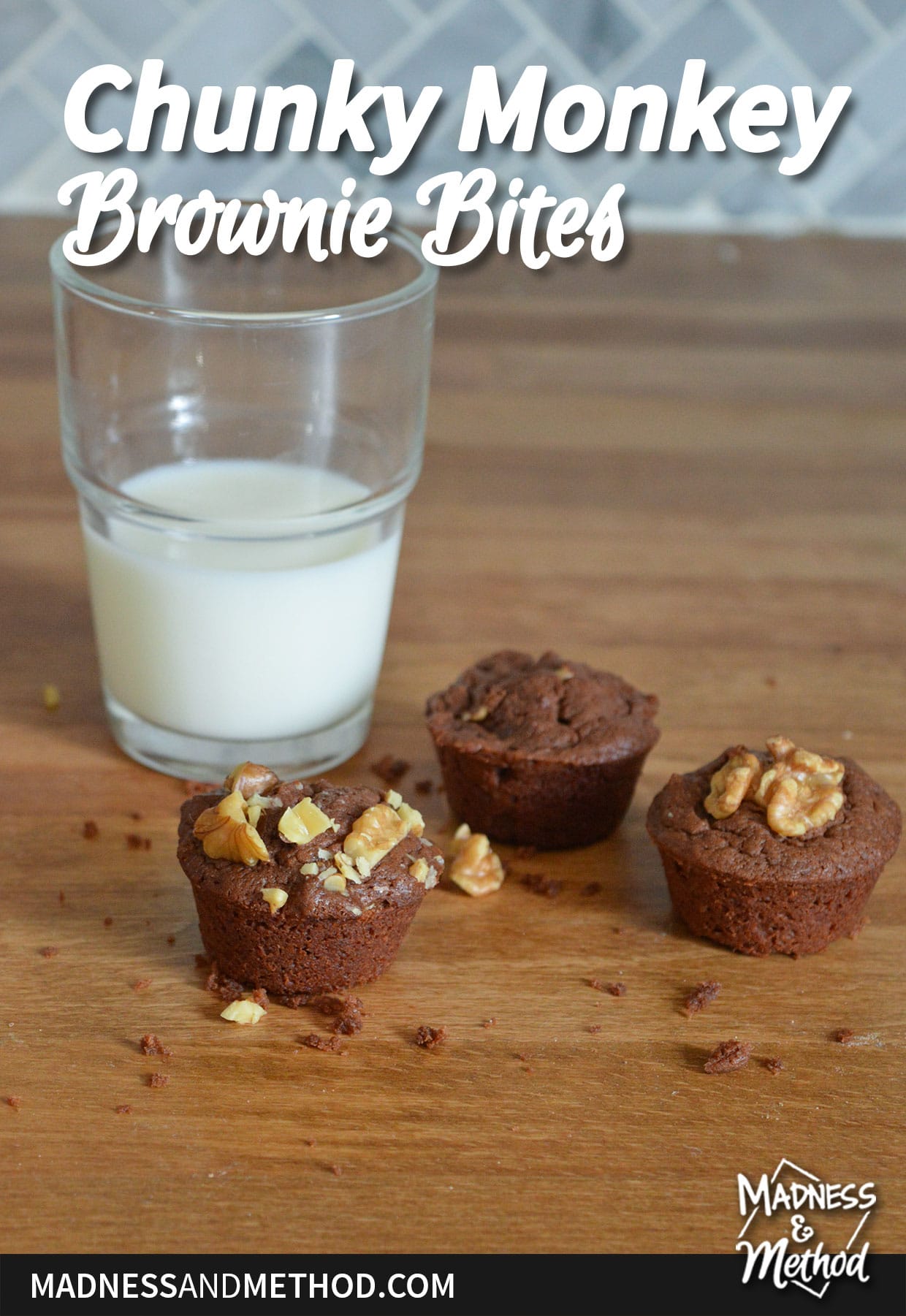 This post was originally written April 9, 2016. The recipe has been refreshed and republished May 27, 2022.
About the Peanut Butter
The first version of my chunky monkey brownie bite recipe had twice the amount of peanut butter (and half the bananas).  I felt that it overpowered the banana flavour and really created a dense (sticky?) brownie.  As I said, you can omit the peanut butter if you want too!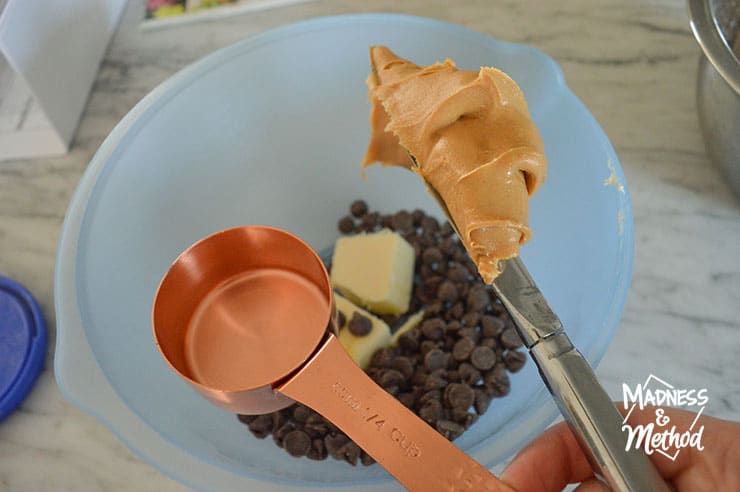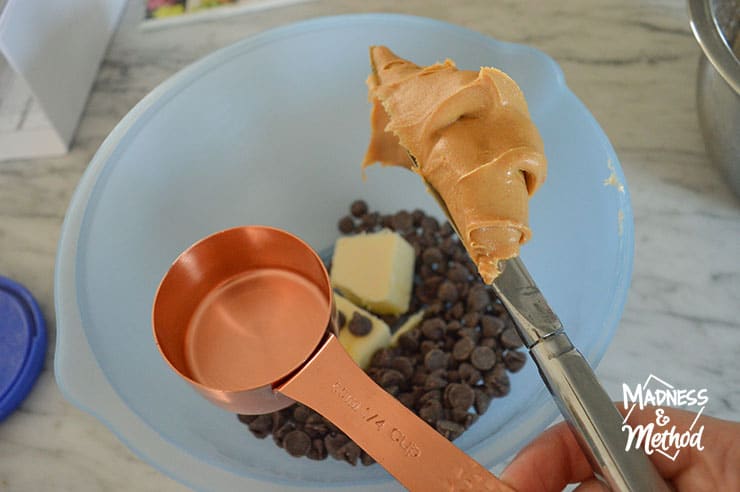 I should also mention that I don't really measure peanut butter.  To avoid getting my measuring cups all greasy, I just hold the peanut butter next to the correct size and eyeball it.  You can properly measure your peanut butter and then scrape it out.  Or line your measuring cups with plastic wrap and then add the peanut butter.
Ready to make some chunky monkey brownies!?  You'll need:
Chocolate chips (I used semi-sweet)
Peanut butter (I used low-fat / less sugar)
Butter (you can substitute margarine to make this recipe vegan)
Flour
Baking Powder
2 ripe bananas
Vanilla
Walnuts
The full recipe is linked below :) 


Another thing I did differently was experiment with the walnuts.  I made three batches: one with a full walnut on top, one with walnuts chopped on top, and one with chopped walnuts inside.  I also tested different amounts of peanut butter (1/2 cup, 1/4 cup and none).
Making Chunky Monkey Brownie Bites
Preheat your oven to 350°F.  Start off by melting your chocolate chips, peanut butter and butter on a double-boiler.  OR microwave for 30 seconds, then stir, then another 30 seconds (etc. until all melted).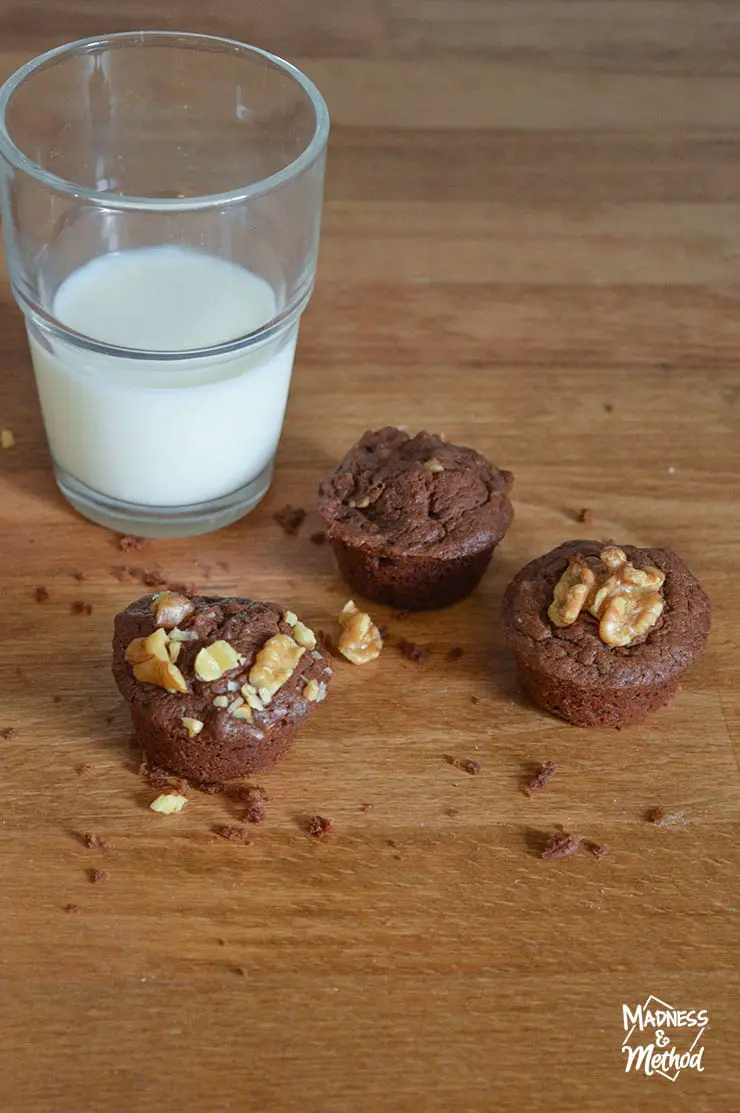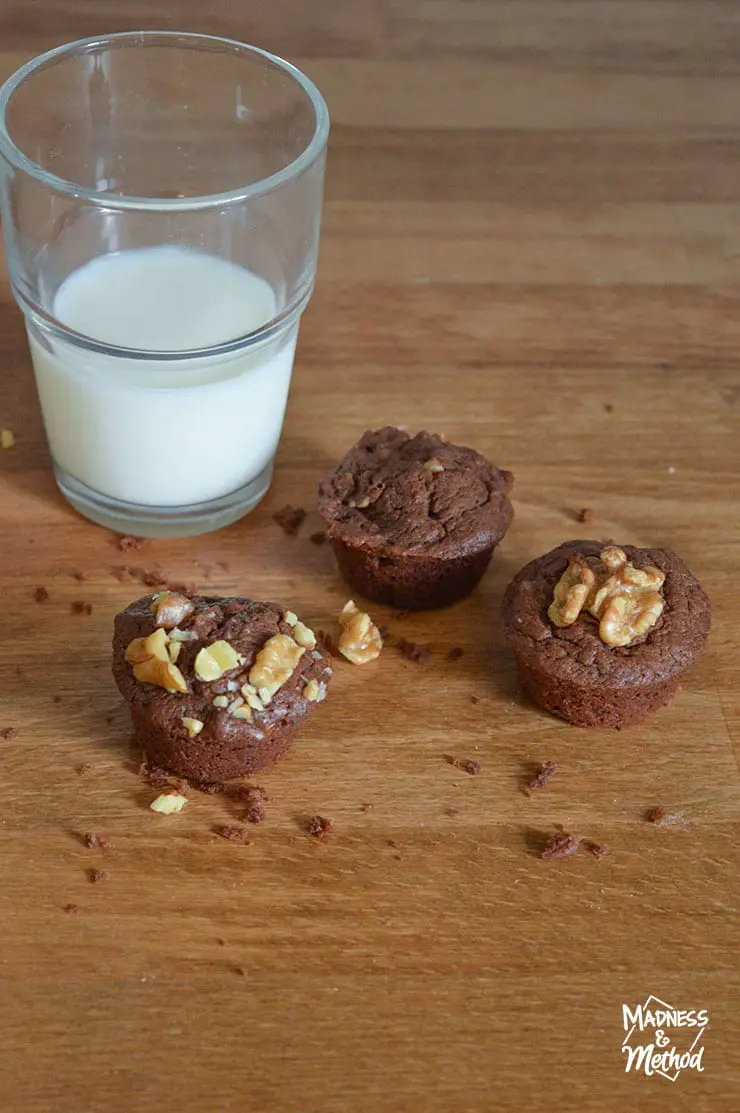 In the meantime, mix the flour and baking powder in a bowl, and mash two ripe bananas in another small bowl.
Once all your chocolate + peanut butter goodness is melted, add the mashed banana and vanilla. Once that is all incorporated, slowly add the flour mix and stir as you go.
Scoop the batter with a standard-sized ice cream scoop into a greased mini-muffin pan.  Make sure they are all even and sprinkle with the desired walnuts.  Want more walnuts!?  Feel free to add chopped walnuts to the batter! 
If you don't have a mini muffin pan, you can use a 9×9 pan (just add a few minutes to the baking time).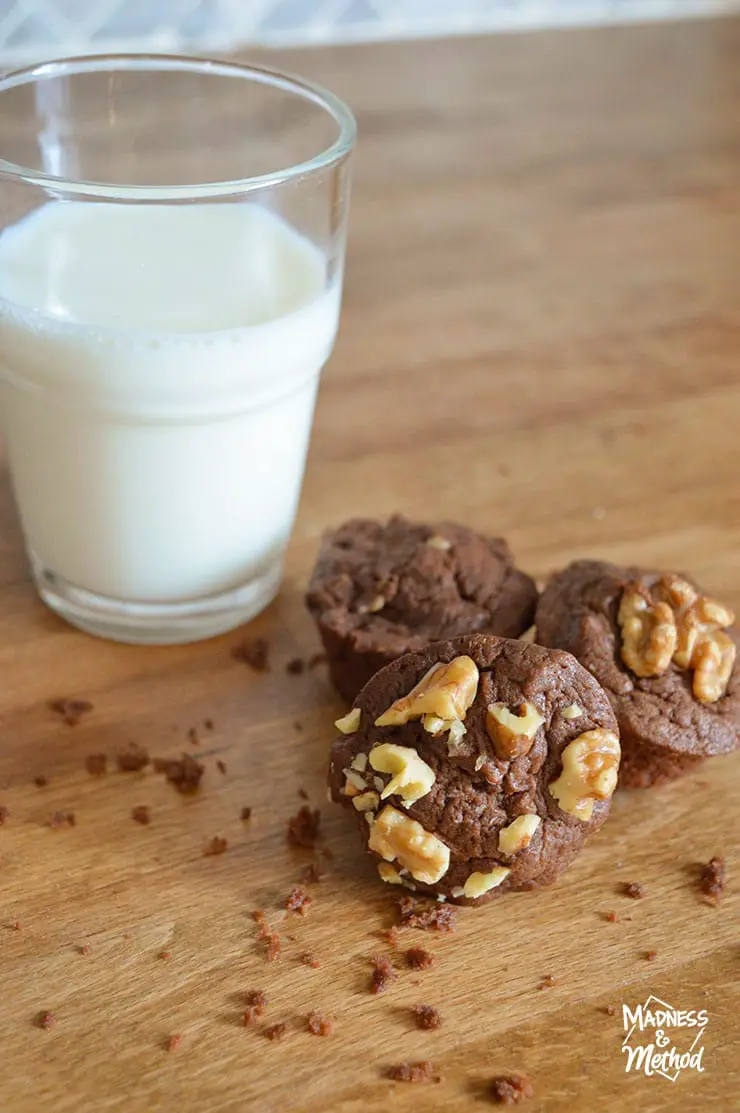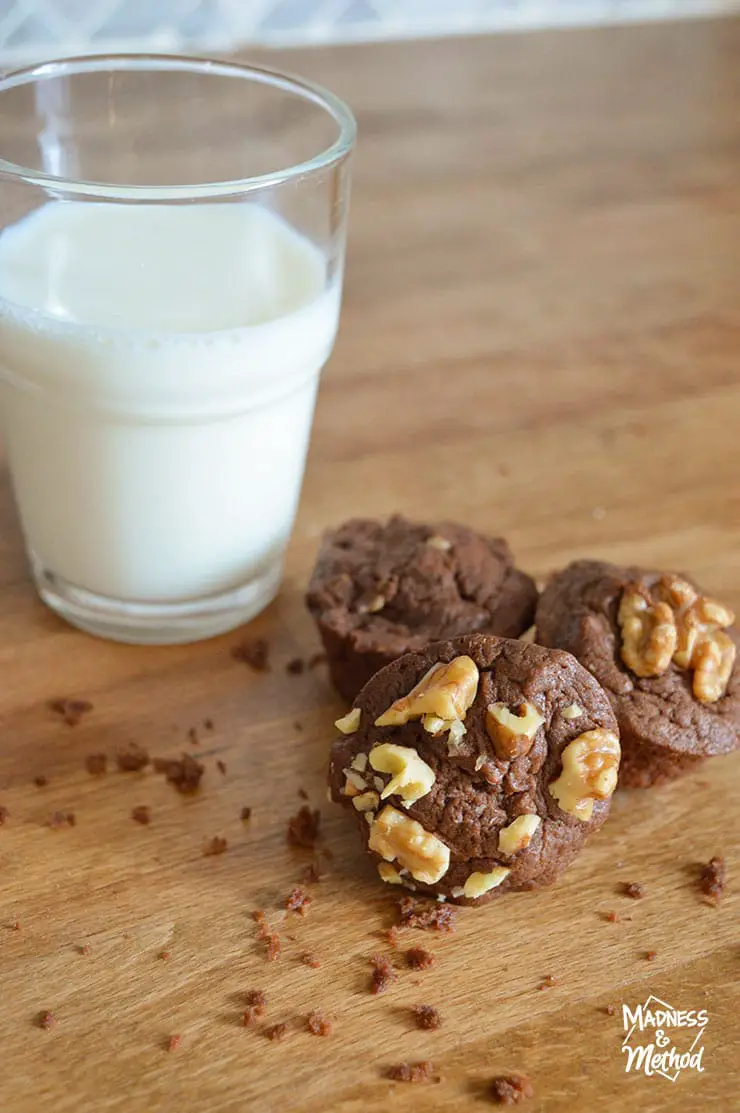 Bake for 18-22 minutes and remove from heat.  Cool the muffin tray on a wire rack, then remove the brownie bites after a few minutes and cool completely before eating.   
You should now have a nice batch of ooey-gooey delicious Chunky Monkey brownie bites ready to eat. (Or just regular Chunky Monkey brownies for you square pan people). 
And remember, with no added sugar you can pretend they're healthy… but I don't want to lie to you :)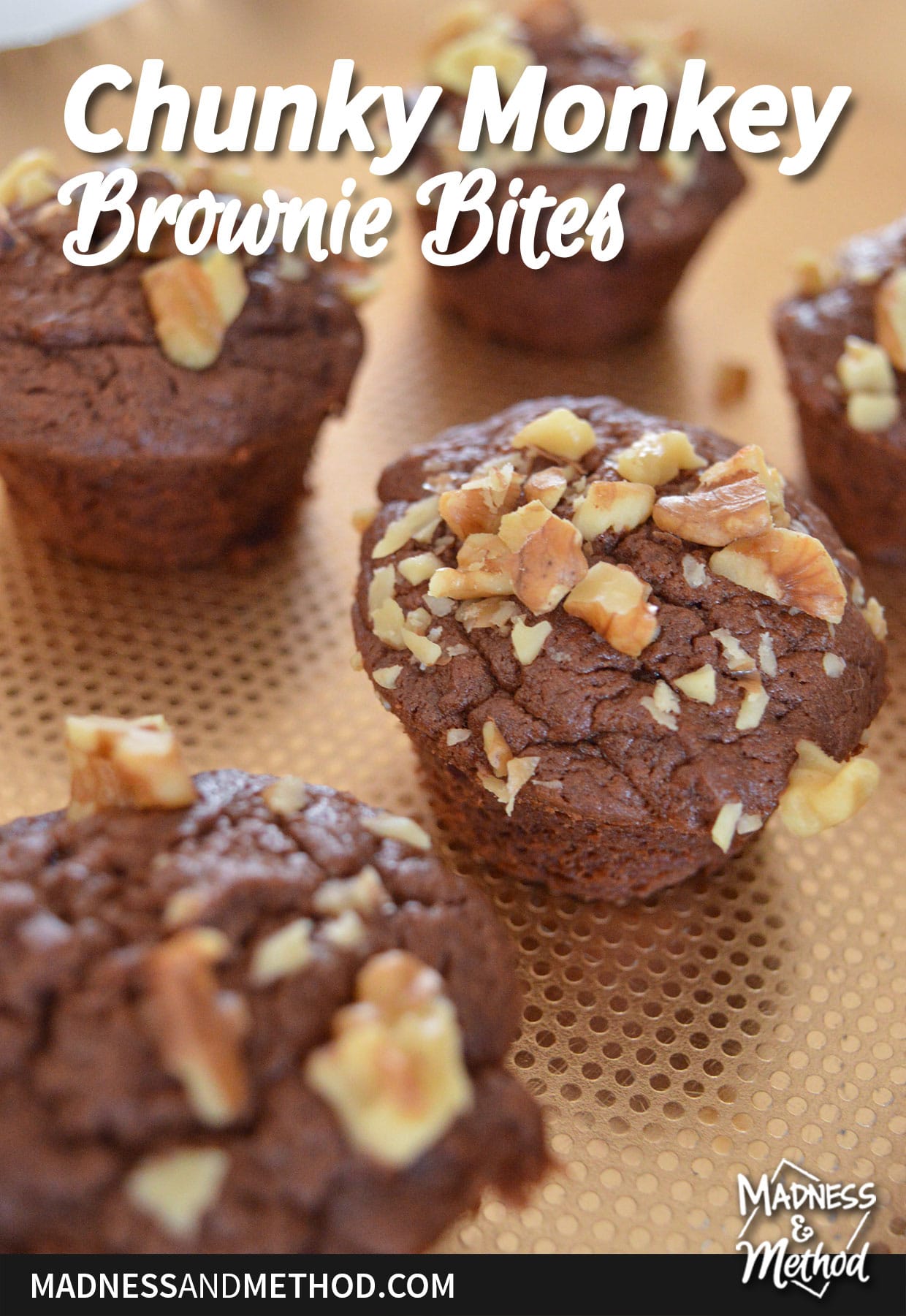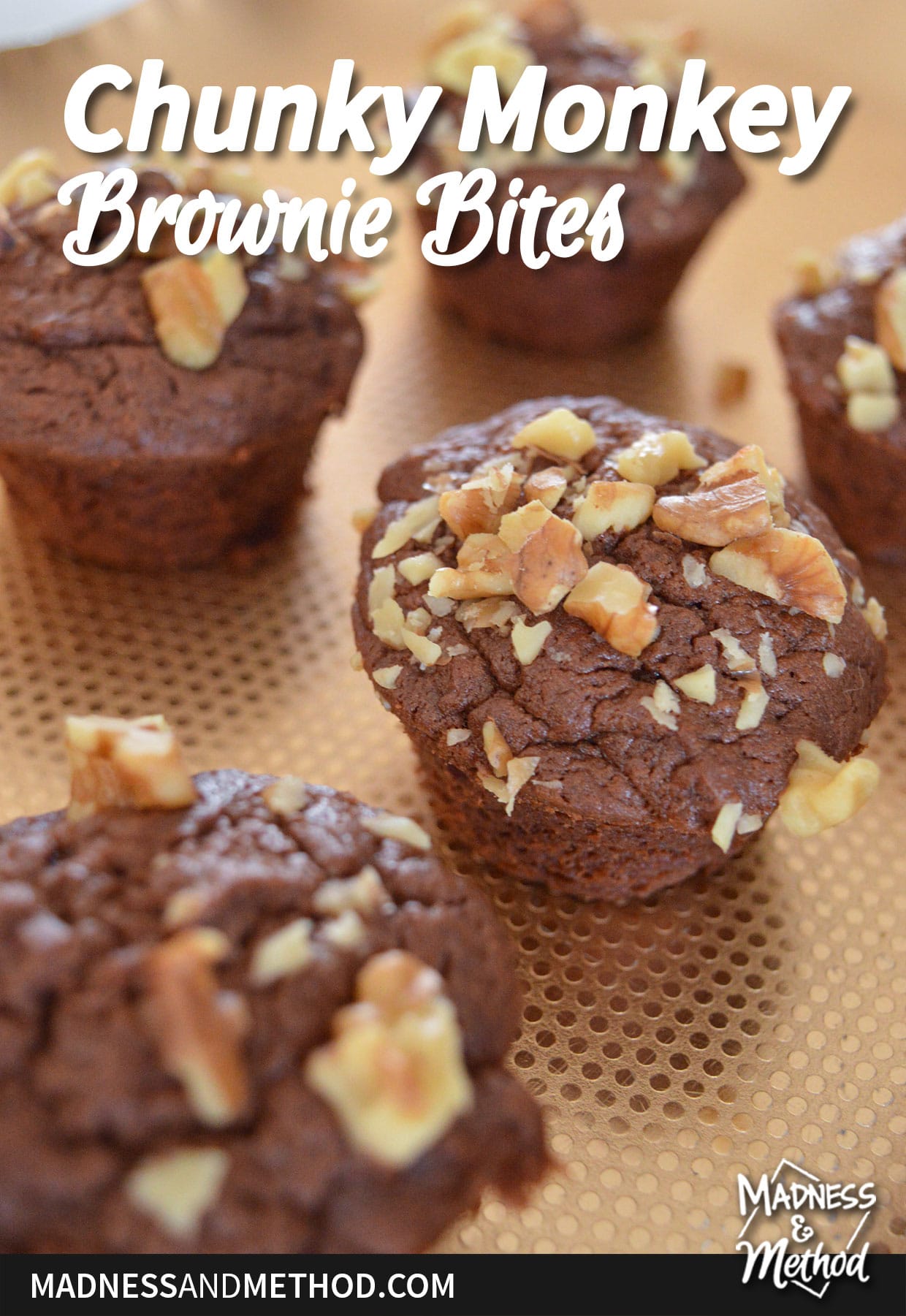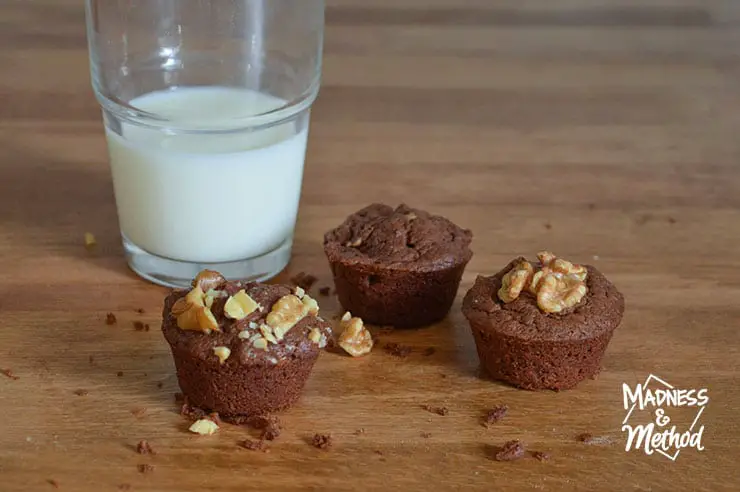 Print Recipe
Chunky Monkey Brownie Bites
Chocolate, banana, peanut butter and walnuts come together to make these delicious Chunky Monkey brownie bites; with no added eggs or sugar!
Ingredients
1 cup chocolate chips

1/2 cup peanut butter

1/2 cup butter

1 cup flour

1 tsp baking powder

2 bananas

1 tsp vanilla

Walnuts (approx 1 cup, or 24 whole)
Instructions
1
Preheat the oven to 350ºF
2
Melt chocolate chips, peanut butter and butter together in a large bowl
3
Mash two ripe bananas and mix with the vanilla in a medium-sized bowl
4
Mix the flour and baking powder together in a small bowl
5
Add the mashed banana into the melted chocolate mixture
6
Slowly incorporate the flour
7
Scoop even amounts into a greased muffin pan
8
Optional: sprinkle walnuts on top OR add 1/2 cup chopped walnuts in the batter
10
Remove from the oven, cool on a wire rack then remove the cooled brownie bites and enjoy!
Notes
Can use chopped or whole walnuts for the tops (Or experiment with chocolate chips/peanut butter chips, etc!) Feel free to omit or cut the peanut butter in half if desired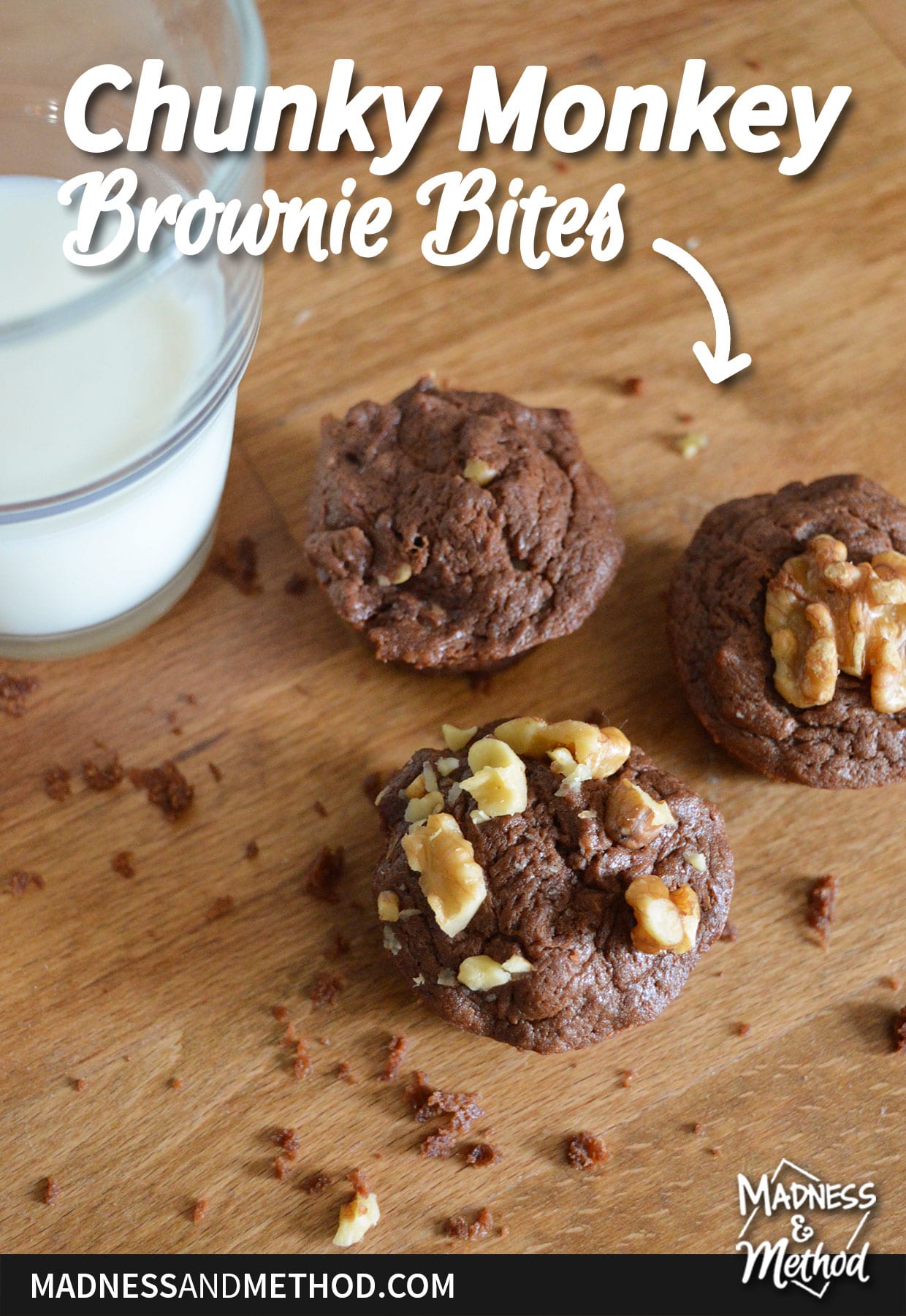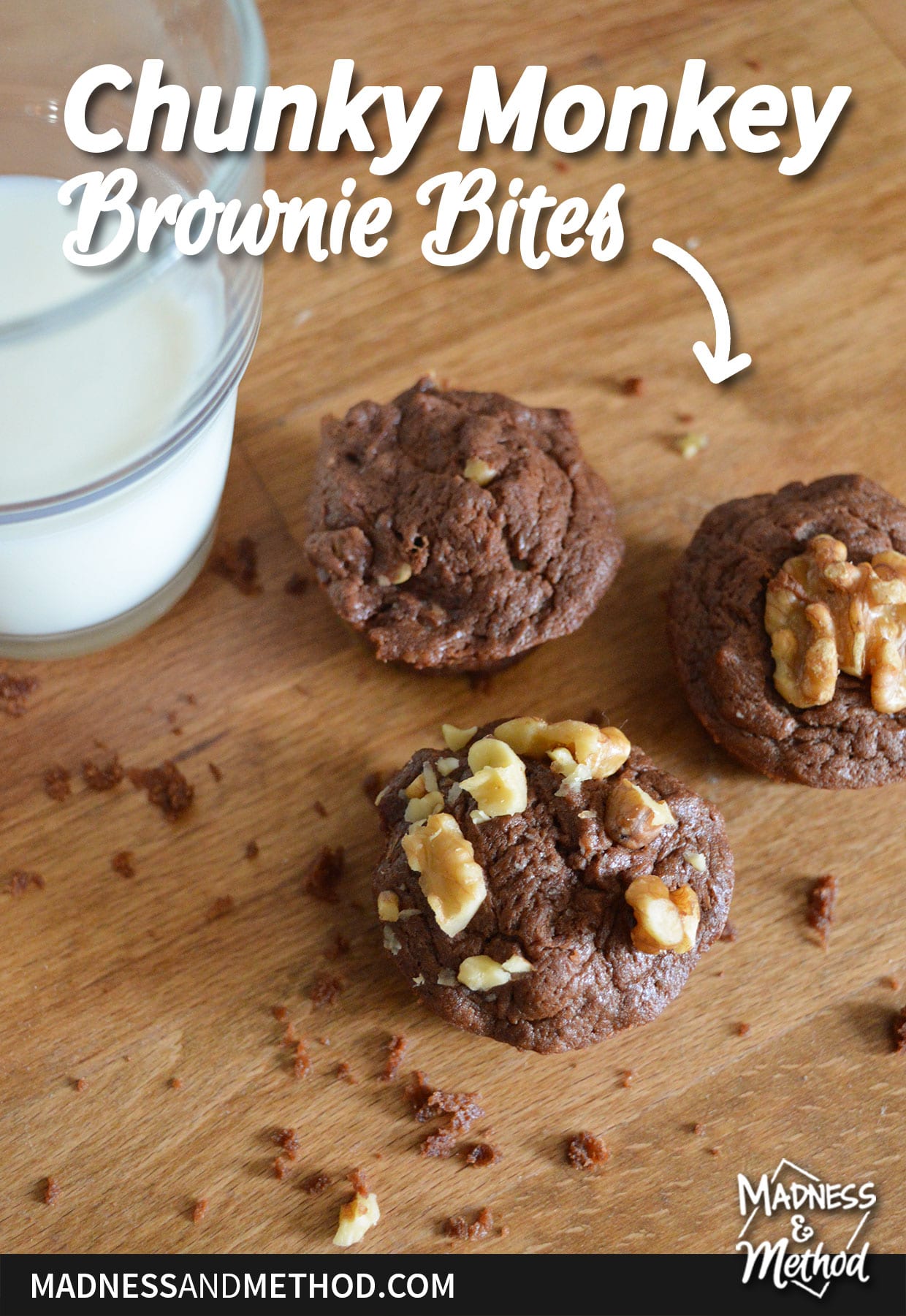 I hope you enjoy this updated (but still delicious) recipe for Chunky Monkey brownie bites!  Are you a "Chunky Monkey" fan?  Like I've said, true Chunky Monkey doesn't have peanut butter, but why mess with the goodness of peanut butter + chocolate? 
You can store these brownie bites on the counter in an airtight container.  They will keep for a few days, but if you want to save them for longer, feel free to put them in the freezer!  Trust me when I say that I had a LOT from the recipe-rework, and the still-frozen brownies taste just as good :)   
Related Recipes