Nothing to report in the 'ole basement kitchen, and with Christmas approaching, I knew it was time to start sharing some holiday content around here.  This past weekend we decorated our mantel for Christmas in a metallic theme, and I like how it turned out!  Check out our mixed metal mantel décor and let me know what you think of this traditional-non-traditional colour scheme :)
– Note: This post contains affiliate links. See more information about affiliates here. –
If you're a fan of the classic Rudolph film (it's my favourite Christmas movie!), then you'll know the song "Silver and Gold".  It always comes to my head whenever I think about metallic Christmas décor, and this year I definitely rolled with it when I was planning our mantel decorations.
To make this traditional silver and gold scheme a little non-traditional, I also decided to bring in some copper elements for a truly mixed metal theme.  Actually, I had purchased some mum plants from the grocery store because they came in a copper bucket (that you can see a peek here) and knew it would be a greater starting point!
Recreate This Look With Similar Items from Amazon
I added some spruce/pine branches into our mantel last year, but it made the craziest mess by the end of the season and I vowed never to do that again.  In fact, there were STILL some pines leftover when I cleaned off our mantel this weekend before decorating…
Well, you can call me crazy because I brought some real greenery back – but I'm hoping that the cedar branches won't fall off in a million little pieces when they die out.
Our Metallic Mantel Decor
Whenever I look back to the first Christmas mantel décor we did, I can't believe how different the fireplace looks since it's been painted.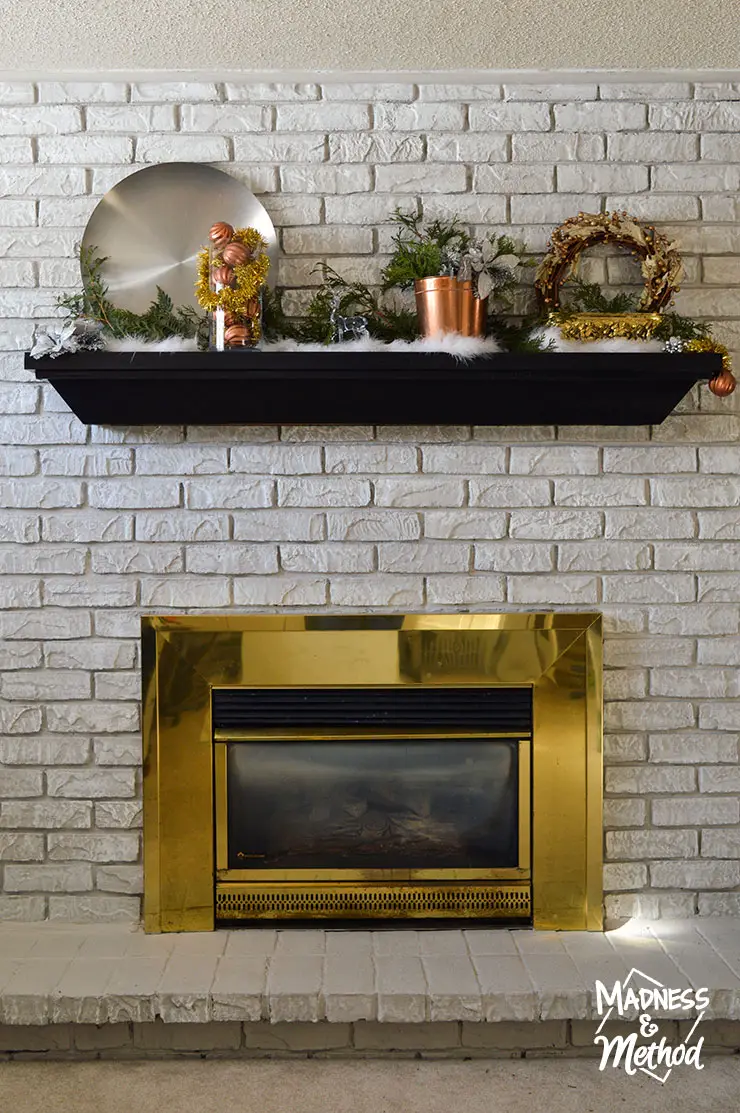 I never changed the shiny brass fireplace surround, but it totally works with our normal mantel décor – and now this mixed metal Christmas theme too!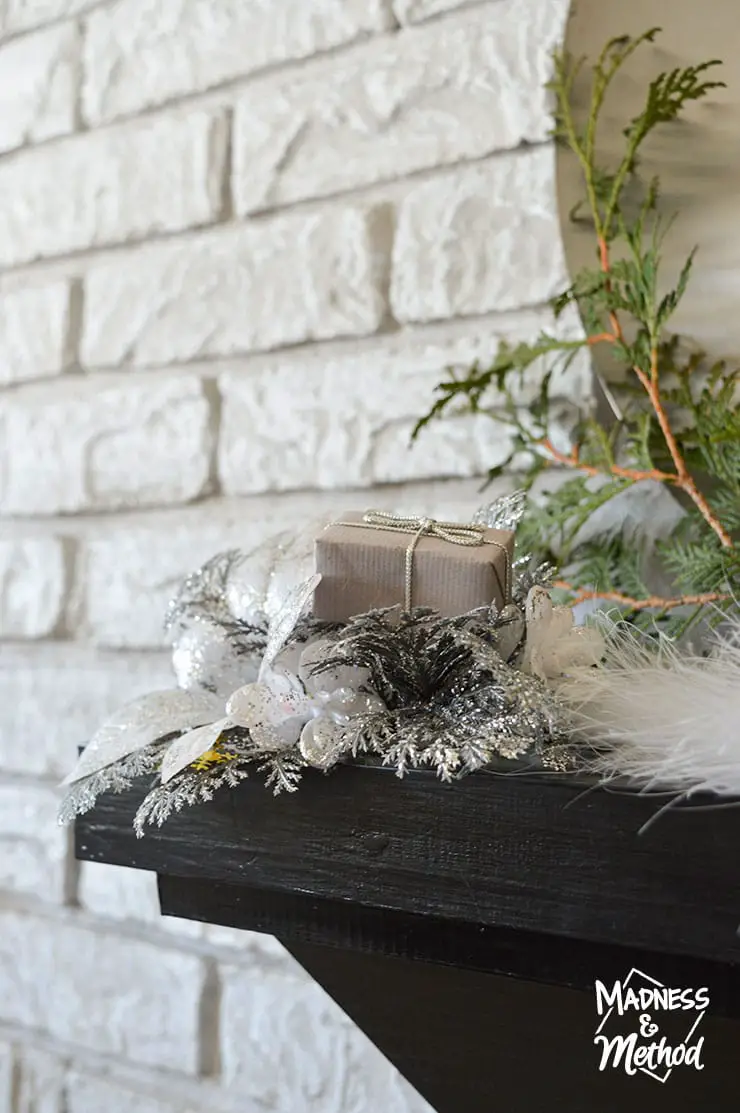 We had these sparkly silver décor leaf things (that I used to use on our table to surround a candle) but broke it up this year around the mantel.  It will probably be the last year I keep it since a certain toddler decided to rip some pieces off…
The gold tinsel garland came with the old nativity scene that I had as a child (this year I swapped it out for a white boa) and it's another thing that won't be making a comeback next year.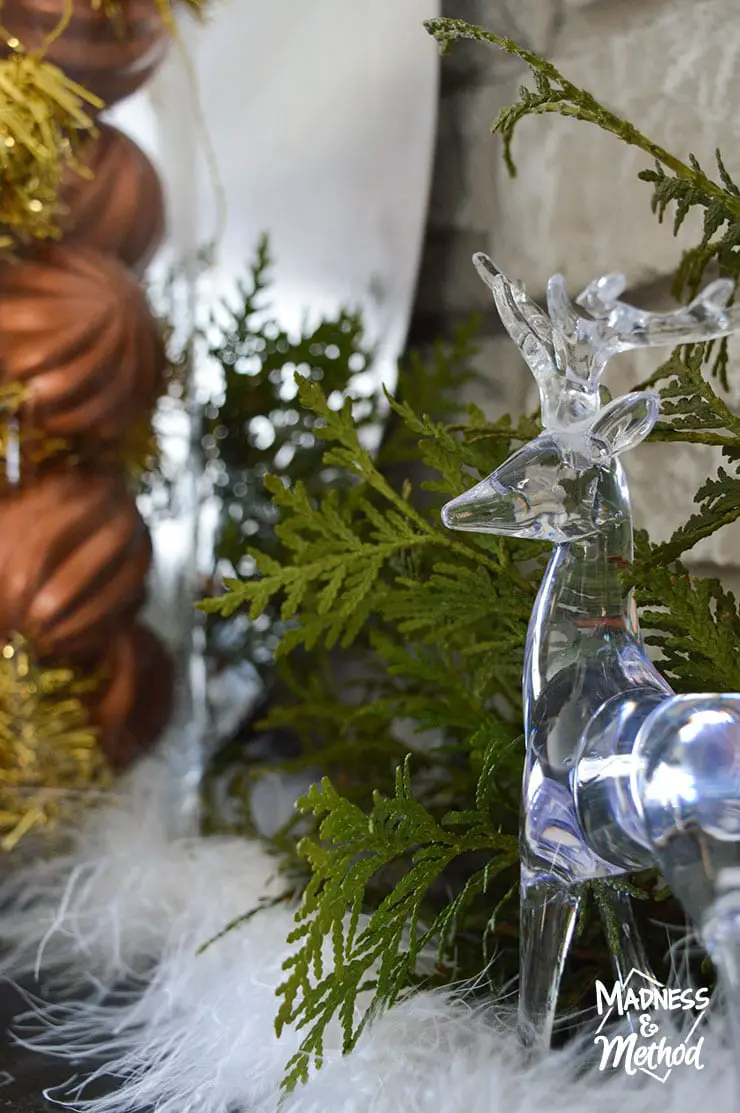 I actually spray painted those Christmas balls copper a few years ago, and stacked them in a clear vase to add some height.  My trusty clear reindeer made his appearance on the mantel again this year, and he's probably the only thing that's come back each time :)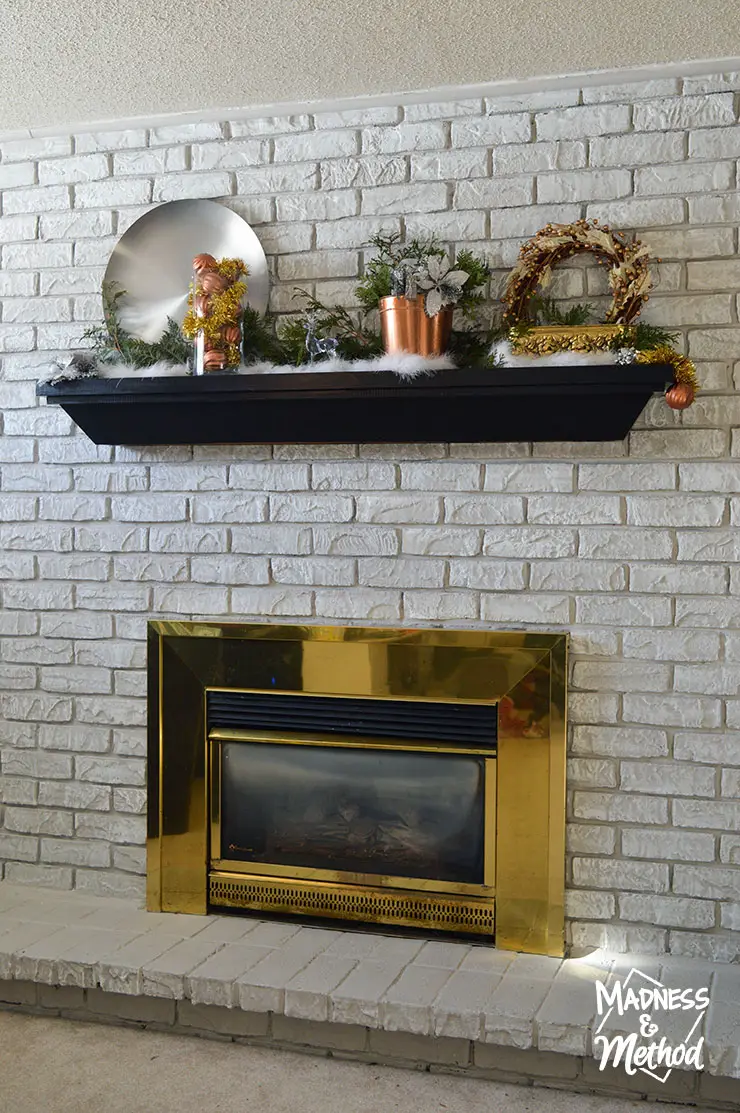 He kind of fades into the background, but I made sure to stack some cedar branches behind him so he's a bit more visible.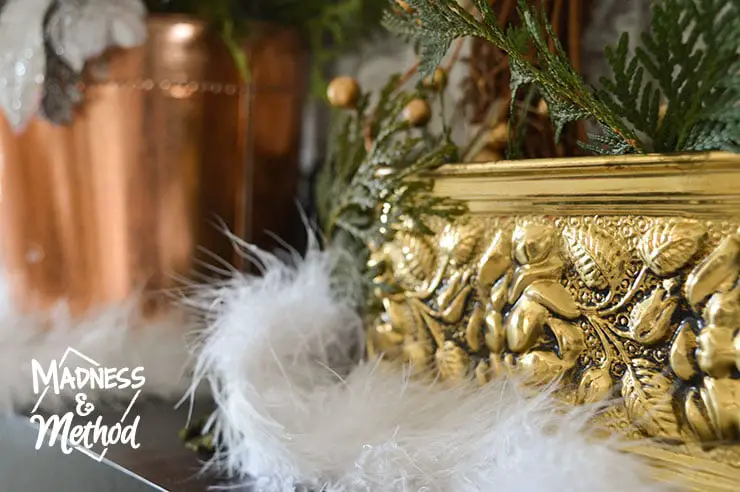 I picked up this brass container a couple of months ago at a local antique fair, and while it blends well with our normal brass décor down here, I hadn't set it up yet so it was fun to bring it out for our mixed metal mantel décor.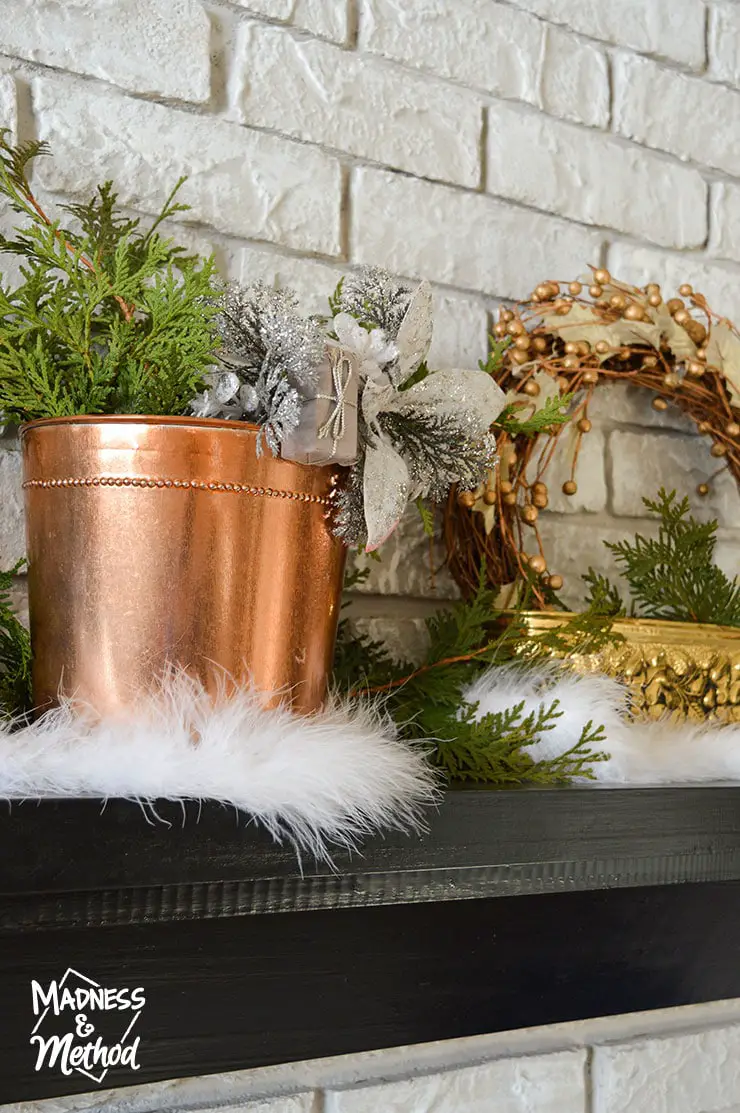 The copper bucket was the perfect size for the mantel without being too big, and I filled it with our disassembled silver bouquet-thing and some cedar branches.
I placed our twiggy wreath in the brass container, and like that it mimics the circular shape from the big silver plate, but isn't a solid block.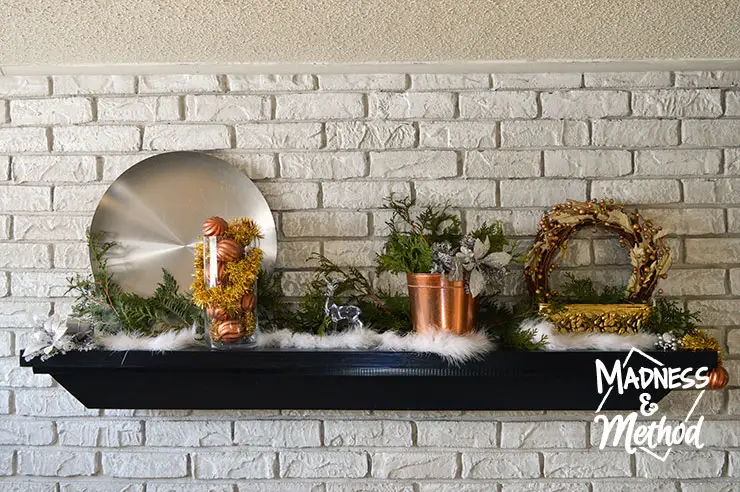 There was originally a brass plate behind it and it was a bit too heavy looking.  I kept feeling like the space behind the reindeer was missing something (like a tall/skinny element).  So I kept the wreath open and shuffled the space between each item to give everything a bit more breathing room.
Just for a bit of fun, I hung an extra copper ball off of the gold/brass tinsel like it's falling off the mantel.  (Actually, it did fall off at one point but I think it had to do with a toddler running around…)  I tucked it under the container so it's not going anywhere now!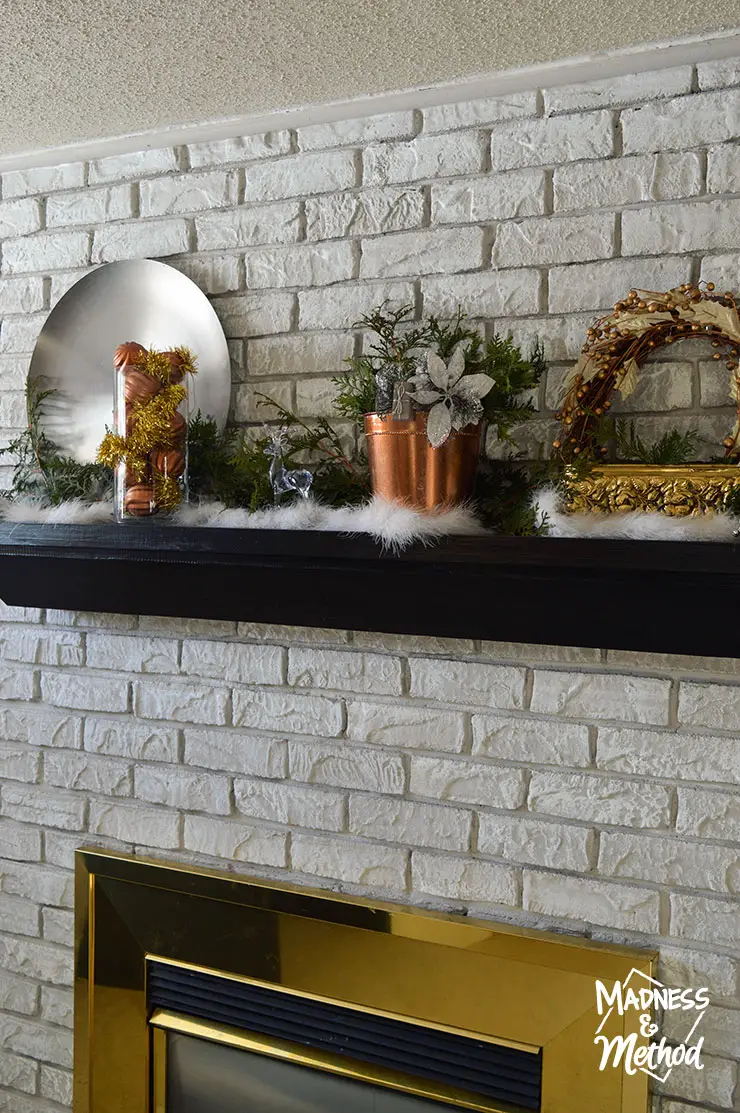 Speaking of the little man, I had started decorating in the morning while he was awake but finished when he was napping.  He seemed so happy to see the mantel decorated for Christmas when he came back downstairs.
And, although I'd like to believe that it's because he was in awe of the beautiful work that his Momma had done, I think it's more the fact that it was different than it usually is.  (Or, maybe that I took his "toys" and put them out of his reach, ha!).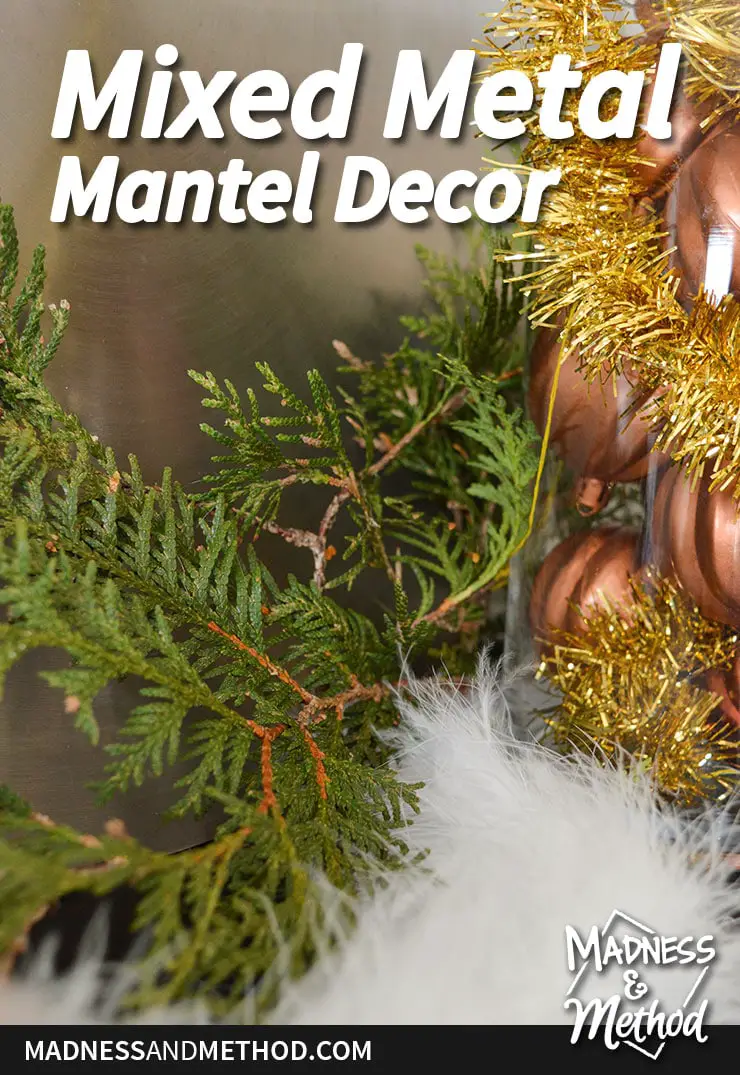 I know that 'mixed metal mantel décor' kind of sounds like a mouthful (it's been tricky typing the correct word between 'mantel' and 'metal' this whole time!), but it does describe the colour scheme of our mantel this year.  I'm not sure how I'll decorate the tree this year (I have a few ideas), but I'm really liking this metallic mantel.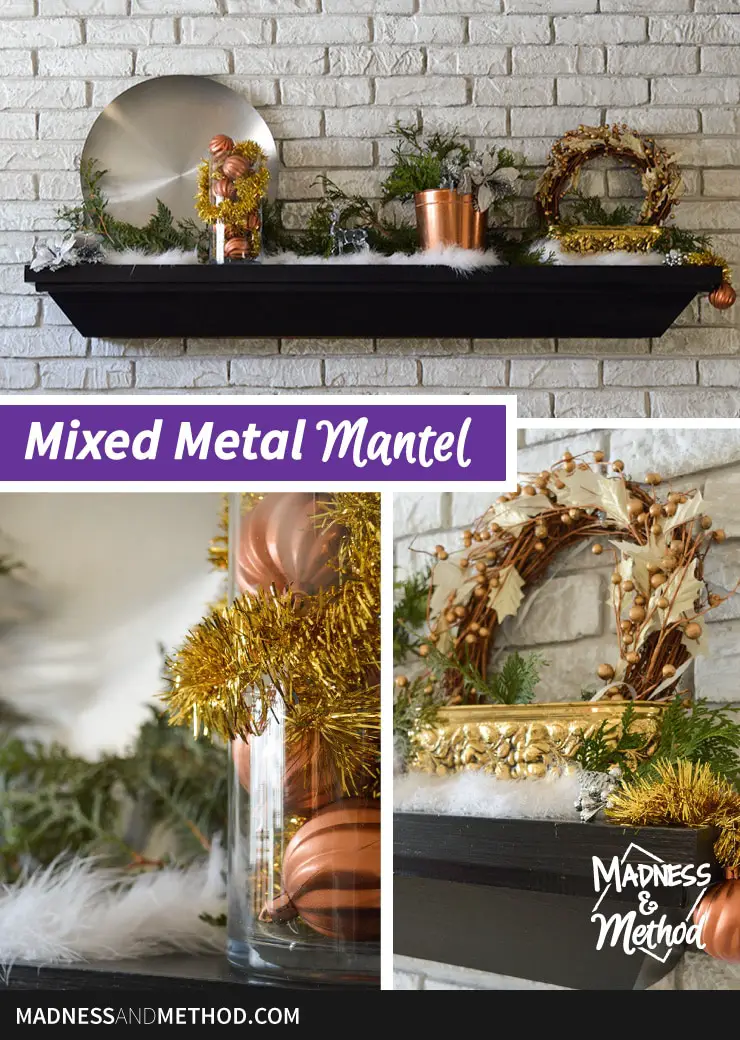 A Metallic Christmas Mantel
Before I came up with this final placement, I mentioned that I thought something was missing.  The Husband kept insisting that I was missing the colour red, even though I reminded him multiple times that we were doing a mixed metal theme.
Well, wouldn't you know it – as soon as I finished taking all the photos of our metallic mantel and put up our DIY stocking holders, I realized/remembered that our stockings were bright red!  Now he gets the red he wants, and I still have a great mixed metal décor theme :)
(Oh, and we'll be getting new stockings in a few years, but in the meantime, we'll definitely need to pick one up for our newest little one!).
And I'll let you know how the cedar branches hold out this year too!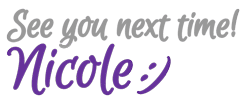 Shop Similar Items