I'm starting a new makeover project and taking you along for the ride.  Aka it's the first week of the Spring 2022 One Room Challenge!  I debated on a couple of different spaces for this round, but I hope you can tell from the title what I chose, ha. Today I'm sharing all the before photos and hallway makeover plans!
– Note: This post contains affiliate links. See more information about affiliates here. –
Our hallway is a white, bright and skinny space that connects the living areas with the bedrooms.  I knew I wanted to jazz up the hallway and included it in my list of places to address in my year plans.  We live in a raised ranch house and have the living/dining/kitchen on the right side, and three bedrooms and a bathroom on the left.  You can see the latest video tour and photos here.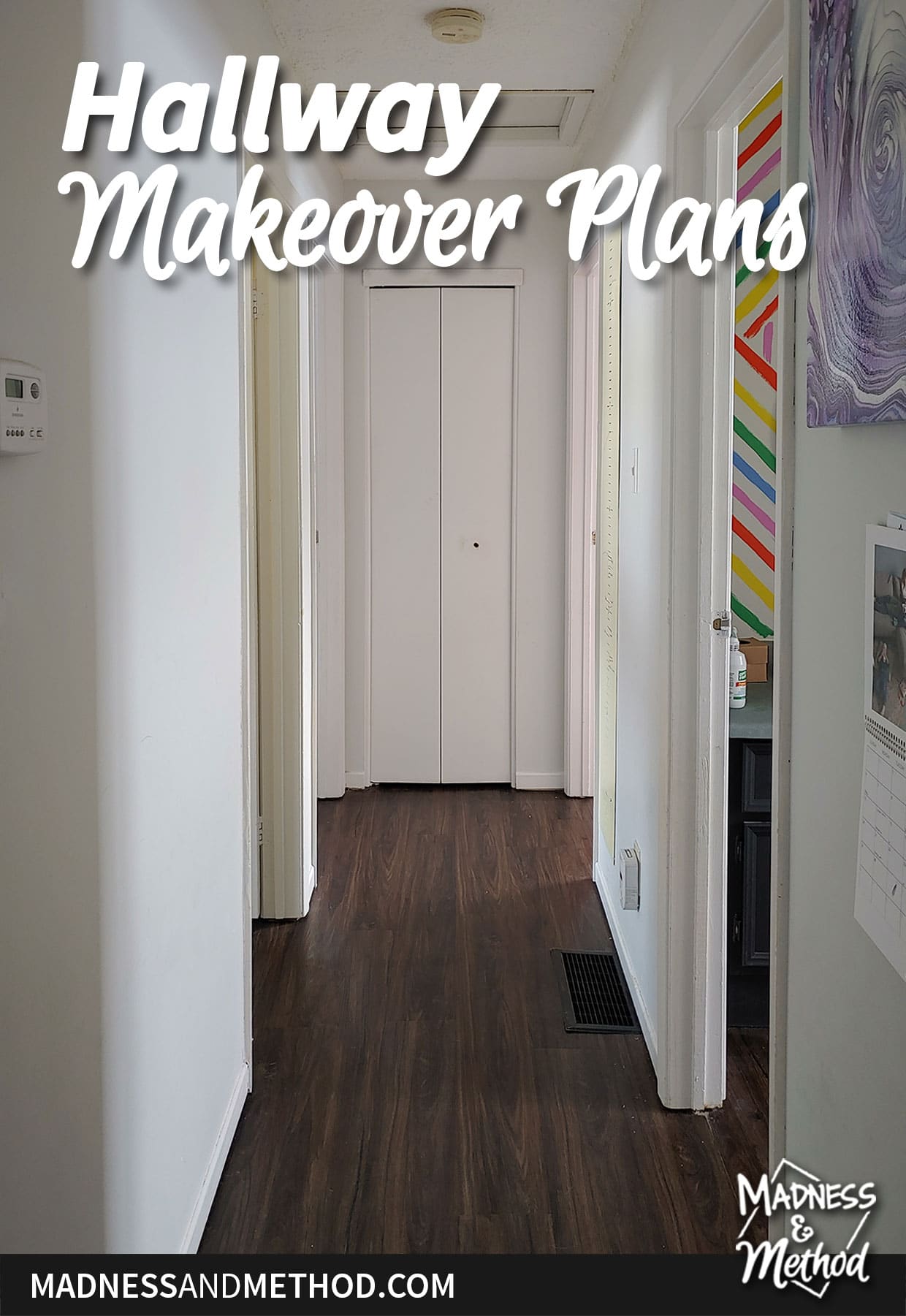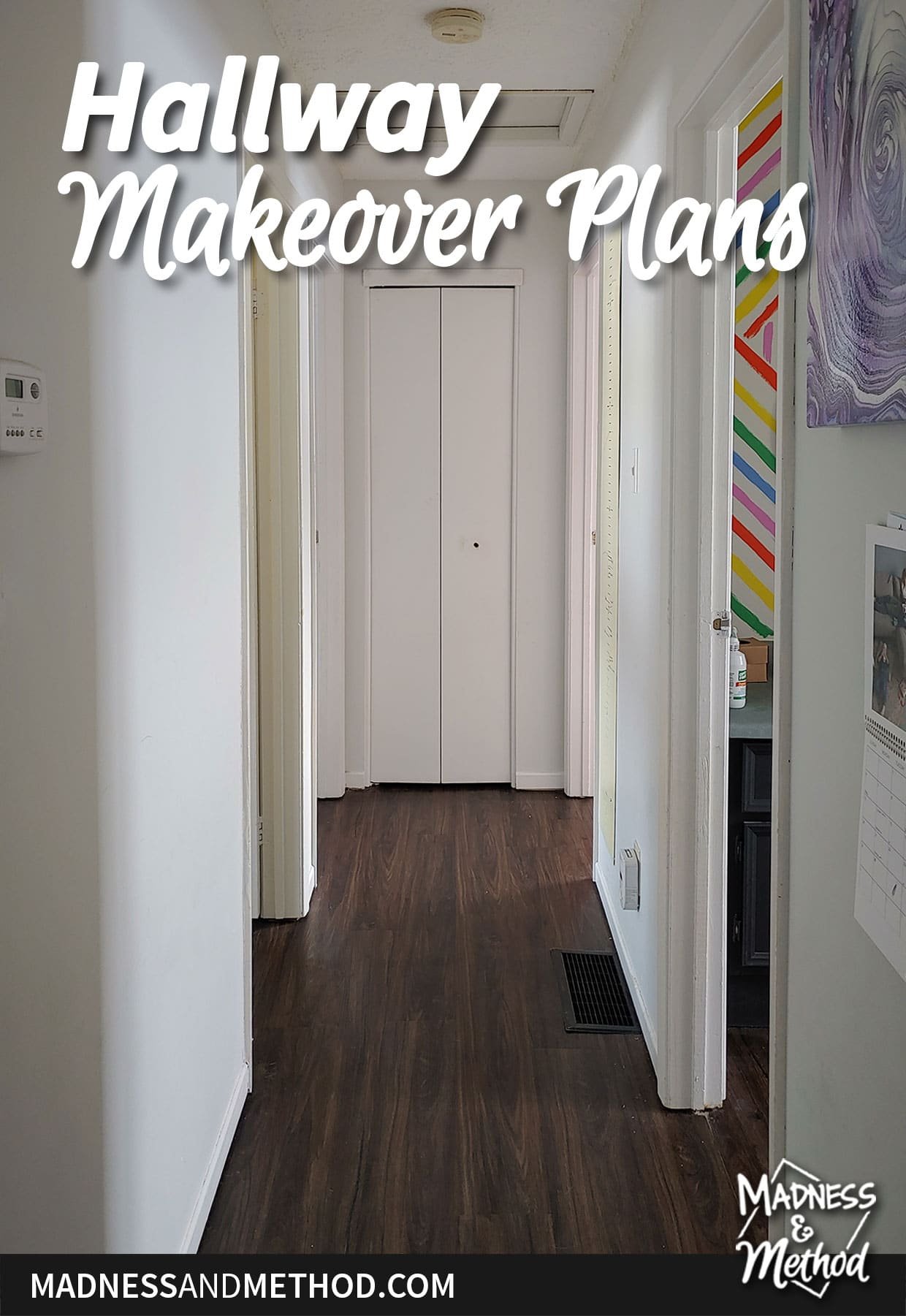 I REALLY wanted to do a room at the cottage we are building this ORC round.  But it's still heavily under construction at the moment, and nowhere near ready for paint and furnishings.  (As of right now, the plumbing/electrical are being run, with the HVAC to start soon).  Don't you worry, I'm crossing my fingers that as soon as this hallway is done and revealed, we'll be moving over to projects there… I hope… ha…
Anyways, let's get to some hallway photos and plans, right!?
Hallway Photos and Progress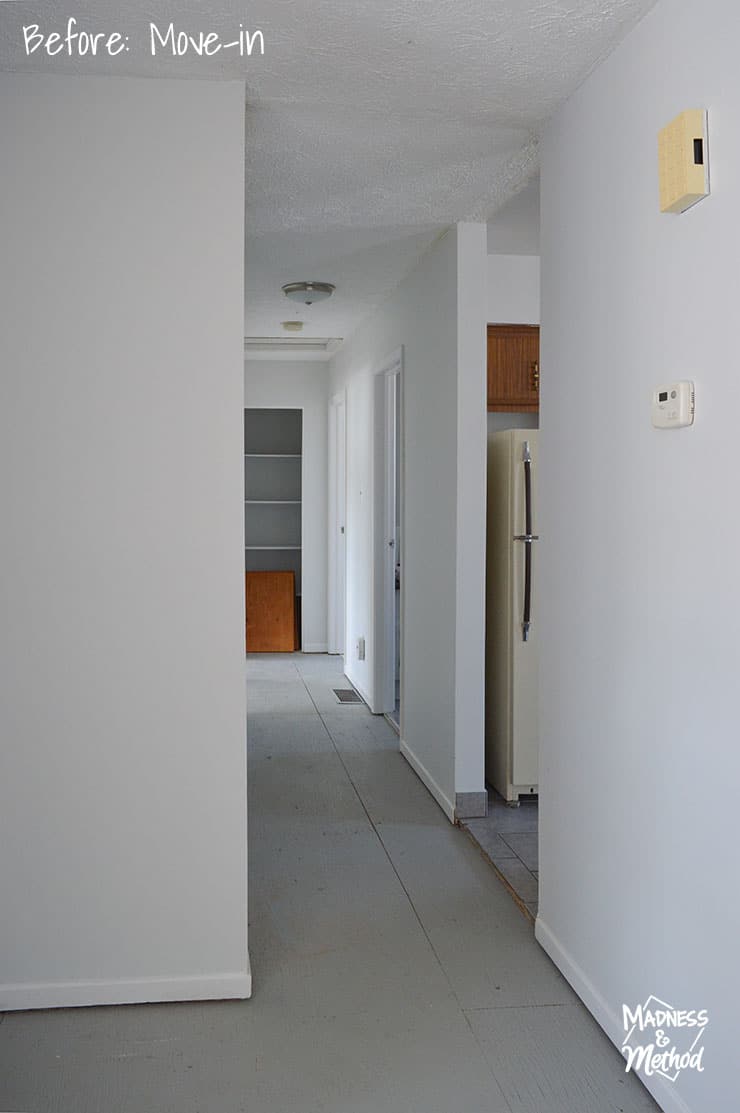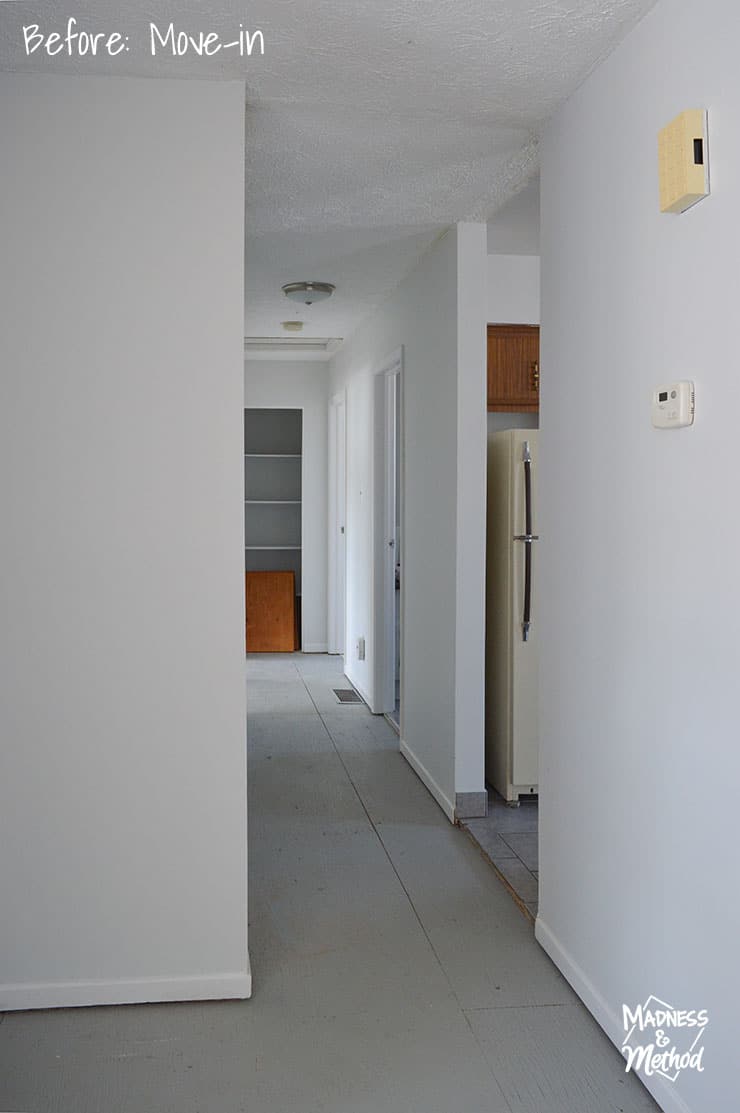 This one is from way back in spring 2020 before we moved in.  There weren't any finished floors in the main areas but you can see that the hallway remained mostly unchanged since then.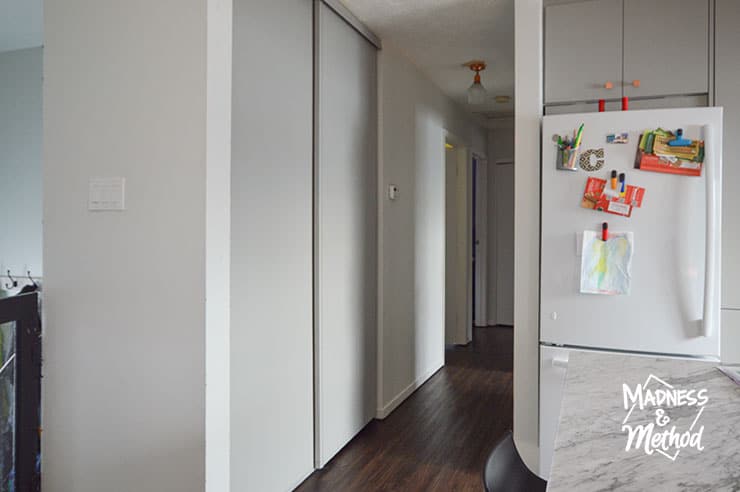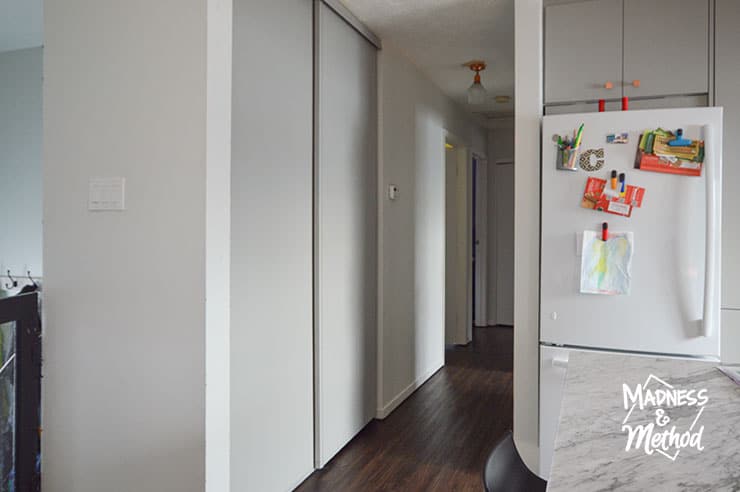 We renovated our kitchen last year and one of the major updates was removing the two walls that blocked it in.  We relocated the switches/doorbell to that little wall attached to the closet.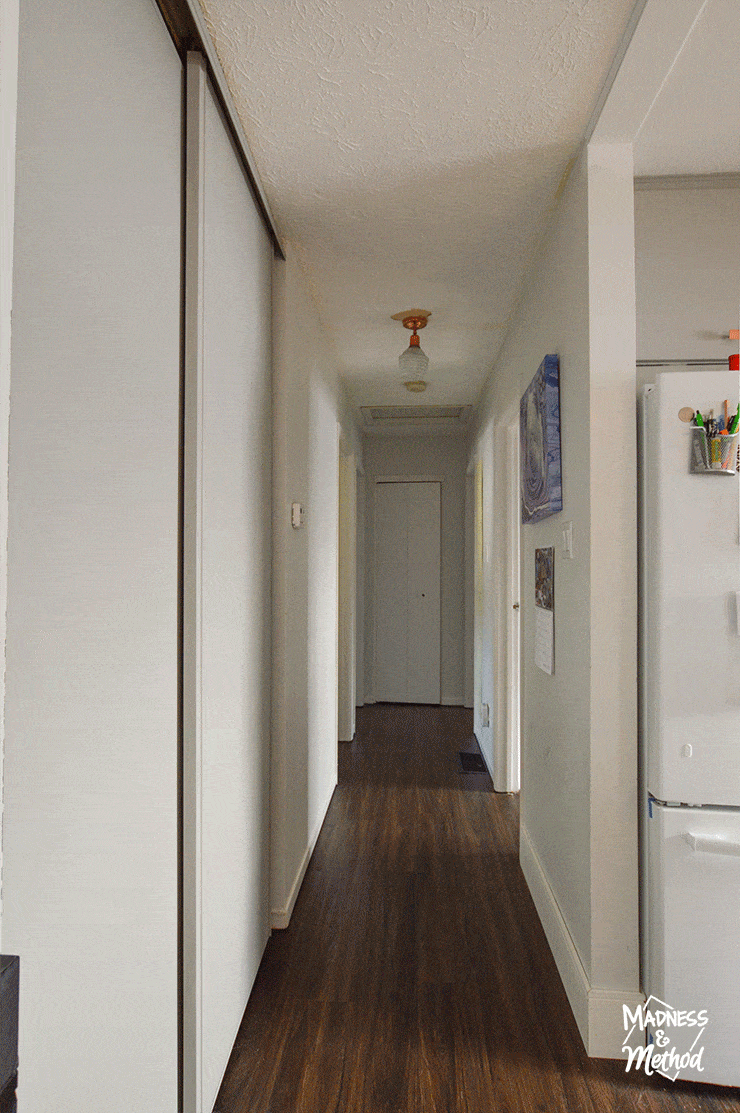 I recently had the husband swap out the light fixture for this copper one I got secondhand.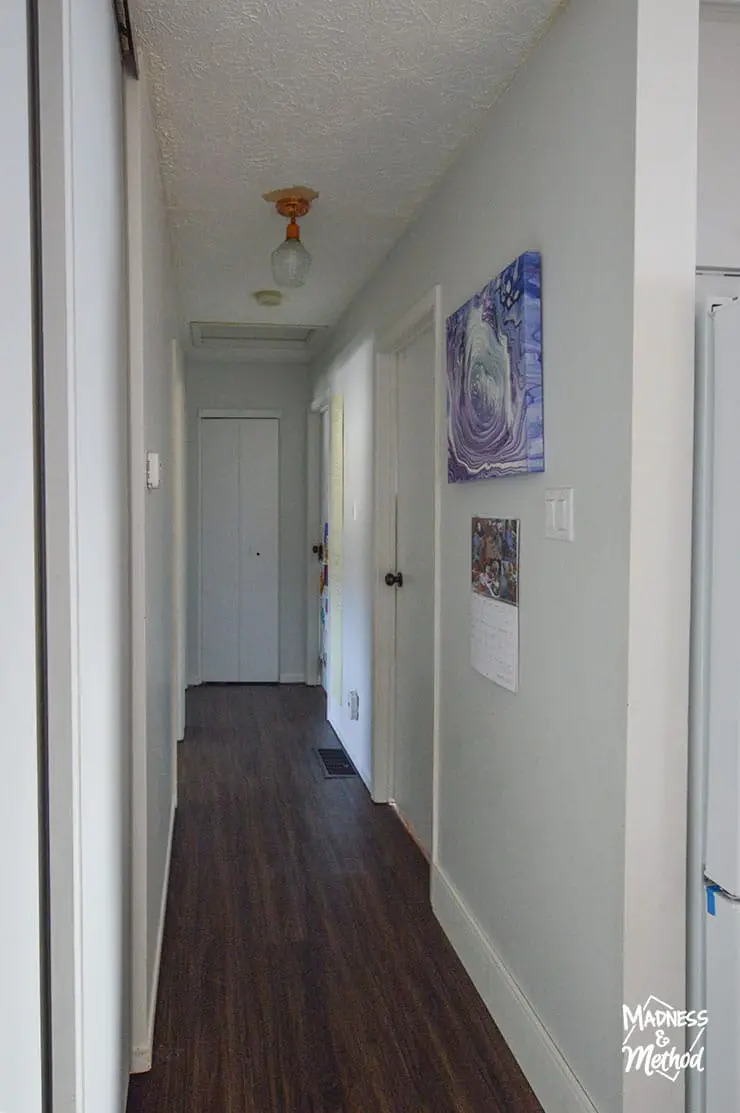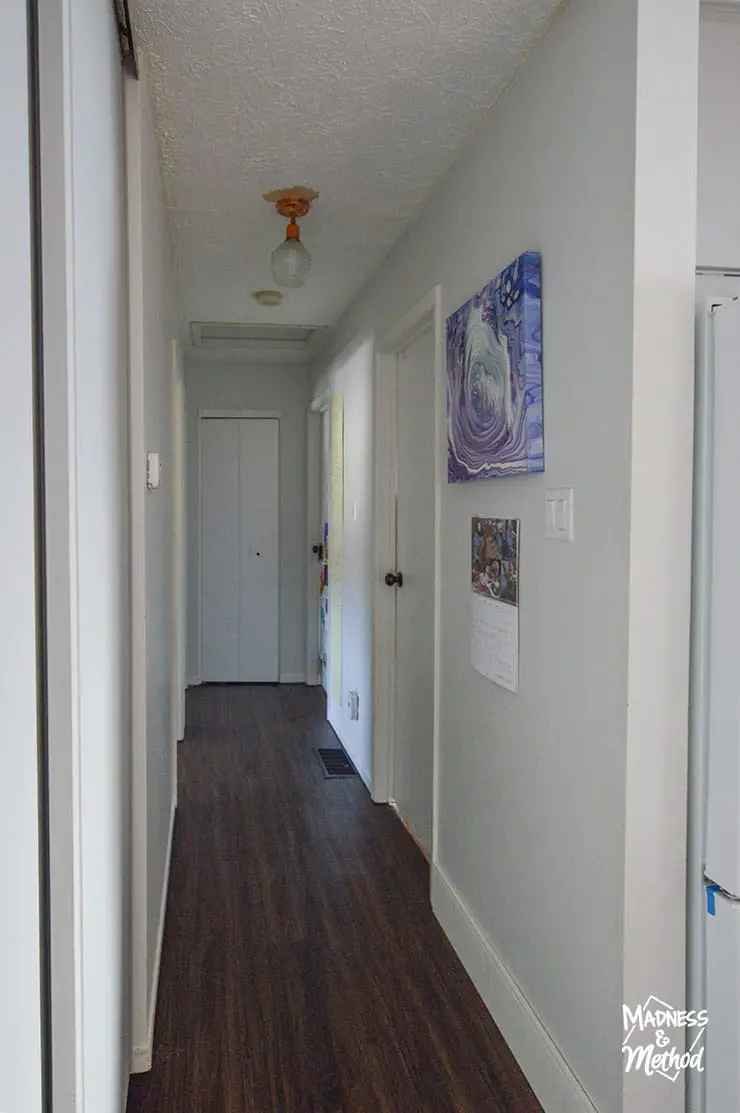 Other changes involved adding some artwork, hanging our calendar and growth chart.  (Oh, and I painted the sliding closet doors that were once dark faux wood).
But let's chat about where we're headed!
I'm not a white wall person, and I knew I wanted to do something fun in the hallway.  I debated narrow horizontal slats to add texture and interest.  I vetoed that based on time, the potential cost and future dust/loveability.  I also considered doing the bottom half blue like the rest of our common spaces.
Hallway Ideas
It hit me one day while I was sitting at the dinner table, staring down the hall.  COLOUR!  Rainbow colour :)  It shouldn't come as a surprise since I've done a rainbow wall treatment in the bathroom and a fun accent wall in the basement.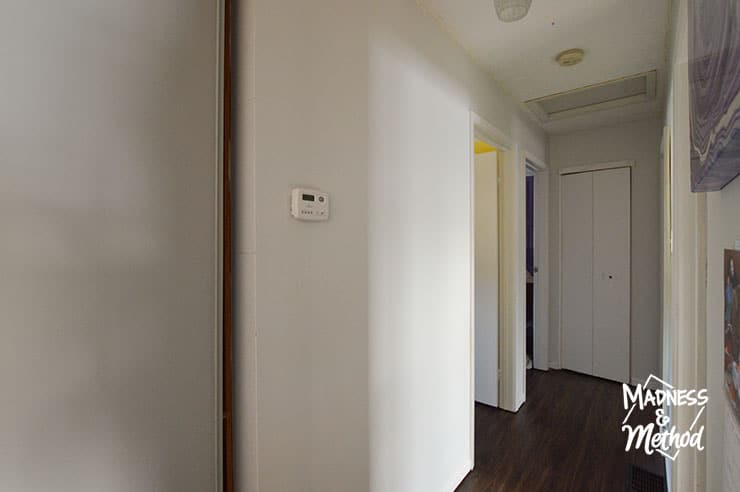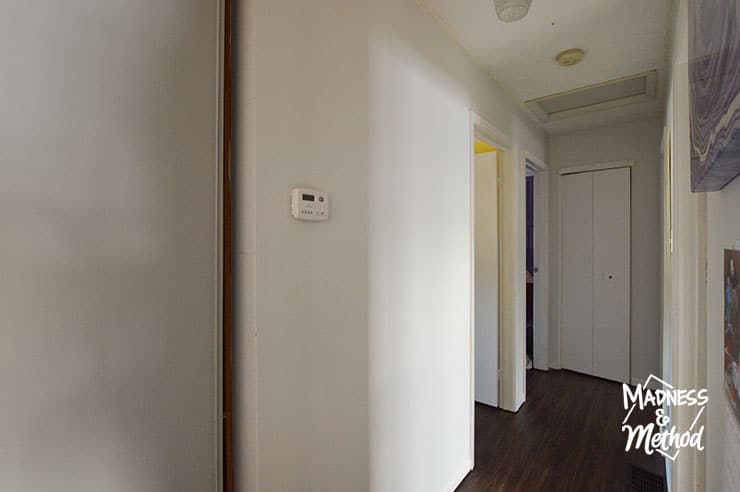 But I didn't want something super wild and saturated.  I initially searched for a rainbow wallpaper (see all the ones I considered on this Pinterest Board).  It had to be mostly a white background, with a good variety of the main rainbow colours.  I envisioned an Ikat/Damask type of repeating pattern.  Random and geometric… if that made sense.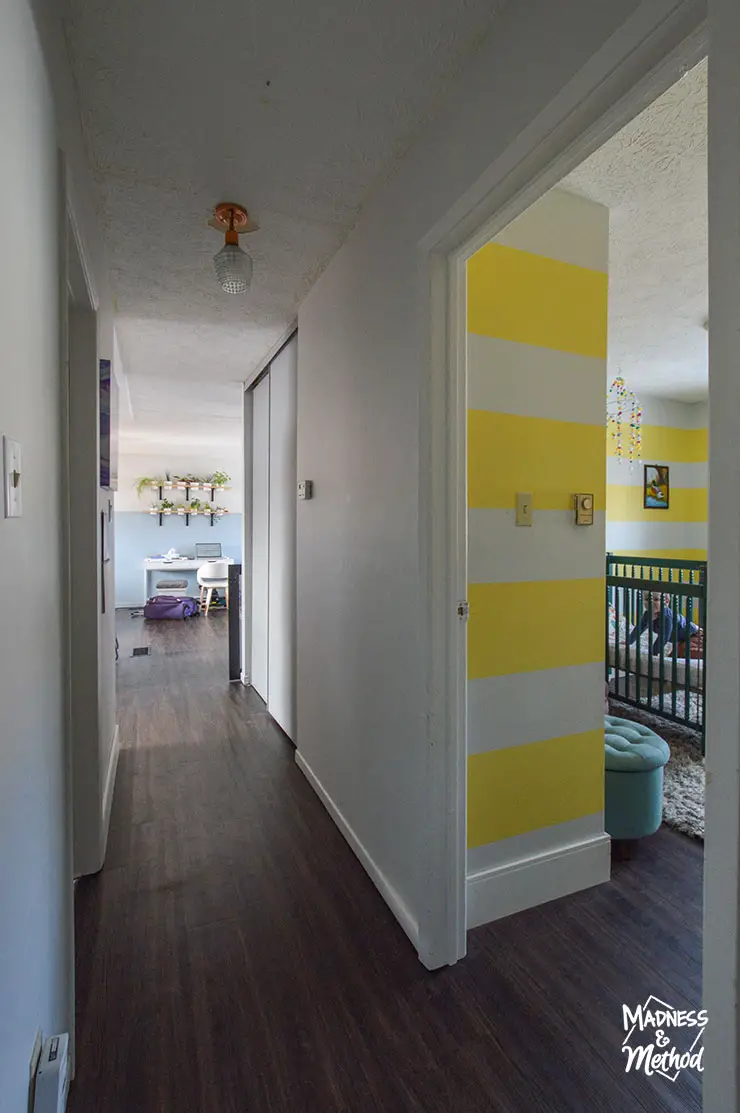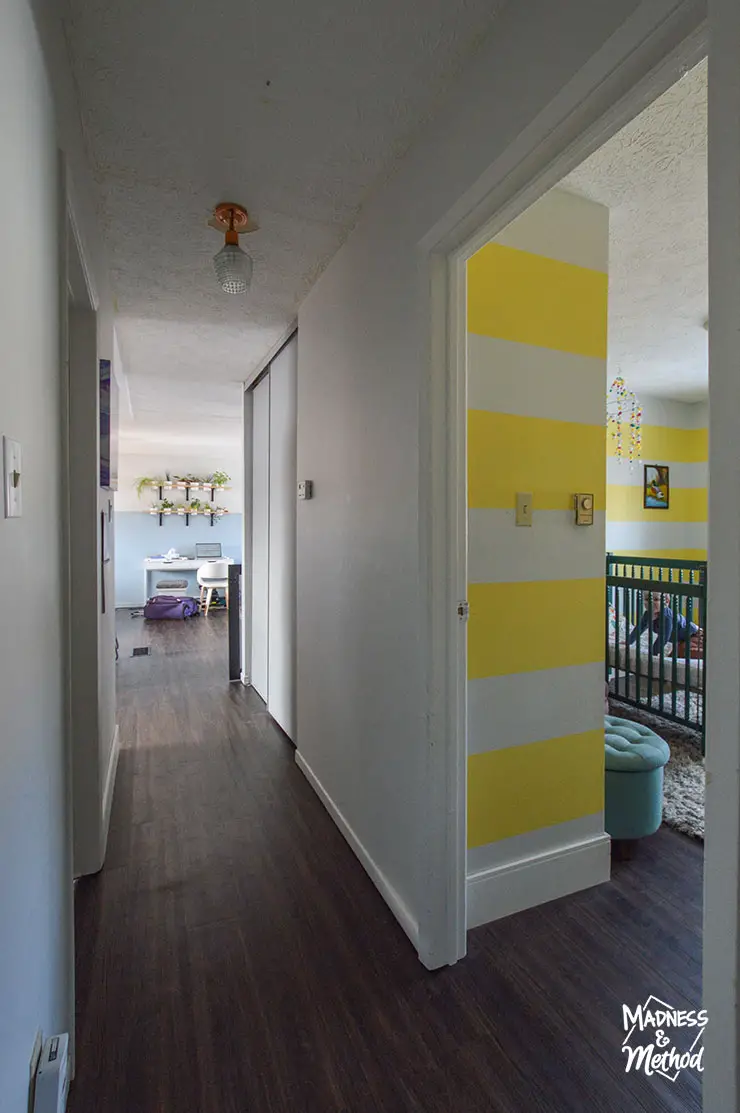 I wanted the colours to complement the ones we had in the bedrooms (like our striped yellow room, purple primary, and red shared room).  The hallway was the path to those bright and bold spaces, and it needed to give a hint, but not compete.
Eventually, I vetoed the wallpaper idea because I couldn't find one that was 100% YES.  There was a shortlist of strong contenders that could have worked… But, I'll be honest here, wallpaper to fill this hallway would have been EXPENSIVE.  I'm talking 500$+ of wallpaper, and if it wasn't for something I was totally in love with, I wasn't so excited to pull the trigger.
Thennnnn I remembered stencils!  I haven't used a wall stencil before, but I liked that I could customize the colours to exactly how I wanted.  So, in addition to my wallpaper search, I also saved some stencils that would work (also on this Pinterest Board).
As a bonus, re-writing this wall treatment post reminded me that I wanted to try one forever ago.  SO I guess it was fate, ha.
Hallway Makeover Plans
In the end, I chose this diamond stencil that I found on Etsy.  I LOVE a diamond, and I liked that the shapes were made up of little dots, so they weren't super solid.  There is a good amount of background (aka my white space), and I'm pretty sure switching the colours won't be too hard (we'll see how that goes though, ha).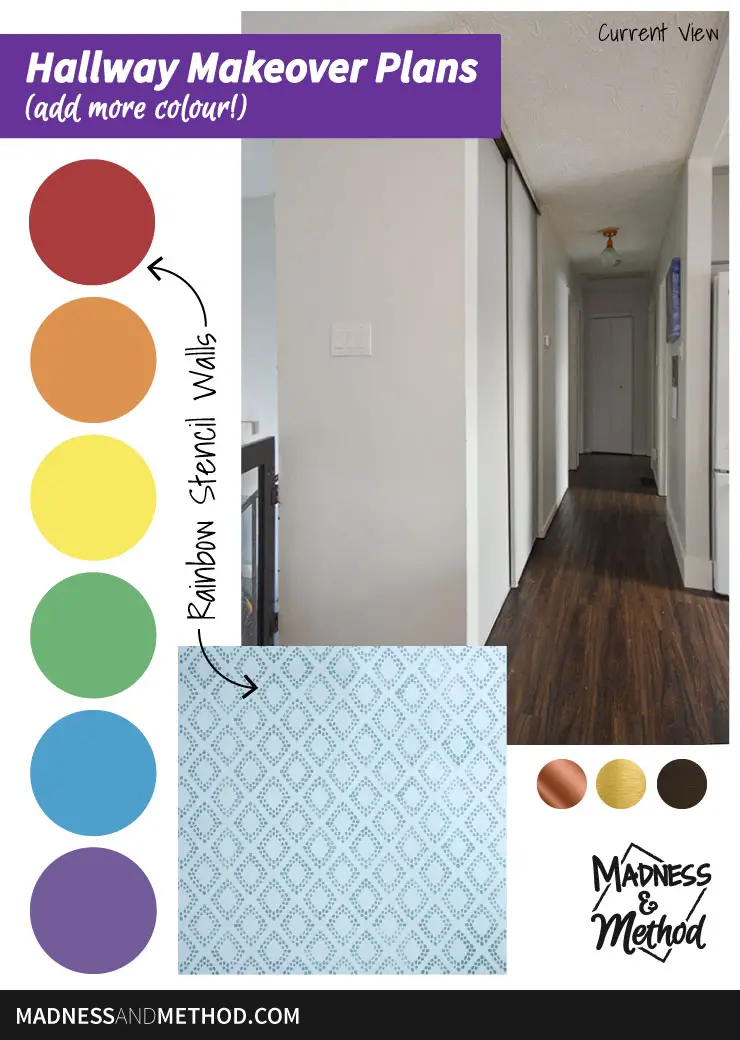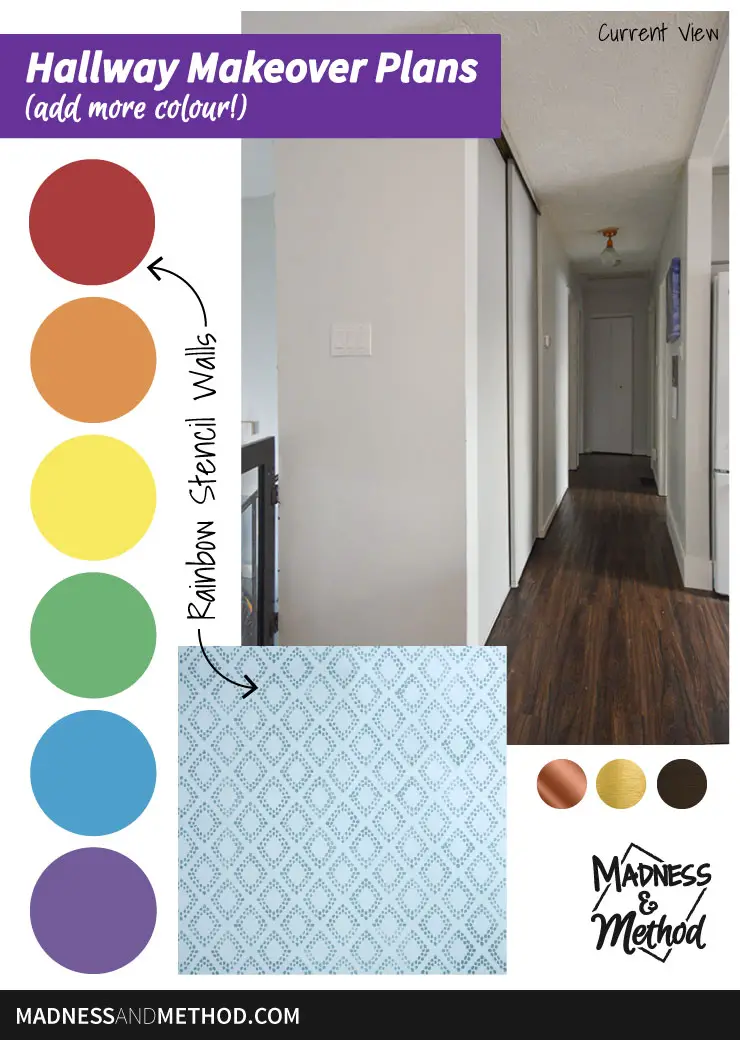 Our house gets a lot of sunlight, and I love that the bold bedrooms add a colourful glow to the hallway.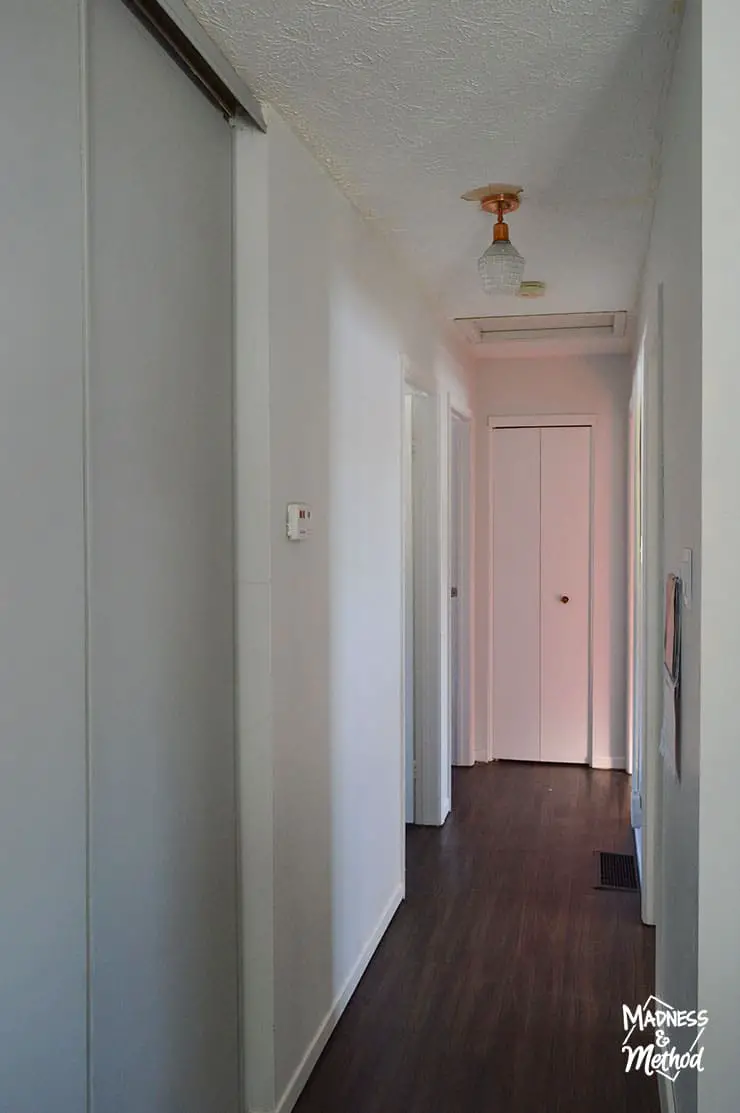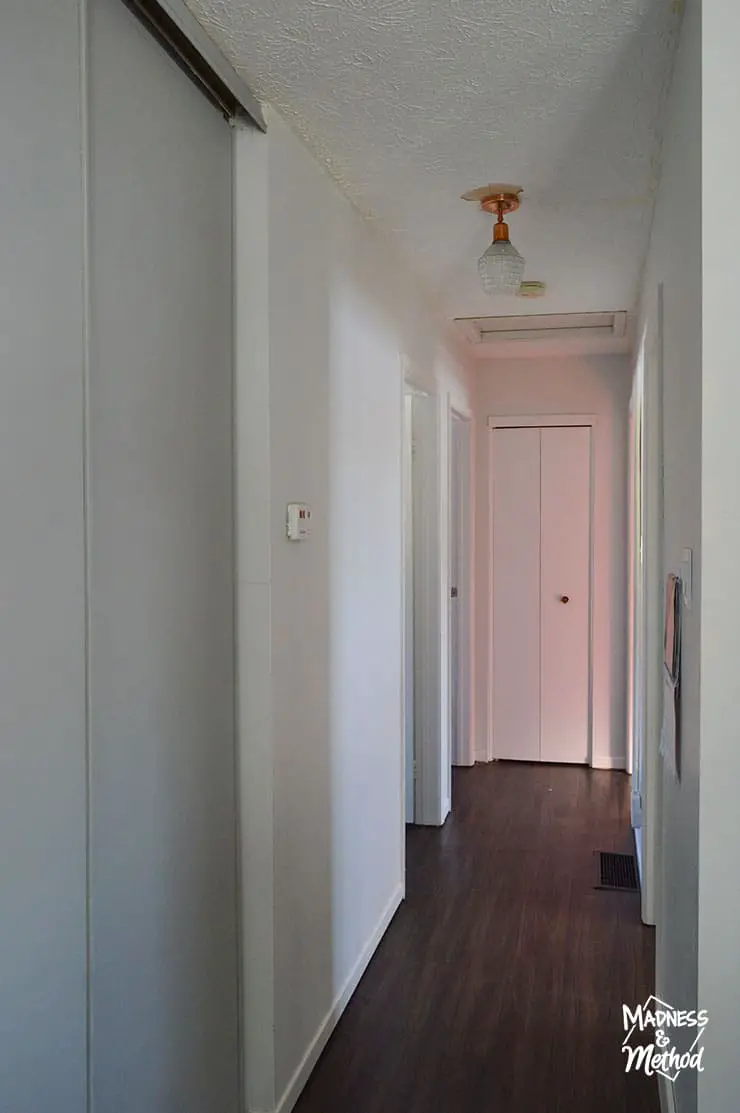 Depending on the time of day, the different rooms peek their colours out – and I wanted to keep a mostly white hallway to compliment that.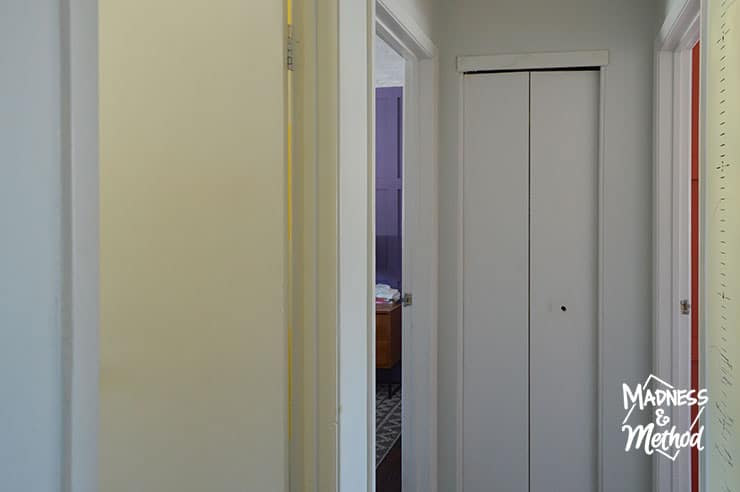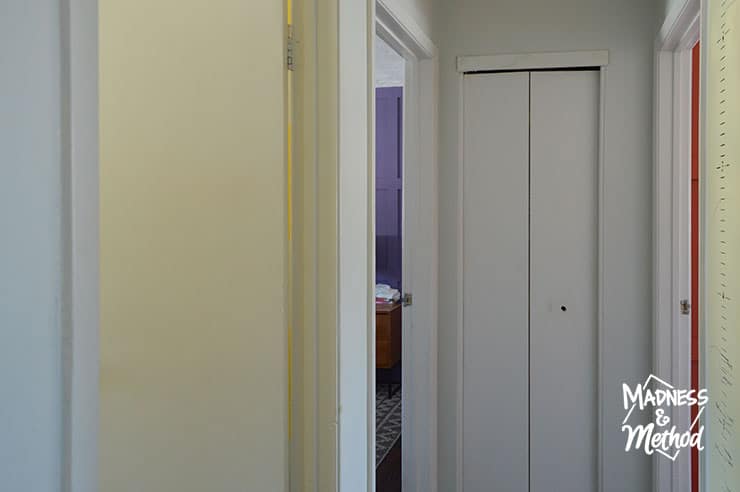 I won't be painting any of the doors (or the ceiling), just cleaning everything up and adding my stencil treatment.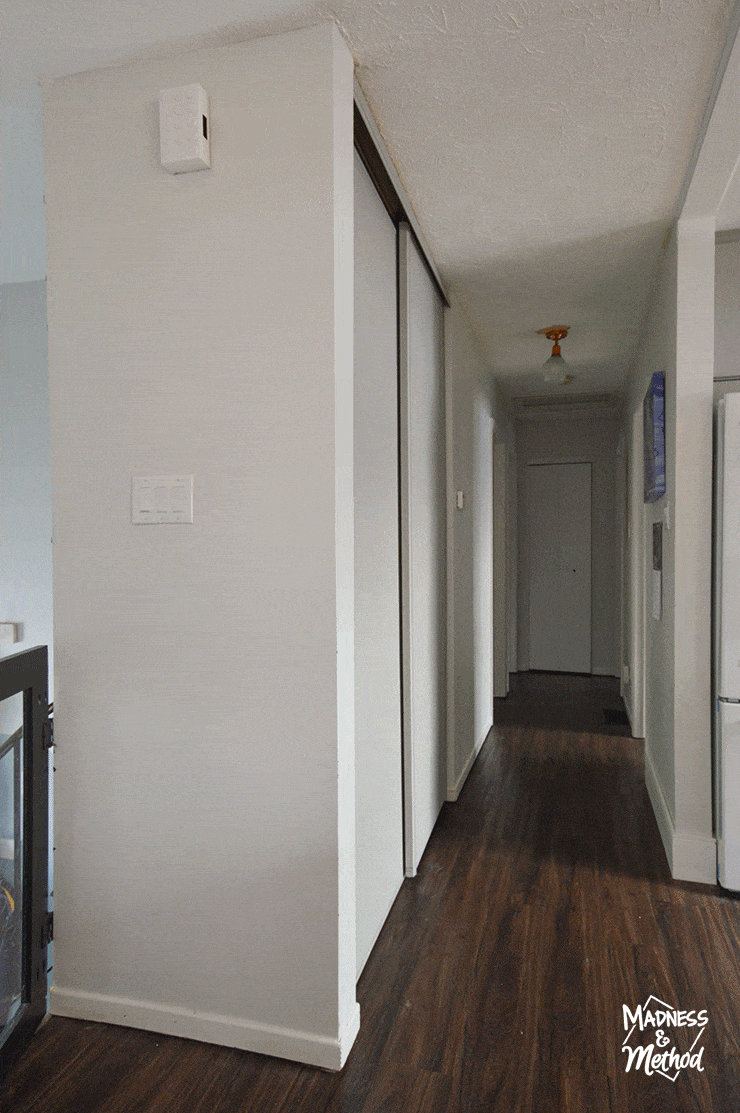 Speaking of which, I do have the first bump-out wall.  It's not technically part of the hallway, but it sort of is, you know?  I'm not sure whether I will add a blue bottom or do the stencil treatment, so let me know your thoughts!
PS: the stencils will be in the traditional order vertically: red, orange, yellow, green, blue and purple.  SO the animation/mockup above isn't totally accurate.  I did a poll on my Instagram Stories to help me pick the order.
Either way, I think I know what I'll do with this wall – but it hasn't been painted yet… so we will see hahaha :) 
Oh, and I need to finish replacing the rest of the baseboards up here.  Only one small section in the hallway has the newer (tall) baseboards. But other than that, there aren't super major changes happening here!
So hopefully I can keep sharing relevant projects for the 8 weeks :)
About the One Room Challenge
Now celebrating its 10th anniversary, the One Room Challenge is a twice-yearly design event wherein bloggers makeover a room within a 6-week timeline.  Because of COVID, the last few challenges (including this one), have been extended to 8 weeks.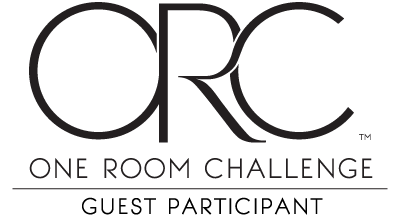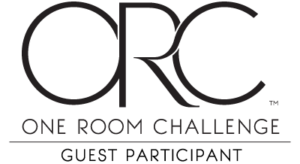 I've participated a staggering 10 times in the last few years.  I love sharing the nitty-gritty details of a project from start to finish.  And, the fact that other people are doing something similar at the same time is really encouraging.  Here are my past makeovers: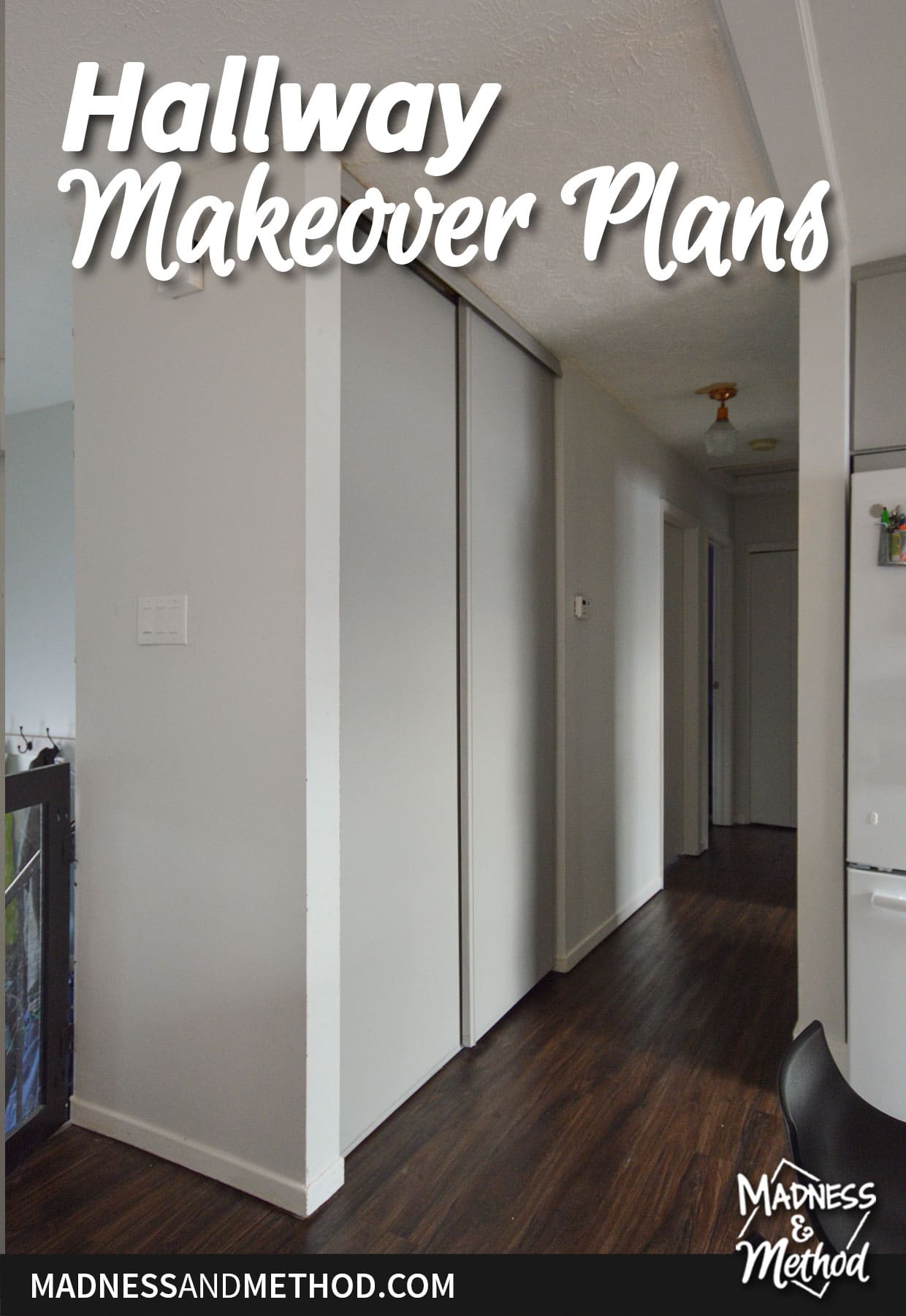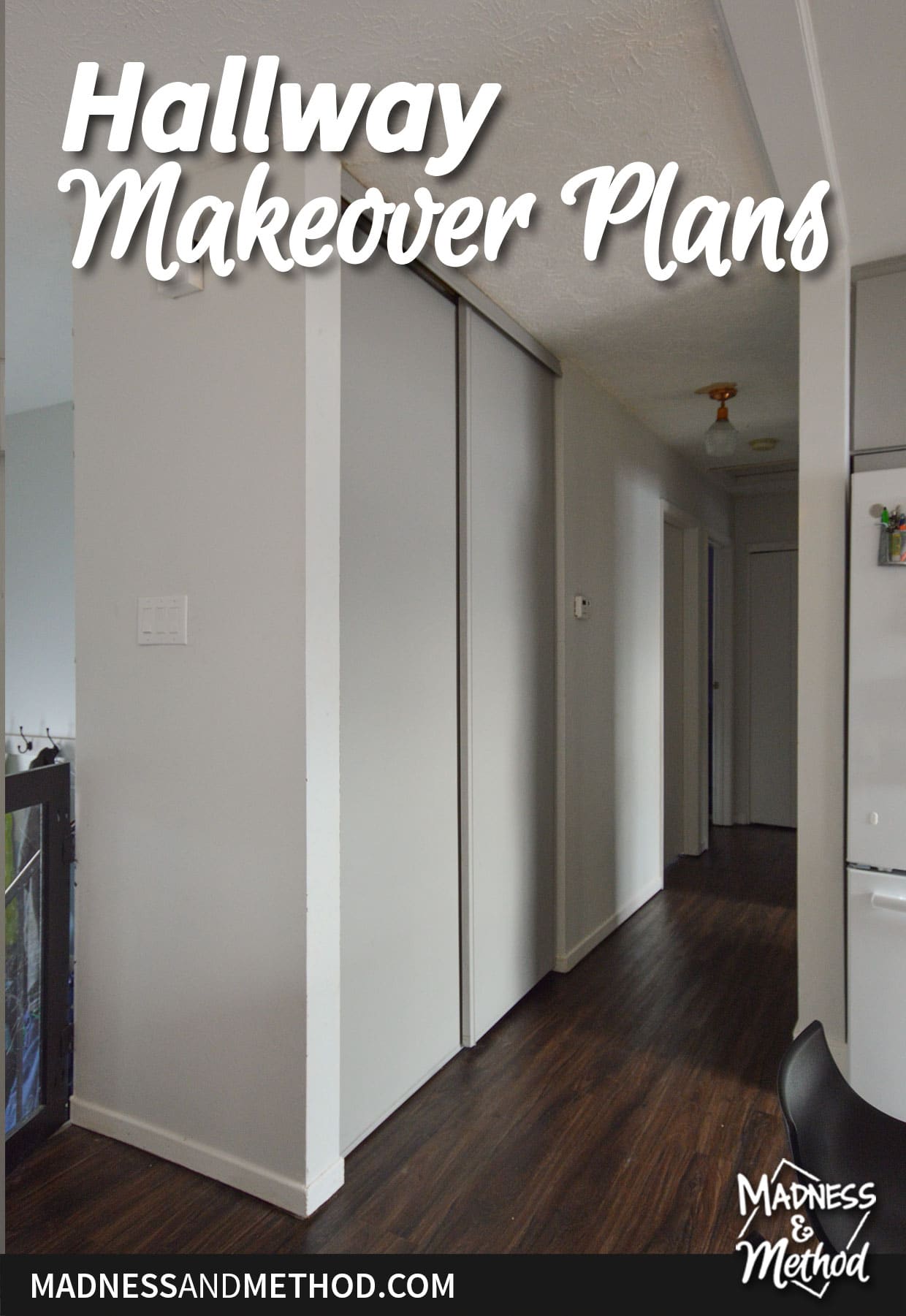 Okay, I think that's all I have to say about our hallway makeover plans!  I have lots of little "boring" projects to do this round (especially before starting my stencil), so I should get busy.  Next week I'm going to chat a bit about the ceiling, because, if you didn't notice, there are some repairs that need to happen…
Come back soon :)