We finally scratched off a HUGE task from our outdoor to-do list, and we didn't even do (most) of the work :)  Okay, technically all we did was move some plants (and re-plant them); but I'll share all the images from the construction of our new concrete front porch anyways.  There were a few reasons why we didn't tackle this DIY ourselves, but let's just say hiring it out saved us a lot of hassle (and hard labour!).
Here's a photo of what our front porch looked like just a couple of weeks ago: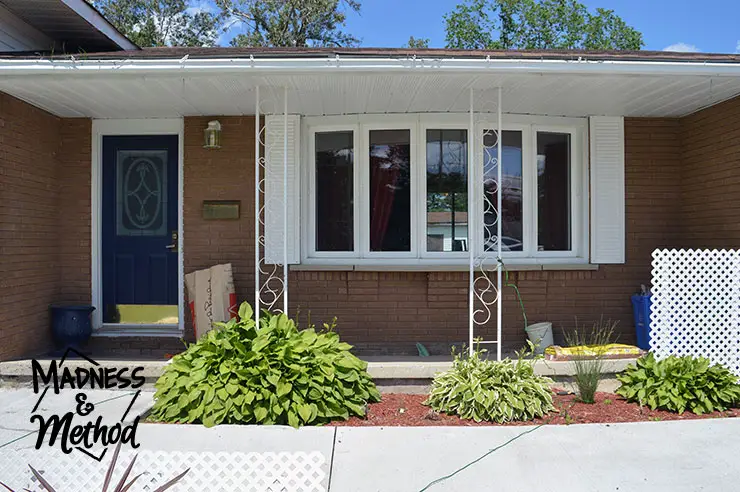 We actually did do the front walkway ourselves, and you can catch a photo of what this area used to look like when I talked about our porch plans.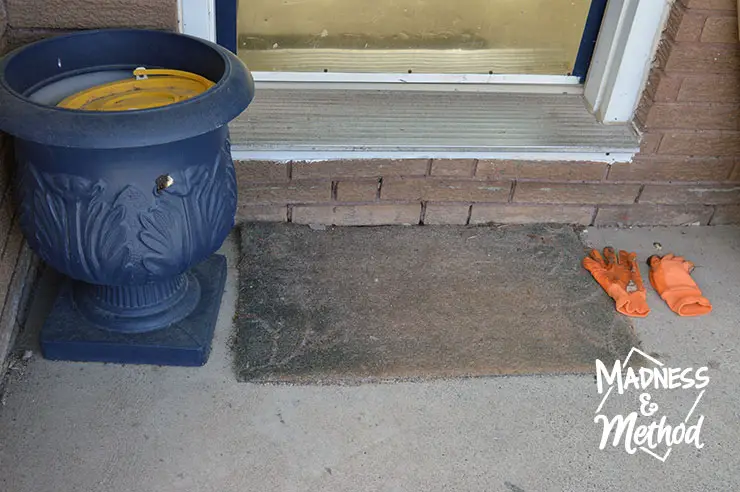 Basically, the concrete slab had been sinking and was dipping towards the house.  After this winter, it seemed like it had dropped even more, and I didn't want to push this project any longer for fear that it would crumble one day.

Once we had a contractor in place to work on the project, we removed all the plants in front so they wouldn't get damaged.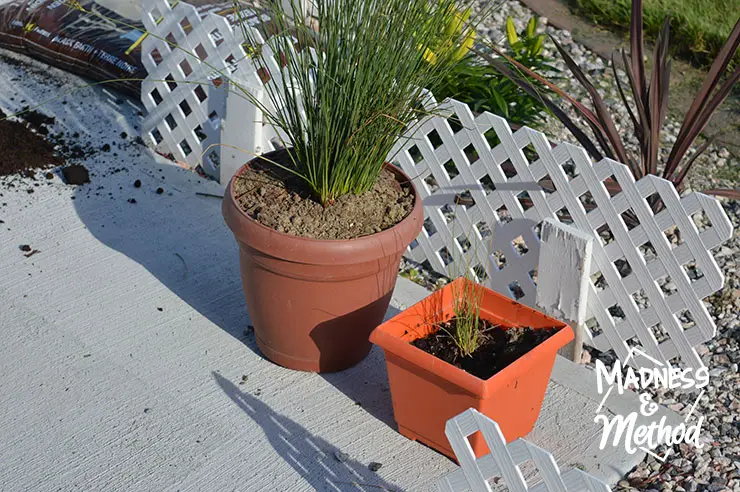 I had a bunch of leftover pots and buckets and basically just left them on the front walkway for a week.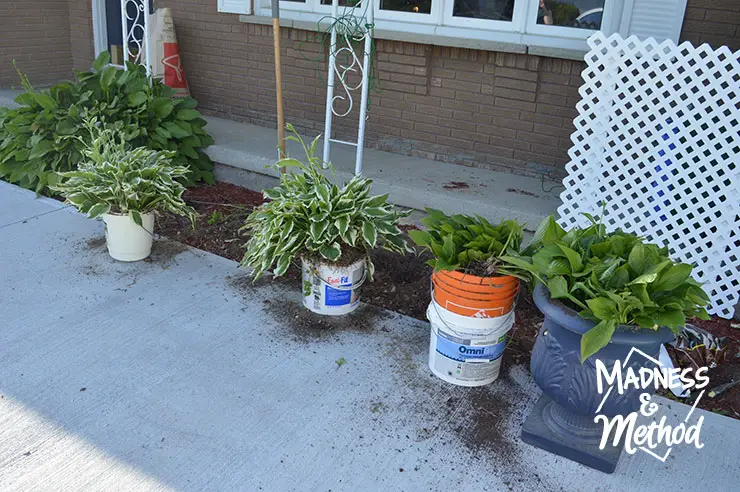 I wanted the Husband to remove the hostas intact, but he definitely ran out of space in each bucket!  He had to split the smaller ones in two; and we ran out of buckets for the third one.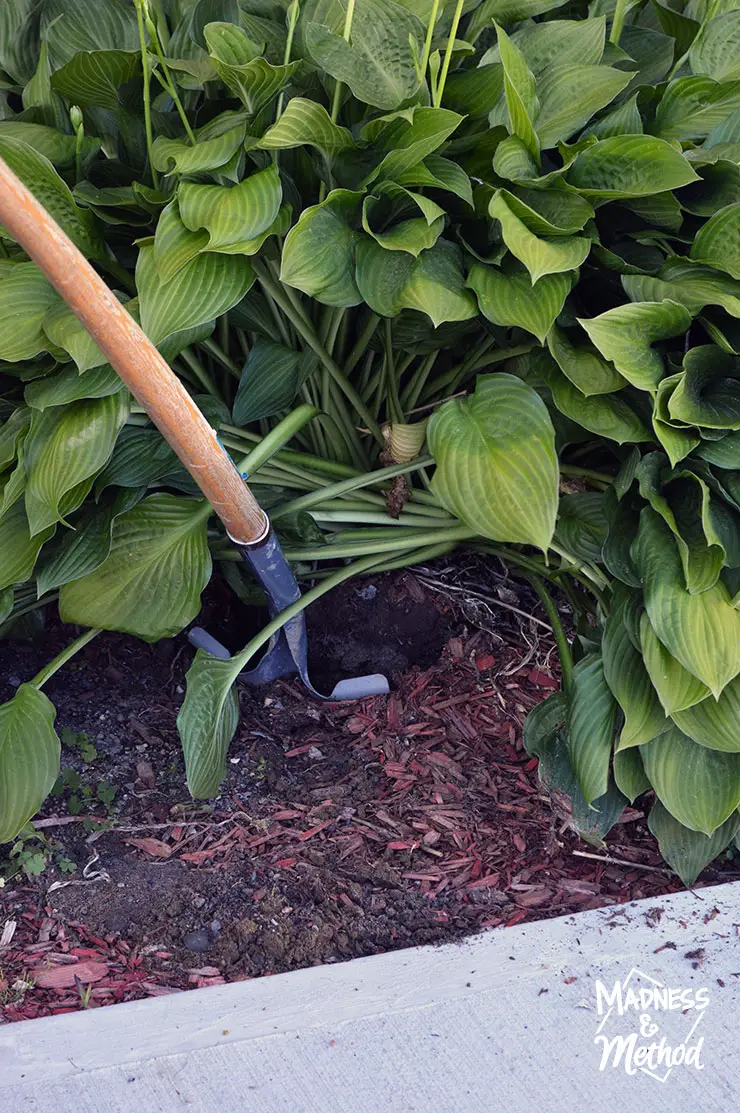 All that day we had been calling it the "big kahuna", because we knew it would be a beast to remove.  Luckily the roots of hostas aren't actually very deep (I swear those grasses gave me more trouble!).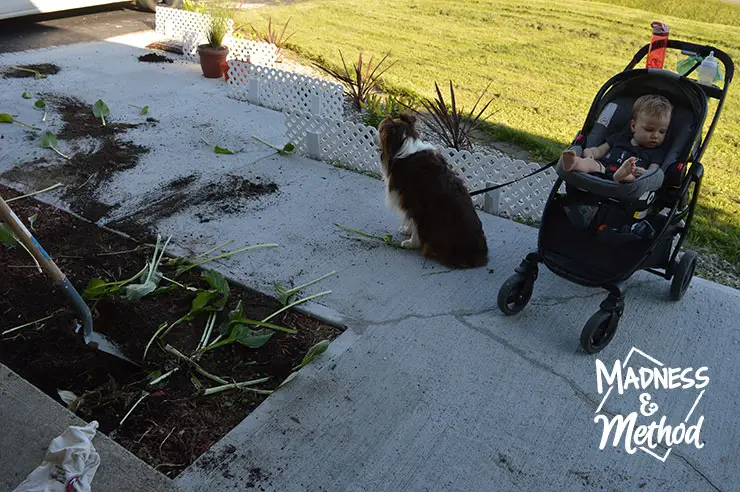 We managed to get it out (in several pieces) and Tootsie and the Mister watched us work.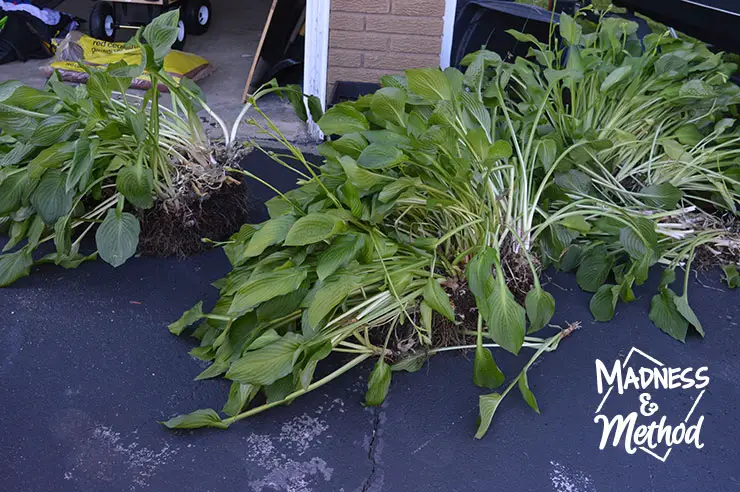 I dragged all the pieces away, and later that evening I actually dug up a hole in the backyard and threw them in (I'm hoping it manages to survive there).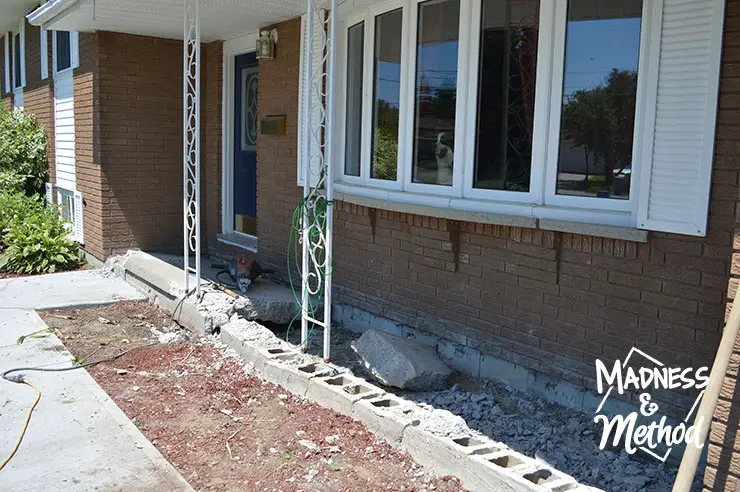 A day or so later the contractors came in and started tearing out the old concrete slab.  Would you believe that the Mister slept through all the jack-hammering during his nap!?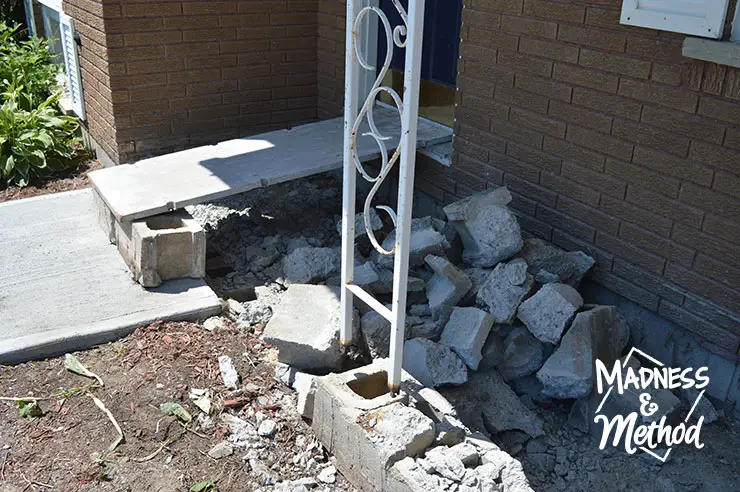 It didn't take them too long to rip everything up, and it was definitely better than the Husband and I doing it (I'm usually the clean-up crew, and I don't think I would have been able to handle moving all that concrete!).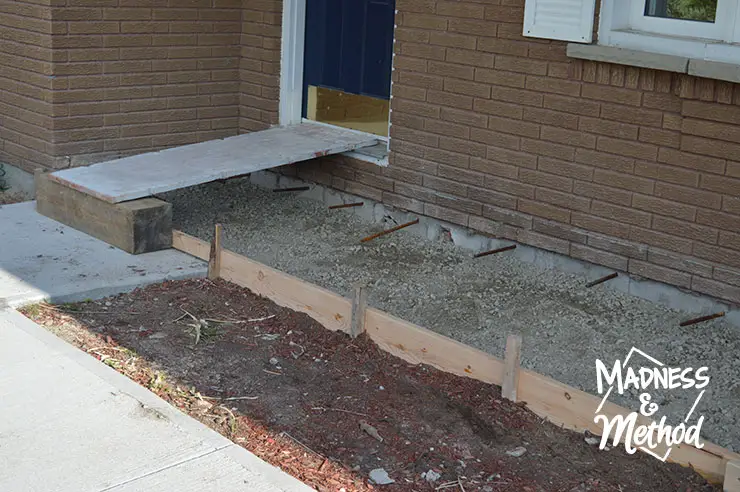 After deciding on how we were going to rebuild the slab, they removed the blocks in the front and lowered the whole porch so that it would be even with the bricks along the front of the house.  Apparently the slab had been built way too high the first time, so now there would be more visible bricks.  They also added some rebar to reinforce it against the house.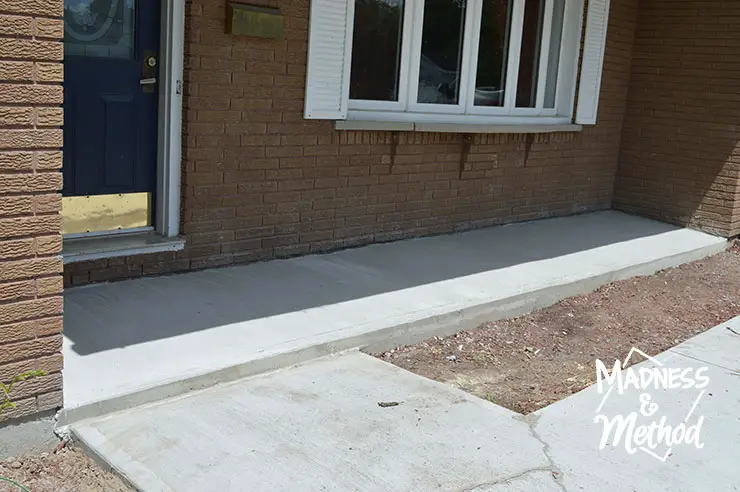 They poured the concrete on Friday morning and set it up so that it would slope downwards to the front.  We were actually gone out of town for the weekend, and when we got back Sunday afternoon the frame had been removed.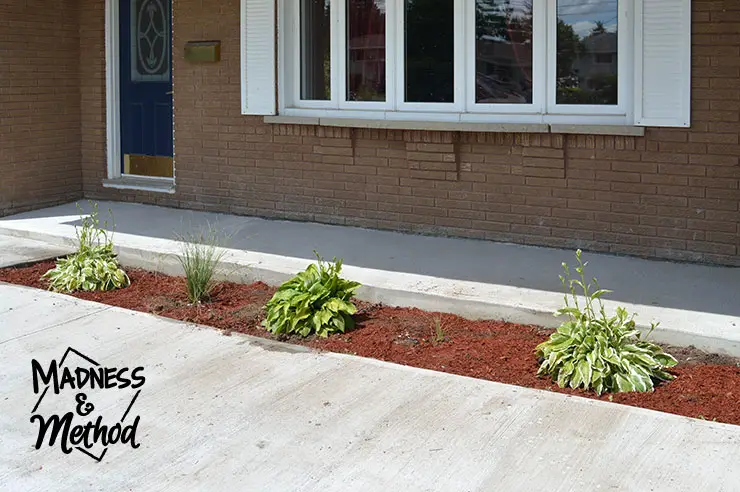 I got to work replanting the hostas (I decided to switch up the colour placement) and added some mulch that I had.  I was thinking of doing 5 hostas (since they were much smaller now) but decided to keep the 3 as before.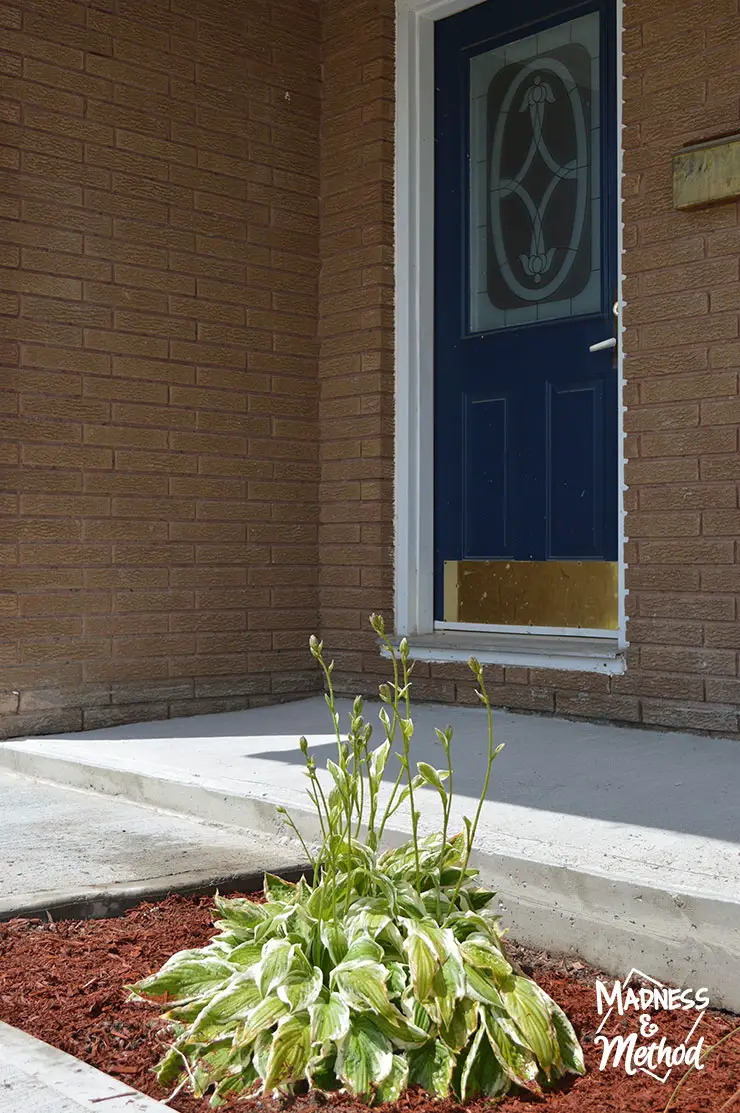 I still haven't got used to the new concrete front porch, because it's in a slightly different location than before!  The step right after the door is a bit higher (from where it had been a couple weeks ago) but the exterior (where our walkway is) is much lower.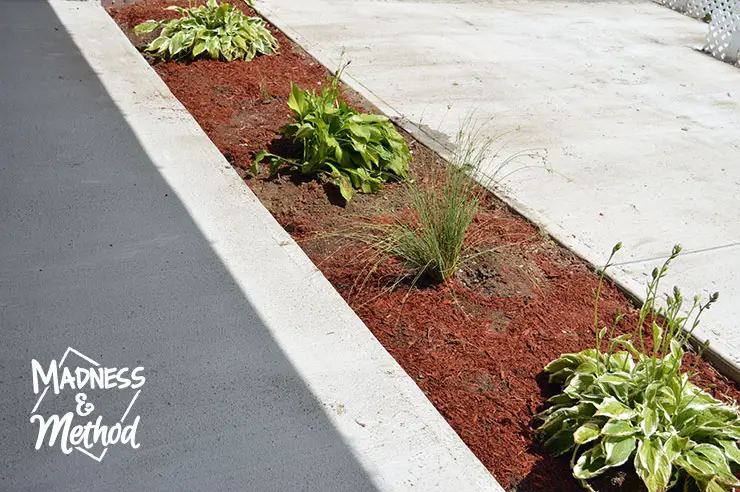 I tried splitting the big grass plant in two, but it was stuck as one piece and I'm hoping I didn't kill it. It's much larger than its friend (can you even see it!?) and I have to replant some Dusty Millers since my mother removed them all…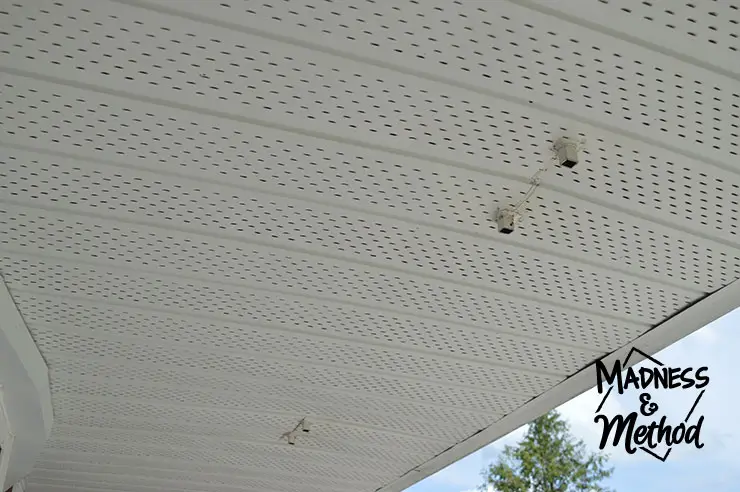 Not sure if you noticed, but the old iron columns are gone too.  It didn't seem like they were holding up the roof, and they had to be removed anyways (since they were going to be a bit short for the new slab).  They cut them at the soffit, and the Husband and I are supposed to open it up and see how they were setup – I definitely prefer the open look, but we can always add a thicker column or post in case we need to.
Why Didn't We DIY the Concrete Porch?
We knew that taking up the old concrete porch was going to be a messy job, and we didn't have the tools (although we would have rented a jackhammer).  It took the contractors just a couple of hours to clear everything up, when it probably would have taken us MUCH longer.  I also was not looking forward to actually clearing out the super heavy concrete, so was happy with someone else using their muscles instead :)
While we are comfortable with framing and pouring concrete ourselves, we didn't want to chance getting something wrong when it was attached to the house.  We also had no idea what would be under the old slab, and didn't want to screw up something structural.
In the end, after getting an affordable quote, it just made more sense to hire out the whole job to professionals.
Now I can worry about decorating the porch instead :)
(Oh, we still have to clean the concrete splatters from when we poured it last time, so there's that…)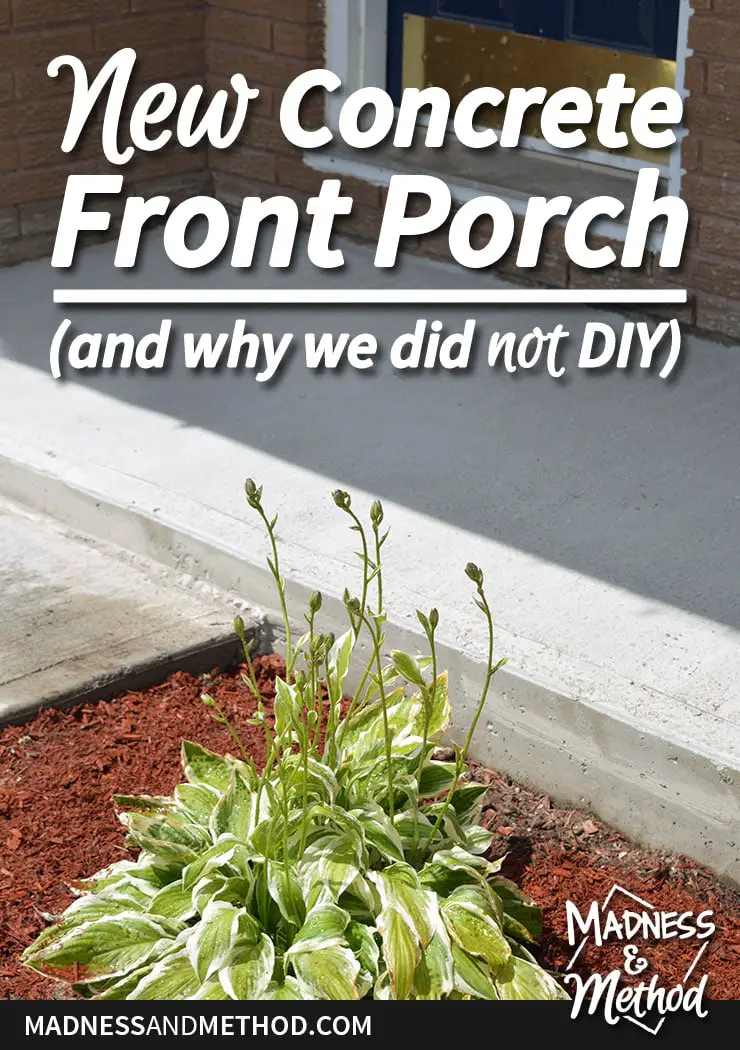 I'm hoping this new concrete front porch stays as beautiful as ever, and doesn't sink like the old one did!  I know the Husband mentioned painting our concrete walkway, but I kind of like the stark concrete colour (he hates it) so we'll see what we end up doing!
Have you ever considered hiring something out instead of DIY-ing?  Or have you mostly hired projects out and are considering a DIY instead?  I'd love to hear your thoughts!