This week I'm teaming up with some Canadian Bloggers to showcase different Canada Day projects in a blog hop!  Since I posted our front garden refresh last week, I figured it made sense to keep up with a similar theme and move over to decorating the actual front porch.  Today I'll be sharing our red and white front porch plants, and make sure to scroll down to the bottom for links to the other Canada Day projects :)
I started working on these fun red and white planters a couple weeks ago, so I'm happy that they are now complete and filled with plants!  After scorching heat, then back to cooler temps and rain… I think we're closer to a seasonal normal now; but let's just say, it was tricky to work around…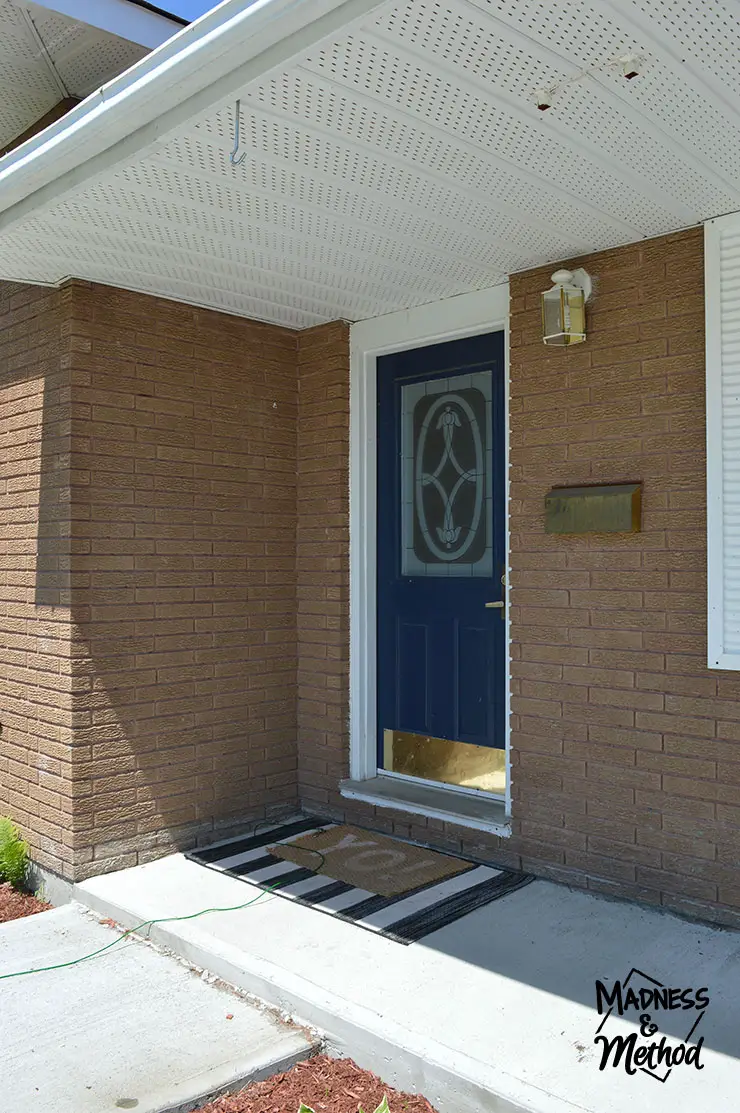 After the front garden was looking better, I turned my attention to the actual entryway.  We kept the mats out all winter (so the YO! is a little faded), but I wanted to add something to this area to spruce it up a bit.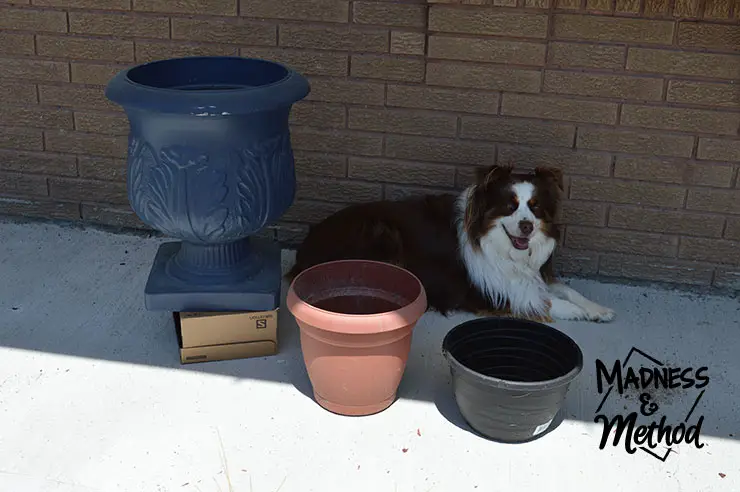 I've had the big blue planter on the front porch for a few years now (it was originally beige but I painted it to match our door) and I went and rounded up some other planters I had to make a nice little trio.  (Tootsie didn't want to move from the shade for this picture!).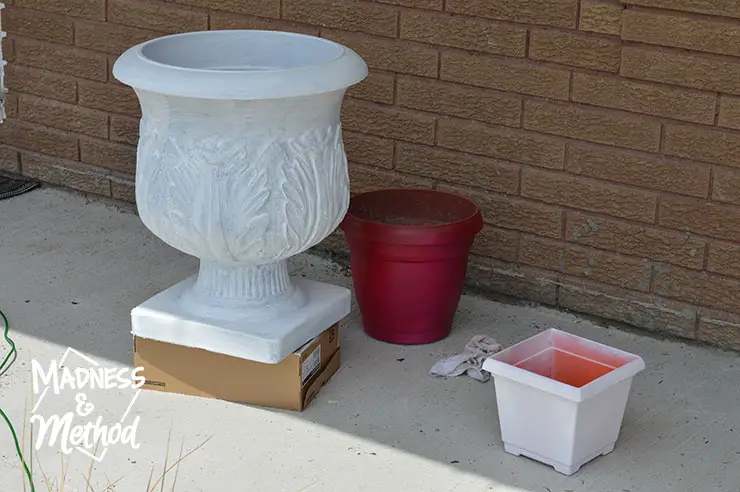 The navy blue was feeling a little tired to me, and I thought that it blended in too much with the door when it was in that corner (basically created a bit dark spot).  I couldn't decide what colour I wanted it, but then I had the opportunity to participate in this blog hop and I decided to go with a red and white theme for Canada Day!  (And switched out the smallest planter because the last one was a bit too big, and I preferred it black…).

Anyways, after spray painting the small planter white, I grabbed a ruler and marked the inch spots along each outside corner.  I then drew a line between the spots, and had perfectly straight lines!  I wanted to hand paint some black stripes to jazz it up, but didn't want it too crisp by using painters tape (so the pencil gave me a good guideline to follow).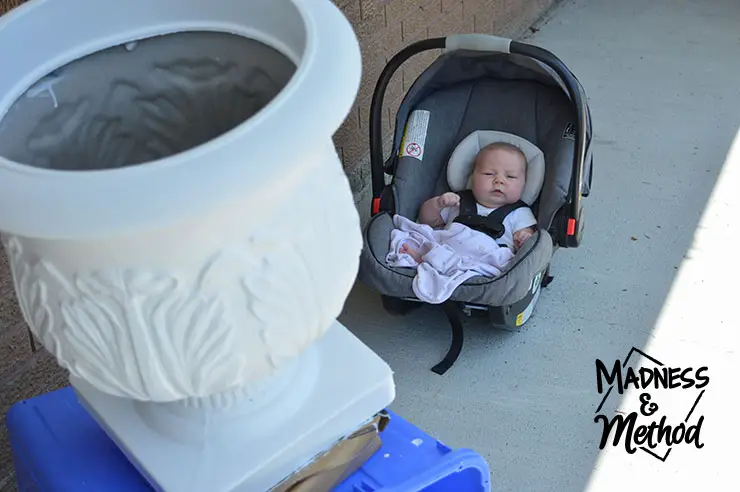 I used 3 coats of white paint on the big planter to cover up the navy blue (just using regular primer) and it was looking very bright and crisp instantly!
Finally, I sprayed a few coats of red paint on the middle-sized planter and everything was looking good and ready for plants!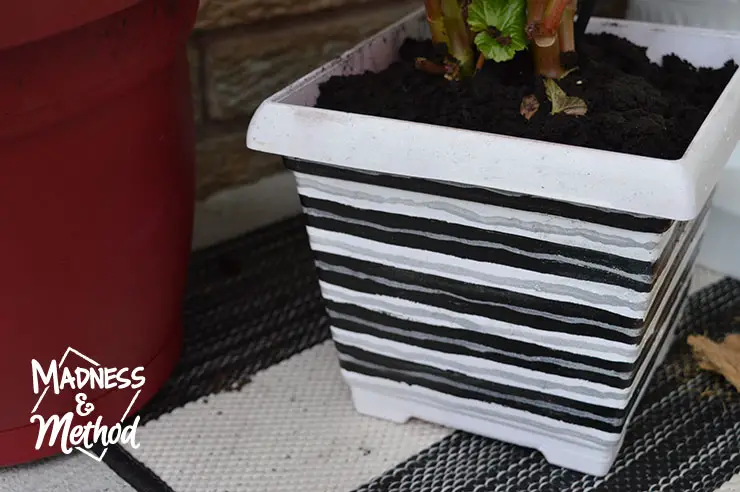 Oh, I also gave the black and white planter a shot of clear spray paint to protect it, then headed to the store to select my red and white flowers.  (I also added the thin silver lines to break up the black and white stripes.  They weren't as "hand-painted" looking as I wanted, but not perfect enough compared to if I had used tape, so this was a good addition!).
I purchased three different types of flowers, then grouped the planters along the left wall near the doorway.
I normally like to keep the papers for the plants I get so I can share them with you, but I'm pretty sure I threw them out and have no idea what anything is!  Here's a red flower, I know it's an annual that goes in part-sun…
I thought these were white Impatiens… but I'm not so sure.  I do know they are another annual flower, but these prefer the full sun (which is why I have them more in the front, as the sun reaches there more.
Finally, there's the biggest plant with white flowers dotted with little specks of purple-y red.  It's also part-shade, but may be a perennial?  Anyways, I really wanted to get a small evergreen tree or shrub for the large planter, so that I could leave it out all-year-long and decorate it differently for the different seasons/holidays, but alas I couldn't find anything!  (The cute little cedar trees the nurseries have grow to 20′ tall… not going to work!).
Either way, I left this one in its store pot (that I just propped up and stuck in the planter), so I can easily take it out and plant it somewhere else when I find what I am looking for.
But the red and white front porch plants and planters look good right!?  I'm totally keeping the striped pot as-is, but can easily paint the red pot a different colour next year if I want.  (Same thing with the big, now-white planter, if I ever change my mind – but it matches the shutters… so the white will stay for a little while at least!).
Since everything was looking so good out here, I chose the spot for our annual anniversary family photo shoot!  I was actually wearing red and white for some reason, so dressed bébé Élise to match the theme too.  The boys?  Well, Zachary was looking cute in his coveralls, and the Husband refused to change so we went with what they had on already…
(True Fact: the Husband was even wearing an "I am Canadian"-type shirt, but I knew that one of the children was going to be covering it up so didn't fuss much when he wouldn't change…).
But now I see it would have been better to reverse the kids to change up the colours a bit more… oh well, there's always next year!
(Another True Fact: the Husband hates family photos, so I literally try and do them as quickly as possible so I don't hear too many complaints…).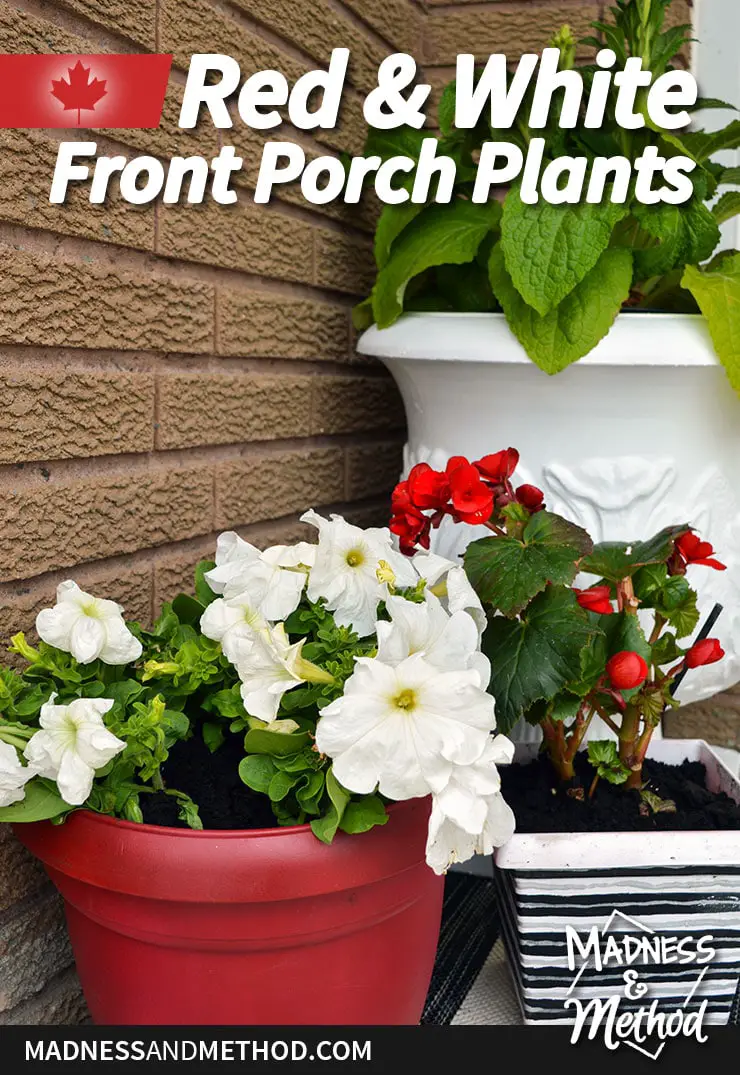 I'm really hoping our red and white front porch plants stay this good-looking until Canada Day (and beyond!).  I like that they are Canada Day themed, but also plain enough to stay out all summer (because even though I talk about changing up my décor, I definitely keep things set up for a while before changing anything!).
Visit all the Canada Day projects!
DIY Modern Patriotic Wreath by Lidia of Design Inside The Box
Patriotic Poke Cake by Shannon of Home Made Lovely
Patriotic Canada Day Ribbon Flag by Joann of Woman in Real Life
Canada Day Red Velvet Pancakes by Lisa of Fabulous Habits
Canada Day Wreath & Printable Mini-Banner by Jane & Sonja of Sustain My Craft Habit
Red & White Strawberry Cheesecake Bites by Sarah of The Project Pile
Red + White Front Porch Plants by Nicole of Madness & Method
Happy (early) Canada Day – and remember to check out my red and white table decor if you want more festive ideas (or even the festive fall planter if you wanted to see how I decorated the planter when it was navy blue).