While we covered most of the big stuff for our basement half bathroom renovation during the six-week One Room Challenge posts, there were a few smaller details that I casually mentioned in passing.  For example, last week I shared how I was able to customize all the accessories using paint; and today I'll be explaining how we levelled the floors in preparation for tiling.  If you've ever worked with some uneven flooring surfaces (or are planning to), then you'll definitely need to know how to prep and level concrete floors!
– Note: This post contains affiliate links. See more information about affiliates here –
If you're going to be attempting this same DIY, please note there are some tools you may need:
Large level (we use a 48″)
Drill
Trowel or float
Marker, tape, foam roller, water etc.
First thing, you'll want to use your large level to mark a line across the walls and see where the dips in the floor are.  We knew the back right corner (behind where the toilet would be going) was a low spot, and that's where we had to concentrate our efforts.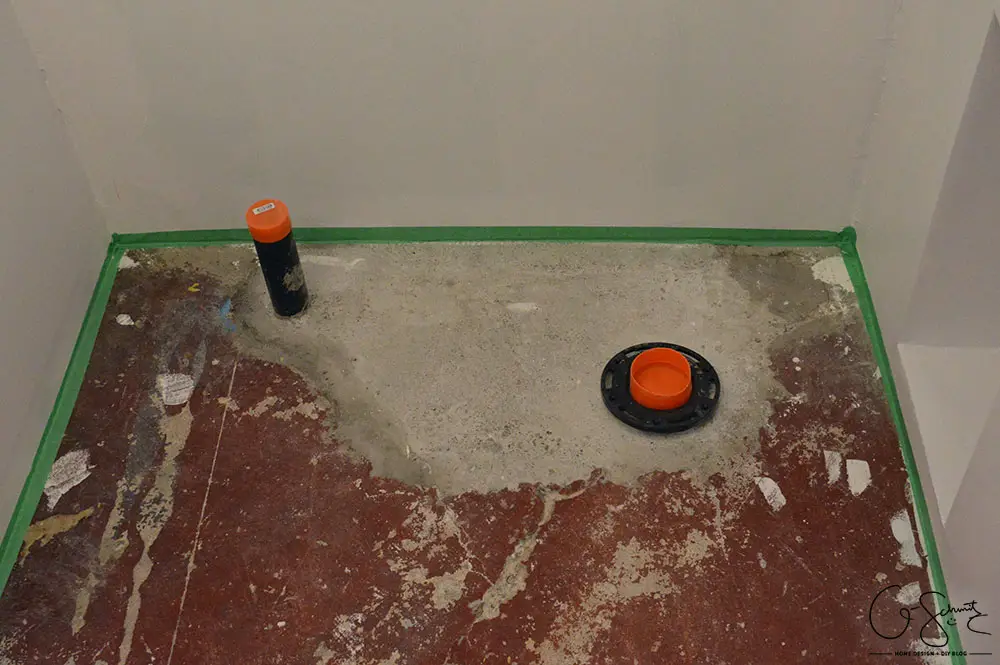 It's also nice to have some tape on hand to seal any seams between the walls and the floors. I read a few tutorials online before we attempted this project, and none of them really mentioned how to stop the self-leveling cement from pouring out of your room.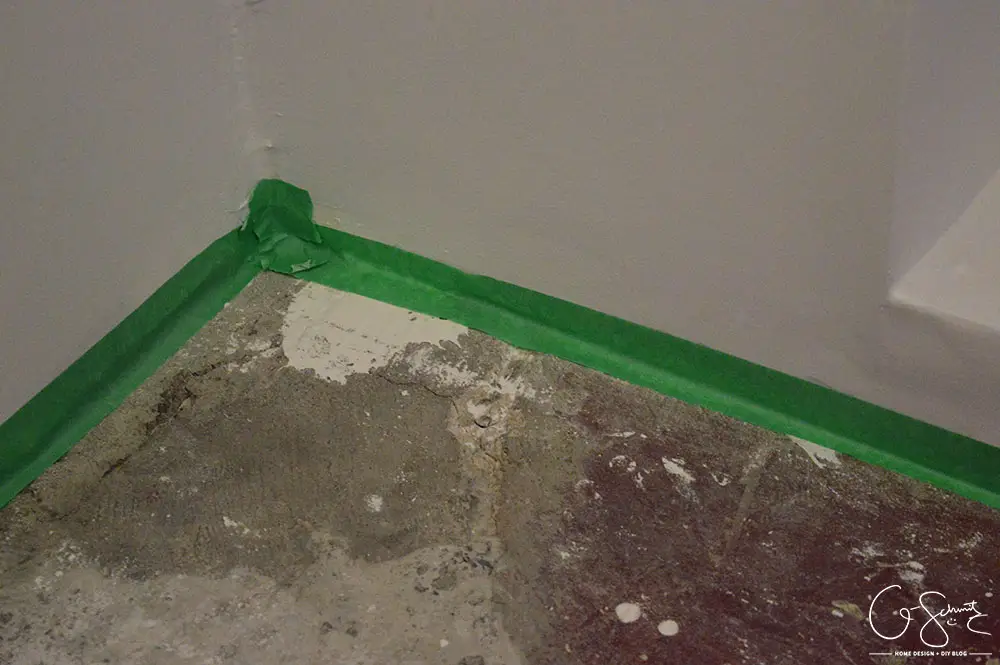 Yep, I just put some painter's tape along the bottoms of the walls and made sure it was stuck on tight.  You'll want to make sure your room is properly dusted and vacuumed so there is no residue or dust on the floor.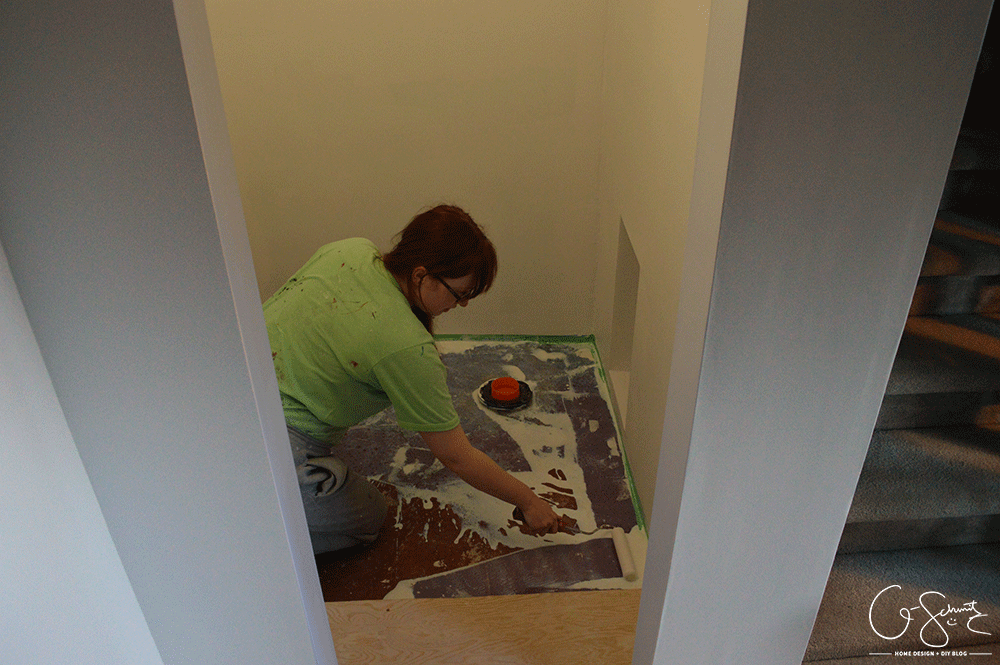 The self-leveling cement has its own required primer, so I just used a foam roller and rolled a bunch on (we poured from the bottle directly on the floor).  Just follow the instructions on the bottle (I think it was a 30-60 minute wait time for it to set up).  And yes, this is my designated "DIY/work" outfit – aka some sweatpants and an old t-shirt covered in paint (still fits fine even with my big pregnant belly!).  The Husband was real excited when I told him he could take a picture of me working haha!
Maybe this photo also helps give a scale to the room – very small!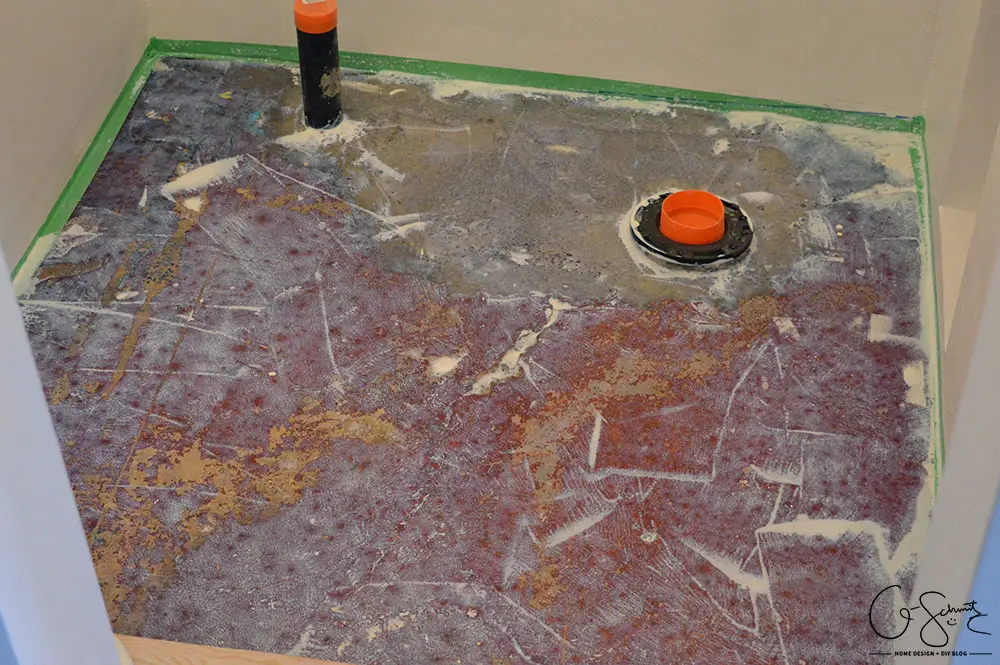 I tried to spread the primer across the floor evenly, and went back on a few areas that were dipped lower.  The primer definitely absorbed differently in the raw concrete vs. the painted red sections (we had no idea what type of paint it was or when it was done).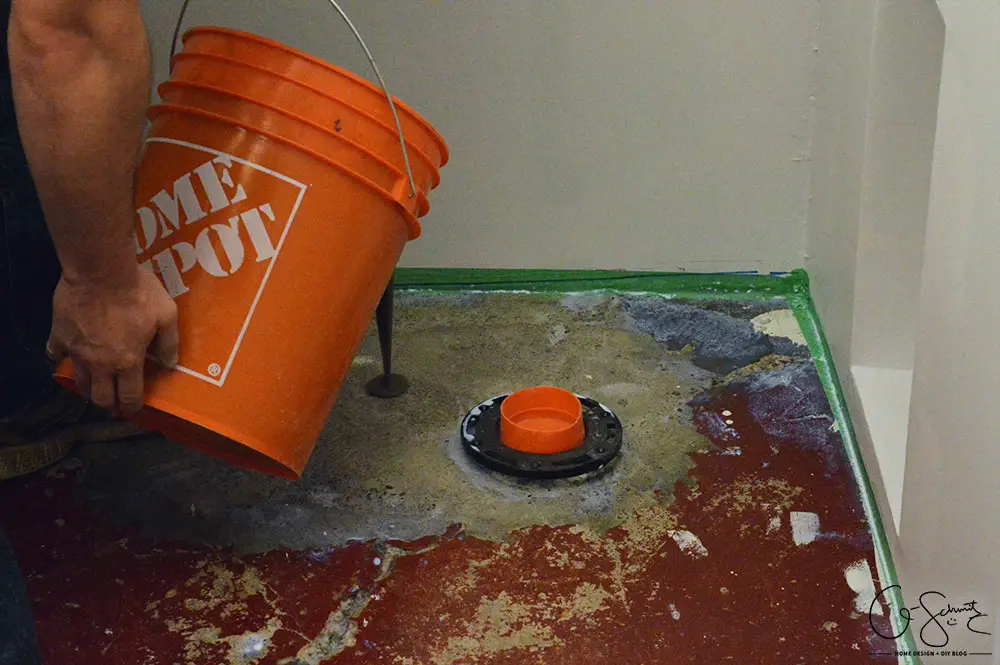 Once the primer had set for the proper amount of time, we mixed one bag of the self-leveling cement (using the instructions provided) in a bucket with a drill and mixer attachment.  Because our room was so small (about 20-25 square feet max), we decided to only use one bag of the mix.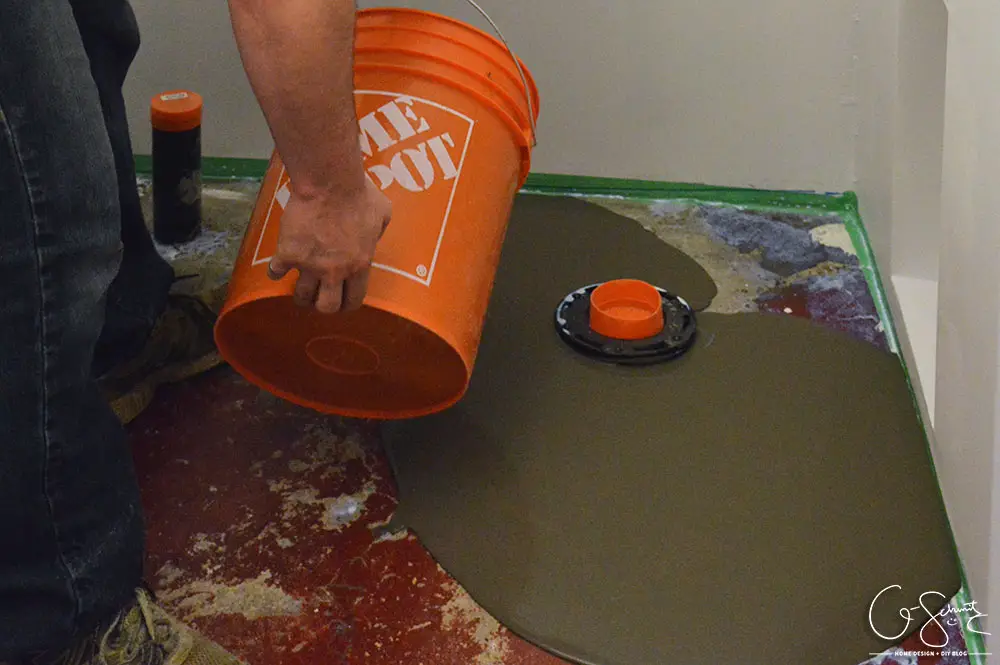 It basically does all the work for you, which is what I figured since it's "self-leveling" and all.  The brand we purchased can go from a thin 1/8″ up to I believe either 1″or 1.5″ thick.  And I do think we went the full 1″ in that back right corner!

I did use a float in the thinner sections, just to help spread the cement and so I could get a smooth transition from the areas that the self-leveling cement didn't cover.  We knew the back left corner would be hidden by the custom vanity, so we didn't fuss too much with it there.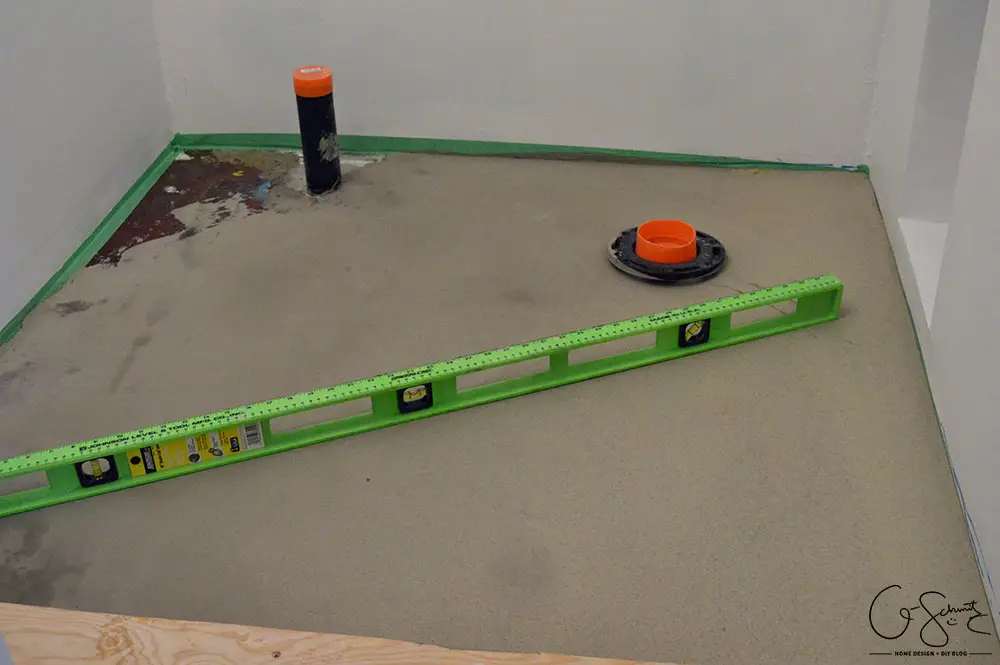 Also, if you look at our original marker line (the blue one along the back wall on top of the tape), you'll notice that we would have had to apply more self-leveling cement to get the entire room completely level.  However, 3 out of 4 walls were perfect, and the diagonal from the corner was level as well – so we considered it a success!  (Note: the tape was just put on willy-nilly, so yes, there are some areas that seem un-level if you look at the tape!).
I waited a full 24+ hours before I walked on the floor, even though the bag says that you can wait less time.
After dealing with "real" concrete in both the first week of the bathroom remodel, and for other outdoor projects, I can tell you that this self-leveling cement WAS SO EASY TO USE.  It turns out really smooth, and was the perfect base for our tiled floors.  I honestly wish all concrete was this easy to deal with, so if you're worried that having level concrete floors will be a big fuss to get – I urge you to try out this product.
Now remember of course, our room was very small and we only needed one bag – but I don't think mixing another bag and applying it in a larger area would be that much different, as long as you properly prep the floors and plan the course of action!  (AKA making sure they are clean, sealing any edges and marking where your low spots are).
Let me know if you have any bumpy concrete floors you need to level, and/or if you've already tried this product (or something similar) and wanted to share your opinion. 
Thanks for visiting, see you again soon :)