Welcome to our annual home tour!  Ever since we bought this house (in 2020), I've been doing a yearly walkthrough to share the changes.  I also film a video, so check that out below (or watch it on YouTube) if you want to see everything.  While I do clean up general surfaces – I don't make a big effort to hide our mess.  So, come on in and watch/read about our raised ranch (year 3) home tour!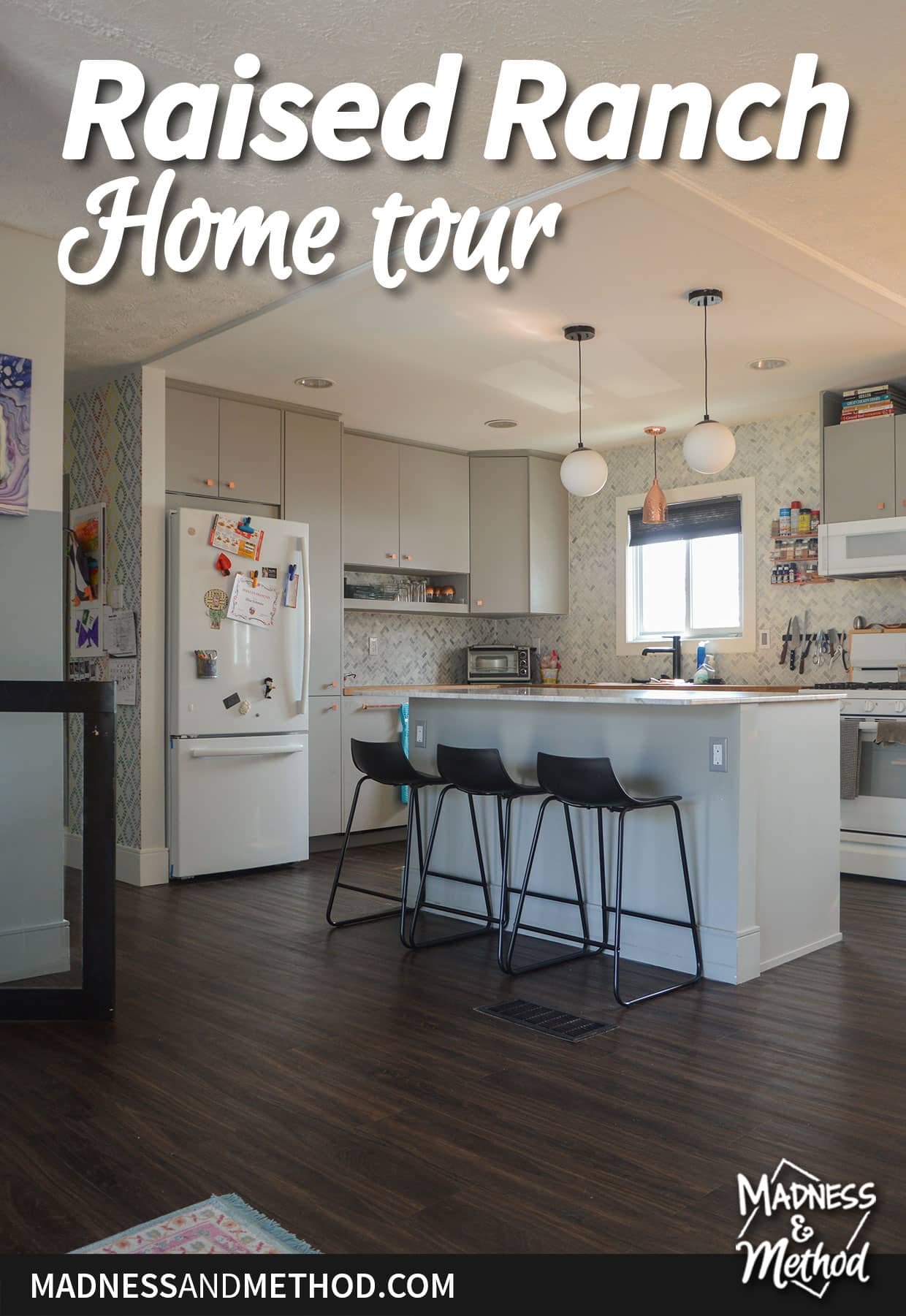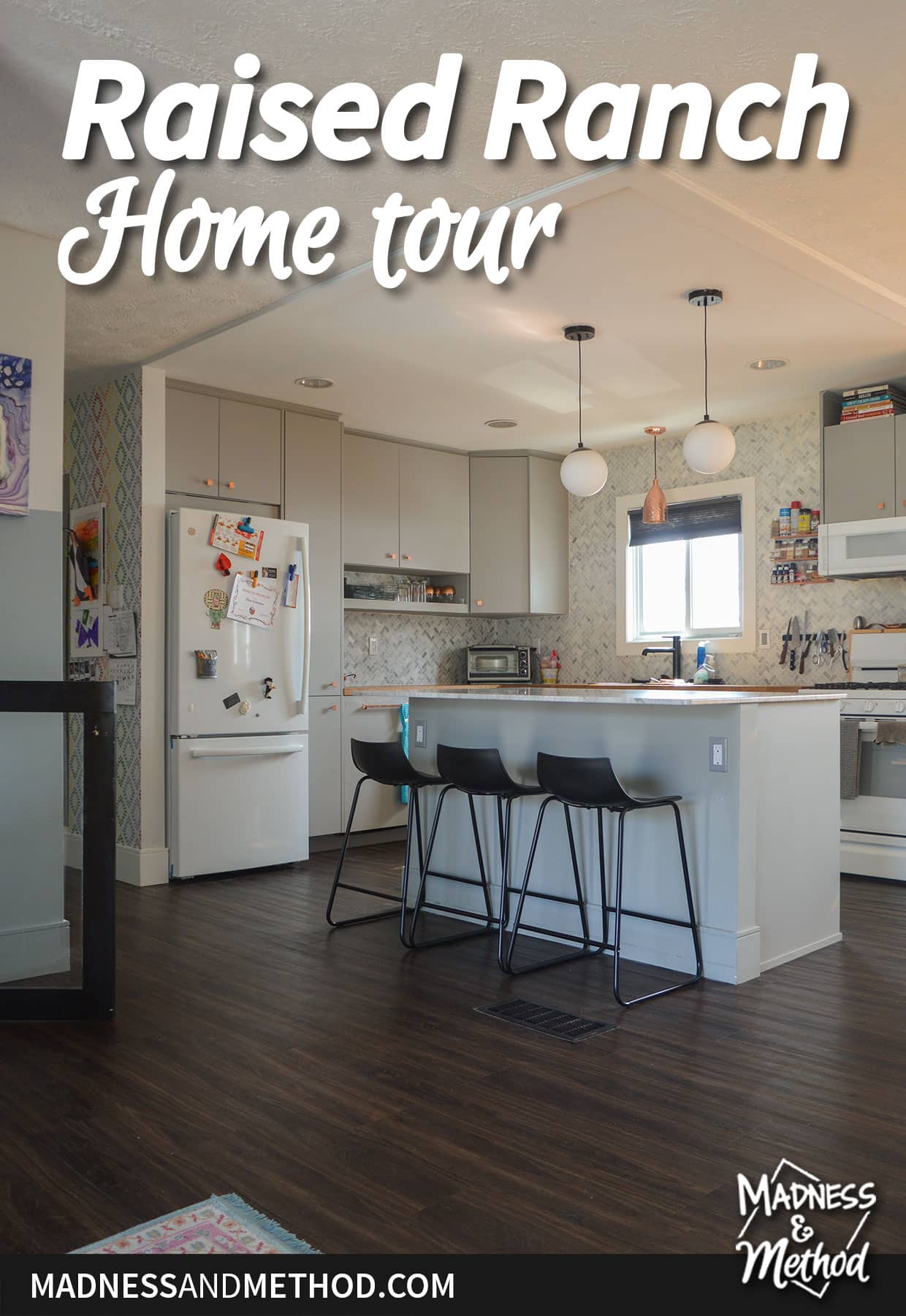 Okay okay, I will say that I love when our island counter is completely empty – so that's always my goal each day.  But stuff accumulates on the other counters, our entry could use a refresh, and the kids' room is a disaster zone.  And the basement… you'll see :) 
Let's start in the same order I filmed the video, by going upstairs, then down into to the basement.  As a reminder, our entry splits into a staircase going up and down. 
Open Concept Kitchen/Dining/Living
Two years ago, we took down the two walls that separated our kitchen from the dining/living rooms.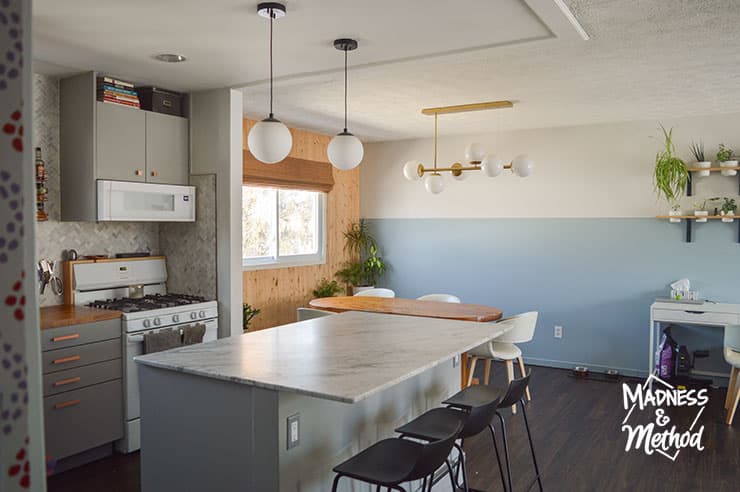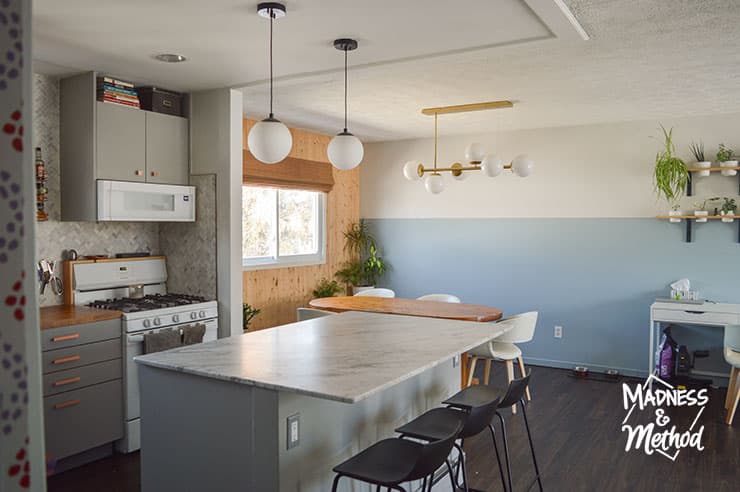 I love the function of this space so much – but I know that not everyone likes an open concept.  For us, with three young kids, it really works.  It's easy to be all together (and keeping an eye on things) no matter where I am.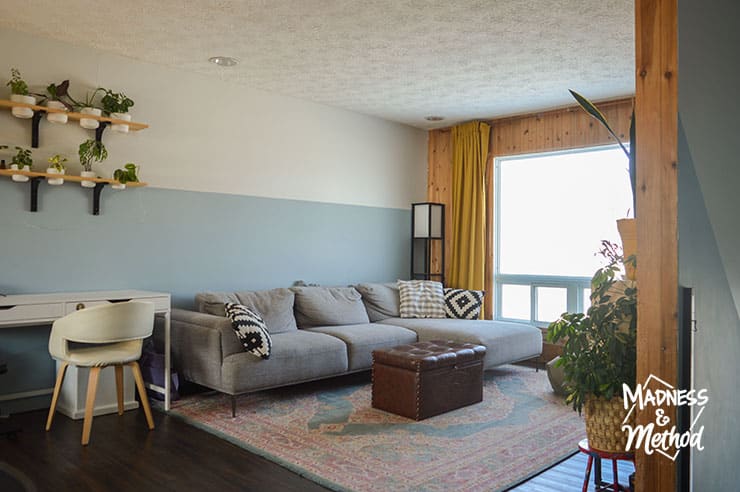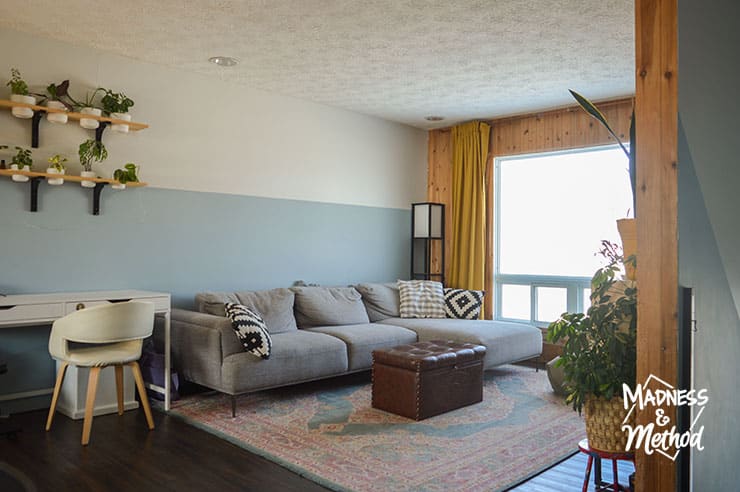 Which for the most part, is sitting down at the desk in the makeshift office space.  Check out more photos of the area, and the plant shelves here.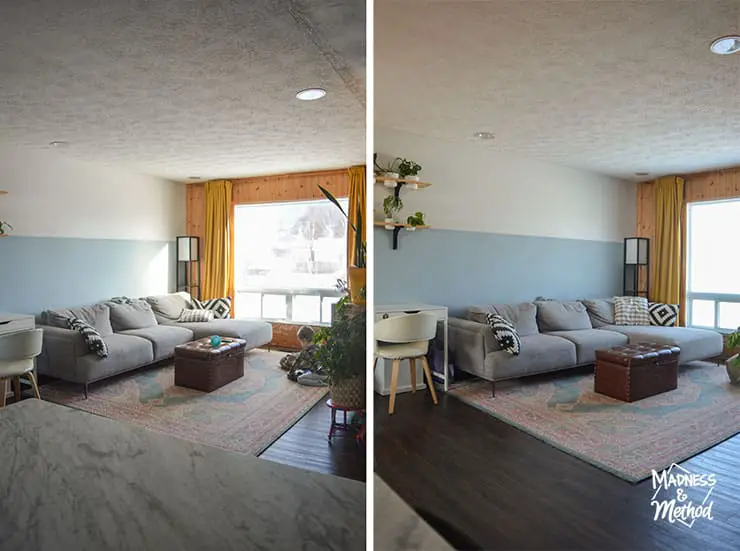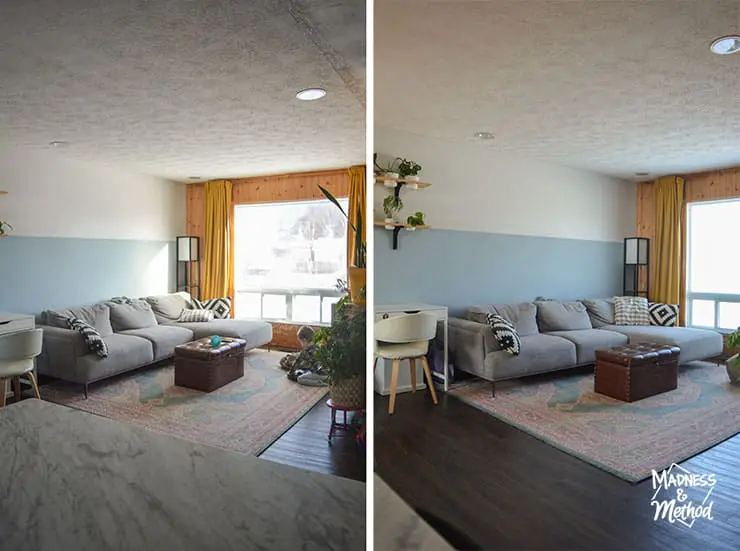 I snapped both photos (above) at different times of the day.  The one on the left is in the morning, when light pours in from the big window.  In the afternoons (on the right), the light sets in our kitchen/dining windows.  No matter what, we usually have a lot of light in this room!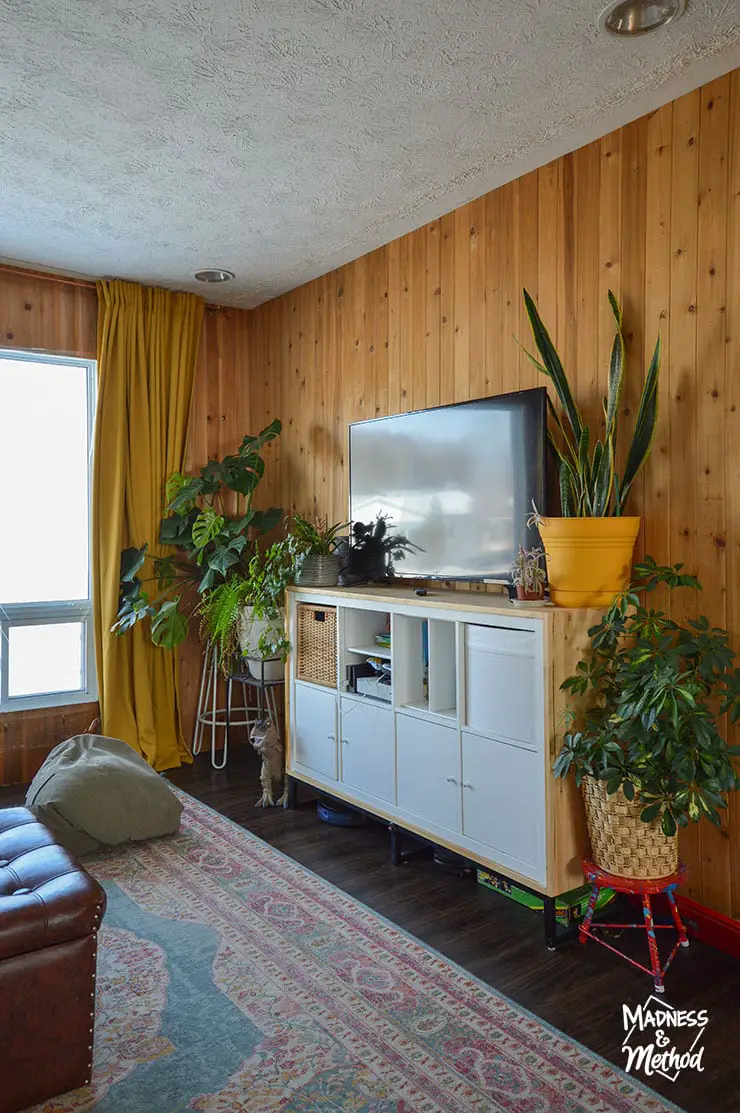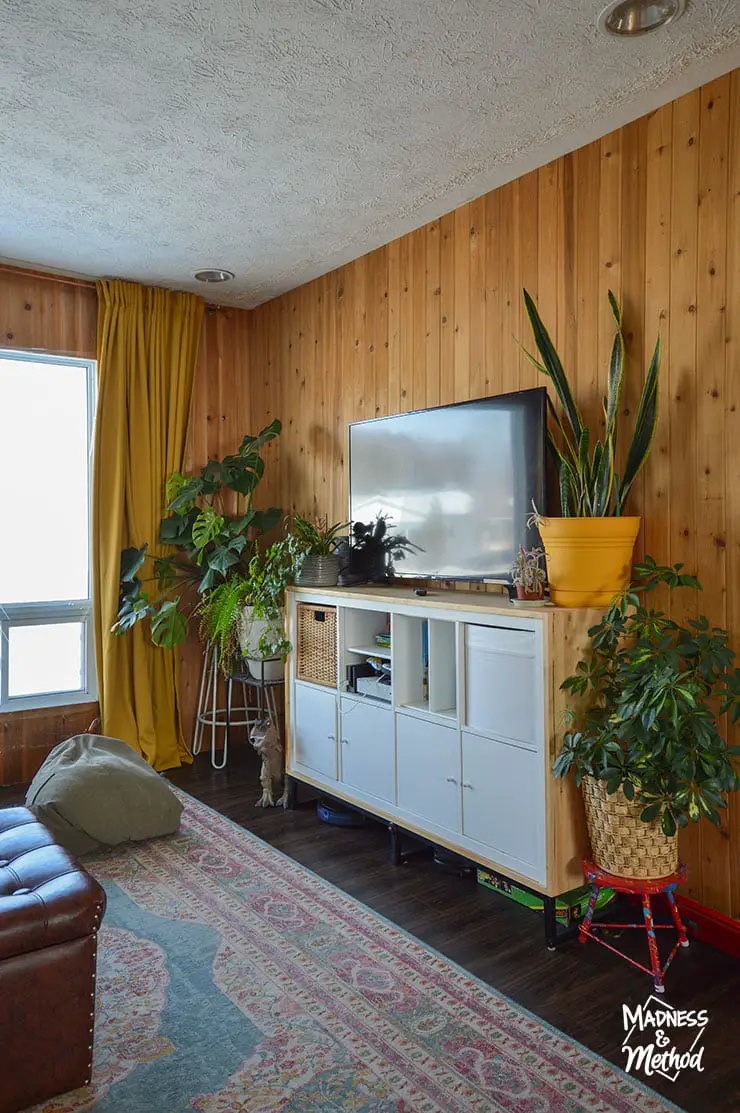 Last year I upgraded/updated an Ikea Kallax – and it holds the majority of our toys.  (Although you'll see a bunch in the bedrooms below).  One of our wooden-esque bins broke, so I grabbed a white one, but I think I'll get another wood-look for some contrast.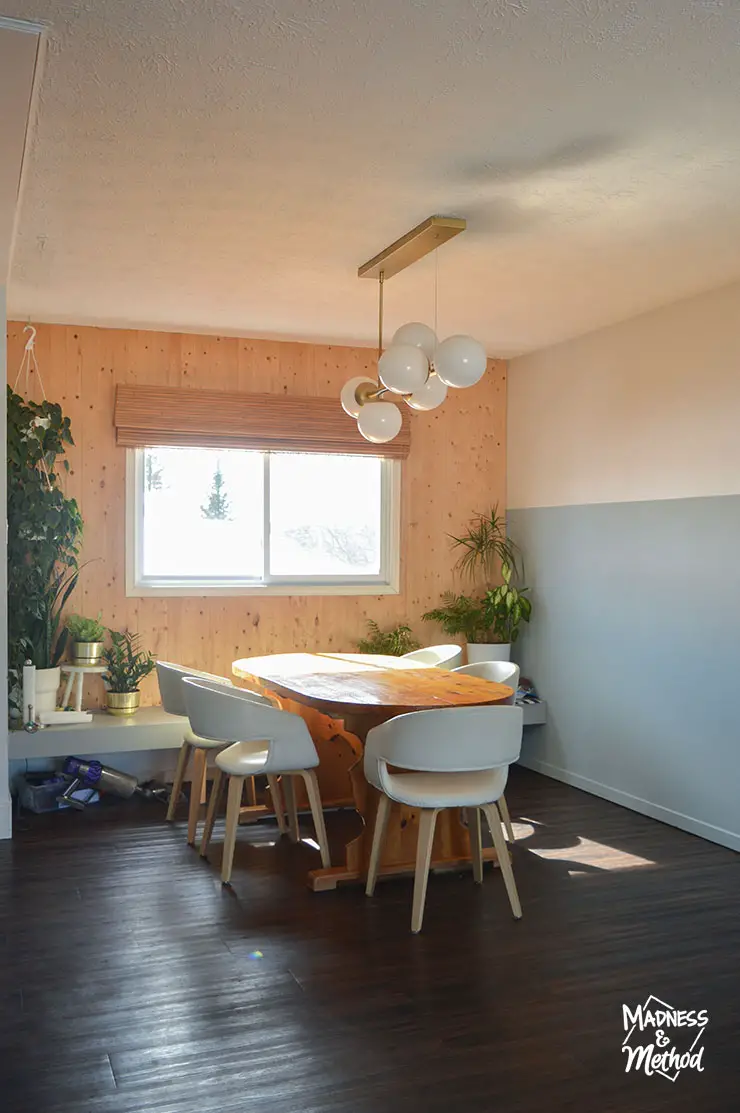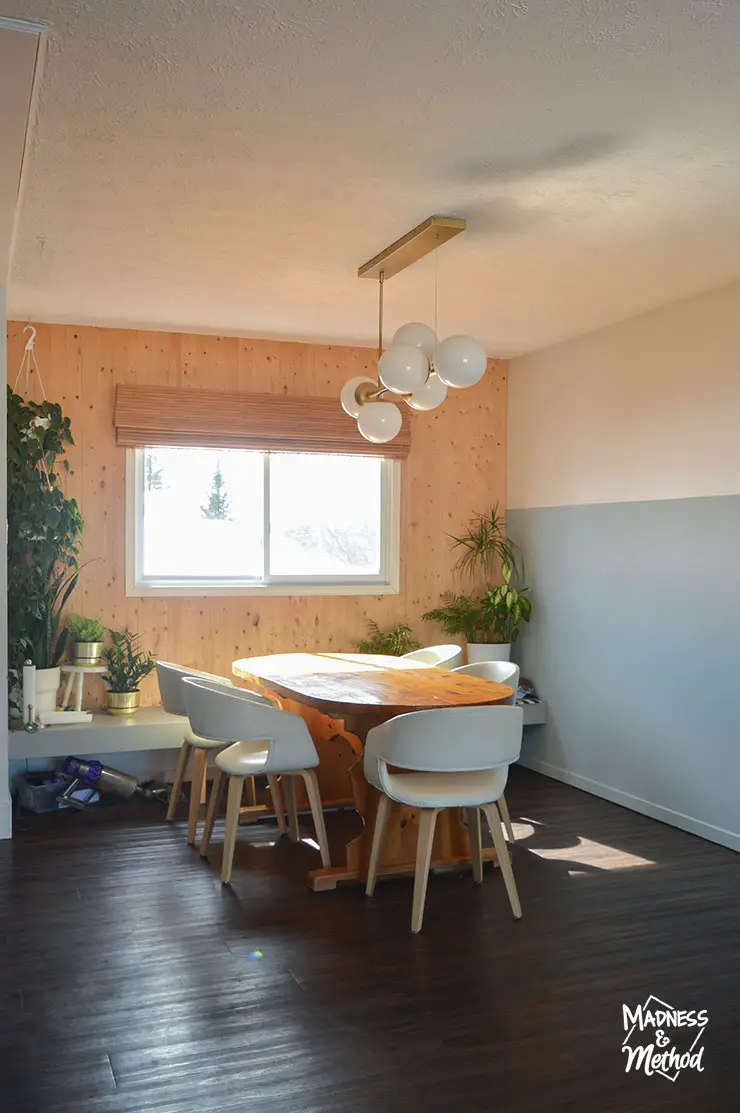 The dining room completes the open concept space, and is the perfect place for eating.  But also for playing games, doing crafts, and whatever else we're working on.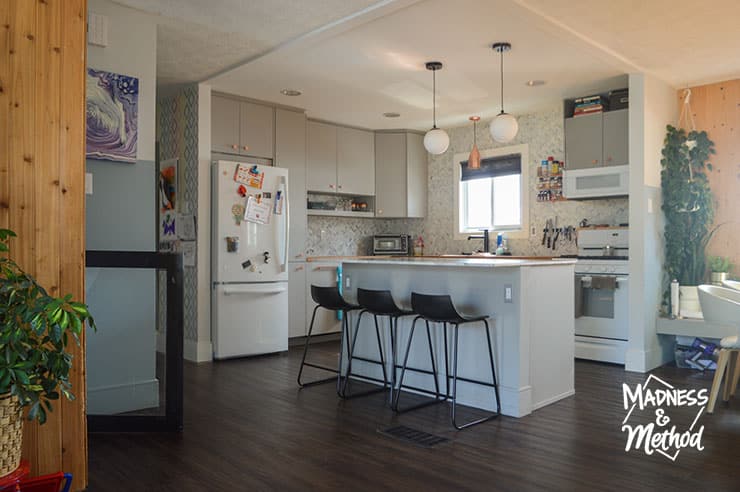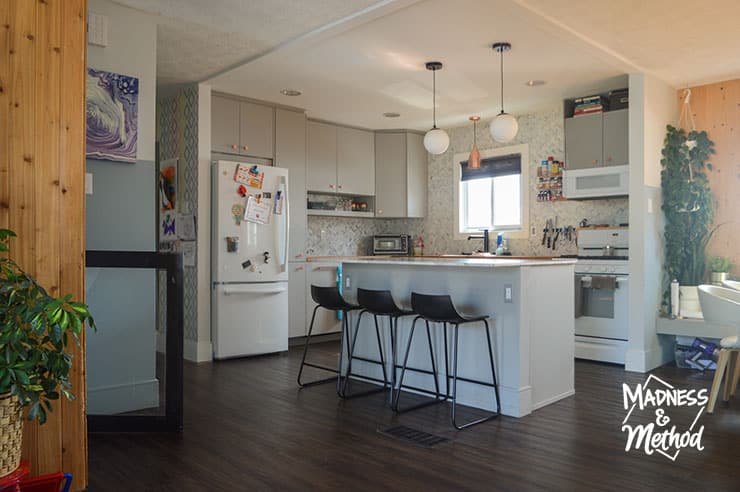 The photo above shows how all the spaces work together.  Remember, there used to be two walls that separated the kitchen.  Check out our first tour here, and more photos of the kitchen here.
For the rest of the upstairs, I'll share a photo of each room with links to more photos. 
Upstairs Bedrooms/Bath/Hall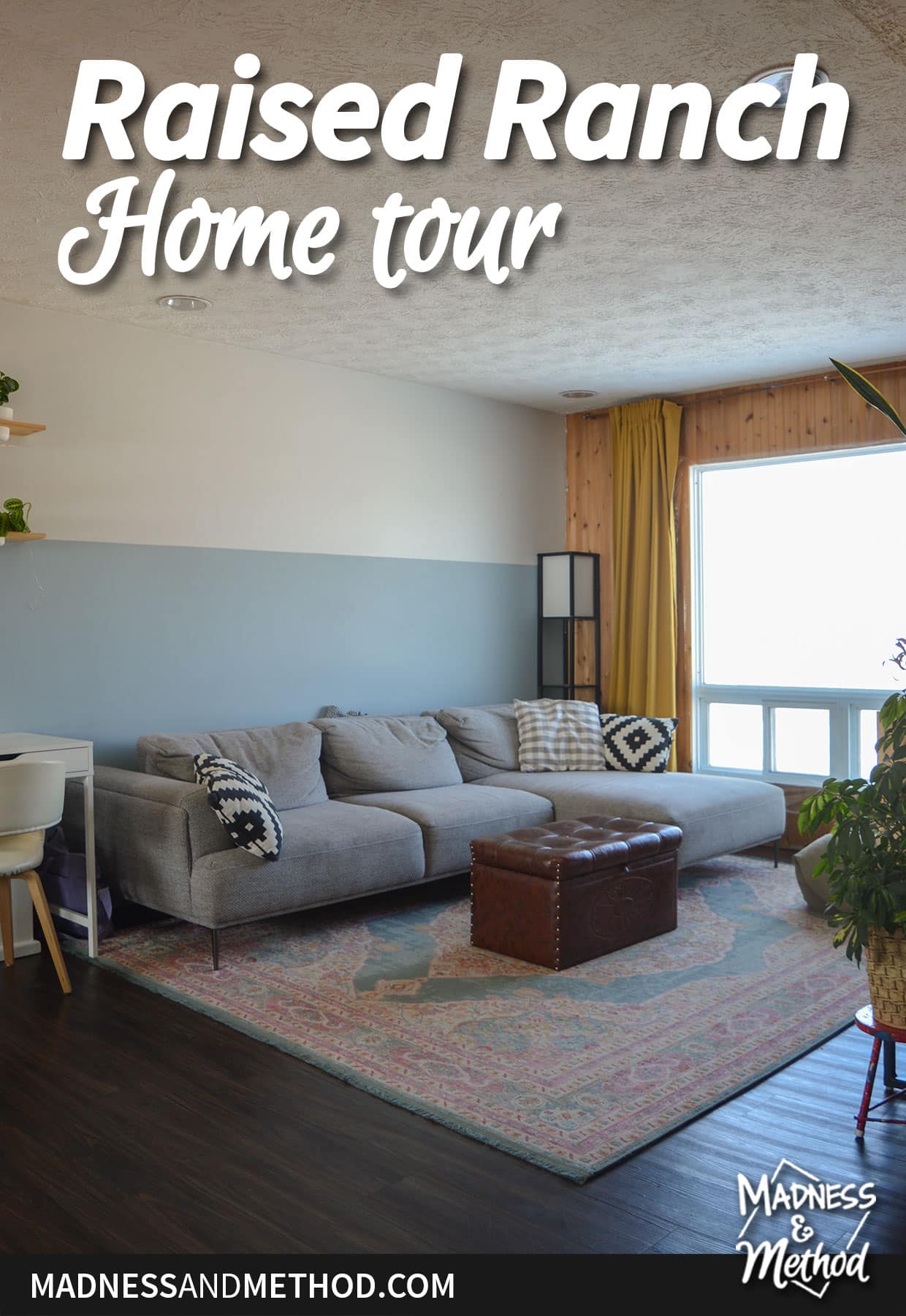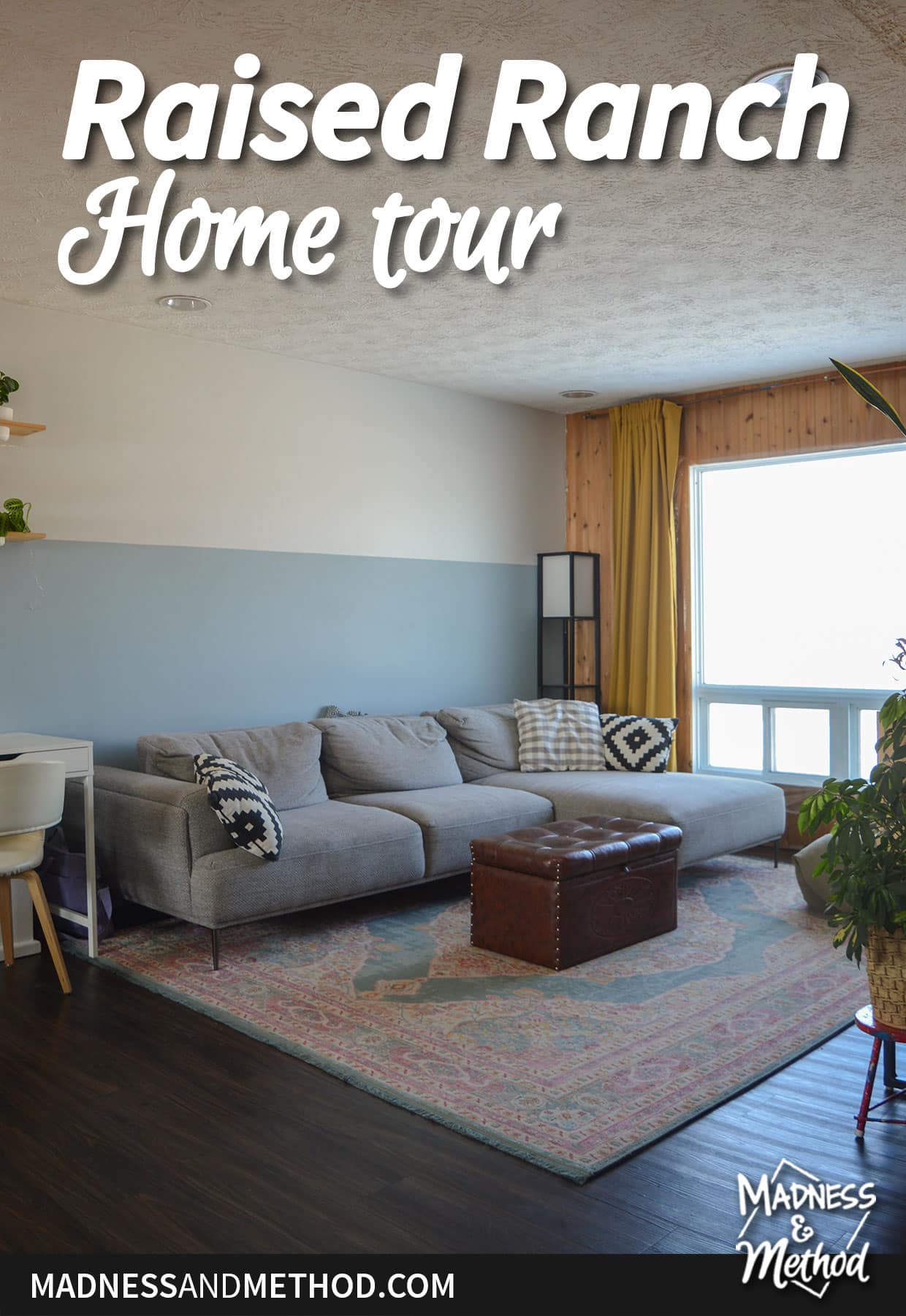 Raised Ranch Entry/Basement Tour
Alrighty, let's get to the basement now!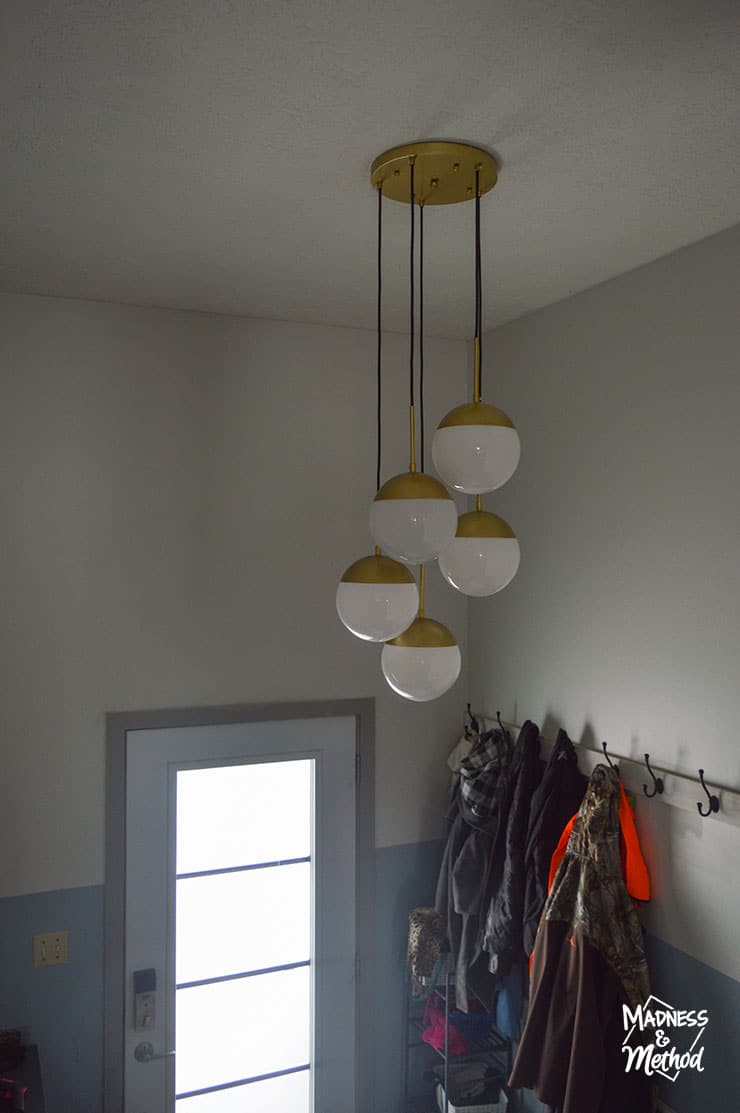 But first, the big change we made to the entry: a new light!  I put a few similar options on our Christmas list this year, and was gifted this one from my MIL.  The Husband installed it a month or so ago, and it has been such an upgrade!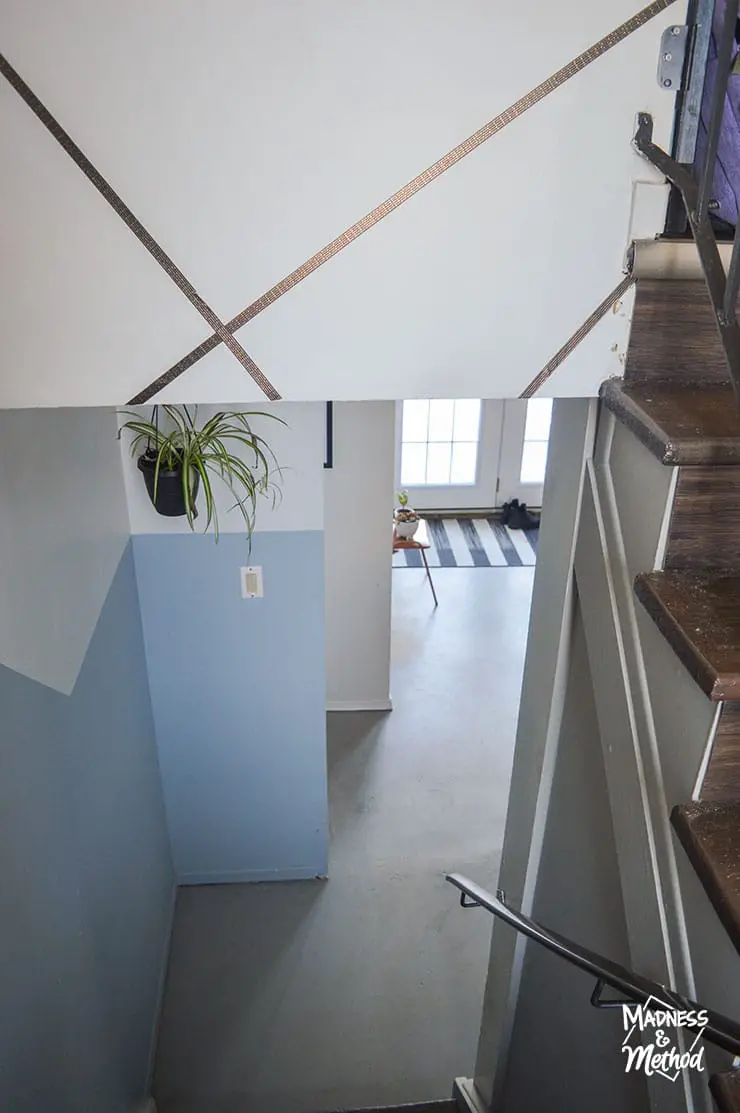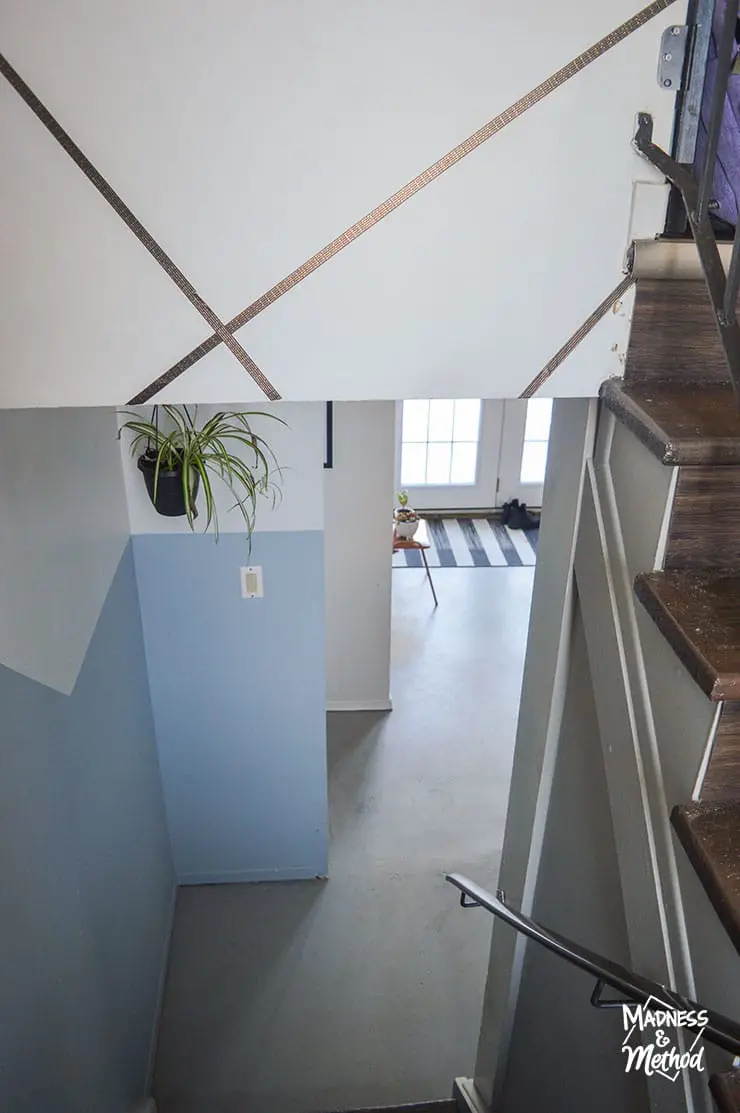 Otherwise, the rest of the entry is the same.  Check out the post on the shoe storage updates here, the painted staircase, and the half blue walls.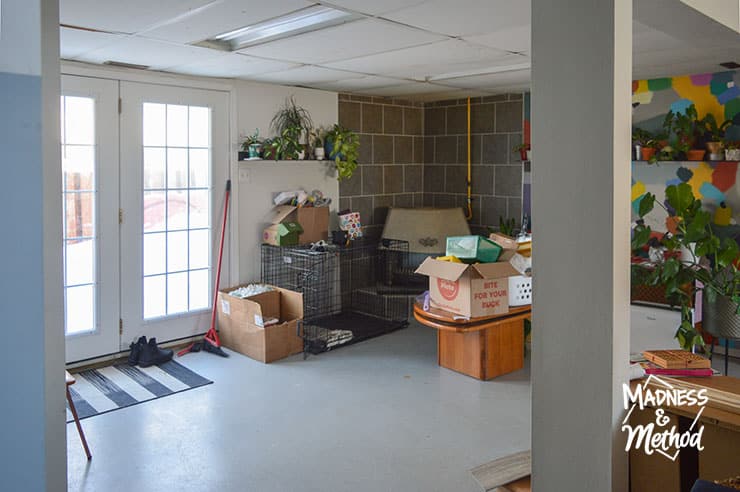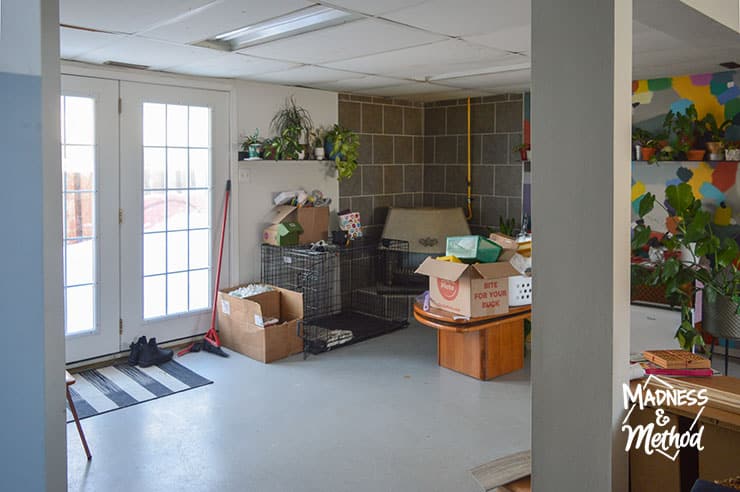 My favourite thing about the basement is the abundance of natural light.  I took the majority of these photos in the afternoon (right after I filmed the video), and it was a lovely sunny day.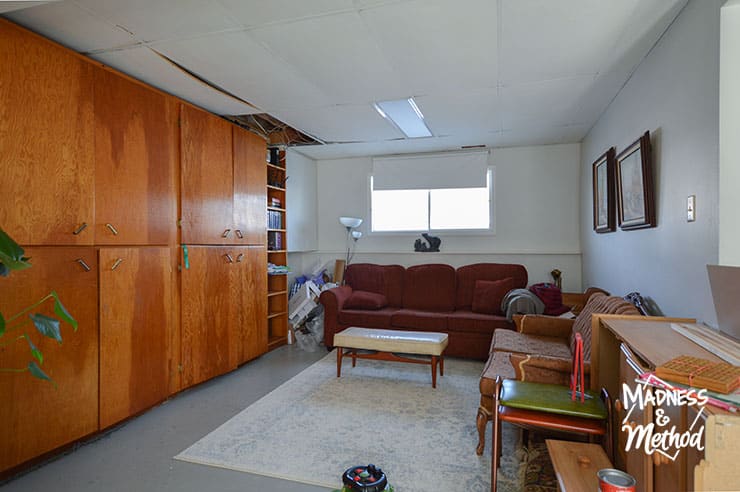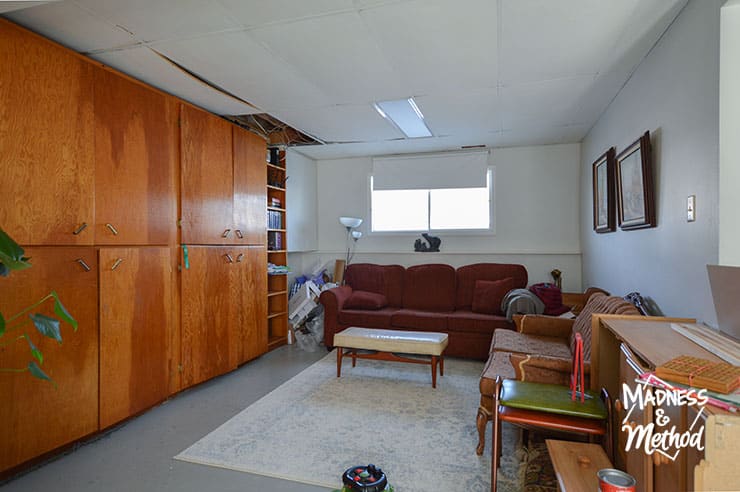 Of course, our basement has always been used as a backup storage zone, and today was no different.  We have some extra furniture that needs to go to the cottage (and my parents' house).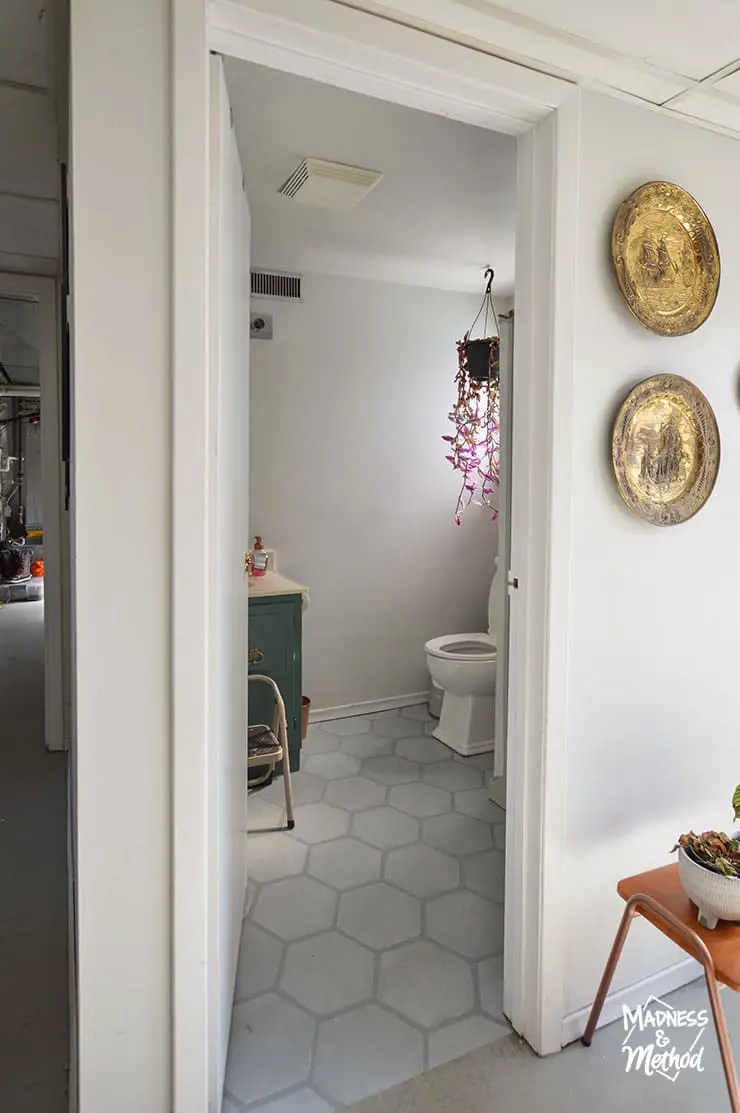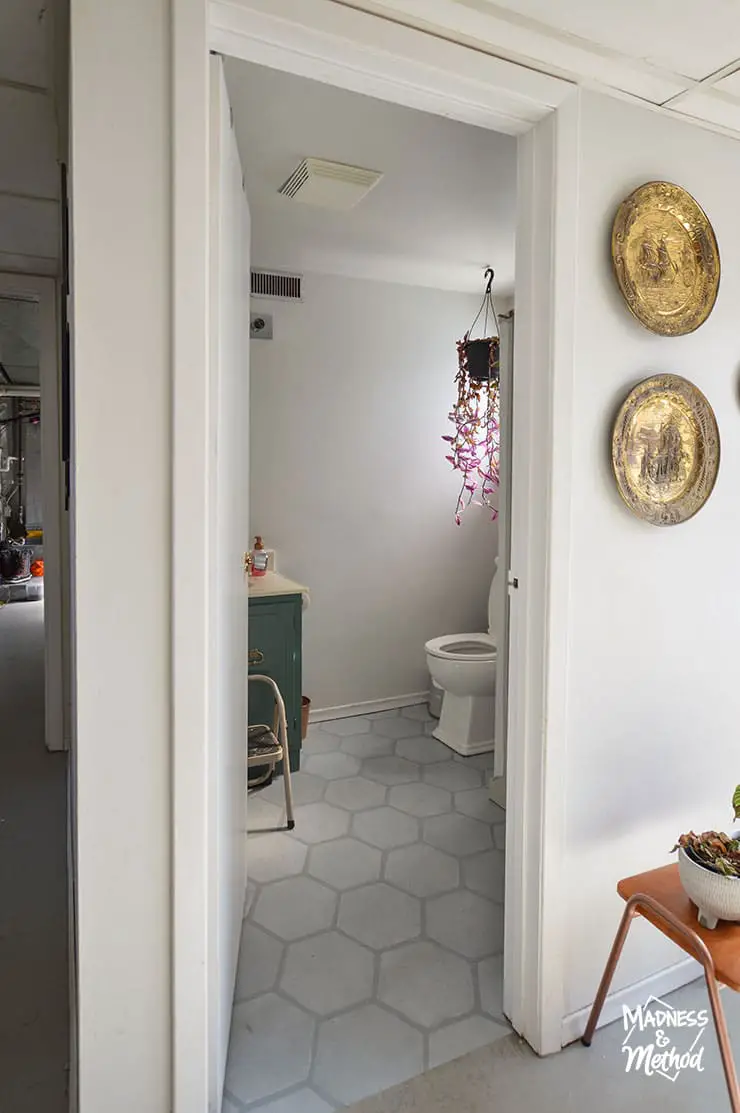 The basement went through a big refresh in the Fall of 2021, and you can see more photos here.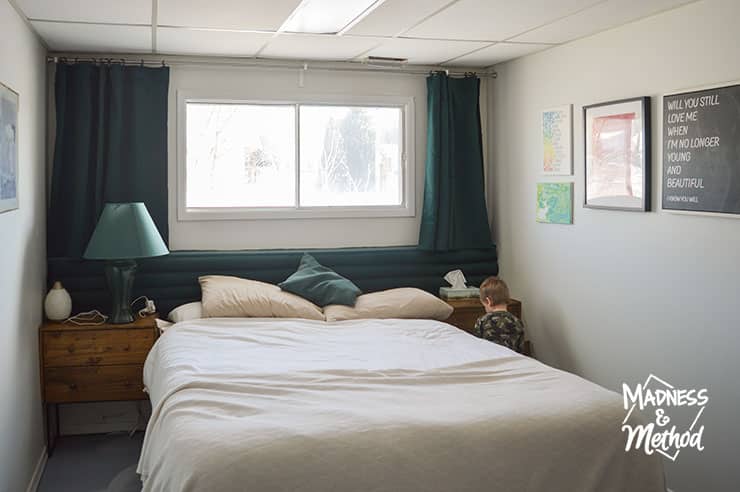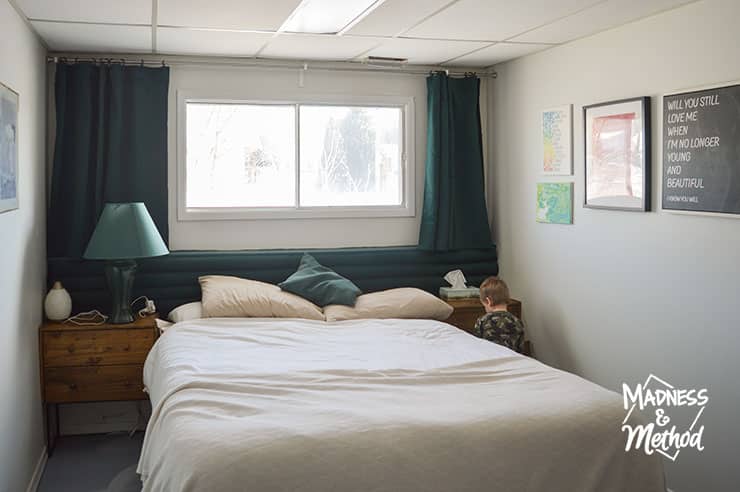 Honestly, our guest bedroom is probably the space down here that gets used the most!  Now that both of my parents are retired, they come to visit a few times a year.  
Well no, we do use the next two rooms the most most.  Our laundry room is a humongous space, and I'm planning a little refresh this year.  I really want to move the machines and hot water tank over, so we'll see if/when that happens.  See my other plans for this year here. 
The Husband's "pain cave" is the last room to share.  It REALLY needs to be reworked, and I might do that this weekend actually.  (I ignore this room for the most part – but now that I see the photos, it's becoming a priority, ha). 
Year 3 Home Tour Video
Ready to watch a walkthrough of the whole house? 
If you can't see the video player above, you can watch it on YouTube here.  This year, I filmed with my wide-angle lens to show a bit more of the rooms.  I also zoomed through some of the walking so hopefully it's a little quicker :) 
Oh, and a couple of outside photos since those are always fun!  I like to compare the snow each year.  When we took possession in 2020, there was a lot of snow.  My first year tour had like NO snow, and last year there was a lot more. 
And if you're wondering, we have one of those plastic insulation things on the big window – but the kids recently split it.  
Although it was nice and sunny with clear sidewalks yesterday, we did get another inch or so of snow today…
Hopefully you enjoyed our raised ranch year 3 home tour!  There's also a home tour page dedicated to our raised ranch house – but it could use a refresh too.  Let me add that to the list :) 
As a reminder, here is a link to the video on YouTube if you missed it above.  It would be great if you could subscribe on YouTube too!