Wayyyy back in the day I shared a recipe for red velvet brownies stacked sandwiches.  But you would have never seen it unless you really looked – it was buried deep on the page.  Even then, it wasn't the best recipe.  Well I'm back today because I've worked and reworked my recipe for soft red velvet brownies… and you're going to love it!
– Note: This post contains affiliate links. See more information about affiliates here. –
By soft red velvet brownies, I mean the perfect combination of cakey and fudgy.  Easy to slice into (if you want stacked brownie sandwiches), but solid enough to hold their own shape.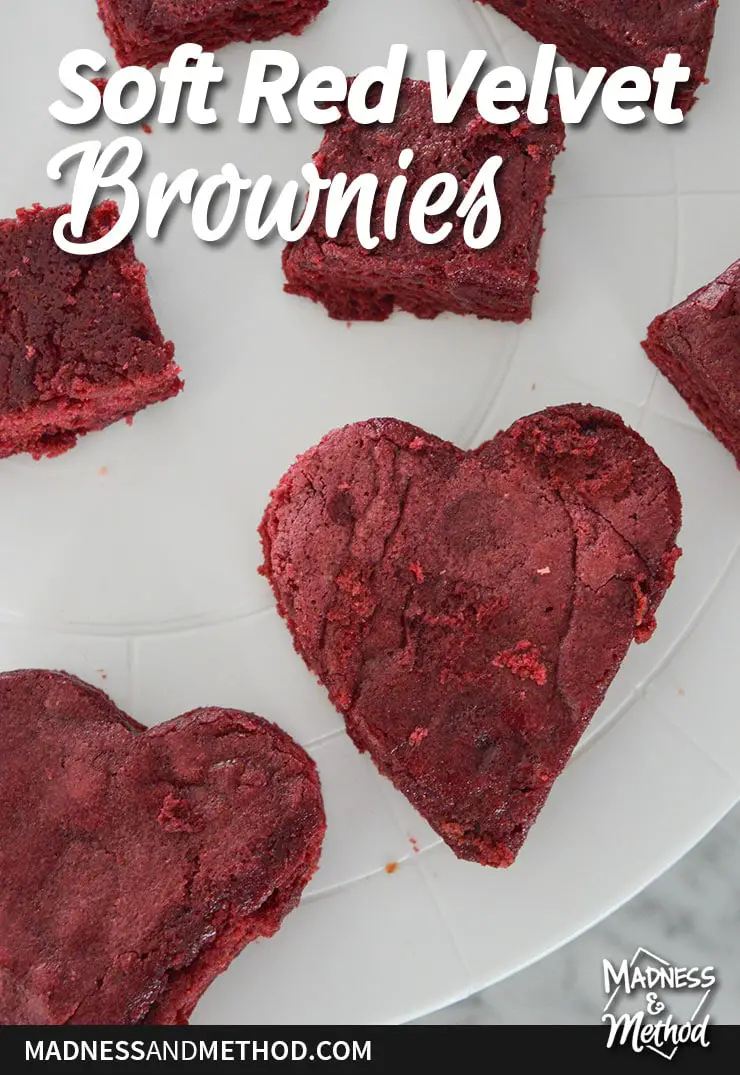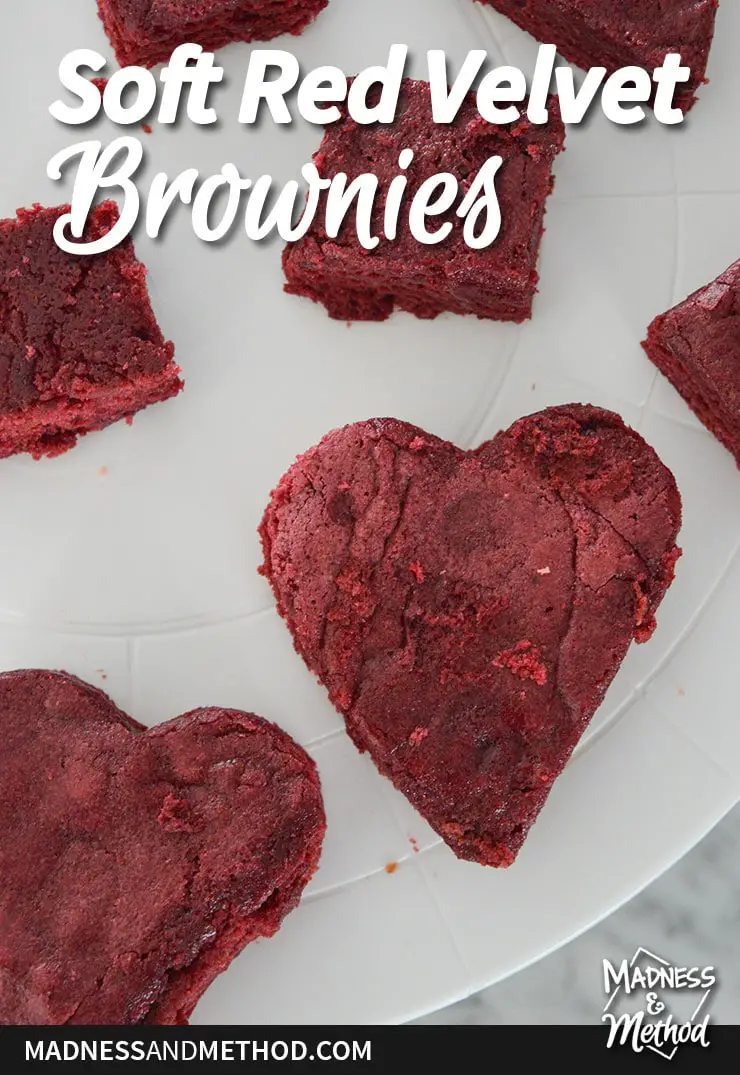 And if you want a fudgier/chewier brownie – you can use this exact same recipe and just tweak one little thing.  Before we get to the recipe (below), I did want to go over a few tips/questions.
How do I make RED velvet brownies!?
To get your brownies really red, you're going to need a lot of food colouring.  Back in the day, the red colour was achieved by beet juice – but I haven't experimented with that lately.


Liquid or gel food colouring? 
In the photo above (of the bowls) I tried both liquid and gel colour.  I've kept the recipe with the liquid, because it's more readily available to purchase.  If you want to substitute for gel colour, you do not need as much.
I personally like to add the colour to the liquids (ie butter/eggs/sugar) and blend it really well.  If you do not add enough food colouring, you will end up with pink brownies.  (Like my test batch in the photo on the right).  Cute, but not exactly the red velvet we're going for.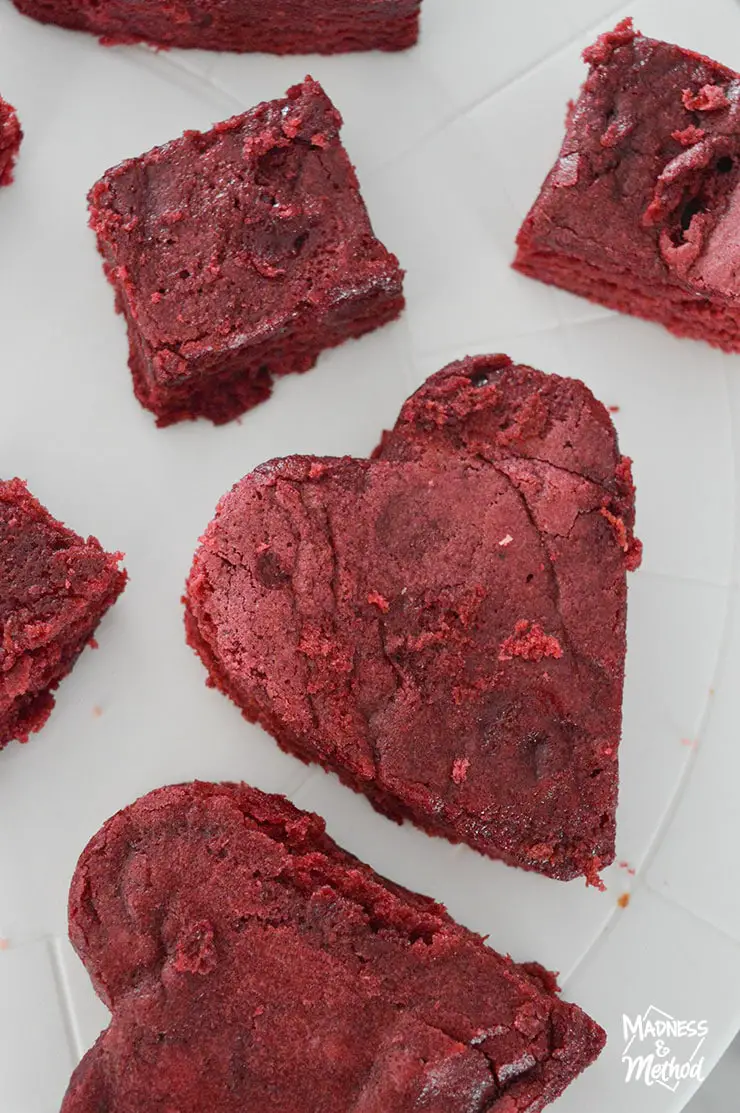 For my brownies, I kept some cut into the traditional square, and used heart cookie cutters to make my stacked sandwiches.  But you can make them into whatever shape you like!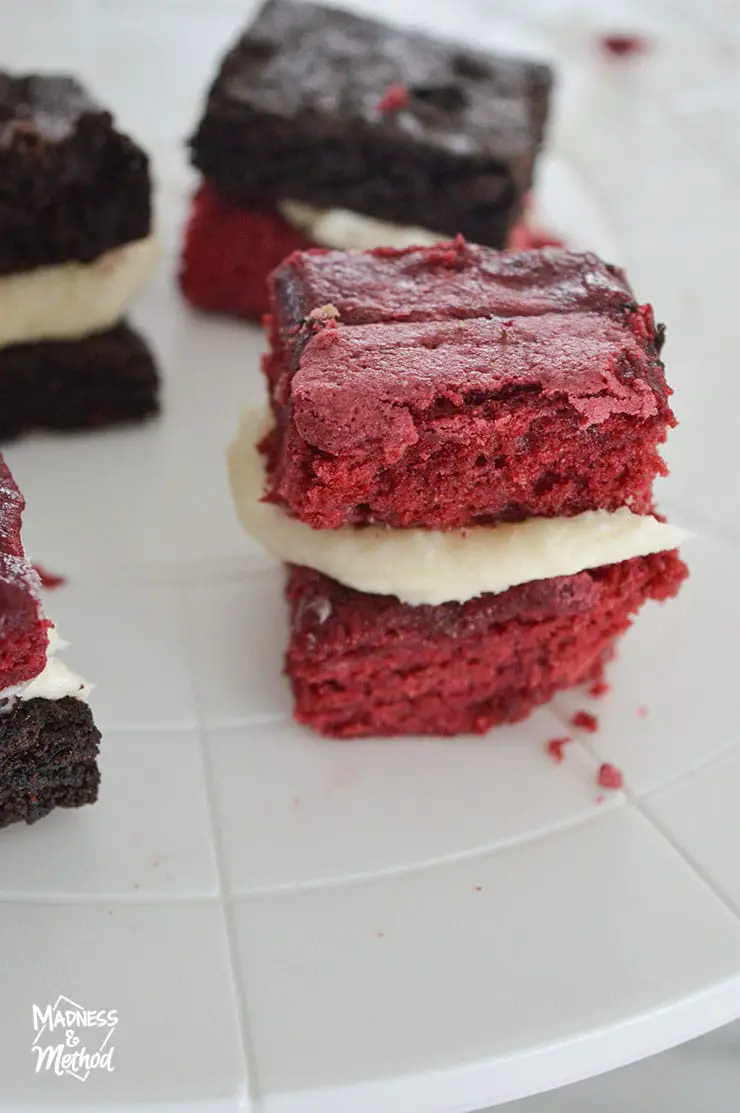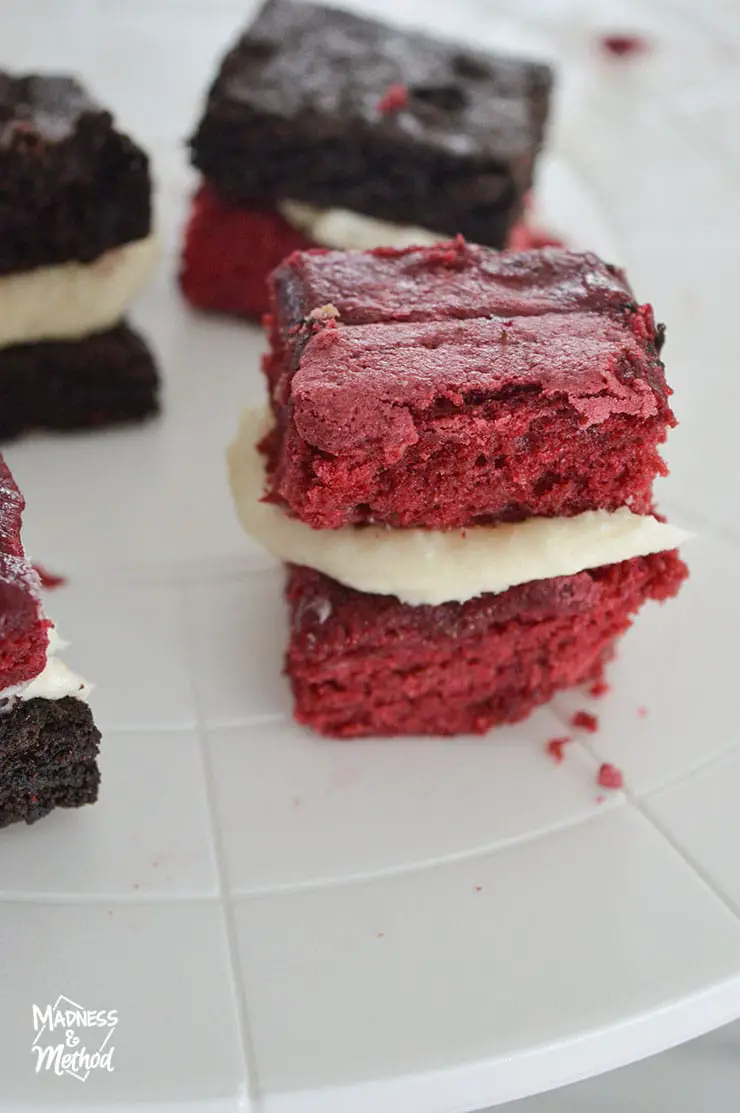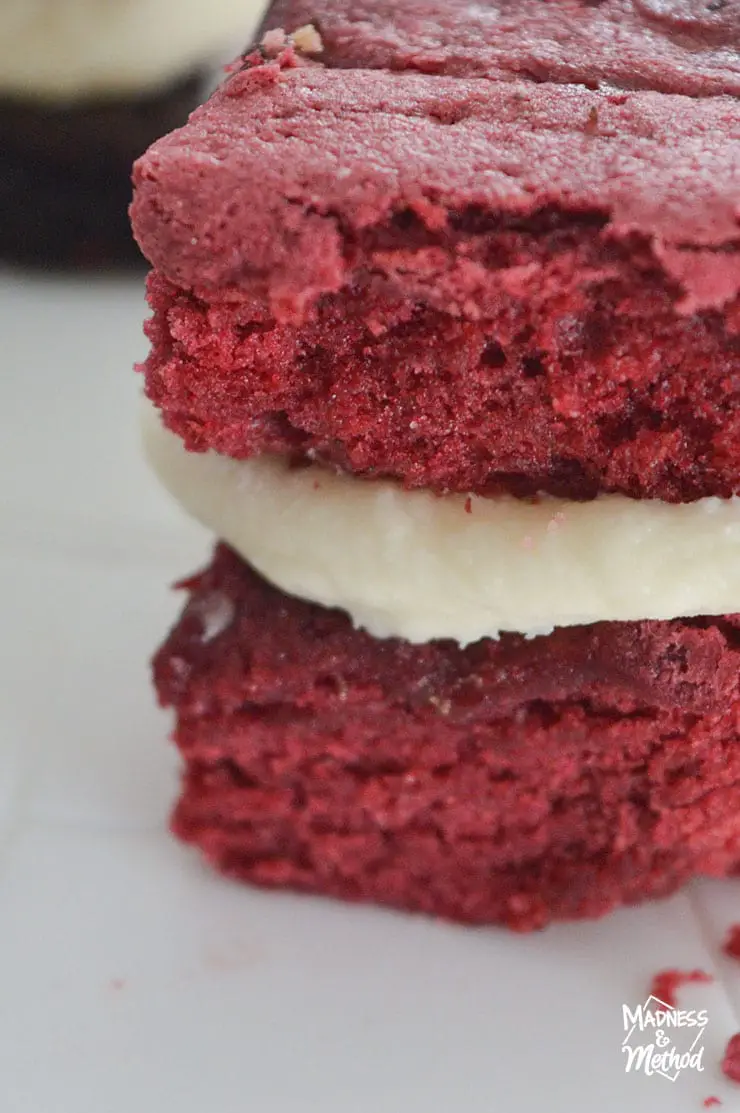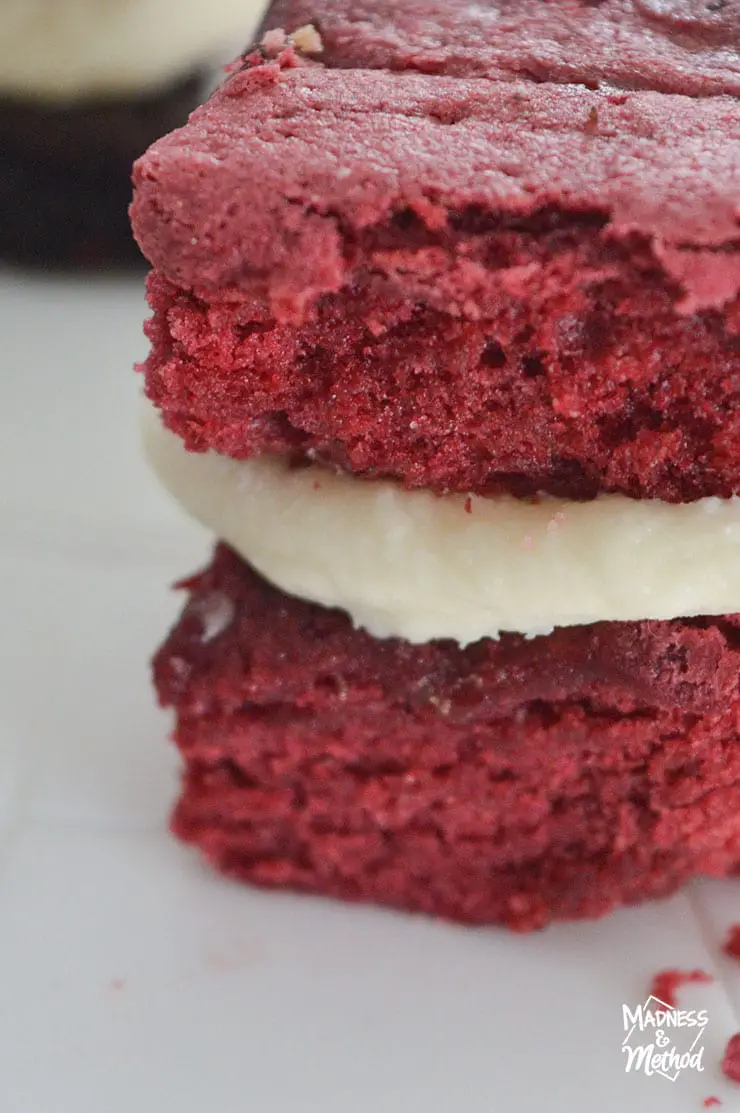 Red velvet always goes so well with cream cheese icing :)
Other Red Velvet Brownie Baking Tips
You'll notice that my recipe calls for 1/2 cup sour cream.  While it does give the smallest hint of tang, sour cream is really good at adding extra moisture too.  No worries if you don't have any on hand, you'll still end up with some yummy brownies (the batter will be slightly thicker).
What about chopped chocolate as opposed to melted?
The original version(s) of my recipe had chopped chocolate chips instead of melted.  I found that chopping them added unnecessary time, and I really had to make sure they were small.  Sometimes the big pieces could get in the way of slicing/shaping them.
Plus, the melted chocolate adds just a bit more liquid to the batter.  Otherwise, it's a little thick and hard to spread into the pan.  (It will spread on its own in the oven, but there is more wrestling with the spoons ahead of time).
White Chocolate vs. Regular (Brown Chocolate)
In my test batches, I found that the brown chocolate added a darker, muddier colour to the red velvet brownies.  The white chocolate leaves them a bit pinker.


It also seemed to crackle the top more (more brownie looking).  In the photos above, the brownies were made with only 3 tablespoons of red food colouring.  The left brownies have regular chocolate, and the right have melted white chocolate chips.  If it wanted the most accurate red, I think I might try a combination of the two OR even use red chocolate wafers.
How do I make fudgy brownies?
Simply omit the baking powder!
What about chewy brownies?
Leave the baking powder in, but use half the number of eggs.  OR leave them in the oven until no crumbs appear on a toothpick inserted into the centre.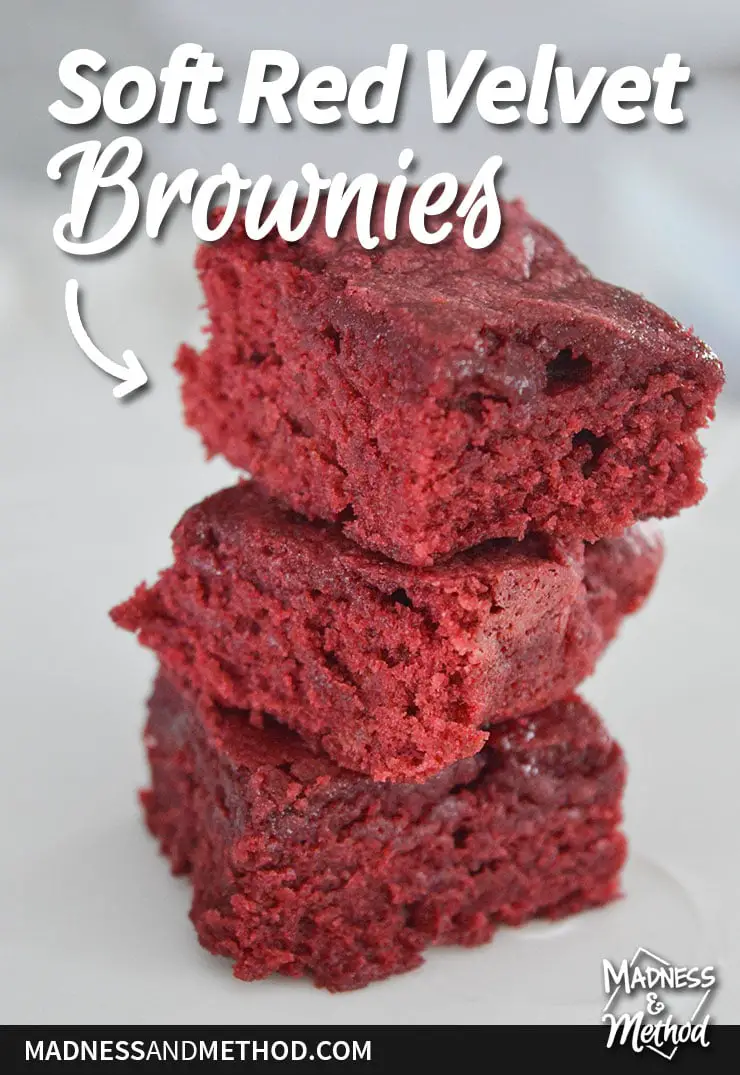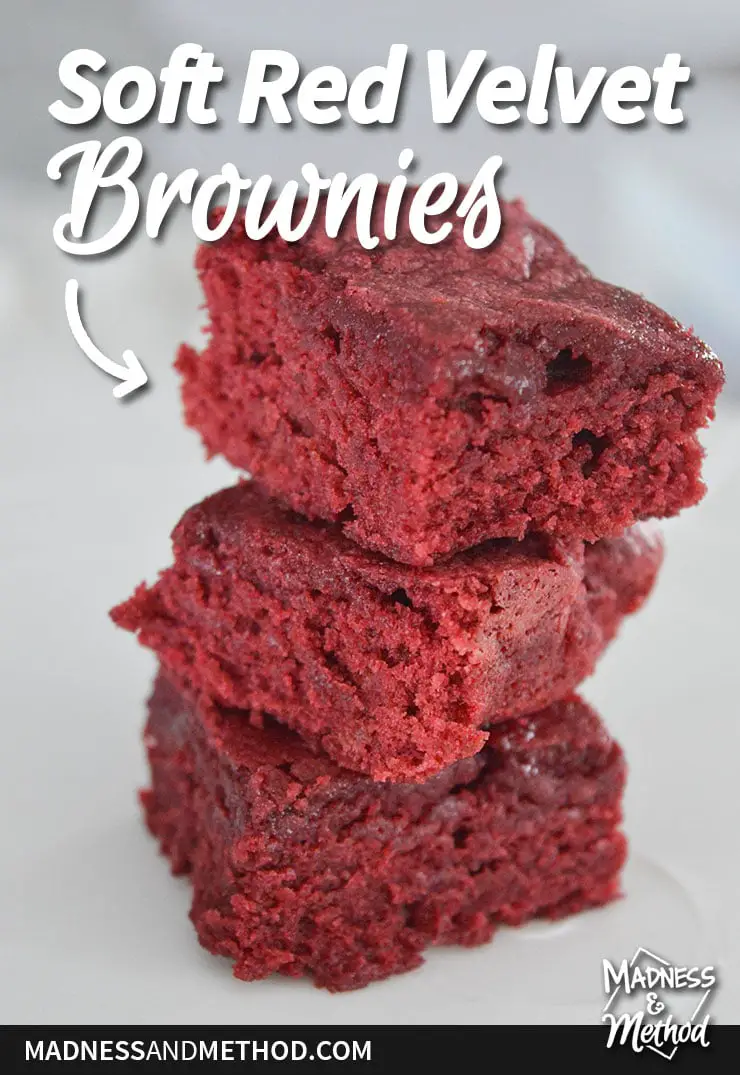 This recipe will make enough for 2 square pans (8×8 or 9×9) OR one large cookie sheet (approx 12×16).  You can easily halve the recipe to make a small batch.  Or bake the full amount to make stacked brownie sandwiches.
Make sure to bake your brownies on a greased sheet of tinfoil so that you can lift them out of the pan.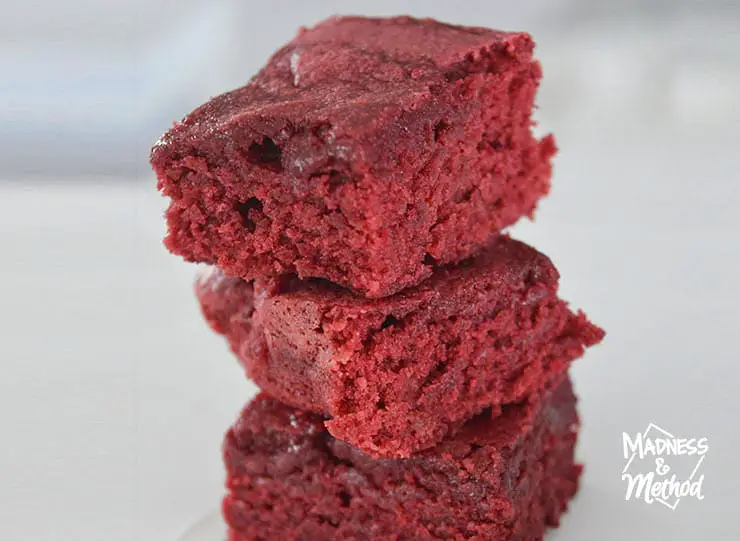 Print Recipe
Soft Red Velvet Brownies
Do you prefer cakey or fudgy brownies? This recipe for soft red velvet brownies makes the perfect combination of the two, and can easily be adapted if you prefer a chewier brownie.
Ingredients
1 cup butter (2 sticks) softened

4 eggs

1-1/2 cups white sugar

1 tsp vanilla extract

4 tbsp liquid red food colouring (2 28ml containers)

1/2 cup sour cream

2 cups all-purpose flour

1 tsp baking powder

1/2 tsp salt

1 cup chocolate chips, melted
Instructions
2
Line baking pan(s) with foil or parchment paper and spray with oil
3
In a large bowl, beat butter and sugar until blended
4
Add eggs, vanilla extract, sour cream and food colouring - mix again
5
In a small bowl, combine flour, baking powder and salt
6
Mix into the large bowl, beating slowly until just incorporated
7
Stir in melted chocolate chips
8
Pour batter into 2 square baking pans OR one large cookie sheet
9
Bake for 25-30 minutes, until brownies are set and a toothpick inserted in the middle comes out with some crumbs
Notes
This recipe makes 2 square pans (8x8 or 9x9) OR one cookie sheet (approx 12x16). See the blog post for further details and baking tips!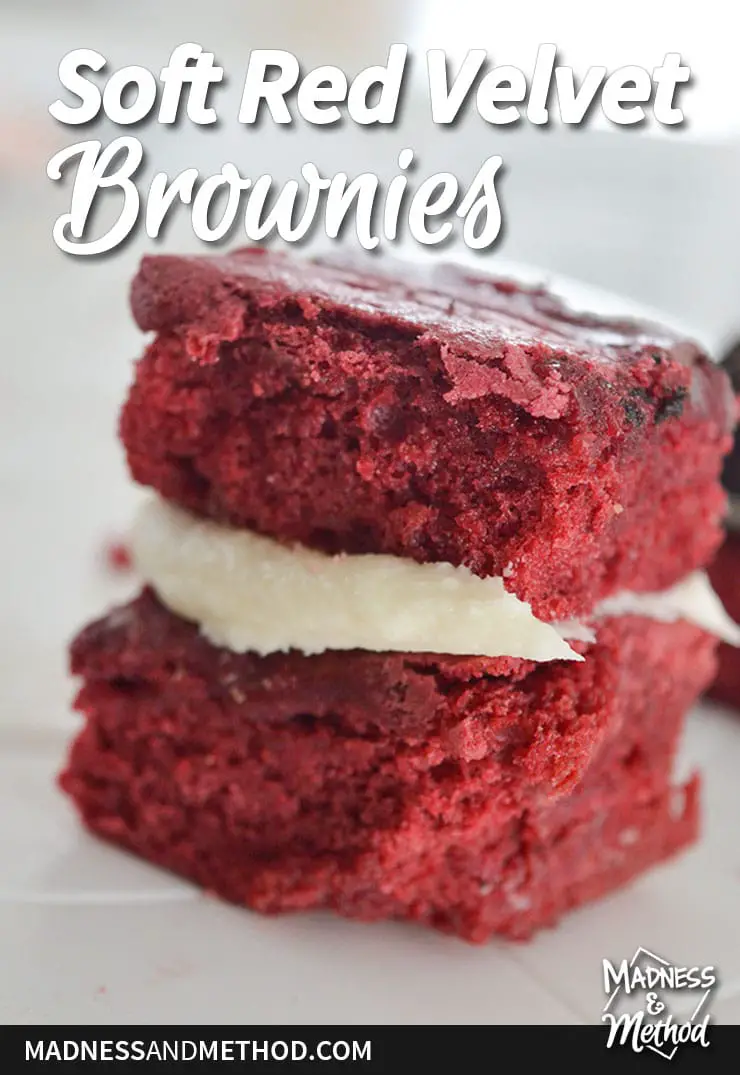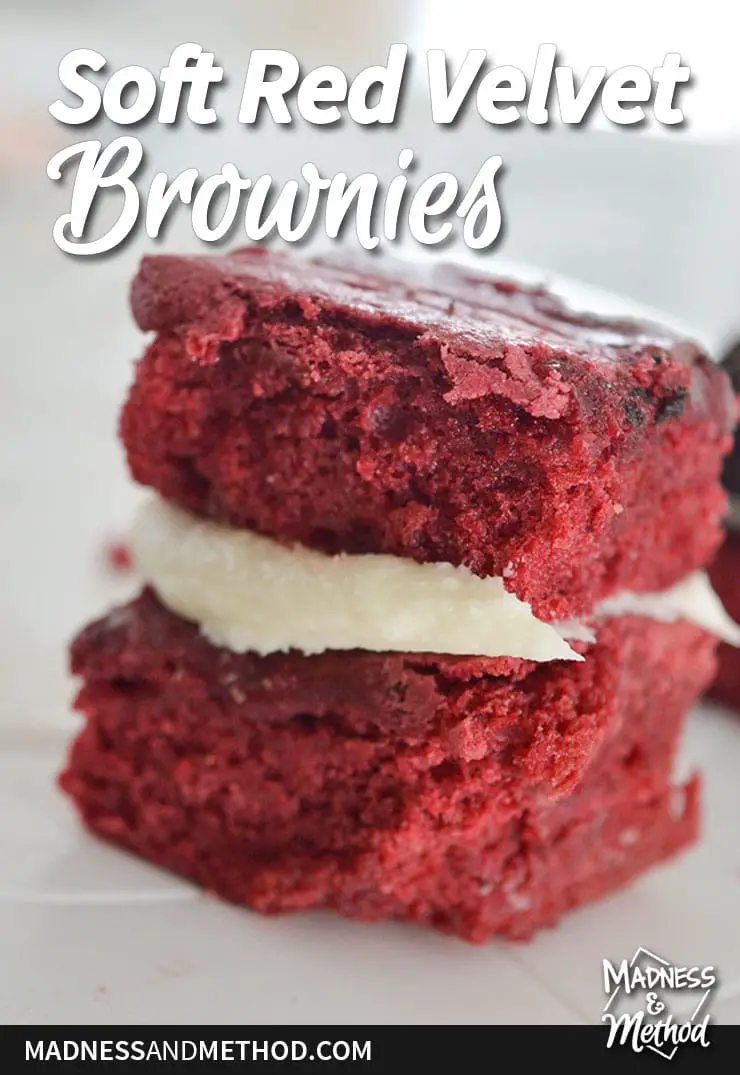 Please make these and let me know what you think!  I love red velvet anything, but especially these soft red velvet brownies.  The hint of chocolate and the combination with cream cheese is always so good.
AND make sure to go back and read all the tips to customize the recipe.  Want fudgier brownies?  More red, less red?  I've tested the recipe a bunch of times – so I have it down :)