It may seem a bit odd to be writing about triple chocolate pancakes now… but hear me out!  What if you're looking for a decadent Christmas morning recipe?  Or something special for Valentine's Day?  Maybe you're planning a brunch sometime soon… or really just need a big dose of chocolate in the morning day.  I've got you covered!  This homemade triple chocolate pancake recipe is exactly what you need!
This recipe for triple chocolate pancakes makes 14ish chocolatey fluffy, buttermilk pancakes.  For our family of 5, that's usually enough for one morning and some the next day.  Don't worry though, this recipe can easily be doubled (or halved!) to make any amount of pancakes you need.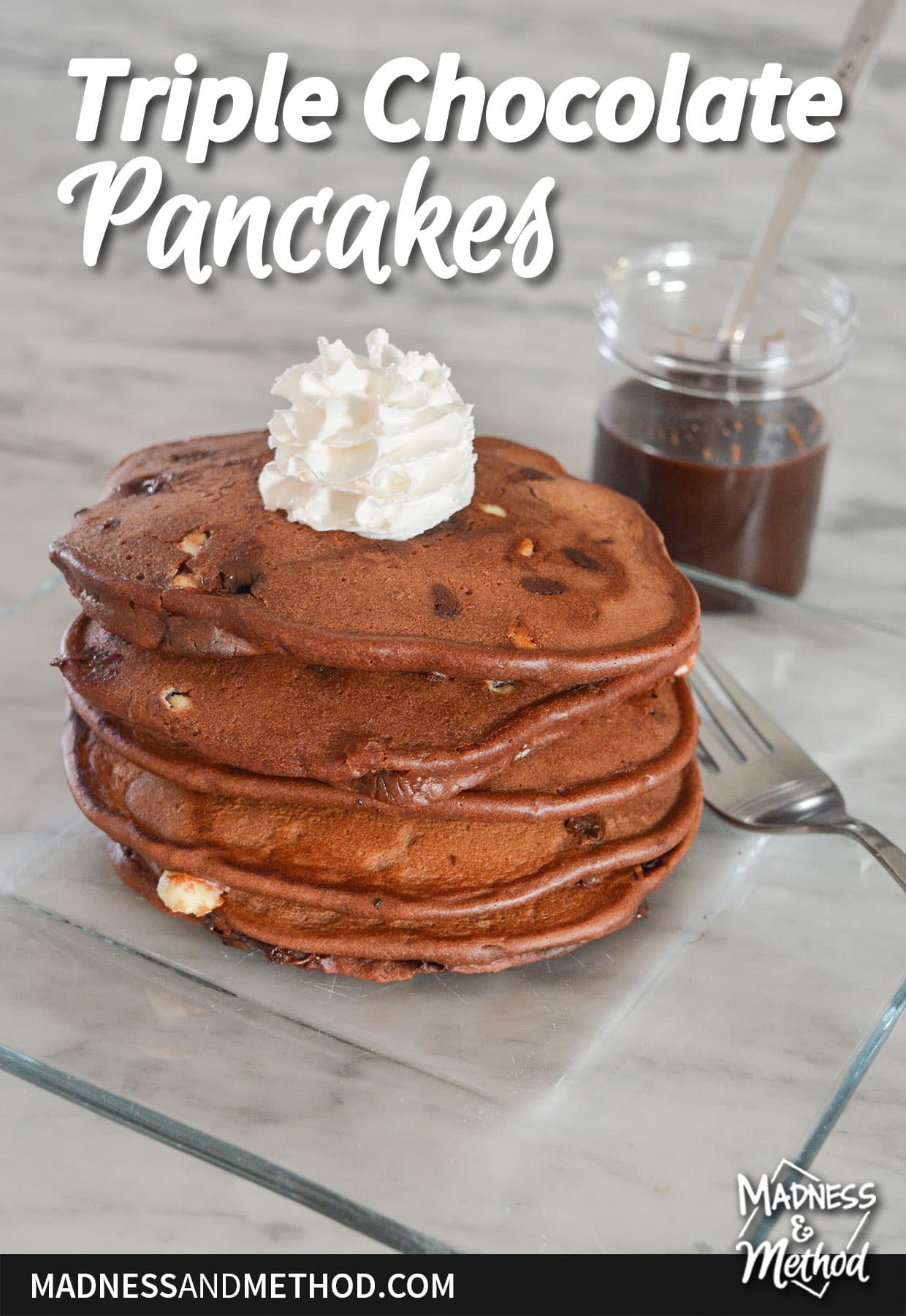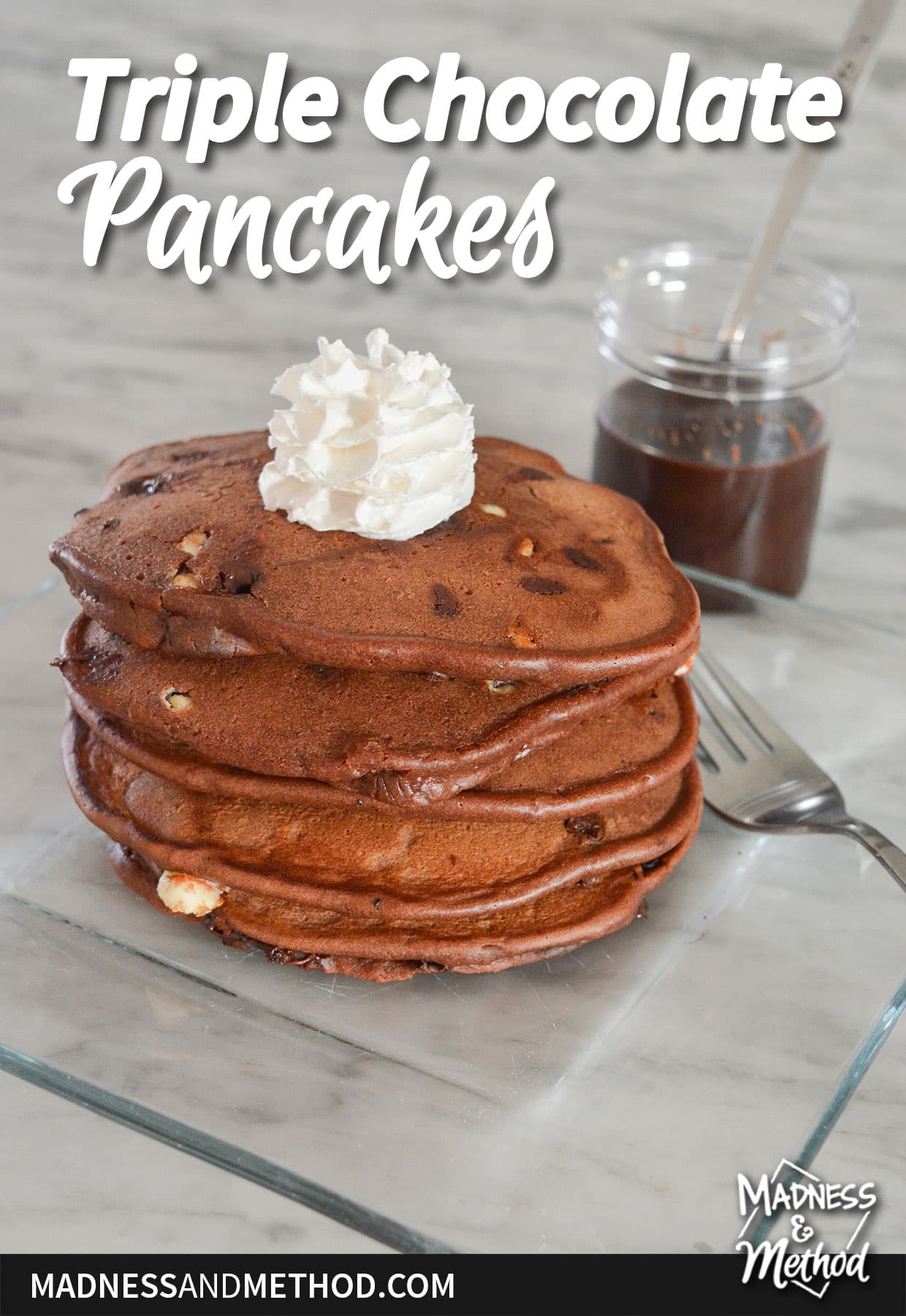 Before we get to the recipe (you can scroll down to get it) I have a few small tips to share…
First, I used cocoa powder to get a chocolate pancake batter.  Then, a combination of white chocolate chips and semi-sweet chocolate chips.  I prefer semi-sweet to milk chocolate, but you can substitute it with whatever chocolate you have on hand/prefer.


Also, because the chocolate pancake batter is darker, you need to flip them over when bubbles start to form towards the centre (rather than relying on colour alone).  Your griddle or pan should be medium or medium-low.  I also spray my griddle with oil – but you can use butter if you prefer.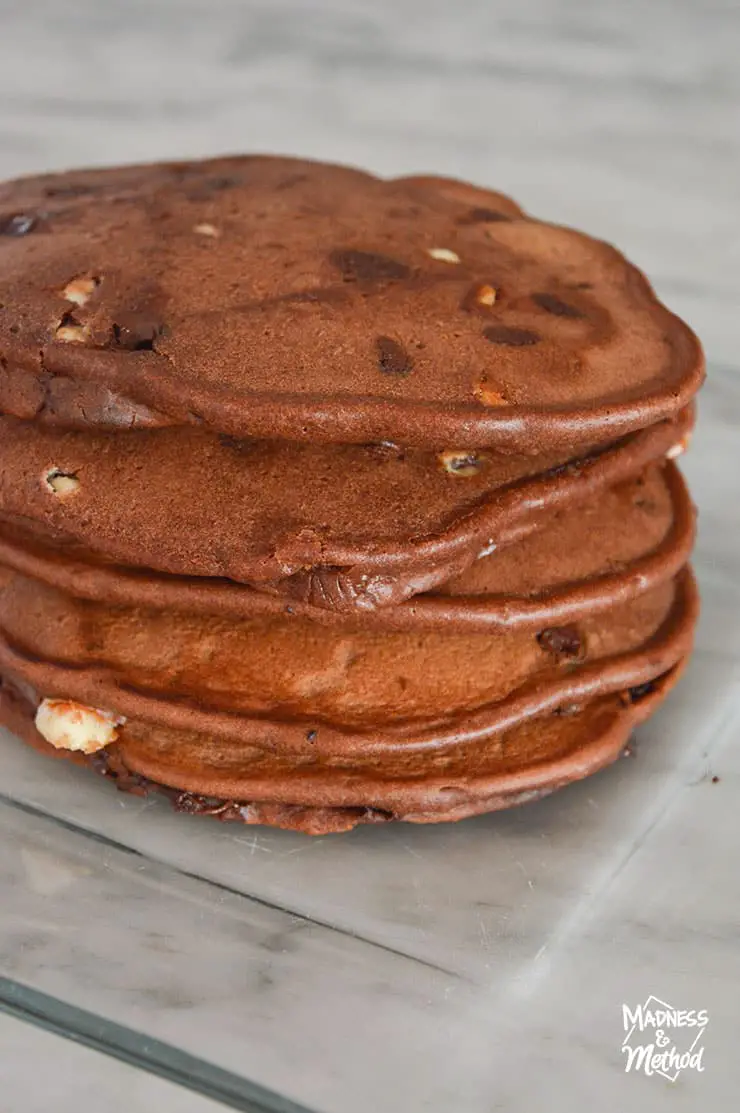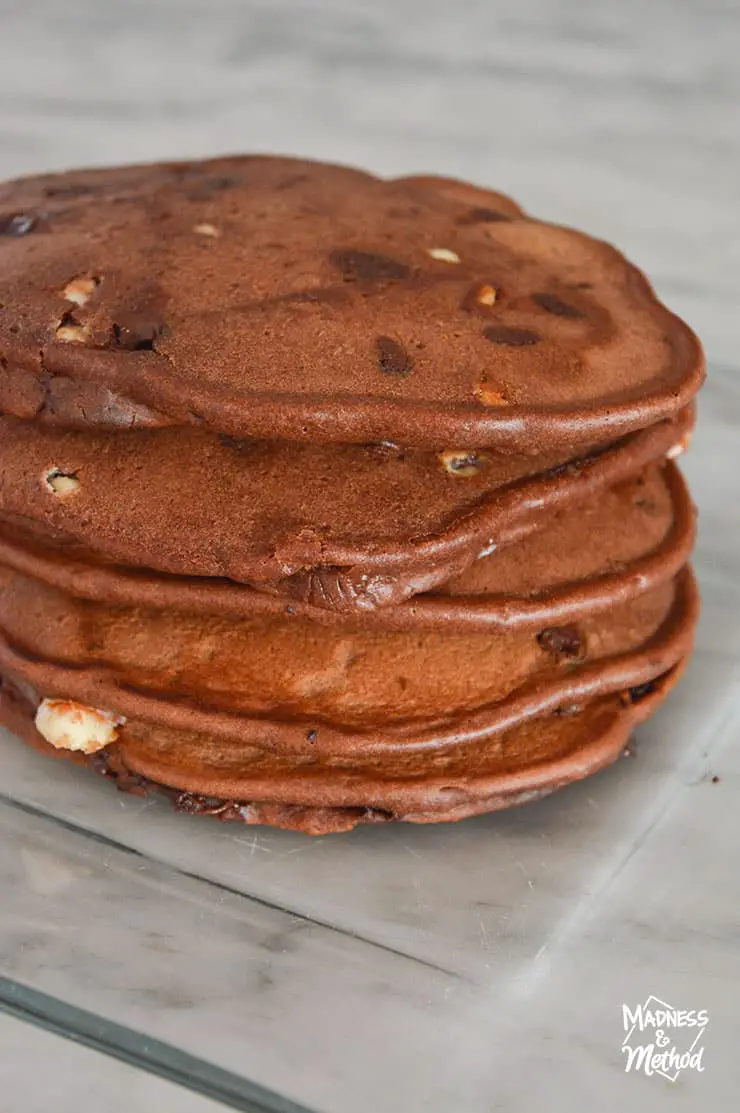 The key to a perfect pancake is only flipping it once (when it's ready).  The second side should cook for less time than the first, then be placed on a cookie rack to cool (or onto a plate to eat right away!).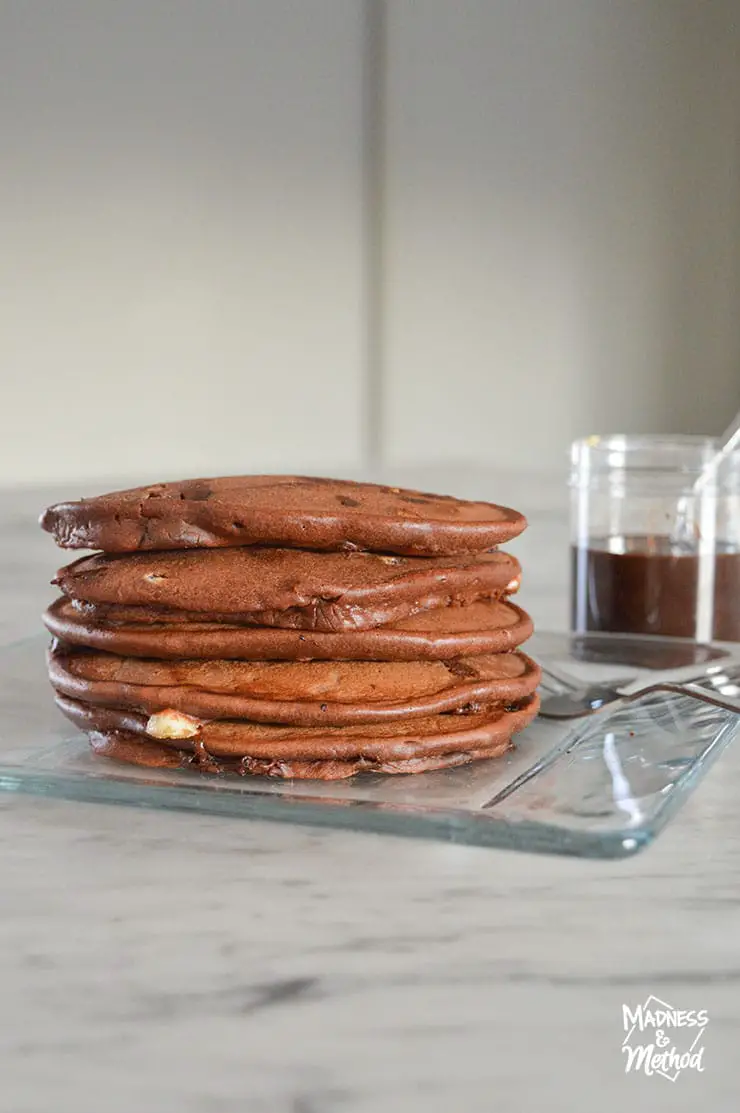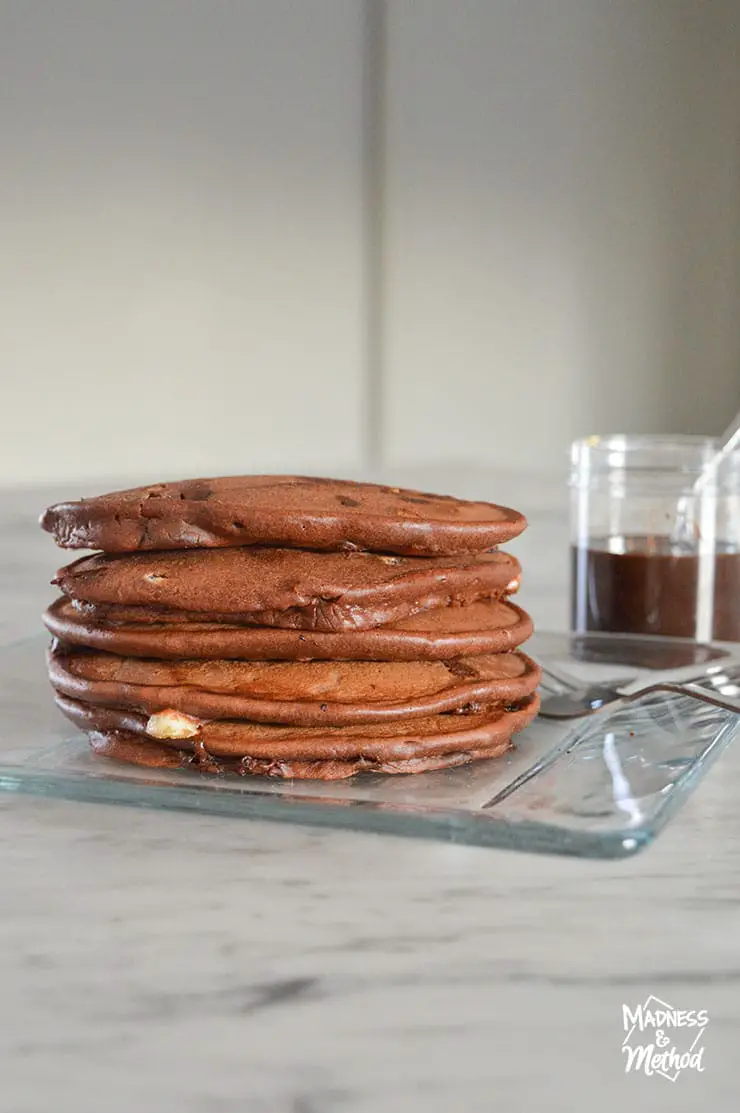 How do you store these triple chocolate pancakes?  After my leftover pancakes have completely cooled, I put them into a Tupperware container, and then into the fridge.  If you're making pancakes for much later, you can also put them in a sealed bag/container in the freezer.
How do you reheat pancakes? I've ALWAYS reheated my pancakes in a toaster!  This recipe will make perfect, fluffy (aka thick) pancakes that are sturdy for a regular upright toaster.  We have a toaster oven, so I tend to make my batter/pancakes a bit thinner to get a few more, and I don't need to worry about them standing up straight.  If you put pancakes in the microwave, they will get soggy!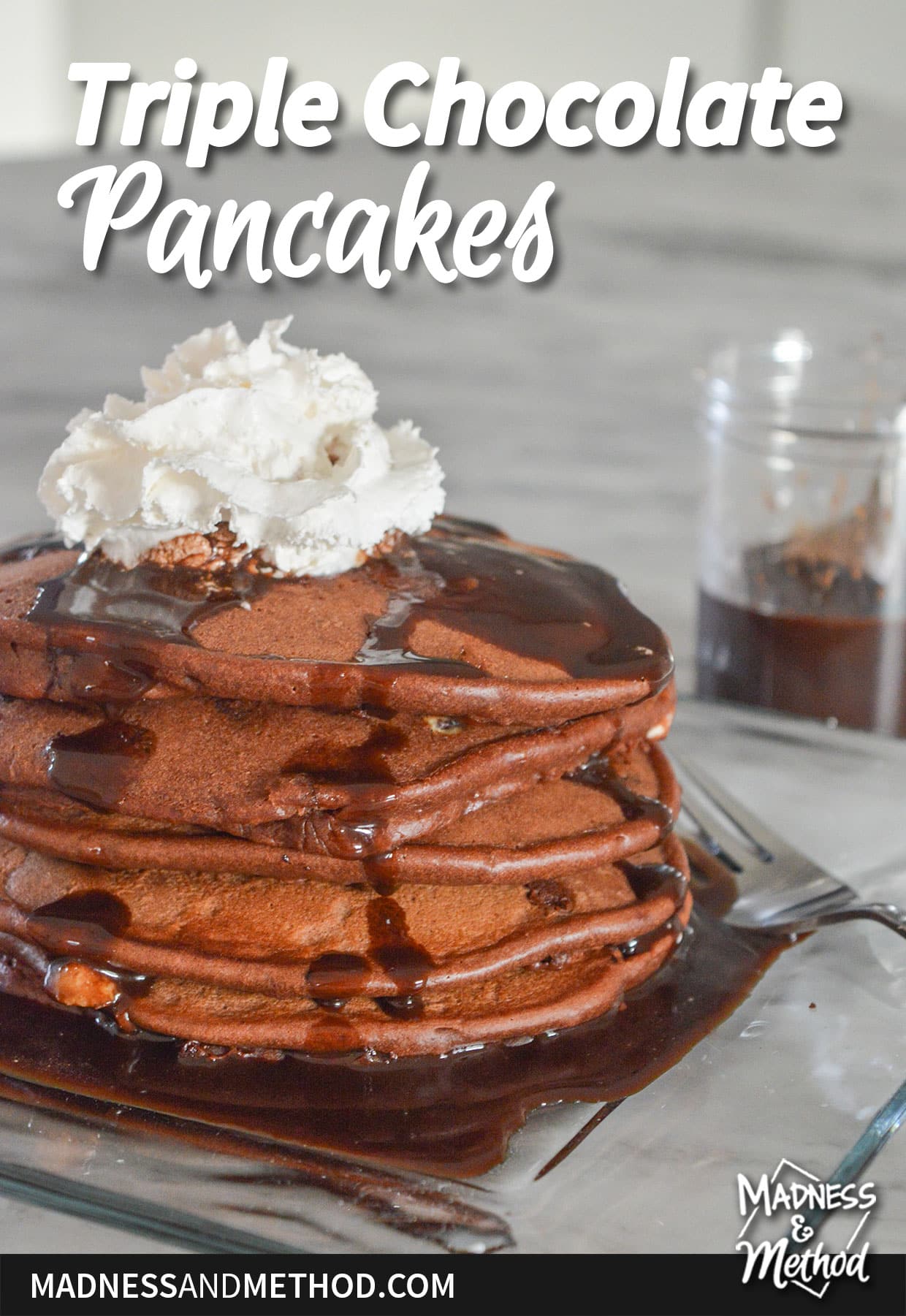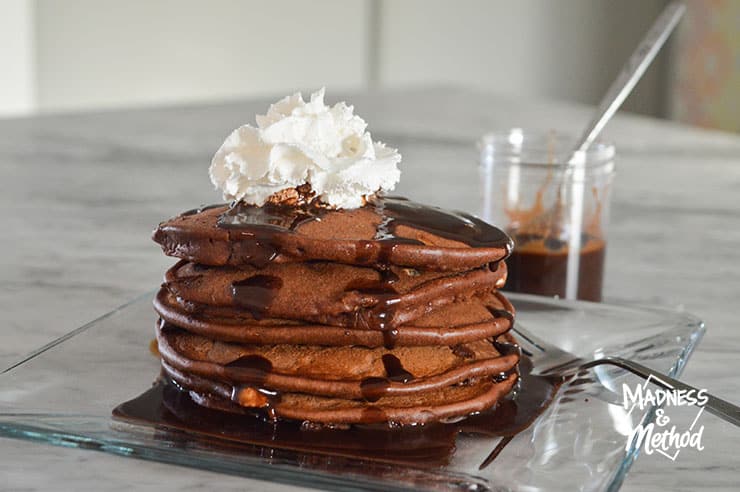 Print Recipe
Triple Chocolate Pancakes Recipe
You need to save this recipe for decadent triple chocolate pancakes! These homemade pancakes are perfect for a special occasion (or a chocolate craving!), and can easily be stored/saved for later.
Ingredients
2 cups All Purpose Flour

2 tsp Baking Powder

1/2 tsp Salt

1/2 cup Cocoa Powder

1/4 cup Melted Butter (1/2 a stick)

1/4 cup White Sugar

2 eggs (large size)

1-1/2 cups Milk

1/4 cup White Vinegar

1 tsp Vanilla Extract

1 cup Chocolate Chips (I used 1/2 white, 1/2 semisweet)

Optional: Syrup of your choice, whipped cream
Instructions
1
In a medium bowl, combine flour, baking powder, salt and cocoa powder. Set aside
2
In a large bowl, cream melted butter and sugar together
3
Add milk, eggs, vinegar, and vanilla extract and combine
4
Slowly stir in the dry ingredients until all incorporated
5
Heat a large frying pan or griddle to medium/medium-low (add oil or butter to grease)
6
Add the chocolate chips and stir until evenly distributed
7
When the pan is hot enough, spoon the pancake batter, making sure to mix and grab enough chocolate chips
8
Flip the pancakes when bubbles start to appear
9
When fully cooked, move the pancakes to a wire rack to cool
10
Continue baking pancakes until the batter is done
Notes
The milk and vinegar make a "buttermilk", but the batter will have a vinegar taste because of this. You can substitute real buttermilk if you prefer This recipe makes around 14, 4" diameter pancakes For thinner pancakes, add an extra 1/4-1/2 of milk (see post for tips on reheating/storing)
I'm going to let you in on a secret…  Personally, I prefer table syrup vs. real maple syrup on my pancakes.  I find real maple syrup to be too runny, and I hate that it comes out cold on top of my hot pancakes.  For these triple chocolate pancakes, I did a 50/50 combination of table syrup and store-bought chocolate sauce (aka Nesquick).
You can certainly make your own chocolate sauce, or even drizzle the store chocolate syrup, maple syrup, table syrup or whatever!  I also added some whipped cream to these, but that was mostly for the photos :)
Although it was delicious!
(PS: the Husband likes corn syrup, which I find waaayyy too thick and off-tasting).  What do you like!?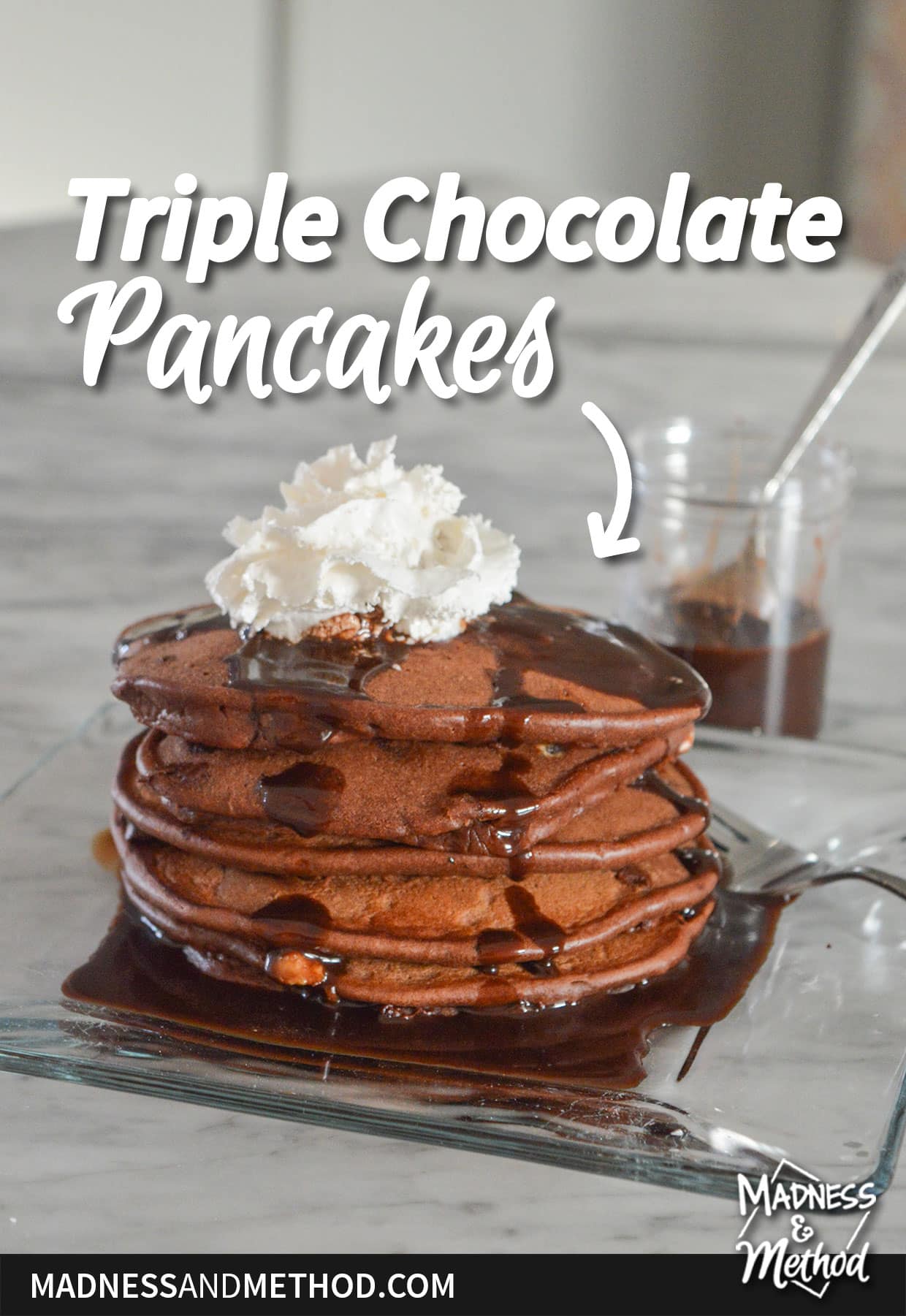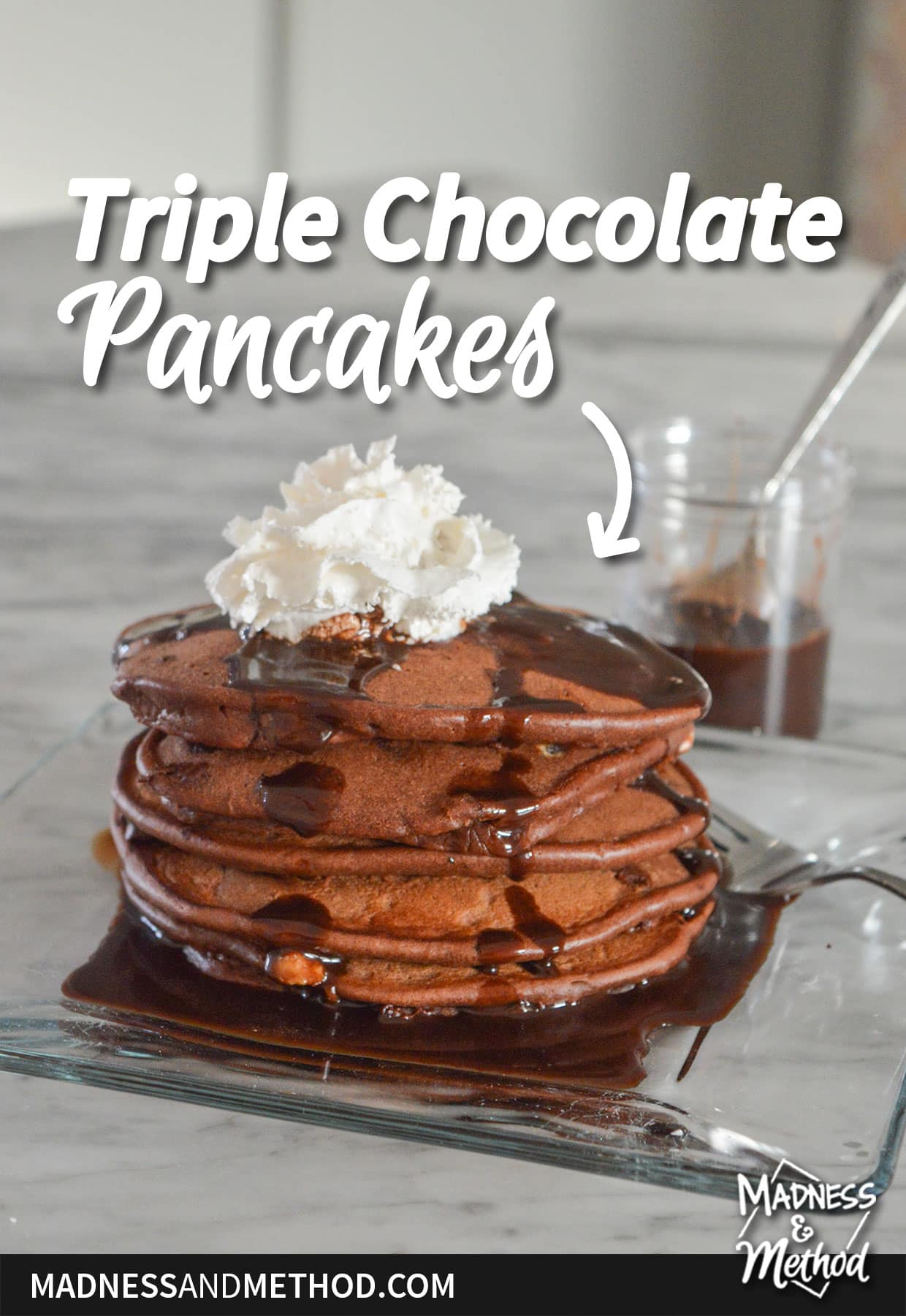 I hope you get a chance to make these triple chocolate pancakes!   Chocolate chip pancakes are my favourite ever, but sometimes you just need a triple threat, you know?  Make sure to save this recipe for your next special occasion or morning chocolate craving :)
Don't want to make triple chocolate pancakes from scratch!?  You can always add cocoa powder and chocolate chips to store-bought pancake mixes too.