As mentioned at the starting of the month, this weekend I attended the Sudbury Home Builders' Association Home Show for the first time.  (I've lived in Northern Ontario for about two and a half years, and last year I was busy the weekend of the show so I couldn't attend).  There was a wide variety of vendors/booths all pertaining to different aspects of home building, renovations, maintenance, you name it!  For those interested in home design and renovation, it was like being a kid in a candy store :)
I knew that we would be needing the assistance of a professional cabinet maker or carpenter to help us finish the crown molding in our kitchen, so I made sure to stop by those booths and talk to the people there and get their information.  We are also planning on doing some outdoor renovations this summer, so I checked out the different vendors and options they had on display.  And of course, I made sure to get some information on builders, so that when we eventually build our future house, I'd already have some contact information.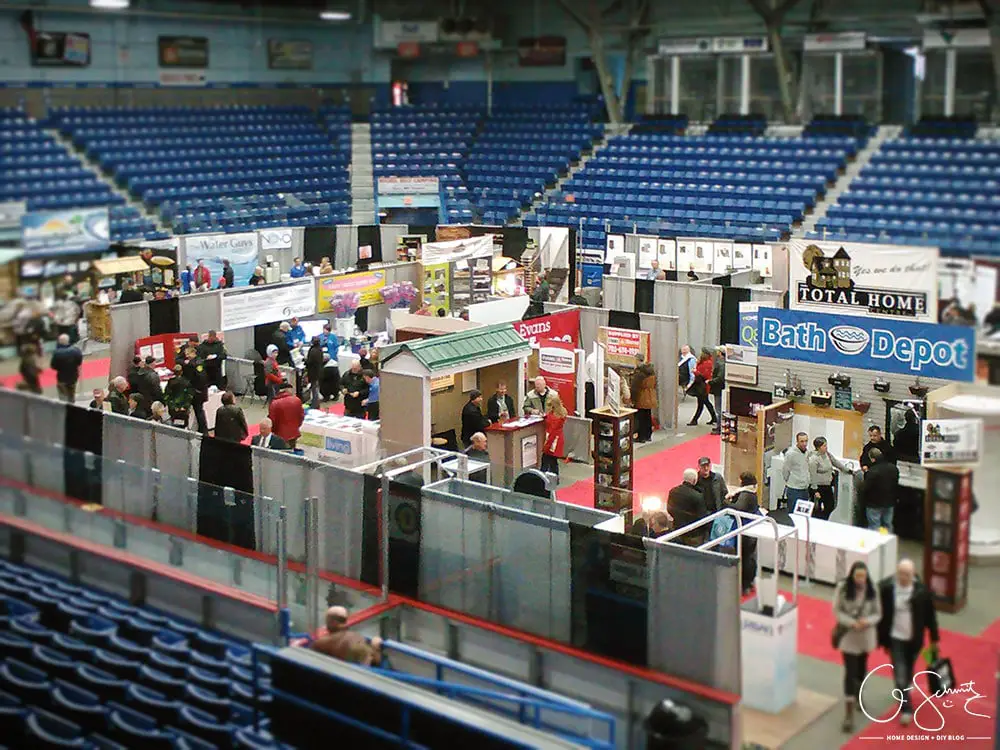 Although we got our countertops installed professionally for our current kitchen, I had forgot to ask the people there what size the maximum slabs are for granite or quartz.  In our future kitchen, I'd like a big island in the center, and I want to make sure that we can fit one full slab (without any seam lines).  It's always better to design your kitchen around constraints that you know of, rather than plan the perfect kitchen and cabinet layout, only to find out that you can't get something in the size you were envisioning.
Answer: The largest slab size is about 5′ x 10′; give or take an inch or two.  There is a bit of variation depending on granite vs. quartz vs. something else; but this is generally the rule of thumb, and as long as you don't design an island that's 8′ x 15'… you should be good with one full slab!  Although we aren't planning on building our future house for another few years; it's always nice to dream up your plans ahead of time.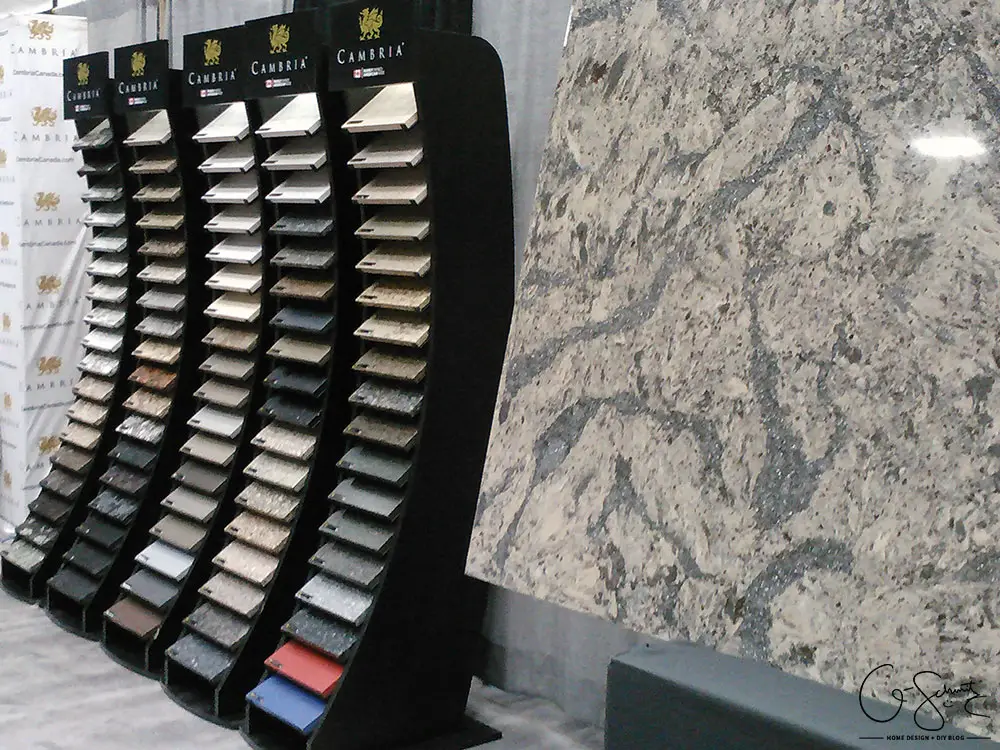 I also spent a lot of time talking to the City of Sudbury building permit representatives because I had a lot of questions about building permits and renovations of course!  (Hey, remember me, the annoying person who asked a million questions!?)  They were having a special "Ask a Pro" session later in the day, but I figured it was easier to ask all the questions I could, instead of waiting a few hours and perhaps taking away from other people's questions.  I even went home and realized I had a bunch more unanswered questions, so maybe I will have to stop in and ask them in person.  I mean, it only makes sense that you know a lot about building permits when you're doing your own renovations (and especially when you're blogging about it, right? Right!).  It's always best to ask questions and double-check, rather than start a project and realize halfway through that you needed a permit (especially considering you could be fined for not having one in the first place).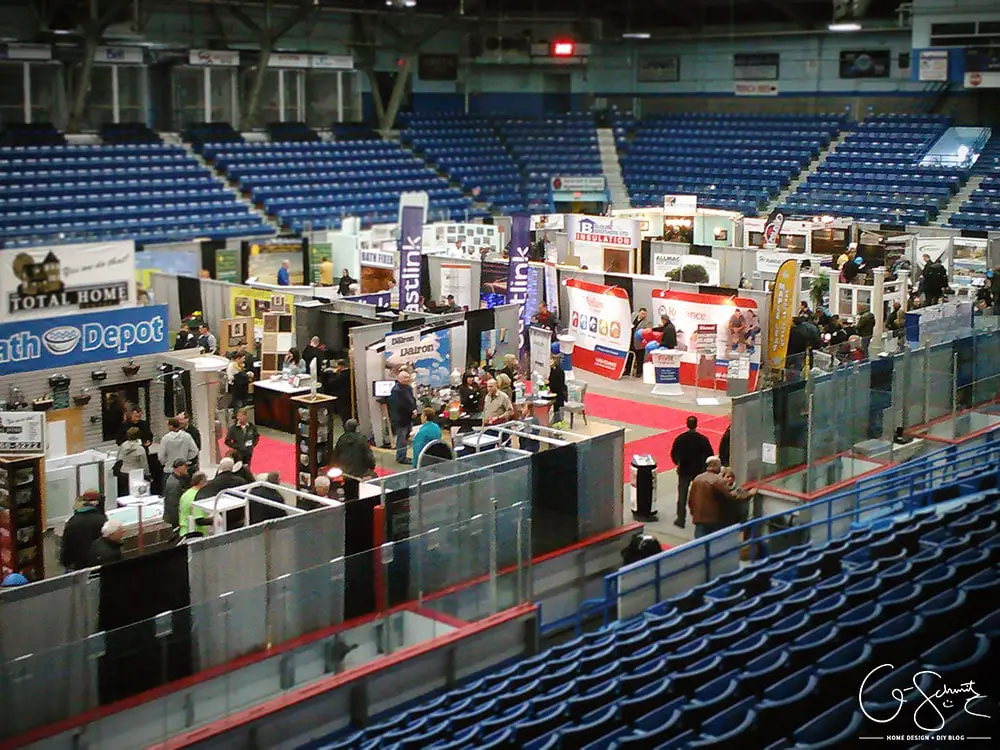 I spoke with the Habitat for Humanity representatives, and signed my name up as a contact person for future builds they will be working on.  My hope is that I can eventually donate my time (and services perhaps?) helping them develop and promote their build projects.  There were some vendors there that I would have liked to visit or find our more about, but this year I decided to just focus my time on speaking to those that I would most need in the short-term.  I also went without my Husband, so it was a bit daunting to go up to people and ask questions (I'm a bit of an introvert :( )
Future Tips to Booth People: be more open at welcoming and talking to those around your booth.  (One a side note, I've been in different booths at tradeshows for a few past jobs I've had, and it's always the easiest to talk to people around your booth, rather than have them approach you – lots of times, people want to know more about what you have, but they're too shy to ask, like me!)
All in all, visiting the Sudbury Home Show was a great way to spend my afternoon!