We've finally made it to the 6th (and final) week in the 2016 Spring One Room Challenge hosted by Linda of Calling it Home.  And you know what that means… big reveal day!  Today I am sharing the pictures of our basement half bathroom addition, and I've linked to some of the sources as well in case you wanted to recreate this bathroom in your house :)
– Note: This post contains affiliate links. See more information about affiliates here –
First things first, let me share the timeline for our bathroom progress:
Week 1: Sharing Design Plans
Week 2: Plumbing, electrical + framing
Week 3: Installing drywall, patching, priming and painting
Week 4: Tiling (floors and walls)
Week 5: Custom Ikea vanity
Week 6: Bringing in accessories for the final reveal! (that's this post!)
And here we go with some pictures!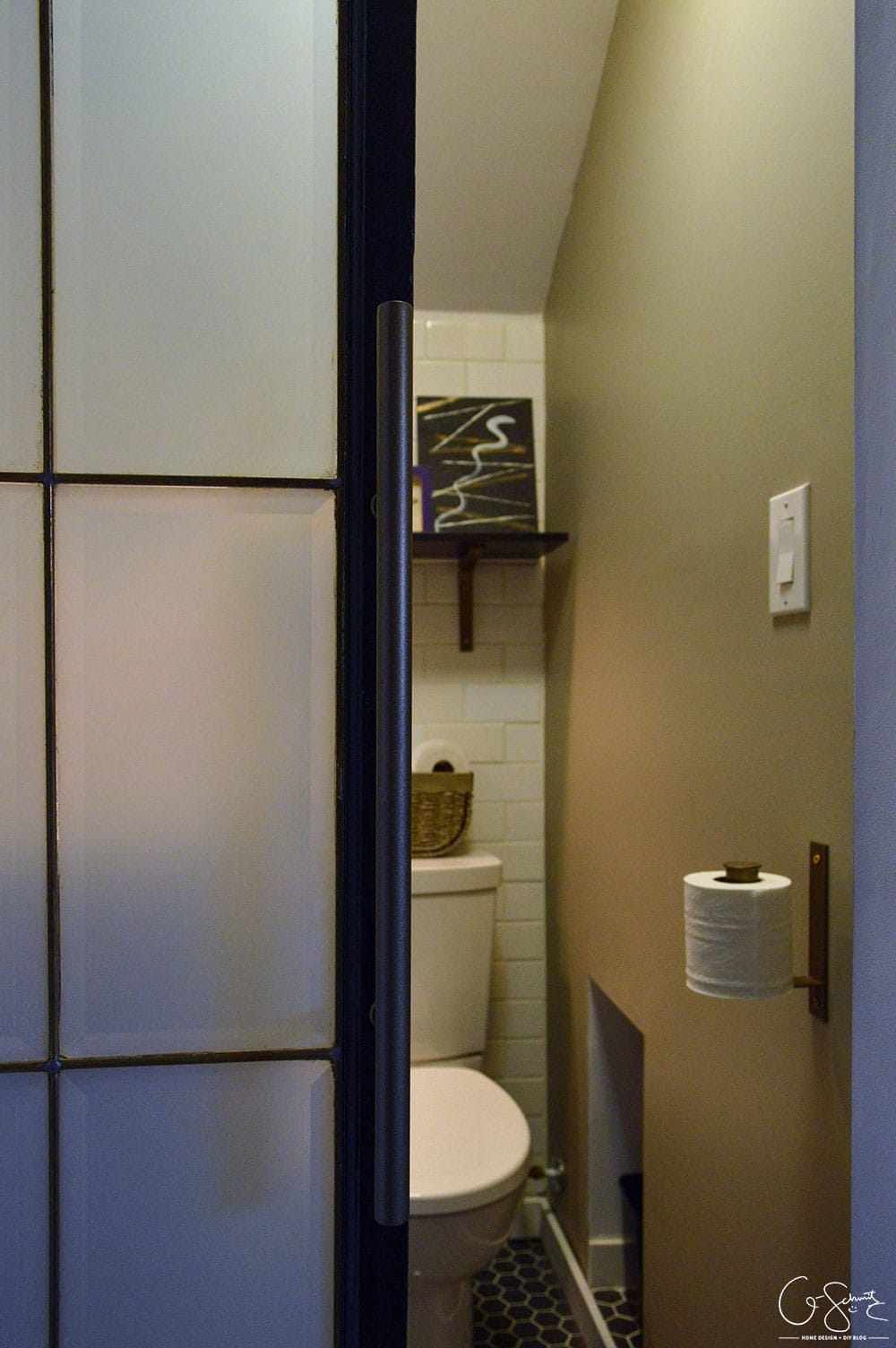 You open the DIY black frosted sliding door (with antique brass) which was the main design basis for the room.  I added a painted antique brass pull to the door, and it matches all the accessories in the room too (tune in next week for details on those!).
And here's what the bathroom looks like!  Keep in mind, I don't actually have the mirror hung up yet (there are two options that I shared on Instagram and Facebook yesterday).  Right now it's just taped to the wall :)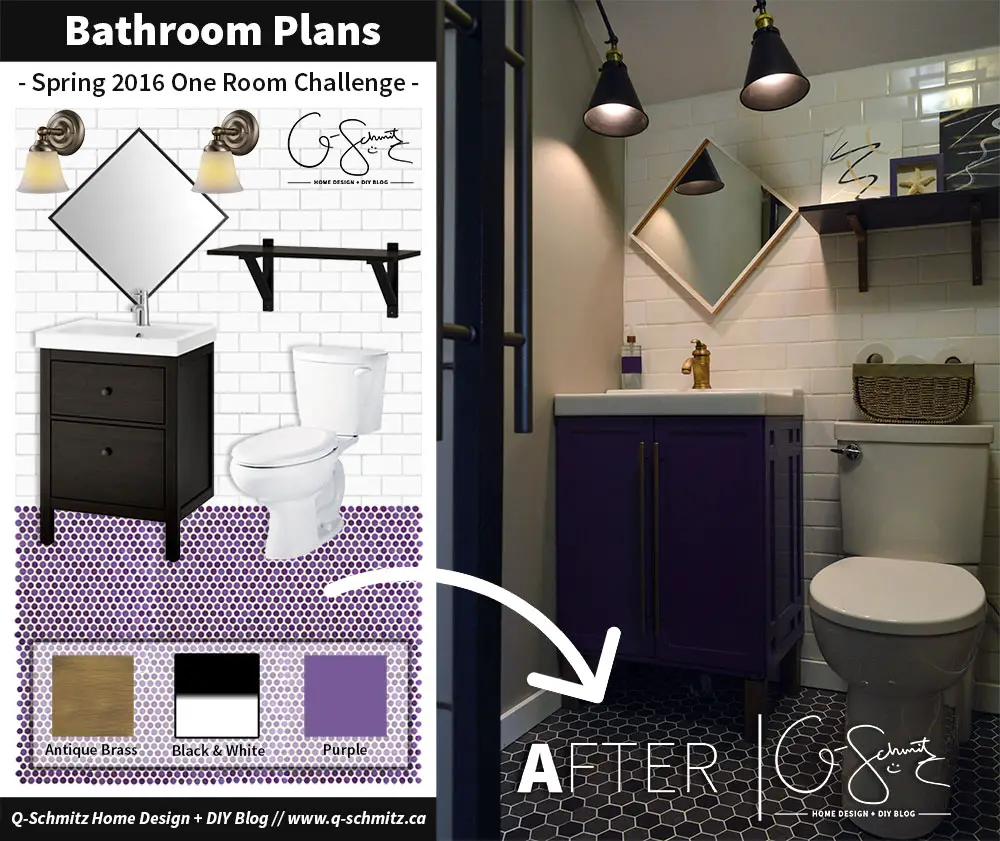 If we compare the bathroom with the original design mockup from Week 1, we're pretty close!  I mentioned then that the Husband didn't want purple penny tiles, so we swapped the black vanity for a custom purple one and made the floors black instead.
I didn't need a lot of storage in this bathroom, since we have a large/main one upstairs so I only have one shelf setup with some decor.  This space will be used just for its intended purposes (you know, peeing) and I wanted to keep it as clutter-free (visually and actually) as possible.
In case you didn't follow along with our progress throughout the last six weeks, I made this little animation to show how far the space has come.  What used to be my paint storage area under the staircase in our unfinished laundry room, has now become a lovely modern bathroom!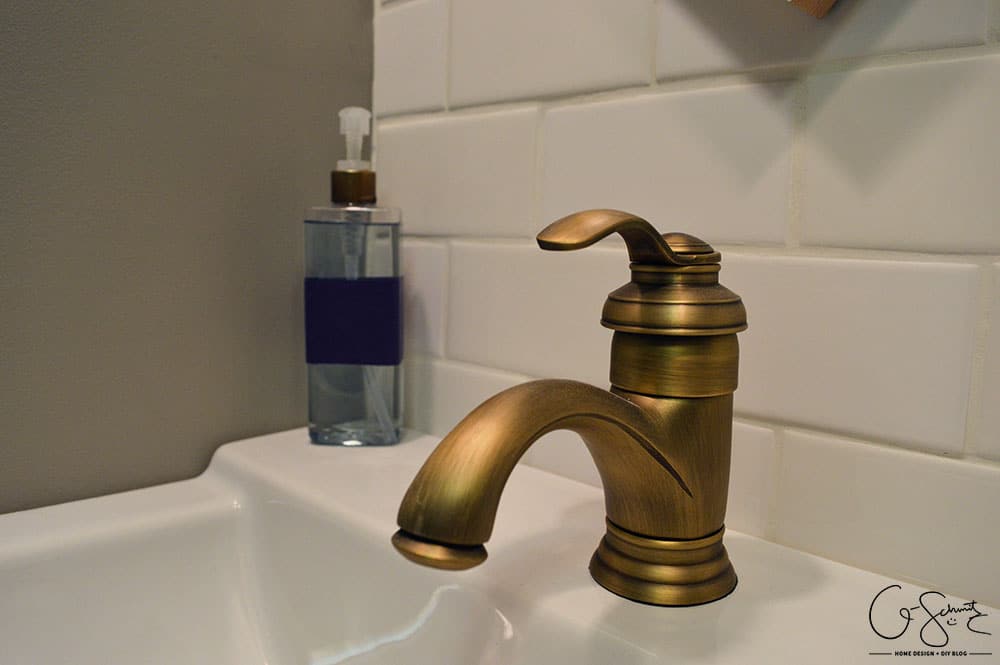 I managed to incorporate lots of purple and antique brass accents throughout the little room.
And, as I mentioned before, next week I'll be going into bigger detail about all the accessories I brought in, and how I was able to customize them all to match the design of the bathroom.  Those are actually two abstract paintings I did in high-school and found in my bedroom back home.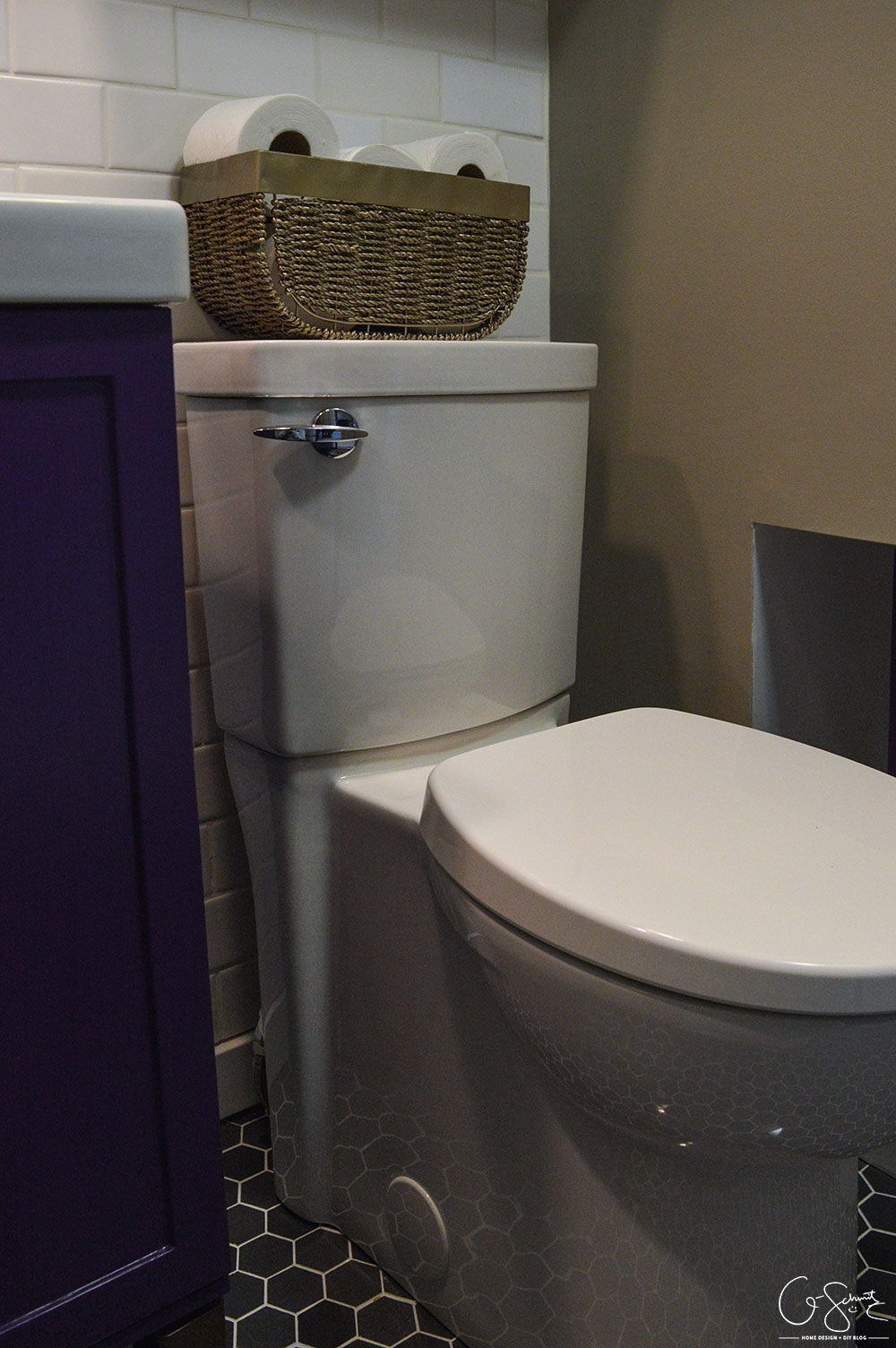 I really wanted a concealed trapway toilet, because it seems like it would be much easier to clean (less nooks and crannies for dust) and it also doesn't have any hiding spots for wayward spiders that could come around!  I also like to have rolls of toilet paper that are visible in my bathrooms, that way guests aren't stuck looking in the cabinets if the main roll runs out.
Speaking of guests… you know what else I'll always include in an easy-to-find spot in the bathroom?  A plunger!  We have ours (and a toilet brush) in a little cubby that we framed out in week 2.  I also tiled the bottom of the cubby to match the floors, and obviously the plunger and toilet brush got some added paint to match the decor.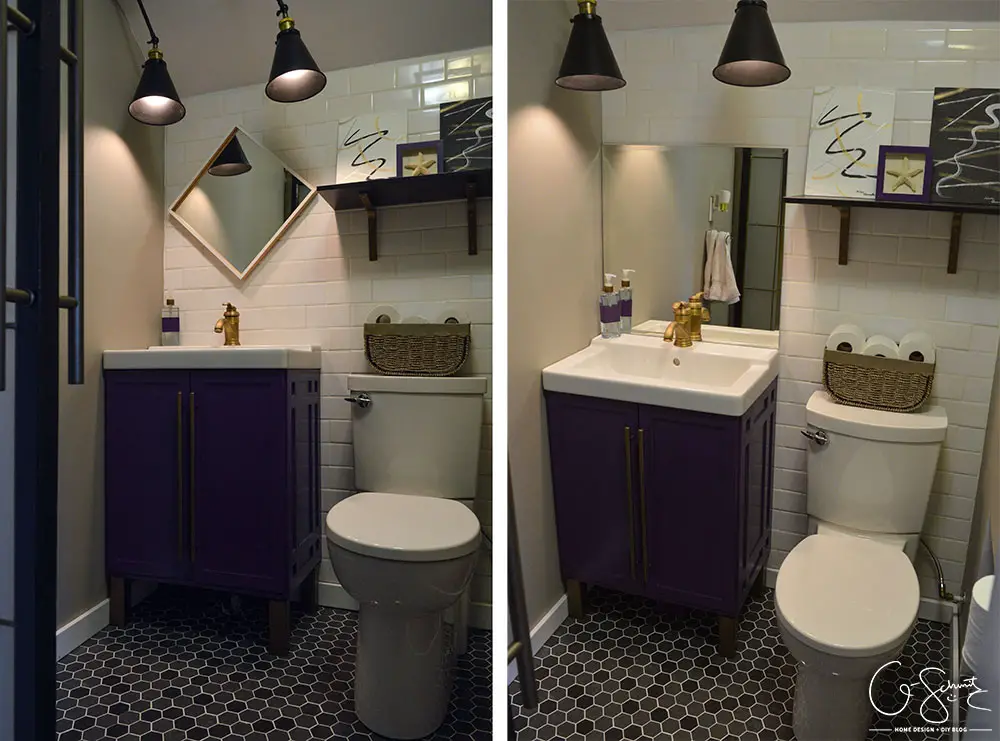 Here's what the space looks like with both mirror options.  The one on the left is smaller, and would be hung at a diagonal like shown; and the one on the right would be hung a bit higher (but I ran out of duct tape).  I didn't want to actually drill holes into the wall until I figured out which one we were going with.  So far, looks like the diagonal one is winning!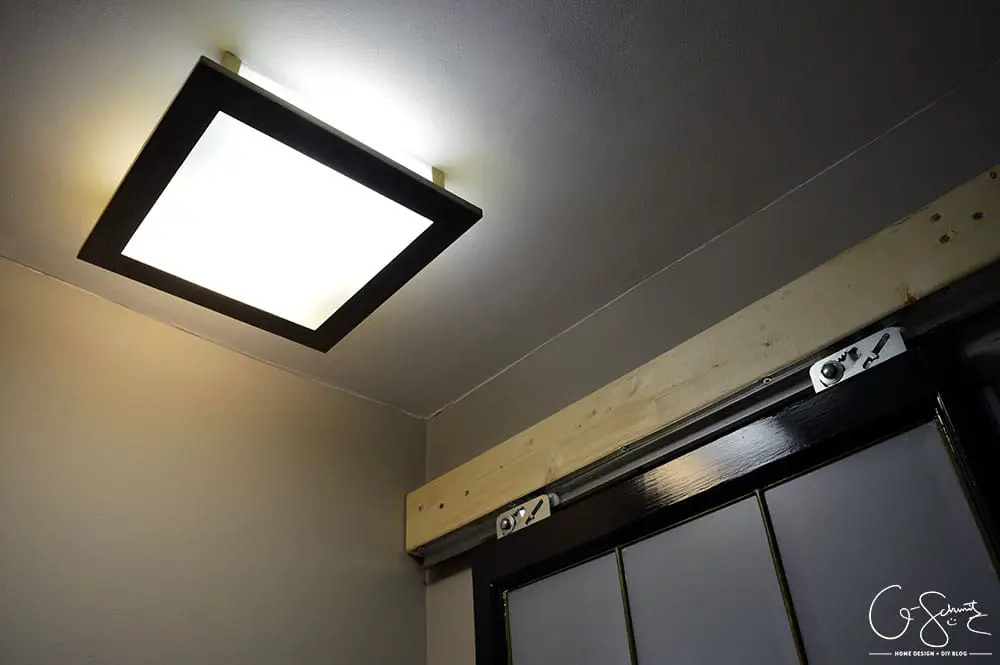 We aren't done the room 100%, because once we installed the door, I realized that I would probably like to hide the hardware/trim piece.  I was originally planning on doing a pocket door in the wall… but you-know-who vetoed that idea and wanted to go with a sliding one.  Anddddd that meant that the gorgeous antique brass lock I bought would be useless… so now I don't think the door will have a lock (how do you even lock a sliding door!?).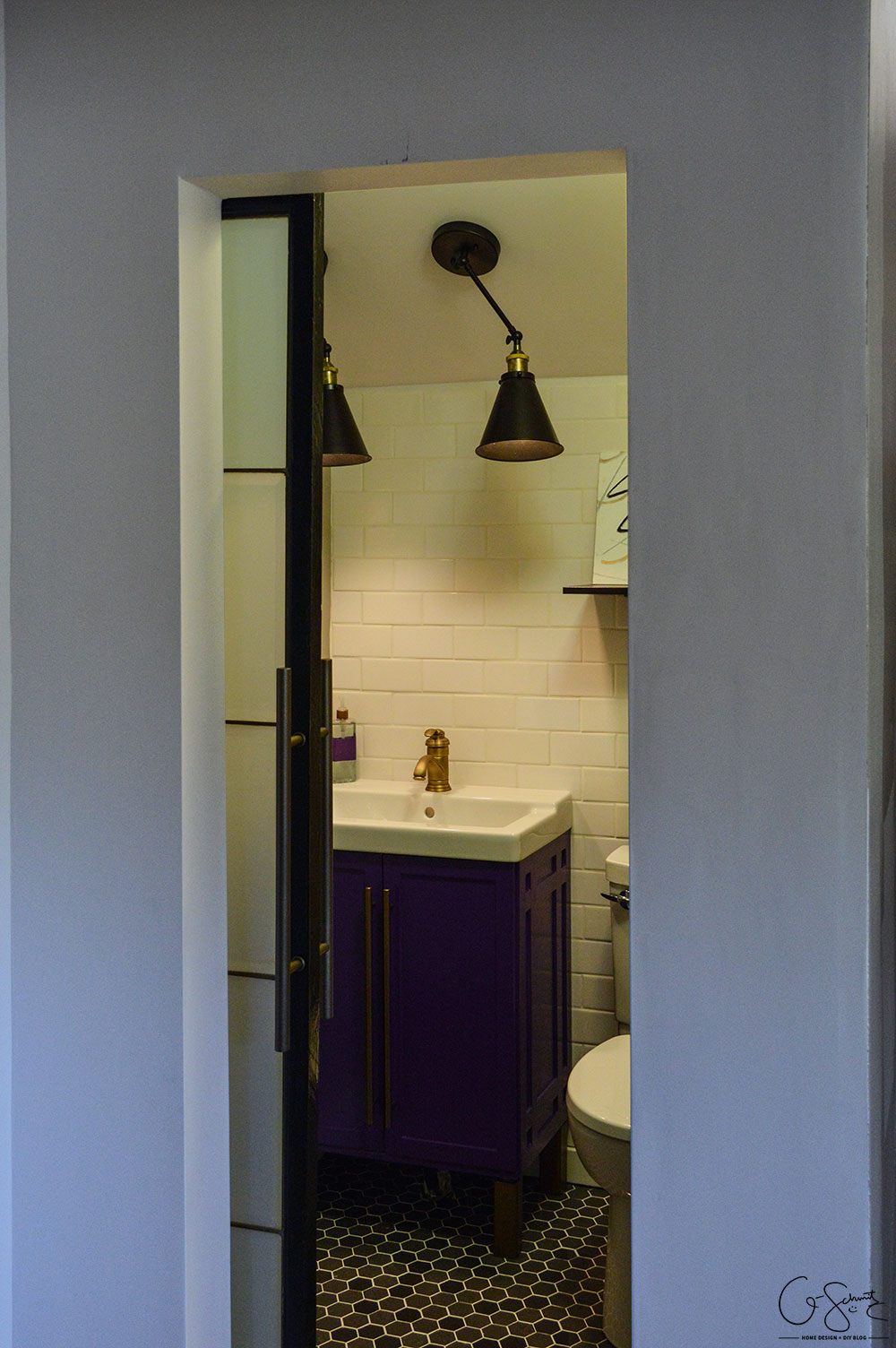 And of course, the whole mirror debacle needs to be settled, but for now it's just a blank wall.  The outside of the bathroom needs to also be addressed, but that's something we'll do way in the future when we tackle the rest of our basement plans.
Considering we built this room from scratch in less than two months is crazy!  Here is another little animation showing that outside wall, and if you come back and visit me, we might get around to finishing this wall within the next year haha!
Bathroom Product Sources
Toilet: Lowes American Standard Everclean Round
Vanity + Sink: Ikea Fullen (customization shown in Week 5)
Faucet: Amazon Aquafaucet (options discussed in Week 5)
Wall Tiles: Home Depot White Daltile Subway Tiles (installed in Week 4)
Floor Tiles: Lowes Bestway Ancient Sky Hexagon (options discussed in Week 3)
Ceiling Light: Home Depot Brass Flushmount (options discussed in Week 2)
Sconces: Amazon Ecopower Vintage (options discussed in Week 4)
Paint Colour: Rona Paint Collection "Moon Gray"
Door: Bought used and customized
Accessories – you'll have to stop in next week for the detailed list (and see how I was able to customize them all to match this bathroom)!
I hope you've enjoyed looking at the photos of our basement half bathroom reveal, and have checked out our progress throughout the last 6 weeks as well.  It's now May 10th, and baby is due June 10th… so guess I better finally start on that nursery!  I would love if you could follow along with the Madness and Method Blog, I'm kind of awesome (I think) :)
And if you'll excuse me for the next few days, I'm off to check out the reveals of all the One Room Challenge featured designers, and then all the linking participants!