Ready to see the sweetest (and brightest) nursery around!?  Introducing Félix's updated bedroom, a phase one makeover if you will.  Plus, I'll chat about our future plans for the space.  Let's check out all the photos and details on the striped nursery refresh!
Our Félix is the youngest, and although he's still in a crib, I wanted to give his room a little makeover.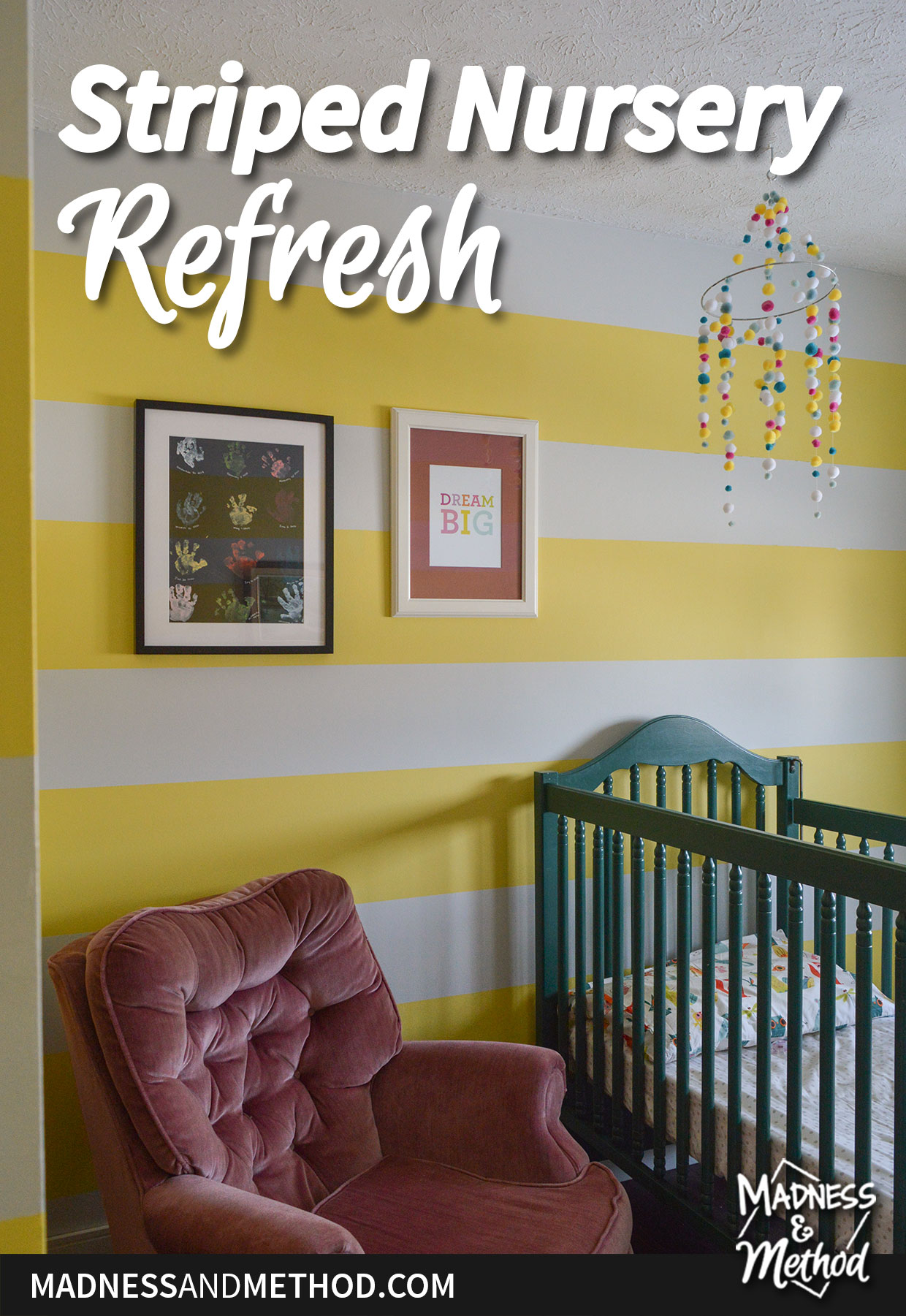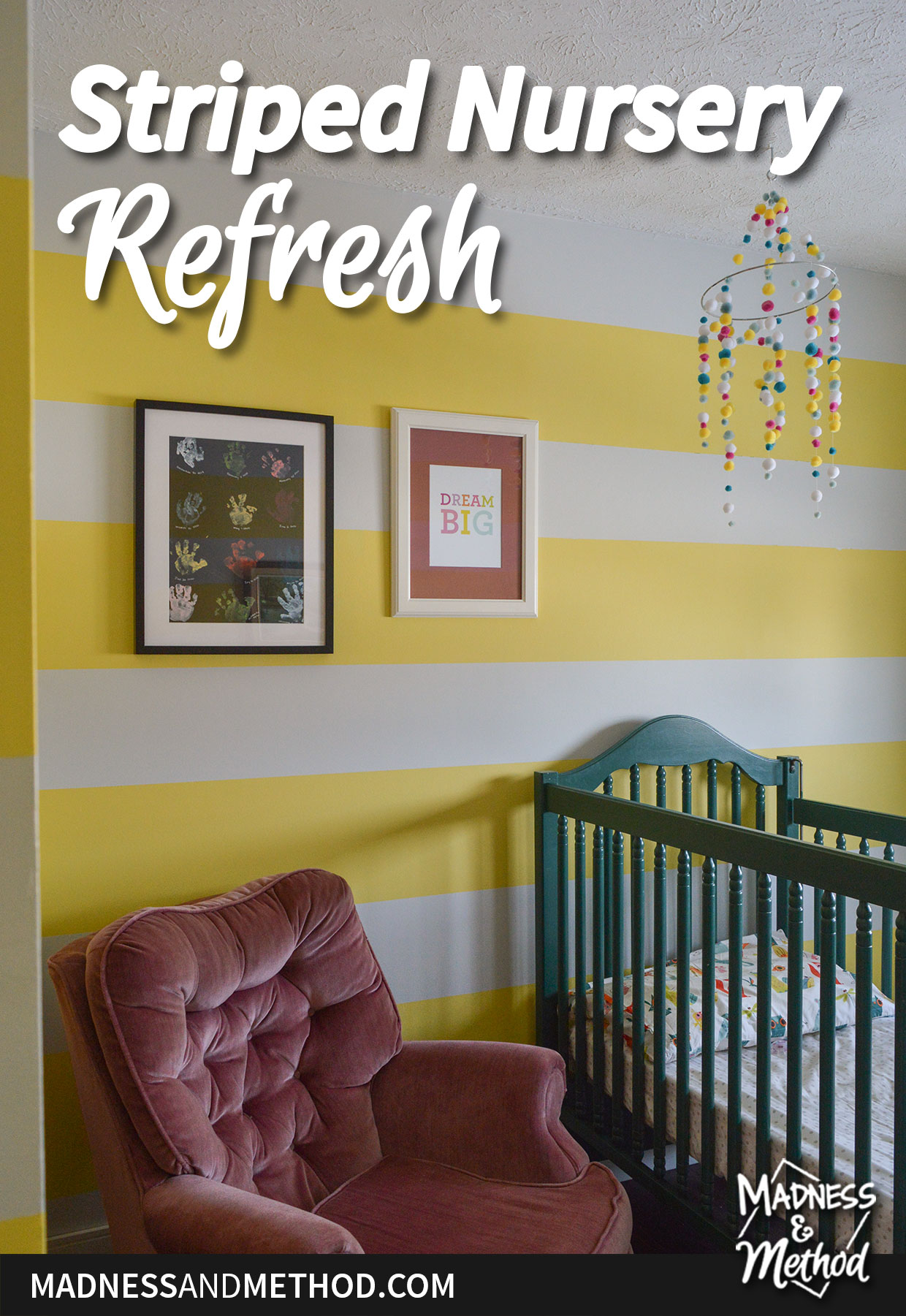 In case you missed it, last week I shared how to paint stripes across a room.  Essentially, I'm revealing how it turned out… but first – let's go back to how the room was before: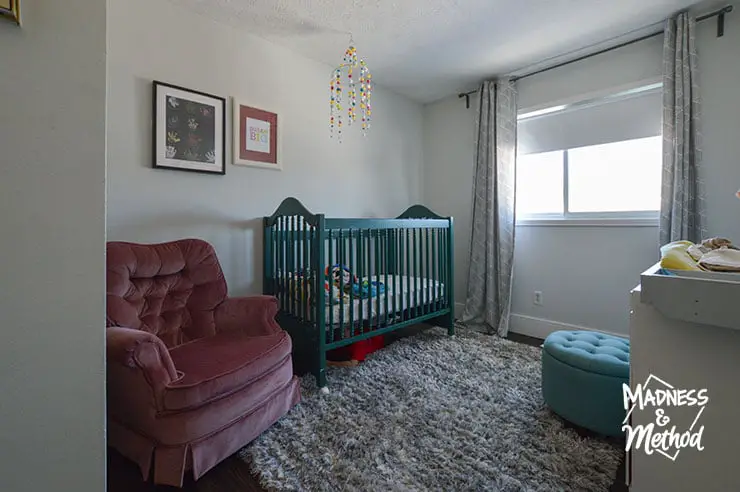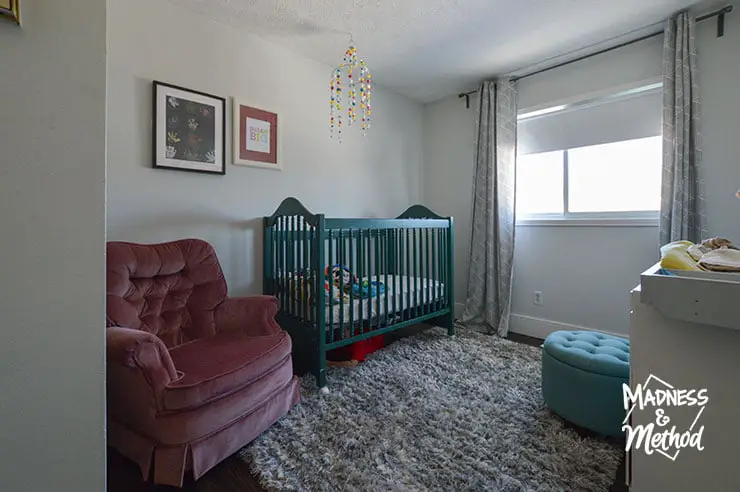 All the walls had been painted off-white before we purchased the home (just under two years ago).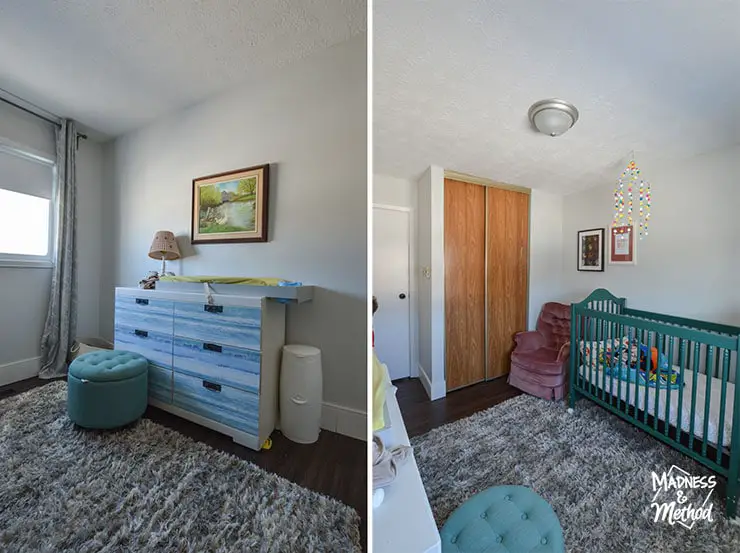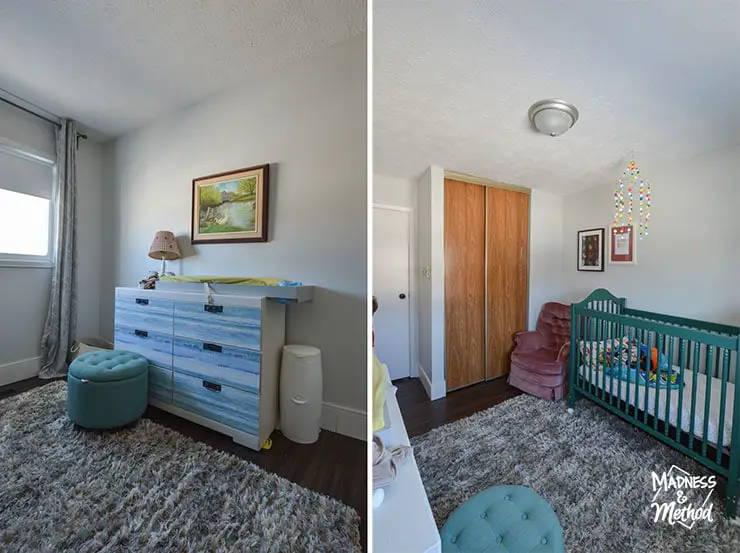 This bedroom is definitely the smallest at 9×10, but it's the perfect size for a crib, change table/dresser and rocking chair.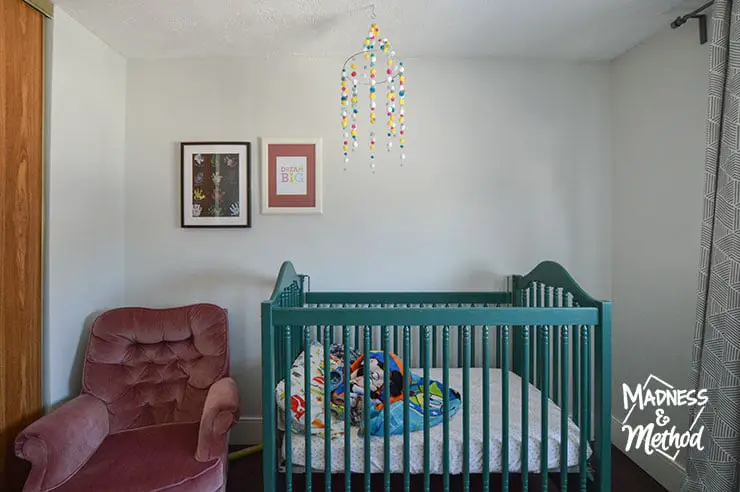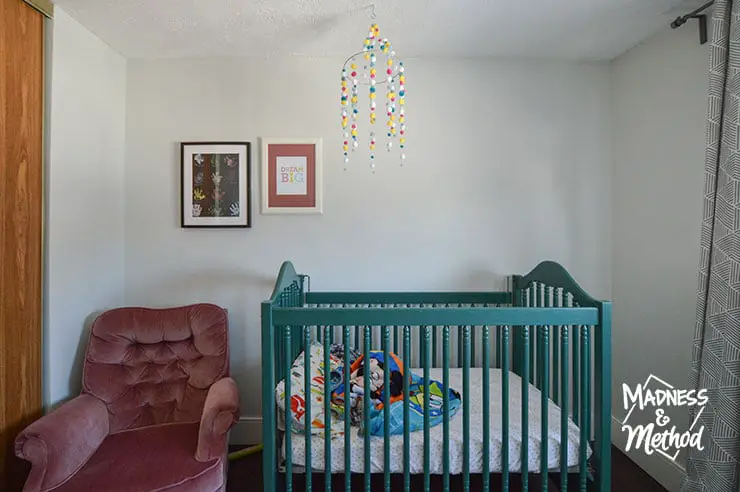 We quickly moved all the stuff over from his last nursery – including the pink rocker, green painted crib, pompom mobile, and some artwork.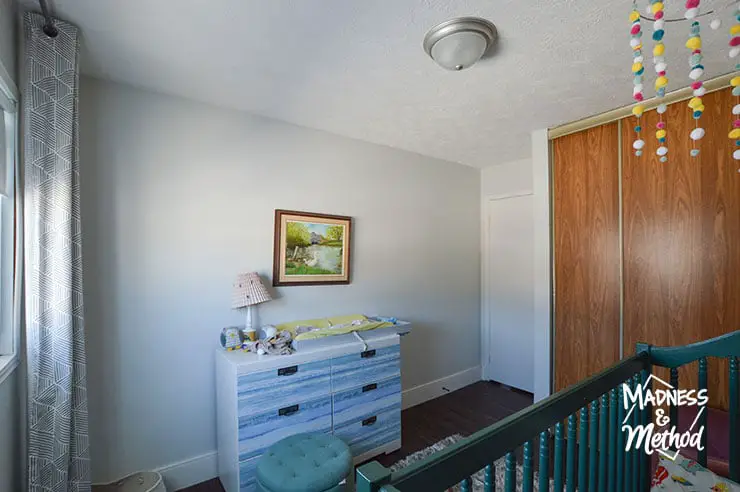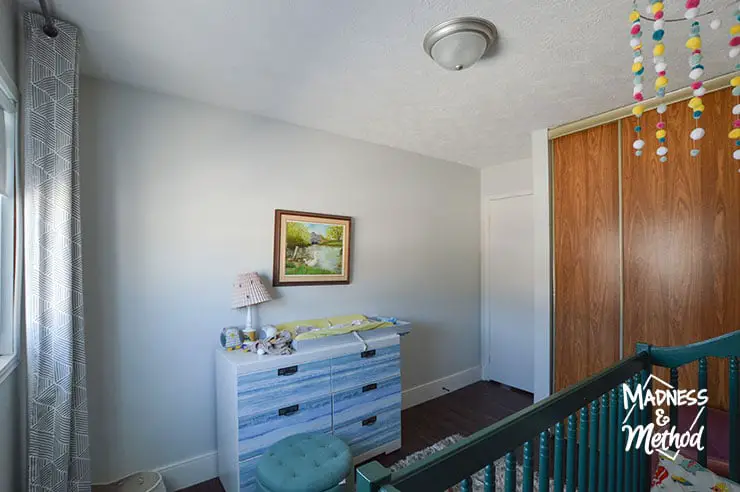 We also brought in the bigger dresser, change table pad – and just a few weeks ago, I swapped out the prints for a duck painting.
Okay… ready to see this room with some bold yellow stripes!?
Striped Nursery Refresh Reveal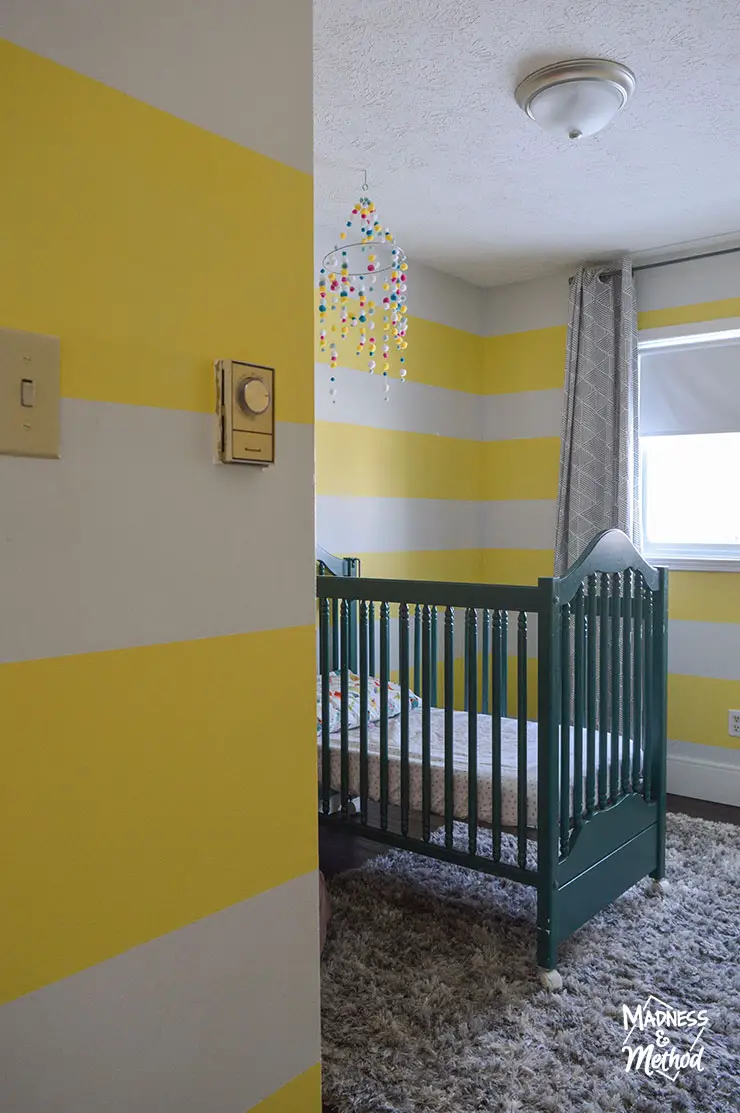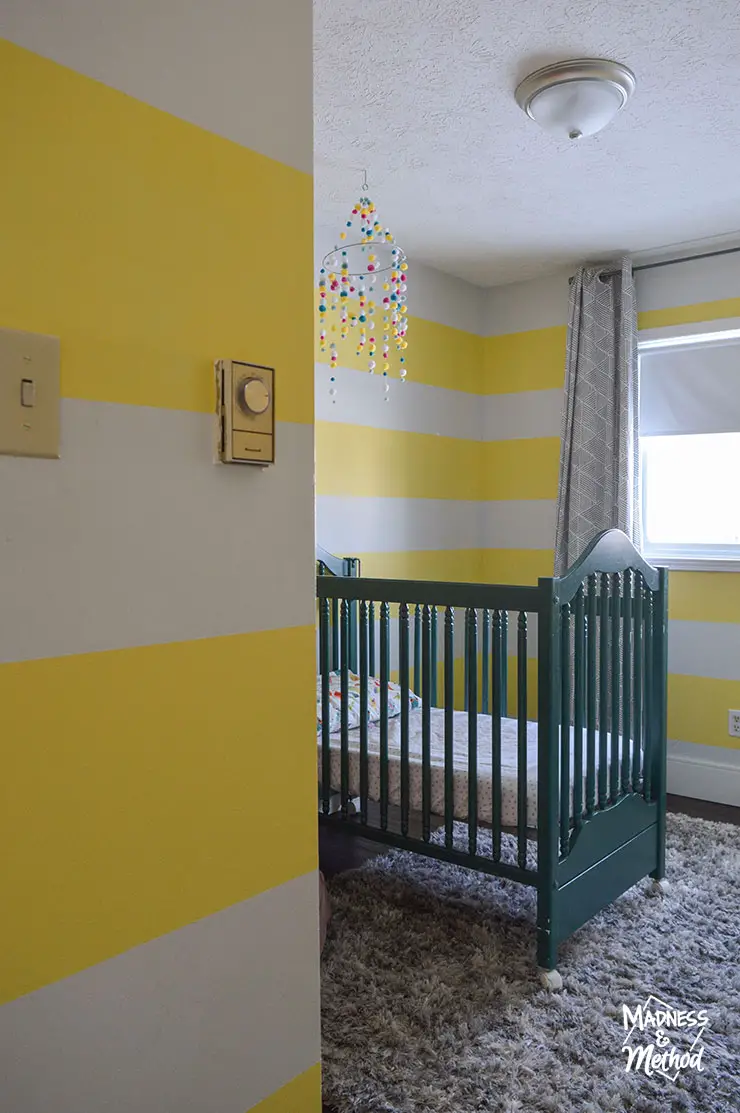 Bam!  Do you like this brighter colour compared to the original one I was going to do?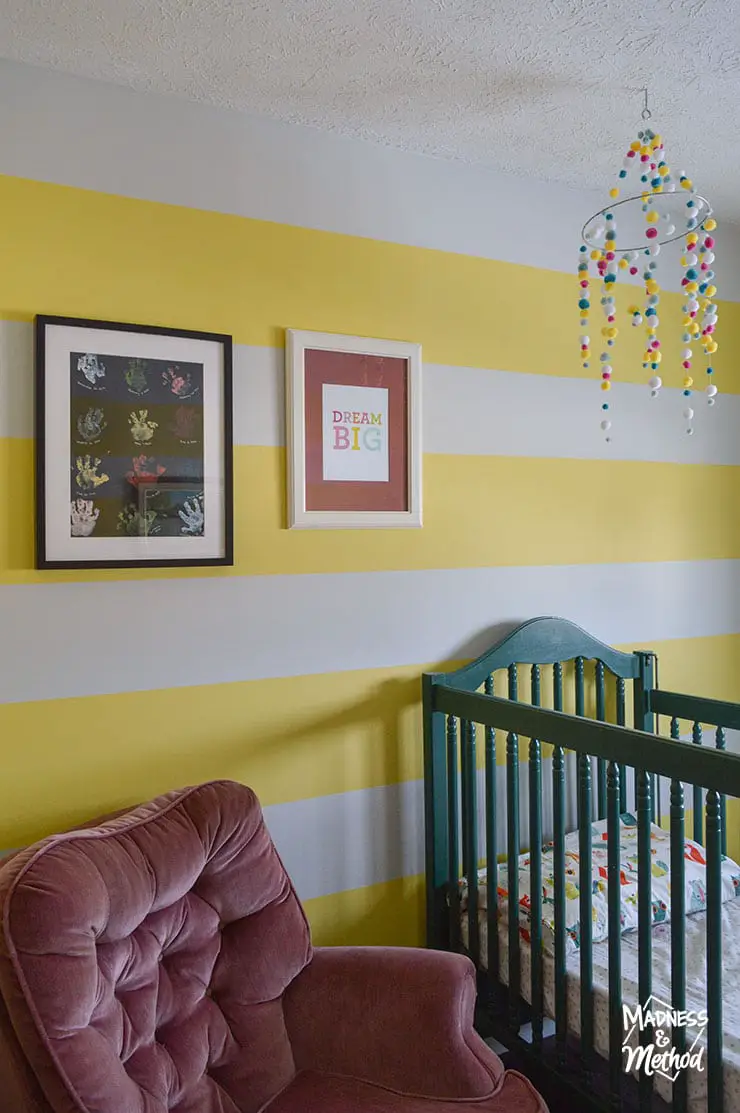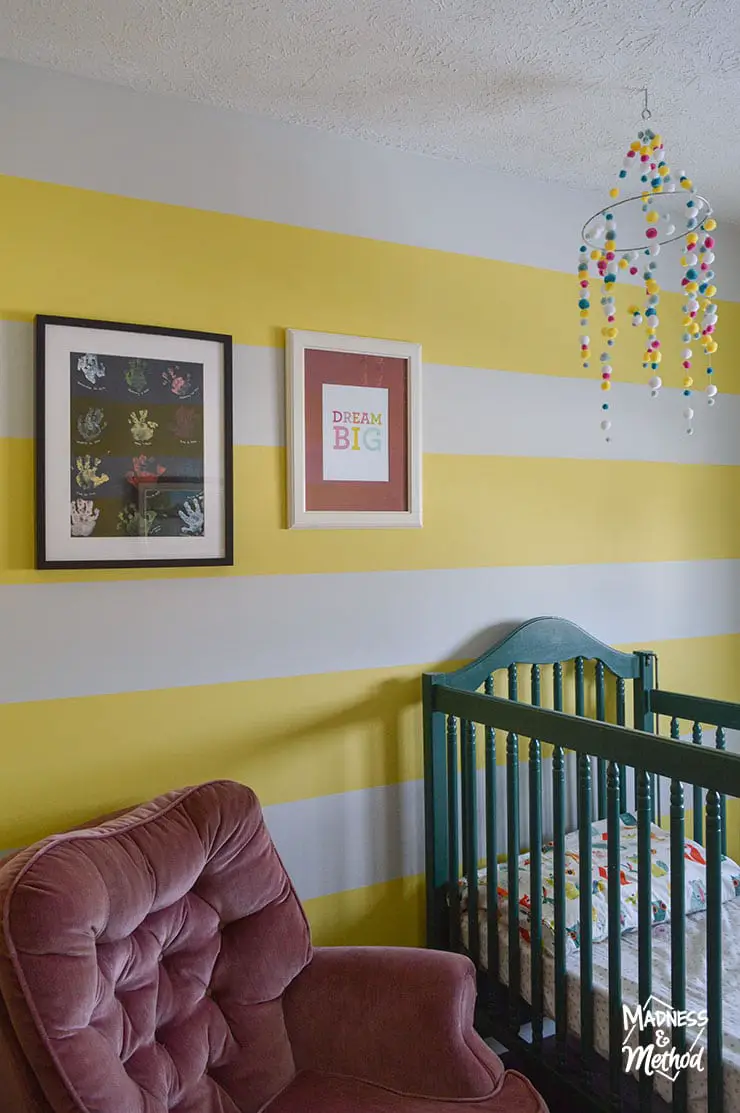 They go well with his pom pom mobile (and the change table pad).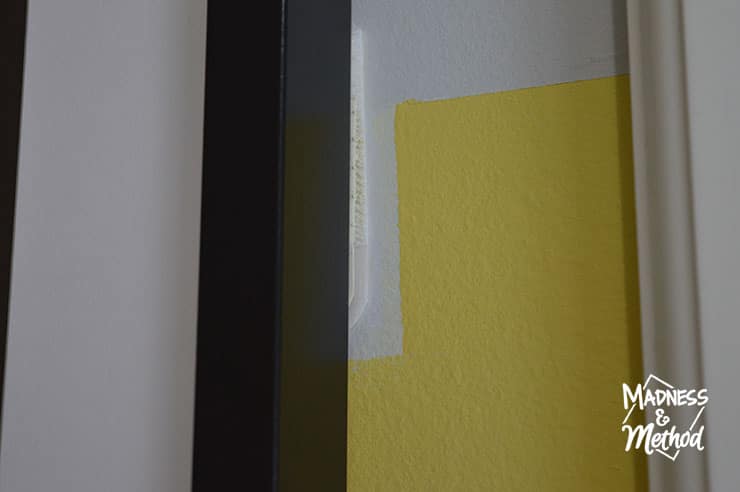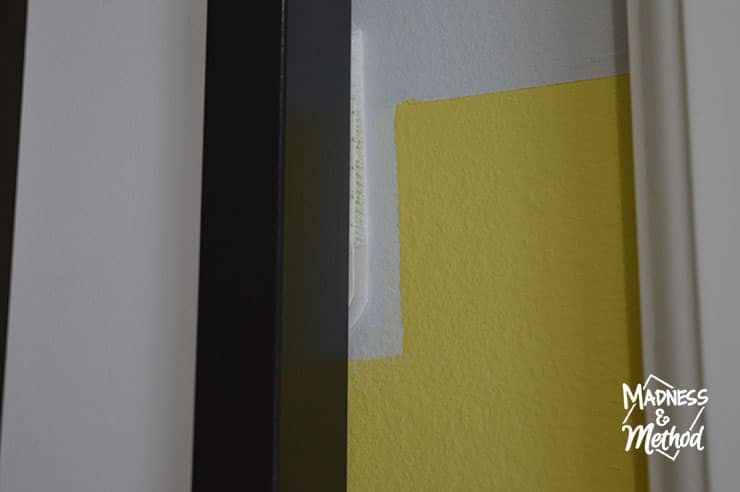 When I painted the room, I just taped around my Command Strips.  I figured I'd hang the painting in the same spot and that you wouldn't be able to tell.  You totally could!  I ended up taking them off and closing up the stripe.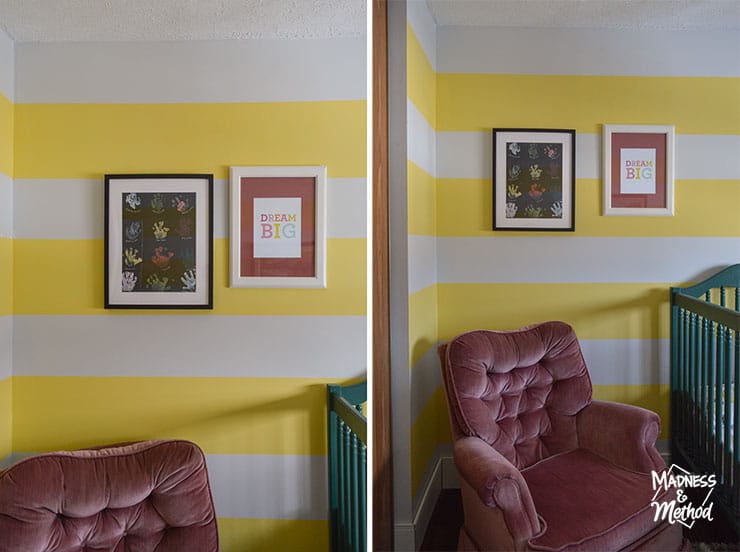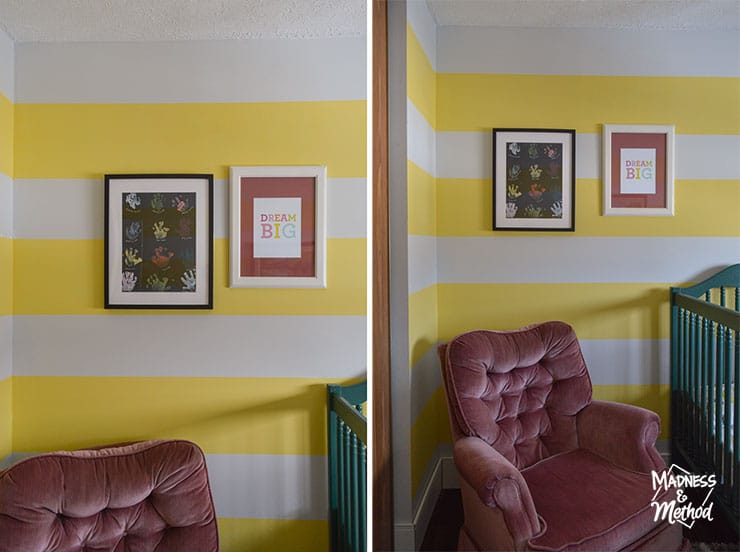 I also moved the handprint art over, because it seemed a little crowded next to the new print.  (We used to have his ultrasound photo there, but I moved it to the basement guest bedroom).  Do you prefer them closer, or farther apart?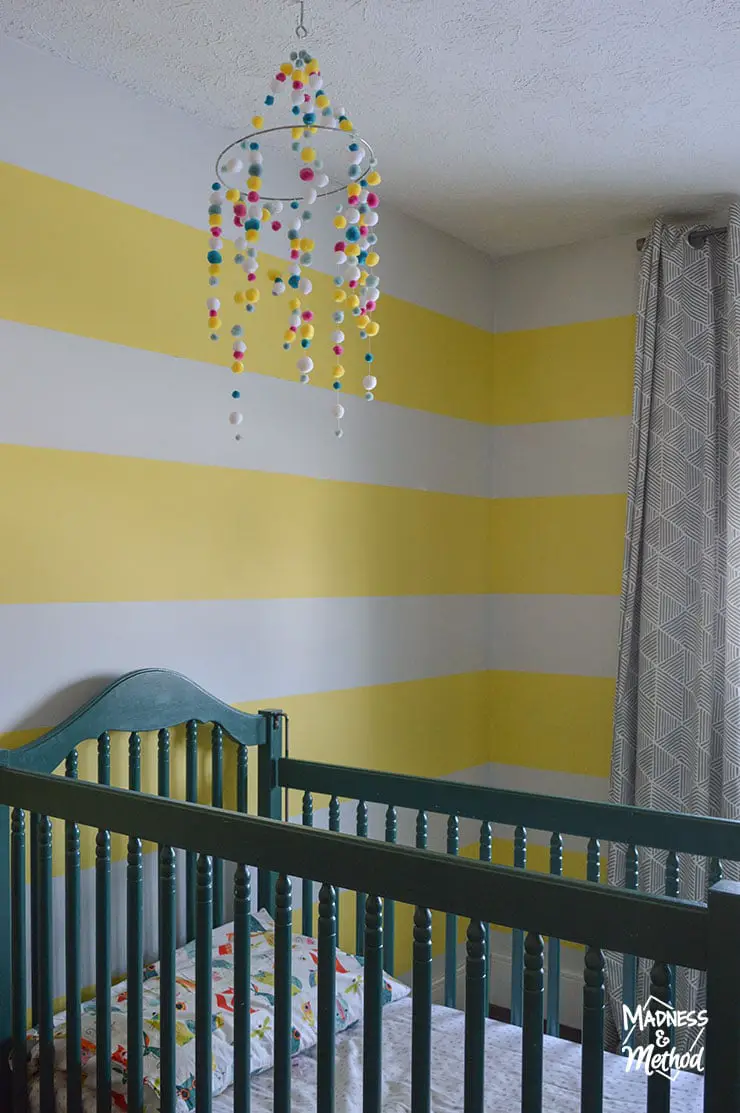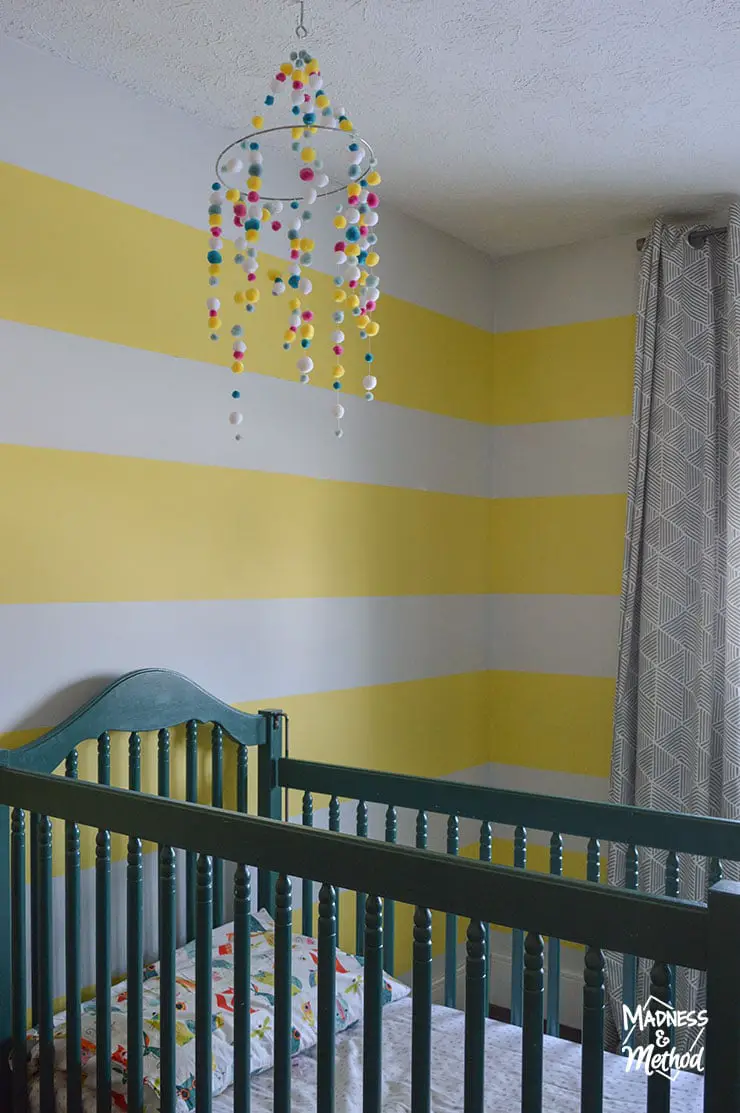 Félix also requested that his crib be turned the opposite way.  I was moving it around after pulling the tape off, and he said "non maman, ici" – so it's been like that since.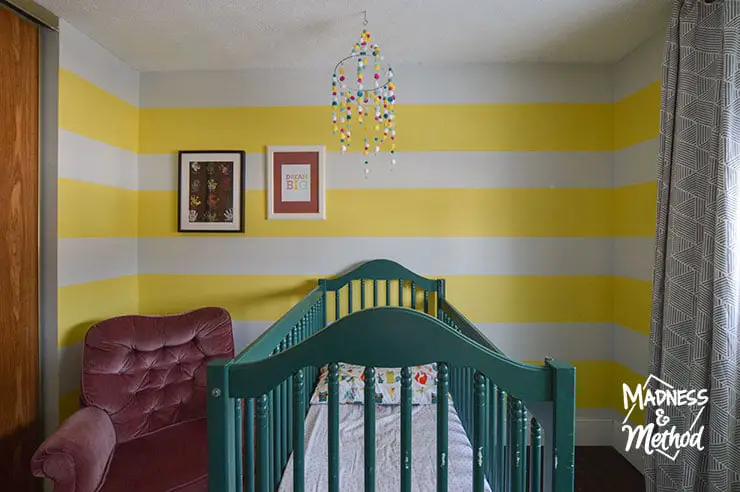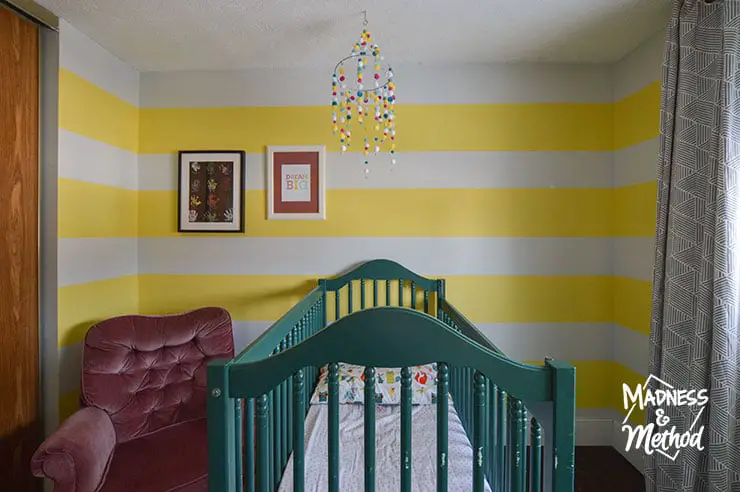 I realized after editing these photos that the high side was the one I always put him on.  It was getting so hard to grab him out of bed (and get him in!).  I flipped it around right after, ha.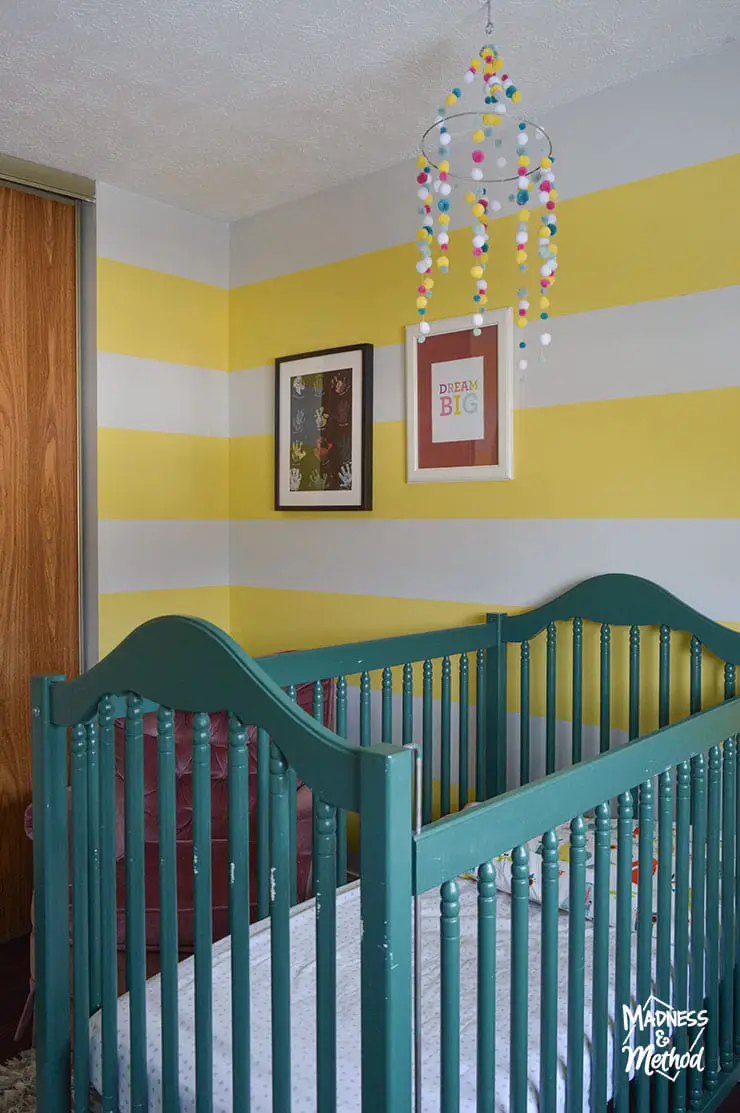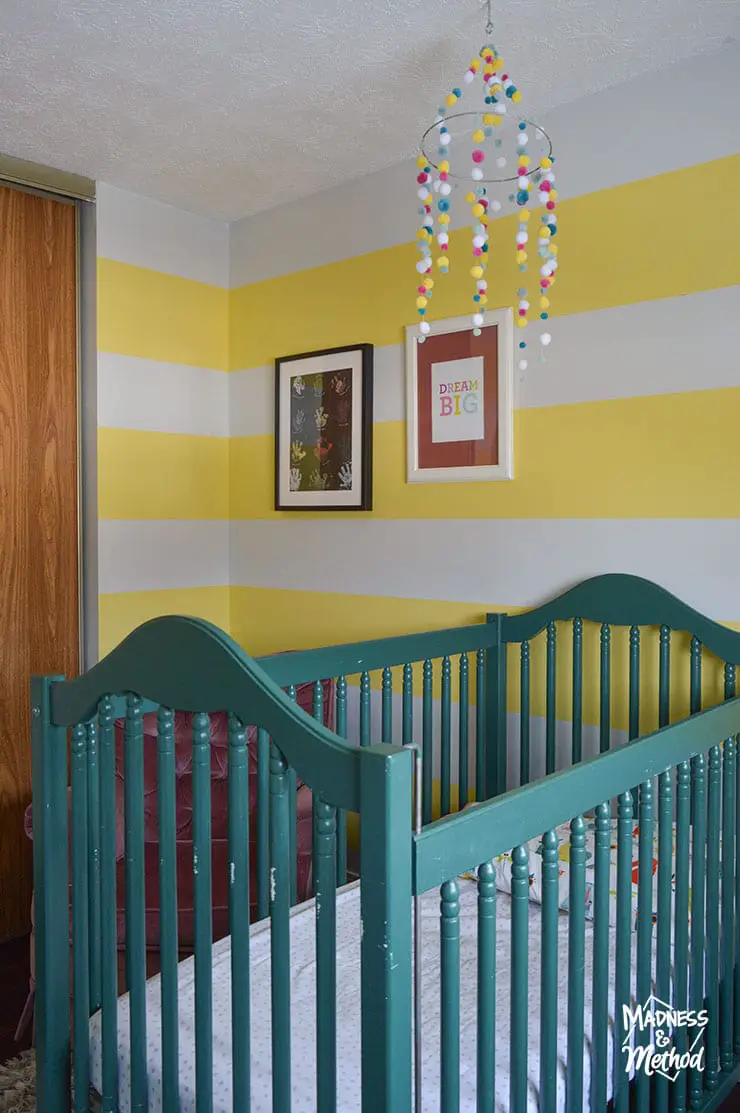 While we don't use the rocking chair every night, now and then he asks to be rocked (or wants to rock his toys).  The kids do use it during the day to jump on…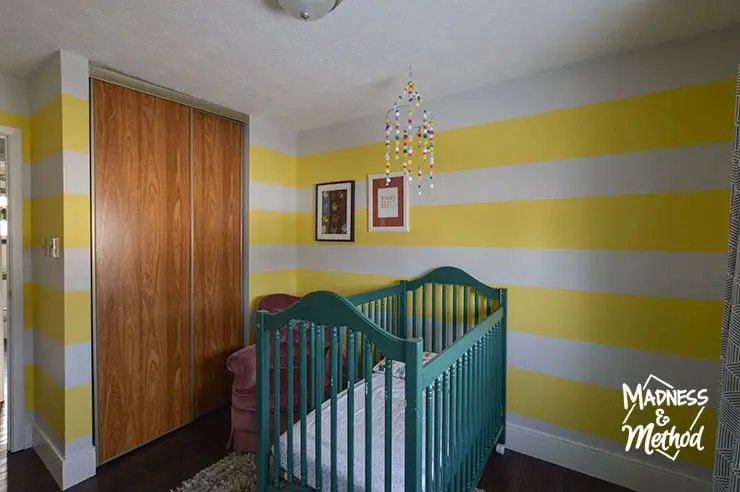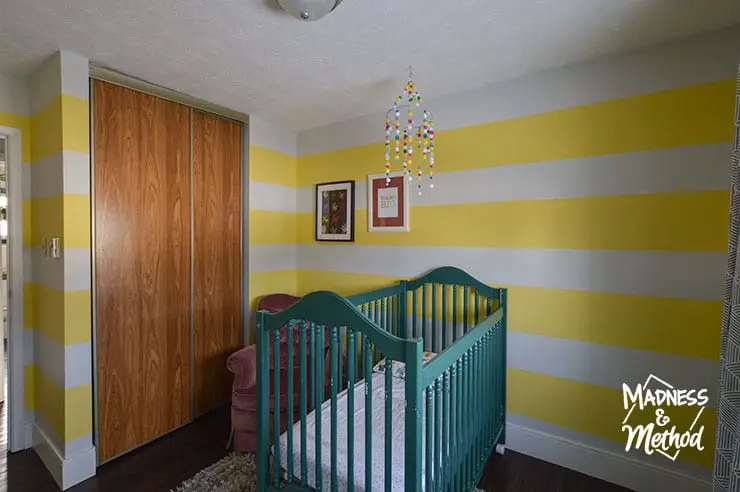 The other corner (near the window) is empty for now, but his room won't be in this exact configuration for a long time.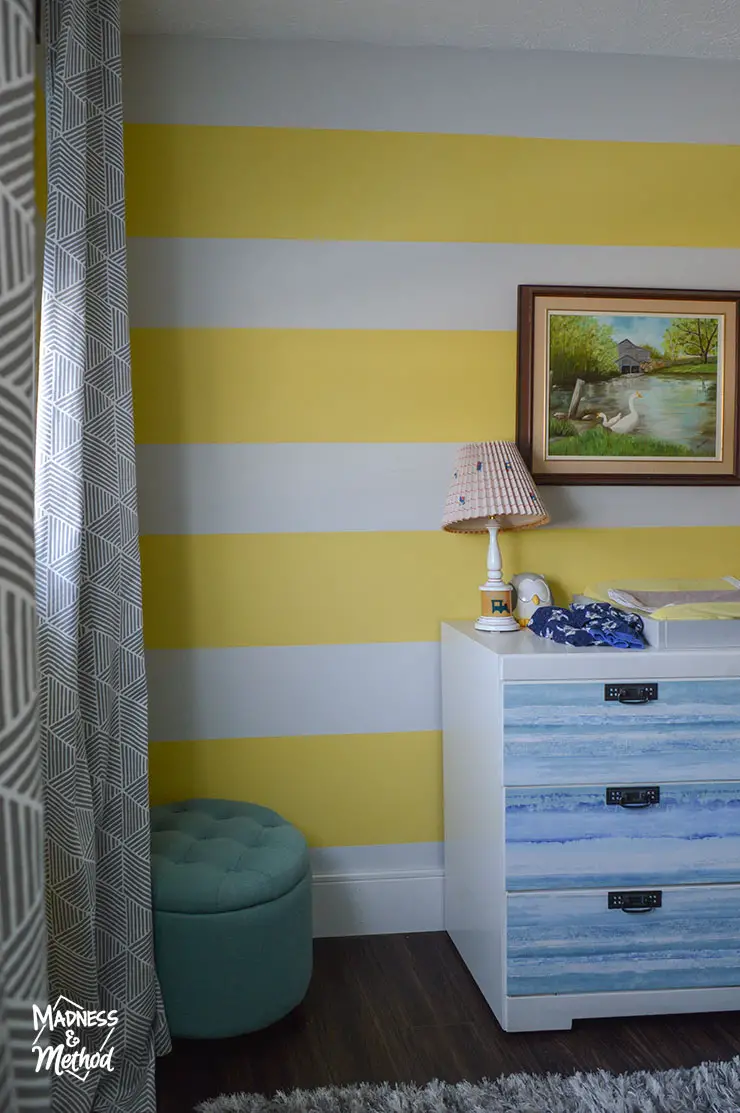 Normally, his dirty clothes hamper is on the floor in this corner.  But I brought it downstairs to do laundry – so picture the ottoman as a hamper, ha.  Really, the ottoman moves around the room depending what the kids want to climb on.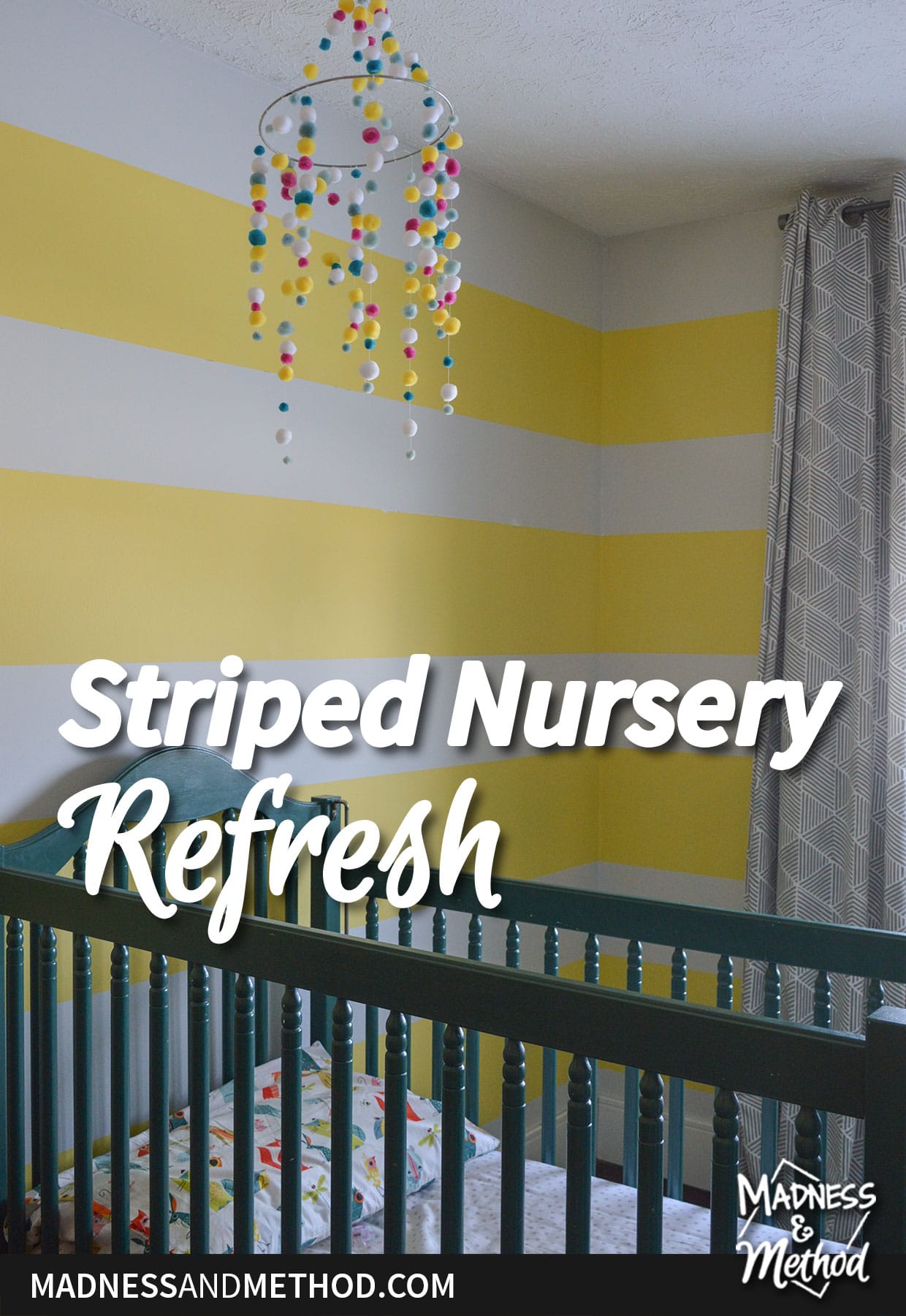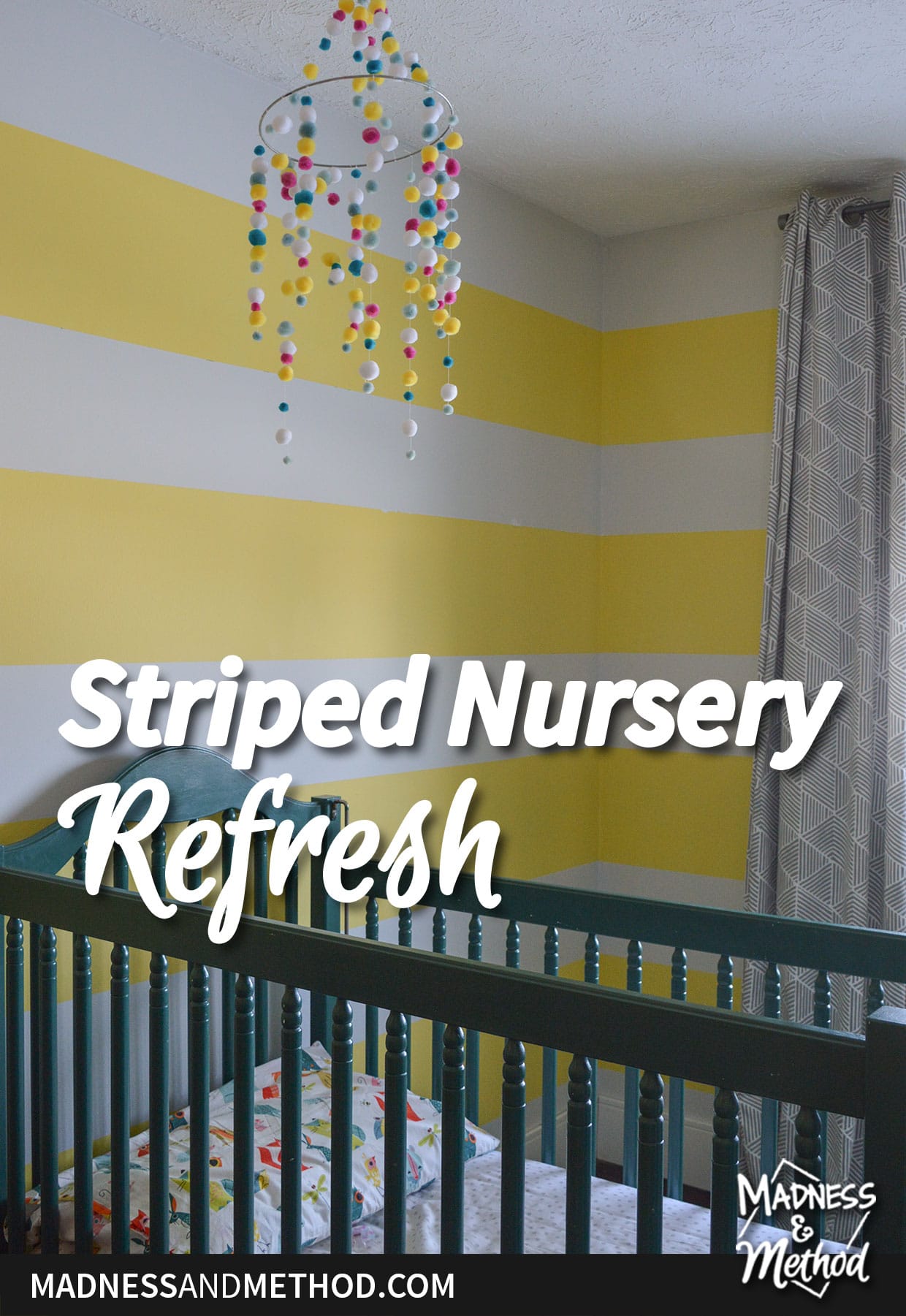 Future Nursery/Bedroom Plans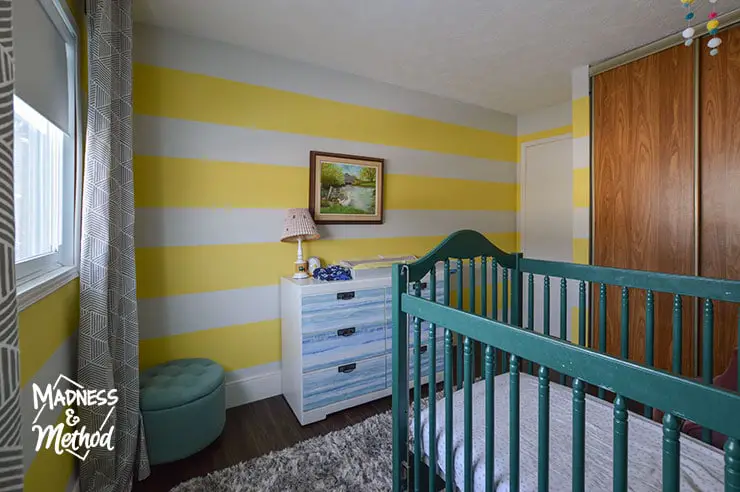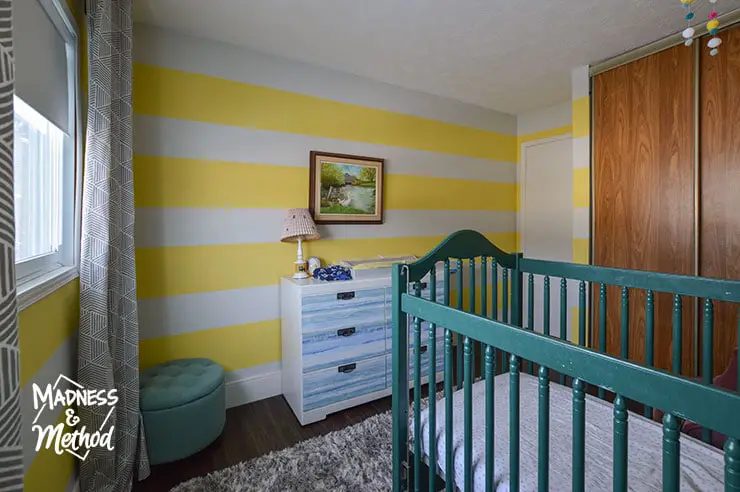 Remember the new art I hung?  Félix loves ducks, and I told him that his new stripes are exactly like little ducks.  Now he points to the walls and says "duck duck".  (And, the other day, to the yellow spilled paint cardboard in the recycling bin too).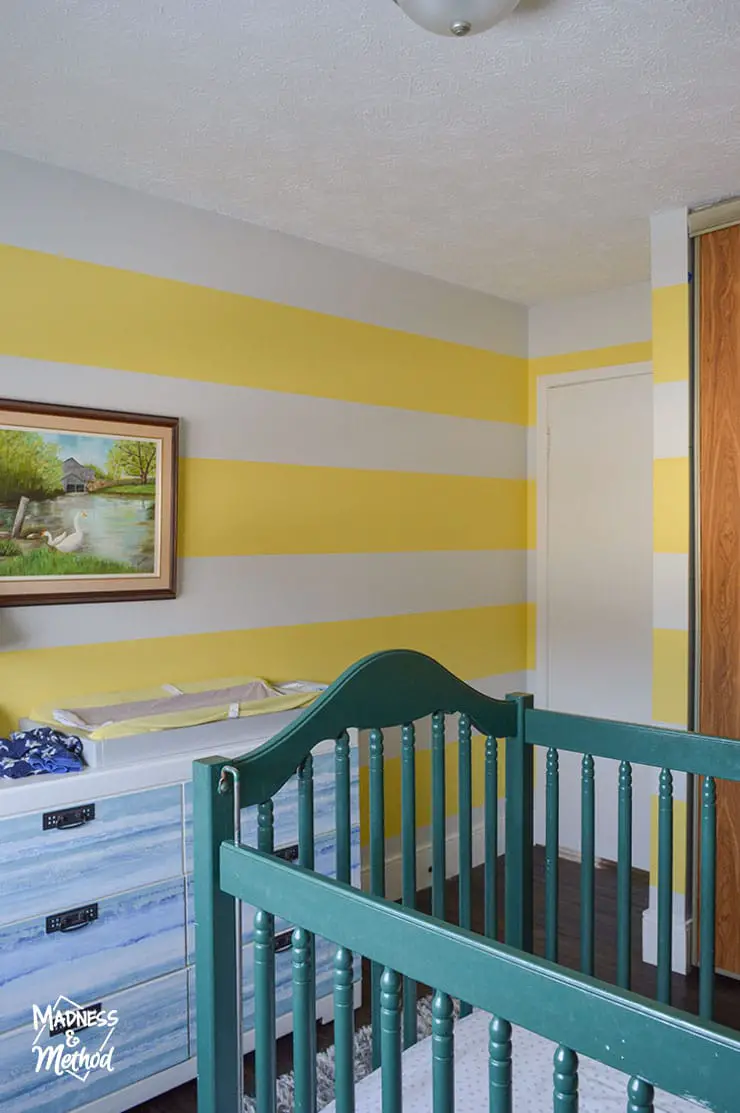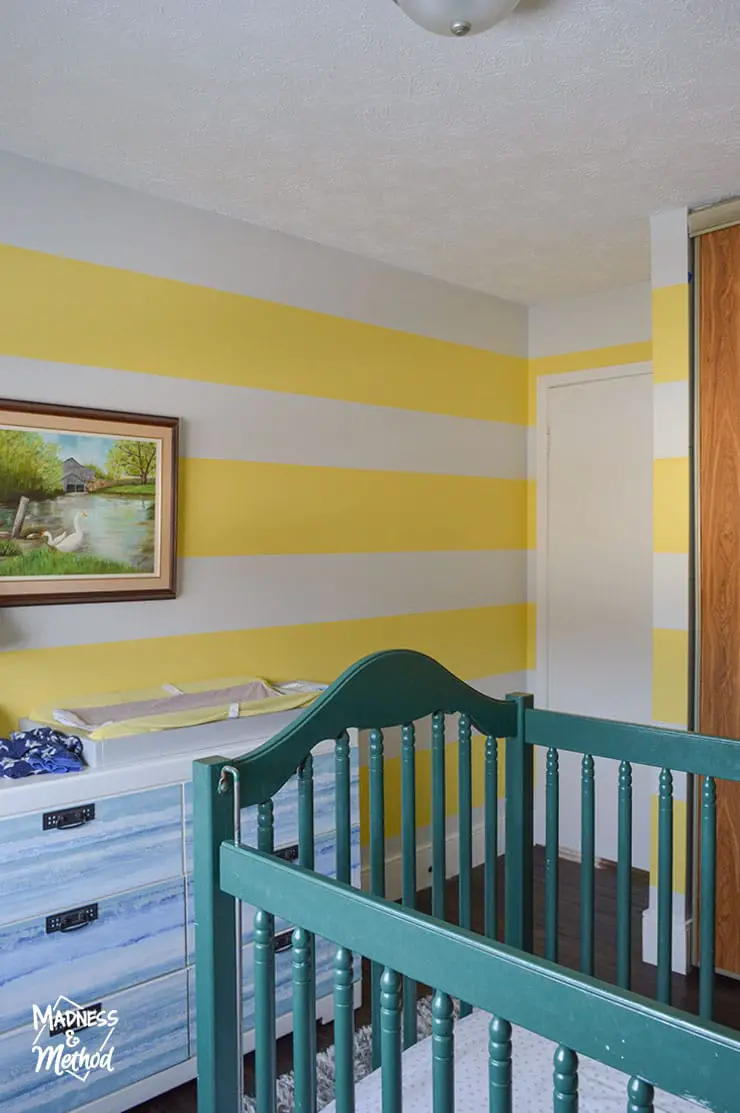 My original thought was that his room would eventually be painted with a yellow board and batten wainscoting (similar to the shared kids' room and our bedroom).  So, I'm testing out the yellow to see how we like it!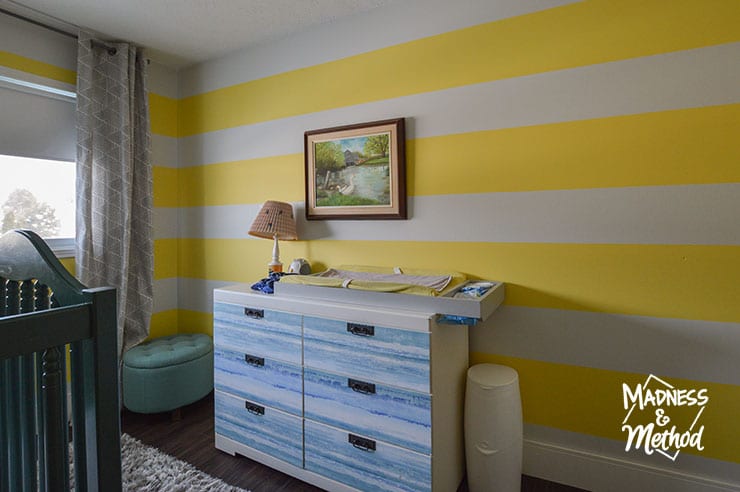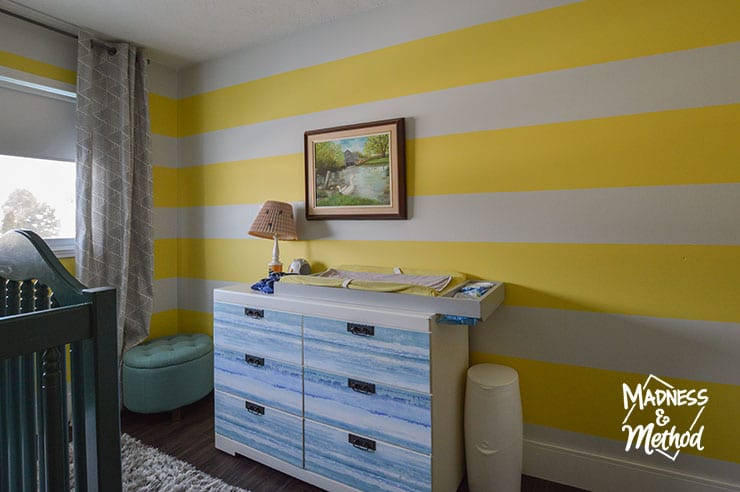 He should also be transitioning out of a diaper soon (right?!), so the whole dresser set up will be getting an overhaul.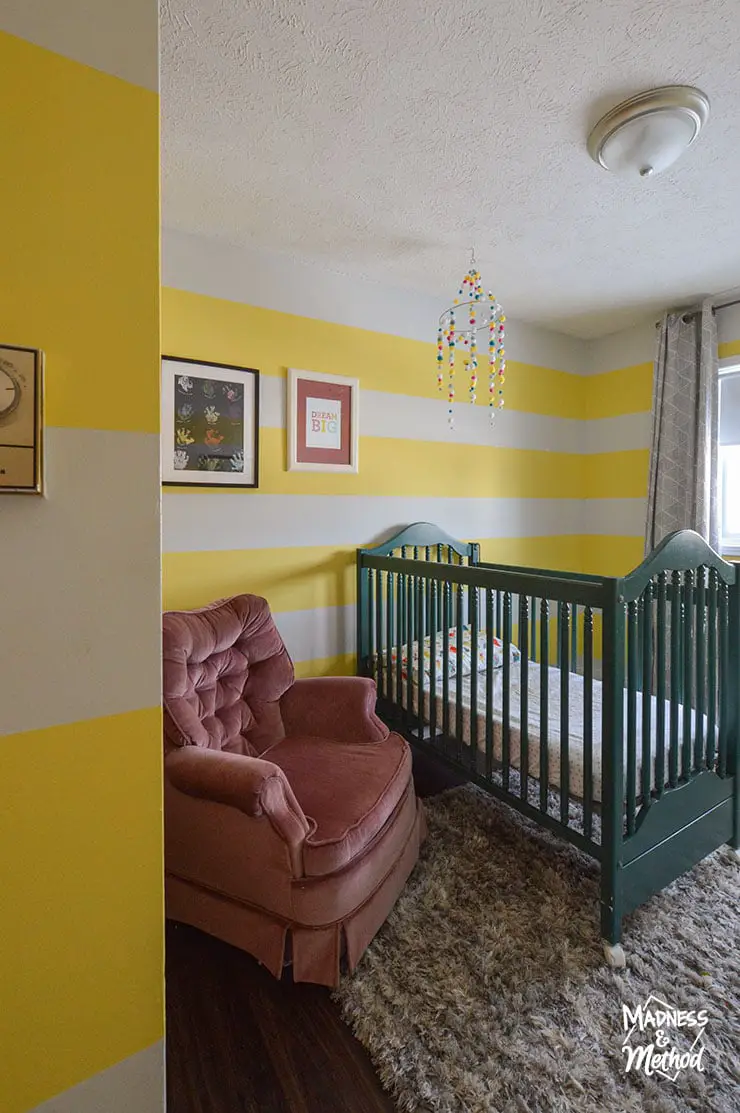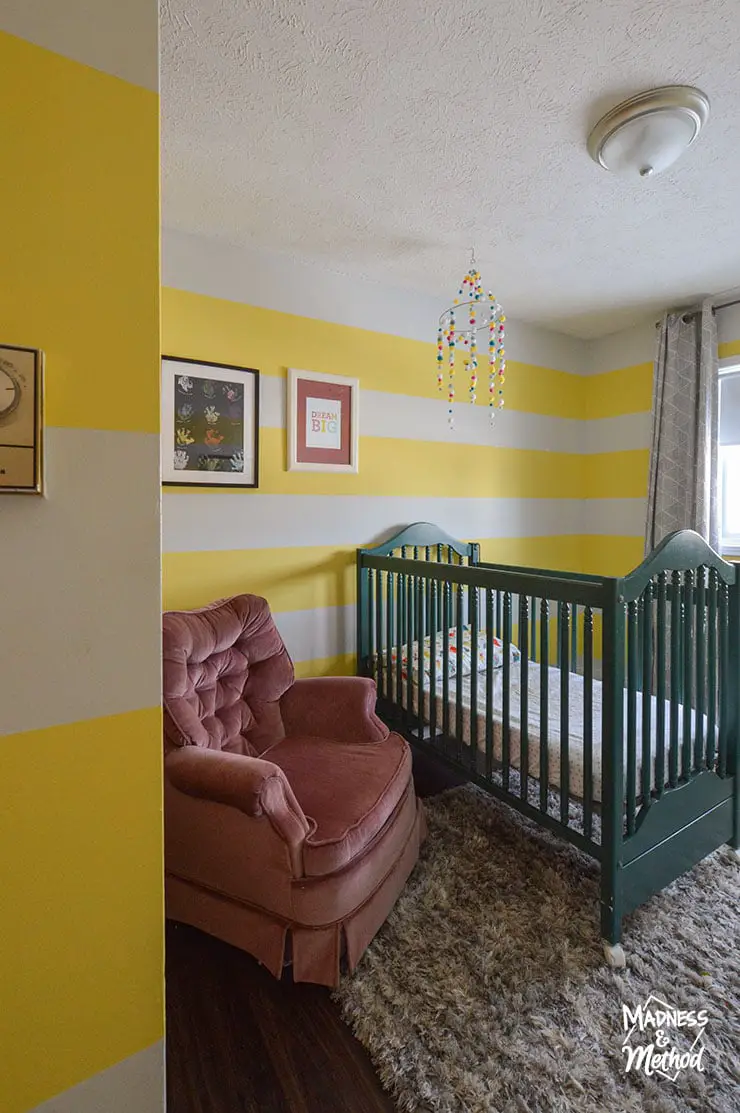 Either way, I love these fun yellow stripes!  It's taking some getting used to (I always think the light is on, since there's such a strong yellow glow), but this room is cool now :)
Bedroom Makeover Past/Future Plans
Initial Setup (furniture brought in from before)
Phase 1 (this version)
New Artwork
Painted Yellow Stripes
Phase 2?
No more change table/diaper genie
Rocking chair and ottoman at the cottage
Swapping in the white crib (bringing the green one to the cottage)
Maybe putting up little wall shelves for books?
Final Update
Board and batten wainscoting
Wallpaper on the top
Painted closet doors
New lighting/electrical outlets
Big bed (aka twin)
I'm thinking the second phase will happen sometime this summer.  I have the white crib (the one Élise was using) in the basement closet.  Right now, we store his extra sheets in the ottoman, and the crib has a drawer below – so I'm not worried about storage.  Plus, his closet is pretty much empty, and as he grows through his clothes, the drawers/storage in the dresser gets updated.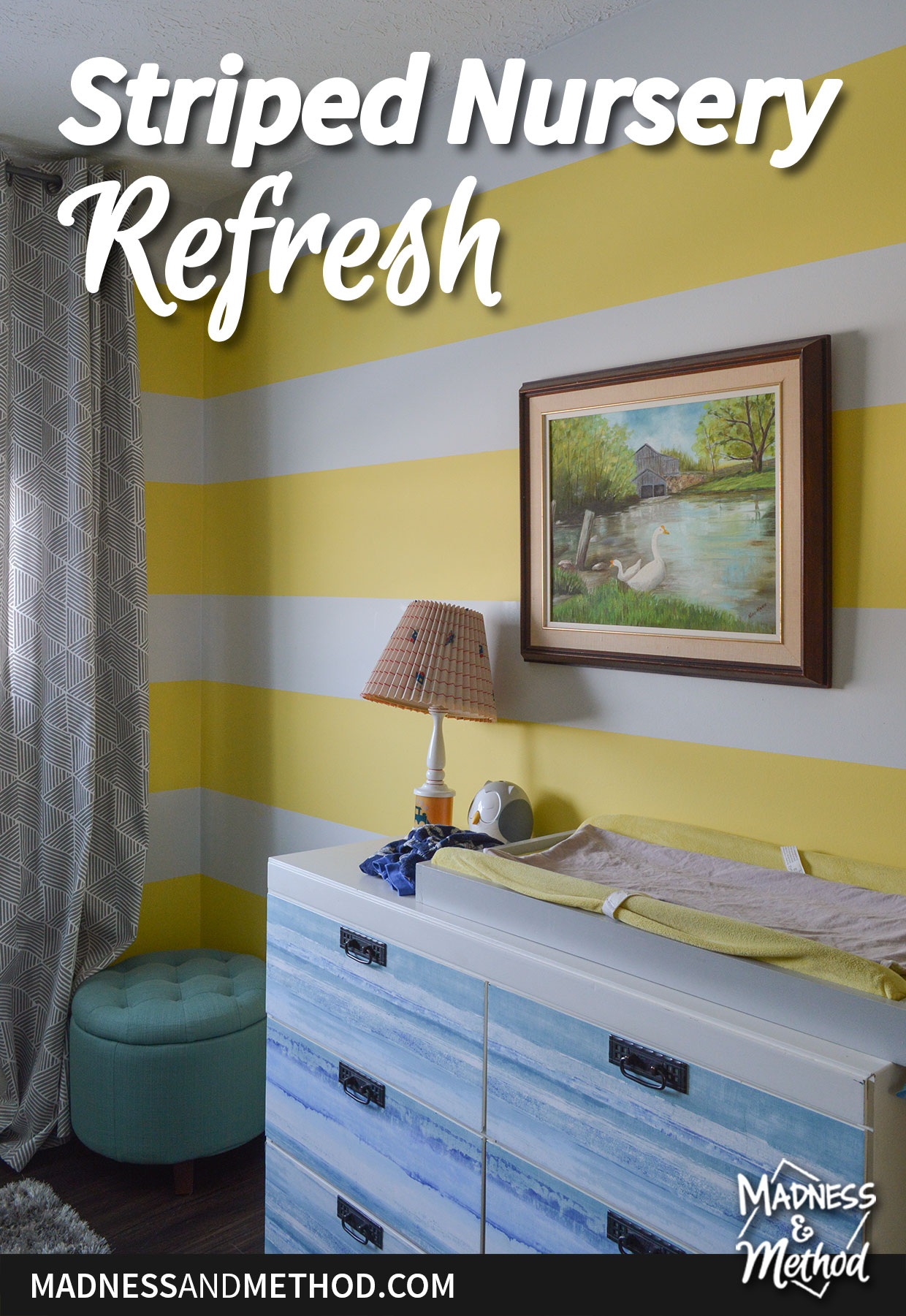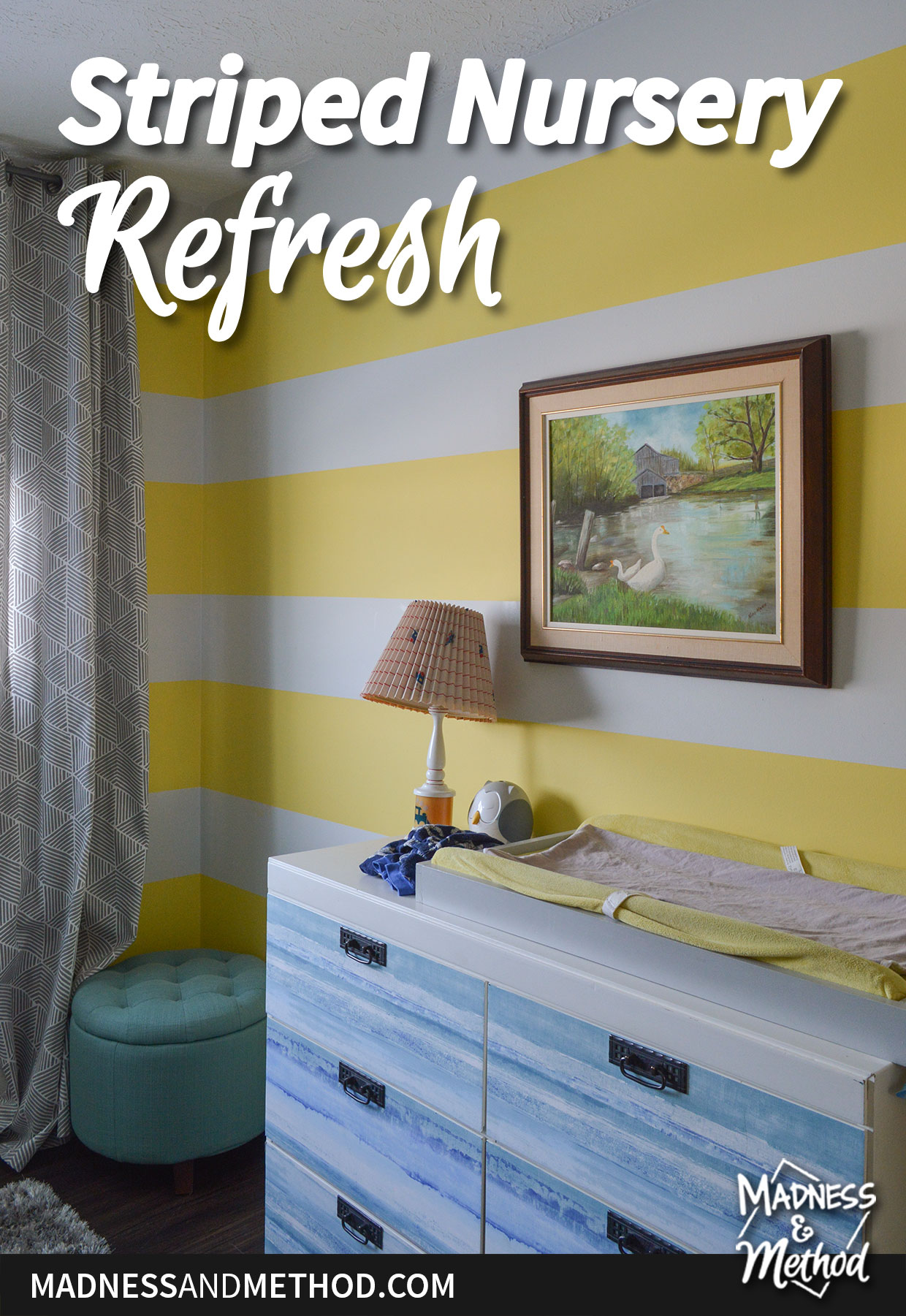 I hope you enjoyed this striped nursery refresh!  I had a fun time adding the stripes, and I love that Félix associates them with ducks too (although, does he think he is in a duck!?).  We'll see if we end up keeping the yellow in the future bedroom plans.  I'm sure Félix will have an opinion on his colour choice.  Right now, I'm envisioning a jungle theme wallpaper, maybe with some lemons to bring in the yellow?
But, I'm sure my ideas could change in the next few years :)
Related Posts