Can you guess how much a bedroom costs? I don't have much progress to show, so let me share something a bit different this week.  I'm going to dive deep into our bedroom budget breakdown, and I'll link to all the items I used.  Let's get into it!
– Note: This post contains affiliate links. See more information about affiliates here. –
Not counting the closet doors, and other very minor details, this room is pretty much complete.  I do still have a lot of line items to knock out, but the bulk of the work has been done.  Although let's be honest, the closet doors will probably take longer than I thought (they were a bit tight the other day).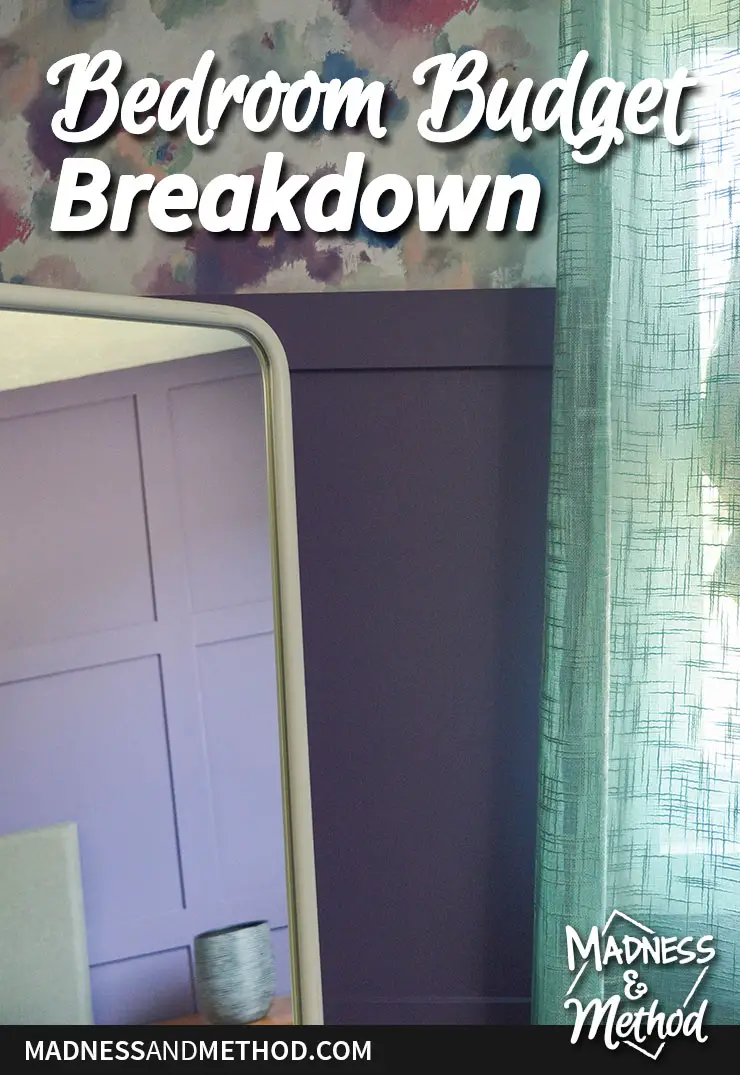 But let's leave that problem for future Nicole :)
In case you didn't know, I'm completing this bedroom as a linking participant in the One Room Challenge for Spring 2020.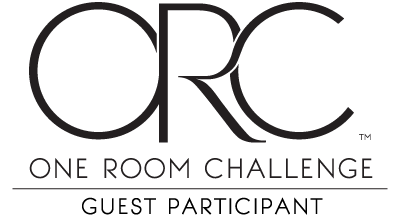 Follow Our Bedroom Progress
W1: Master Bedroom Design Plan
W2: How to Plan Wall Treatments Video
W3: Bedroom Progress + To-Do List
W4: Purple and Modern Floral Wallpaper
W5: Cheap Custom Closet
W6: You're here!
Normally, the One Room Challenge is a 6-week makeover, so this would have been the reveal.  Because of COVID, this round was extended for 2 weeks, and I'm thankful for the extra time!  Most of our weekends have been spent moving all our stuff from the old/main house… so I've not been as diligent in gettings things done in the bedroom.
Case in point, I barely did any work this last week…
I was hoping to get the closet doors finished – but couldn't get my panels to fit into the slots.  And, instead of working on them on Sunday (as I had planned), we decided to bring the kids to the old house one last time to take some photos.
So, since I don't have any progress to share, I figured I would share a list of all the sources for the room and a budget breakdown!
I've not done that before (and I'm going to be honest, I have no idea how much we've spent in this room), so this should be… fun?
And I'll share some thought process too, because designing/sourcing things usually takes a long time.  (I probably explain way too much, so I've bolded the prices if you want to skip around, ha!).
Bedroom Sources: New Items
Finding/buying our rug was kind of a weird story, so indulge me a bit.  We had just purchased our new home, and I knew I needed one more rug.  I didn't know what room it would go in (our room or the living room), but I was browsing Wayfair to see if anything jumped out at me.  Then I found the nicest wool rug… for a super discounted price.  I ordered it ASAP and waited patiently for it to arrive.  Then… the rug was lost in shipping… noooooo!
(I should mention, the last time I found a rug that was a crazy cheap price, it turns out there was a glitch in the computer system and they sent me the runner instead).
After calling customer service, I found out that the size I had ordered was no longer available (it was a 6.5×9.5), so I decided to get the 8×10 instead.  Then I waited for that to arrive… and womp womp, another runner was sent.  So I call back, explain what happened… and holy miracles, they send the correct rug (with the other rug they just cancelled my order).  I think it was discounted so heavily because they were getting rid of the original sizes.  Even though it would have worked better for our space, I will never complain and just ended up putting it against the wall on the one side.
The 8×10 retails at 879.99$ CAD right now, but I spent a fraction of the price :)
We needed to buy a new bed since we would have a designated guest bedroom in our new house.  (We also had to buy another bed for our rental home, so essentially I needed 2 new beds).  Rather than buy two cheap beds, which was my original plan, I figured it would be better to move the bed we already had into the guest bedroom.  That way, we could then buy the bed we needed for us (as in our "forever" bed).
I kind of had an "aha" moment as I was looking for beds and saw one that had included storage drawers on the bottom.  I then created a list of all the beds I liked that fit my criteria (upholstered, storage drawers, tall headboard), then narrowed it down to about 6 options.  This one is similar and was actually my number one choice (I liked that the headboard went all the way down, and the drawer was more blended in).  But it was back-ordered until May, and so I ordered this one instead.  I did prefer that there were 2 extra drawers, and good thing I didn't wait for the first one… because now it says back-ordered until August.
Price Paid: 673.23$
I wasn't married to anything specific, but I did know that I wanted to replace the boob light that was there.  (We have plans to replace all the lights in this house…).  After browsing and saving all the semi and full flushmount options, I came up with this list of my top contenders: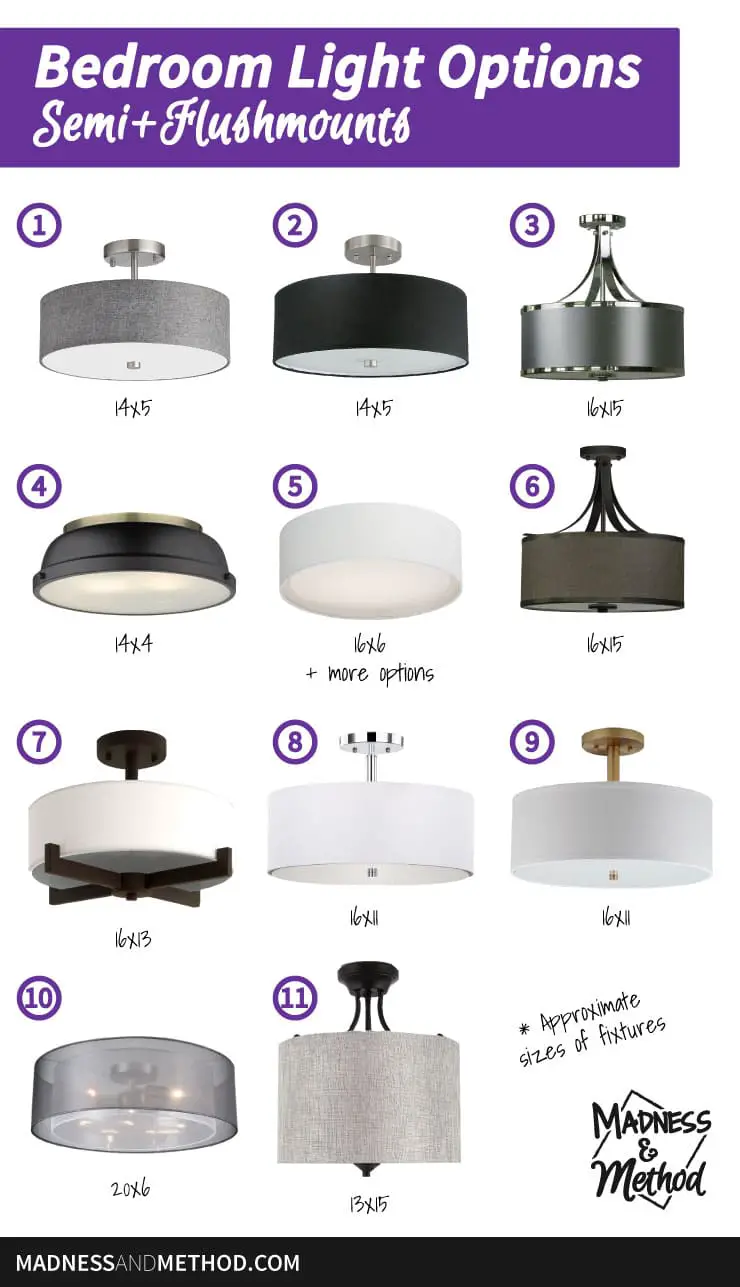 Light 1 | Light 2 | Light 3 | Light 4 | Light 5 | Light 6 | Light 7 | Light 8 | Light 9 | Light 10 | Light 11
Then I asked the Husband to choose his favourite and he liked this one (#7) because "it had a cool Japanese look" or something like that.  We still need to choose which bulbs we want, so I bought these and a huge pack of these and I'll see what looks best.  (All the bulbs that came with the house are on the cool side, so I wanted different options).
Price Paid: $211.57 + 10$ bulbs approx.
Other Decor/Bedroom Items
Way back in January I ordered this king-sized duvet and grey duvet cover.  I didn't want any matching pillowcases – so it was an easy purchase!
From Ikea, I purchased this full-length mirror, over-the-door hooks, two dressers, our curtain rod (I got some for the other bedrooms too) and made a second order for some more storage bins for our closet.  My original plan was to go to Ikea to pick up everything, but COVID shut that down and I had to pay a $200 shipping fee.  (There were 2 orders, but I'll just count it in once because I also got things for the house).
For the closet, most items were purchased at the Home Depot, including these shelf brackets and the closet rod.  I also bought this pot (after the ones I wanted were MIA) and some construction stuff that I'll list below.
And in less-exciting news, I also just ordered these black-out blinds (couldn't wait indefinitely for Ikea) and this pack of doorknobs (because we need to replace all the knobs in our house.  (But seriously, who puts lockable knobs on the bedrooms, but doesn't give you the key AND why does the bathroom door not lock?).
Amount Spent: 932.62$ (includes shipping)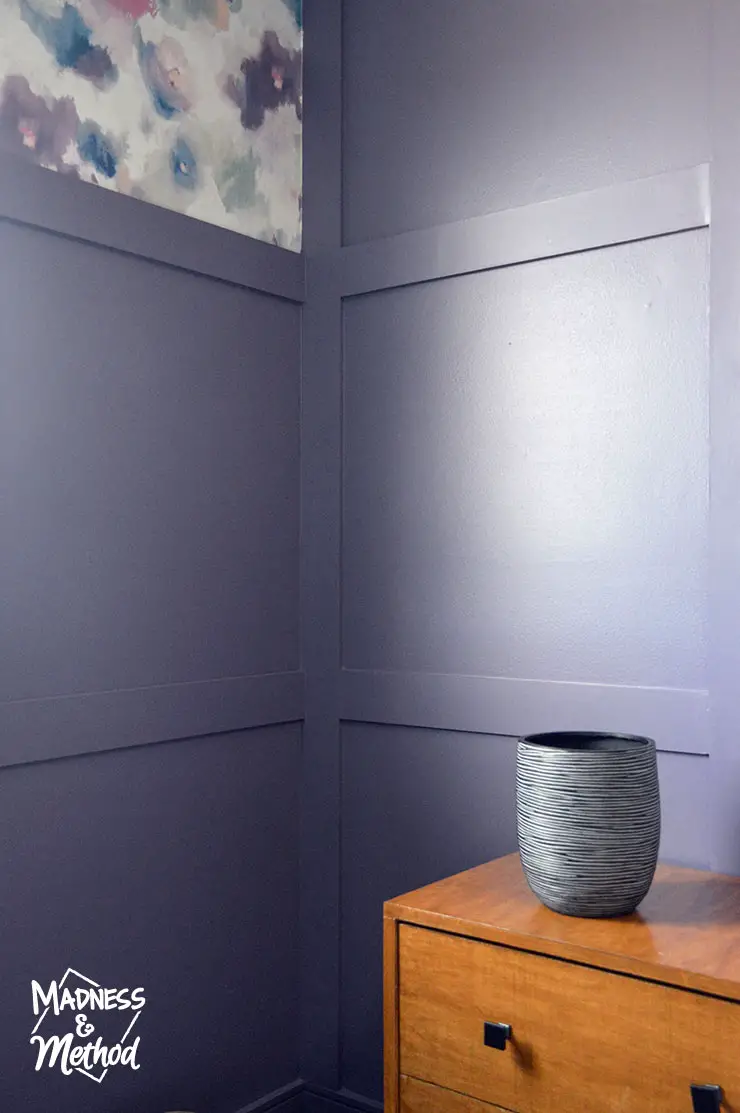 Bedroom Sources: Items we Already Had
Items we were bringing in already included these teal curtains (from our old nursery), our mattress and foam top (although I did buy this 12″ one and this 10″ one for our guest bedroom/rental), our sheets, my lamp and alarm clock, a leather-look-a-like storage basket we'll use as a hamper, and a plant that I will separate.
All of those items add up to around 500$ if you were to purchase new.  But for me, I'm counting this as 0$.
The other large items we brought in were the custom nightstands I built last year.  They are knock-offs of these from McGee and Co., and rather than spend 1552 USD each, I think I'll estimate maybe 250$?
Again, 0$ for me, but something to consider if you want to recreate this look.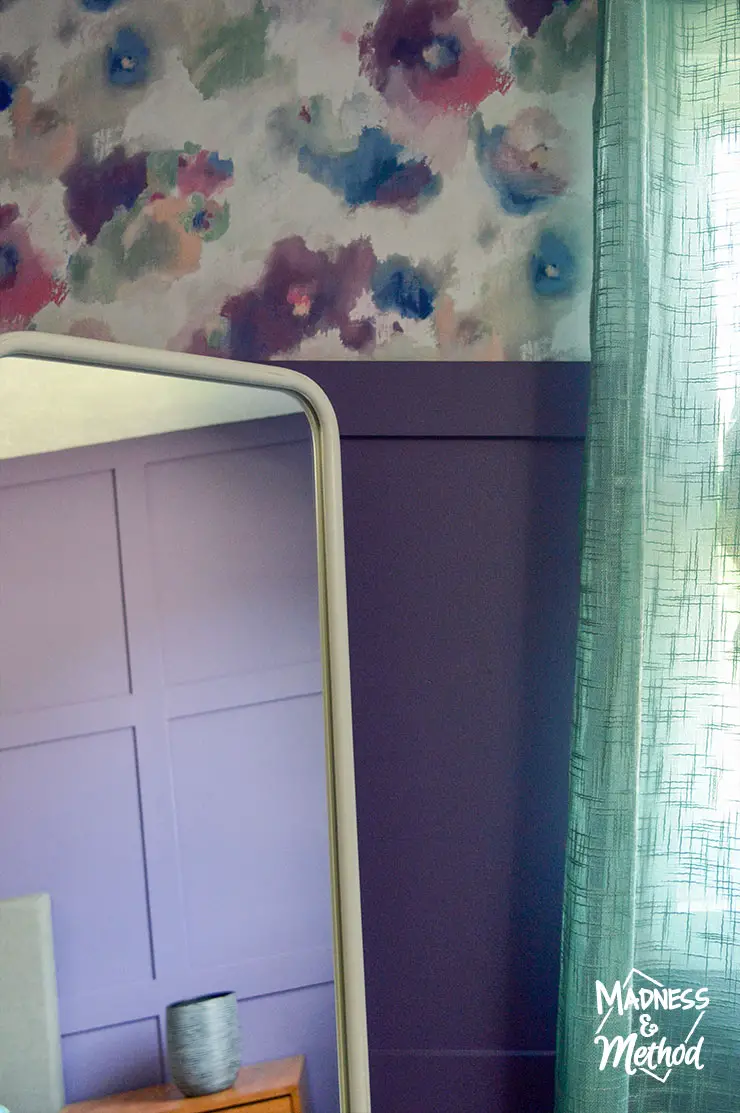 Bedroom Sources: Construction Materials
Most of the time, I tend to "forget" about raw materials cost, but once you add everything up… it's a huge line item!  For our bedroom, I had to purchase all the trim pieces for our wall treatments, the purple paint, wood and boards for the closet doors, hinges, etc.  I also had a lot of stuff that I reused, including primer, the paint for the closet, the boards for the closet, caulking, brad nails, etc.  This came in around $500.
The beautiful floral wallpaper is also in this category, and I spent a bit more than you might.  For some reason, Amazon wouldn't deliver to my location, and Home Depot didn't have stock.  I ordered direct and spent $203.39. 
We also added baseboards to all the bedrooms, and flooring throughout the whole first level.  I'll guess maybe $1000 for just the bedroom?
Estimate for construction materials 1705$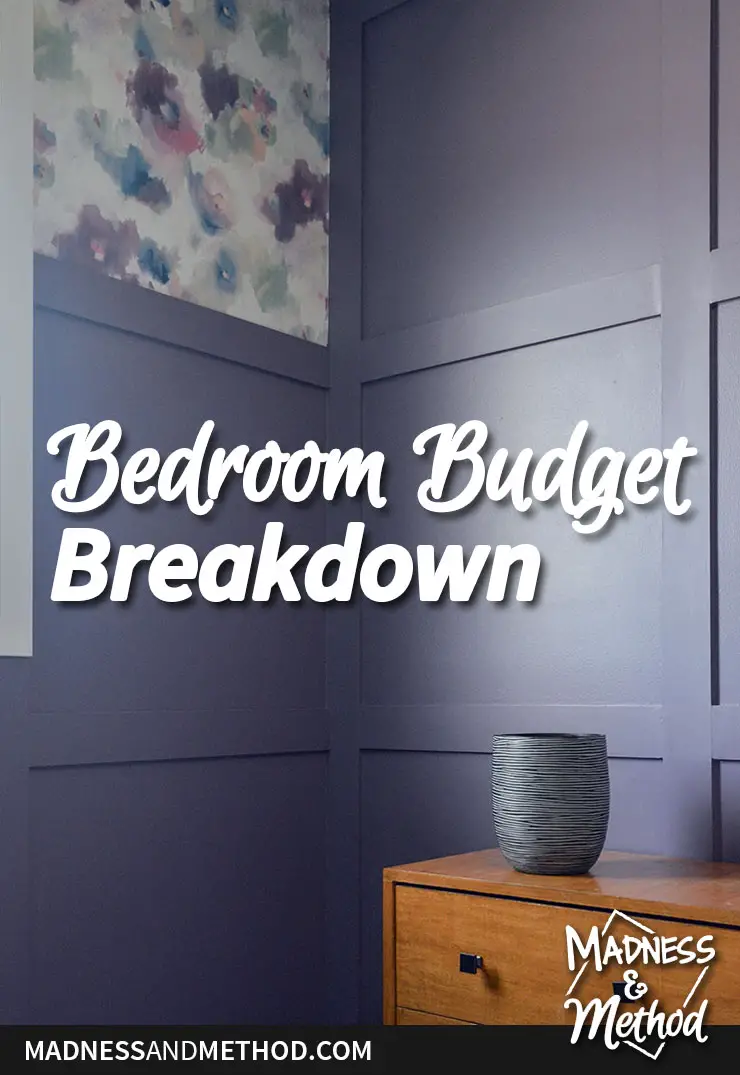 Holy tamoly!  This bedroom cost around 3500$!  And that's with bringing a couple of the larger items.  It's funny, the Husband and I were chatting the other day about costs you put into a home.  People always think of the big renovations (kitchens, bathrooms) but often don't count small spaces.  It adds up though!
Anyways, I need to skedaddle my bootie into gear this week to finish the closet doors.  Did I mention?  We did sell our house and the closing is this Friday.  That means that we won't be doing any more weekend trips to pack up.  The 2-hour drive each way won't be missed anymore!  (It feels a lot worse when you drive back and forth in one day).
Make sure to check out the other One Room Challenge participants too!  There are a lot of good projects this round and I can't wait to see them unfold :)