Today I'm sharing a project that impacted both our interior and exterior!  We installed a new, brighter front entry door – and I couldn't be happier.  While it's not 100% complete, it's still much better than what we had.  And, of course, it's a good kick-off to a bunch of other projects that we'll tackle as well.
– Note: This post contains affiliate links. See more information about affiliates here. –
Last week, I posted photos of what our house looks like after 3 months of living here.  I mentioned that our entry was dark, but it was going to get brighter!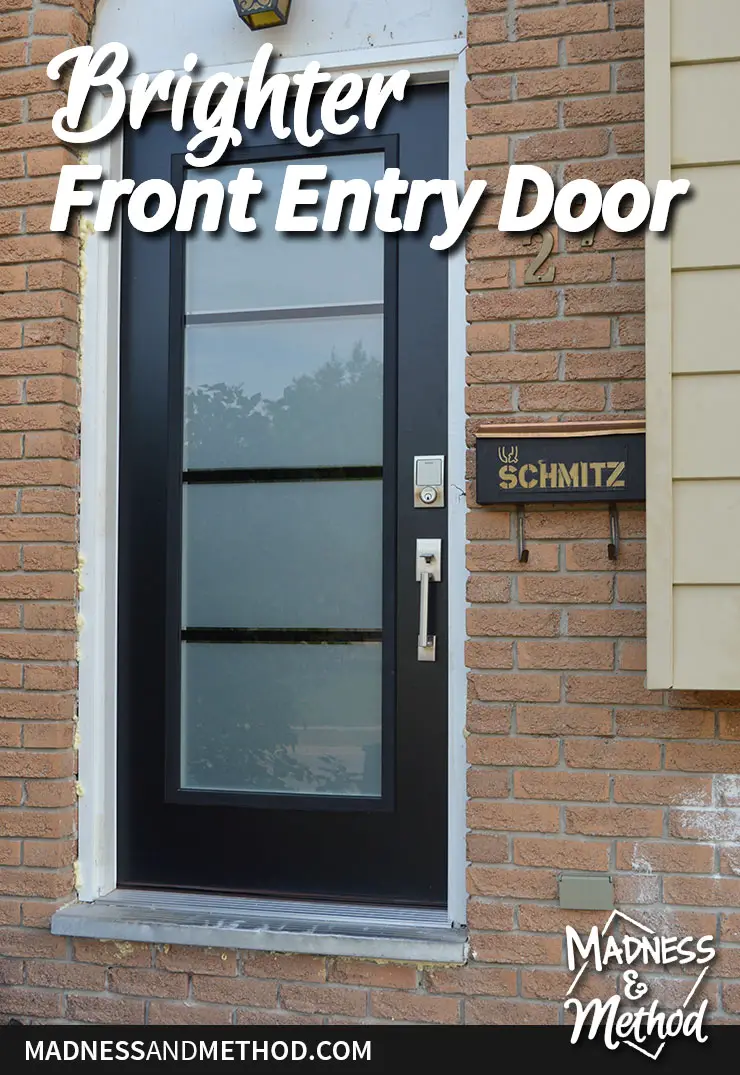 In case you need a reminder, here is a (digitally brightened) photo our interior view: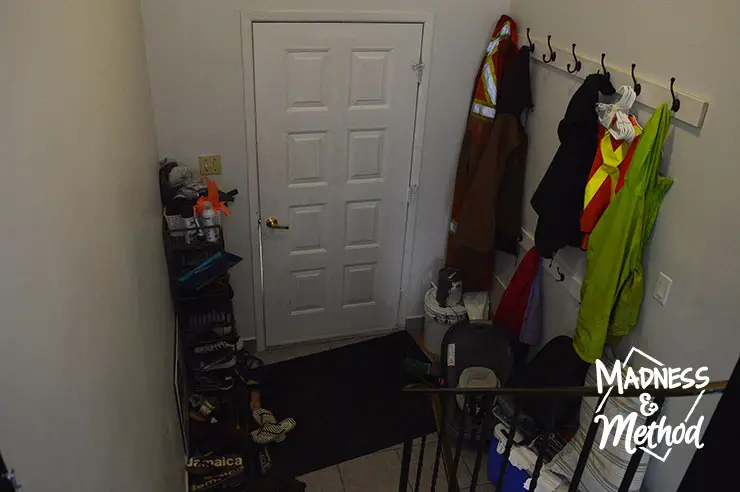 I didn't mind the look of the door at all and figured we'd keep it as is forever.  From the outside, the door was painted black and there was a white storm door.  (The photo below is from mid-May, our trees and grass have since gotten greener!).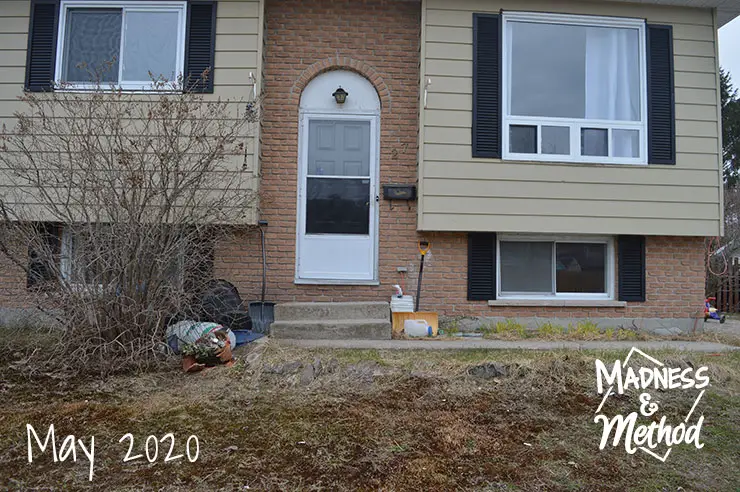 After using the door for the last little while, I came to realized I hated the storm door system.  It was broken (we knew since the inspection), but it also didn't work for our family at all.  The kids would constantly get smacked by the self-closing door, or get their little fingers caught in the mechanism.  It was always annoying to have to open two doors to bring stuff in.
And, upon further inspection – I also noticed that our front door itself was in rough shape!  The latch felt like it was hanging by a thread.  You could easily jiggle it with your fingers and there wasn't much wood left around the hole.
Replacing the Door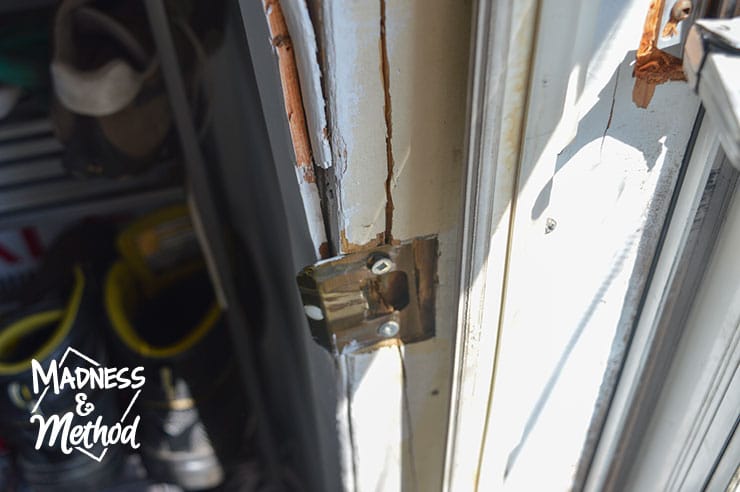 The door frame itself also had a huge crack (maybe someone had kicked the door in before?).  Either way, I knew it was something that needed to be addressed!  Oh, and there was a pretty big gap where you could see a lot of daylight (scroll up a few to see what I mean).
I ordered this new door, handleset and deadbolt, and waited for them all to arrive (I did curbside pickup for the door).  I thought I was just ordering a door slab, but turns out it came with the frame too.
This past Friday, we got to work taking out the storm door, door and frame.
I don't have many progress photos (because living with a big hole in your wall on a hot summer day makes you hurry!).  But here's one I snapped with my temporary cardboard blocker while the Husband went to the store to grab something we forgot.
(I screwed the cardboard onto the wall, ha!).
And here's what the door looked like once it was in place.  Because we were working with an existing hole, we didn't have as much grace to shim and level the door as it needed.  There is a little spot we can see the light at the top and bottom corner – but I think we can fix that with weatherstripping.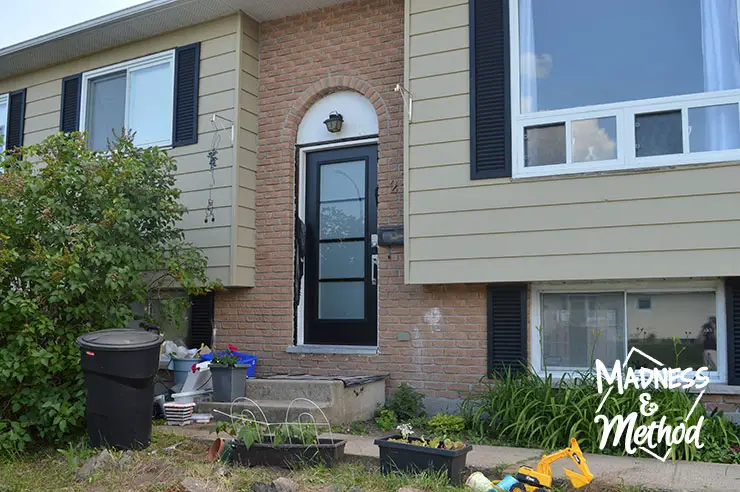 And here's a current view of what our front yard looks like!  (Complete with garbage/recycling and a bunch of toys).
Notice Tootsie peeking her nose out the window too :)
We had to pick some exterior trim pieces to cover the gaps left from the storm door.  Then some expanding foam to fill in the cracks.  We still have areas that need to be covered, but had to go back to the hardware store for some 1/4 round pieces.  (And there are the doorbell wires hanging too). 
An Updated Mailbox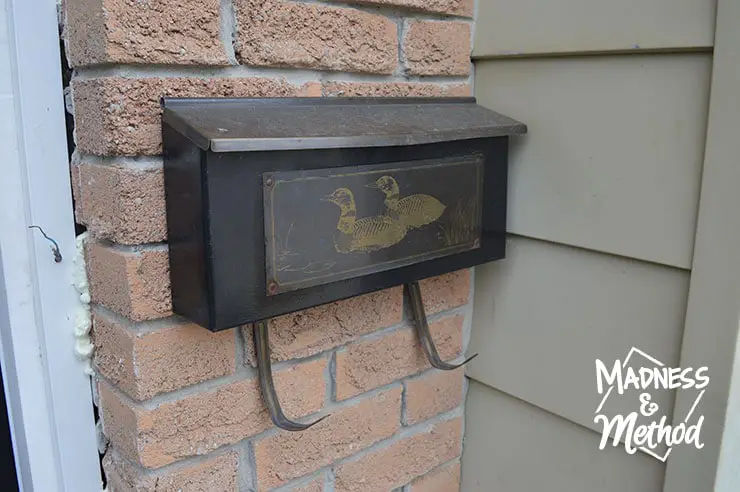 While we were getting the door all fancy, I figured I could do a cute update to our mailbox too.  The ducks aren't my style – but nothing a coat of paint couldn't fix.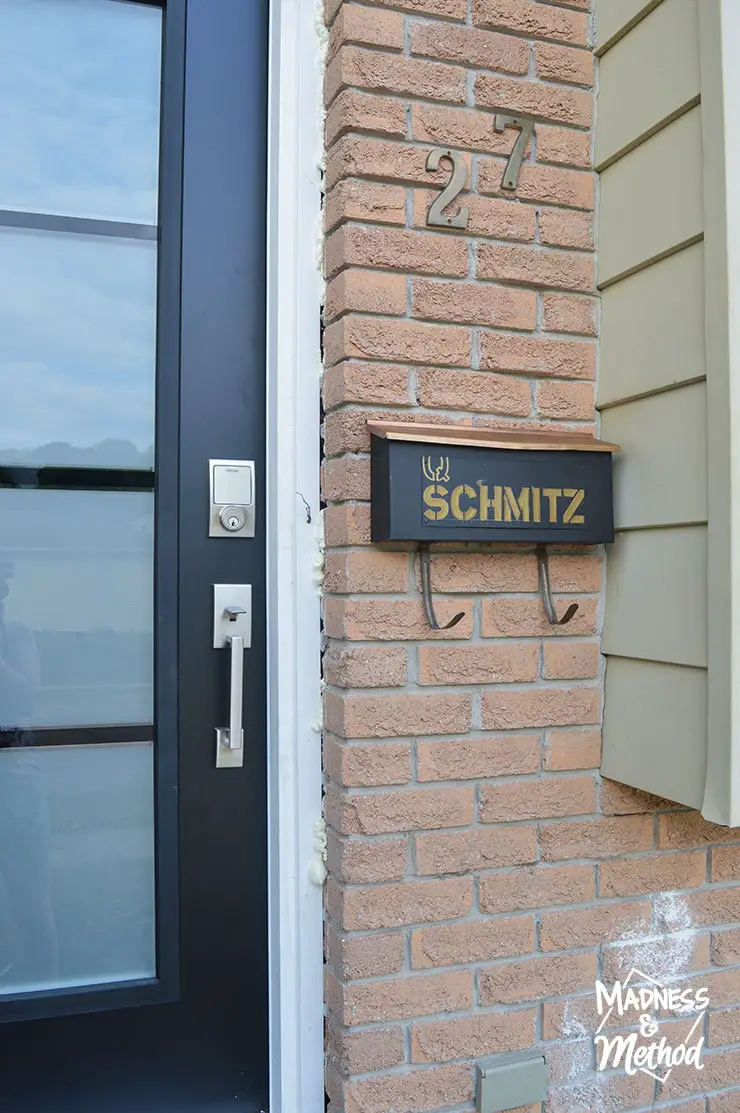 After cleaning the box, I sprayed it black (removing the lid and newspaper arms).  I used some Rub N Buff for the top, but the first colour I used (Antique Gold?) was too coppery.  I added a coat of Gold Leaf, but it's not too perfect.  If another coat doesn't work, I might just spray paint it gold.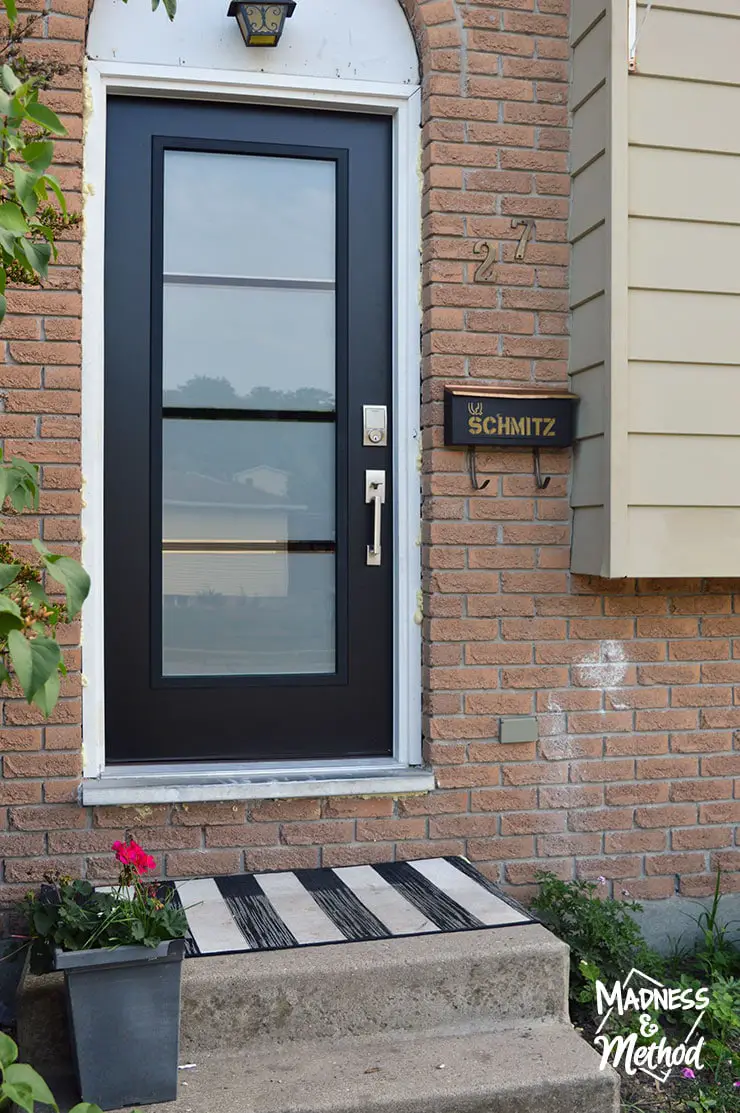 Then, my trusty stencils (similar) were found (after searching the house forever).  I practiced in pencil, then did the final coat using a gold sharpie paint pen.
The pencil lines still have to be erased, but I didn't want to look for an eraser…
I want to eventually update the house numbers.  While they could easily be painted (or Rub n Buff'ed), I'm thinking we might do something custom.  You know, like our closet door handles. 
What's Next
On the inside, we still need to add the casings.  And possibly do other, undetermined updates in the future.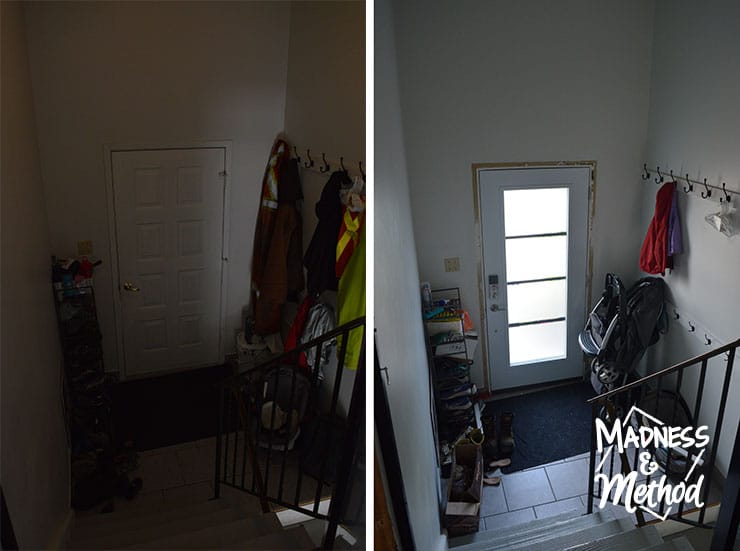 Here's the view from the inside – with the same camera settings, and zero photo refinishing.  This brighter front entry door helps so much!  
Now, it wasn't a cheap fix, but I told the Husband that I feel much less likely to tear out the nearby wall.  And that would have been a lot more expensive.  
I did get rid of a lot of the junk that was in the entry, and now we have a bit more room to breathe!  (The stroller has since been brought back into the basement, ha).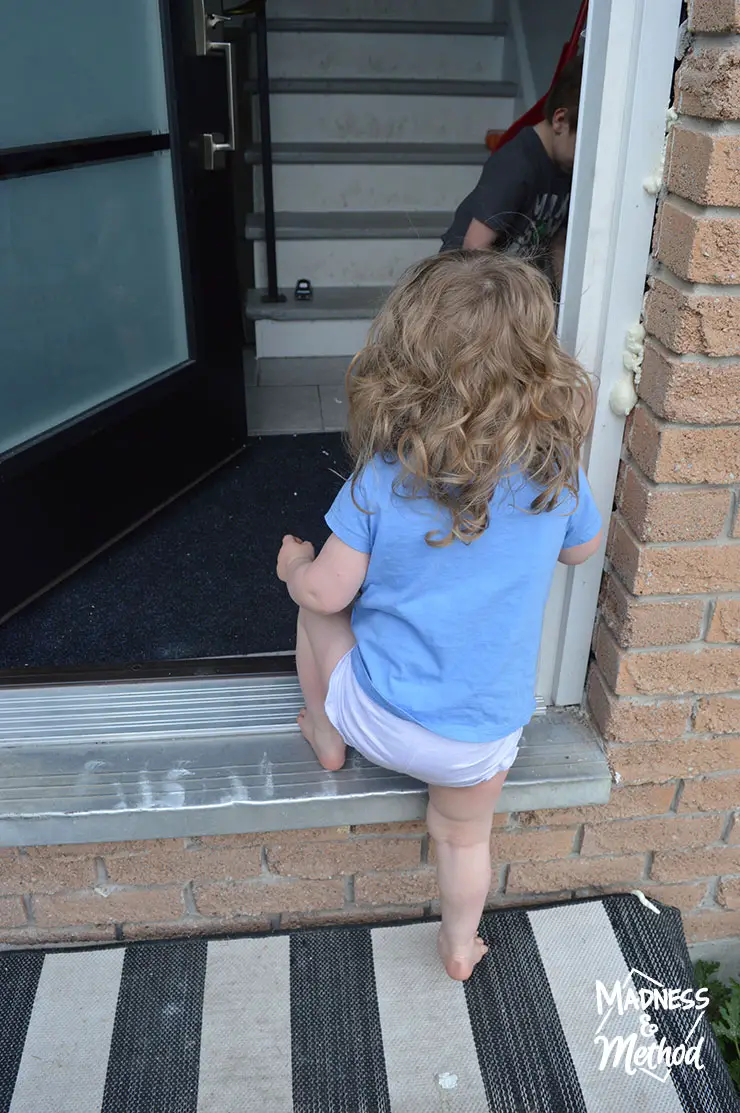 We have a lot more pain points on the exterior to fix.  For one, the concrete step is way too low.  It's also a lot narrower than I want, so the plan is to do something else.  The whole concrete walkway needs to go… so it's on the chopping block when we build the garage.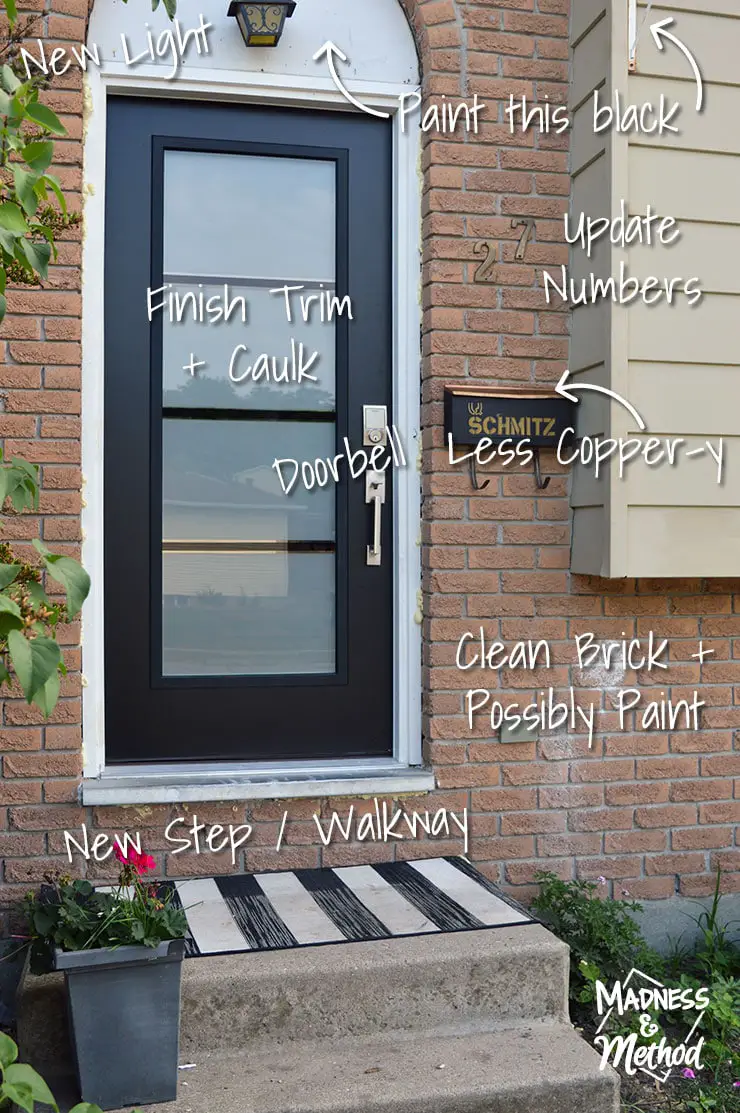 The graphic above shows a few of the other (mostly minor) updates I'm feeling out here.  Next up, will be painting the top semi-circle black and replacing the light fixture.  We think the bulb is burnt, but since I wanted to paint – we'll change it now. 
Here was the short-list of lights I came up with:
Basically, I didn't want a fully black light (so it wouldn't blend in).  Nothing with glass OR in the lantern style.  These are also the correct scale for our area (max 12×12).  
AND I wanted to get matching (in either style or colour) lights for the garage we're building.  
Can you guess what the Husband picked!?
I'm going to leave the suspense for another little while :)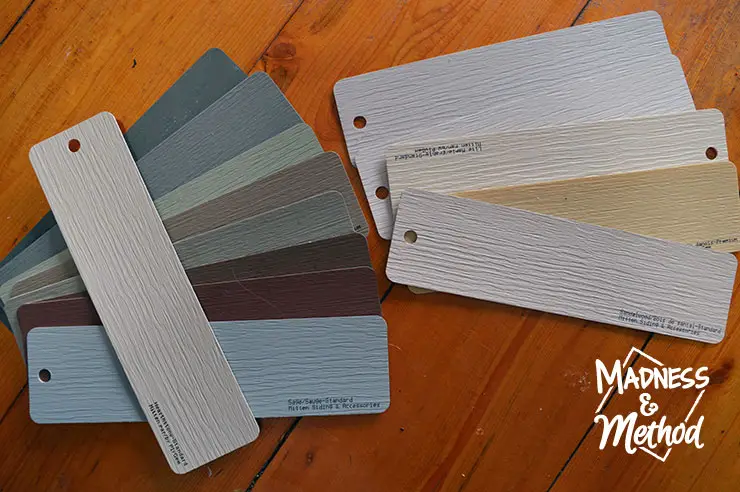 And, in equally exciting news.  WE HAVE FINALIZED A SIDING COLOUR!
In case you weren't up-to-date, we're building a detached garage.  I had shared my frustration on Instagram about finding a siding colour to match our house perfectly.  I got a lot of votes/suggestions to do something in a contrasting colour… so we're going for it!
The photo above has the siding colours I was trying to colour match.  The one that was the closest is placed on the swatches on the left side.  And we're going with one of those!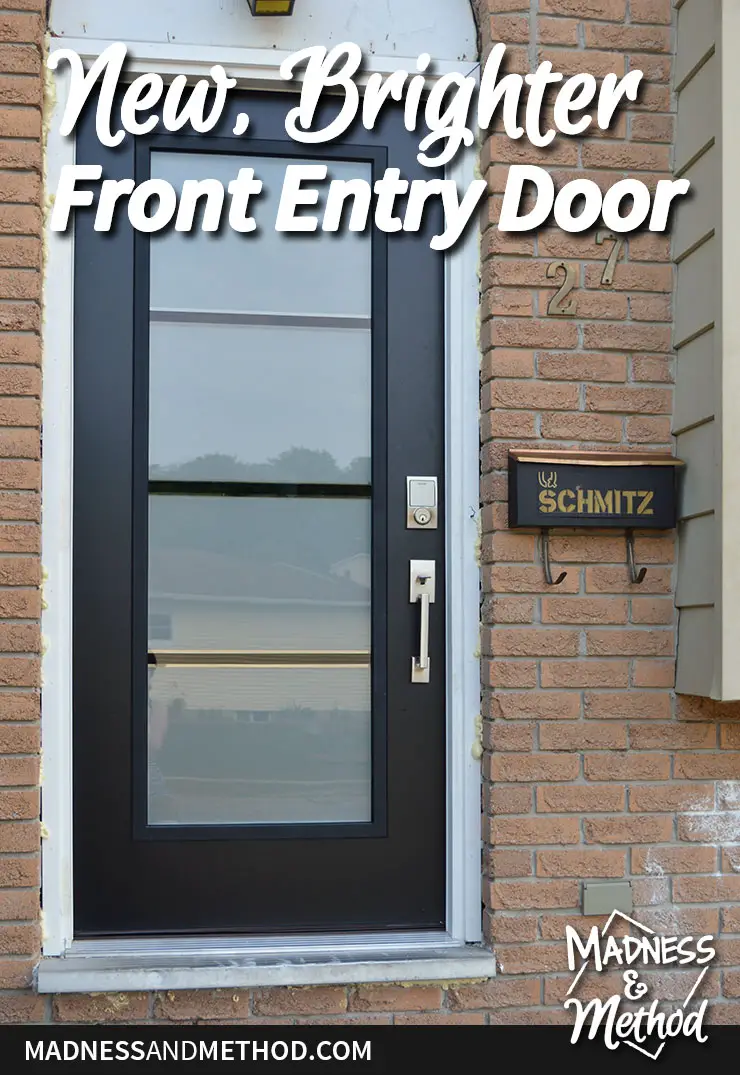 But of course, I'll be leaving that under wraps too :) 
Don't worry though!  I'll have a big juicy post with all the garage plans and design decisions soon.  I can tell you that the Husband and I both picked the same colour… and that never happens!
So yes, this brighter front entry door was a project that involved both the interior and the exterior.  And, it's something that I chose to purposefully influence the design direction of our house.  
Let me know what you think!