This week I am 3 steps forward, one big step back!  While I did manage to install most of the wall-mounted headboard and do the hex floors in the bathroom, the bedroom floors did not turn out like I wanted.  Either way, we are moving forward and I have a few things to share.  Plus, I learned for next time, and that's always a good thing :)
– Note: This post contains affiliate links. See more information about affiliates here. –
Welcome back! Nicole here and I'm introducing myself because I am linking up as part of the One Room Challenge.  For this 8-week makeover, I'm refreshing/resetting my raised ranch basement. So far, I've removed old vinyl flooring, painted the entry and removed the carpet in the bedroom.  So far, most of my big DIYs all have to do with painting concrete floors, and I have two examples to show today.  Oh, and I installed a headboard (plus made a video for that embedded below) – so let's get to it!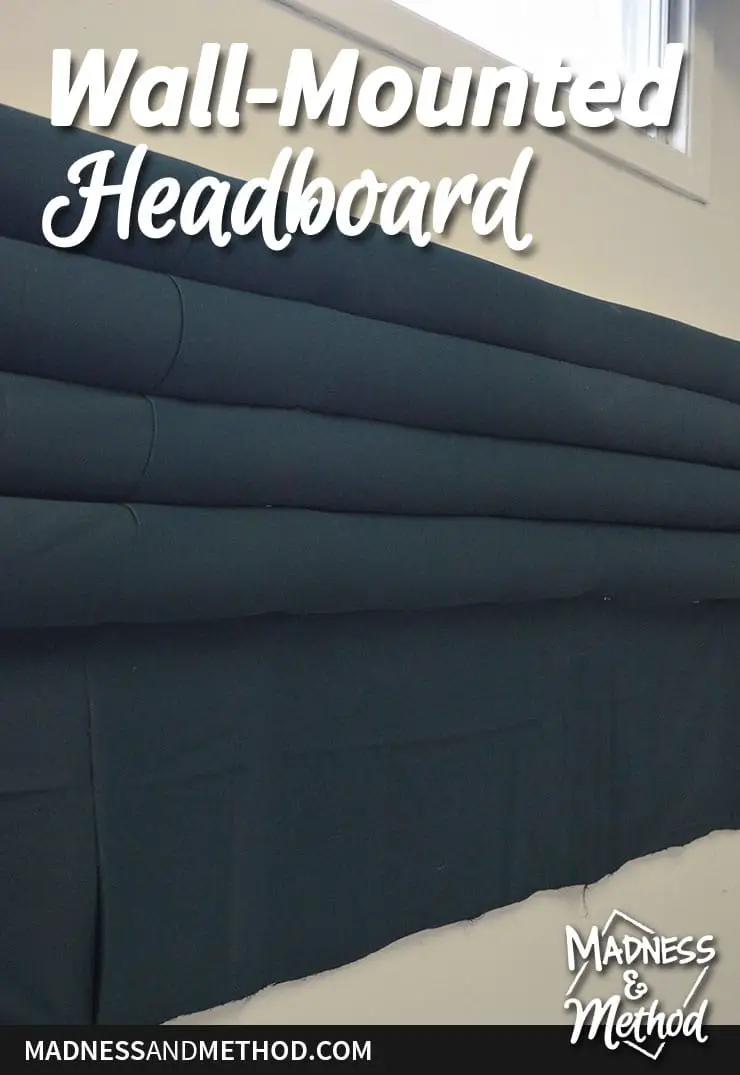 Installing a Wall-Mounted Headboard
I've seen a few channel-tufted headboard DIYs before, to this idea isn't that new.  I've even made a few headboards myself (like these and these wraparound ones).  Even so, this was my first time doing a wall-mounted headboard and I decided to build it directly on the wall.  If you're attempting this DIY yourself, I'd suggest grabbing a friend to help you hold the wood :)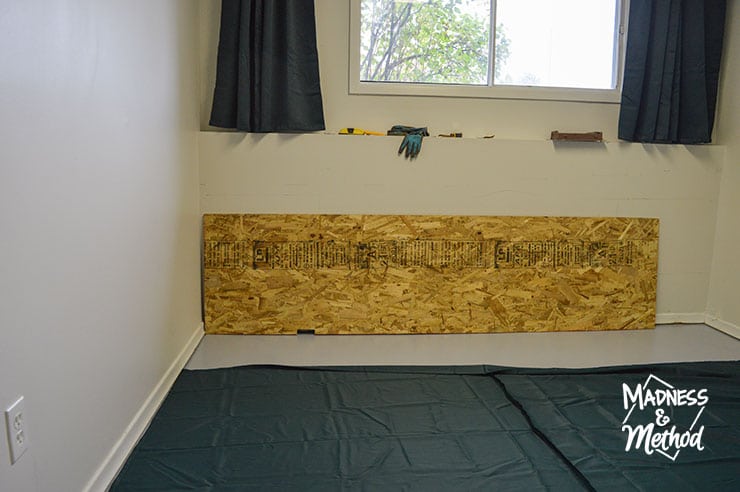 Essentially, our wall was just under 112″ wide, and I wanted my headboard to fit the whole way.  I purchased a 1/2 piece of 4×8 aspenite sheet (I believe it was really 7/16).  Aspenite/chip board was cheaper than plywood, and no one would see it.  It was cut in half lengthwise, and I just had to notch out a little spot for the outlet.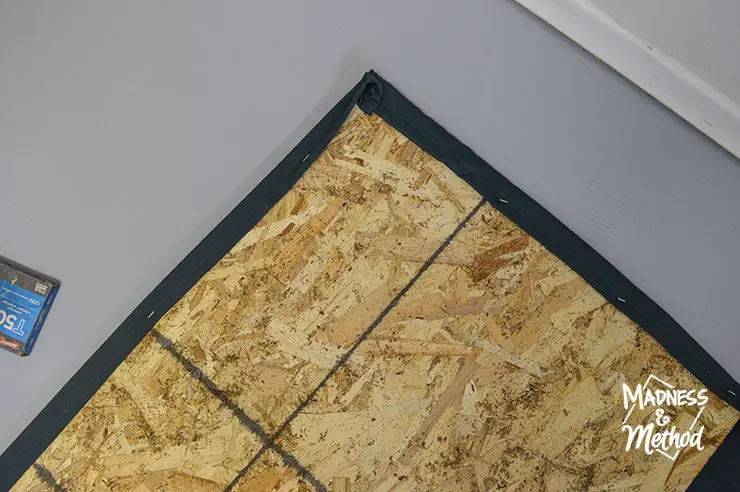 I stapled the leftover curtain material to the back (and one side) of the board.  BUT I should have only done the top (I mentioned it in the video too).  It was too tricky to try and shove the noodles in the tight areas.
Wall-Mounted Headboard Video
Check out the video above for more details on how I made the headboard. 
Materials You May Need
1/2 Plywood (or aspenite/chip board) 
Fabric (I used leftovers from our curtains) 
Staples/Staple Gun
Screws/Drill
Scissors/Utility Knife

I knew that the fabric dangling down would get in the way while I was screwing it to the wall.  So, I grabbed some clips and held it up.  The trickiest part by far was holding the wood and trying to screw it in myself.
The pool noodles I had were easily cut in half.  I should mention that these are the bigger 3-1/2″ ones with a hole in the center, as opposed to the skinnier ones without a whole.
Then, it was just a matter of glueing the back of the noodle, lifting it into position, then stapling the fabric around each row.  For some reason, I didn't have enough fabric to go all the way across – so I added another little bit on the end.
Now, I just need to paint my trim piece for the top to match (then nail it in).  Our wall has a natural ledge there, and I wanted the headboard to be integrated with that.  For the bottom, I nailed the fabric around to cover the wood, then cut it to length.  It could be a bit better looking, but no one will notice when the bed and nightstands are in place.
I tried to get the headboard in as quick as possible last week – so I could get the floor painted before we left.  We spent the weekend in Sudbury (where we used to live) to attend a wedding.  It was the first COVID wedding we went to, and a nice little break in the basement schedule ha.
Bedroom Floor Paint (Round 1)
But yes, I knew I wanted to do some sort of spongy/cloudy pattern on the bedroom floors.  I prepped three containers of colour, a light one, a gray one, and a mixed blue one (that I hoped would match the floors).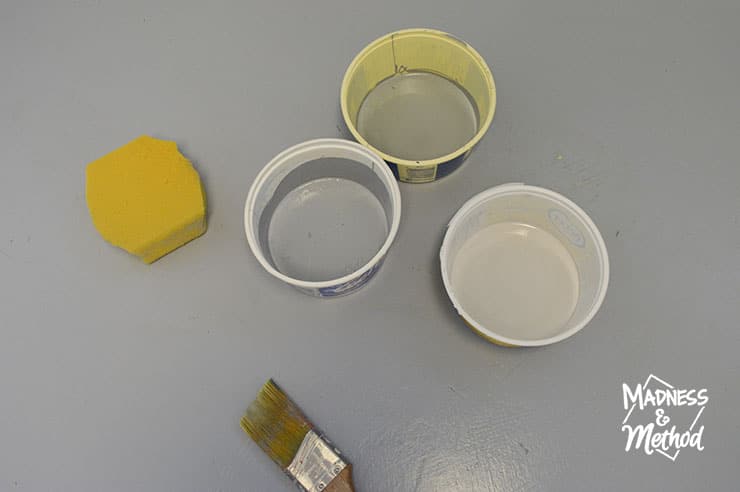 While it looked okay as I was doing them, I didn't notice until after we had gotten back (and they dried) that the mixed paint was not the same as before.
It was a bit darker, and the cute little clouds now had weird dark sponge splotches.

I thought I was blending it more, and only realized at the end of the room that I could have just used the lightest colour to achieve the same look.  Some areas were VERY obvious sponge marks, and I was not okay with that.
The closet area shows it a bit more – not good!  I took a poll on my Instagram stories, and most people voted to paint over everything and start from scratch.
So, yesterday morning I remixed another batch of custom colour, then rolled over everything again.  There are three good points now though.  1) I have a bit of extra mixed paint in case I need to do touch-ups.  2) I practiced my cloud technique and I think I know what I'm going to do. And 3) there was a small crack in the concrete, but after 4 coats of paint it's pretty much gone, ha!
I still want to give the floors extra time to cure once I do the clouds, so hopefully I can get to that soon.
Painted Bathroom Hex Floors
Now, before you go thinking that I am not good at painting floors, I introduce the (almost finished) bathroom hex floors!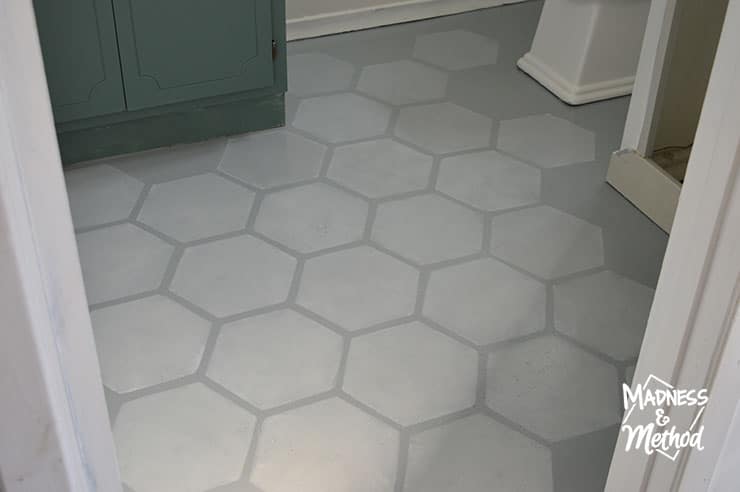 I used a hexagon shaped mould (similar to this) and sponged in the pattern.  I didn't want it to be a super crisp perfect solid colour, and it turned out really well!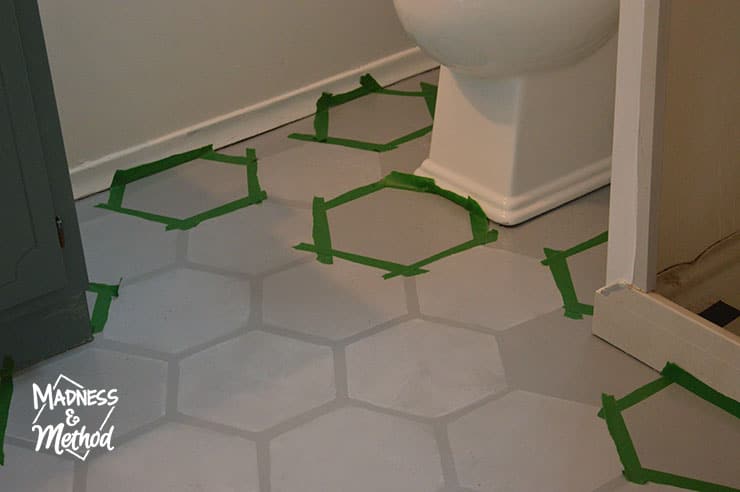 Because I used a hard plastic mould, I obviously couldn't cut it to fit the edges.  Luckily, a hex shape is fairly straightforward, so I taped up every other space.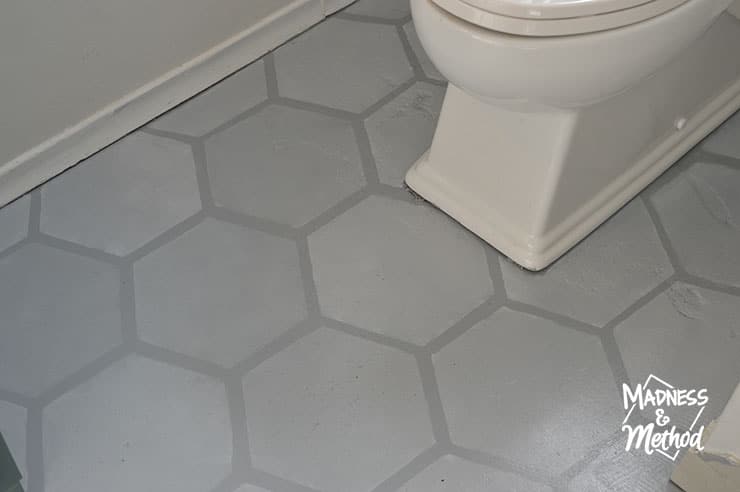 I removed the tape immediately, and when I was done half the edges, went back in and filled in the spots I missed.  You can see the new paint is a bit lighter in the photo above, so it should dry a tad darker.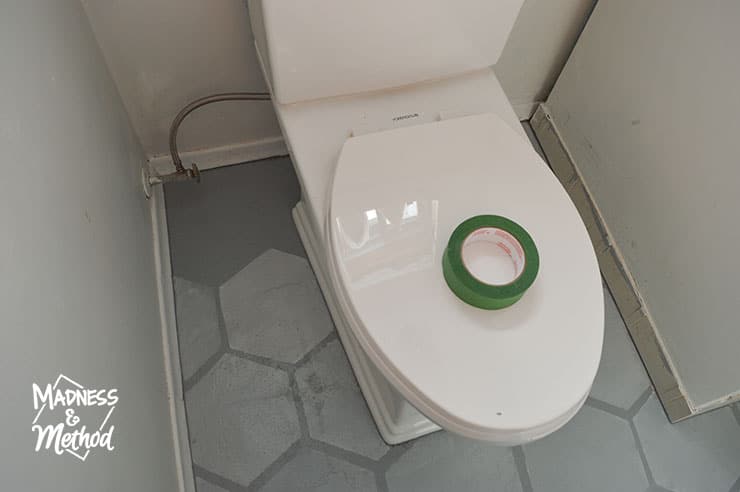 There is a small spot to do behind the toilet, but I had painted a few new hexes and couldn't get back there without going on them.  And, if you're wondering, our toilet is NOT even with the wall, so the pattern isn't off, ha.
About the One Room Challenge
Check out the One Room Challenge featured designers and hundreds of linking participants!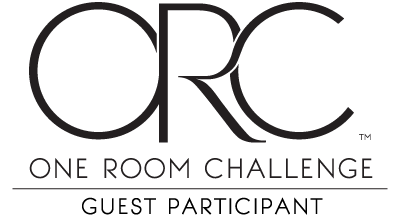 Follow my basement project:
Basement Reset BEFORE (ORC Week 1)
Removing Old Vinyl Flooring (ORC Week 2)
Painted Basement Entry (ORC Week 3)
Removing Carpets & Painting Concrete (ORC Week 4)
Wall-Mounted Headboard + Hex Floors (this week!)
And my budget breakdown: 
2nd Week: – 2.95$
3rd Week: – 7.20$
4th Week: + 29$
This week I purchased wood for my headboard, glue, tape and a hook for 49.48$
Total: 30.63$ 
If you're wondering where the photos of the rest of the basement are, don't worry – nothing has changed since last week.  The living room / laundry / workout room are still a complete mess.  I promise you though, once the bedroom floors are done, I can start to move things.  I'm looking forward to setting up the new bed frame and really maximizing the hidden storage in there.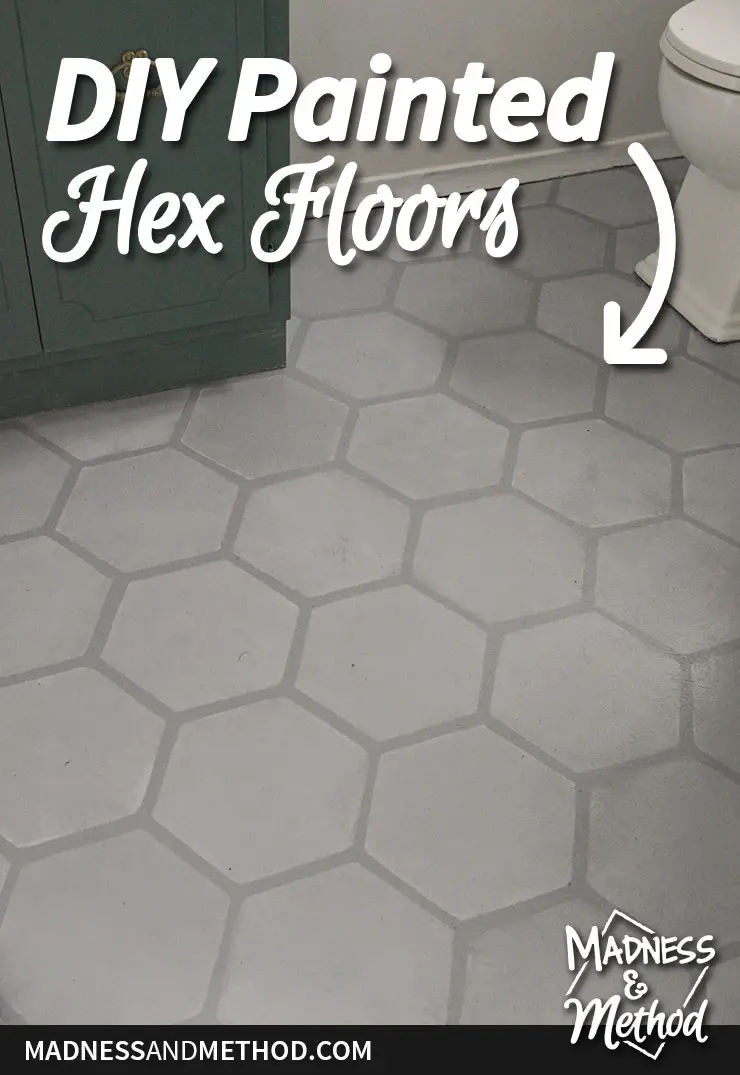 Other than that, I'll also finish the last little bit of the painted hex floors.  Then, maybe focus on building the other nightstands so we have a matching pair.  Any stain/colour suggestions?
Just a few short weeks left!