I'm sharing our latest group Halloween costume!  And I know it's a bit early, but we are just over a month out from Halloween – so it could be a good idea for your family/friends too.  If you have a group of 6 people – this is a relatively easy costume suggestion :)  Read on to see our Halloween family Clue costumes! 
I shared a roundup of our past Halloween group costume ideas a few weeks ago.  Up until this year, I had always chosen the characters for each person… However, for our Clue character costumes the kids each had a say in their selection.  (Plus, we've been playing the game as a family, so that's been fun too!).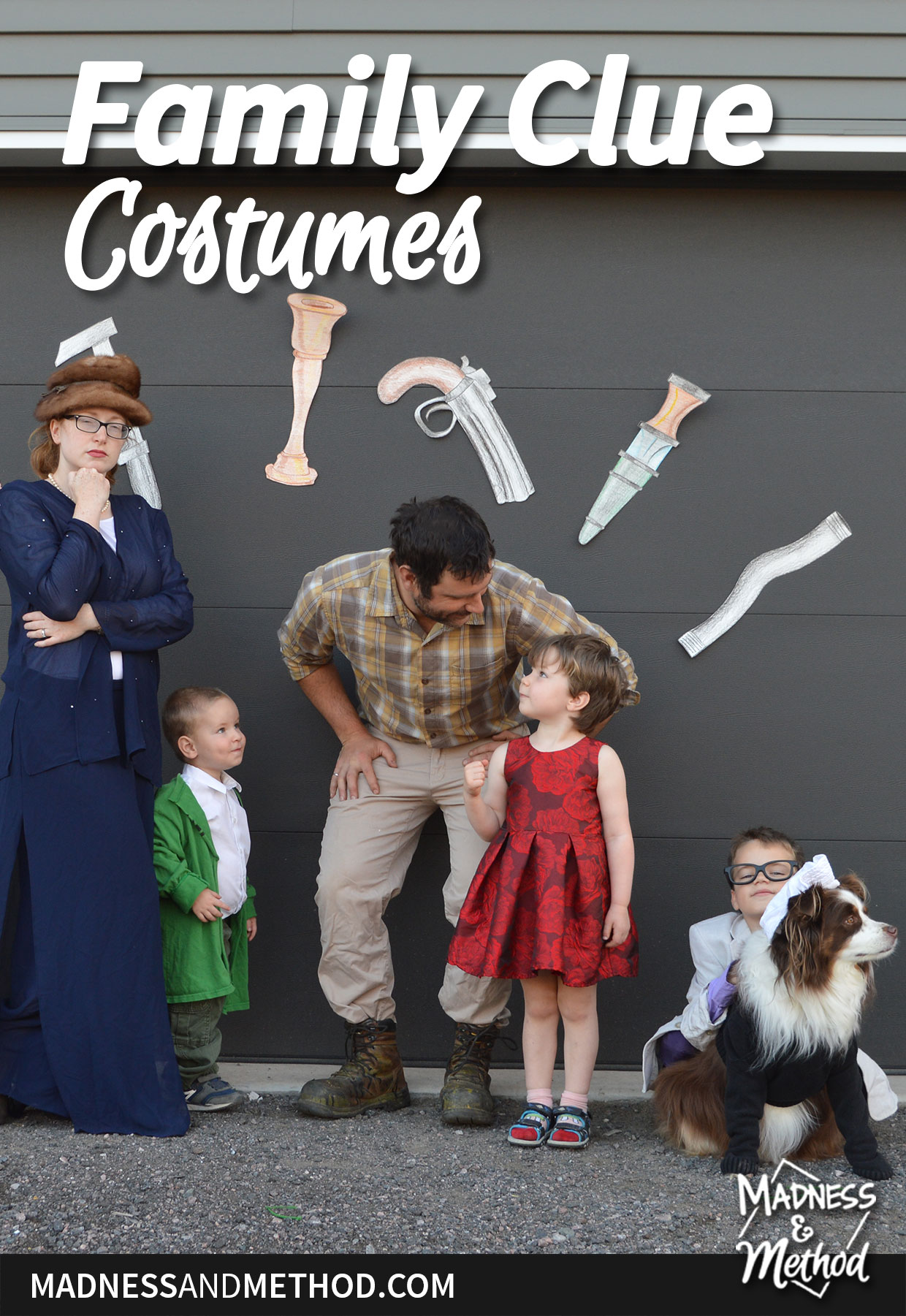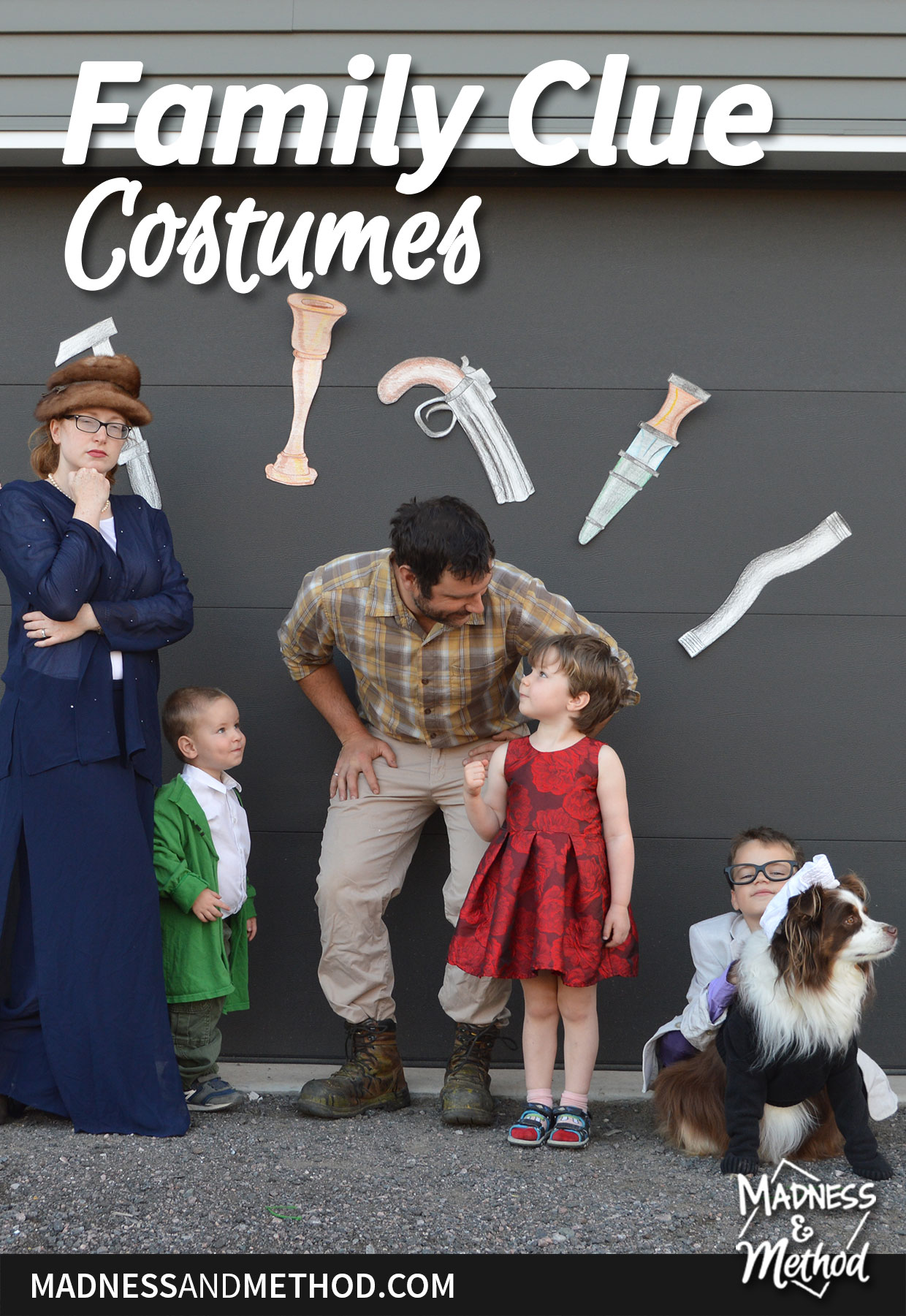 Okay, I know I mentioned that this is a costume for 6 people, but I had to get Tootsie in on the action!  She was the only character I chose ahead of time.  (I knew a little white bonnet would look so cute on her, ha).
If you've grown up playing the board game: Clue – you are familiar with the six characters.  Mr Green, Mrs Peacock, Colonel Mustard, Ms Scarlet, Professor Plum and Mrs White.  Apparently, there are spin-off movies too. 
Oh, and I think there is an updated version of the game with different characters – but we went with the classic.  On a related note: when we play with the kids (ages 2, 4, and 6) we show our cards face-up as people make clues.
I'll go into each character a bit more in-depth, but here is our recreation of the box cover.  Félix crossing his arms is so cute :)  Also, Mrs White's hat mysteriously kept falling off… 
Clue Character Costumes
Here is a bit of a breakdown of our costumes (I thrifted 90% of the items).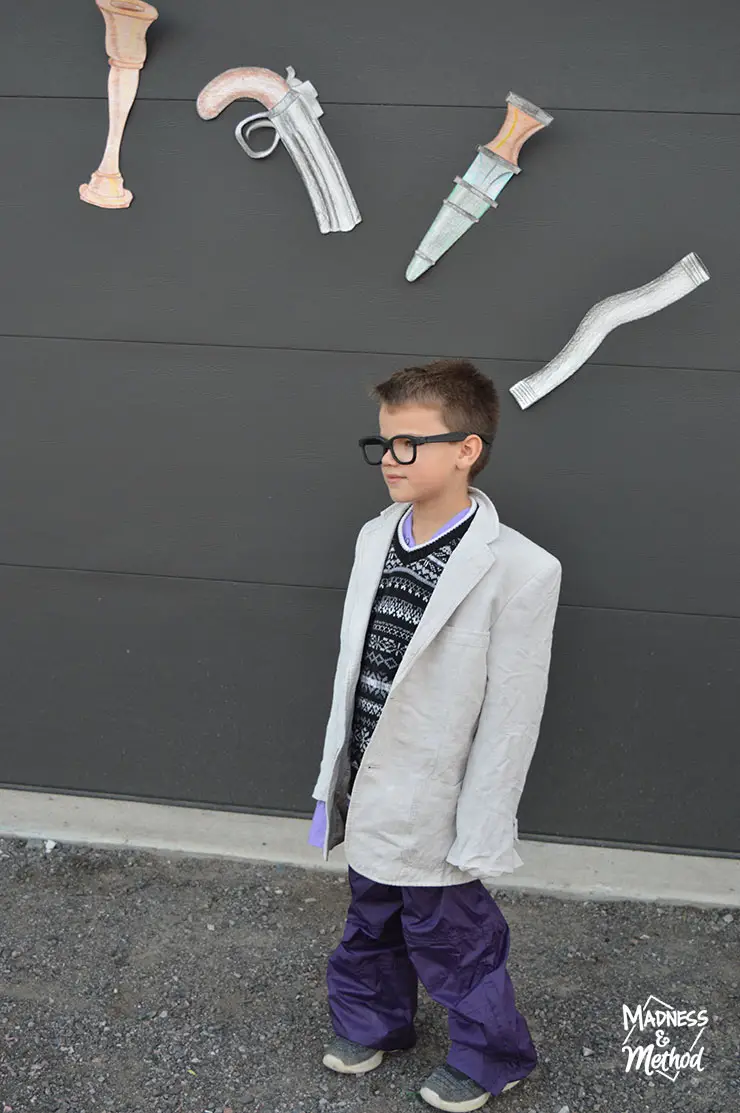 Professor Plum
Purple blazer/jacket
Button-up shirt
Black and grey sweater vest
Red bowtie 
Khakis
Glasses
Books
Zachary chose the purple character: Professor Plum.  I couldn't find a purple blazer and beige pants, so I switched them.  They're also a bit large… and there were some complaints ha.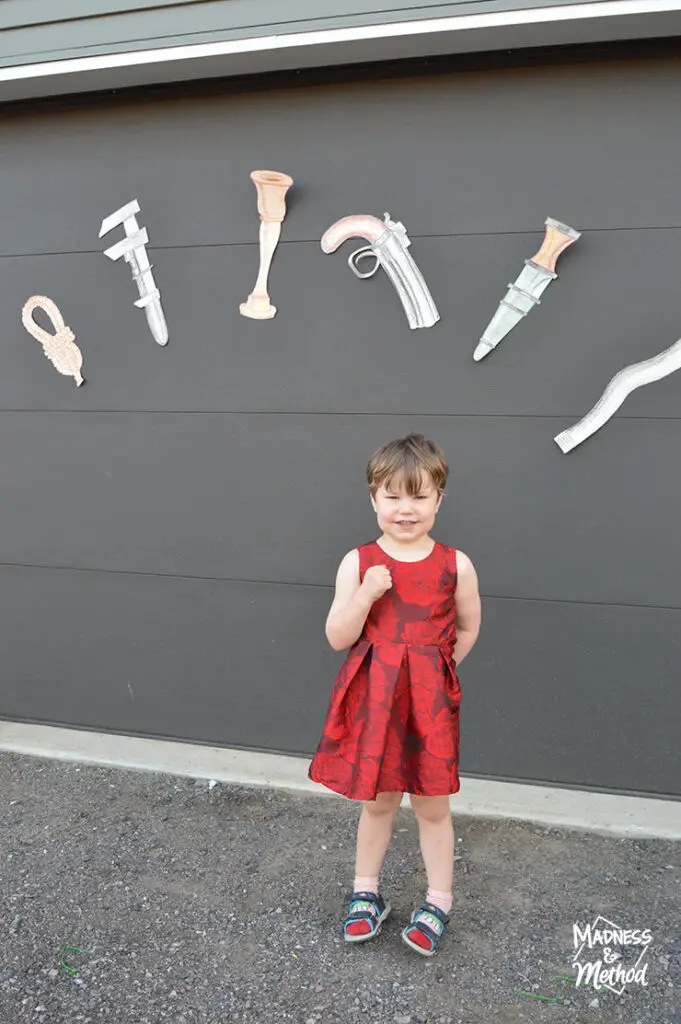 Ms. Scarlet
Red dress
Gold bracelets
Earrings
Curly hair
"Young"
Élise chose Ms Scarlet and has probably tried on her costume the most.  I had the perfect little gold brooches/earring, but she didn't want to wear them.  For Halloween, she'll probably wear red leggings and a red coat too (it gets cold here!).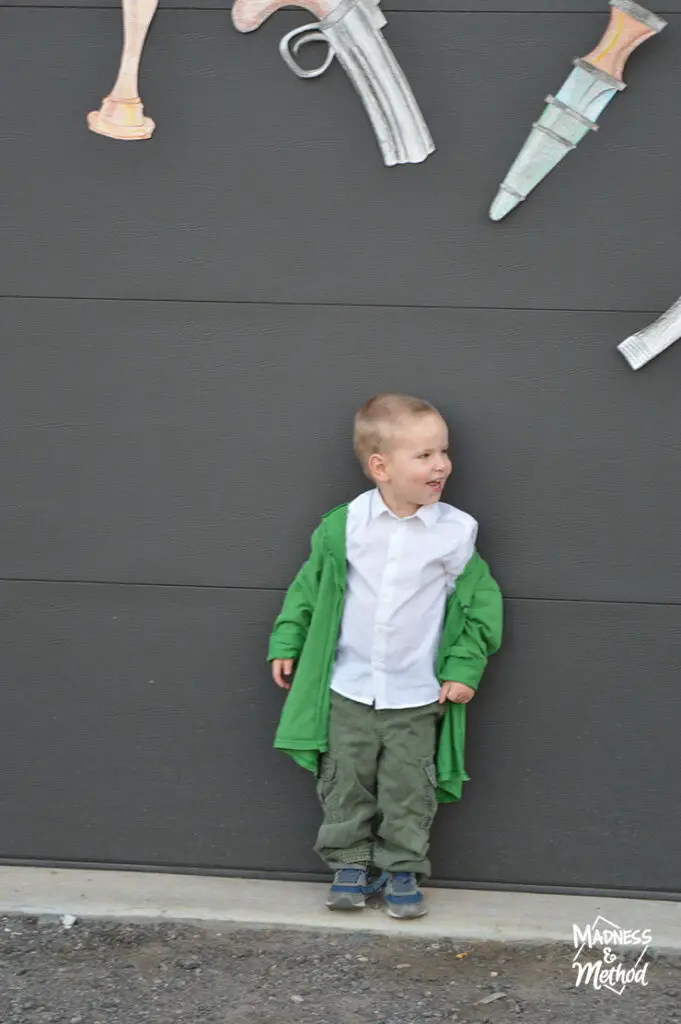 Mr Green
Green striped suit
White button-up shirt
Red fluffy boutonniere? 
Balding
Félix loves Mr Green, and this was definitely the hardest costume to shop for.  Mostly because of sizing.  Actually, I'm not sure if I have the green pants from a few costumes ago, or if he outgrew them.  For the shirt, I cut up and glued a regular long-sleeve cotton one to look like a suit.  I wanted to draw dark "balding" hair too, but you can't see my powder makeup very much, ha.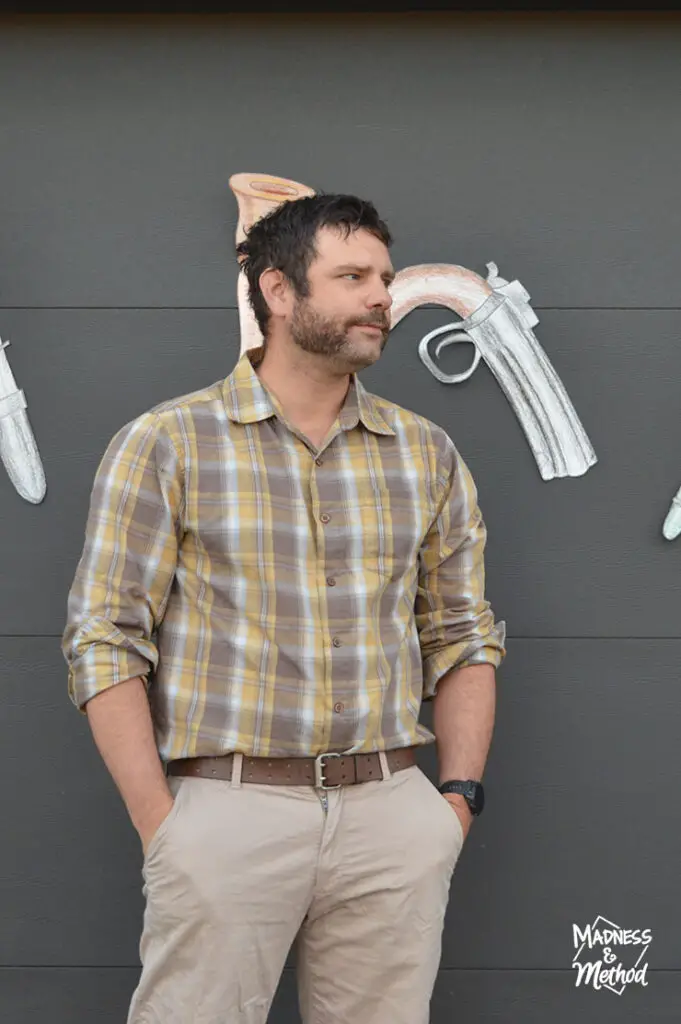 Colonel Mustard
Yellow/khaki pants
Yellow/khaki army jacket
White button-up shirt
Tie
White hair with a beard
Army boots/belt/patches
Oh Colonel Mustard… I specifically bought the Husband very yellow pants and a jacket.  He complained that the jacket didn't fit (it was women's sizing) and that he had something better.  I will give him extreme props on the Colonel Mustard beard!  We may whiten it with makeup for Halloween.  Also, he lucked out that the boys picked Green and Plum, because Colonel Mustard is always his favourite character.
Mrs Peacock
Navy blue skirt
Navy blue top
Black Mary Jane shoes 
Fur stole/scarf
Peacock feather cage hat
Pearls
Finding matching clothes for ladies was definitely the easiest, although I didn't get the birdcage hat/peacock feathers.  And the fur scarf was interpreted as a fur hat, ha.  To me, Mrs Peacock is "old money" whereas Ms Scarlet is "new money".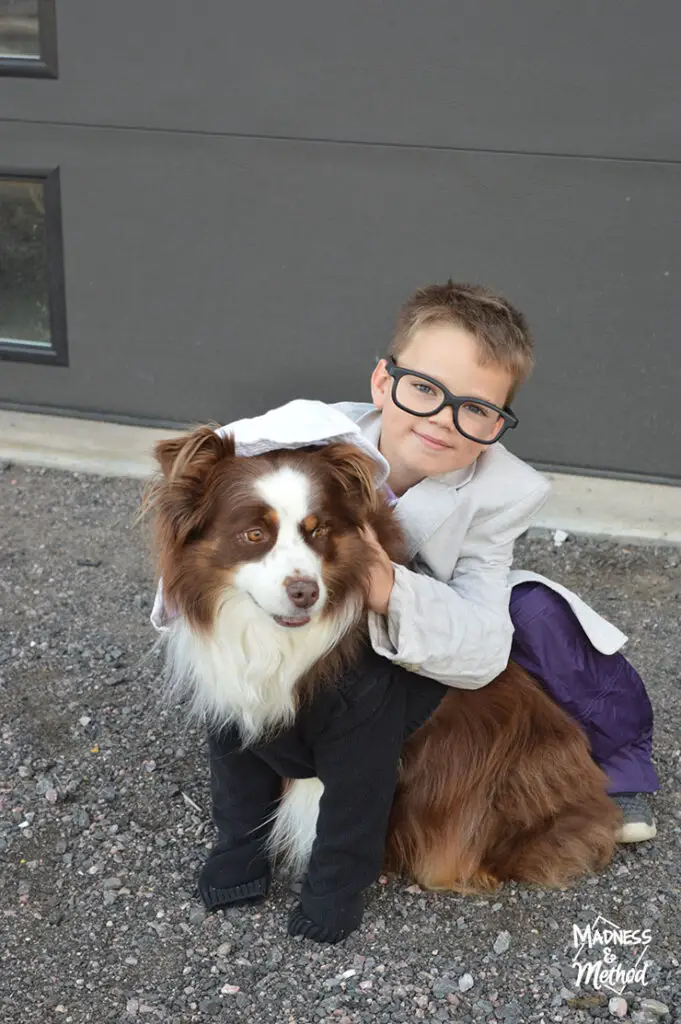 Mrs White
Black maid outfit
White apron
White hair
White bonnet/hat
I mean, doesn't Tootsie make the cutest Mrs White!?  We had a little apron (a baby bib) for her too, but I didn't find it for the photos.  She is always a calm and willing participant, but her hat did fall off a lot.
Hope you like our family Clue costumes!  The tripod was left at the cottage – so I had to prop my camera on a ladder for these shots.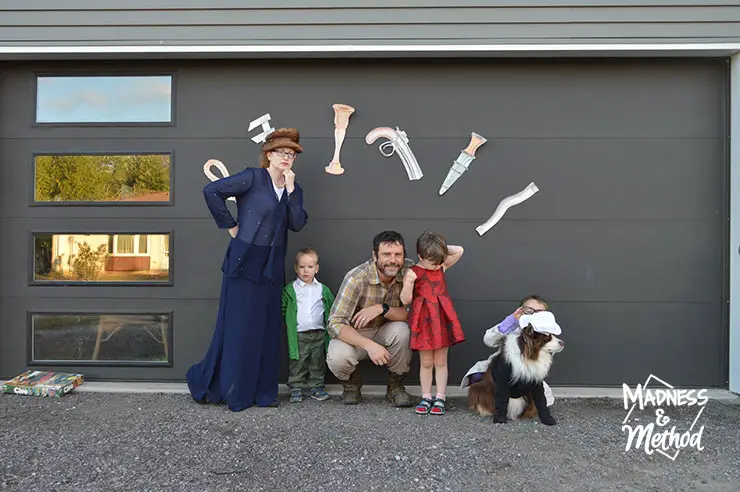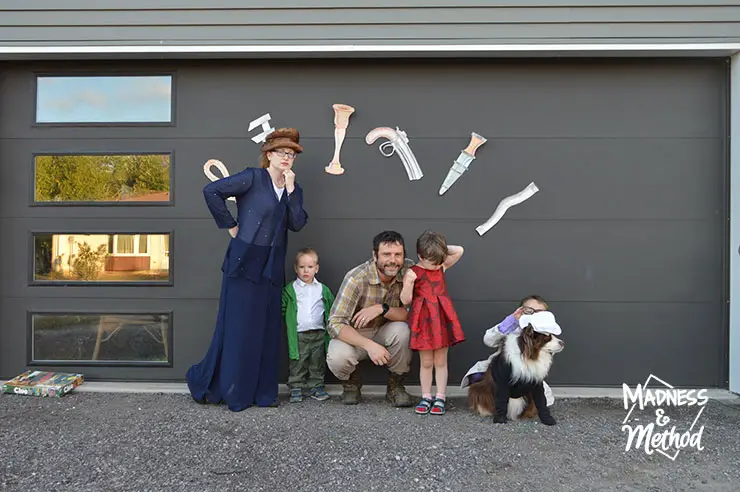 I also drew out large versions of the weapons.  For Halloween night, I want to go really into the Clue theme and do an outline of Mr Body on the sidewalk.  If you didn't know, the whole premise of the game is that Mr Body was killed and you have to figure out who did it, with what weapon, and in which room.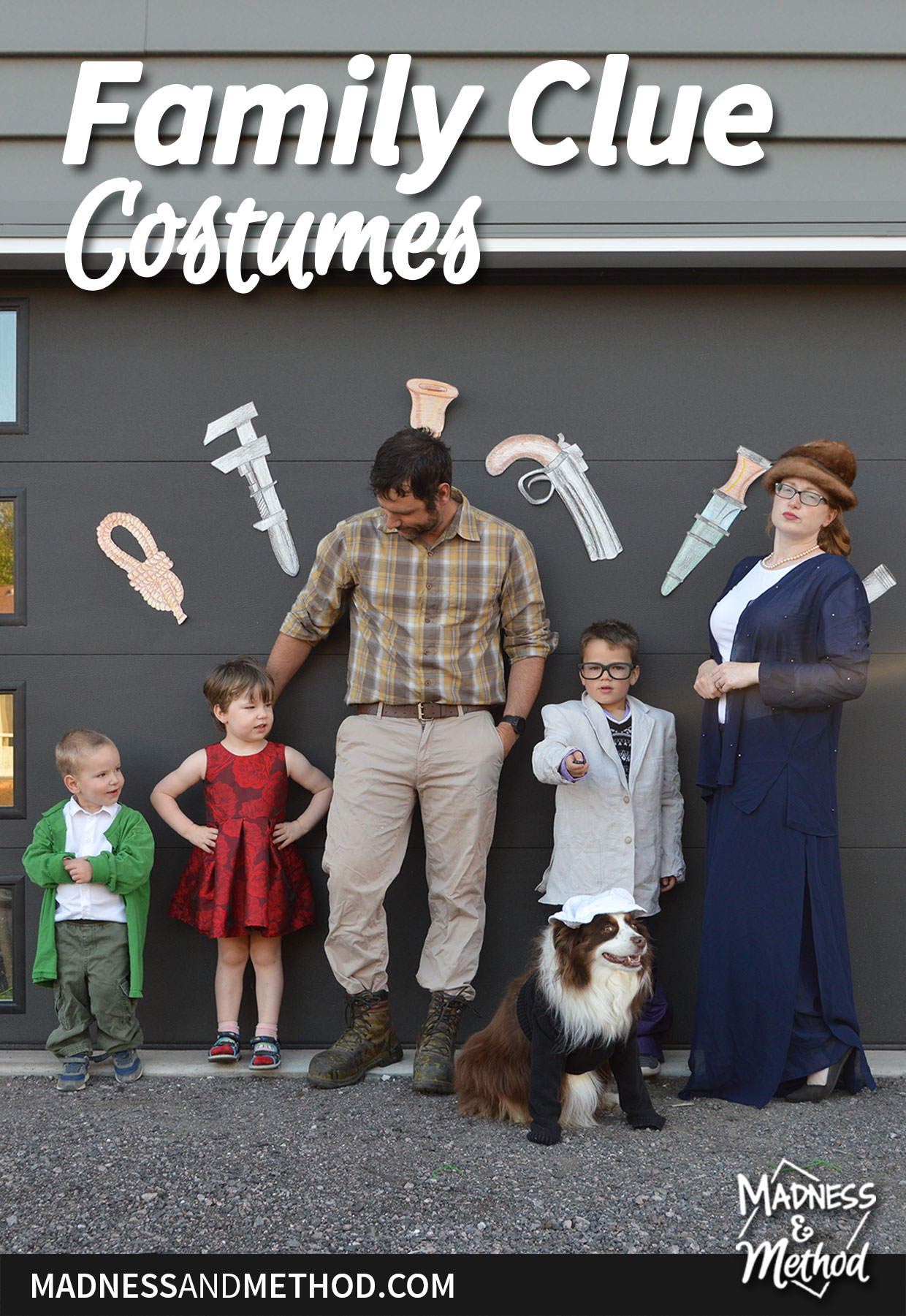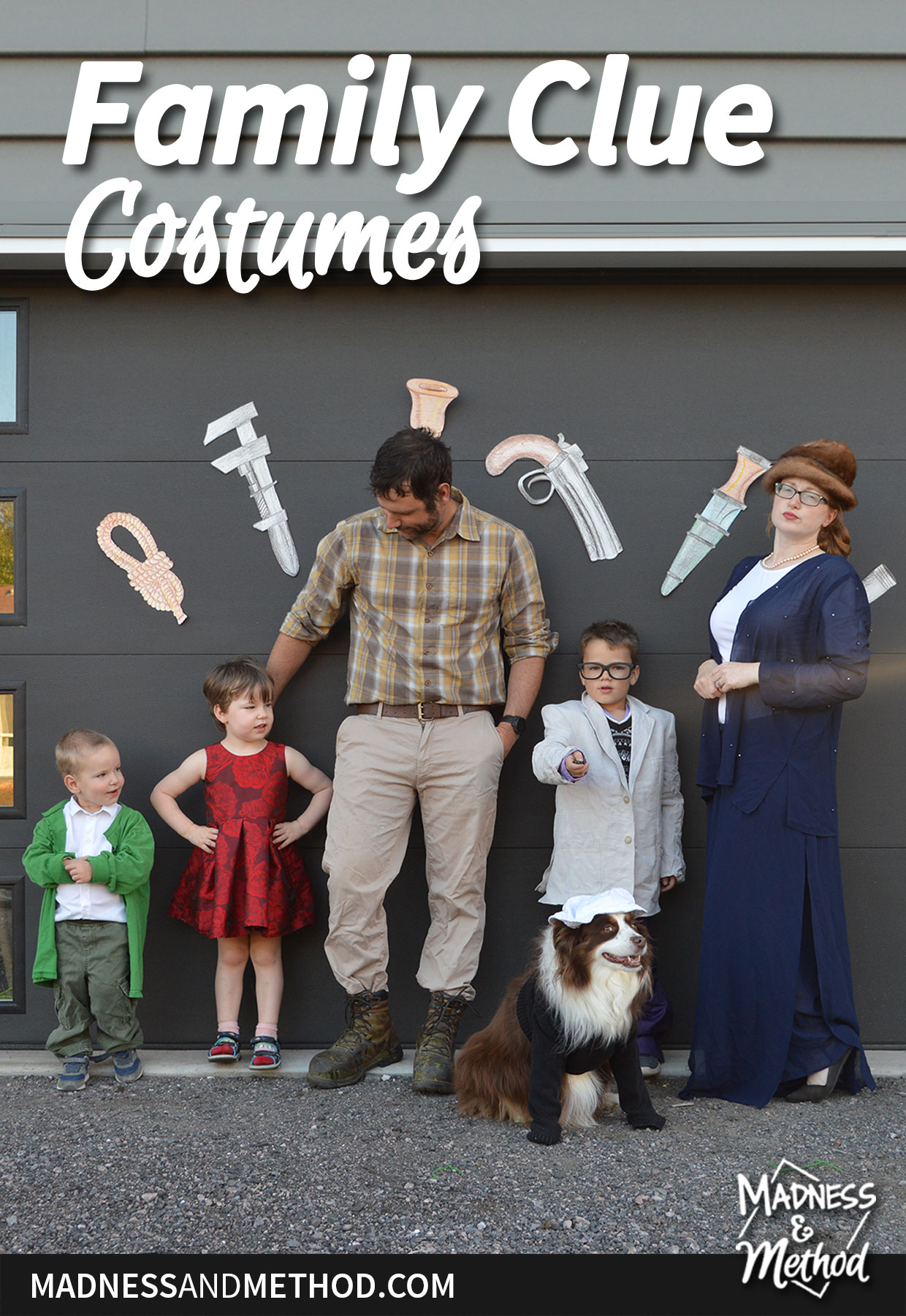 If I were to do the costumes again, I think I would have found a better Colonel Mustard outfit.  OH, I just remembered that I can dye Zachary's beige blazer to be plum coloured.  Duh!  Then, he can wear his own khaki pants and not complain about the too-big purple ones.
Weird coincidence though, I found all his clothes within a few hangers of each other.  And didn't come across any other purple things that would work again.
Okay okay, I'm going to attempt to colour the blazer and post an updated photo then.  In the meantime, here is a photo of Félix trying to get Tootsie's hat on: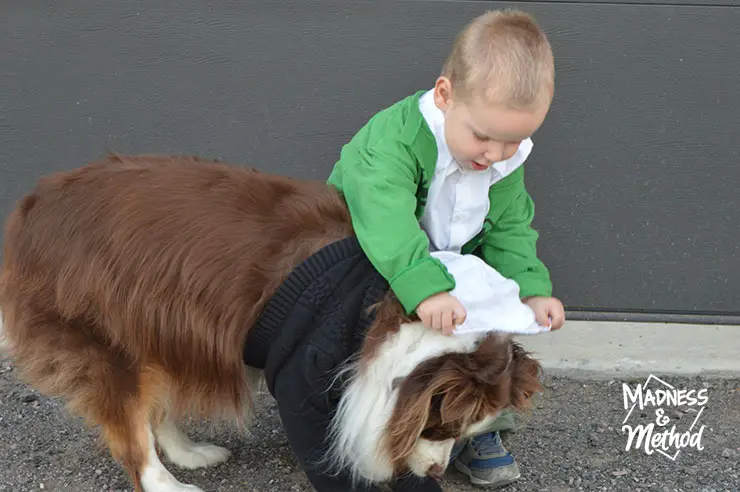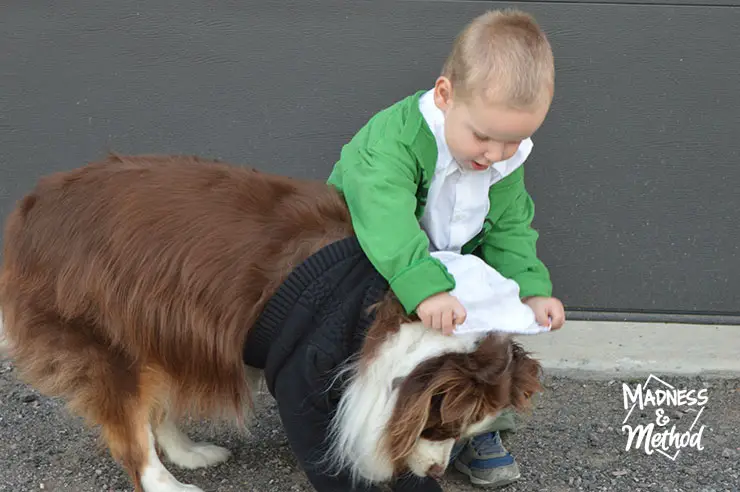 I should have taken a video – it was SUCH a scene, ha. 
Looking for more family costume ideas?  Check these out!