Can I let you in on a secret?  I've been mixing my own custom interior paint colours for years! It's such a simple (and cheap) way to get different colours using whatever leftover paint you have.  Okay… maybe it's not that big of a secret since I have mentioned it before – but I figured a full tutorial was in order.  Ready to find out how to easily mix paint at home!?
– Note: This post contains affiliate links. See more information about affiliates here. –
As a reminder, I'm updating our hallway for the Spring One Room Challenge.  You can see the before photos and plans, read about repairing a textured ceiling and last week I chatted about painting sliding closet doors.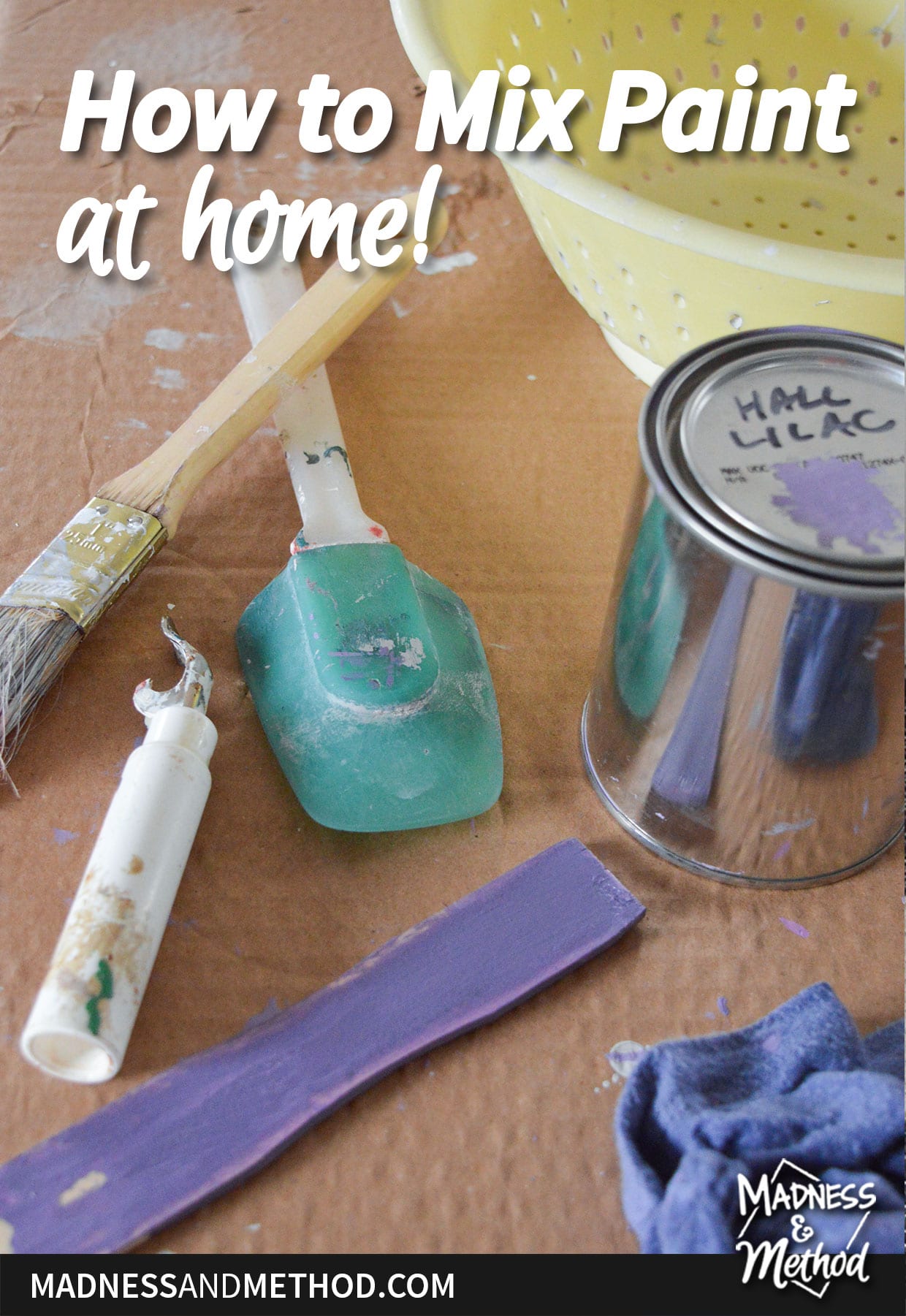 Ready to find out about mixing paint!?  Do you know which colours to mix to get the one you want?  What about how much of each colour to use?  For these questions, let me talk about something that you need to know… the colour wheel!
Using Colour Theory to Mix Paint
You can see different variations of the colour wheel online (or in art books, etc.) but I thought that a simple one, without shades, would be the easiest to understand.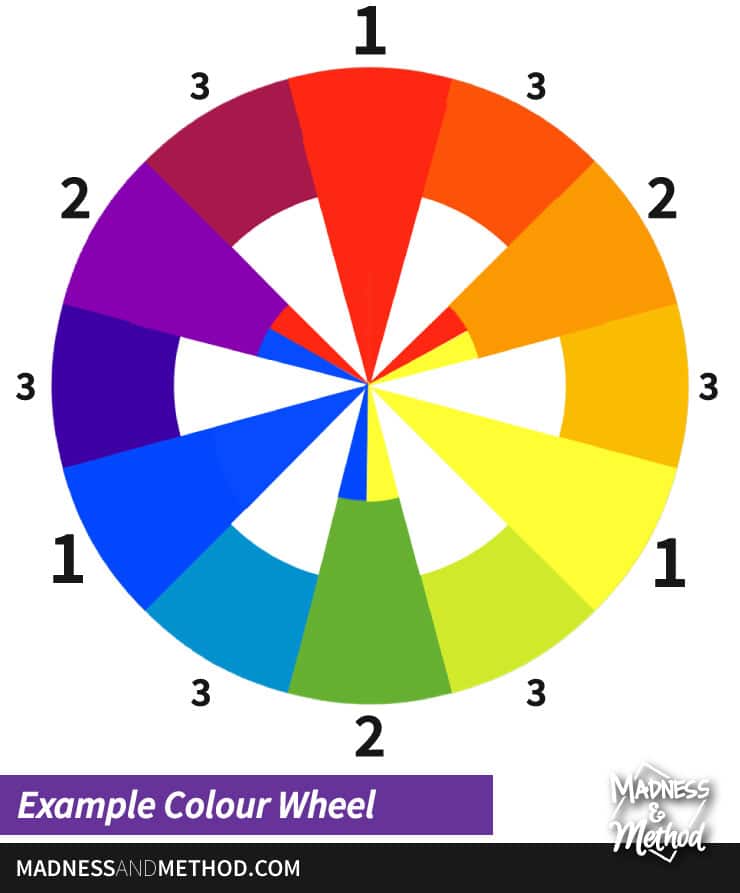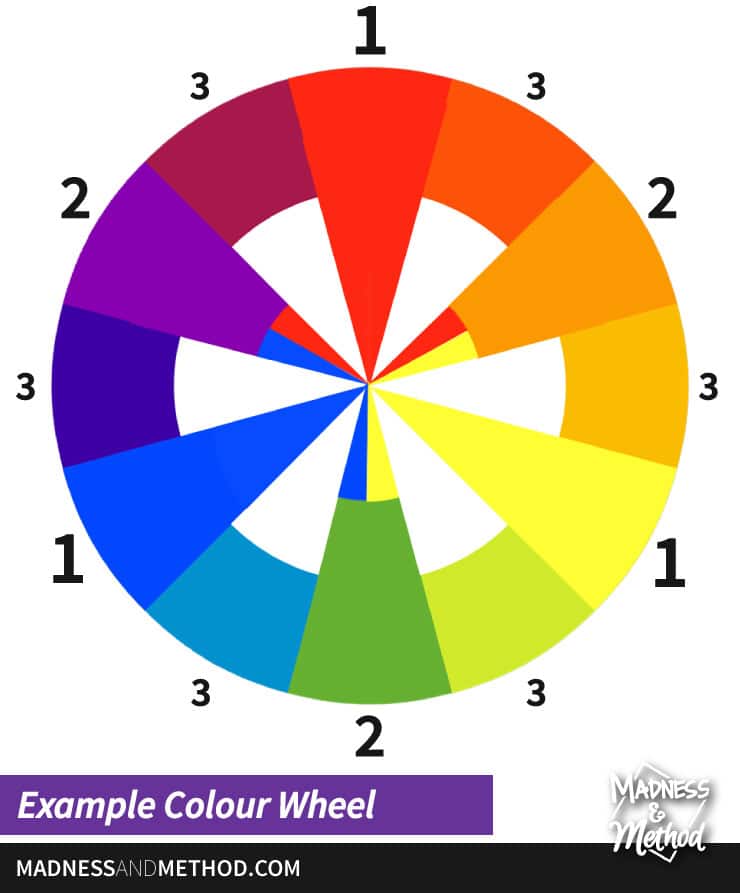 Sometimes, I'm surprised when people don't know colour theory… I thought everyone learnt that in grade school!  Maybe they did, but some people just didn't retain the info?  Either way, the photo above shows the basic colour wheel.  The three primary colours (with the 1s) are yellow, red and blue.  For printing, it's actually "yellow", "magenta" and "cyan".  If you can't remember that, just think about a printer colour cartridge.
Essentially, all colours can be mixed from the primary colours.  Secondary colours are direct blends of those, aka green, purple and orange (see the 2s in the diagram).  Tertiary colours are the in-betweens of those (the 3s).
Colour theory is important when mixing your own paint.  You need to understand what colours you have, and what you can make with them.  Because, no matter how hard you try, you can't make teal paint with a bunch of purples and oranges :)
Why Mix Your Own Paint!?
I did mention this, but I love mixing my own paint at home.  It's actually super easy to mix your own paint using leftovers!
And, I had a lottttt of leftovers from my recent tester purchase…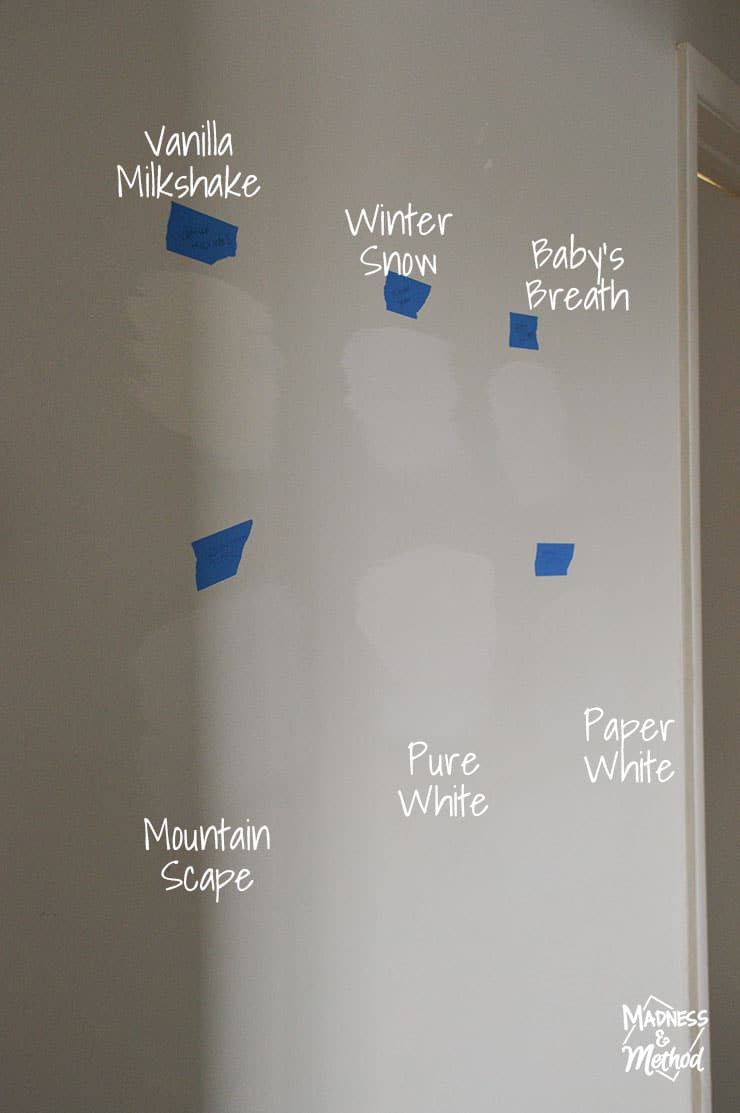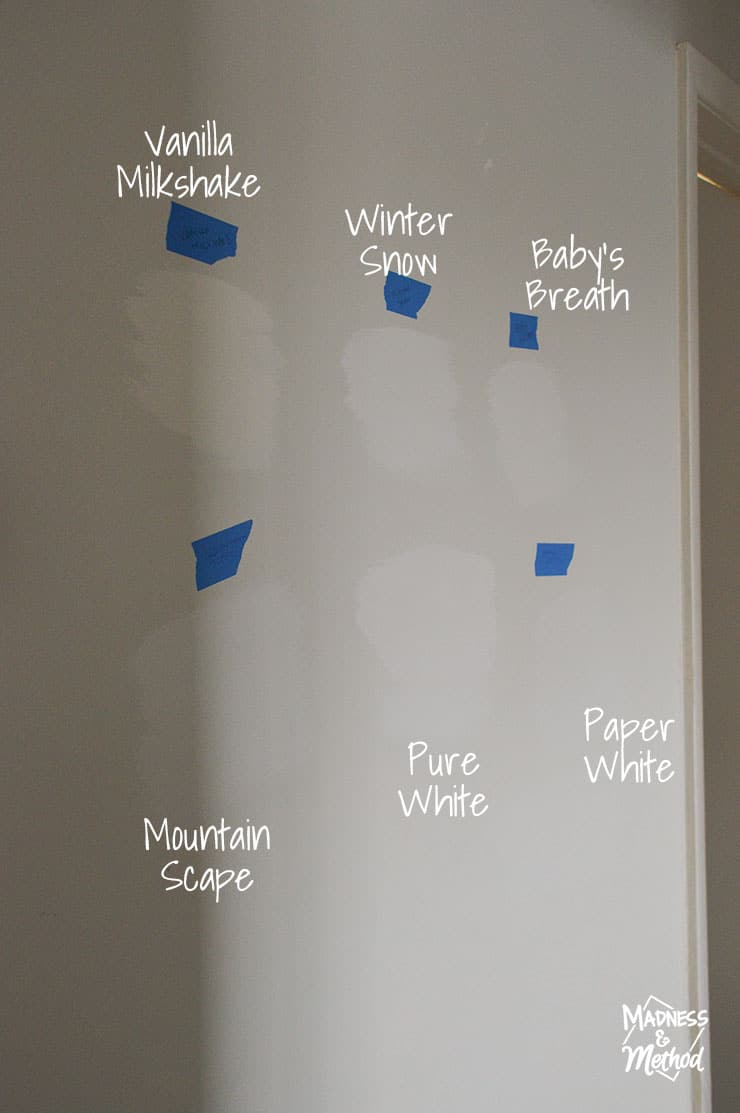 When we purchased our house just over two years ago, it had recently been cleaned and painted.  All of the walls were painted in the same off-white colour, but there was no leftover wall paint!  (You should leave a few things when you sell your house).
The previous owners did leave a 5-gallon bucket of ceiling paint (used it here!) and the floor paint (came in handy here!).  Luckily, they were both Benjamin Moore brands, so I narrowed my colour search to that store.  (Although, where we live, there are only 3 paint brand options to choose from).
I picked up a few swatches of whites, and then got samples in the ones that were close. I painted the top three at first, and Baby's Breath was the closest.  It was in the correct undertones, whereas Vanilla Milkshake was too yellow, and Winter Snow was way too blue.  Unfortunately, they couldn't darken the Baby's Breath paint sample, and I didn't think the painters had done that either.  Using the power of the internet (searching for things like "paint similar to Baby's Breath, and using the "similar colour" features on the BM website), I was able to come up with a shortlist of other possible colours.
I think I tried Pure White before finding the darker Mountainscape and Paper White, and the final one was the winner! (This took a while haha).
But alas, I had 6 little tester pots with off-white paints that I could just mix together… hence the reason for this post!
How to Mix Paint At Home
First of all – remember to stick to water-based paints!  You can mix oil-based paints with oil-based (like when mixing stains), but you can never mix water-based and oil-based.  Once your supplies are gathered and your surrounding area is prepped, you are ready to go!
I mixed two different colours (a blue and a purple), so my photos and the video won't be the exact same.
First, start with a clean container where you'll store your paint.  Fill your container with water and mark the height in the bowl or container that you'll be using to mix the paint.  This way, you won't have too much paint that you can't store!
Determine what colour you want, and slowly add in your pre-stirred paints and mix as you go.  Remember, it's a lot easier to add more colours than to take away what you already poured.
If you want a lighter colour, start with white, and slowly add the colour.  Darker colours should be used sparingly!
Technically, all water-based paint is formulated differently.  It can have alternate names like latex, acrylic, alkyd, urethane, etc.  Water-based paint means that it can be washed with water.  (As opposed to oil paints that require a solvent to clean, ie: chemical).  Usually, if you don't see any scary MSDS warnings, and/or the instructions say water clean up, then you have a water-based paint!
Some people say that you should stick to the same type and brand of paint – but so far, I haven't had any memorable mishaps.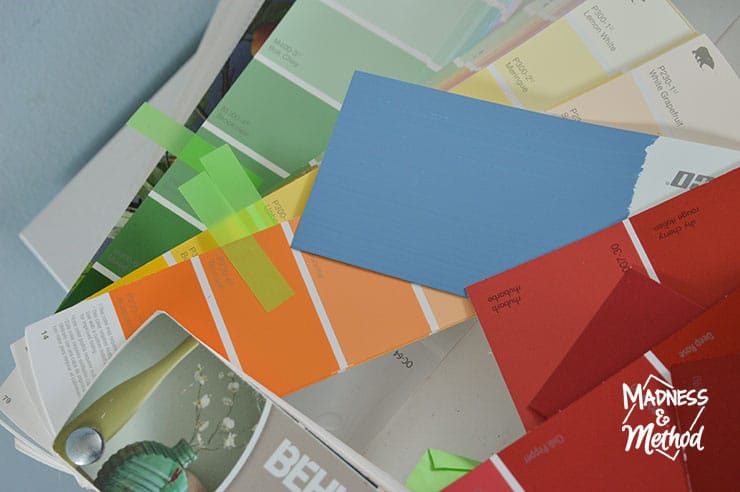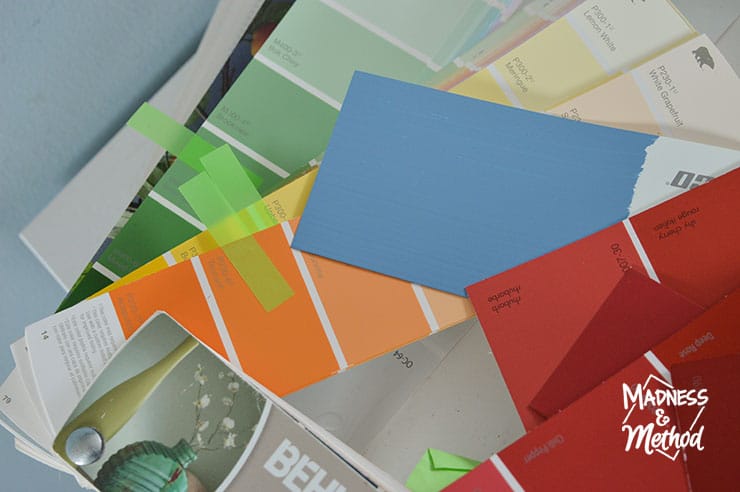 Once you're satisfied with the colour you've achieved, and everything is thoroughly mixed, you can carefully pour your paint into the storage container (or paint tray if you're using it right away!).  Remember, the paint dries a bit darker, so paint a small card and let it dry if you want to double-check the colour.
PS: I selected and painted my first three colours (red, yellow and blue) before I mixed/chose my others.
How to Mix Paint Video + Other Tips
If you don't see the video player loaded above, you can watch the paint mixing tutorial on YouTube here.
Recap + Other Paint Mixing Tips
Stick with water-based paints
Understand colour theory
Use a clean bowl, bucket or pail to mix your paint
Protect your area and have your supplies handy
Stir your paints before you mix them together
Use a sieve or colander to strain out chunks
A 50/50 ratio will most likely get you an even split
If you want to lighten a colour, use way more white (start with 90% and work your way up)
Know how much paint you'll need ahead of time (you will probably never be able to mix the same colour!)
It's easier to add more paint than take away what you already mixed in
You can mix different sheens (ie: glossy with an eggshell) and the sheens will mix
If you're mixing a large quantity of paint, a drill attachment is a good idea
Paint dries darker
Re-stir any stored paint before you use it
About the One Room Challenge
Once again, I'm updating our hallway for the Spring 2022 One Room Challenge. Make sure to check out the ORC blog to see all the people working on rooms.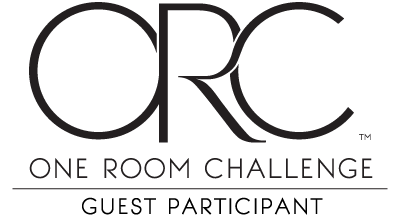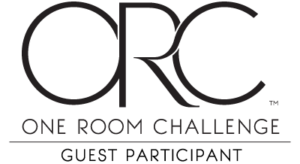 Follow my hallway makeover:
Hallway Makeover Plans (Week 1)
Textured Ceiling Repair (Week 2)
Painting Sliding Closet Doors (week 3)
Mix Paint at Home (this post!)
For the most up-to-date recaps, you can follow me on Instagram and/or check out my ORC Story Highlights.  I've done the first three colours of my stencilled walls, and finished the little closet bump out (as seen above).
I decided to do the half-wall like our living room and entrance and moved the purple painting there.  See the sneak peek of the diamonds!?  It should be really fun when it's done :)
Next week I'll have a big list of all the things I need to complete.  I'm going on vacation soon and I want to finish the hallway before then… so I should be busy!
Please let me know if you have any questions about mixing paint at home!  As I said, I've been doing it for years (since I was a young child I'm sure!).  I painted our old bedroom a custom colour, Félix's first nursery (where I learned that lightening a colour needs a LOT more white) and his newest stripe colours too.  Actually, the kids' room is also a custom colour, and I mixed floor paints to create my cloud floor base.
But yes, mixing paint is fun :)