Yum!  I can't think of anything that goes better together than peanut butter and chocolate (or chocolate and almost anything really).  Well, unless you're one of those weird people that don't like the amazing combination of peanut butter and chocolate… but let's just say you're a little crazy, okay?  For us regular PB+C lovers, I just made this delicious no bake cheesecake and would love to share the details with you :)
First, I have to mention that I wanted to model this after this jumbo Reese's Cup that weighs 1 pound (seriously!).  I thought that I could make a similar Reese-inspired cheesecake dessert (because I love cheesecakes as well) and I would basically be making a super jumbo version.
For the base, I mixed 1 cup of graham cracker crumbs with 1 cup of melted chocolate (this filled an 8″ circular foil pan and I had plenty of leftover).  I used semi-sweet chocolate chips, because I feel like they're the perfect chocolate that isn't too sweet.
THIS WILL BE A HARD BASE.  Sorry for the all-caps warning, but doing 50/50 chocolate and grahams base will be hard to cut through.  I just wanted to share my real-life experience.
Anyways, I simply pressed the chocolate crumby mixture into the bottom of the pan using the back of a spoon.  Maybe next time I will do 75% grahams, 25% chocolate?  Or something that makes a softer crust at least.  (Hey, maybe I could add Nutella?!).
I placed the pan aside to let the chocolate harden, or you can put it in the fridge to speed up the process.  While the pan was cooling, I melted a cup or so of chocolate chips on a double boiler.  To achieve the "Reese Cup" chocolate coating, I smeared the melted chocolate across the sides (again using the back of a spoon).
I put the pan in the fridge so the sides would harden, while I got to work on the peanut butter cheesecake part.
For the cheesecake, I adapted this No Bake Peanut Butter Cheesecake Recipe from Kraft Canada (which is probably my go-to website for all thinks cooking + baking BTW).  BUT instead of adding 1 cup of sugar, I decided to make my version extra peanut butter-y by mixing in 1 cup of melted peanut butter chips instead.  I figured it would be a bit harder, more like the consistency of a real Reese Cup, less like a cheesecake.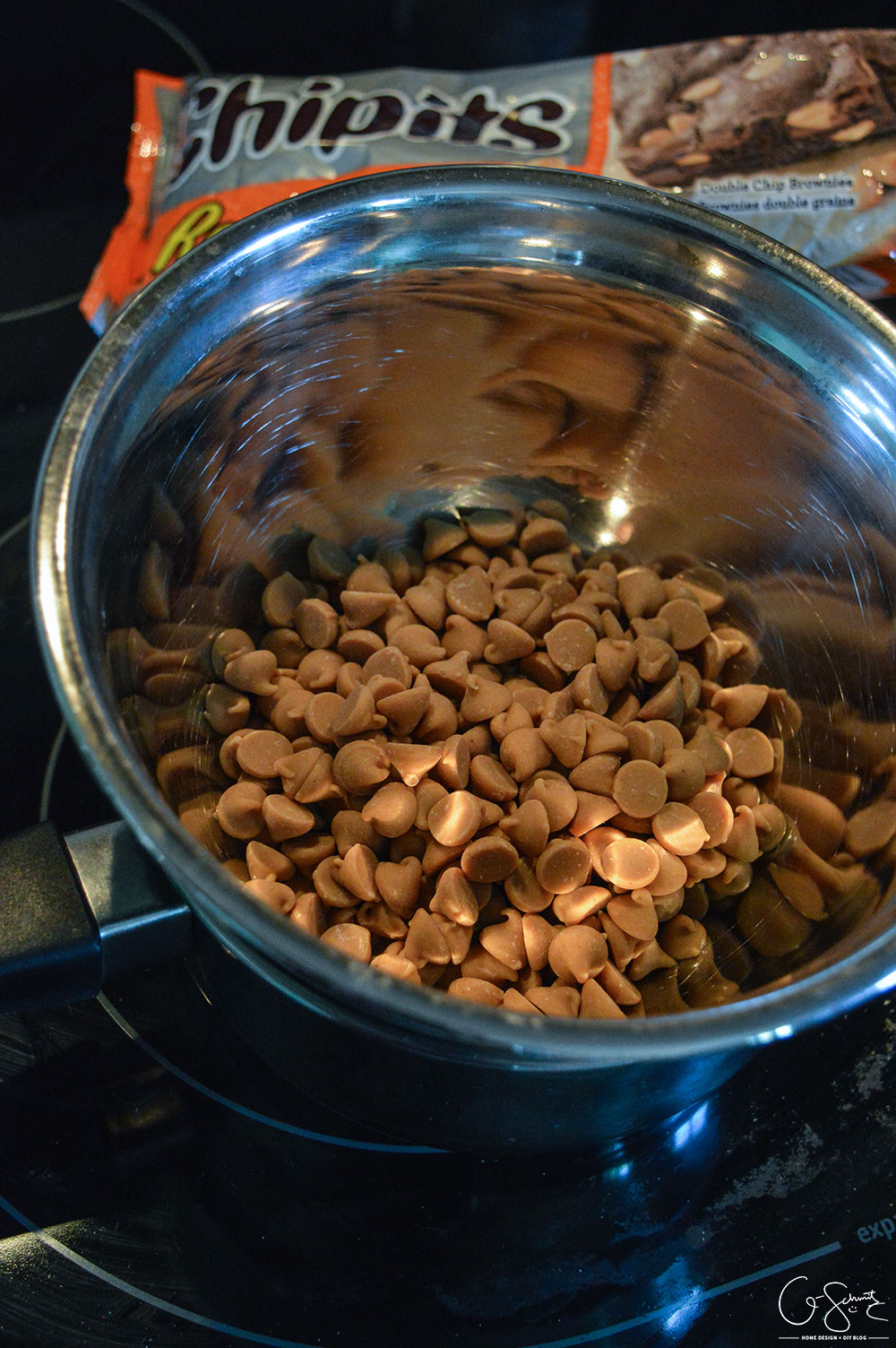 Yum indeed!
In case you're a bit lazy and don't want to click on the link for the recipe above, here is what I used:
2

packs of softened cream cheese

1 cup smooth peanut butter
1 cup melted Reese peanut butter chips
1 cup thawed whipped cream
I mixed the cream cheese and peanut butter together while I waited for the chips to melt.  Once they were, I whipped those in as well then hand-mixed in some (slightly still frozen) whipped cream.
You know what I love about a no-bake cheesecake?  No eggs – so you can eat all the batter you want!
When I had everything all blended together, I spread the cheesecake mix in my pan.
I realized I had a lot extra!  No worries, an emergency filling of some cupcake liners worked out great.  The original Kraft recipe called for a 9″ pan (but again mine was only an 8″).  I still think there would have been a bit toooo much filling (if that's even a problem?) so it's handy to have some liners around in case you run into this issue.
The cheesecake was put back in the fridge so it would stiffen, while I melted a cup or so of chocolate chips again.  (I still had some leftover from the first round, which is how I filled my little cupcake liners).  You can never have too much melted chocolate :)
When everything was all ooey-gooey melty, I spread it on the top of the cheesecake… and guess what?  Back in the fridge to harden!
Here is what it will look like when it's done.  You can always go fancier and do a nicer pattern or something on top (or melt some more peanut chips and make a cool design).  Also, you may notice that the pan is different on this one?  Ya, I was able to make another smaller cheesecake for the Husband (since he wouldn't be at home to enjoy the big one).

And here is that mini cheesecake sliced up, notice the chocolate all around the outside?  Yep, I'd say it's a good match to the original Reese's Cup!
Overall, this peanut butter and chocolate no bake cheesecake was a half-success.  Because even though it had a super hard base layer, it was still delicious.  The top chocolate layer was also a bit hard to cut through when it came right out of the fridge.  But if you take it out earlier, or even warm up your knife before, it makes the cut much smoother!
Print Recipe
No-Bake Peanut Butter Chocolate Cheesecake
Ingredients
1-1/2 cups of graham cracker crumbs

1 cup of melted chocolate chips

2 packs of softened cream cheese

1 cup smooth peanut butter

1 cup melted Reese peanut butter chips

1 cup thawed whipped cream

Optional: 1/2 cup melted chocolate chips
Instructions
1
Mix 1/2 of the melted chocolate chips and graham cracker crumbs together, then spread evenly in the bottom of a circular pan.
2
Add the remaining melted chocolate along the sides and cool to set.
3
Beat the cream cheese and peanut butter together while the PB chips are melting
4
Stir the melted peanut butter chips in, then add the whipped cream
5
Pour mixture into chocolate base and refrigerate.
6
Optional: Spread melted chocolate over the top of the cheesecake
Notes
I updated the original 50/50 crust layer here - should be less hard!
Have you ever made a no bake cheesecake before?  What about a peanut butter version?  I'm thinking I will make this more regularly, and I will definitely be altering my chocolate graham crust idea, because this concept would work in so many other cheesecakes as well!  I'll keep you updated :)
Oh and the mini ones with just the chocolate base and tops?  They were delicious as well :)  The all-chocolate base was still harder than a normal Reese's Cup, but much easier to handle than the slice of the big cheesecake.