Are you tired of hearing about the cottage yet?  I hope not, since it's not done and I've barely scratched the surface!  Today I'm sharing our upstairs cottage bathroom design.  It's a light and bright space, and I wanted the design to really match the rest of our Rocky Retreat theme.  I really wanted to incorporate some blue tiles – hope you like how it looks!
– Note: This post contains affiliate links. See more information about affiliates here. –
Our upstairs bathroom is one of the rooms that is the closest to being complete – so I have some photos of the progress so far.  Just a bit more cleaning and finishing touches, and we'll be done :)  But that could be a while, ha!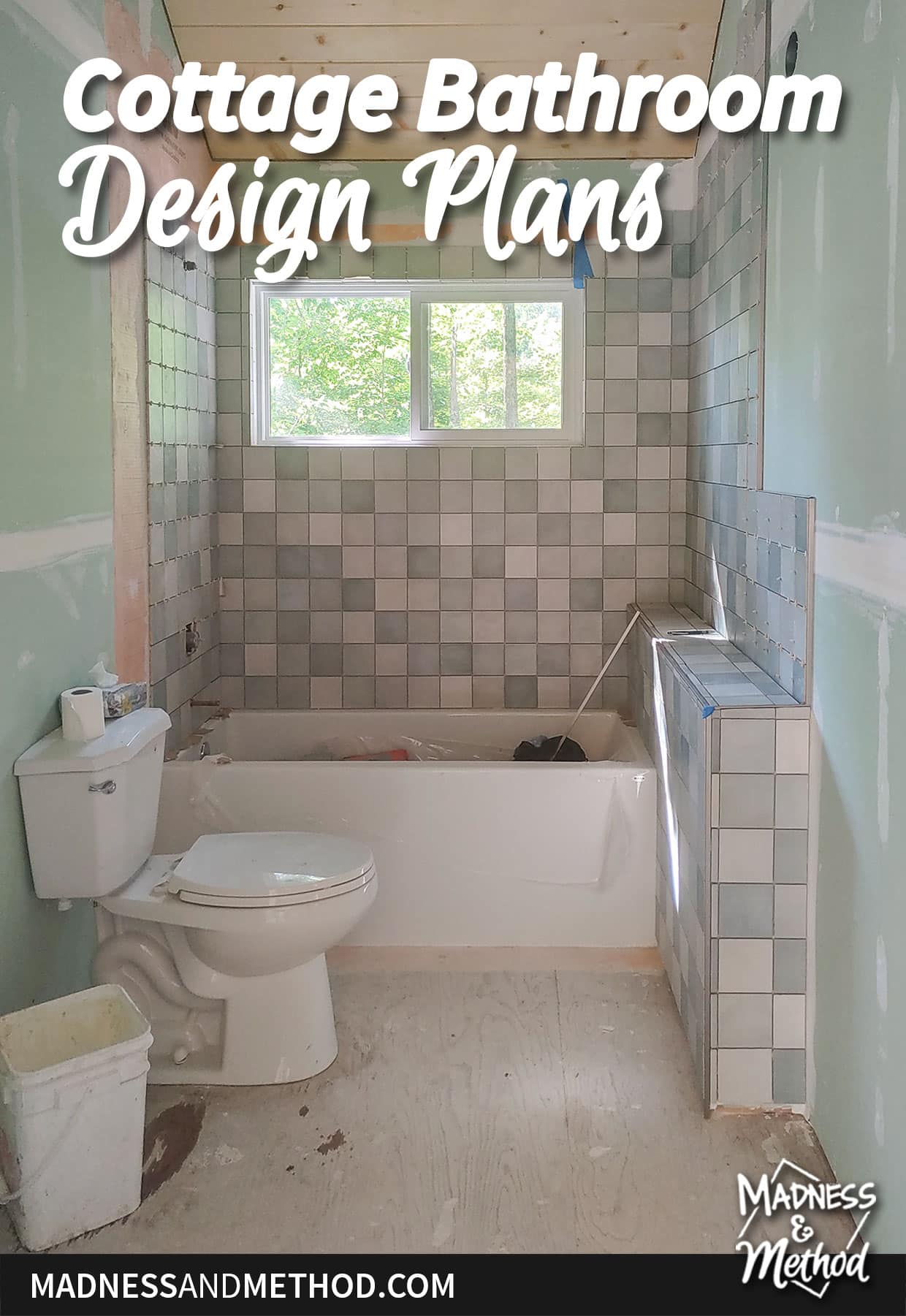 Anyways, here's a reminder of the layout of the upstairs bathroom: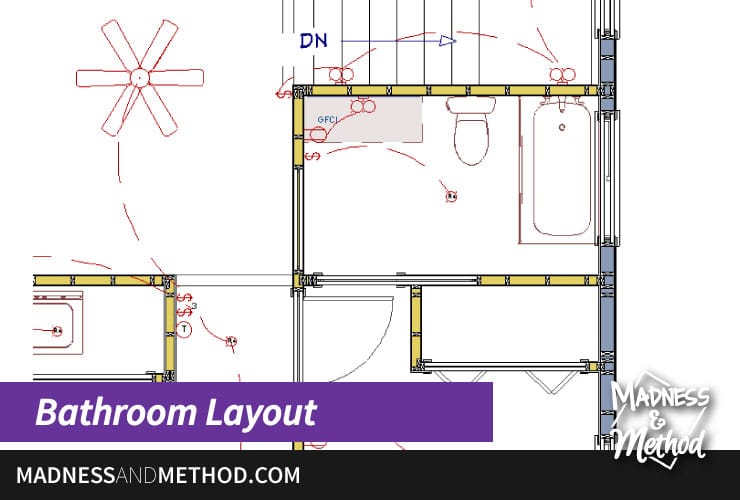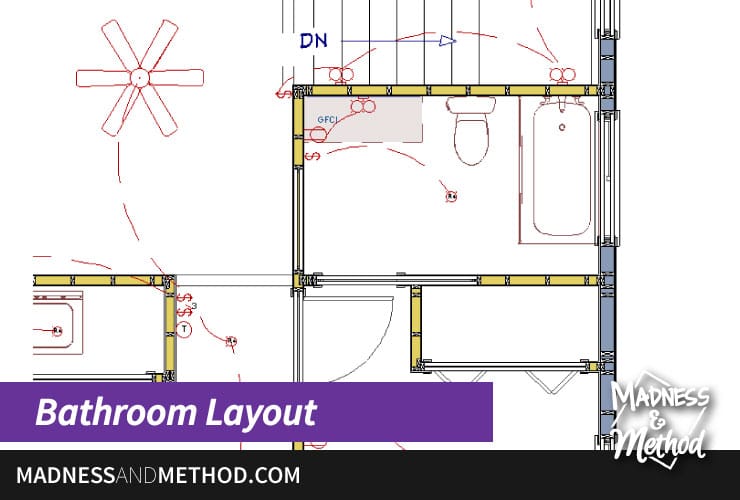 It's around 6′ x 9′, so room for the tub, toilet and a 48″ vanity on one wall.  I love doing a ledge behind the tub, and I made sure to have extra room for a big one in this space.  This bathroom also has two doors, one main swinging door from the living room, and a pocket door that goes to the bedroom.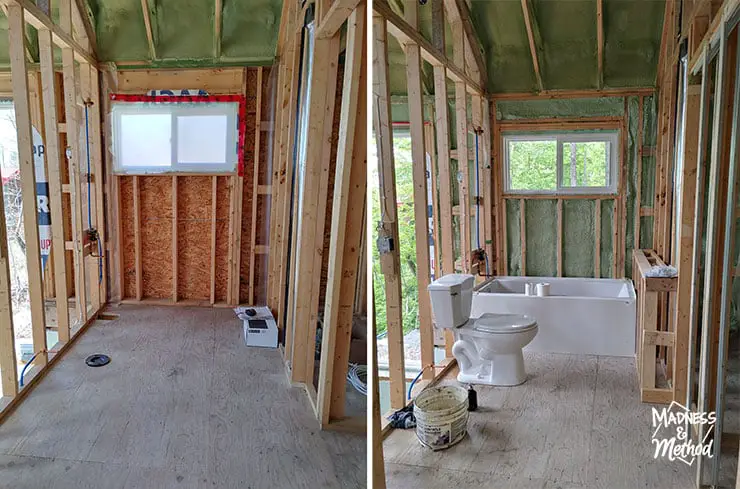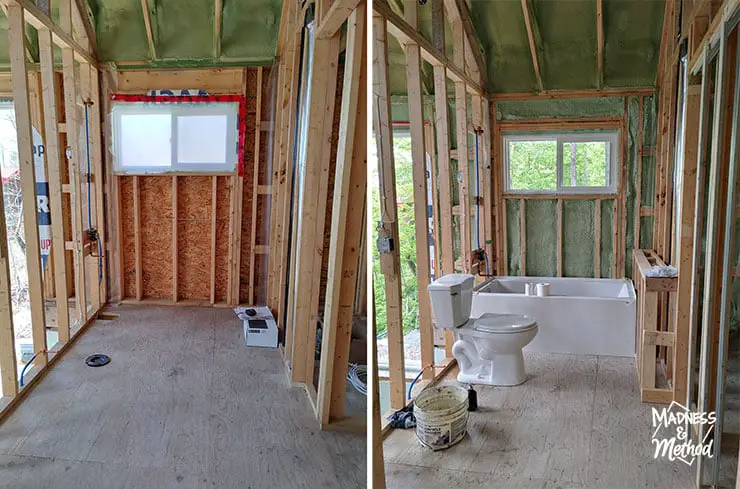 The photos above show the progress during various stages of framing.  These are from the view of the main door.  And yes, anytime you see a tub (and a bucket of water) you can be sure that people could use the toilet, ha.
Cottage Bathroom Inspiration
I debated different tile colours, wall treatments and various other things to make this bathroom fun.  I wanted to bring in our main blue colour scheme, and here were some inspiration images:
View this post on Instagram
For a long time, I thought that I would paint the vanity blue, and go with a more neutral tile option.  Or both!
View this post on Instagram
I really liked the idea of doing a blue tile with colour variation.
Or possibly going with two different tile colours (or a few).
View this post on Instagram
There was also the option of doing the back wall in blue, and the rest of the walls white.  That way, I could paint the vanity the same colour as the tiles.
Cottage Bathroom Design
I scoured many tile websites (and physical stores) to find blue tiles.  I wasn't 100% sold on the exact style, but it was hard to find blue tiles locally that fit the colour scheme I was going for.
Here is the cottage bathroom design (with photos of all the tile samples I narrowed down to):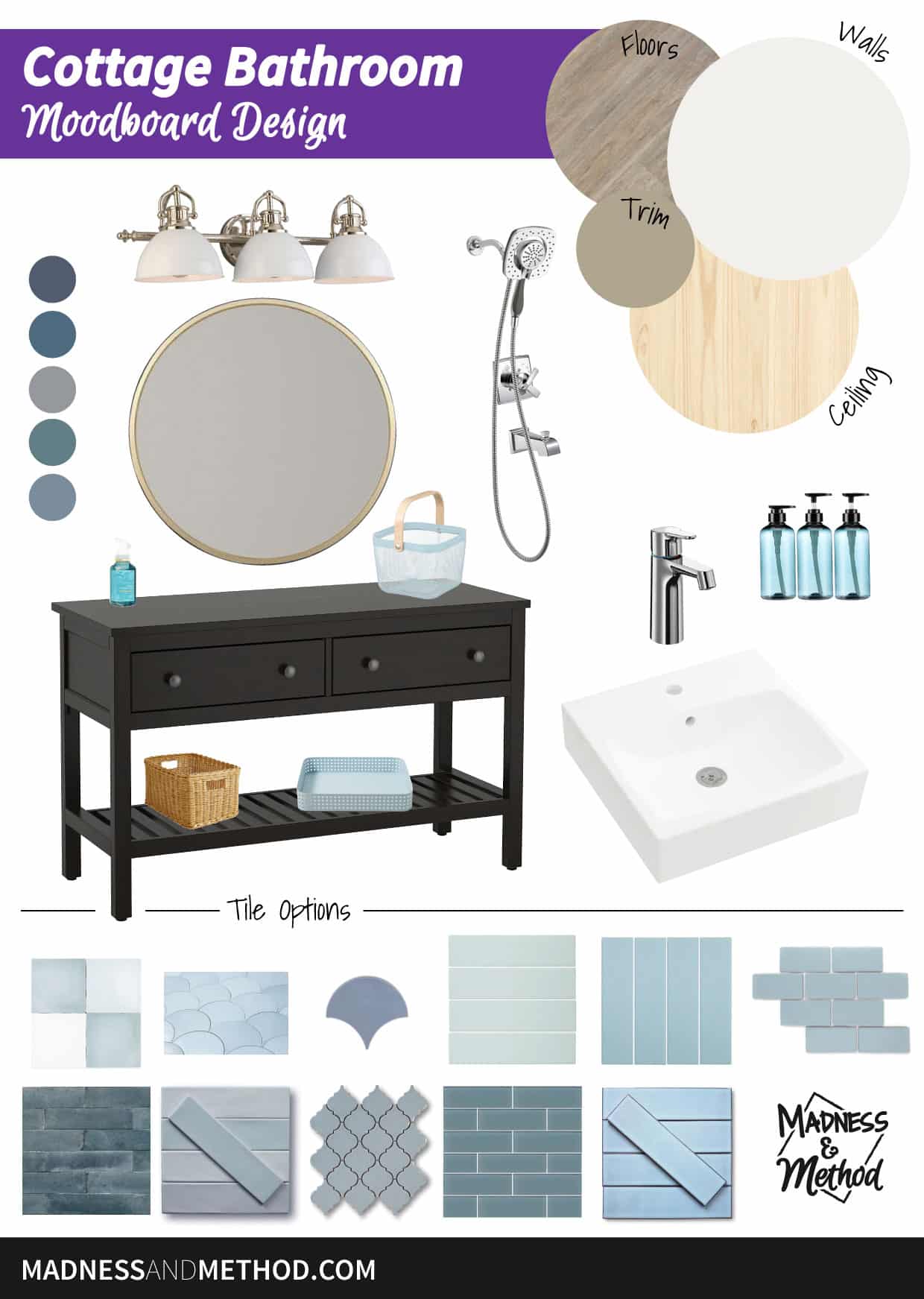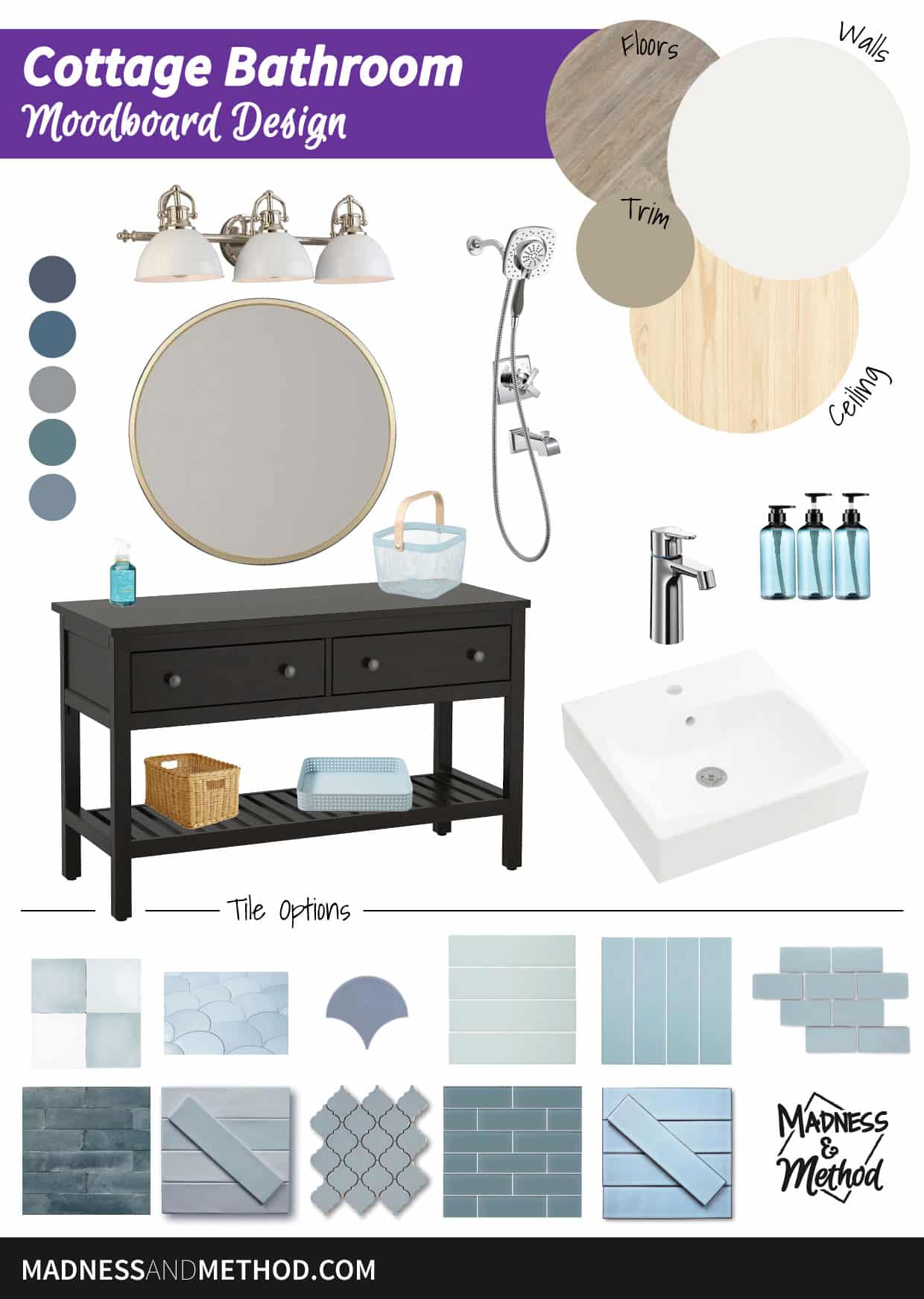 There were a lot of blue tile options on the Home Depot website too, but you could not see them in-store (or order samples).  In the end, I chose this square blue zellige tile.  I loved the colour variation, and I knew that it would go well with all the different blue colours we had.
The vanity is from Ikea but is no longer sold.  I think I got the square sink, but it might be the round one – ha.  I'll remember when I open the box again.  The faucet is the Brodrund from Ikea (there is a theme here, ha).  Apparently, I ordered chrome shower hardware so wanted a sink faucet that matched.
This 3-light fixture was supposed to go above a huge 48″ round mirror.  But the electrical outlet is in the way AND the husband just broke the mirror a week or so ago.  It had been in our garage waiting (for over a year).  So sad :(
I'll probably do a round mirror, but I have a few different options – so we'll see. I ordered these cute soap refill bottles for the shower, and the sink soap will be something from Bath and Body Works.  I think I have this lovely blue tray (that I've been obsessing about for months).  But there will definitely be baskets along the bottom shelf to hide the plumbing, and how cute is this blue one!?
Cottage Bathroom Progress
Ready to see how the bathroom is shaping out!?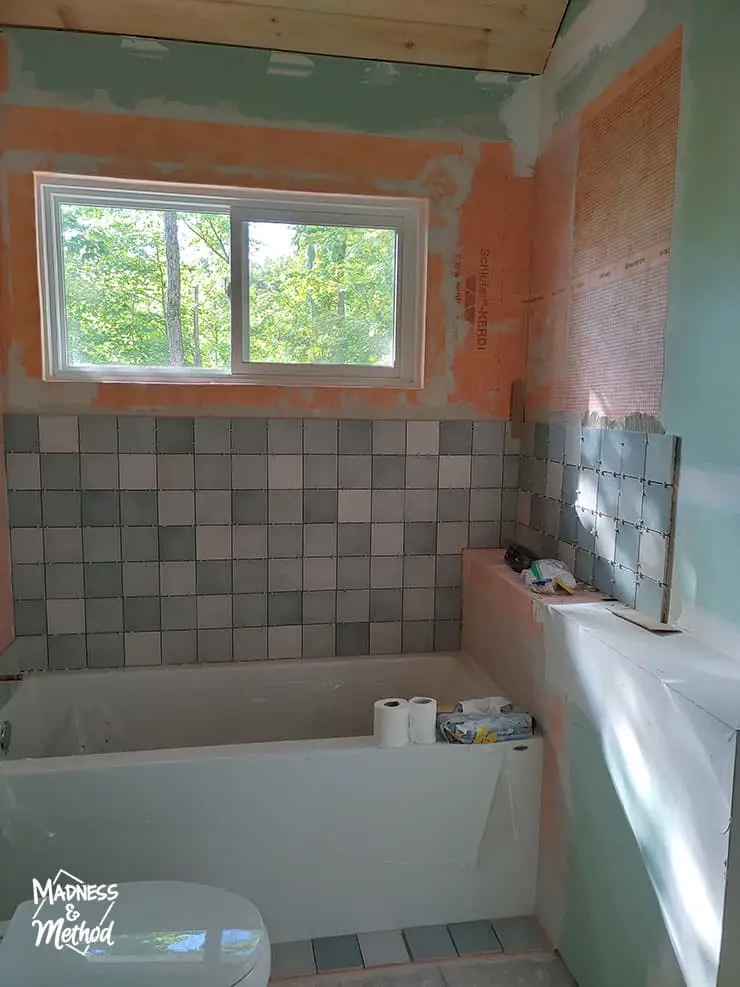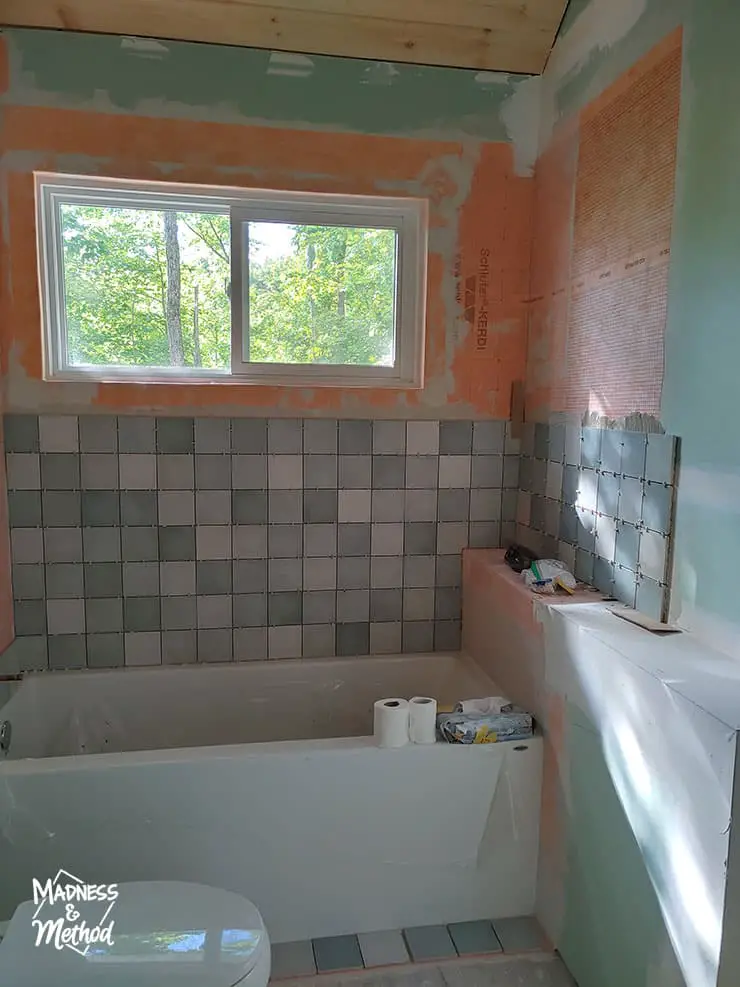 I started tiling the tub area before the drywall was done.  They had gone over their estimated schedule, and I couldn't wait anymore.  Plus, now they didn't have to finish the whole back wall :)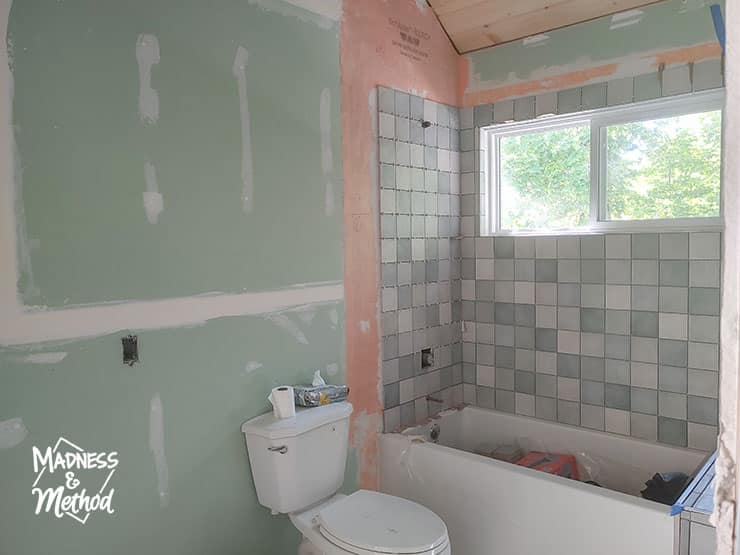 We debated different starting and stopping points.  How high should the tiles go behind the toilet?  How much outside of the shower?  I originally purchased 100 sq ft of tiles but had to get another two boxes to continue my pattern.  (I went just one row two high past the tub).
You can't really see it in the photos, but the ceilings vault way up!  I could not reach my last few rows of tiles without a big ladder, ha.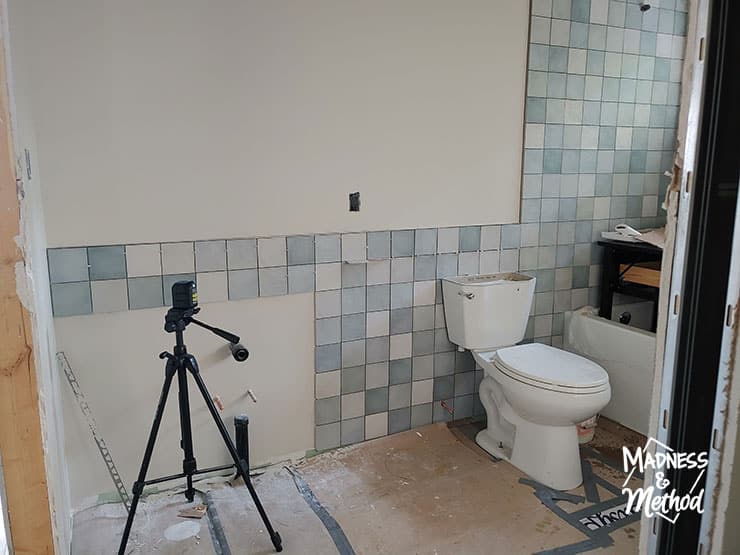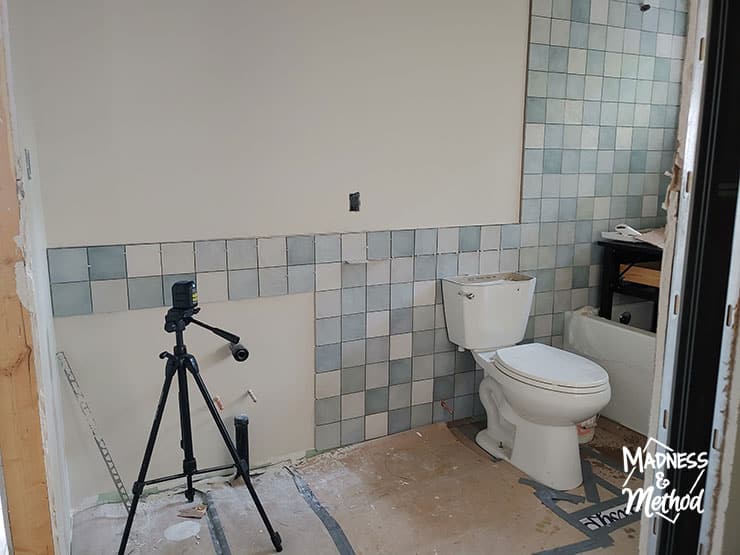 Here's what we decided on behind the toilet and vanity.  We had to build the vanity to see how it would look in place, and then I marked the walls and tiled them to that spot.  Technically, yes you can tile the whole way across – but this way is cheap ha :)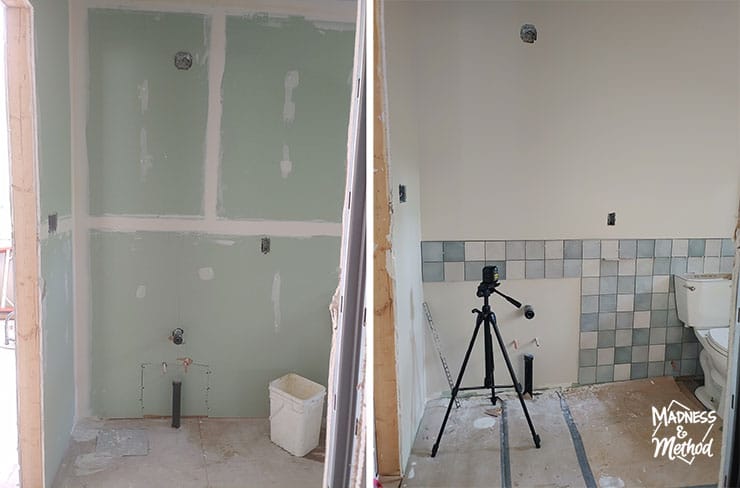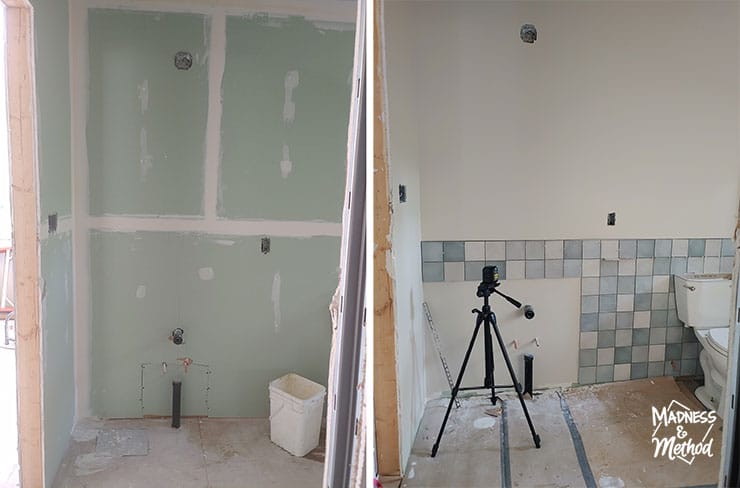 This is the view from the pocket door – looking at the future vanity location.  The ceiling is the tallest above here as it angles up to the peak.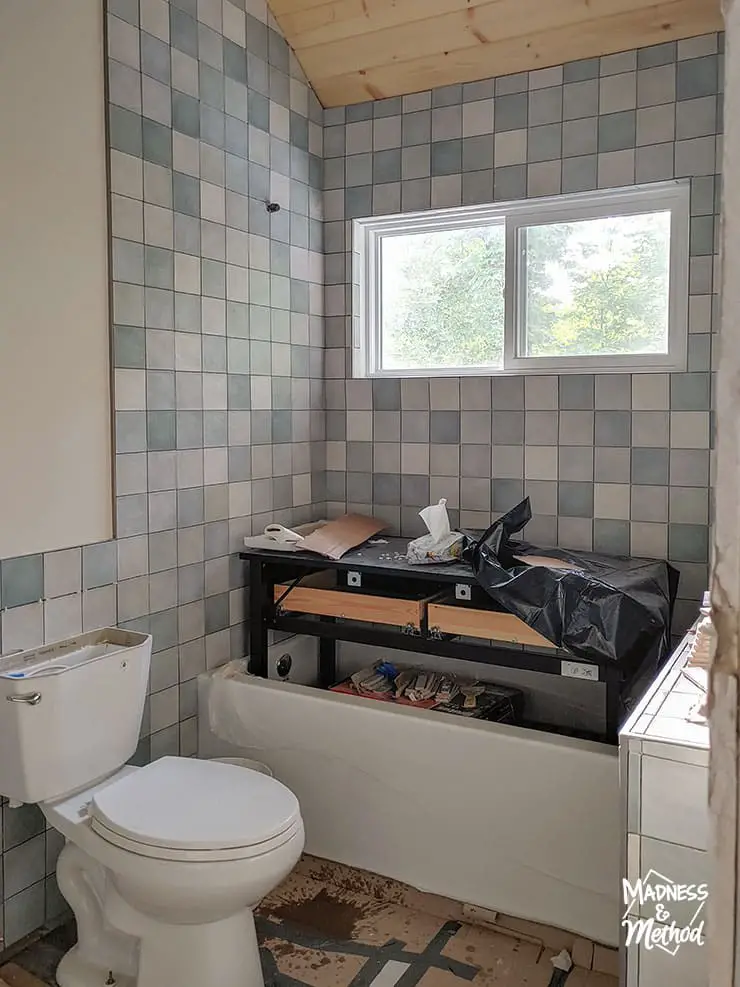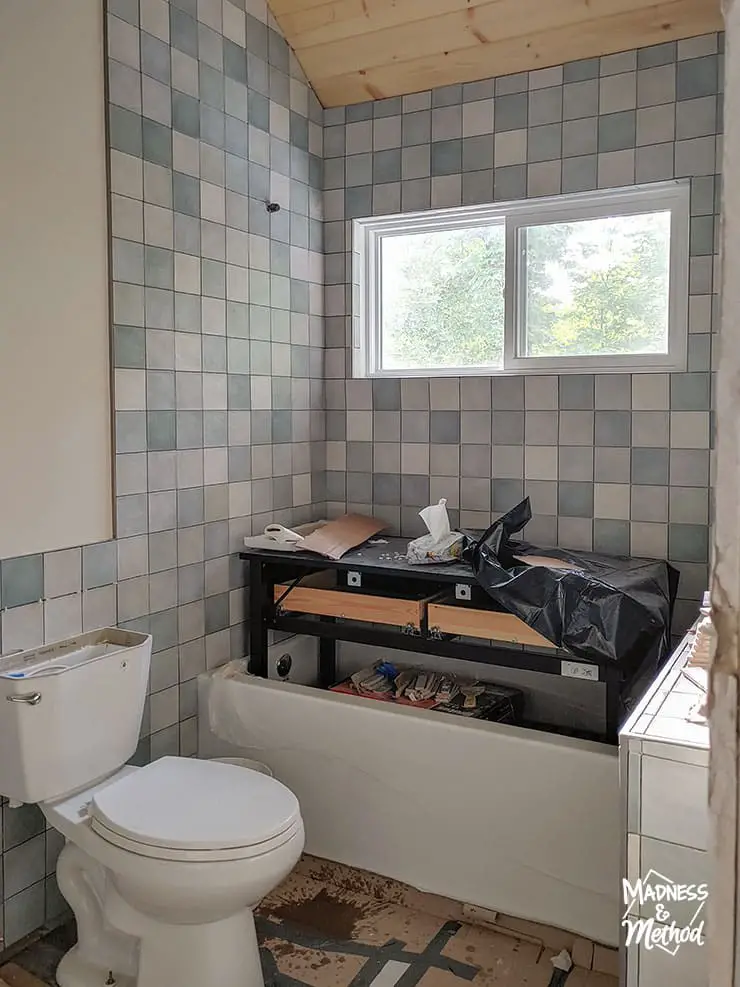 And here's with most of the tiles in place!  The vanity is in the tub, as we were getting floors in and needed it out of the way.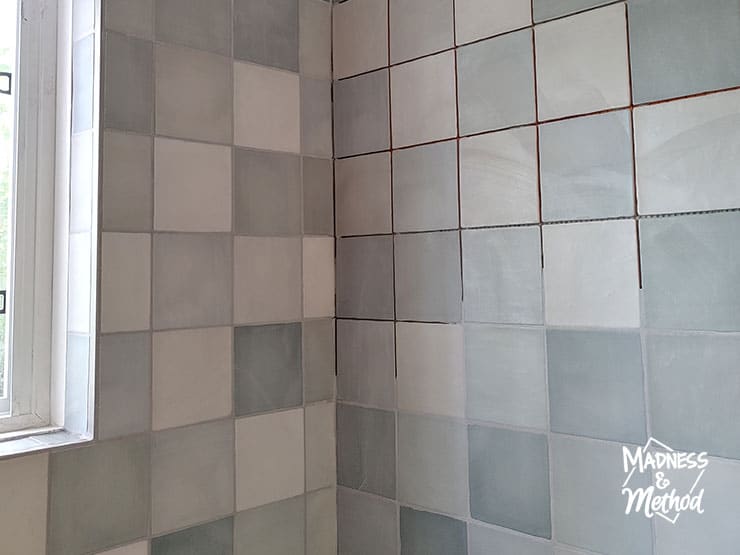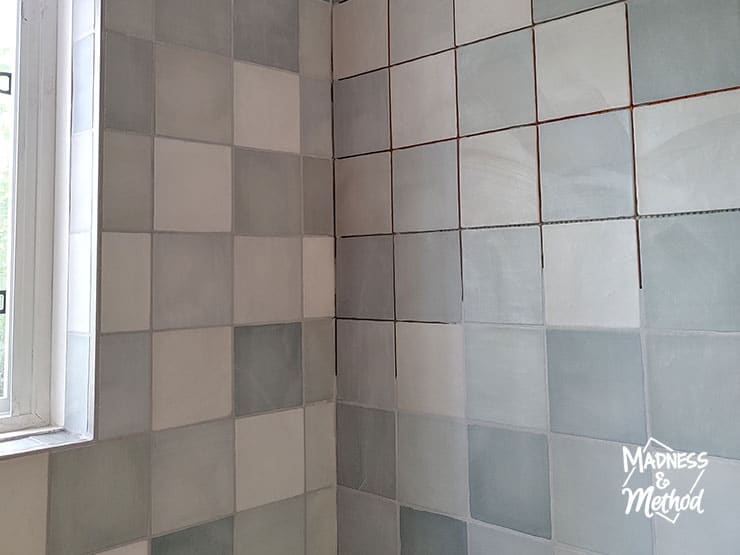 Two weekends ago I started grouting.  There was a lovely blue grout colour that unfortunately was discontinued.  I went with a light, mid-tone gray called "Silver".  The spacing I chose was 1/8, which is a bit larger than I've seen zellige tiles, but it looks fine either way!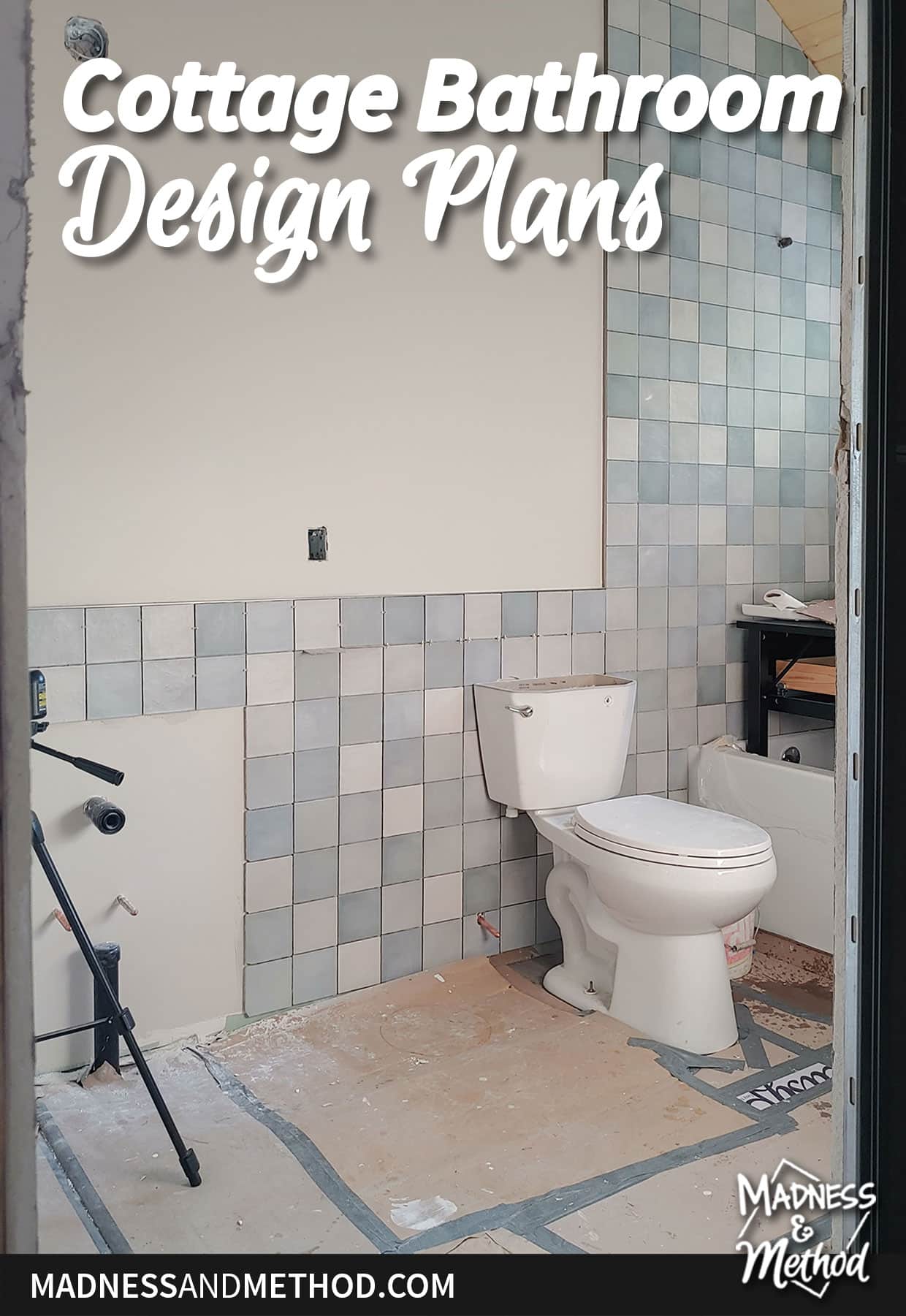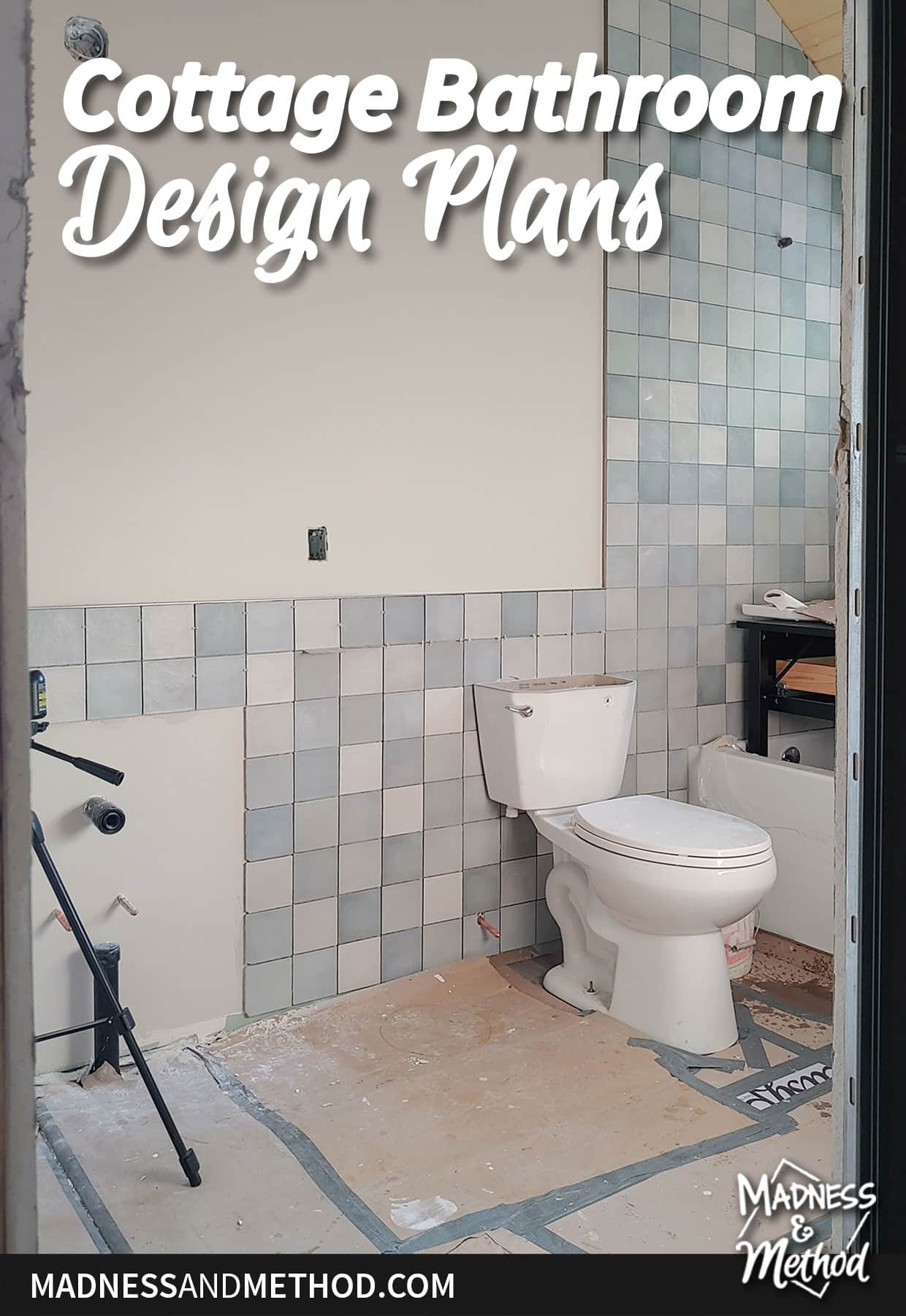 I don't have any up-to-date photos, but you can check out my cottage Instagram highlights to see a quick tour.  Essentially, the vanity is in place (not installed) and the cardboard is off the floors.  The bathroom plumbing should be properly hooked up any day now (no more buckets!).
Although, I just realized that I need to get a shower rod and curtain… totally not in my cottage bathroom design plans, ha…
Or, we could use this tub just for baths, and the basement for showers – but I'm nowhere near started on that room!
Stay tuned for more :)