This week I'm highlighting the cottage basement living room plans!  The cottage we are building has a main floor and a walkout basement, with a total footprint of 32×28 feet.  Upstairs, I went light and airy with the paint and styling, and downstairs I'm going dark and moody!  Unfortunately, we don't have electrical hooked up yet, so it has been real dark ha.  Either way, let me share what I'm thinking :)
We have been frantically working on the cottage lately to get it liveable.  The Husband is planning a guys' weekend, and up until a few days ago, our walls hadn't been painted, and floors not installed.  That's all done now, so it's up to us to get things set up and nice looking.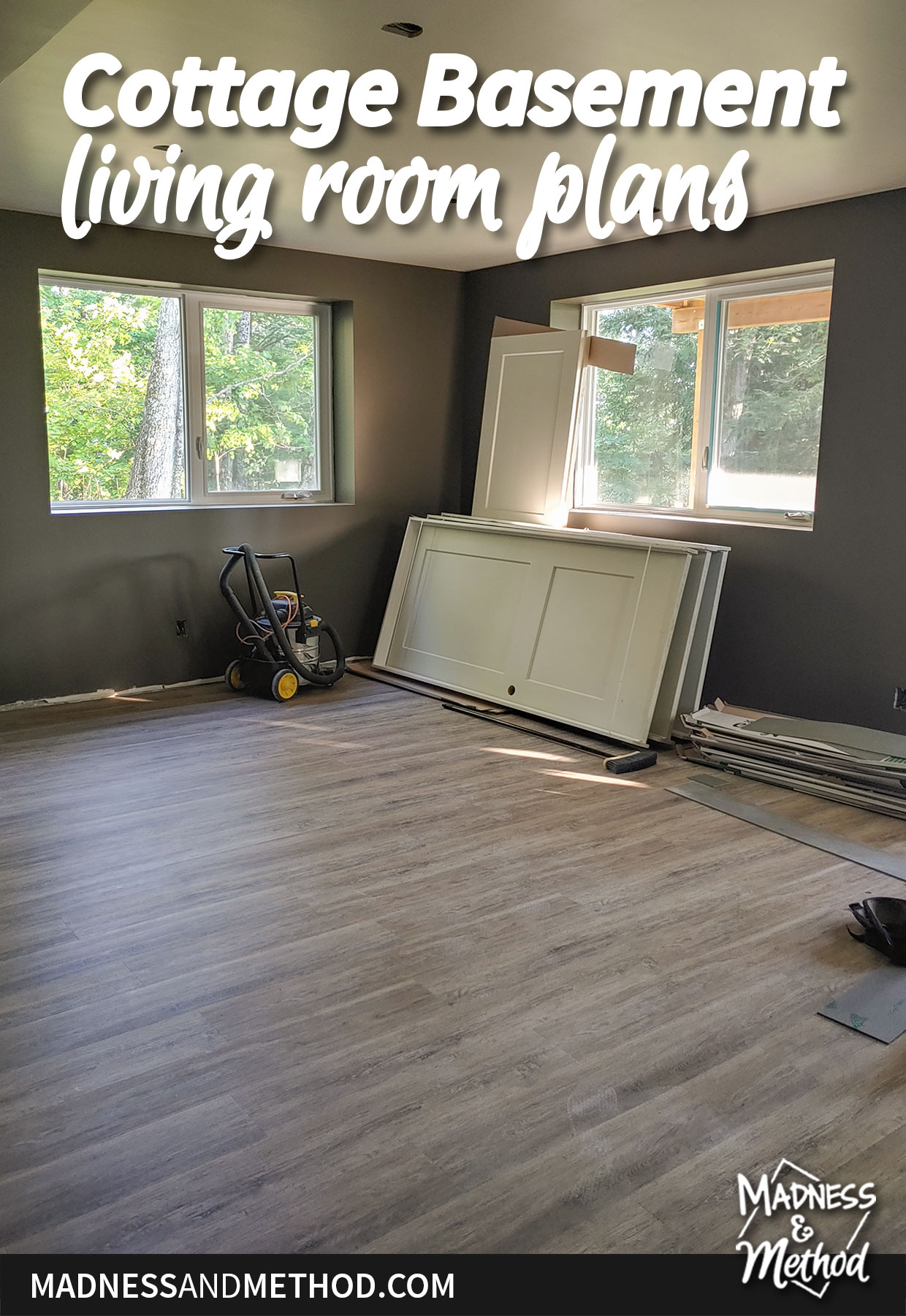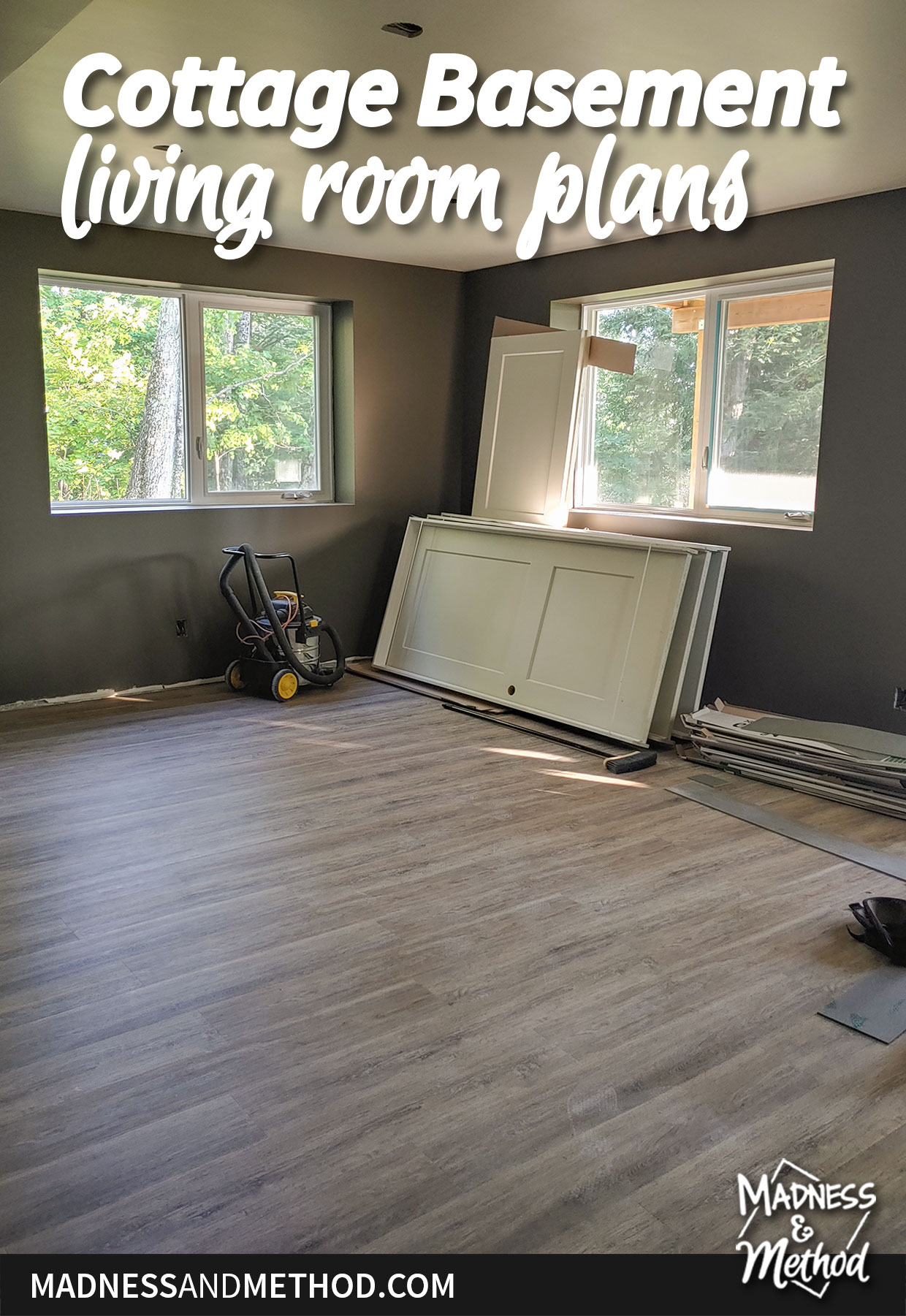 Before we talk about where we are (and are heading), let me give you a quick recap on the space.  (Oh and make sure to check out the cottage interior finishes here too).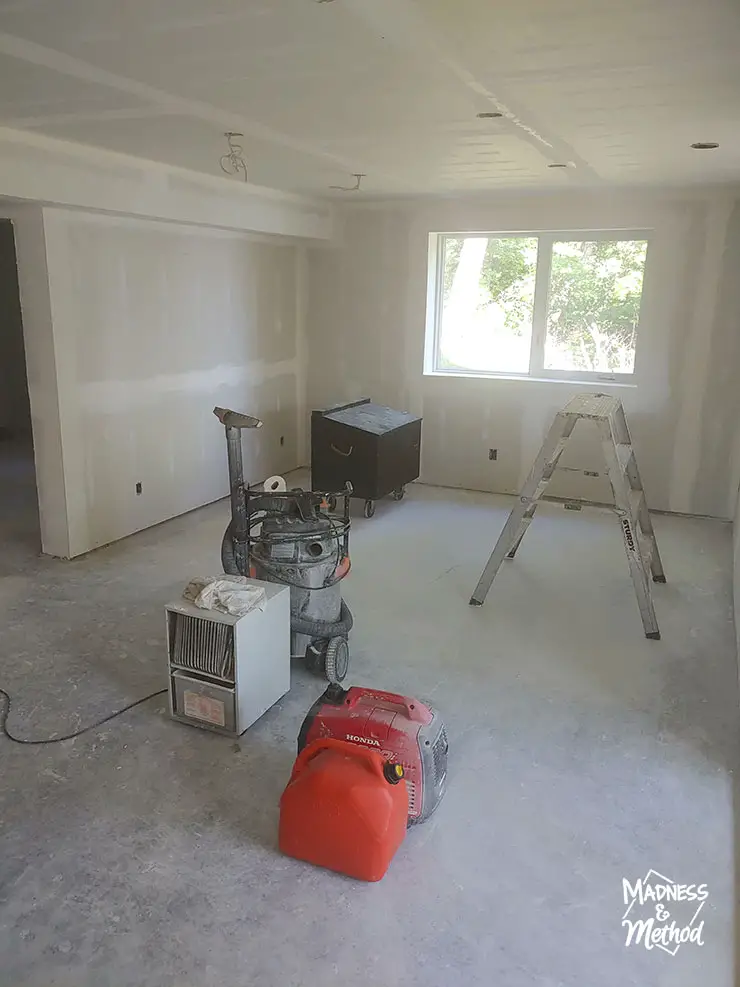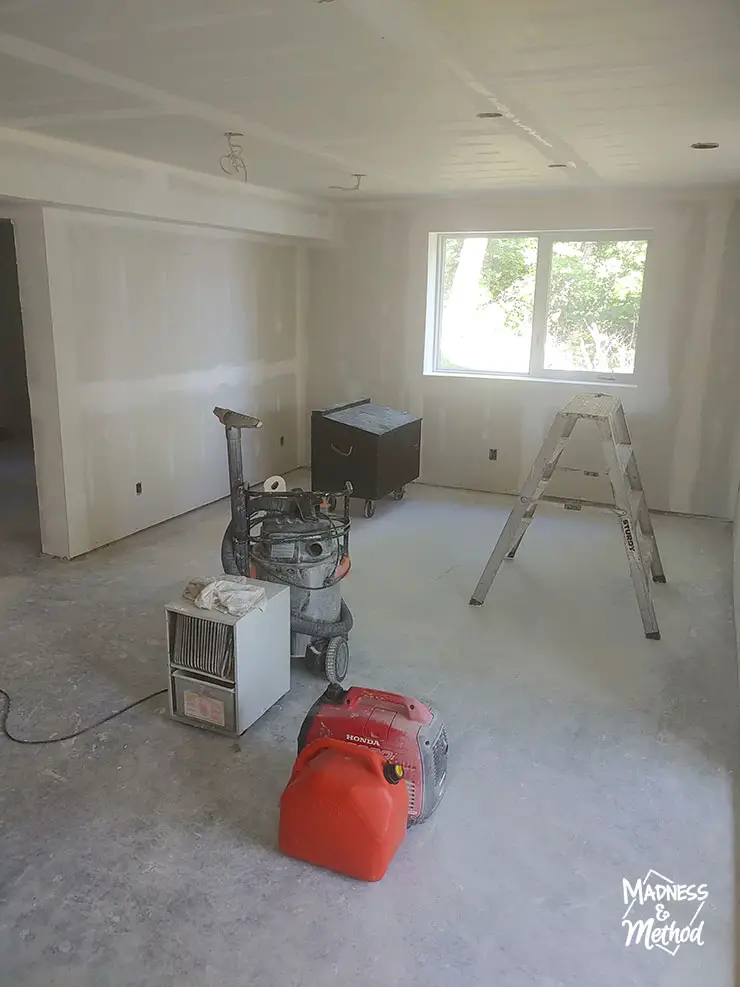 Here's a reminder of where we were a few weeks ago.  The photo above shows the main living room section as you come down the stairs.


The basement living room takes up over 1/4 of the space downstairs, and it opens into the three basement bedrooms and the bathroom.  There are a couple of large windows, and a 6′ sliding door to go outside.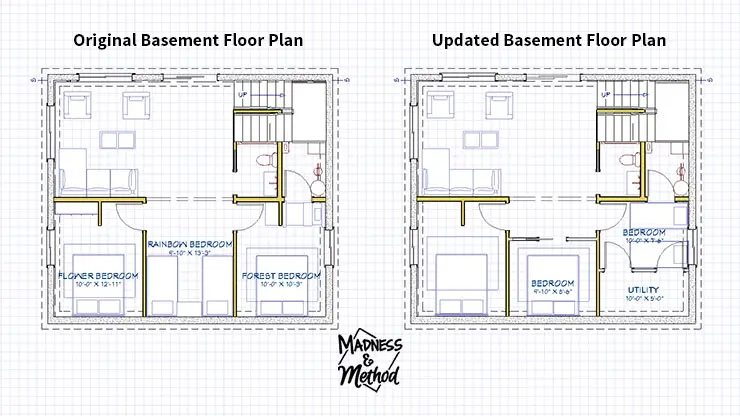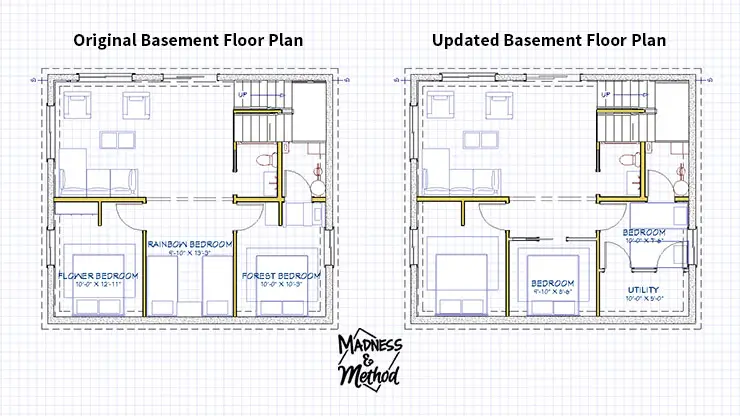 Here's the updated floor plan I shared back in June.  We had to add some bedroom walls/rooms – but the living room has stayed unchanged.  I was originally thinking of doing a small table and chairs in the open area – but I've changed directions since.
Current Basement Living Room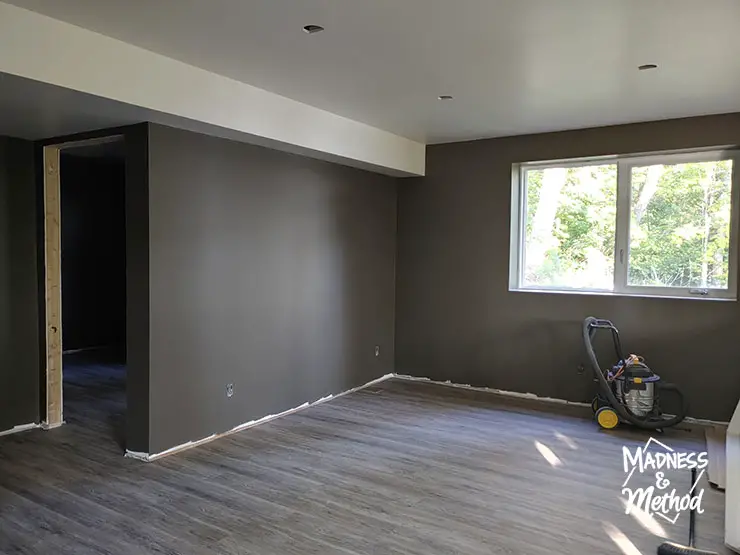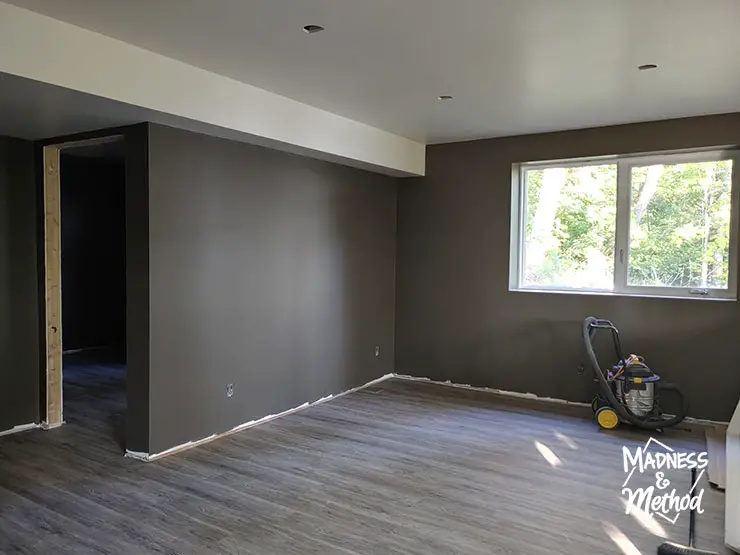 Here's where we are now!  Actually, we just installed the door to the bedroom.  But essentially, the floors are installed, and the walls and ceiling are painted.  We need baseboards/trim, and then the lights.  Plus furniture, but that's coming!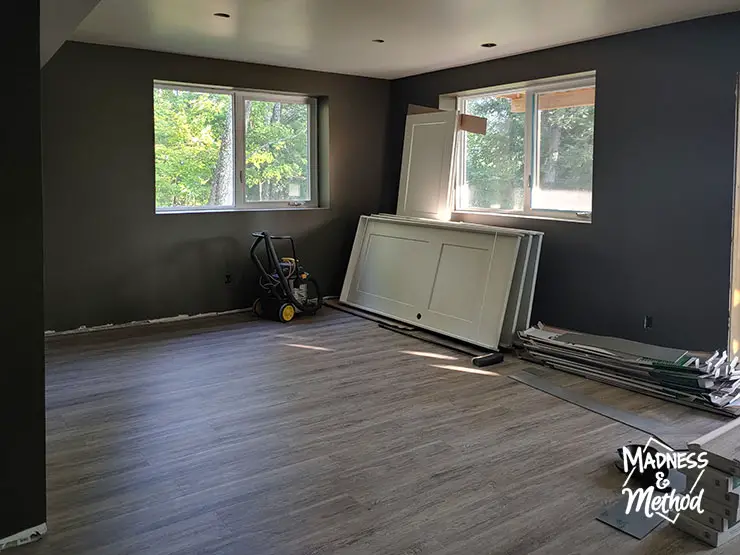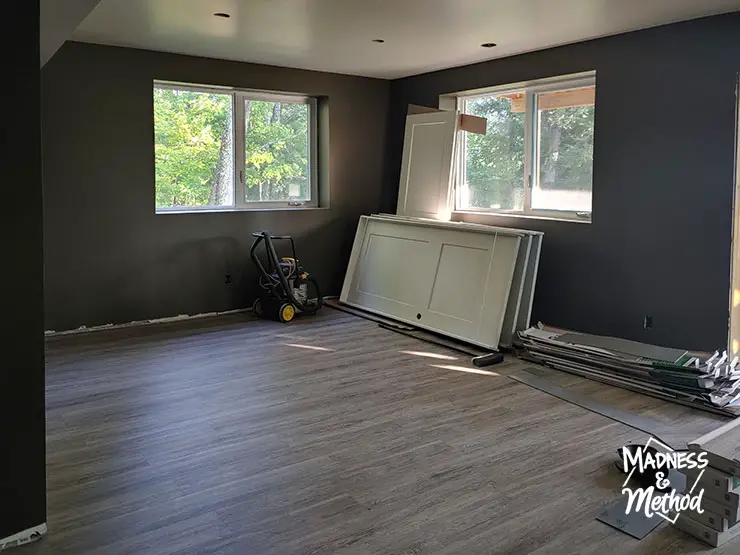 Looking from the bedroom area, you see the same living room.  There are two big windows, so it does get pretty bright down here.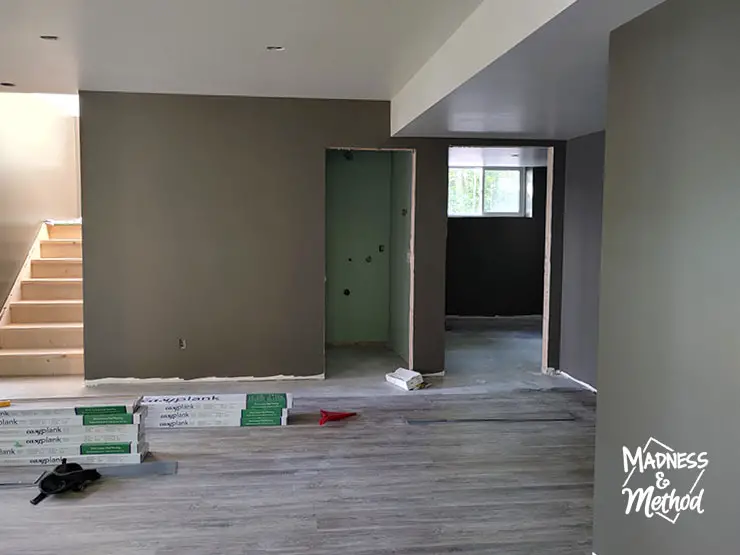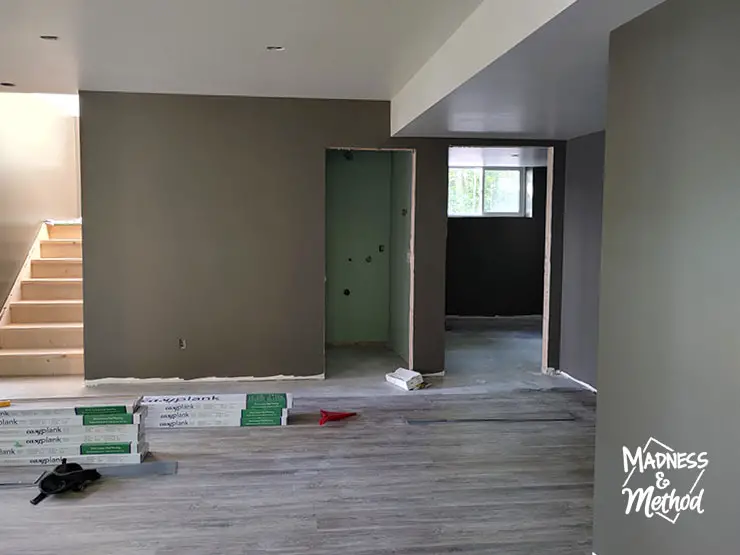 Here's the view from the living room, looking at the bathroom, staircase and twin bedroom.  The floors have been fully installed, and we're slowly getting the bedrooms together.
Rather than having a table and chairs in this area, I think a console table will be much better! It will keep the walking path clear and will fill up the wall a bit.
Ready to see where we're headed?
Cottage Basement Living Room Plans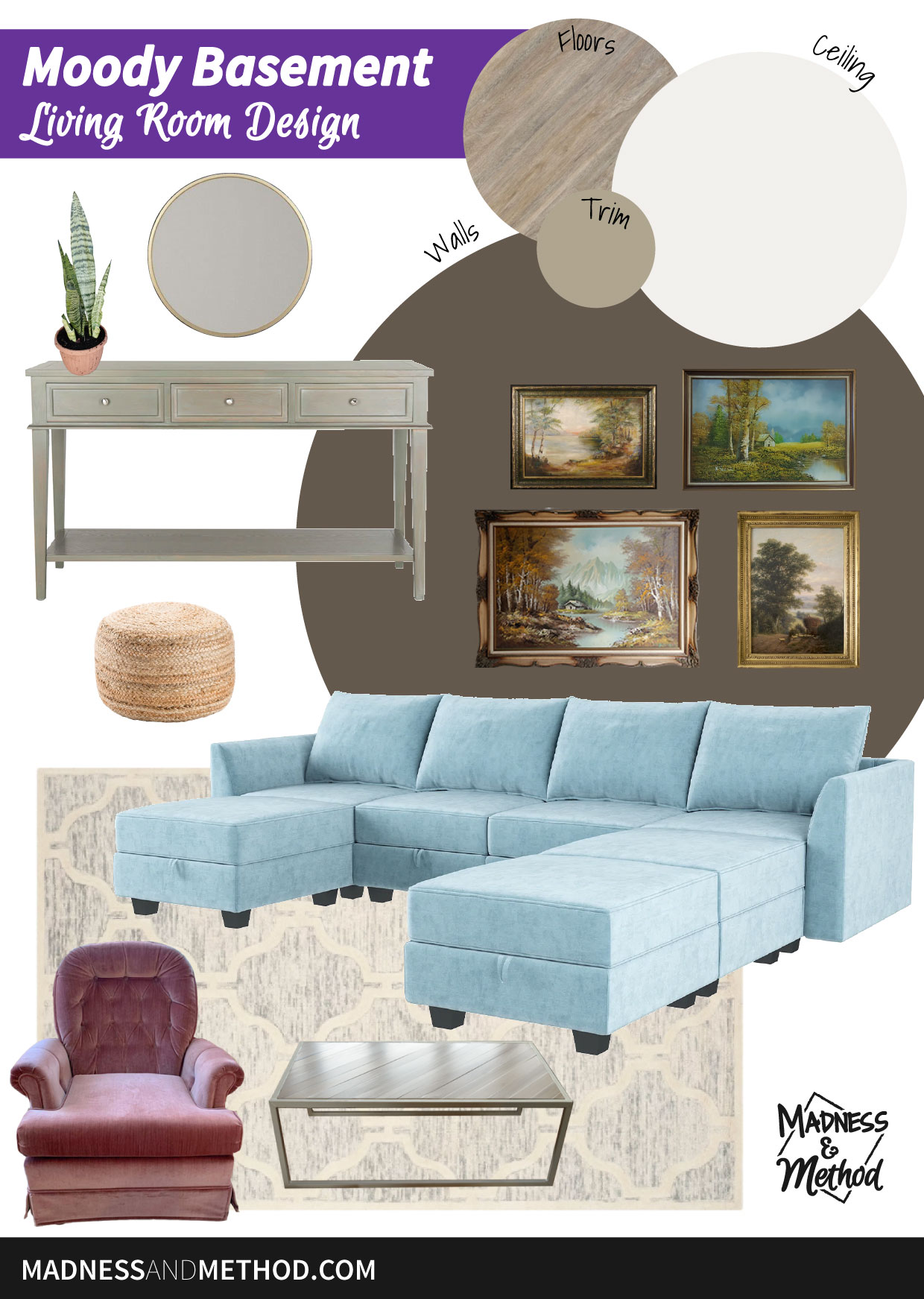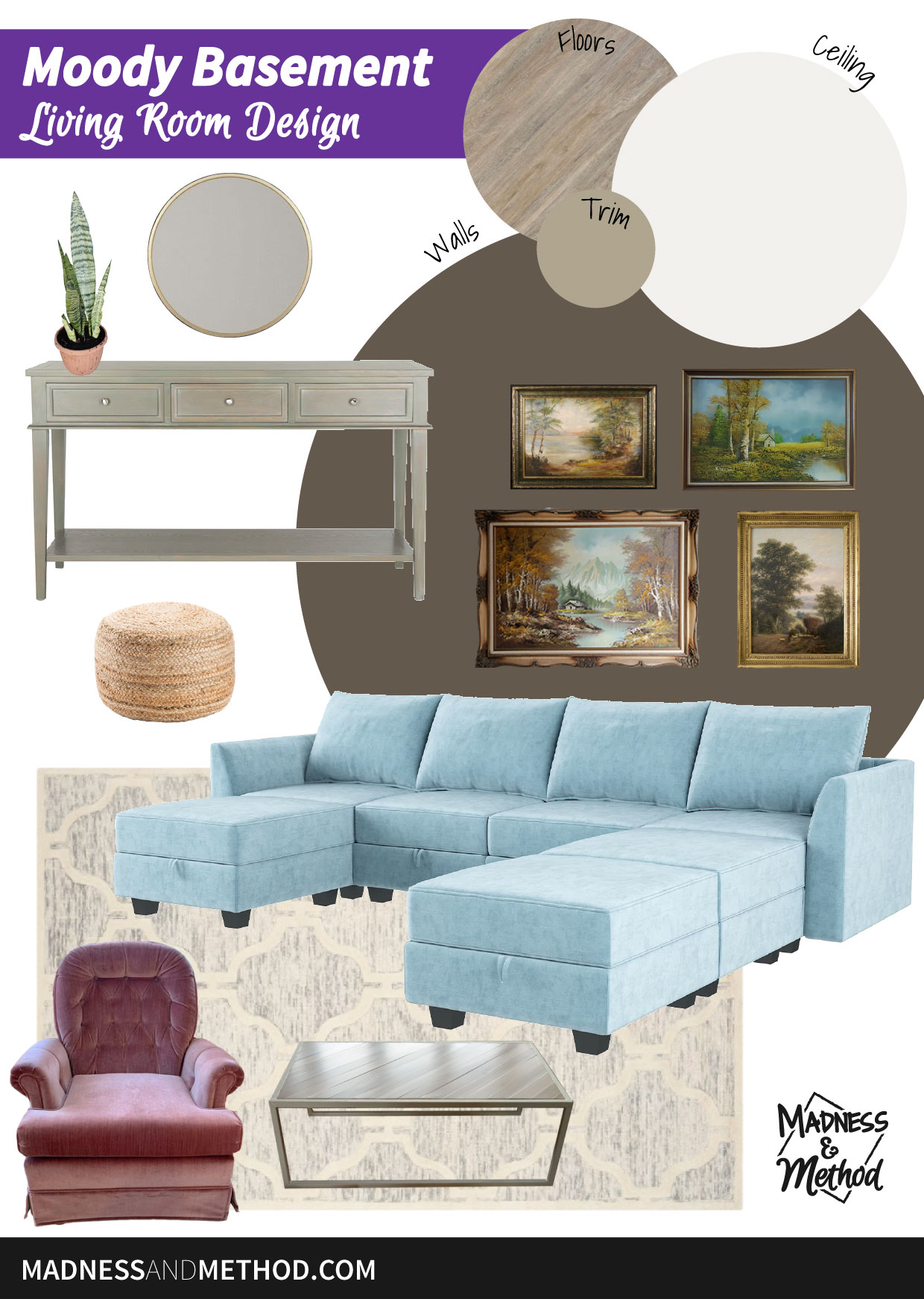 We'll have a large blue sectional sofa that can be used as an extra bed.  I wanted to get a proper sofa bed (that opens up with a mattress) but it has been super tricky.  This was the one I was originally eyeing on Ikea's website – but it's been out-of-stock for months.  The sectional that I bought is a modular sofa, so it can be configured into different shapes/sizes.  I may buy more pieces too, but we'll see how it looks so far!
The pink chair is the same we've had in all our nurseries, the metal and wood table was a DIY, and the rug is a secondhand find (I think it looks like that).  I'm picturing the basement living room as a cool lounge/game room – so I want it to be really comfy.
I won the console table in an online auction (lots of other things too!) and it should work out nicely.  A mirror above (the one I had and prefered broke!) and maybe a woven ottoman or two?  They can double as seating or little tables, but TBD once everything comes together.
As you saw, the walls are really dark – and I want to hang landscape paintings all around.  Kind of like this image or this other image too.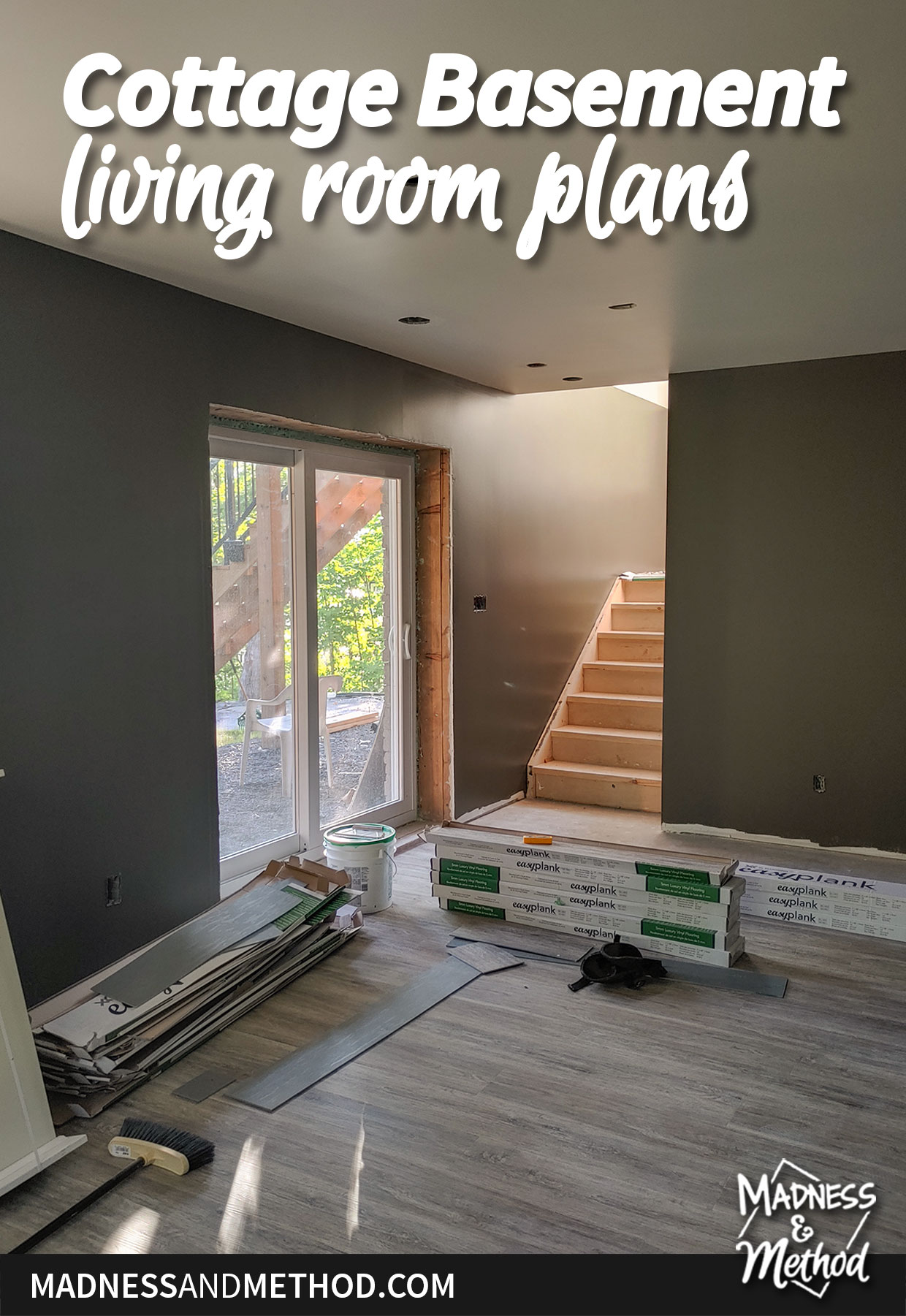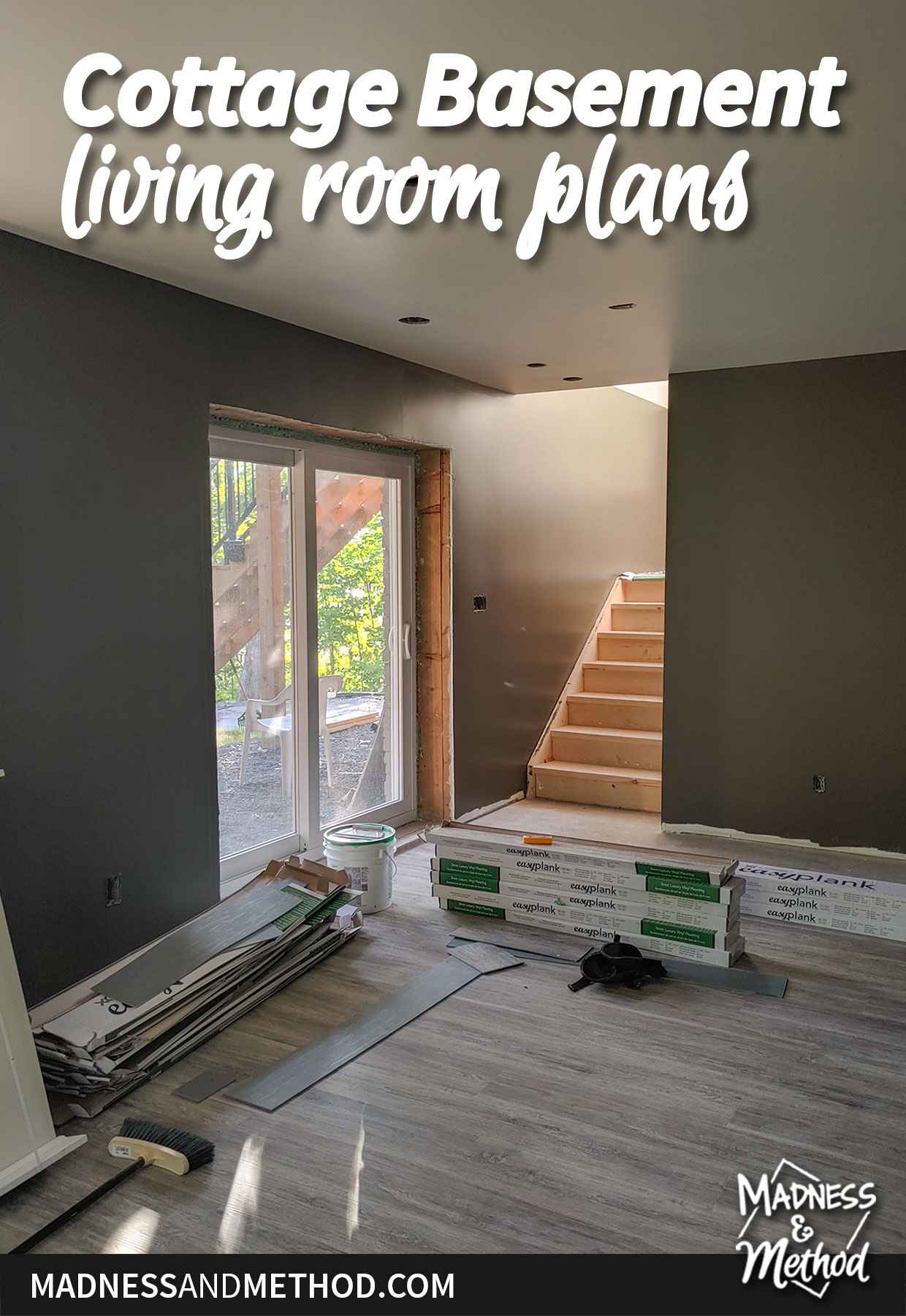 We should have most of the big things in place in the next few days or so!  I also have most of the art, but I think installing the trim may be a priority over hanging paintings :)
I also thought about hanging a TV downstairs (maybe above the console?) but we will have one upstairs already.  We don't need more than that – but things could change in the future.  (Although really, it's because it's darker down here and there will be a lot of glare/sunlight on the upstairs TV, ha).
I hope you enjoyed looking at the cottage basement living room plans and moodboard!  Fingers crossed it looks just as good in person.  And yes, although it does look like it's coming together, there are still so many small things to do.