While looking at my blog calendar, I realized I had an empty week.  I knew there was something I hadn't posted yet and needed to chat about.  Then it hit me.  THE GARAGE!  Last time I wrote about our garage project I left you hanging with a little sneak peek.  We've been mostly done (and using) the garage for the last few months, so I guess it's time to share :)  Get ready, because this will be a long update all about our driveway and finished garage!
– Note: This post contains affiliate links. See more information about affiliates here. –
To catch up, you can read the garage design plans here, and the last progress update here.  The first post was from July, and that's pretty much when we started construction.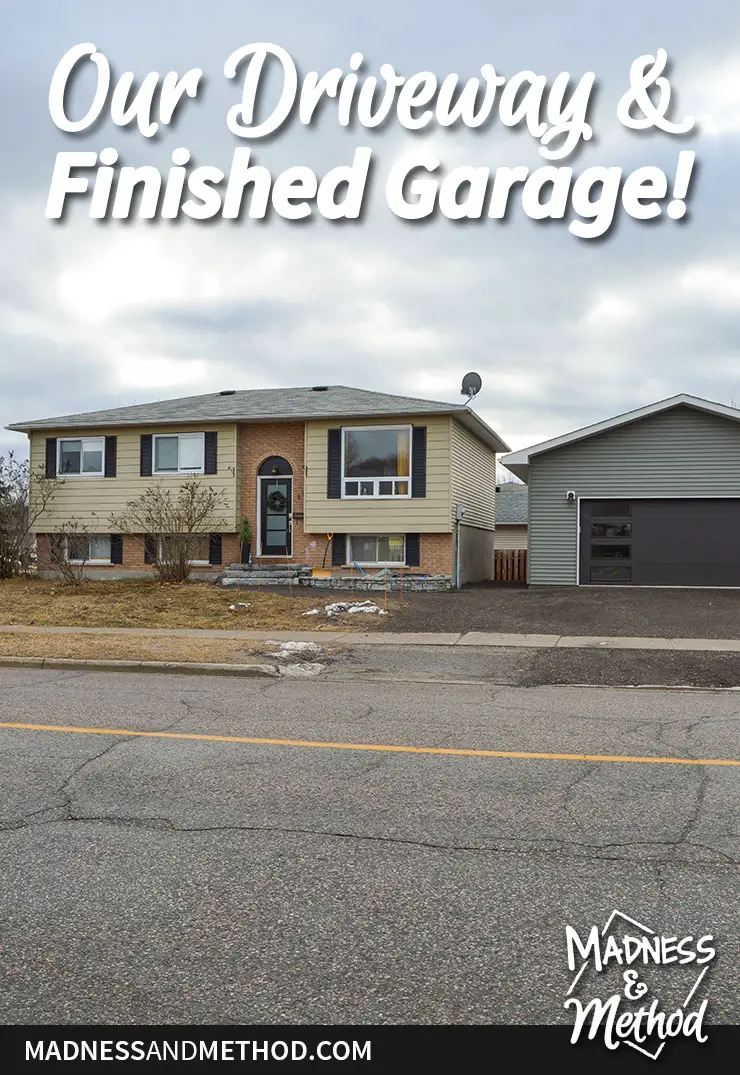 But before we get to where we ended up, I'm going to speak on all the things that also happened.  First things first, the old walkway / main entrance to our home!
Front Walkway
We did several small updates to this spot in various stages.  First, we replaced the front door, then we changed the light and painted the top.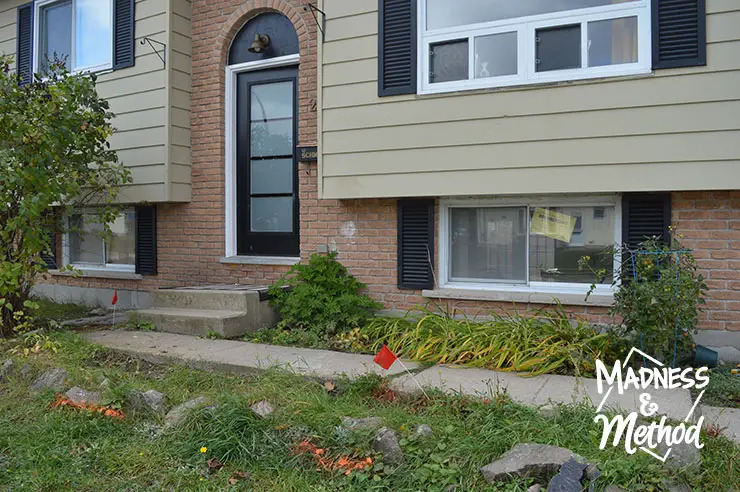 I knew that the old concrete had to go.  It was way too narrow, had various levels/steps down, and the main step to our house was crooked and too low.

For the first few months that we lived here, we also used the area near our door as our garbage and recycling bin zone.  It was really convenient, but I knew that had to be addressed before winter.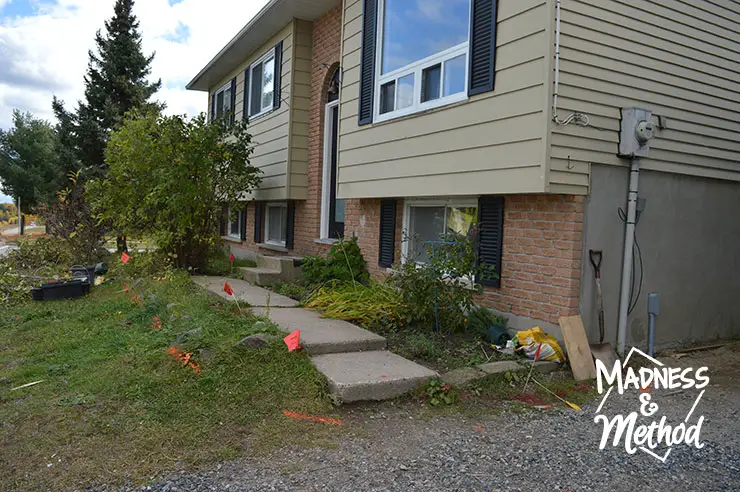 The plan was that we would get the whole area reworked when the garage was done.  I wanted an asphalt walkway and new steps up to the door.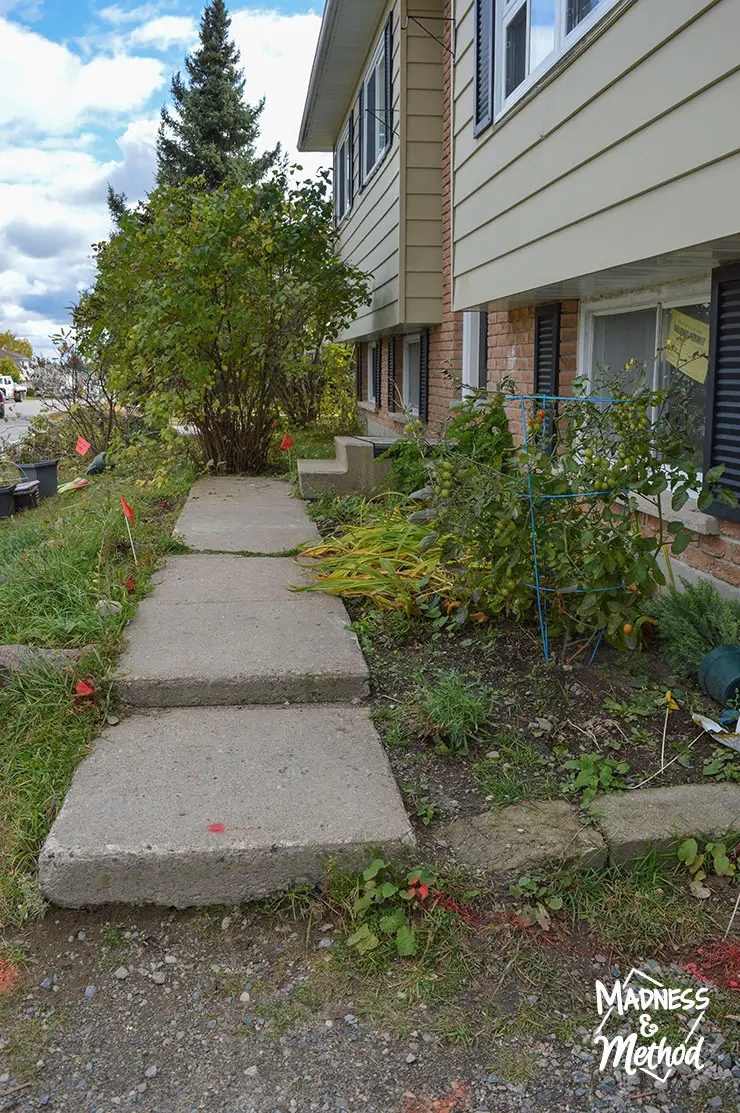 I was done pushing the stroller up and down all the steps!
Completed Garage (Exterior Tour)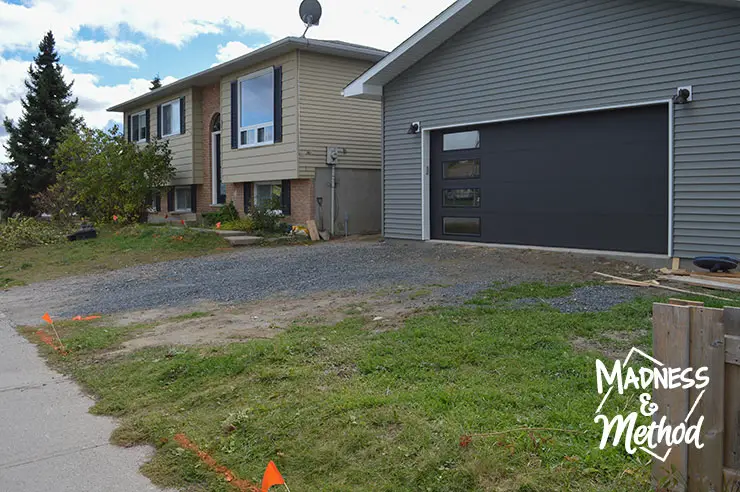 Our garage was mostly finished by the end of September, but we still hadn't actually used it to park our vehicles.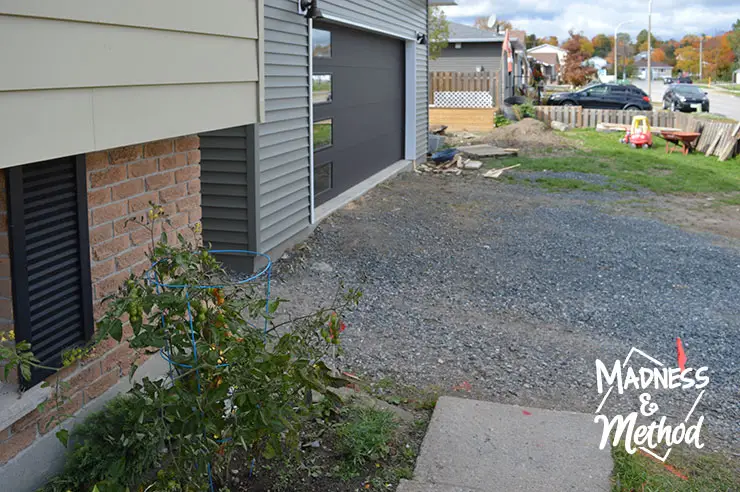 The driveway was a mix between the old section that was there before, and some new rocks we brought in when the foundation was poured.
Either way, the garage looked great and I had finally started moving my stuff inside :)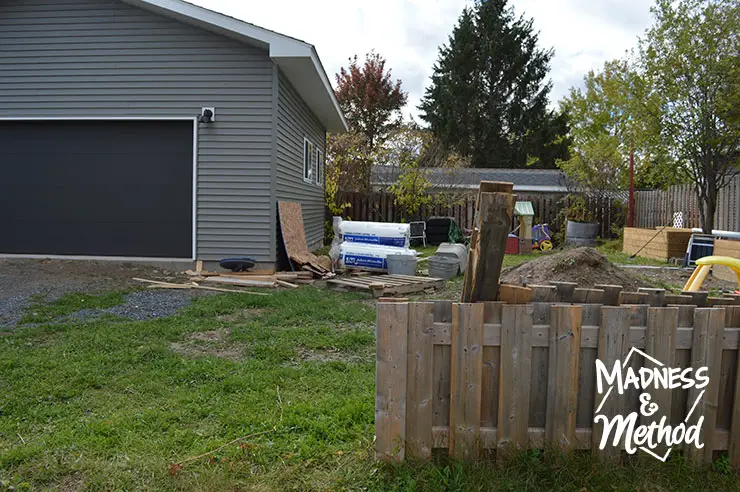 We had a lot of construction debris to clean up.  Some we returned, some things went to the dump, and a few things got stored in the garage.  I shared some other views of this main yard area when we built the raised garden beds.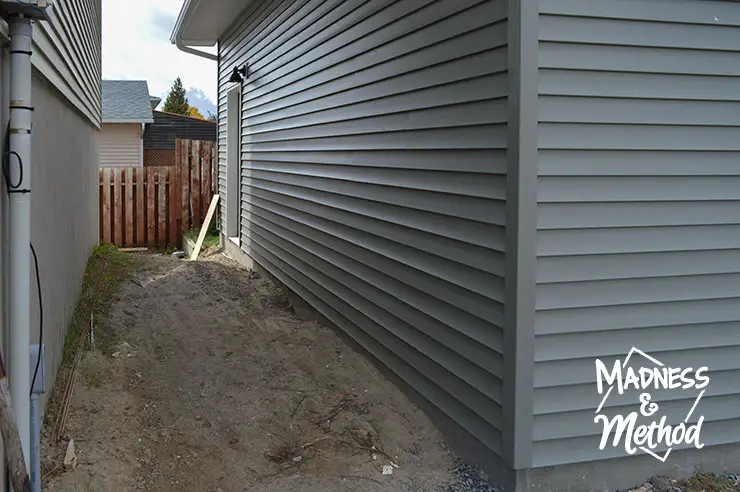 The path between the garage and the house was dirt/old grass – and again, I envisioned it paved all the way to the back.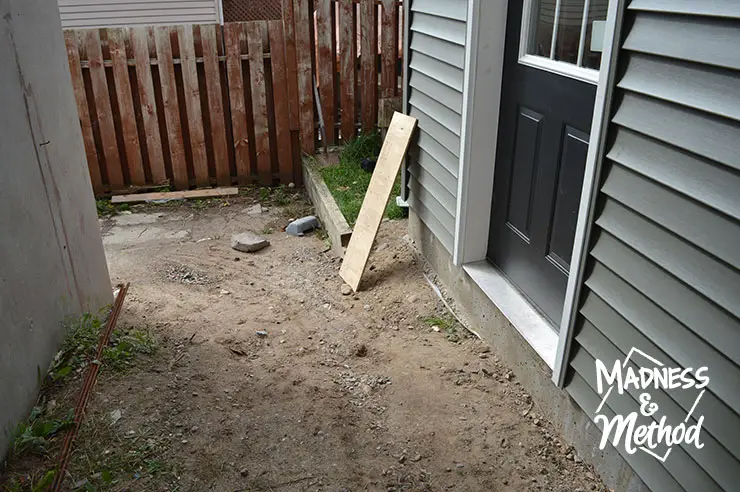 At this point, everything was slowly sloped to the back, and there was a step up into the garage.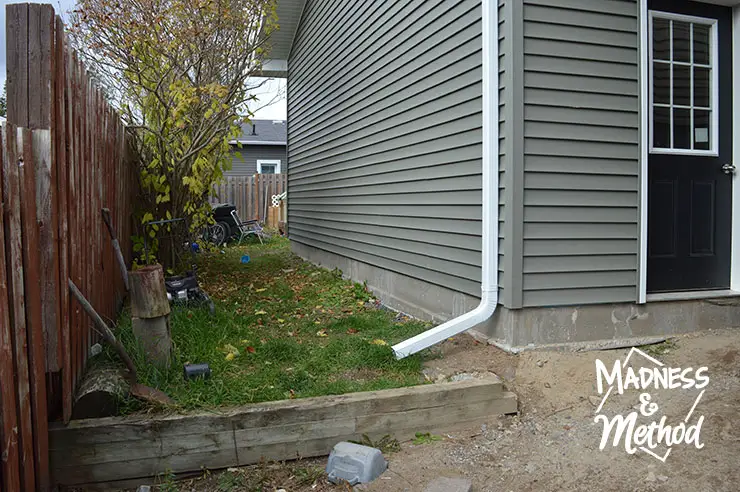 The step out (and the slope/drainage around the garage) was something we had to address before we could pass our final inspection.  Obviously, it didn't look too nice either.
And here's how the backyard area was looking after the garage went in.
Driveway Work
In early October, we had a landscaping crew come out to work on the driveway/walkway.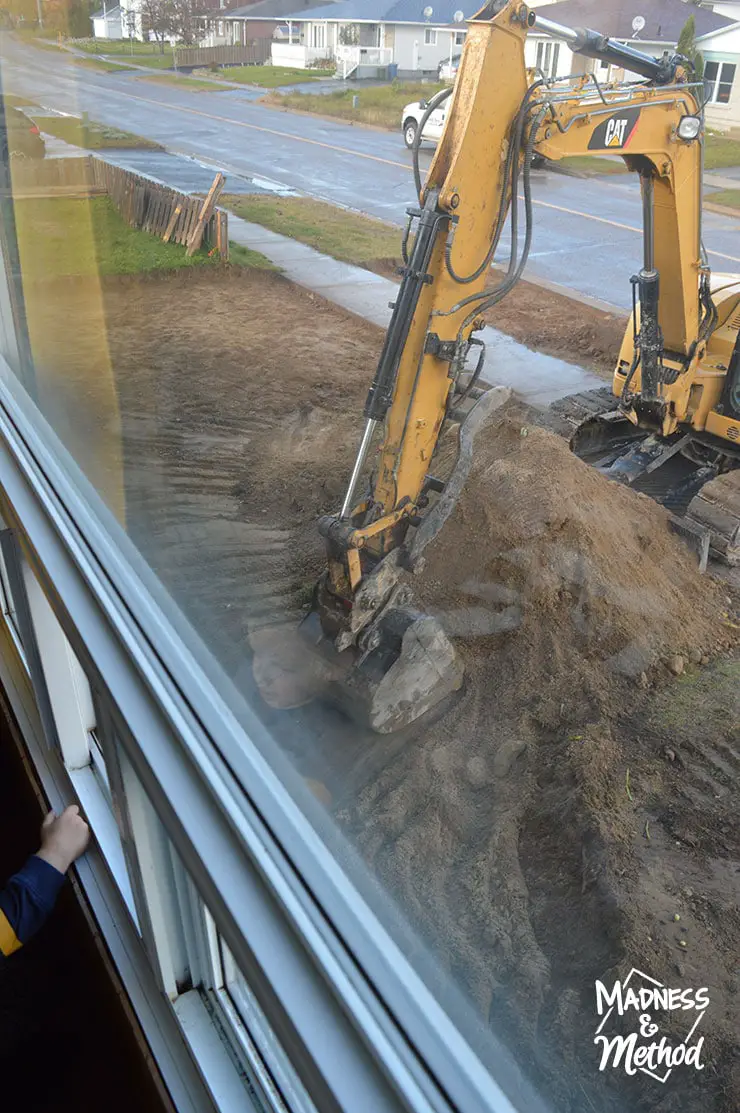 The kids LOVED watching the big machines work!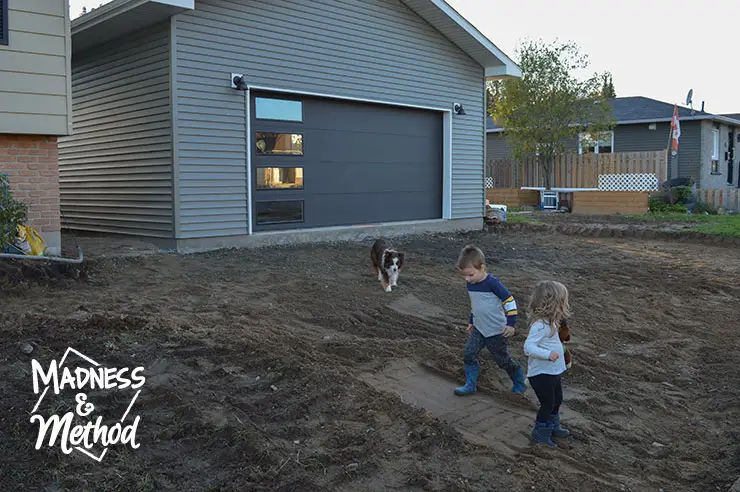 First, they took out all the stones/old grass, then levelled everything nicely.  They even brought in a mini-excavator to do the path between the garage and the house.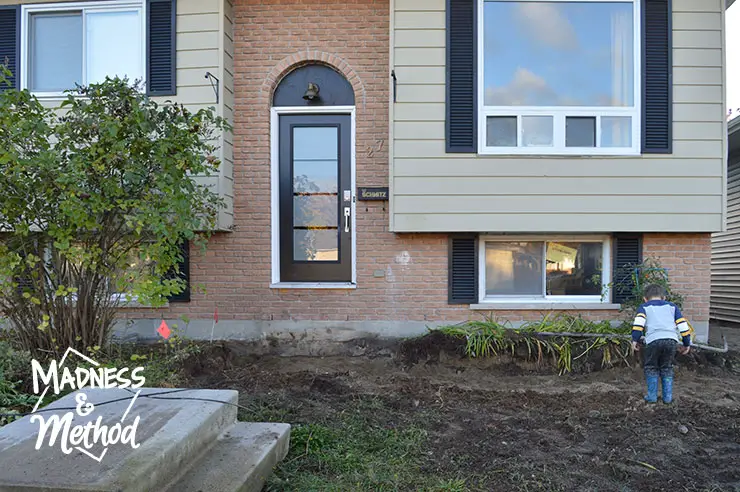 Our old concrete step (and path) was taken out.
And new, formed steps were brought in.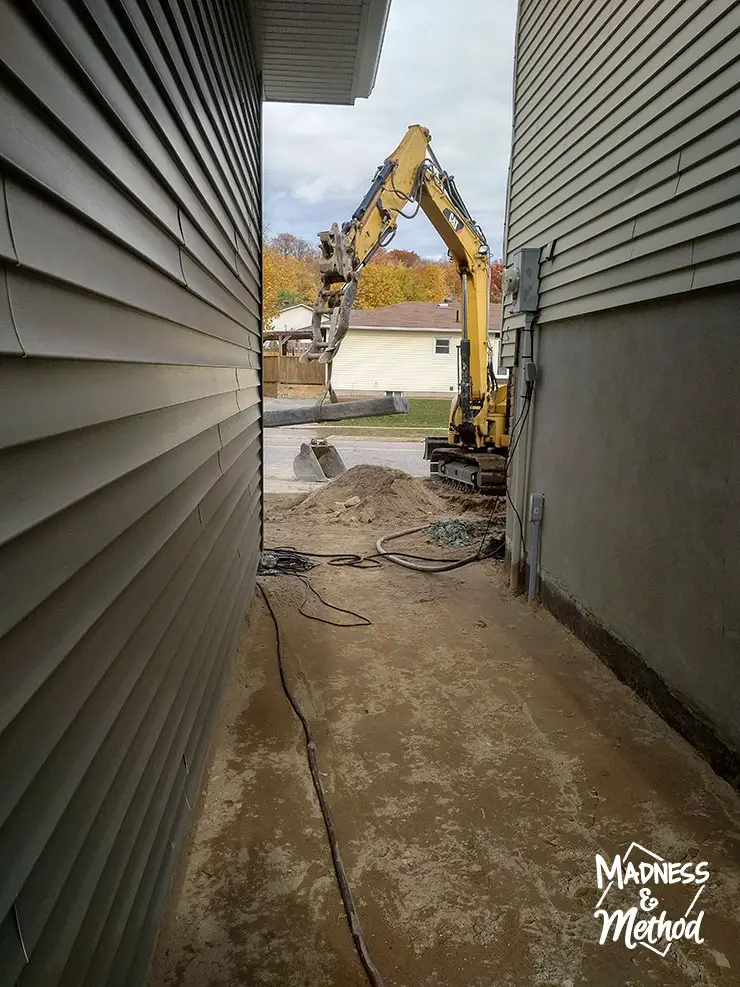 I believe each of those steps/stones are 6′ wide, by 3′ deep.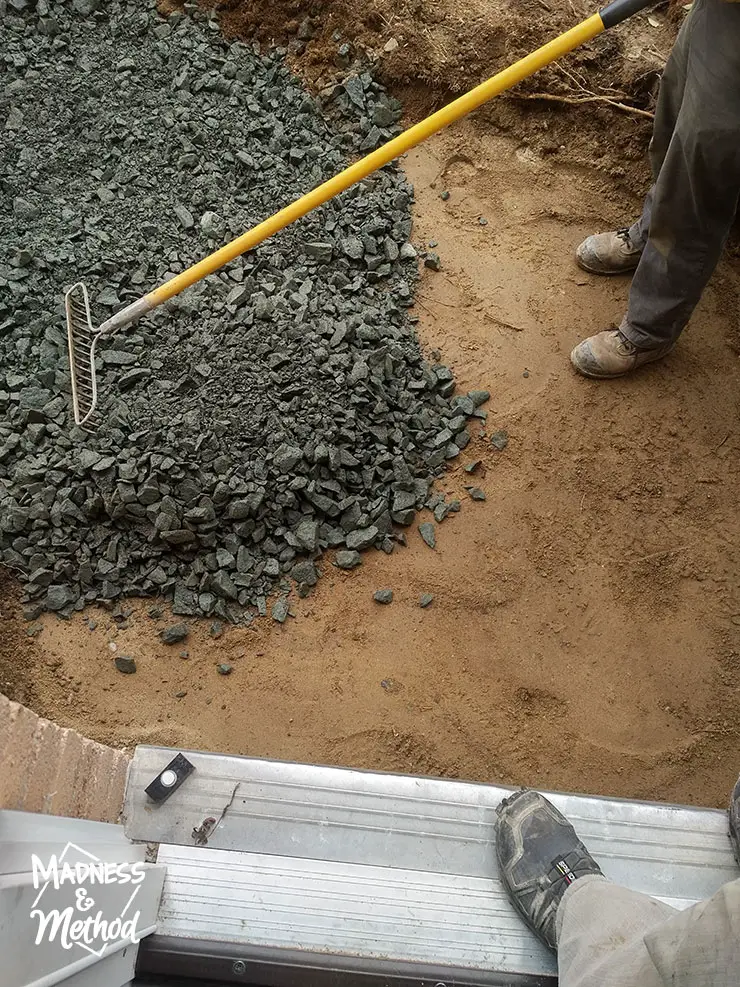 They were built up with compacted rocks, and slowly placed on top.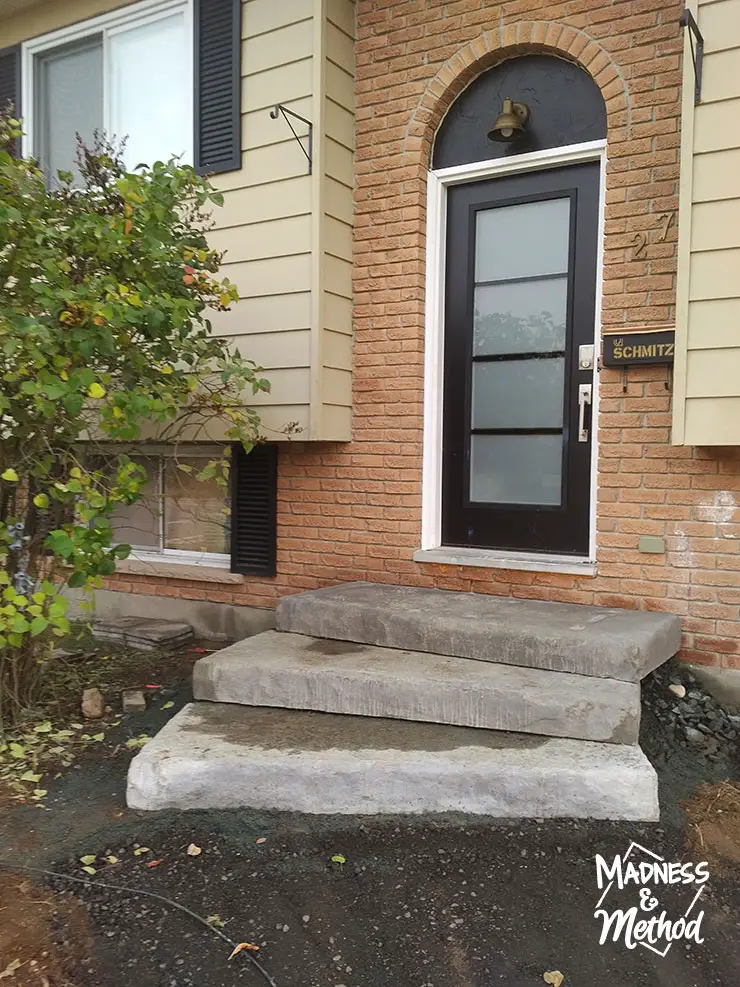 Actually, before any of that happened, we determined the placement.  They had cut out the shape of the steps on a piece of cardboard and traced out the path.  That way, it was easier to change things rather than move heavy stones!  (Their original configuration was on the half at the right side, but I felt it was a little tight there).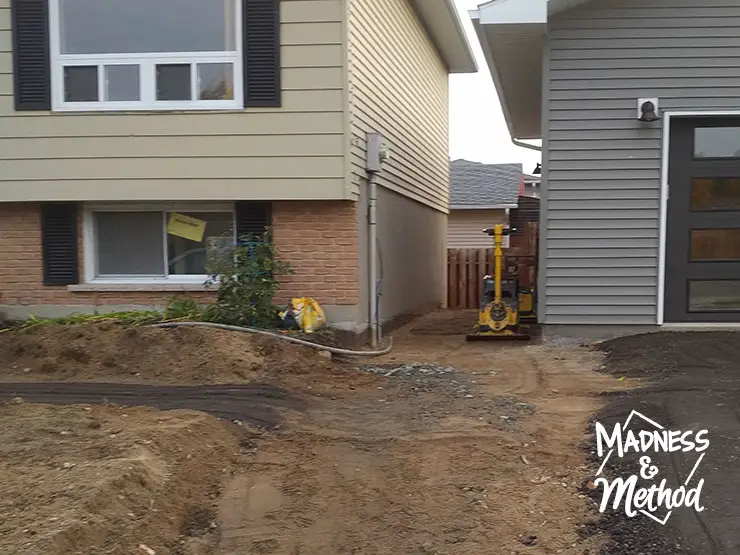 Then, our asphalt stones were brought in and filled across the driveway and path.
OH!  I'm not sure if I mentioned before, but we wanted to do a normal poured asphalt/blacktop driveway (like at our old house).  Unfortunately, there's only ONE company that does it in town, and they prioritize commercial/public jobs.  They put me on the waitlist to get a quote, and they estimated I might make it to my turn by the end of next summer (just to get a quote!).
We'll see how much that costs, but for now, we used recycled asphalt.
Garage/Entry Sources
Reminder: affiliate links used – thanks for shopping!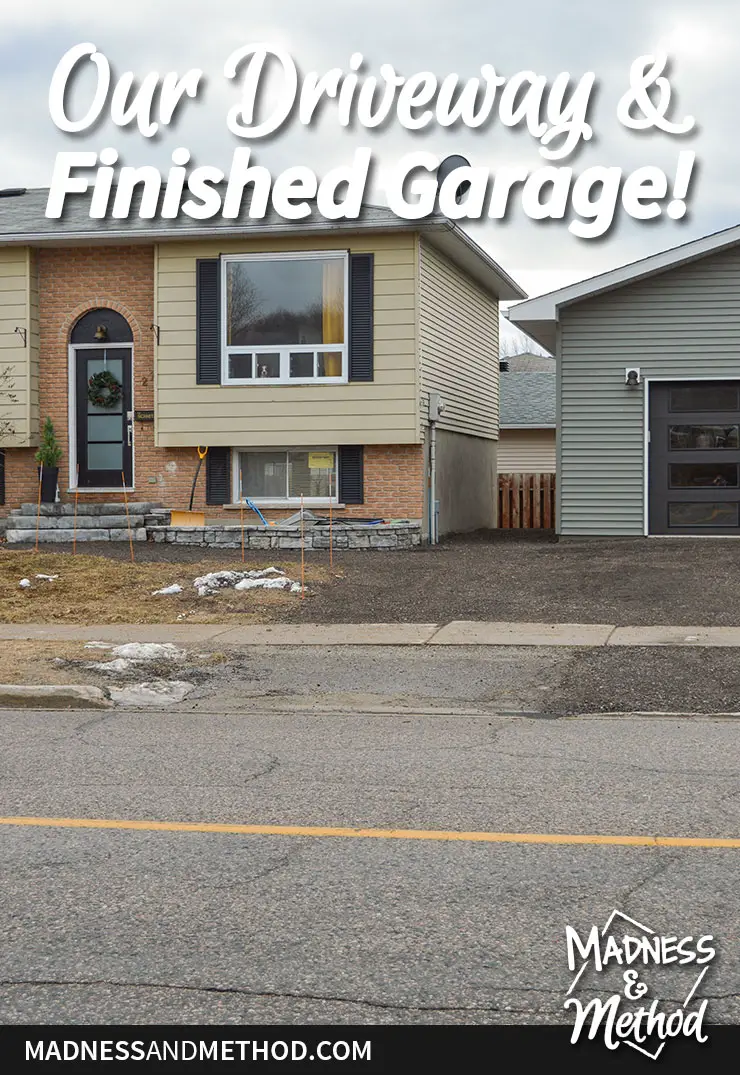 Interior Garage Tour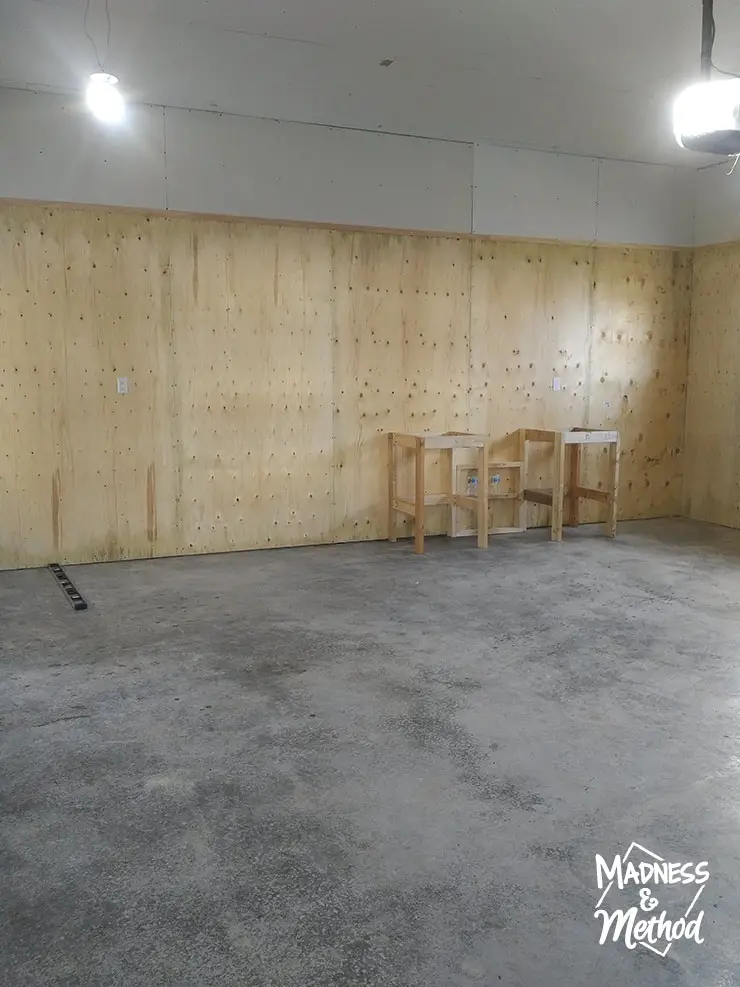 Moving into the garage, the Husband wanted to do plywood walls instead of full drywall.  With the price of wood going up considerably this year… not sure how much extra this cost!  Either way, I couldn't wait to move in my mitre saw stand (and stuff).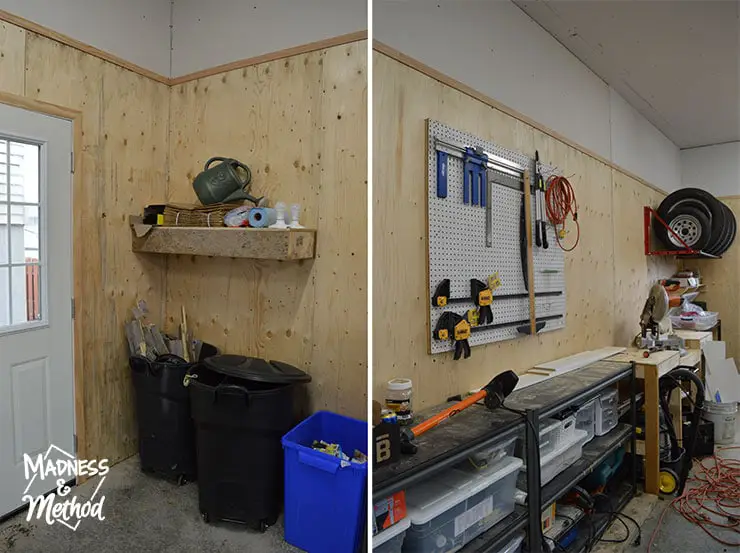 We installed the shelves we had from our last garage along the back wall.  There was just enough space to add our recycling/garbage bins.  The Husband added a shelf above, and I put my bags there.  (And up until yesterday, I had never hit my head on it, ha!).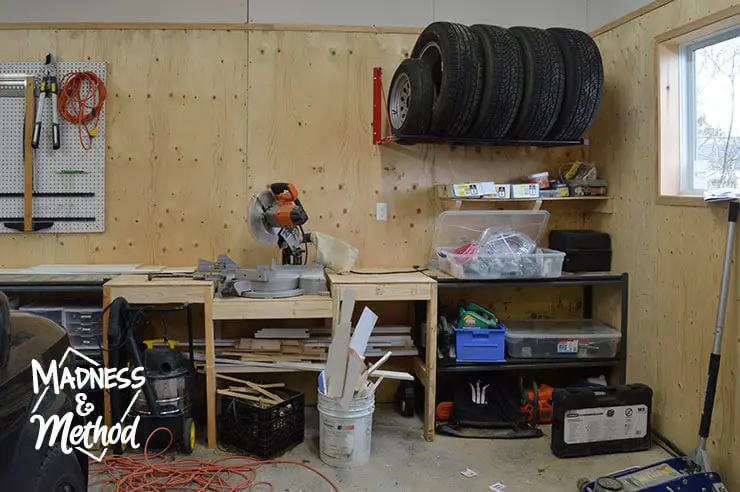 My mitre saw stand also stores my shorter wood pieces below.  The shelf on the right holds the Husband's stuff, and our winter tires are above that.

I didn't want anything on the left side (where the man door is) other than our hand tools.  Unfortunately, that's our storage zone for the leftover construction material, but I'm sure we'll use it eventually. I've since started storing the stroller in the garage, and it's been a game-changer not having to bring it up and down the stairs every day!
The Husband plans to store his boat and snowmobile on the right side.  So far, they're still not in there… so we'll see.  The van is parked in the middle-ish, but I'll eventually move it over if said boat/snowmobile come.
Notice all the other random floating stuff on that side?  Turns out, we have a lot of "big" things and storing them vertically is a bit tricky.  I still want to get more floor space in here, so this will be a work in progress!
Driveway and Finished Garage Exterior
I can finally show off the garage exterior – is it how you imagined from my original design plans?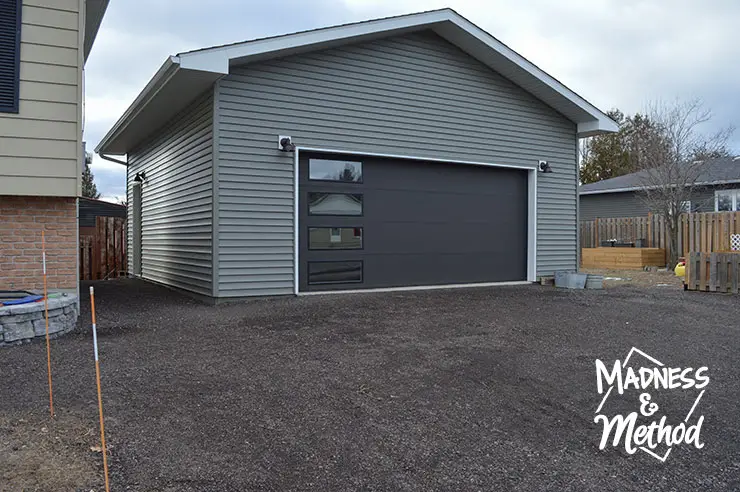 With the interior walls at 10′ high, the total height of our garage is just under 15′ at the peak.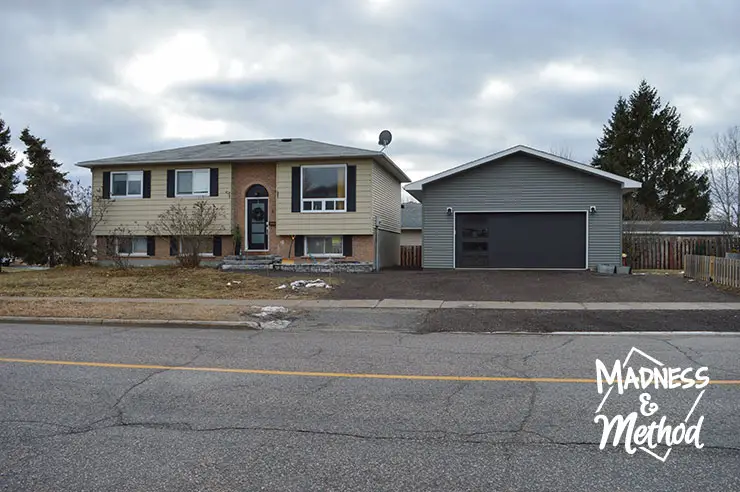 Everyone in the neighbourhood knows who we are now… "oh, the house with the garage".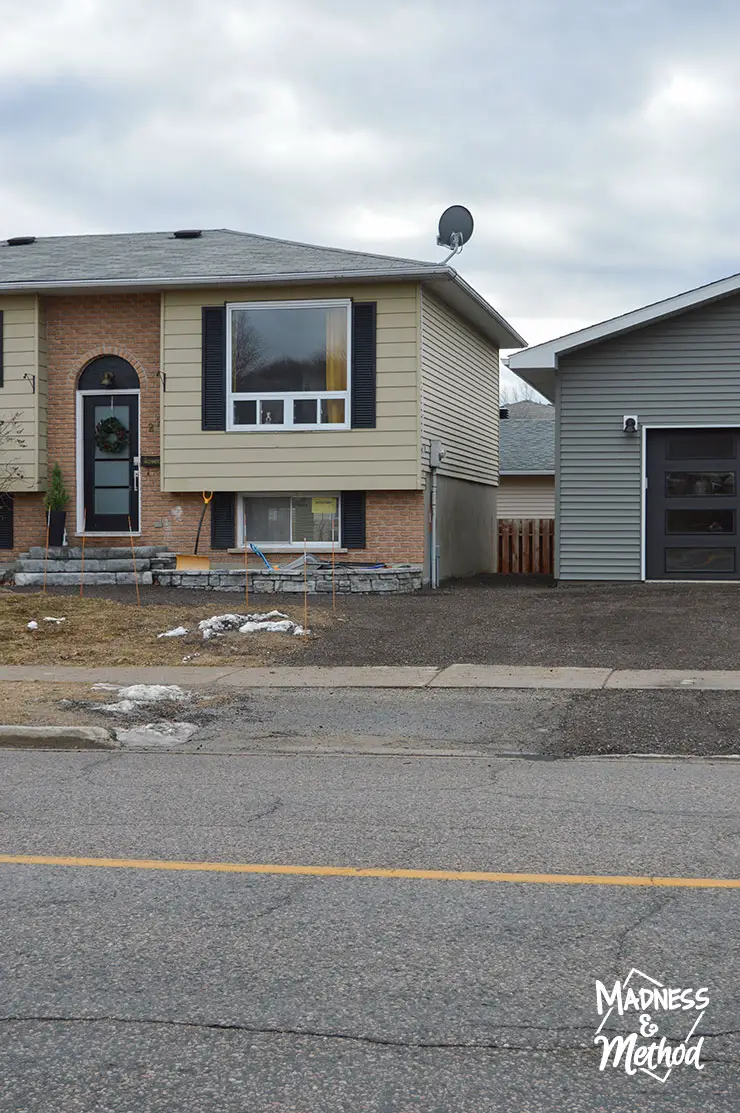 While I don't want to change the siding on our house, we'll see if we end up painting the bricks to match the garage.
What do you think?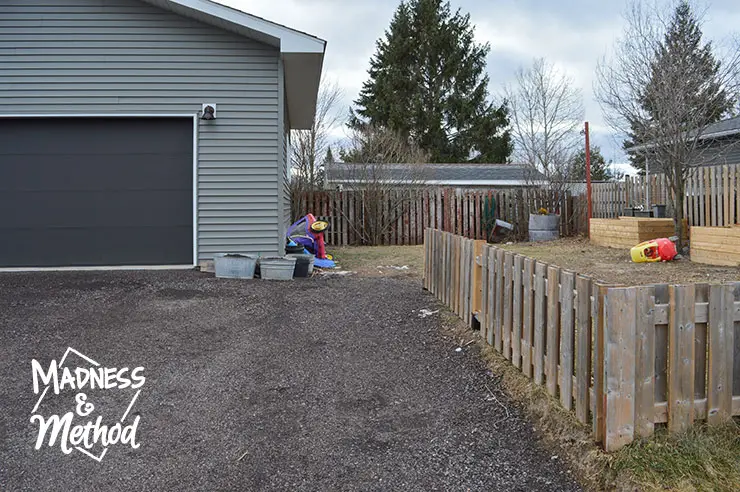 We moved/filled in the fence a bit with the pieces we had before.  The plan is to add a gate to access the main yard here.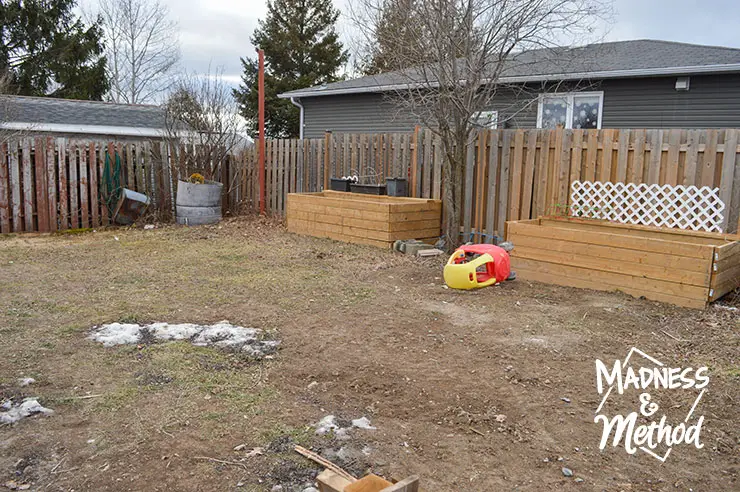 This part (with the raised gardens) is pretty much all cleaned up.  We'll need to bring in some soil to fill the beds and level out the yard.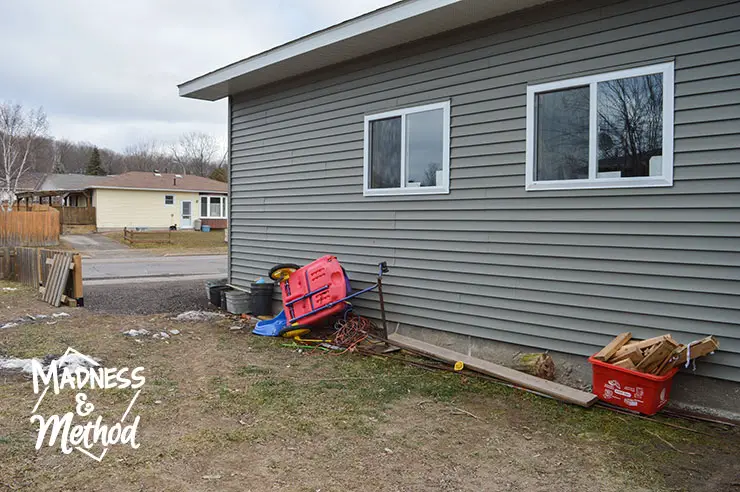 If I could do one thing differently, I'd have the windows a touch shorter.  Our contractor said that they're usually higher so that people don't peek in.  I wanted them a good height so that I could watch the kids if I was in the garage working, and when I specified the height, I think I meant the centre of the window and not the bottom.
For a while, we didn't have the steps down into the backyard.  (We also had to wait to cut the road curb, but that's a whole other story!).  We surprisingly didn't get snow in November, so managed to sneak in a few last-minute projects.
I can hardly believe that I was able to take these photos at the start of December!  We had a little snow, but nothing that stuck until the Christmas holidays.
I was ready with my orange spikes though!  SO that we can still know where our walkway is when we get a lot of snow.
Current Garage and Plans
Through the magic of the internet, here is what our garage/yard looks like now (as of yesterday).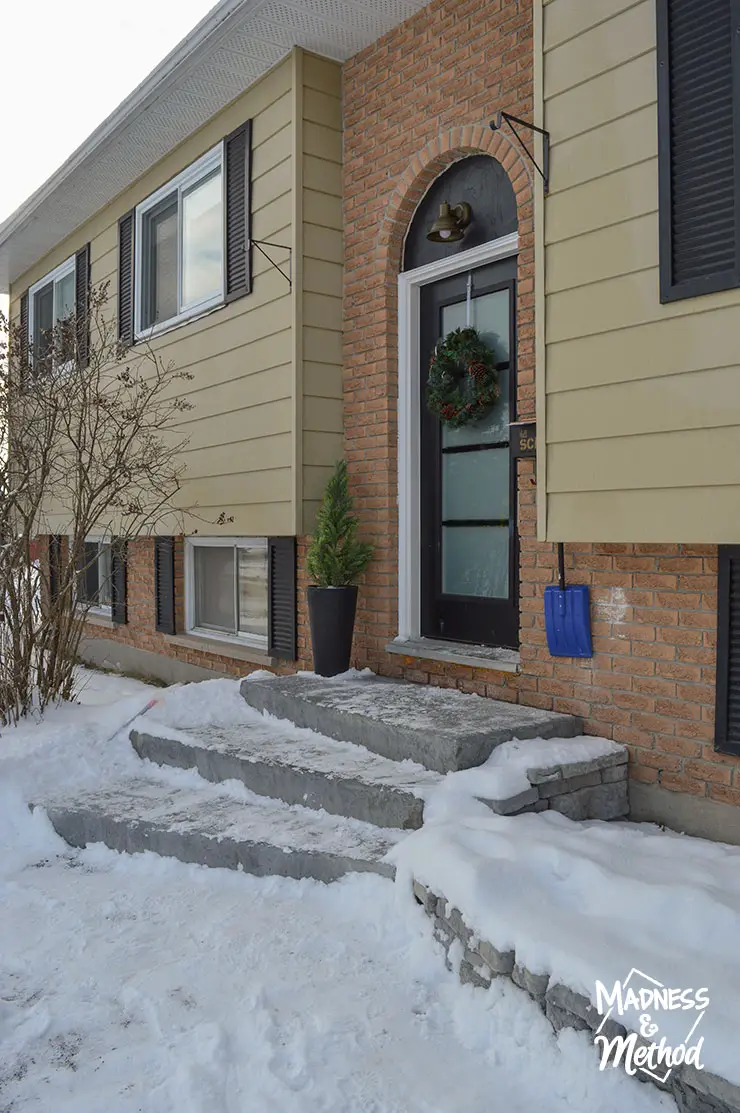 I still have my Christmas wreath up, and I might take it down eventually.
We've had to shovel the driveway/walk a few times, and I'd say there's just under a foot of snow on the ground.
We don't have a gate/fence blocking in our yard, and so far, Tootsie hasn't gone too wild.  The plan is to finish it and stain it all black!
We'll also add a gate in between the house and the garage, but for now, we mostly store our shovels here.  And toboggan, and snow scale apparently.
I didn't shovel too much into the backyard, so there is one frozen chunk that blocks the steps.  The idea is to tackle the backyard this summer, so we'll see how everything gets integrated.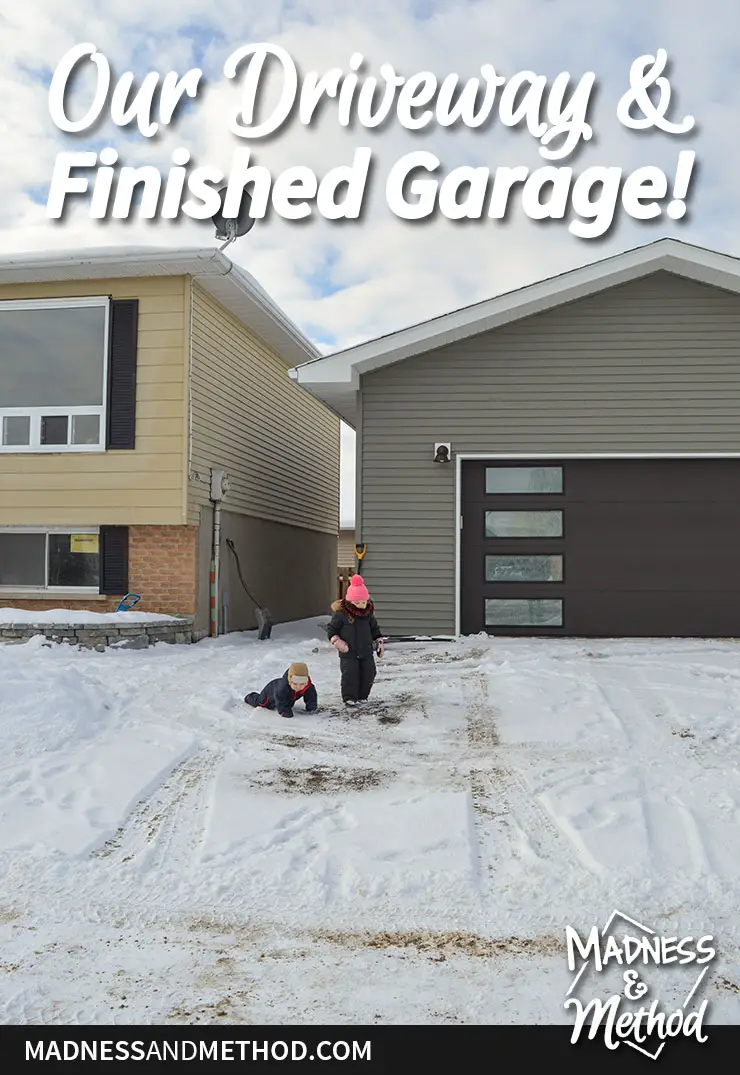 So far, living with a stone driveway (and shovelling it) has been a bit more challenging.  We're going to see how it packs down after the winter.  We have a few buckets of extra stones laying around in case there are holes we need to fill.
Other than that, everything has been working great!  I love parking inside the garage and now having to clean off the snow :)
Any garage questions (or images you want to see) that I didn't cover?  Let me know!