Whoopee we've reached the final week for the One Room Challenge (extended by an extra week, just this one time!) and that means that we HAVE FINISHED the garage makeover!  Okay, technically there are still a couple of small tidbits that aren't done, but they don't really affect this garage makeover reveal – so let's just pretend everything is 100% perfect :)  Let's dive in!
– Note: This post contains affiliate links. See more information about affiliates here. –
We completed this makeover as part of the One Room Challenge hosted by Linda of Calling it Home.  The 20 featured bloggers reveal their rooms on Wednesday this week, and me and all the other linking participants get to share our stuff on Thursday.
Here are all our posts from the makeover:
Week 1: Garage Photos and Intro | Week 2: Garage Design Plans | Week 3: Empty Garage + To-Do List | Week 4: Painting the Garage | Week 5: Our Garage Concrete | Week 6: Still not done the Garage
AND here's a doozie of a before photo to show you where we started:
Now granted, most of the stuff in the middle of the garage was garbage/recycling that we had to bring to the landfill (and some projects, like the base for my metal and wood coffee table!).  Once we got everything cleared out (and after lots of work), we are now staring at this beauty: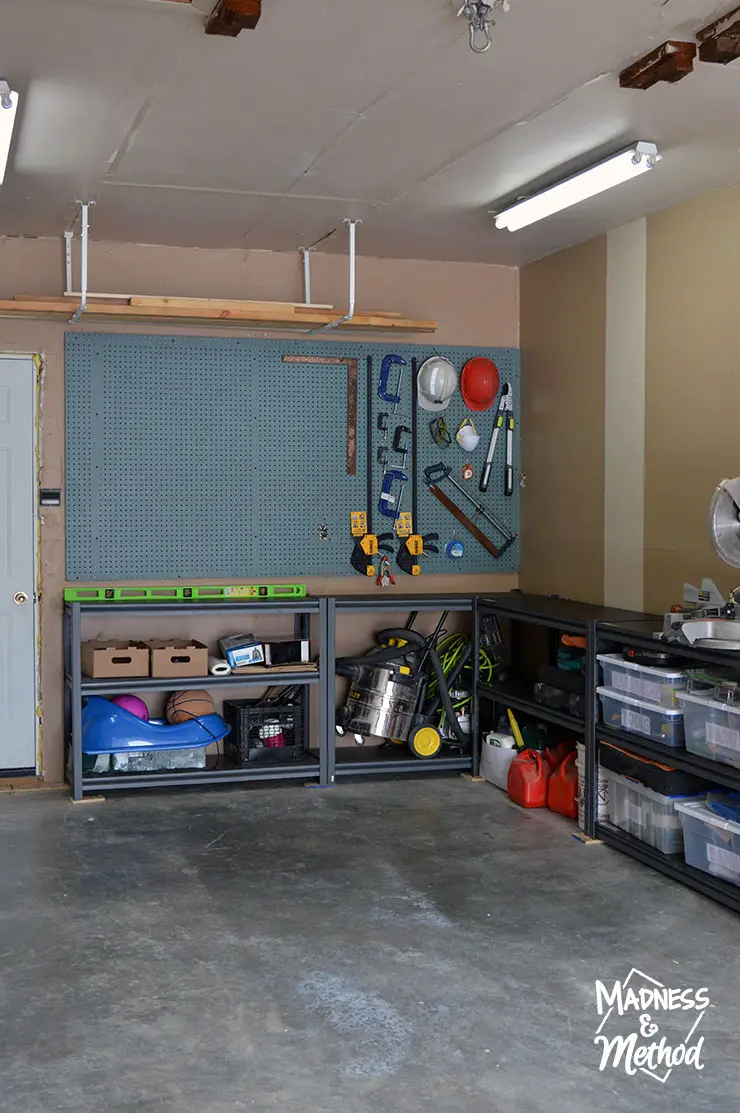 There's room to park my car again!  Yay!
I'm going to go over each little area quickly (starting from the left and working my way around) then I'll go into a bit more details at the end.  Next week I'll share even more details, so make sure to visit if you want more info :)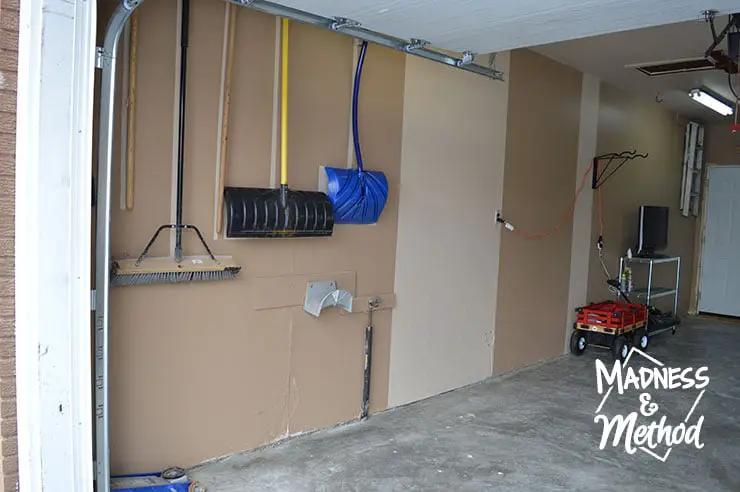 Immediately to the left, we have our tool storage zone (there's a cute animation a bit below that shows a neat feature!).  We still have to add our garden hose, but it's currently half-frozen on our back deck…
Because ya, we got a couple inches of snow last week – which made finishing this makeover extra fun :)
On Thursday night, the Husband was all like "I'm going to park my boat in the garage all weekend okay?".  And I calmly told him that would not be a good idea.  And by calmly, I mean angrily of course, because HOW WAS I SUPPOSED TO FINISH PAINTING AND THE ENTIRE MAKEOVER WHILE WORKING AROUND A BOAT!?
We compromised and he only left it in overnight and some of Friday (it was like -25° out… and someone forgot to get it ready for winter…).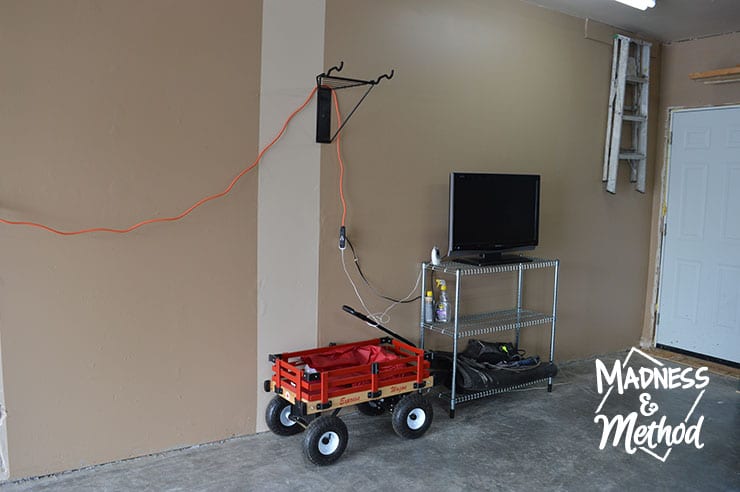 Anyways!
Continuing on this wall, we have the Husband's "bike zone" or "pain cave" as people call it.  Apparently you can search #paincave on Instagram and people show off all their bike setups.  This is one area that will be changing from what you see here, since I just guessed where the Husband wanted everything.  He also took his bike with him to work this week, so just pretend there's a bike on that rack – ha!
I'm super excited that our overhead storage rack came in!  Shipping was estimated as November 17th, but we ended up getting it late Friday afternoon, so the Husband and my Papa installed it over the weekend – and it totally works!  (I did buy two just in case, but one seems to work perfectly).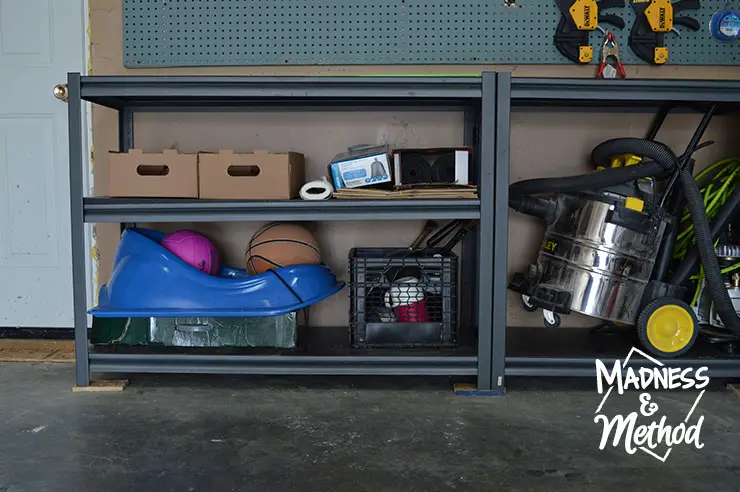 I call this first shelf on the bottom the "fun shelf" because it houses our balls, baby sled and camping gear.  Above that we have our "bags and bottles", as eventually those empty boxes will be filled with bottles we need to return.  Then there's the shop vac (that I stuffed in there) and the compressor to the right.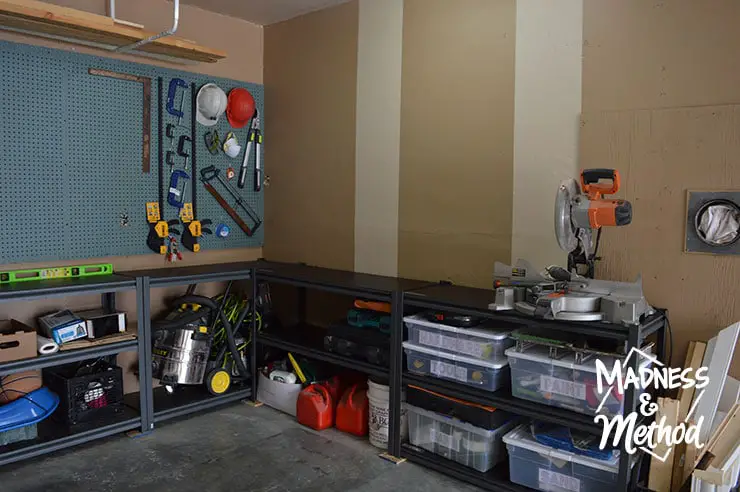 We had the one shelf already, and were able to get a matching one for the other side.  I brought out even more stuff than we had before, and we still have some empty space left.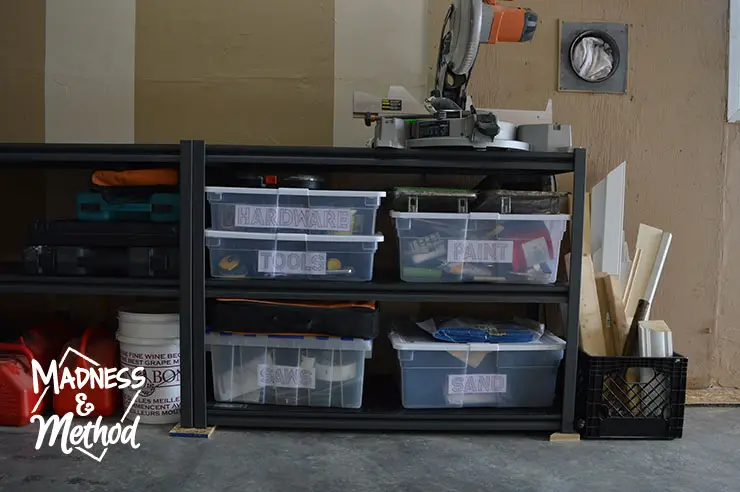 I was super excited to organize everything and fill up new clear bins, and I just taped on some simple paper labels.  I also organized my cut wood into a little crate, so now I can easily grab something if I need a small piece.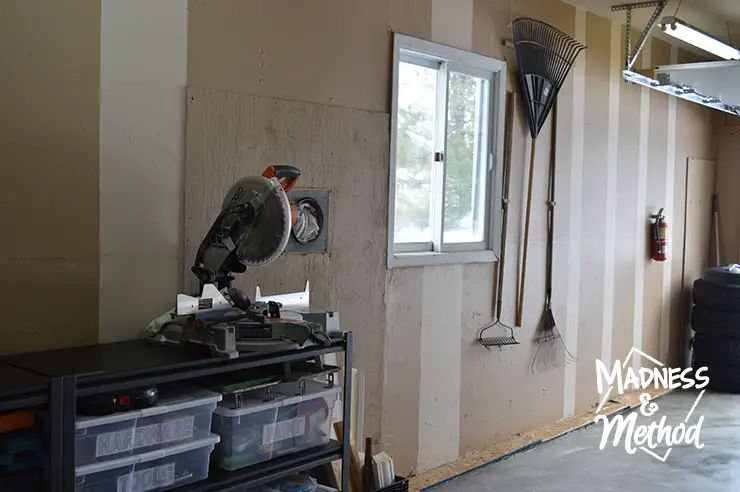 We don't have the new heater installed yet, but we're hoping that the new one will go where the old one is (for now I just stuffed the exhaust hole with a rag).
Unfortunately, we figured out that my mitre saw doesn't fit as nicely as it did before!  While it fits on our 18″ shelves perfectly, we used to have a gap between the shelves and the wall (because there were/are concrete blocks sticking out) and now the back sawdust vent bumps against the wall.  We might invest in some sawhorses or a portable table, but for now it will just sit here, sort of crooked…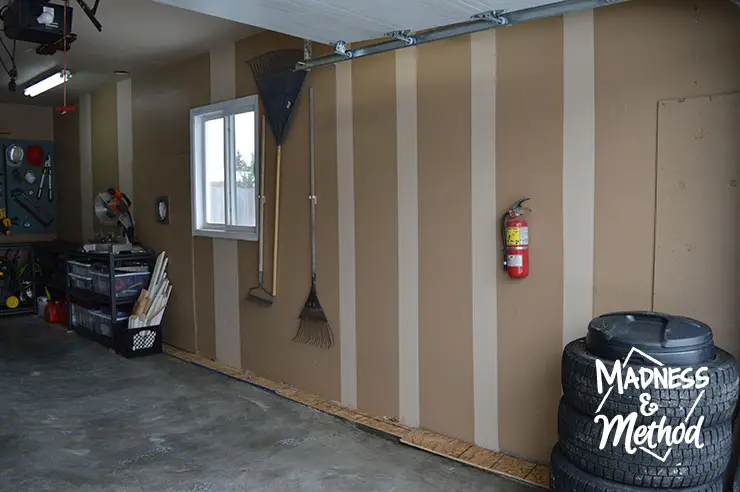 Then we have our "rake rack" as I call it, some more fun stripes down the wall, and finally a pile of tires.  No, those aren't going to be there forever (they belong on my car!) but the Husband hasn't installed them yet.  I already moved them from the other side of the garage, and it was a lot of work!  I think we might have our garbage bin here instead, and once my summer tires are off, we'll be hauling those to the shed.
What we Accomplished for our Garage Makeover:
Removed old heater, cabinets, pegboard
Removed all garbage/recycling
Concrete floors resurfaced (we hired this out!)
Quick patch on walls, and painted medium beige
Painted ceiling (light beige) and added stripes on walls
Purchased, painted + installed new pegboard (Para's Designer Indulgence / Emerson 316E)
Covered the old cement blocks along the walls
Purchased and installed new shelving unit
Purchased and installed overhead wood storage
Setup a cool tool storage area
Cleaned everything
Organized all our stuff!
What's Left:
Install casing around door
Purchase + install new heater
Bike zone needs to be finalized
One more trip to the dump
The door is not really lined up with the wall, so it wasn't as simple as adding a casing to the edge (I will have to build out some areas a bit).
The Husband was in charge of the heater, and he did some research and got a few quotes.  We're pretty sure we're going with a natural gas wall-mount (in the old location as before), so we'll need to get our gas line moved out to the garage, get it setup, whatever.  Problem is, now that winter's hit our area, everyone's kind of busy!
Oh, and I mentioned before too, his "paincave" will look a bit different once he gets all his stuff in there.  When he does a workout, he'll bring a laptop in and hook it up to the TV, and I've told him it would be nice to have ALL his biking gear in this designated area (rather than all over our house… like it is now…)
SOME MORE GARAGE MAKEOVER PHOTOS!
Remember the cute tool storage I was talking about?  Once I got everything placed how I wanted, I simply taped around the outlines and painted the silhouettes using the light/ceiling beige.  My grandpa had something similar at his house, except he just did the outlines in pencil.
It's easy to see what's missing this way!
Oh, but I literally just realized this morning that we were missing our spade!  Someone left it outside, so I'll have to find a spot and add it in.
I'm most excited about our my new work zone.  Having my 2x4s in here (rather than in the shed) will be much better when I want to build something in the middle of winter (and don't have to dig through a few feet of snow).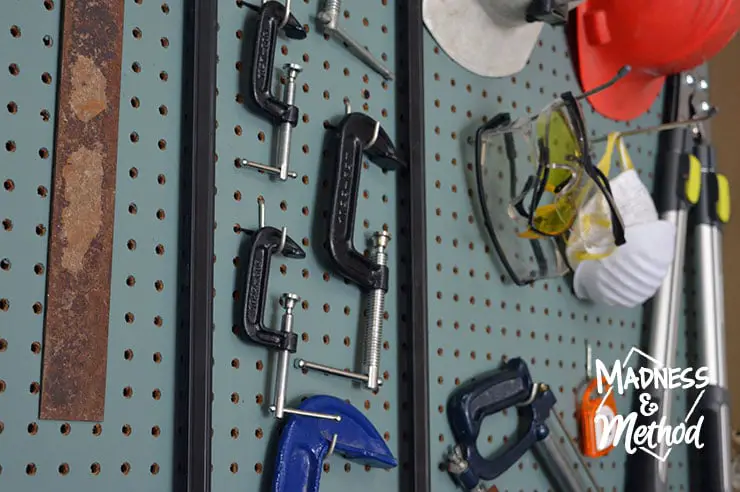 I enjoyed organizing everything, and I had to think hard about what I wanted to include on our pegboard, versus what I wanted to store in a bin.  I felt like we always move clamps around, so thought these would be great for the pegboard.  I also wanted our "safety gear" to be super easy to find and grab, so there'd be no excuses not to be safe while working!
We do have one saw that I included on the pegboard, but only because it didn't fit in the saw bin.  I have no idea what this saw is even for, so I need to double-check with the Husband if he's ever used it (there were a couple of tools that came with our house).  And yes, we use our clamps often, we just never take the tags off apparently…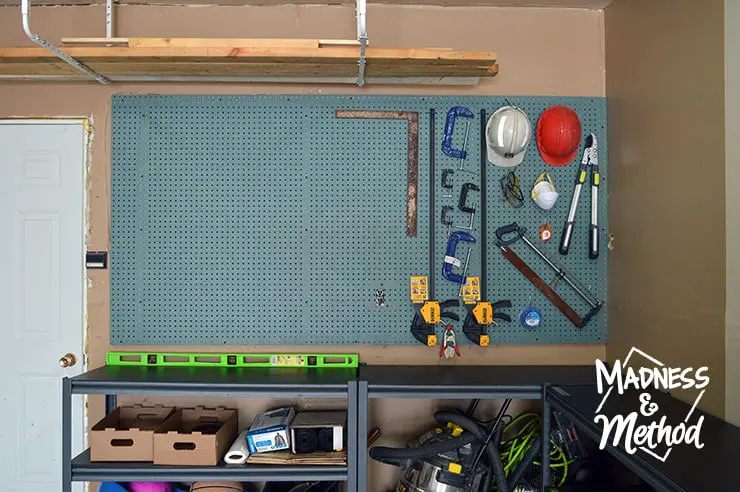 And, you probably noticed that only half of our pegboard is used up.  I like that we still have a ton of space that we could potentially use, and I didn't even have to buy more peg hooks yet!  (I bought a multi-pack when we built our BBQ pegboard last summer.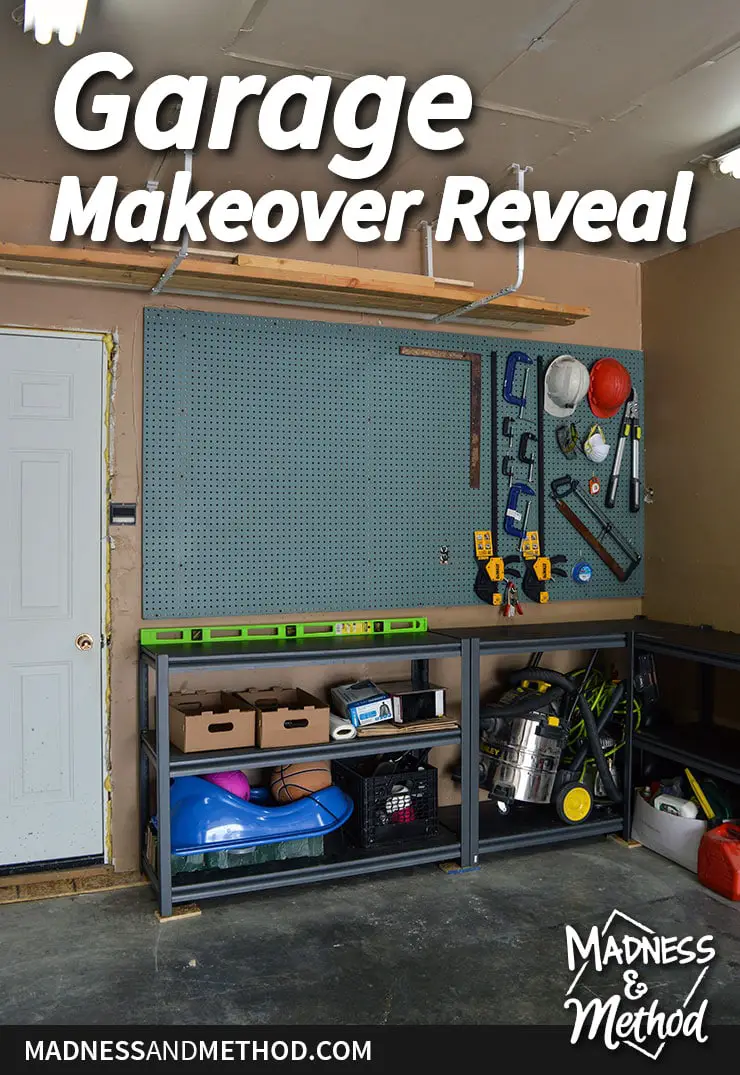 I'm thankful we had an extra week for this makeover, because we definitely were not ready for the garage makeover reveal last week!  I'm sure if we didn't start two weeks late, we would have been done on time, but considering this was a last-minute room choice, it is what it is!
Because I was really hoping we would have been doing a nursery makeover instead – but you'll just have to wait until the new year for that :)
(And yes, I am pregnant so that explains the lethargy of the first couple of weeks – as soon as I was in the second trimester, I got all my energy back!).
Unfortunately my due date is right in the middle of the next One Room Challenge, so I'll definitely be doing the room ahead of time.  Although I hate when people cheat and pretend they are doing their ORC in "real-time" (but complete it early), I may still linkup after the fact (but will still post everything here as it happens!).
Enough about the spring!
Make sure to check out all the great featured makeover reveals on Wednesday AND all the linking bloggers on Thursday.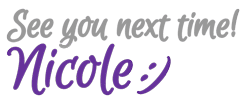 Sources: