Our entry is obviously the first "room" you see when you come into the house.  Living in a raised ranch style home, there is a landing, then a staircase going up, and one going down.  This area has been a pain point (almost since we moved in), but today I'm happy to show off a fun and functional entry update that has made it a whole lot better!
– Note: This post contains affiliate links. See more information about affiliates here. –
The landing is approximately 5'x6′, and it's a suitable size.  You can see how it looked when we moved in and the first round of updates here (hooks! wire storage!).  One of the biggest changes was replacing the broken front door, but our storage situation was still lacking six months into living here.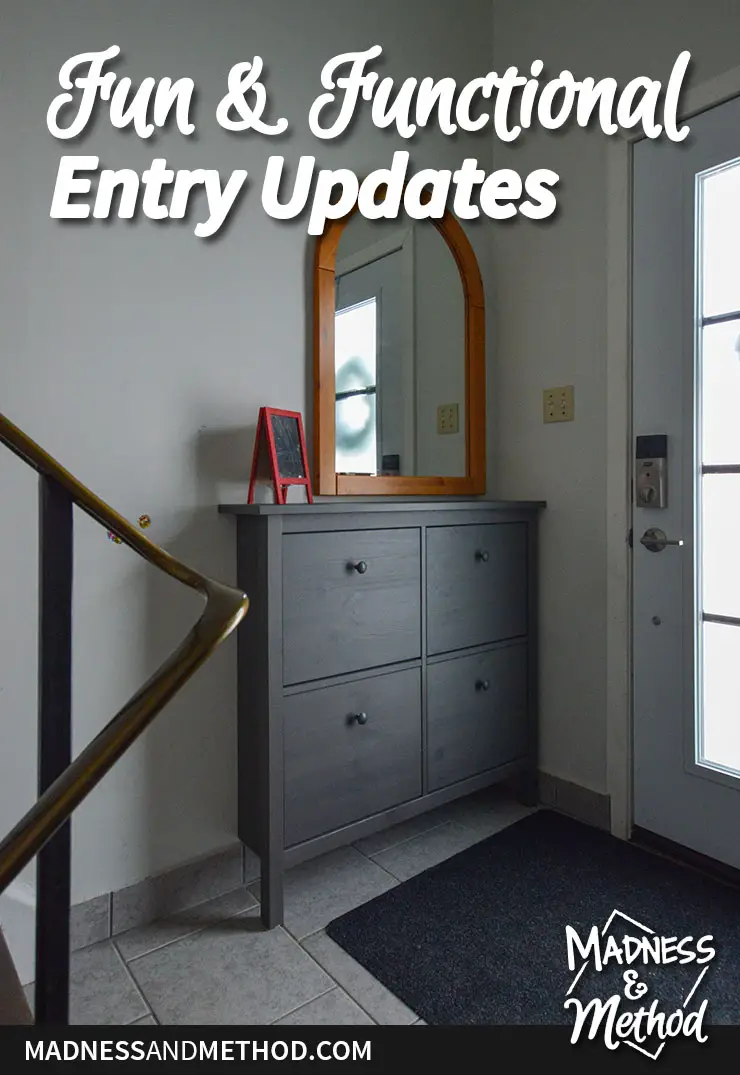 Let me chat a bit about some of the things that needed to be addressed, and how they are working now!
If you clicked through (or remember) some of the earlier posts of this space, you might notice that our storage shelves moved around a bit.  The tall one was originally on the left, but it functions so much better behind the door.  (It's the same spot we had it at the old house).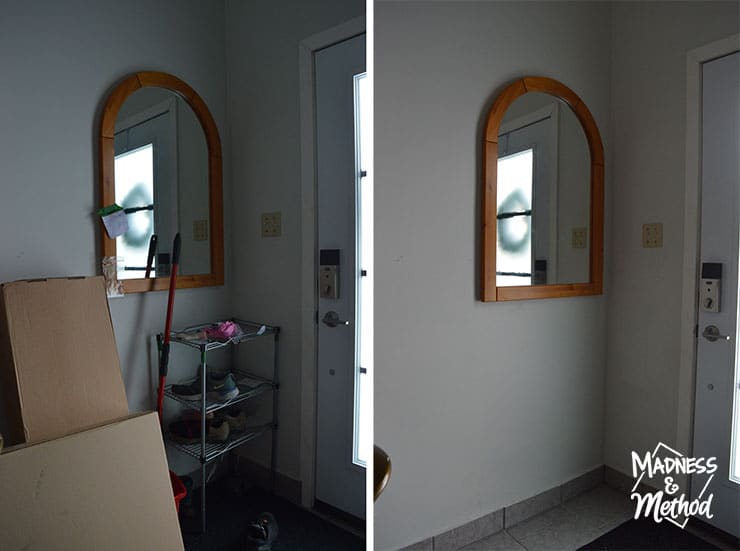 The smaller shelf was mostly just a placeholder until I could get something permanent.  Some of the connector pieces may have broken when I tried to use it to cut wood, so it was always a bit wobbly.  I bought the mirror secondhand a few months ago, and I always anticipated putting a narrow cabinet underneath.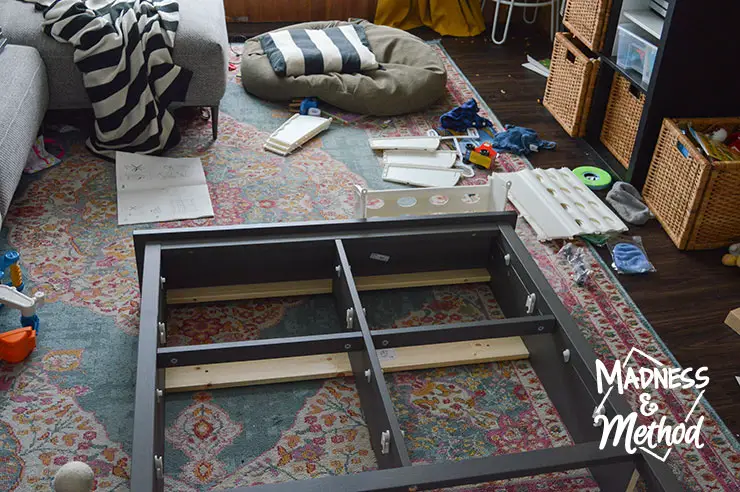 I finally ordered the Hemnes dark gray cabinet and got to work assembling it a couple of weeks ago.  (There were a few colour/style options available, but this was the only one in stock at the time).  Notice our lovely/messy living room :) This was before the big toy purge we did.
Problem Solved: Hidden Shoe Storage
Anyways!  I installed the cabinet and got to work filling the drawers.  I believe one is mine, and 2-3 are for the Husband's shoes.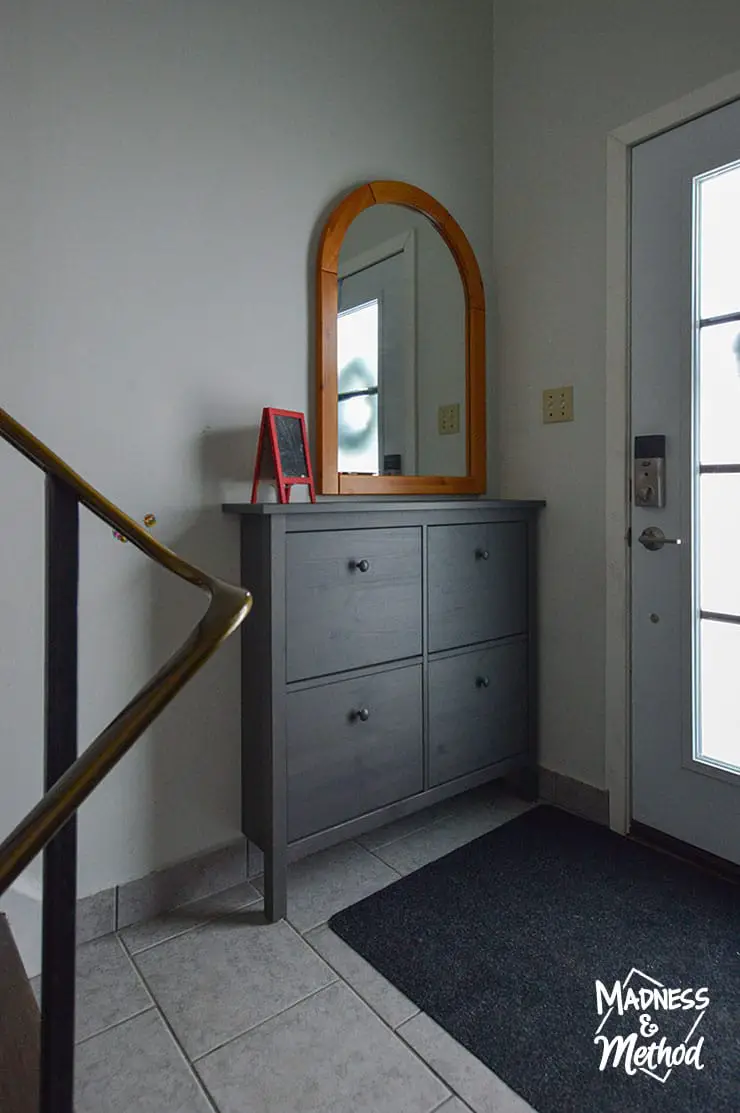 Speaking of which, the Husband doesn't like that the mirror is off-centre.  It's pretty heavy, so I made sure to attach it to a stud.  BUT I also measured for the cabinet, and figured I'd add something on the left to offset the mirror.  The little red chalkboard was just my test piece, but now I know that I would prefer something on the wall rather than on the cabinet.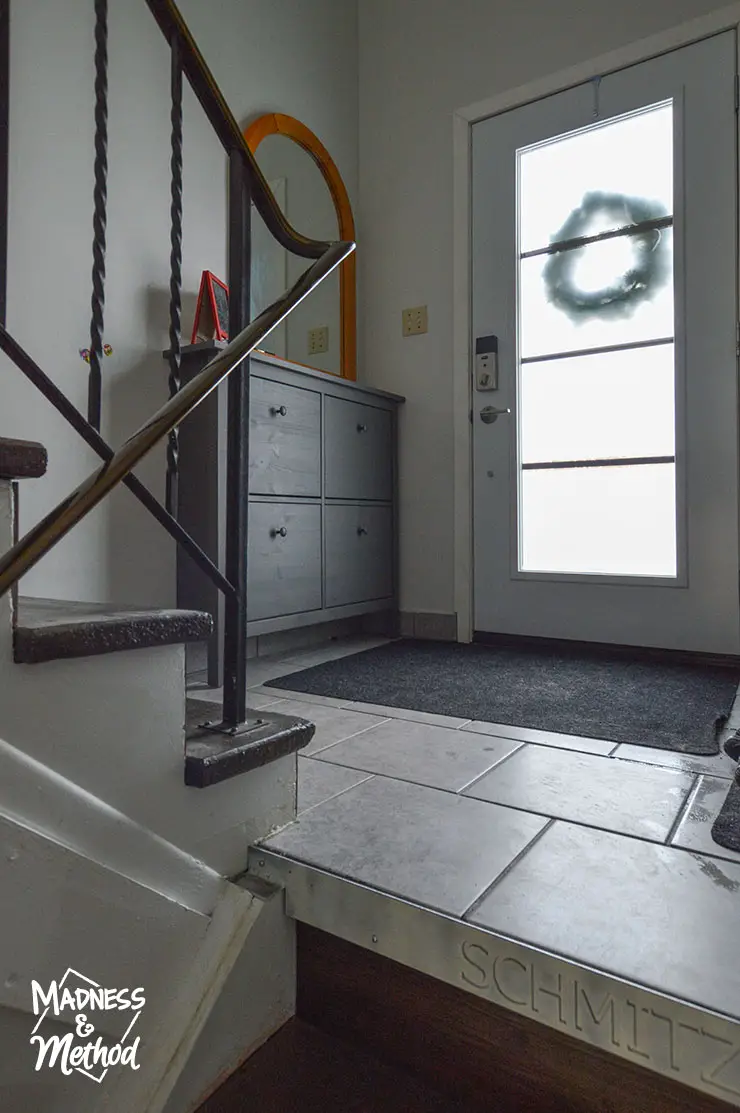 In un-related/related news, I received a wide angle lens for Christmas.  It's easier to take photos of these small spaces, because remember, our landing is only around 5×6.  (Notice the custom threshold piece the Husband added to our steps on the right?  It's not my favourite… but we'll see what we end up with).
On the right side (behind where the door opens), is all of our winter gear.  We have a few warmer items in the closet upstairs, but other than that… this is it.  I've been getting the kids to practice using designated bins/shelves, and it's working!
Winter Gear Storage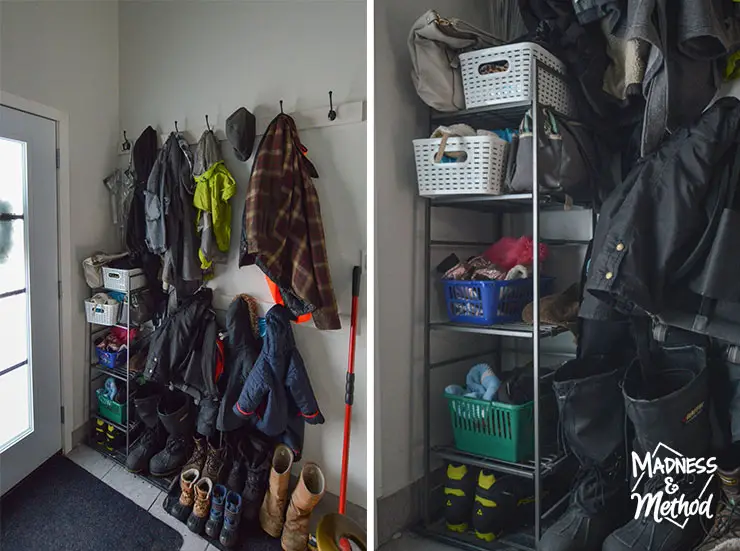 The top shelf/bin is for me (and the Husband), the next shelf down is Tootsie and Félix's stuff.  The blue bin is for Élise (her favourite colour), and Zachary gets the green bin.  I wanted to get matching containers, but figured that we had to test it out first.  Now, well, we might not get fancy bins, ha!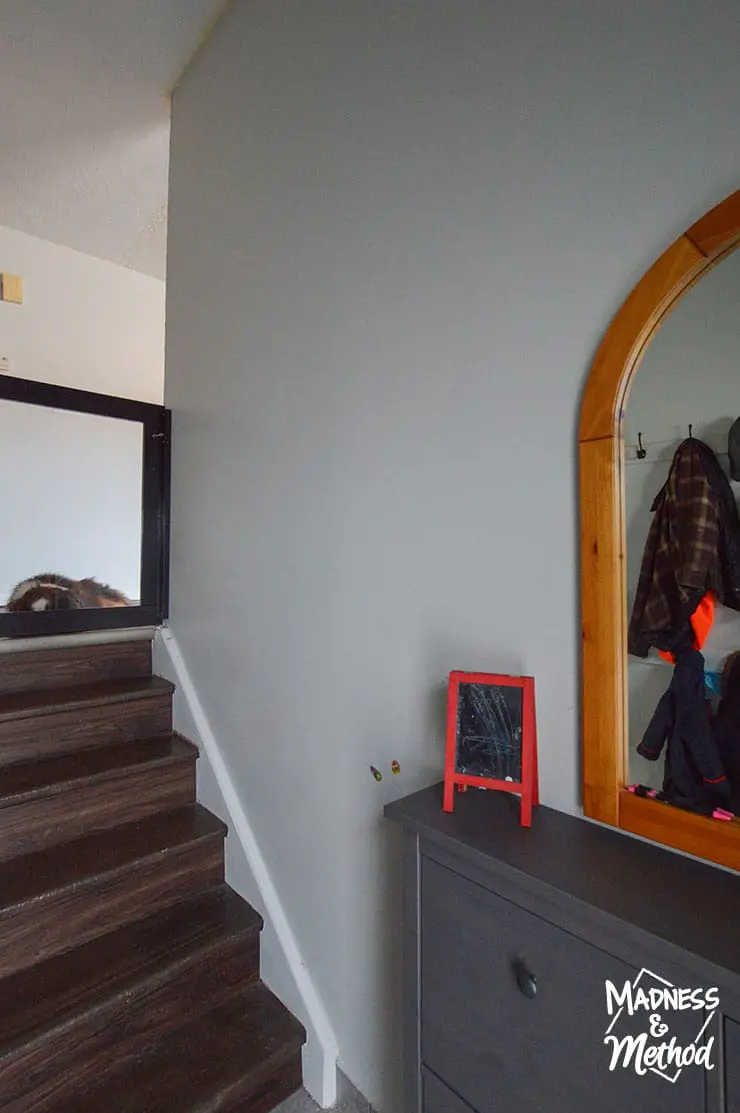 Spinning around to the staircase, our painted/vinyled steps are still going strong!  I finally got around to caulking some of the seams, and just have a few paint touch-ups to do.
Before we moved in, I had thought that we would remove the main wall and open up the space to the living room.  However, I've since changed my mind, so we're working with what we have.  (Plus, we'll be taking a couple of walls down when we do the kitchen, so it should still be much more open then!).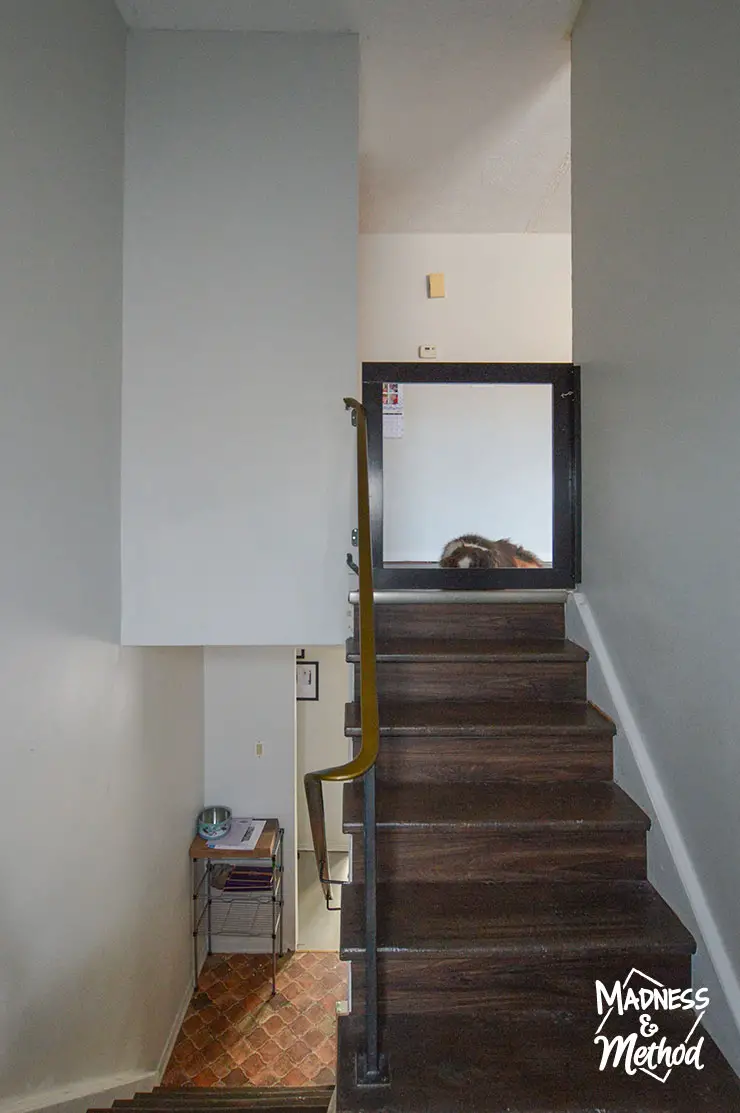 The kitchen is the room just beyond that back wall.  Our house gets a lot of nice sunlight, so it should be again brighter in the entry!  Also, notice how I moved the small shelf at the base of the stairs?  I found some extra connector pieces to replace the broken ones, and I'm seeing how I like the storage here.
Currently, we're using this as the "to-go" shelf, so things we need to bring to other people, or return, etc. I wanted to put a wall-mounted shoe rack here for winter glove drying, but I think I prefer this!  (Oh, and I did buy this shoe rack, but it's been put to good use in the Husband's work out room as shoe and hat storage).
Fun (and nearly free) Accent Wall!
Anyways!  I wanted to add something to this narrow blank wall.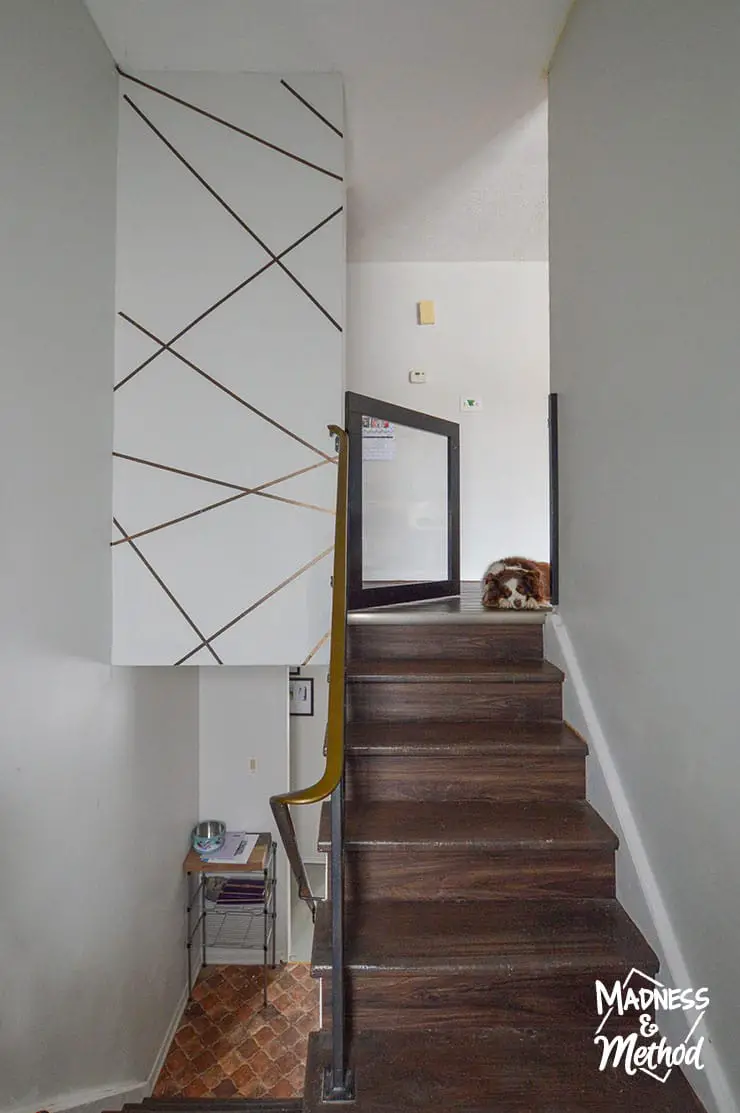 I had the idea to do random taped lines, and luckily had a bunch of washi tape to use.  It took me less than 30 minutes one Sunday afternoon, and I love how it turned out!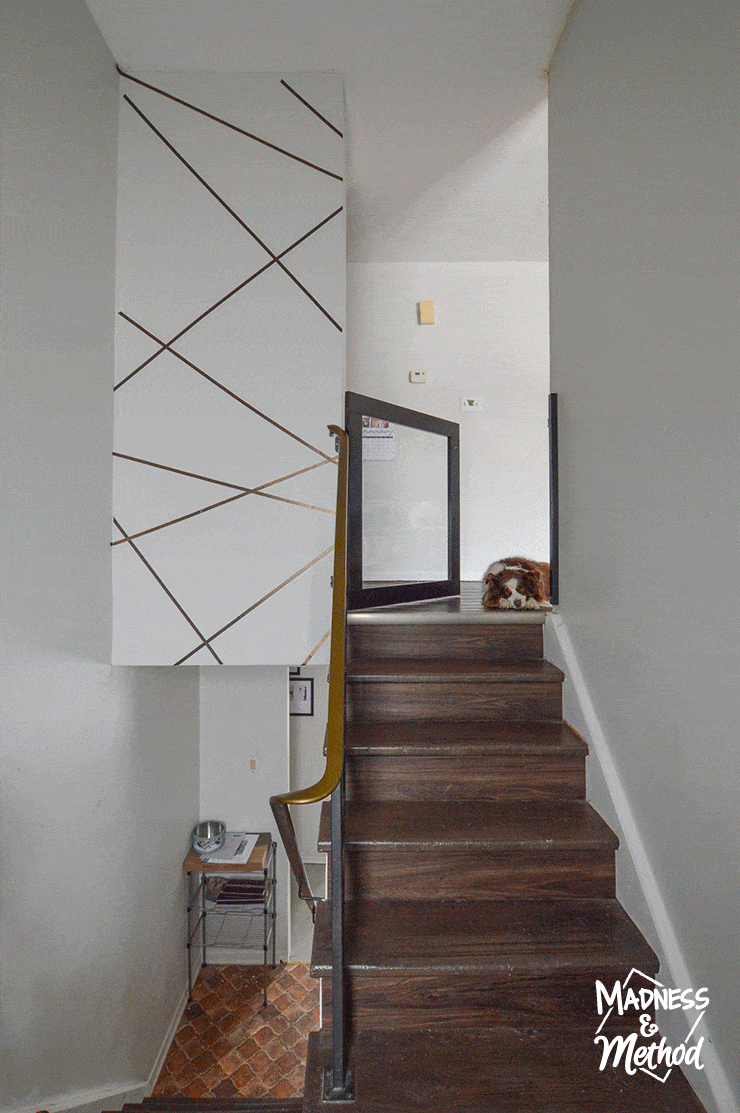 Although, it was tricky to get the tape all the way across.  I ended up using a sponge mop to push the tape across, since it was much too far for my reach!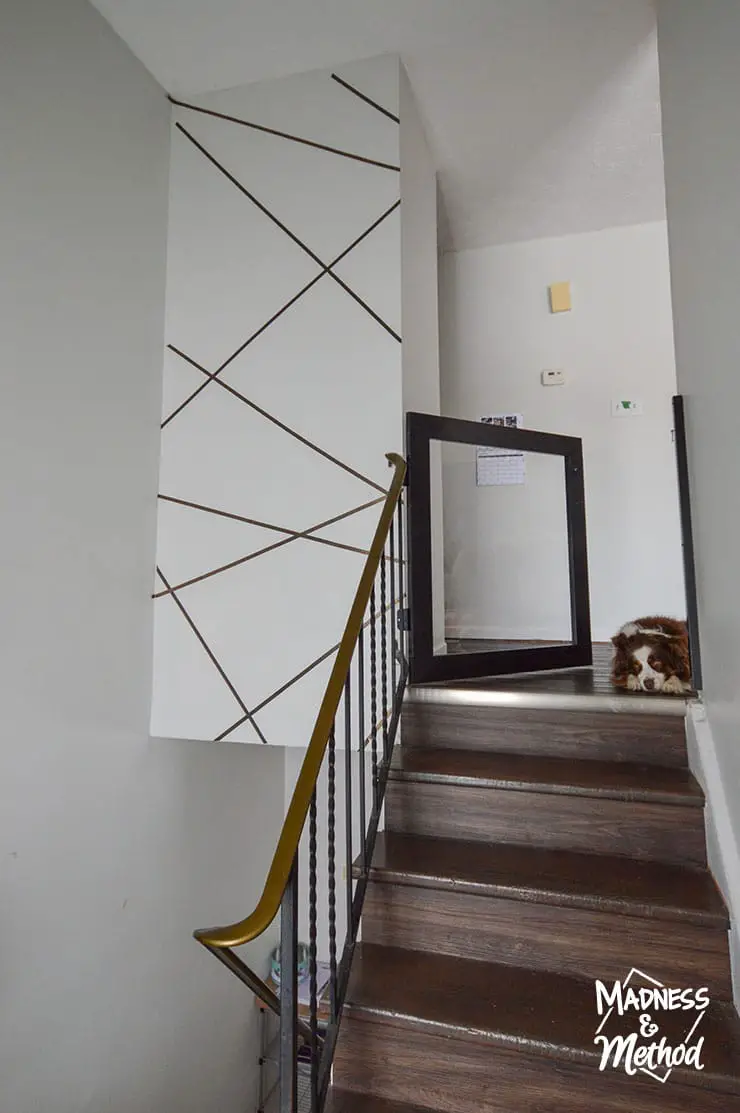 If you look closely, you'll see that some of the stripes are a little short, and some a little long.  I could always try adjusting them, but I wanted to see how it would hold up first.  I think I taped them a few times, but it's been a week or so and they have held up great!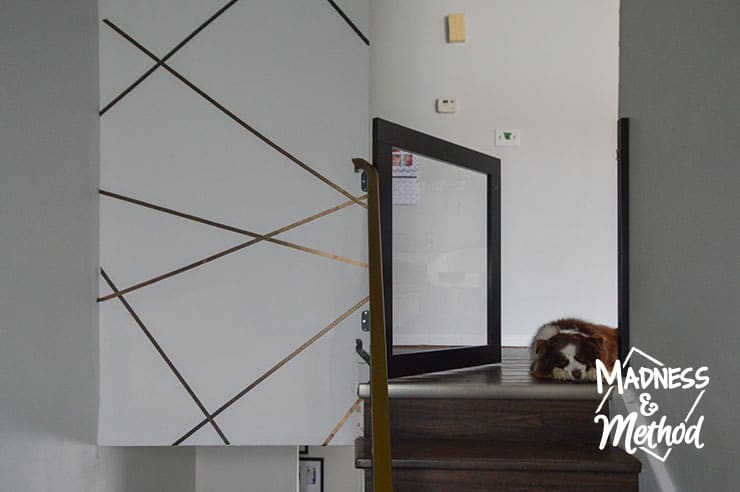 There's a bit of an irridescent glow on the tape, so it shines ever so slightly if you move around.  I had bought the black and gold washi tape to use for gift wrapping, and ended up using 2 rolls.  It's the same one I linked in my minimalist gift wrapping post, and at 12.50$ for 10 rolls, this accent wall cost less than 3$.
(I used the blackest ones, with the dots and the arrows if you are wondering).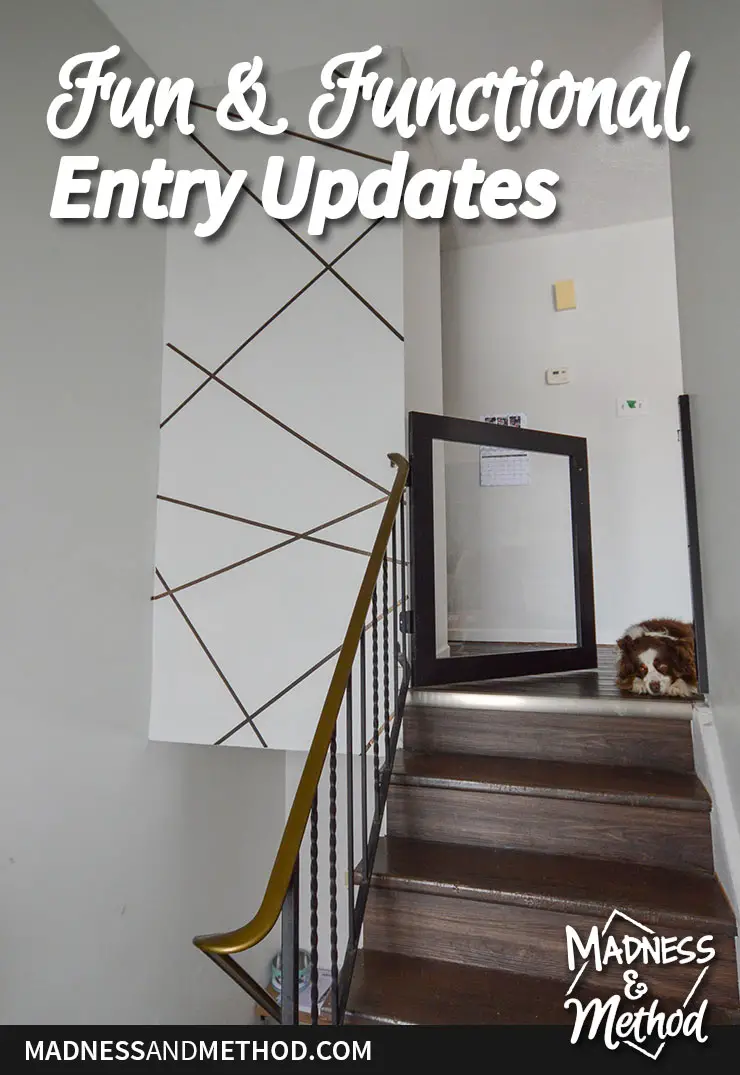 The Husband even commented that it makes the whole area look much better!  But… he still thinks something is missing.  (Maybe that the other wall is too plain now?).  Other than replacing the light fixture, I don't have any extreme plans for the entry.  Either way, we'll slowly let this space evolve.
How's your entry?  Ours has definitely come a long way, and I know that once the season changes, we'll have more breathing room.  Winter stuff takes up soooo much space!