I'm back with another instalment/catch-up about how it's been living in our new house.  We're celebrating our first fall here, and it's crazy to think that winter is just around the corner.  Seriously.  I feel like I'm in a slow rush trying to get things finished (aka the garage), organized (aka the basement) and ready for winter (aka the outdoors).  Let me show you what's new around here!
I shared our last catch up post 3 months ago, and time sure has flown!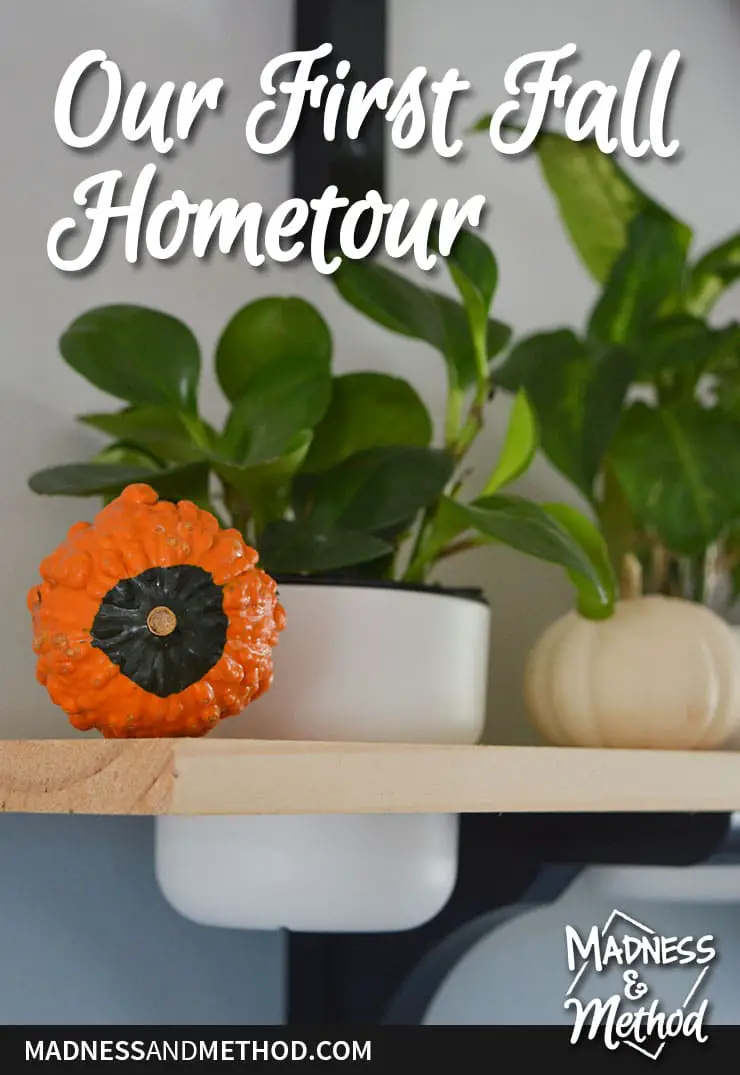 There haven't been any big changes other than the office and dining room.  But there have been a few minor tweaks here and there.  Hopefully, these photos will show how things fit together a bit better.
Let's start in the entry!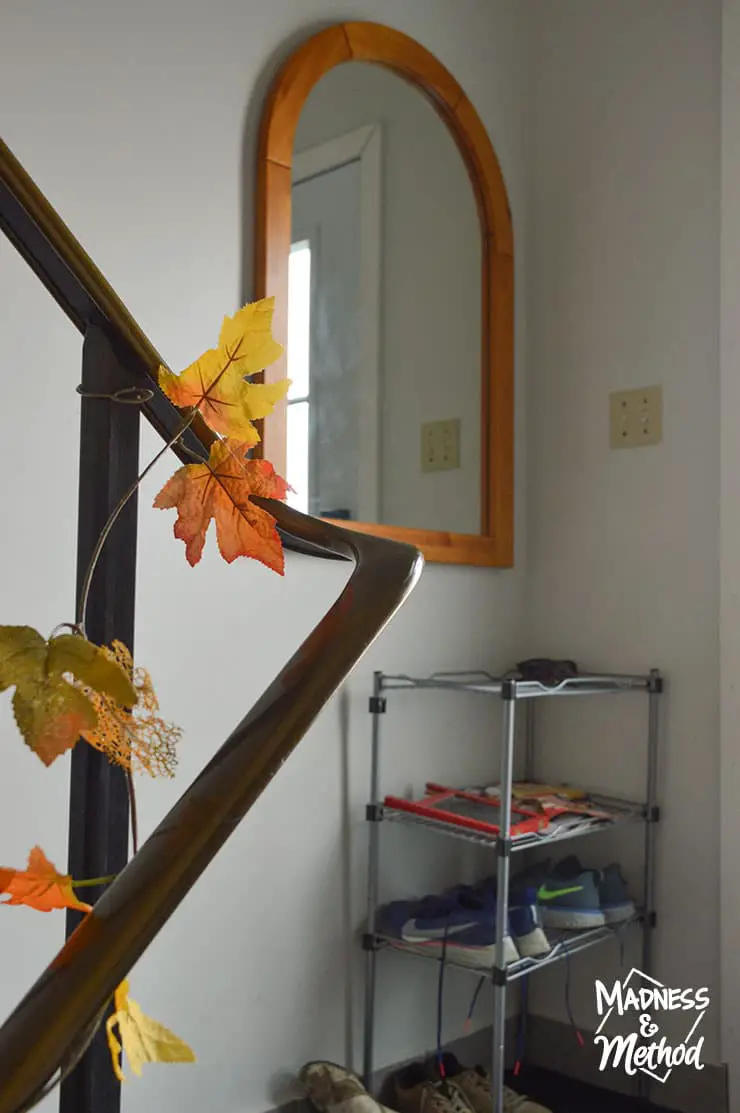 I picked up a cool secondhand mirror last week and it's perfect for our entry.  It was on the dining room floor for a while, so I briefly considered that location (and one more).  But it was meant to live here, and I think it will be a good kick-off to FINALLY get this space complete.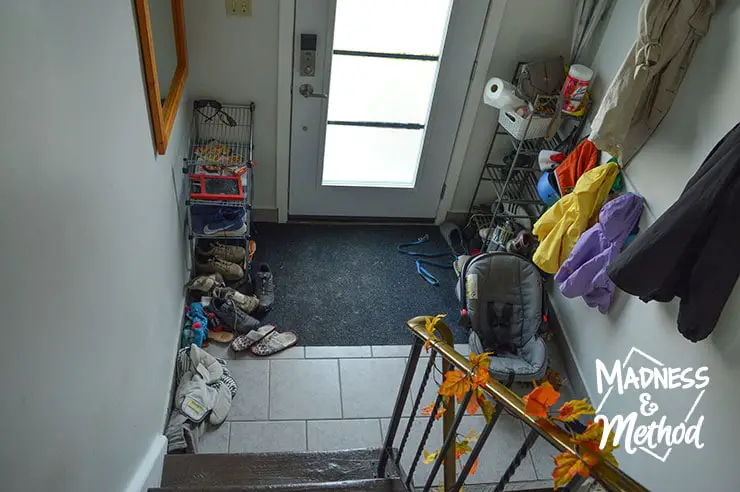 Because our "organization" leaves much to be desired.  Speaking of leaves, I also have my fall garland hung on the handrail.  I bought/used it way back when I did this fun fall planter, but I think I may need to up my fall/Halloween decor.
Oh, and our painted stairs make a brief appearance too, that's another bigger change we've done.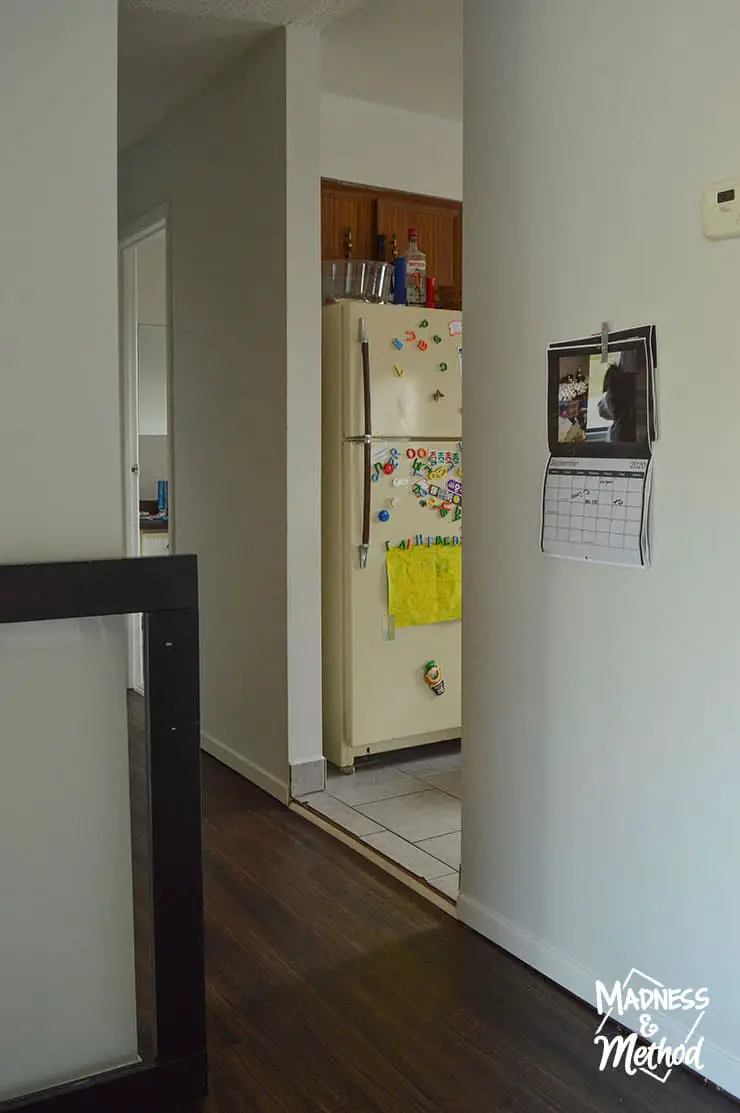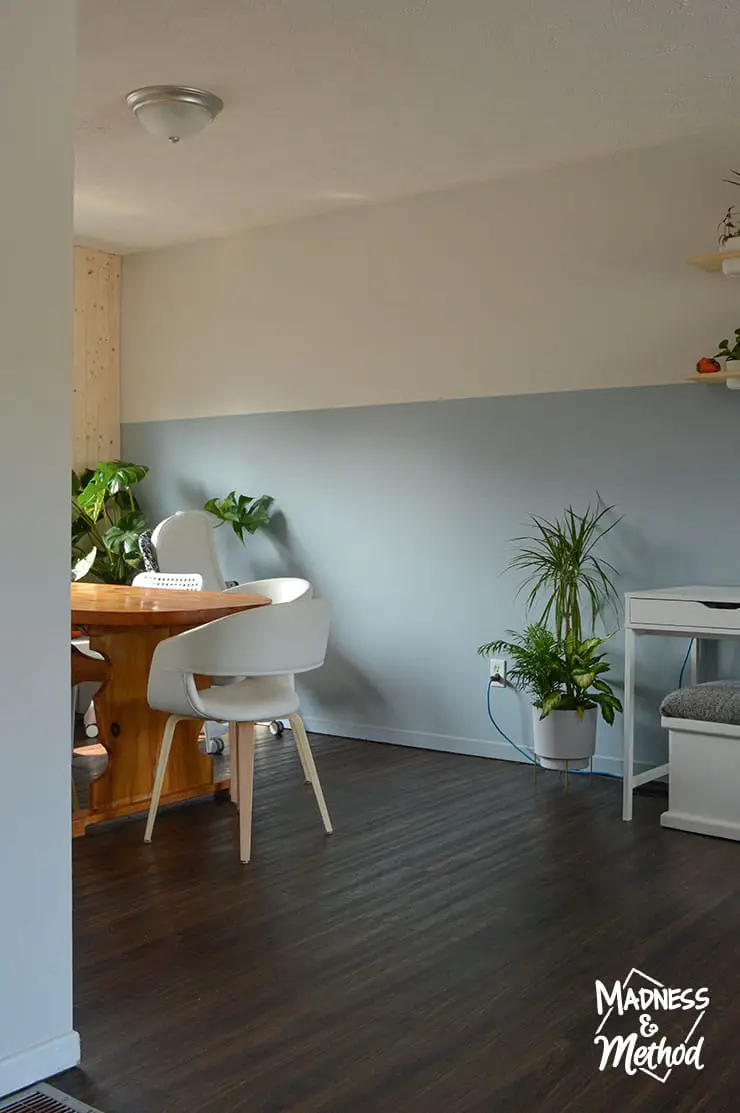 Up the stairs, we have the bedrooms to the left, and the living/dining/office to the right.  We haven't changed anything in the bedrooms/bathroom since the last check-in.  But, our little Zachary did start school, and I put up his first art piece on the fridge.

Wait, while we didn't update anything per se, I did move our bed over a foot or so towards the window.  Now we can properly open both closet doors and I'm happier.  Oh, and I noticed that the extra bracing we added to the bed broke… but everything else seems to be okay.  Check out the full bedroom reveal here!
Dining/Office/Living Room Changes
Okay, back to our trifecta space… aka where we spend most of our time!  Normally there are more toys strewn about, but I did tidy up a little before taking these photos :)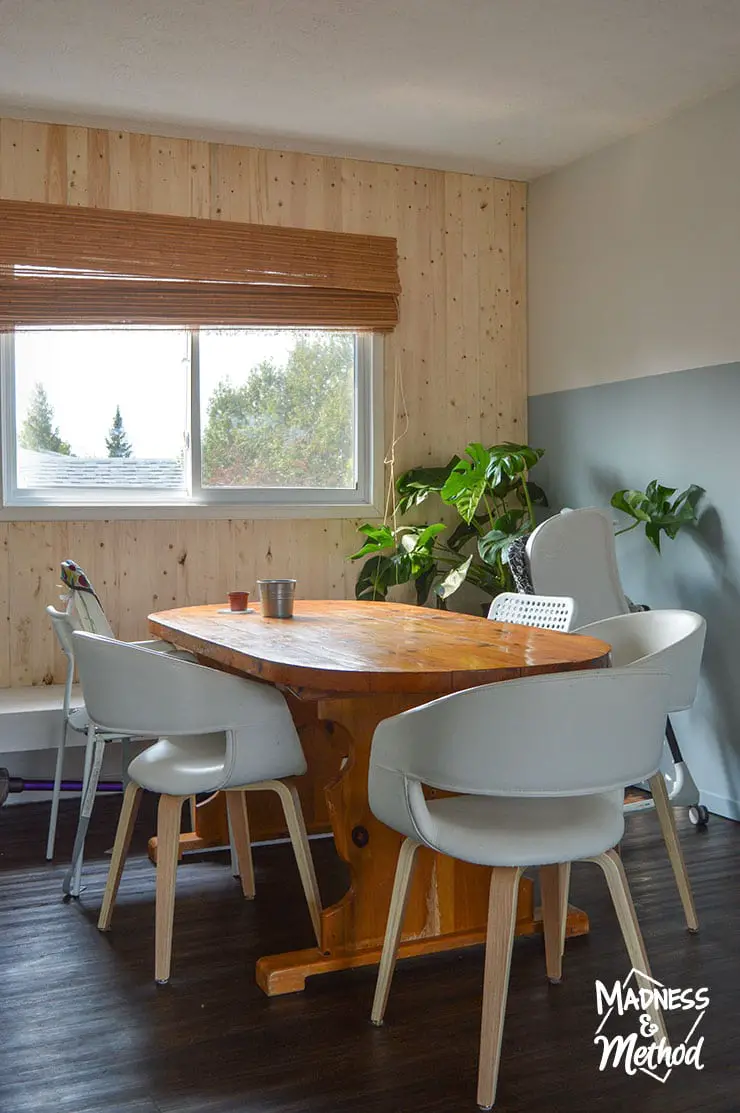 The dining room was one of the last spaces we updated, and I think the unfinished panelling is growing on me.  It matches the chair legs (and the office plant shelves), but time will tell.
I'm deep planning our kitchen renovation and warning the Husband.  It's going to be big, (and I'm going to estimate Spring 2021?).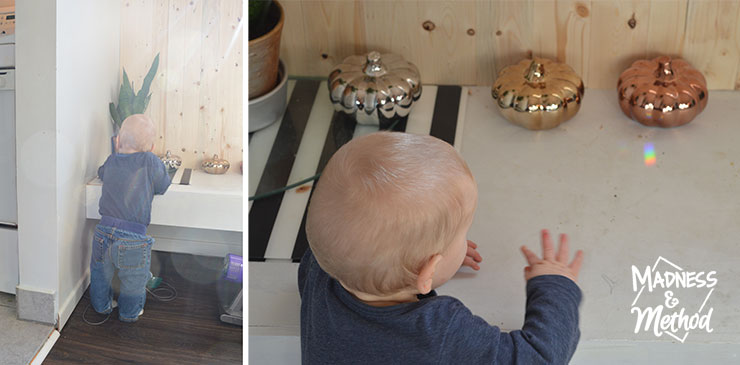 In more topical news, I set up some mini glass pumpkins on the dining room bench.  But as you can see, a certain someone always tries to grab them, so they move around a lot. (Félix is not walking yet, but loves standing).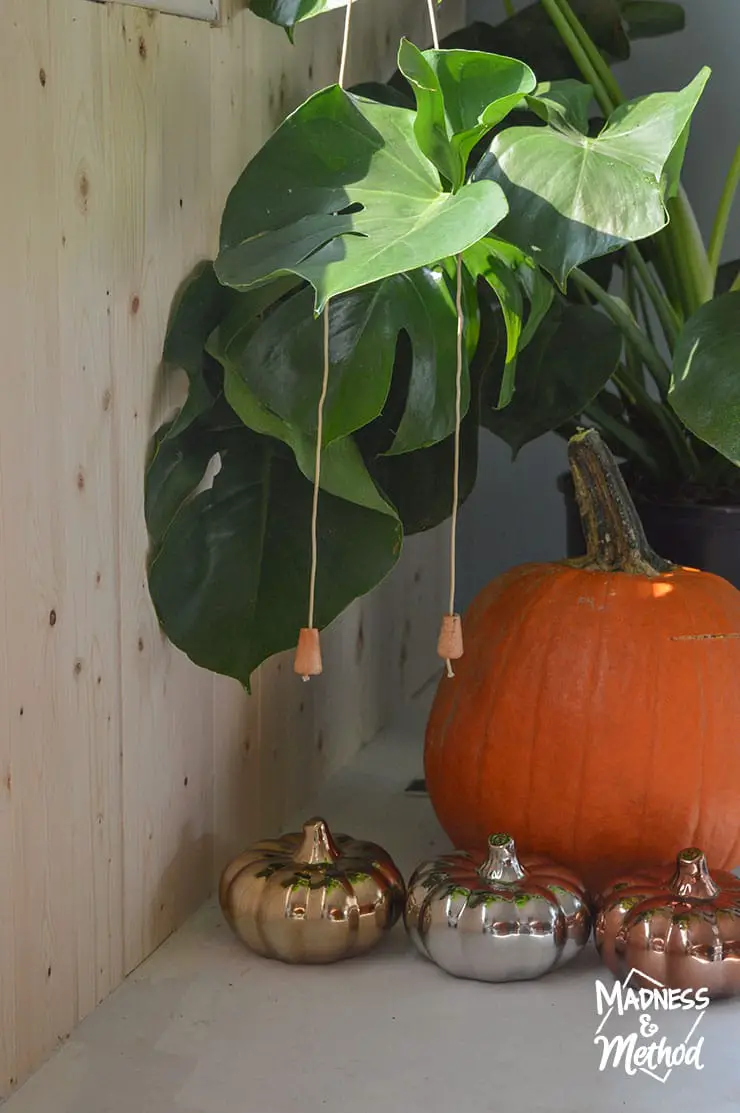 Right now they're next to the real pumpkin/monstera.  They had pumpkins at the grocery store last week, and I couldn't resist.  Although, Zachary did try carving it himself, so hopefully it doesn't explode/go bad.
FYI: I had a watermelon explode last week…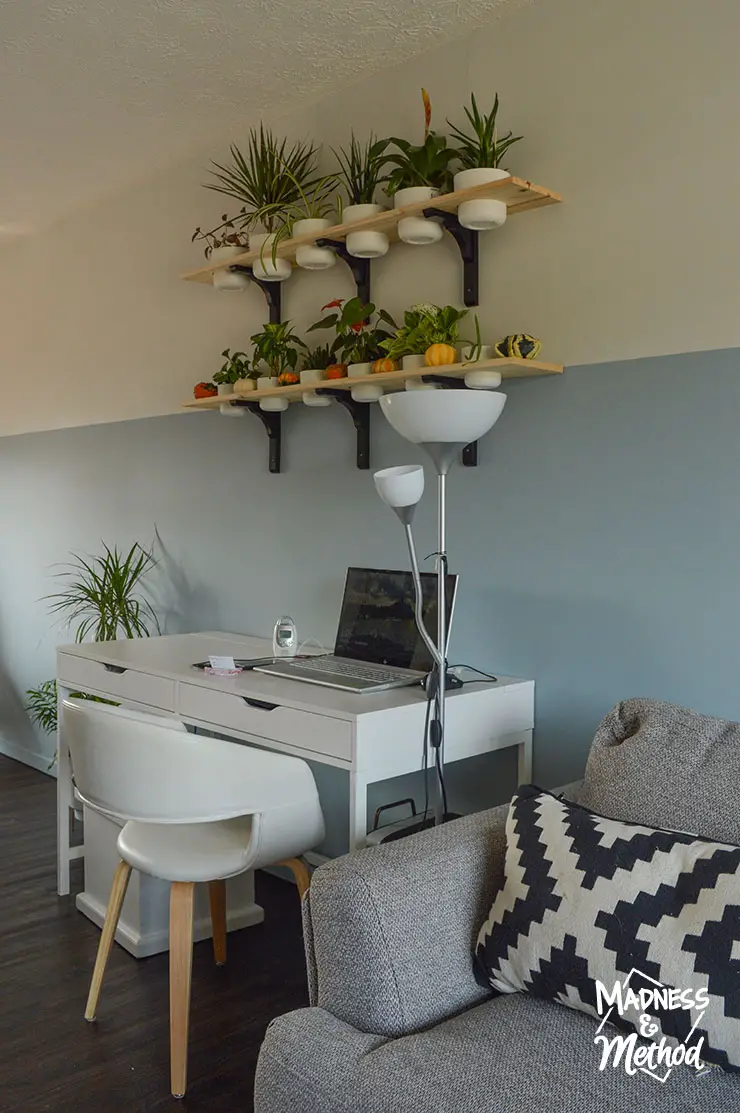 Anyways!  I also bought a pack of mini gourds/pumpkins and placed them in between the plants in the office area.  (There's also a small pumpkin in the bathroom).
So far my plants are doing well, and some of the ones I had before are a lot happier here too.
Can we talk about that lamp though?  I brought it from our last house (and from my university bedroom before that).  But I've been thinking about a change for a while now.  I've been doing a table/stool swap on either end of the sofa, but I haven't found anything that really works.  TBD!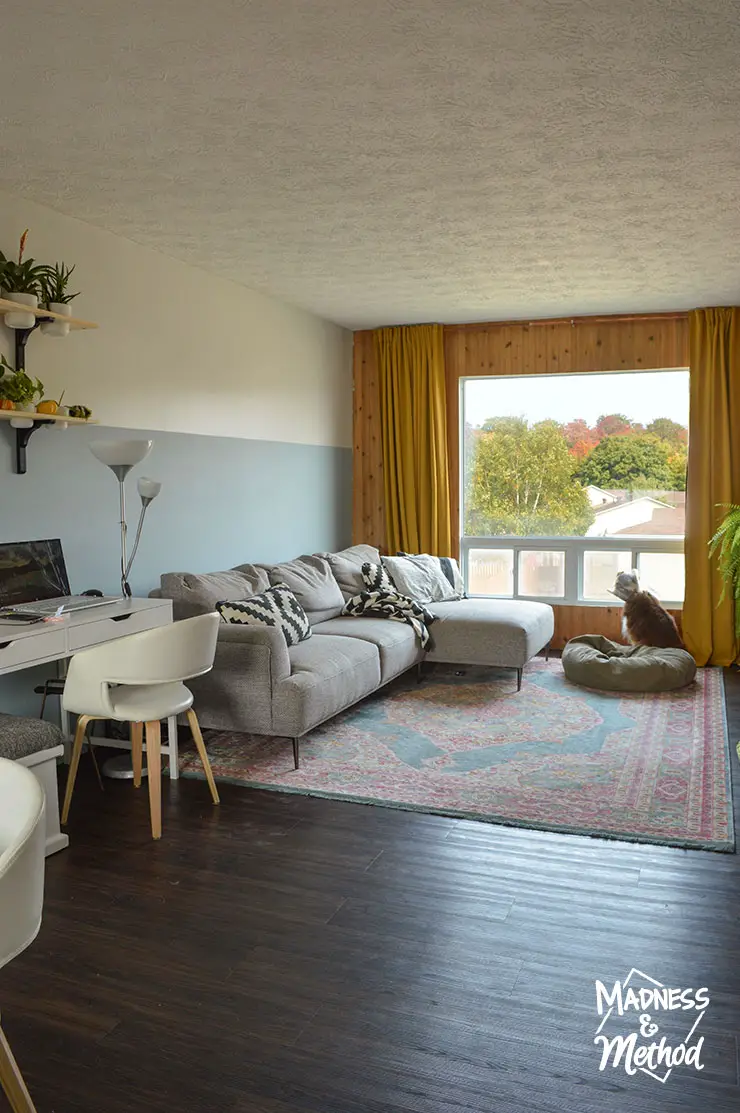 Switching around to the living room, I added some room darkening yellow curtains and installed (then re-updated) the rod.  Like the blue paint on the wall, the yellow curtains were an idea that came to me in a dream – so why argue!
Butttttt look at those fall colours outside!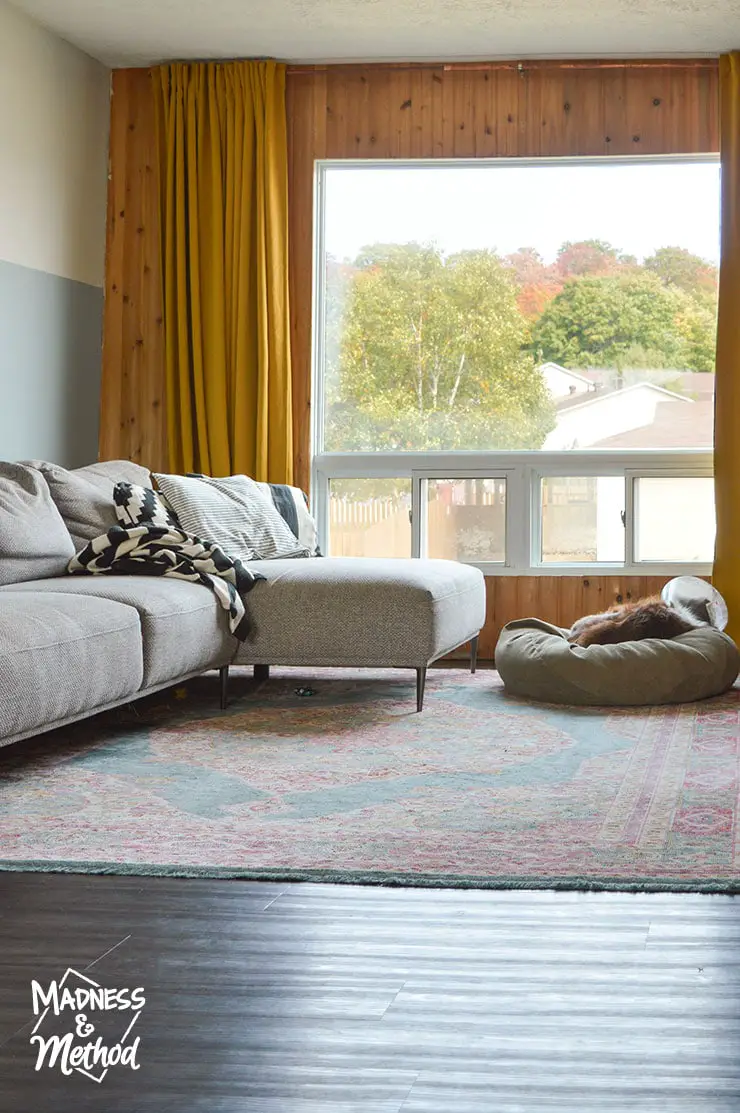 I was not ready for fall yet when I saw the first red tree, but I've slowly gotten used to the idea as things start to change.  I'd estimate that just under half the trees have started to turn already, so we should be full colour very shortly.  For reference, we live in the middle-of-nowhere, Northern-Ontario, so I think trees in lower parts won't have as much colour yet.
(Oh, and did you spot the wayward toys under the sofa?!).  And yes, poor Tootsie is wearing a cone after a very minor eye surgery last week.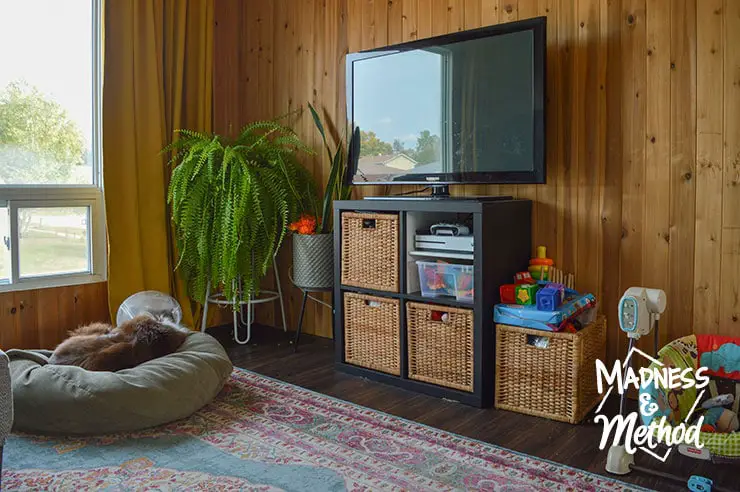 If you're wondering where the toys go, they're all stored in the baskets on the tv wall.  I think we need to purge down a bit because we have an overflow now.  I also had to move the snake plant to the other side because Mr Félix knocked it over twice.  (And I shoved in some orange flowers, again from my old planter).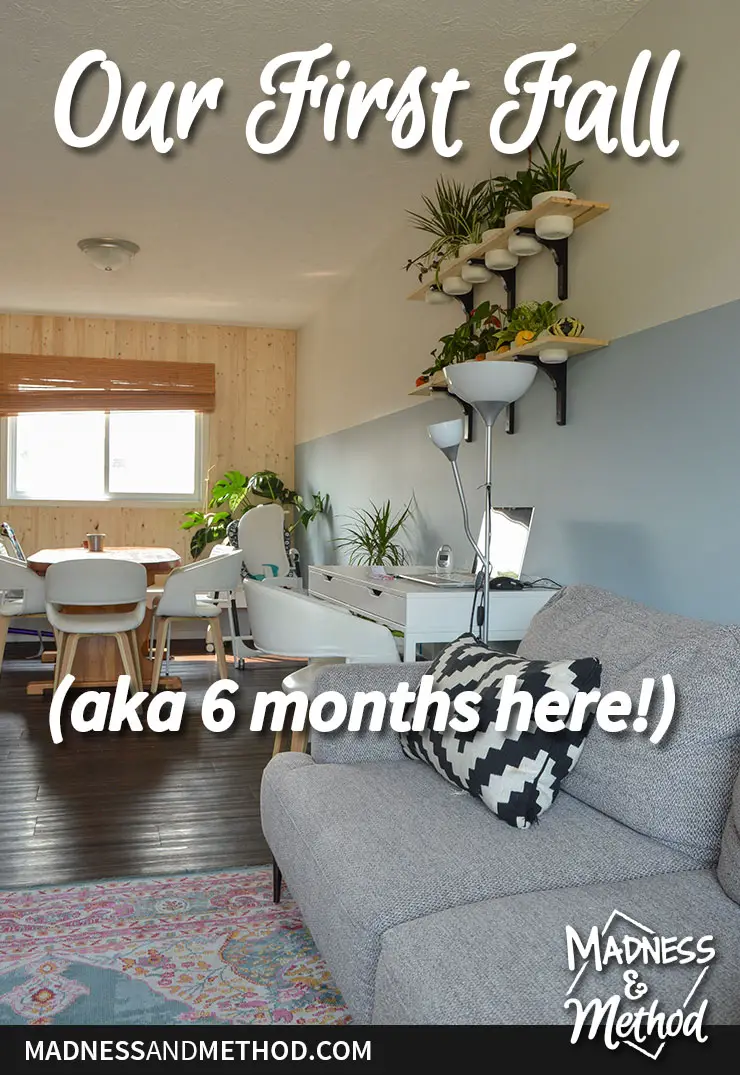 Updates in Other Areas
Not so much as updates, but maybe more proof/yes-we-do-live-like-this.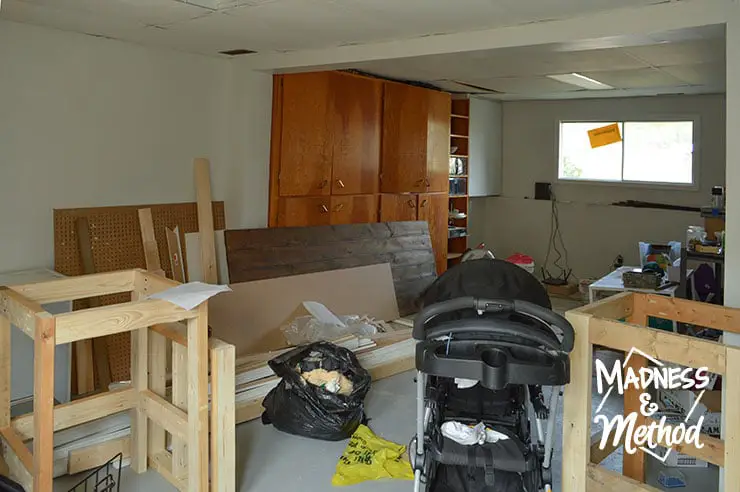 Our basement is still a hot mess.  But I feel like I have everything ready to go for when the garage is done.  I even built my mitre stand sort of based on this tutorial and started organizing the tools.  It's going to be set up similarly to how our last garage was… but I'm aiming for even more organization.
Oh, and we decided that we're going to put our Christmas tree down here… so you better believe it's going to be looking spick and span before then!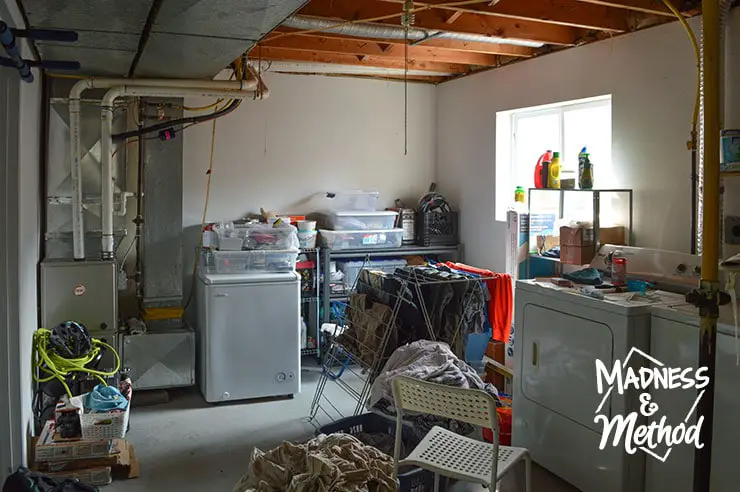 There's a lot of garage stuff in the laundry room too, and I am just itching to get it out of here and rejig the layout.  I know exactly what I want to do, I just didn't feel like moving heavy things yet :)  Especially since there's nowhere to put half the stuff.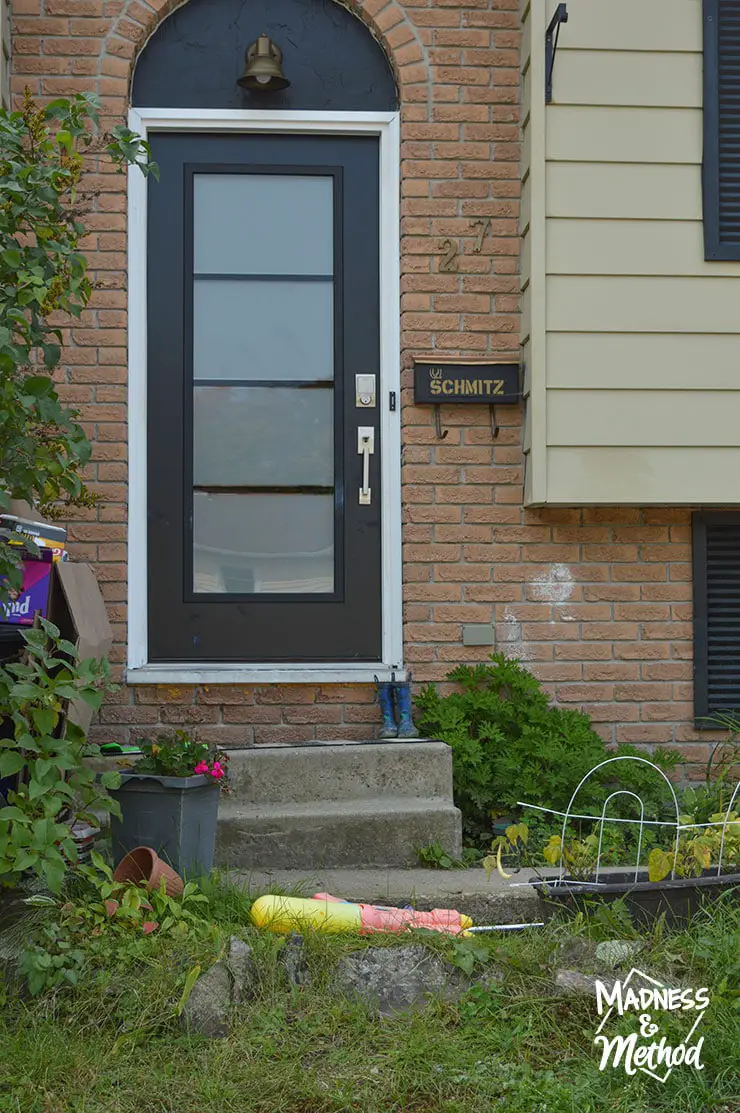 Outside, there are still things I'm hoping we can get done before winter.  Our not-so-safe walkway being one of them.  I also really want to make this a nice "Halloween walk-up", but there is a lot that needs to get done before then.  Again, TBD.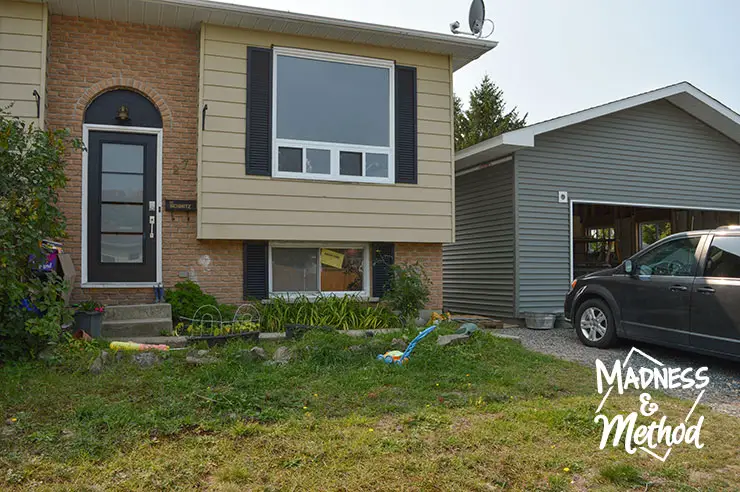 But look at that garage! They are currently working on it today (adding insulation and vapour barrier).  We have another inspection booked this week for that.  Then it will be time to add the plywood panels (along the lower half) and the drywall (tops and ceiling) and finish installing the lights.
And of course the door.  The infamous door that has been "on its way" for over a month.  Remember that you can follow my Instagram Highlights for all the news about the garage.

And the rest of the yard is still a mess (almost the same as it looked when we put in the garden beds).  We did bring a bunch of loads to the dump, organized the wood/stuff we are keeping, and are waiting for that pile of dirt to be gone.
Which will happen when the driveway/walkway is done.
AHHHHHH the Husband just told me that it's going to happen very soon!  We had someone come out to look at the driveway and quote an asphalt-like material/rock.  Because apparently the only company that does real asphalt driveways in town is booked until at least the end of next summer.
But, he also specializes in walkways (I think?) and didn't even know we wanted ours done until he came for the quote.
Now I'm really excited!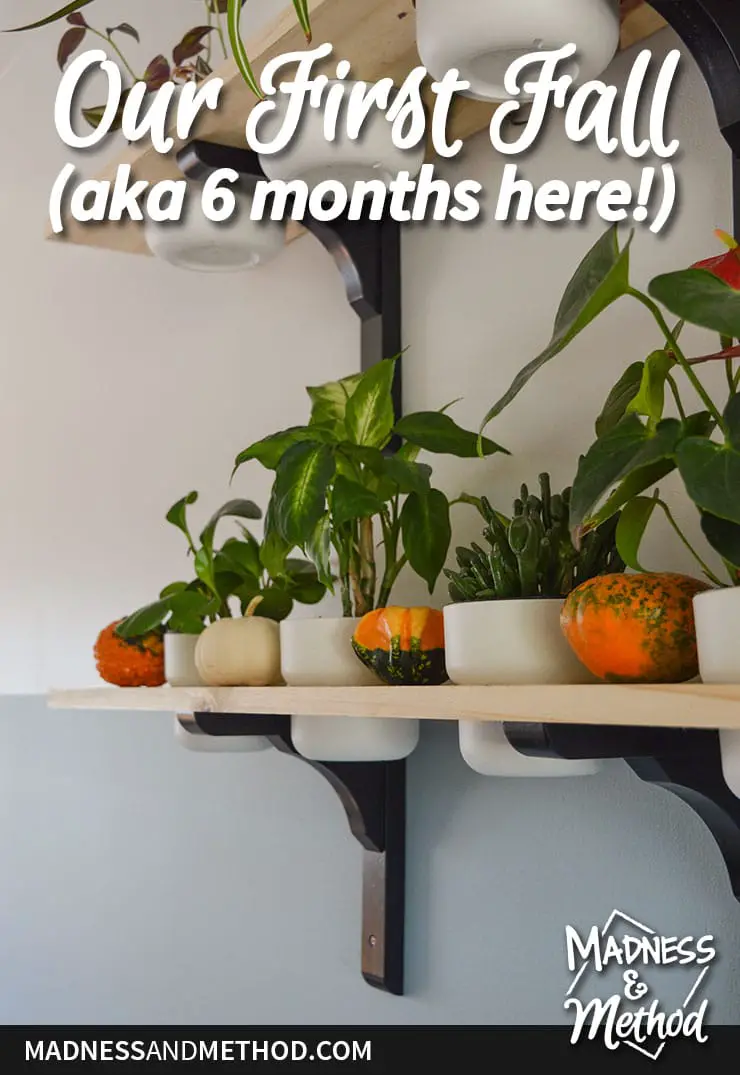 I feel like I have so many more updates to share (hopefully!) in the next little while.  But, as I mentioned, winter is coming on quick!  And… I kind of have a full calendar planned already :)
Next week, I'm sharing my all-time-favourite-thing-ever… our Halloween costumes!  Everything is almost ready to go, so we just have to smile for the photos.  (Easier said than done with a family/group photo of course).
Oh… and then the week after that is the start of the One Room Challenge!  Can you guess what room/space we're doing?  Not sure if I gave any hints in this post, but you can always check out our house tour page to see all the spaces we have.