I don't think I've talked about any clothing projects on this blog yet?  (Well except for when I counted my clothes, but that doesn't really count <-haha).  Maybe you're new here and you're thinking that I'm going to share a nice sewing tutorial with you.  Sorry to crush your dreams, but I don't really sew.  Don't worry!  Because today I will offer you a nice EASY project that ANYONE can do, all you need is some clothing you like, but don't really love.  Let's begin shall we?
– Note: This post contains affiliate links. See more information about affiliates here –
Here are three super simple ways to update some of the items in your wardrobe.  For two of them, you're going to need to purchase some fabric dye, and I went with Rit in the "wine" colour.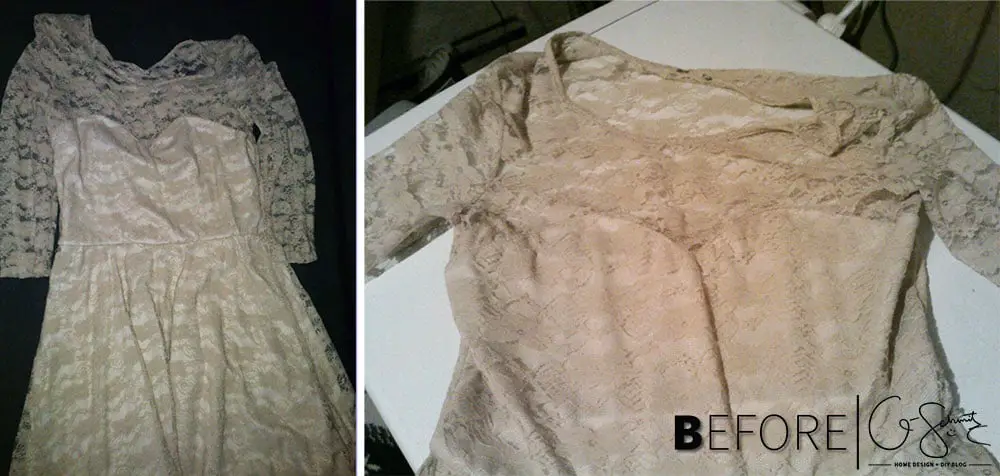 I owned this beige dress that I bought online.  I had really liked this all-over lace style for some time, so when I found a good deal I had to buy it.  Problem was, it only came in this beige colour, which turns out, looks awful on me.  Because the dress fit perfectly, and I didn't want to go through the hassle of returning this online purchase – I figured I could attempt to dye the dress.
Now, the Rit dye says to leave the fabric in the dyed water and stir constantly for 30 minutes.  Who has time for that!?  My method just involved leaving the dress in the water for several hours, and I would go back and stir it every 15-30 minutes.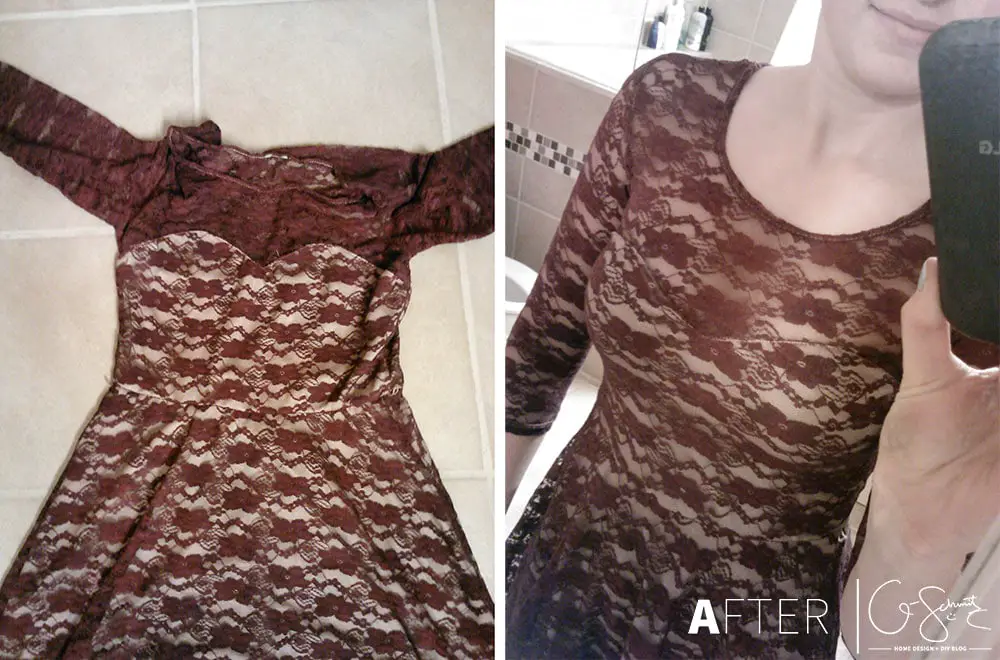 It worked out great!  I've worn and washed this dress several times, and the colour is still as vibrant as it was before.  Notice though how the bottom layer didn't get dyed?  That's because it was 100% polyester, and the dye doesn't adhere to that.  I looks cool though?  Almost scandalous if people do a double take thinking it's completely sheer :o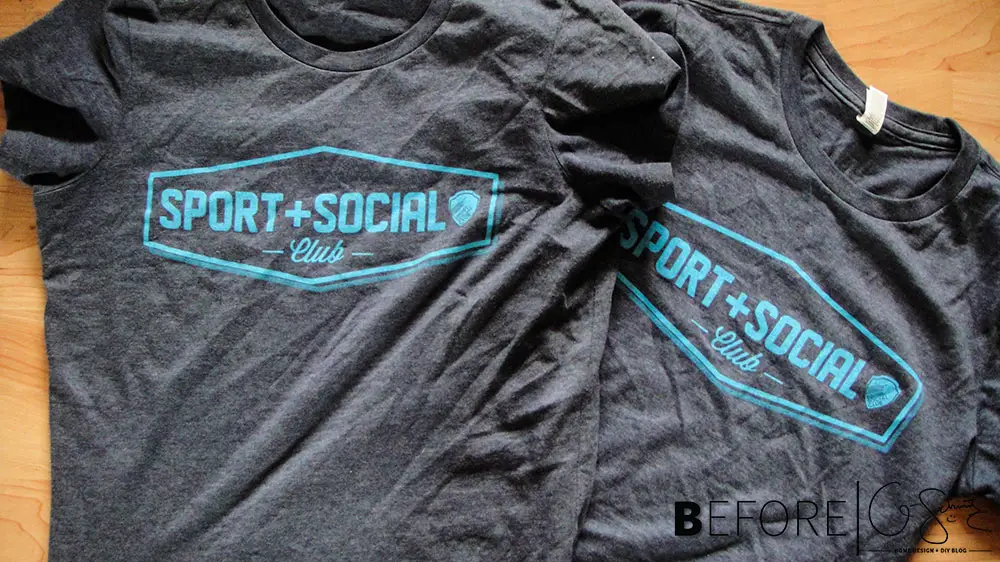 My second dyeing DIY involves some dark-ish blue shirts.  I play recreational sports and our team won both the spring and summer league this year (woop woop!) and the prize was a winner's shirt.  I was actually running out of good casual/workout/pyjama shirts and these fit perfectly (which doesn't happen often when you get free shirts).
Not wanting to be a weirdo and own two of the same shirt (in the same colour), I decided to break out my wine colour dye and change one of them.  (I had only used about half of it the first time).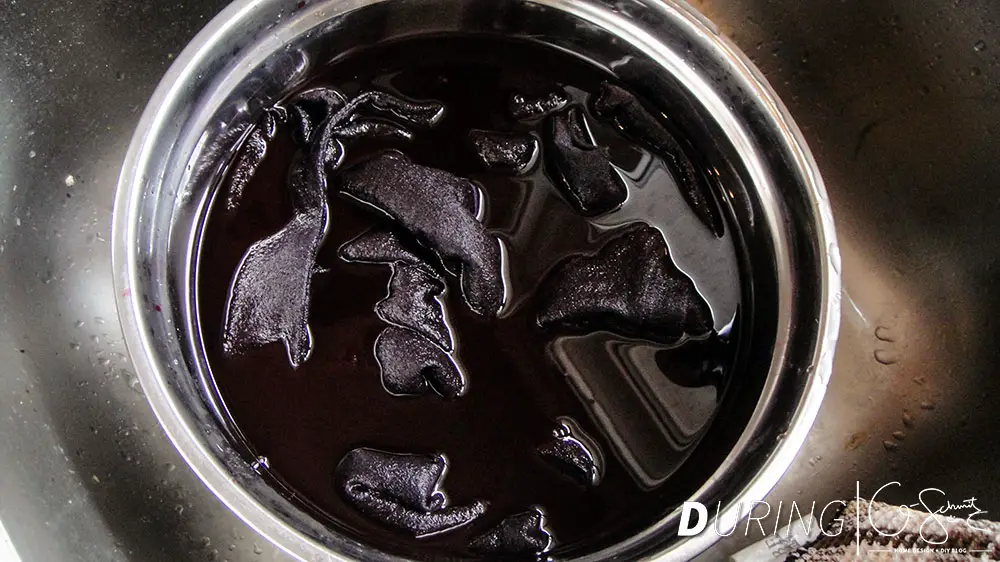 Again, I left the shirt in the coloured water for a few hours and stirred intermittently.  For the dress, I did everything downstairs in a container in our laundry tub, but this time I had the shirt in a bowl in the kitchen.  Once I poured the water down the drain, it did leave a bit of a red stain on the dirty parts.  But I just cleaned the sink and it was like new again!  (Just keep that in mind if you're planning on doing any type of dyeing).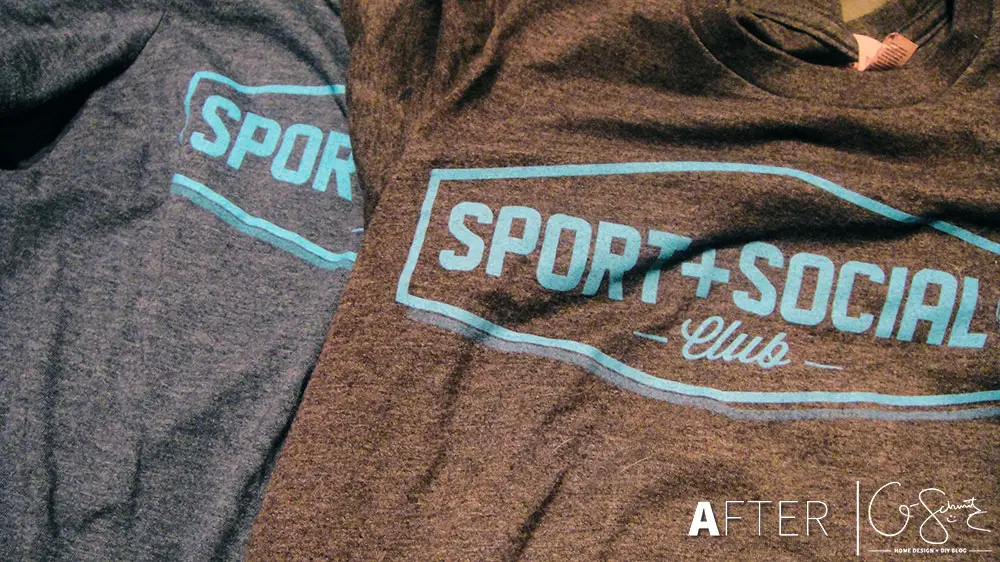 And now the shirt is a more of a subtle burgundy-er hue than before!  Because the first shirt was a darker colour than the light coloured dress, the dye didn't adhere as strongly – but you can definitely tell they are different.
Dress to Skirt
My last easy clothes DIY is the quickest and cheapest of the three!
I've owned this two-tone floral dress for several years now and it's definitely earned its keep (plus it was probably less than 20$ at the time, so well worth it!).  The "problem" with the dress is that the top had started to discolour a bit and was always a bit sheer (so I had to wear a shirt underneath).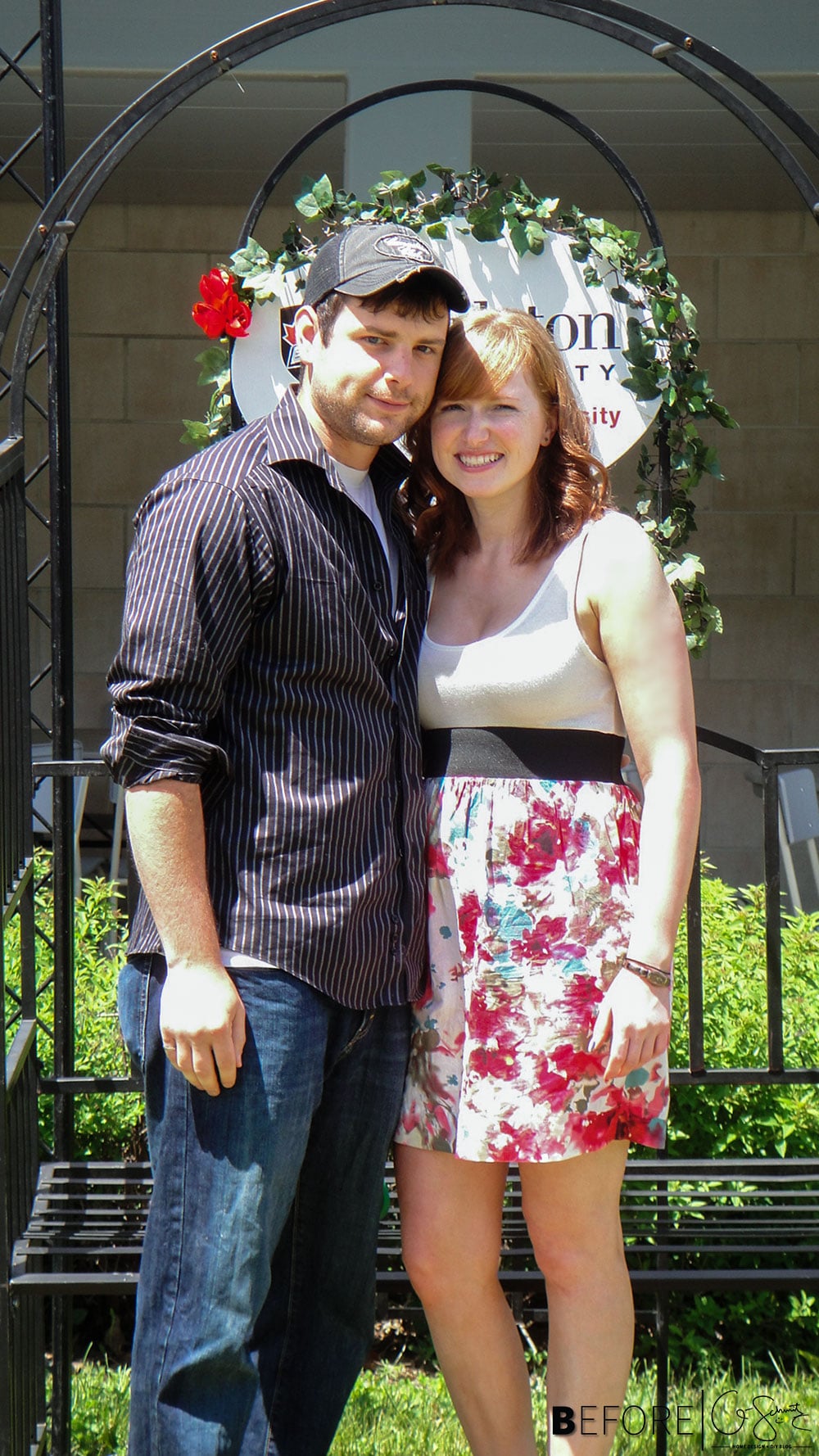 It was also sort of low-cut, so I wouldn't wear it at work, and that really narrowed down my options of when I could wear it.  (The photo above is from my university / college graduation).  I really loved the bottom floral section (IT HAD POCKETS!) so I couldn't force myself to throw it away.
Ready for the easy DIY? I literally just cut the skirt off!
I was careful to go along the sewn section so that I wouldn't mess anything up, but it still left a bit of the white fabric.  Not wanting to leave a weird white fabric section, a simple wide belt just covers it up :)  Now I can wear any shirt (or belt), and the skirt gets a lot more life.
Here's a picture I took using the Moen selfie-stick I got from Haven this year.  I bet people don't even know that this skirt used to be a dress!  (Until now of course!)  Notice all the Haven swag on the table, and the Tootsie mess in the background?  Sorry!
But I had to show this picture today to let you know that I will be sharing more pictures of my house soon!  (And by soon, I mean when the outside stuff is done… so probably October/November?).  So if you've always wanted a sneak peek at our house, make sure to come back and check that out!

Have you ever used fabric dye before?  Trust me – it's super easy!  I'd love to know what other projects/clothing items I could use it for, and I was even thinking that it might be a good way to update household fabrics (ie: sheets or curtains) without having to buy more.  Why buy when you can DIY?