Okay everyone!  We're back on track with the work on the front walkway, and after this weekend, it's almost complete (what we are doing this summer at least).  Yep, we were actually productive this long weekend; so instead of going out of town like the last several weekends, we stayed in and got this project done.  Everything happened super quickly, so buckle up and enjoy the pictures from the comfort of your seat :)
– Note: This post contains affiliate links. See more information about affiliates here. –
Just a quick reminder of all the things we have done so far: removed the patio stones, took out the sod, and dug out the shape of the walkway.
The project was stagnant for a bit, and although the image above may seem the same as where we left off last; it's actually a bit different. This past Friday morning, the Husband dug a few more inches down into the dirt THEN added about 1 cubic yard of gravel (that was delivered Friday afternoon-ish).
Materials You May Need
2x4s (length/amount depends on walkway size)
Measuring tape, wood screws, sledgehammer, ground tamper
Saw to cut your wood (this is the circular saw we have)
Rubber boots, gloves, clothes you don't mind getting dirty
Gravel, concrete, shovel, hard rake, broom, etc.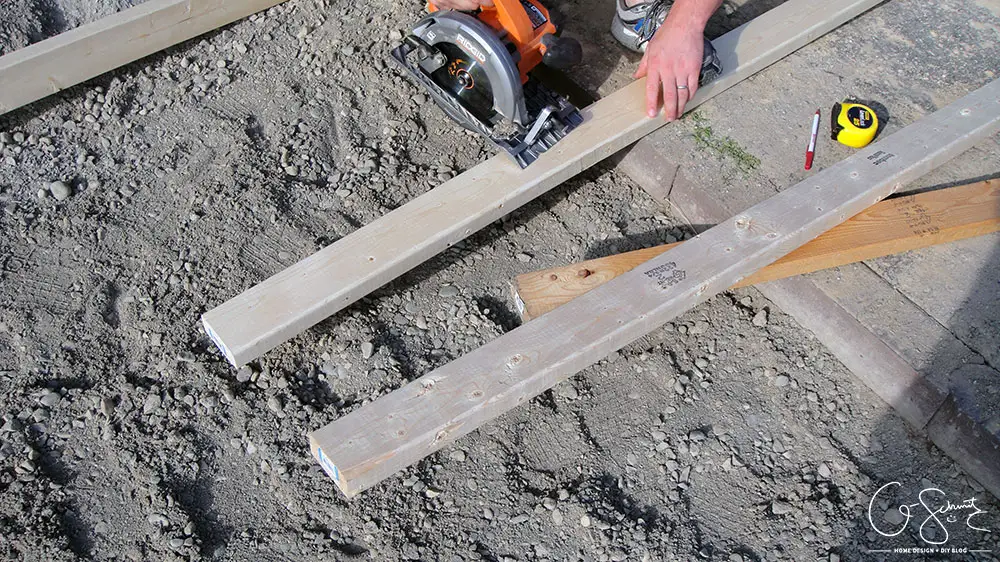 The Thursday night before, I had gone to Home Depot to purchase all the lumber and materials we would need (magnesium float, corner edger, etc.).  When I got home from work Friday, we started measuring and making all the cuts for the wood right away.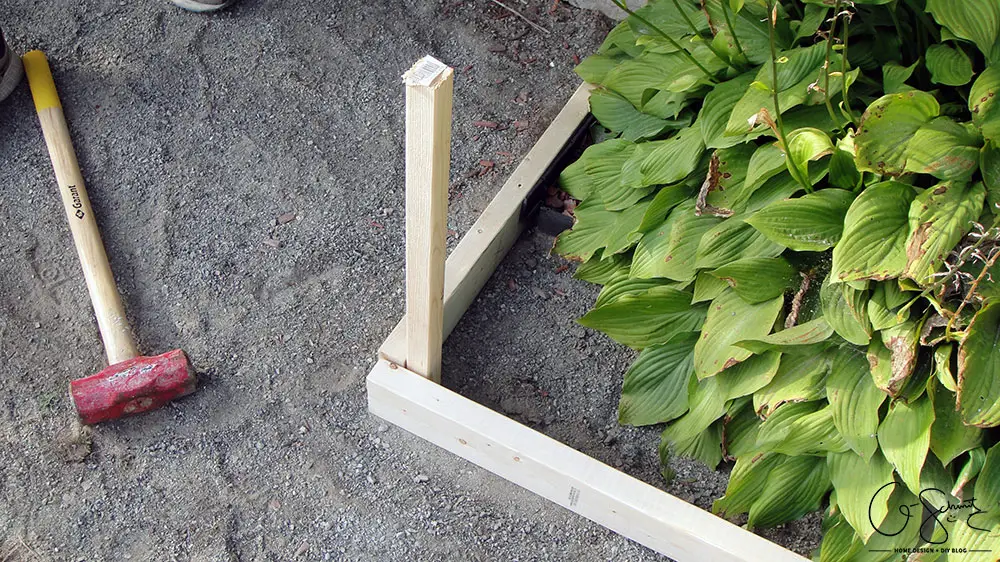 I also got these handy 1×1 stakes to hold the wood together, so the Husband hammered them into the ground and we drilled the 2x4s into them.  See how much extra space that hosta was poking out from our original flower bed?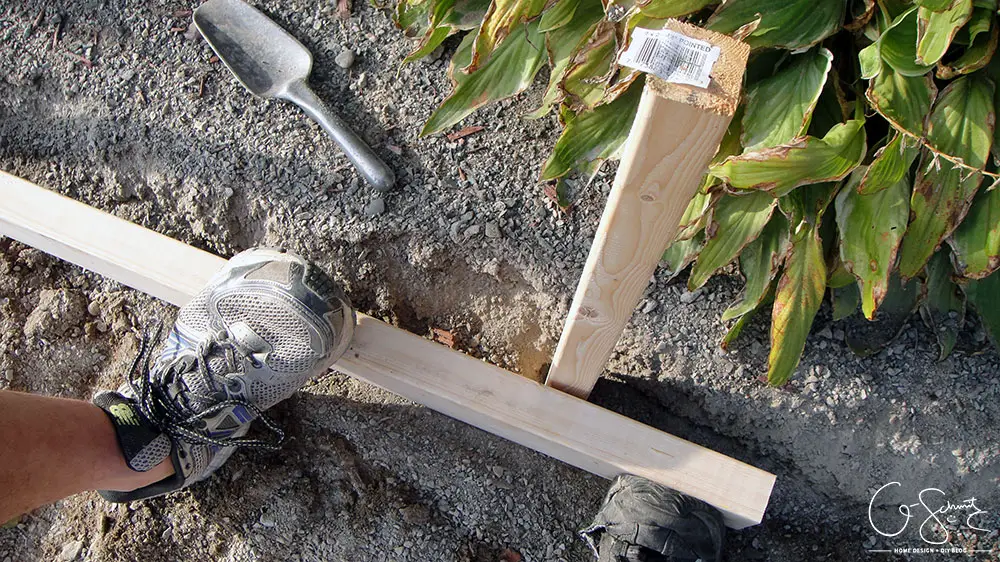 We put the stakes every few feet or so, and they are basically there to hold the wood frame in place, so that the weight of the concrete doesn't push everything out.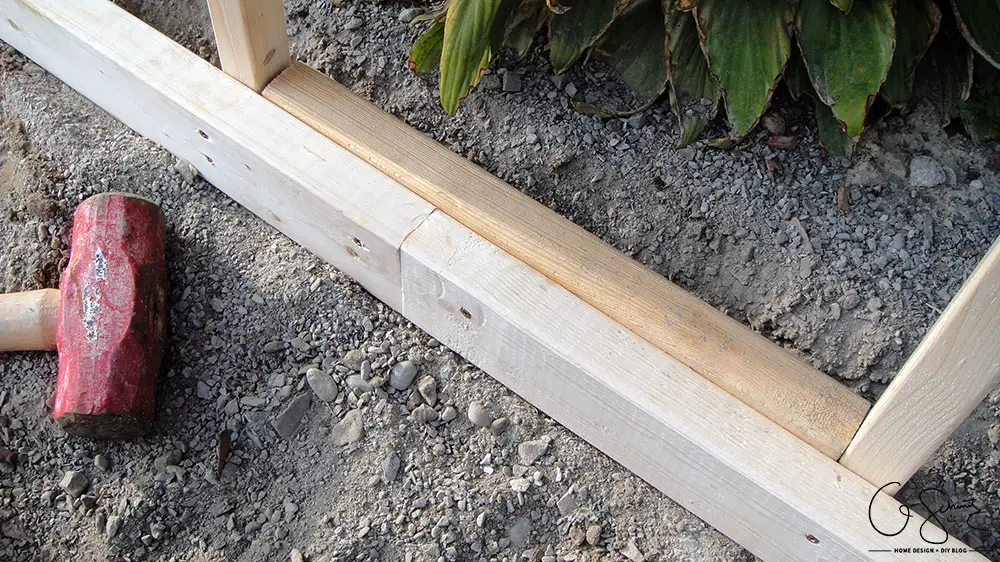 The longest straight-run section we had was supposed to be 16 feet (it ended up being 17, but no big deal).  I didn't want the hassle of driving around with a 2×4 that long, so we had to butt two sections together.  I had the idea to brace the back with another piece of 2×4, and again we screwed the pieces together.  Get this – we already had those spikes in place, and I just happened to have a little piece of 2×4 that was the PERFECT length sitting right next to me.  Fate I tell you!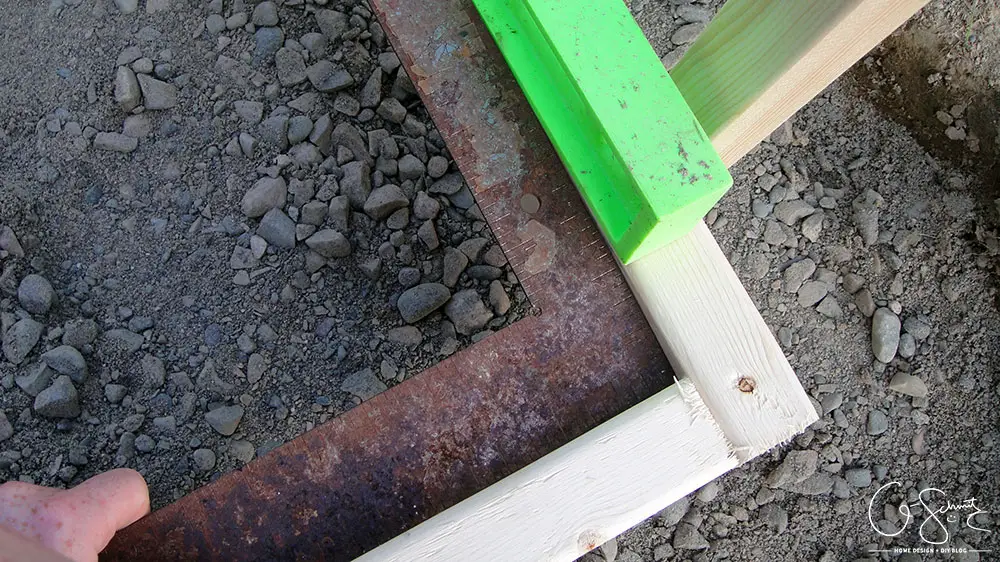 After doing the easier long part along the porch, we started on the trickier side (next to the grass) with all the angles.  We made sure to use a square and align all the pieces of 2×4 so they weren't wonky.

Because there is some serious levelling/slope-age in our front yard, we did have a few areas that needed to be filled in a bit more with gravel.  No worries, a few more quick passes with the shovel and rake, and we were done for the night.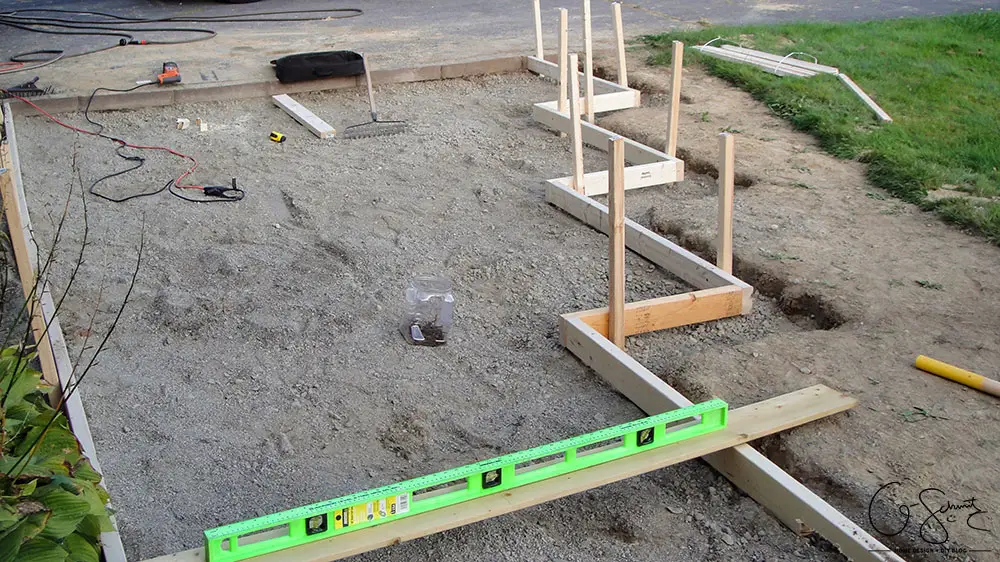 And this is pretty much how we left things until the next morning.  The photo above shows the draining/sloping angle a bit better, but just know that it was NOT going to be a completely level concrete slab.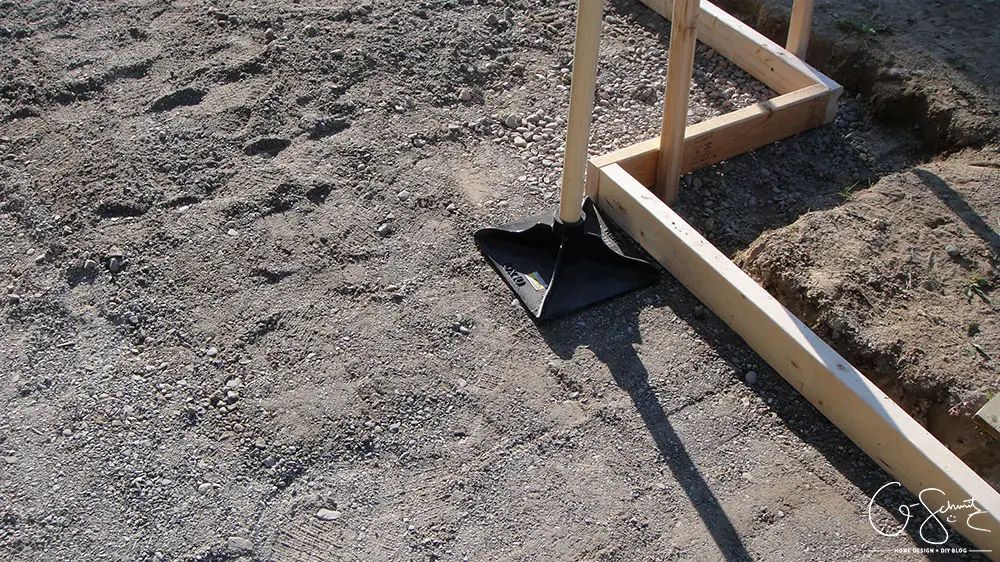 The next morning I got up bright and early and compacted almost all of the gravel down using a plate tamper.  Once the truck arrived (15 minutes early!) the Husband rushed out and helped me finish the compacting.
We ended up getting the cute painted truck (one of the art installations at UpFest) so I was happy about that!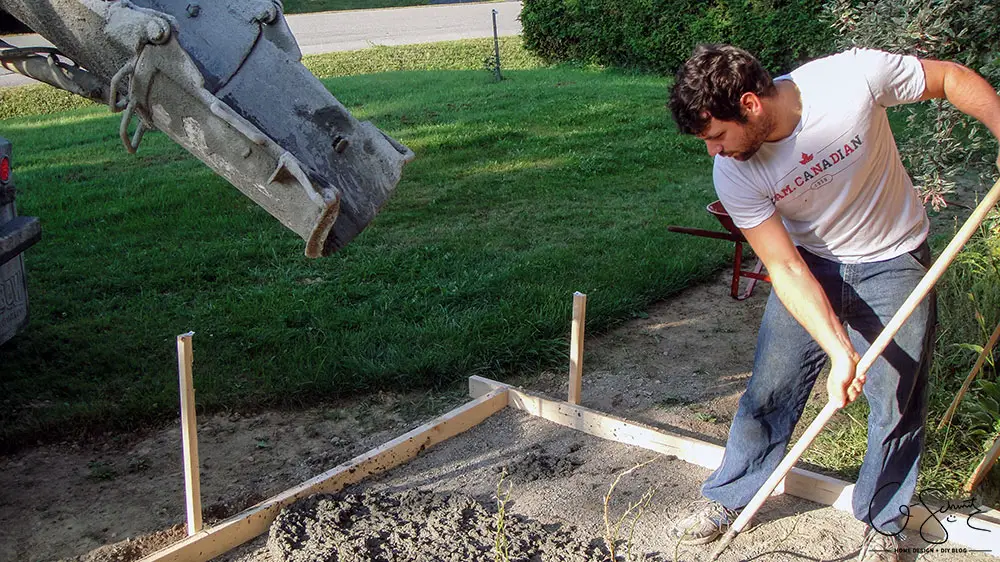 The Husband did all the super physical work of scraping and moving around the concrete once it came out of the truck.  The driver didn't want to drive on our grass, but I assured him that we had plenty of dirt that I needed to use anyways, so I could fill in any holes he would make.  I helped a little bit at this time, but I mostly took pictures and internally freaked out over the concrete getting on my newly painted front door.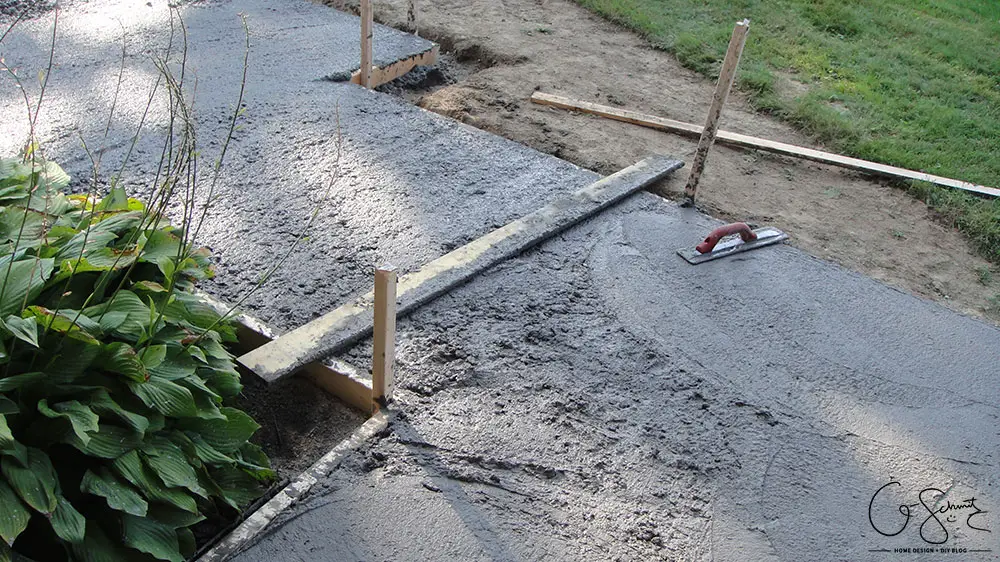 Now, you are supposed to cut all the spikes down so they are even with the frame, but we ran out of time.  The spikes get in the way when you are scraping the concrete smooth, so it's a bit of a hassle.  But they did come in handy sometimes (I did use them to lean on to reach a bit farther, and as a holder for our cover).
The first pass was using a 2×4 to smooth out the concrete, and then you smooth out again using a magnesium float.  Now, remember above when I mentioned that the one section was 17′ long instead of 16′?  Well I had to cut my 12′ board to accommodate the length, and so we did not piece long enough for the fat section of the walkway :(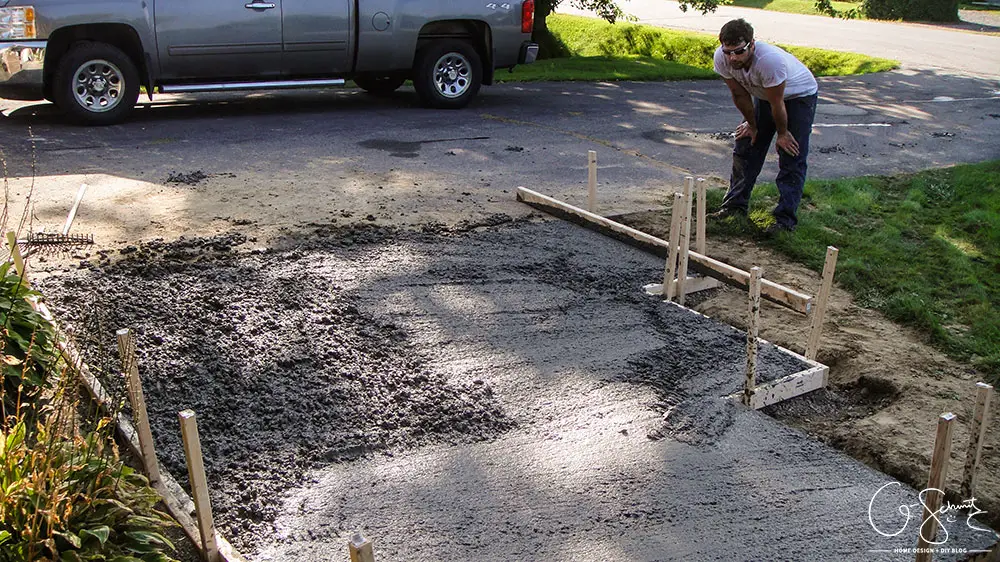 Notice how the Husband looks like he's dying in the phone above?  I bet all he was thinking was "I hate my life.  My wife is crazy!".  Actually, he was in the middle of a bad cold at this point, so I don't blame him for being tired (my back still hurts a bit and it's been a few days!).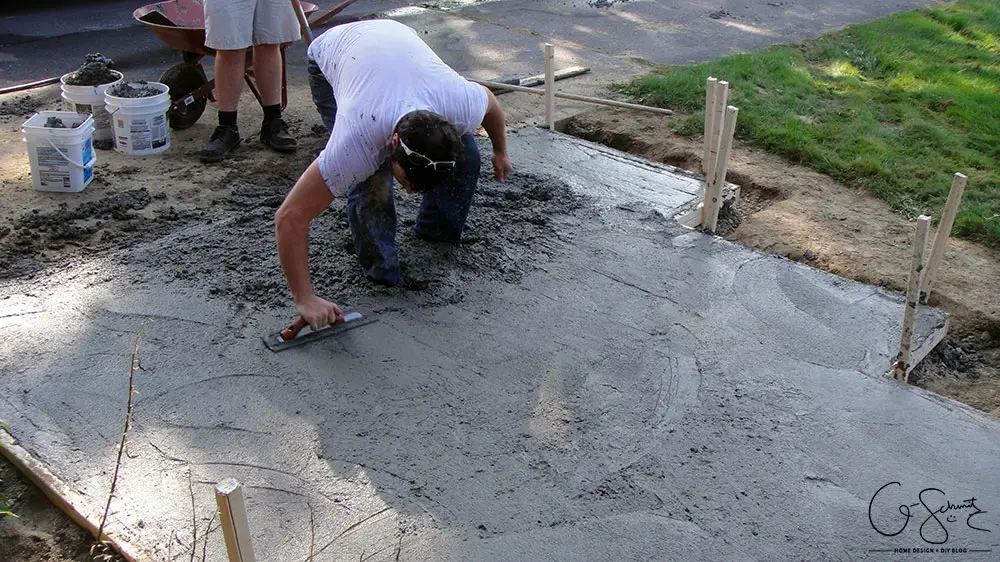 Another thing I should mention – you definitely need rubber boots for doing concrete work.  The Husband was all like "Oh I don't need boots because I'll just be on the outside the whole time".  Ya, within 5 minutes he was standing in the concrete…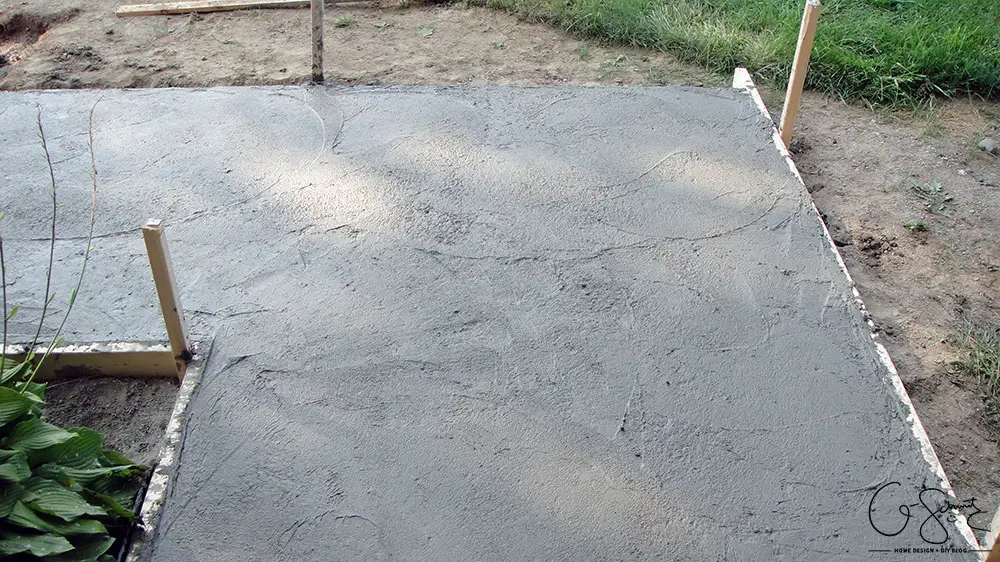 In total we had 2 cubic meters of concrete delivered, and we had about one wheelbarrow full extra (that we used to fill in some concrete blocks in our garage).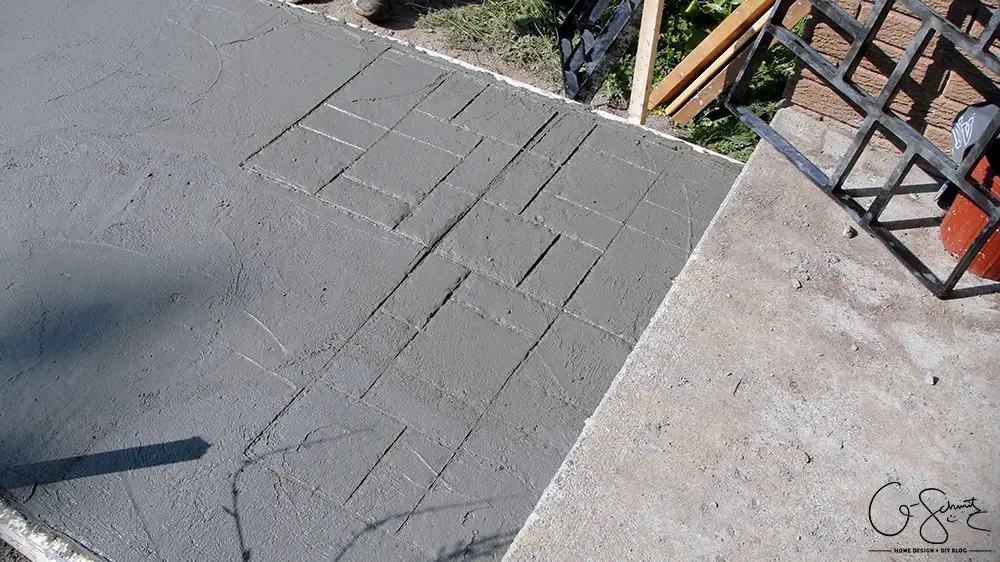 I wanted to do a cute stamped pattern using some concrete forms I had from when we did the back patio – but the Husband hated this look and made me smooth it out :(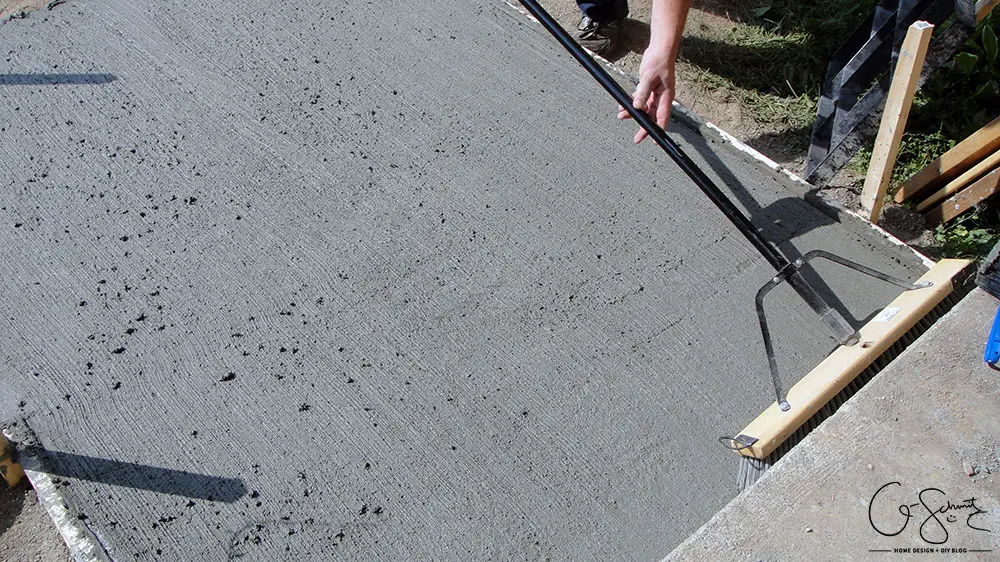 In the end, we went with a straight brush pattern using the push broom we had, then smoothed and edged the corners with a curved trowel.  And now we wait! 
And, although framing and pouring concrete is the largest step of this walkway project, there is still a lot left to do:
Remove frames + spikes
Cut gaps
Take out old edging from flower bed along the house
Refill some dirt to cover the holes
Line to-be-landscaped areas with fabric
Add some mulch to flower bed
Edge the walkway with leftover patio stones
Add large patio stepping stones
Build mini-fences with trellis (next year)
Plant things (next year)
Maybe do a concrete stain/colour? (if so, next year)
I want to take the wooden forms off this weekend, and we still have to cut some gaps in to help prevent cracking (although the Husband says it will crack no matter what – I am very fearful of this!).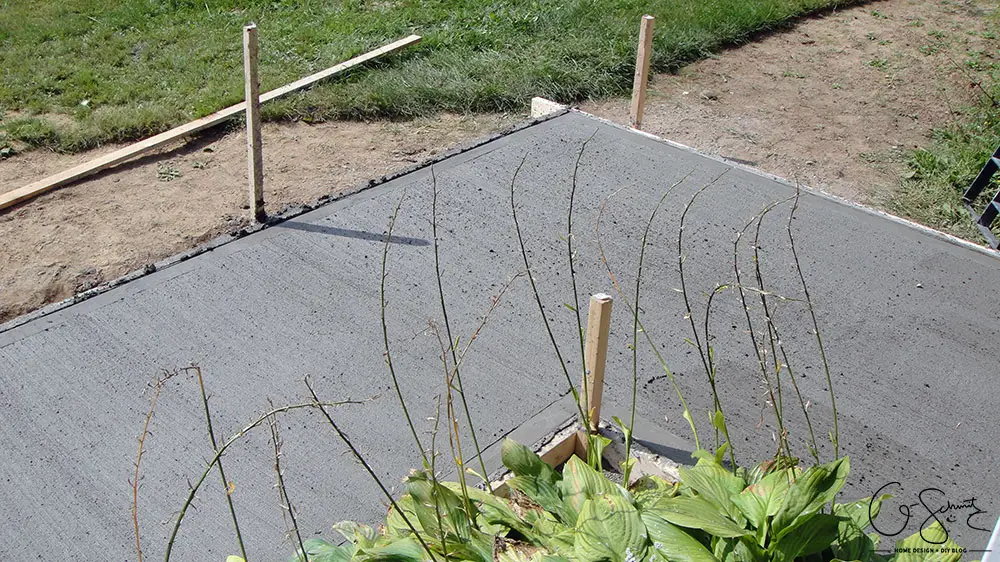 On Sunday afternoon, I ended up covering the walkway in some plastic sheeting we had because it was supposed to rain all day Monday.  (It did, and now today too).  I'll share some pictures of that next week when everything is off (it will be like a mini reveal!), and I think that will be the end of Project Walkway for this year :)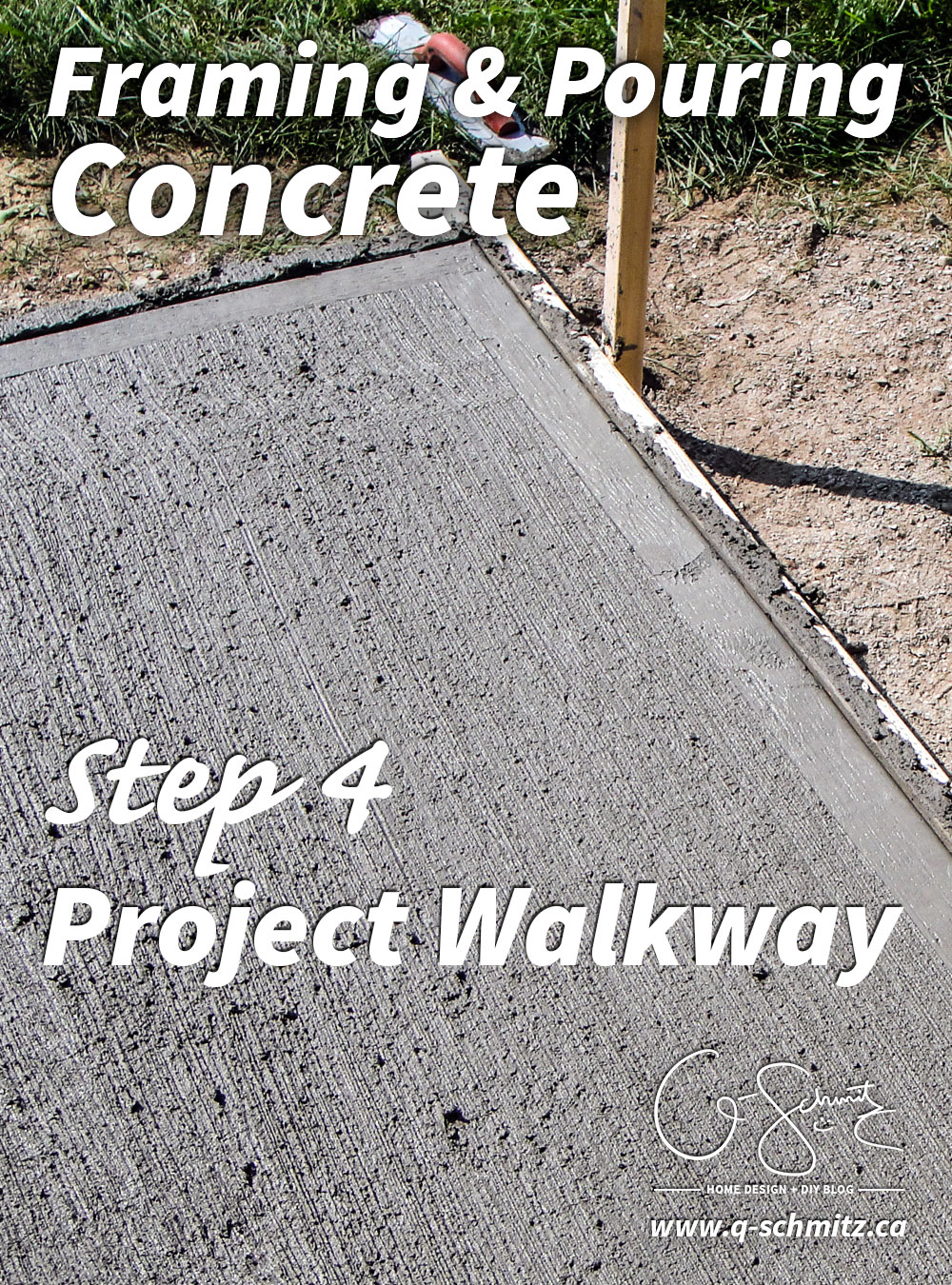 The prep work we did Friday took most of the time (okay, the Husband did most of it) and we were done all the concrete pouring, shoveling and smoothing by 12pm on Saturday morning (they delivered at 8:45am).  So, although this main step only took a few hours, there was a lot of preparation that needed to be done ahead of time to get to this point.
What can I tell you about our experience?  Don't do a DIY concrete walkway.  Just kidding… sort of.  You see, if we had done a much smaller area it would have been A LOT easier, so I wouldn't want you to attempt something this large for your first time.  This wasn't really our first time (the Husband did road construction before, and we did do some forms in our backyard) but I think this was a really good "real" first try.  I am hoping we did everything properly and it sets correctly – I will let you know how it turns out!
Have you ever worked with concrete before?  I'd love to know how your experience was, and if you have any advice for someone thinking about this DIY.  Let me know in the comments!