As I prepare for the big kitchen reveal (happening this week!) I realized that I still had a lot of photos to take.  I definitely had to clean and tidy up the counters, and one thing I seem to always forget to clean is the kitchen sink; which I've heard is the dirtiest place in your house, and in my case, I'd believe it!  Continue reading for my simple, but super effective deep scrubbing method for cleaning the kitchen sink!
The photo below shows my sink in its dirty, natural state (sorry for not giving and advance warning that you would be seeing some graphic images!).  I'm honestly impressed when I go to someone's house and notice that their sink is clean, like who has time for that much upkeep?!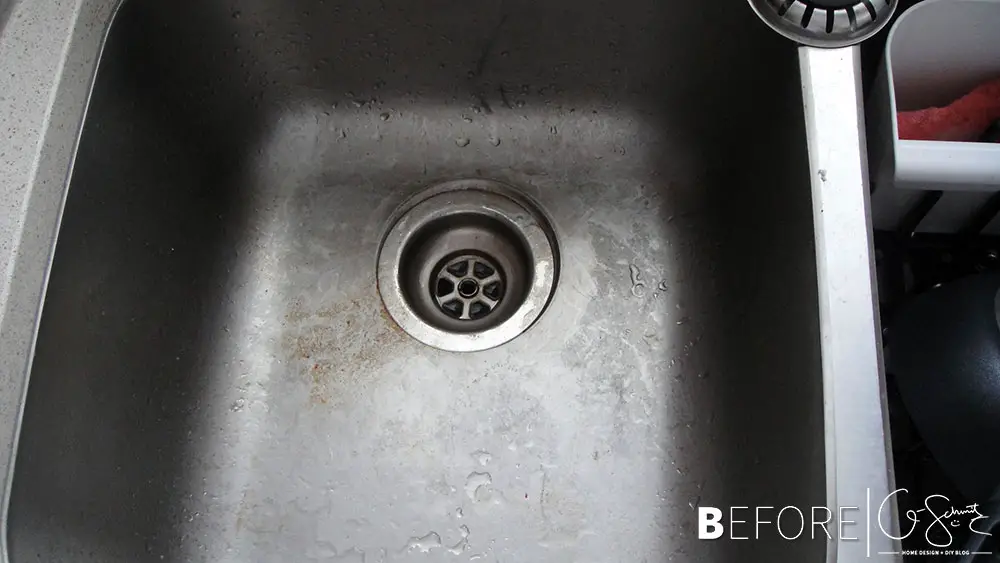 When I was in high school I worked at a coffee place (you know, that famous Canadian one?).  Anyways, we were always pouring old coffee in the sinks when it passed its fresh time, so by the end of the shift, the sinks would be stained brown.  The method we used to clean them is the same one I'll be sharing with you today – using dishwasher soap!  At the coffee place we had really strong industrial strength powdered dishwasher soap (the kind that says not to inhale or touch with bare hands if you can avoid it), and we simply sprinkled it in the dirty sink, let it stand for a bit, and wiped the stains away!
If you have powdered dishwasher soap, you're in luck!  But for me, I use the little packets so I have to crush them down to create my own powder.  I do this by smashing them with a heavy/hard kitchen object (which could be great therapy too I guess!).
If your sink is really dirty, feel free to use the whole packet.  Most of the time I separate the packet in half and store the remainder in a bag for next time.  You want to make sure most of the big chunks are gone, but you don't want it too dusty (think of having the consistency of salt vs. icing sugar).
Now, just sprinkle your powder around the base of your sink, making sure to cover the really dirty spots.  It's okay if your sink was still a little wet, but you don't want it soaking (you want the powder to get a little damp, not disappear completely).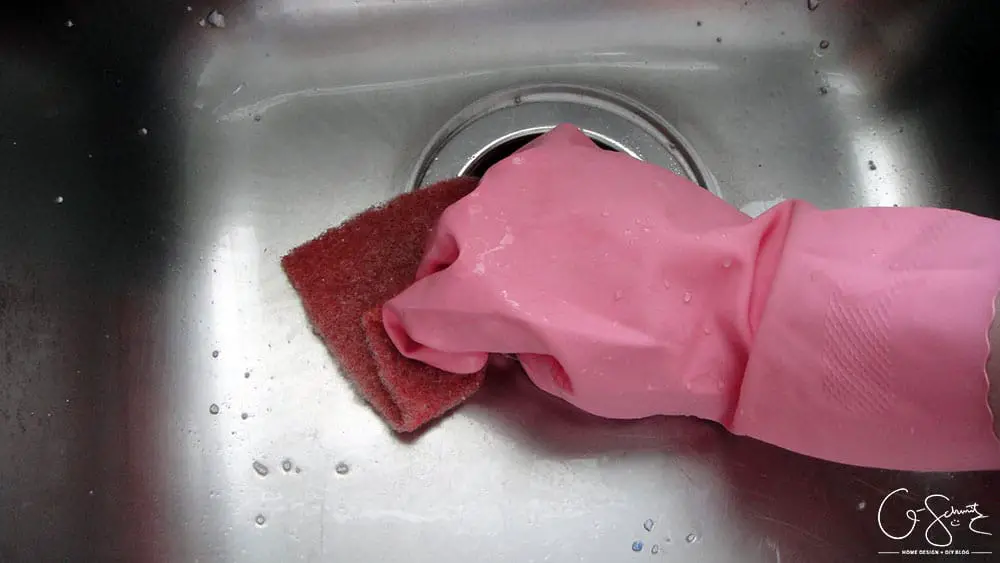 Now comes the fun part, the actual cleaning (well… I guess that depends on your outlook).  I wear gloves so my hands don't get all mucky, and I take a normal kitchen sponge and scrub the powder mix around the sink.  I like to use the sponge method compared to using my dish cleaning brush, because I have better control in all the nooks and crannies (and the powder chunks don't get stuck in the brush bristles this way).
The gritty-ness of the powder dishwasher soap helps add scrubbing power without being too abrasive (since it just disintegrates with water).  Once all the gross mess is gone, I give everything a quick rinse and admire my newly cleaned sink!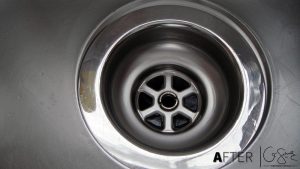 Doesn't it look much better now?!  I really don't clean the sink as often as I should, but when I do give it a good cleaning I try and keep it nice for a bit.  Do you have a go-to or secret method for cleaning your kitchen sink?  I'd like to maybe try something using natural ingredients next time, and think that maybe salt and lemons would work the same (the salt would be a great gritty scrubber).  Feel free the share your tips and tricks in the comments, and go ahead and pin/share the Pinterest-ready photo below!