I can't believe it's already the 5th week of our garage makeover, and we barely have anything to show for it.  Although, we FINALLY have our garage concrete floors installed, so I guess that's one major item we can scratch off the list.  We'll need to hustle hard this weekend so I can start bringing our stuff in again… but I feel like I still have a gazillion things to finish before that happens!
If you're unaware, we're completing a garage makeover as part of the One Room Challenge (20 featured bloggers and a BUNCH of linking participants renovate a space in their home over the course of normally 6 weeks).  Thankfully, this round will be a special 7-week long adventure, and I'm grateful because I don't think we would have been able to finish this weekend!
Check out the progress:
Week 1: Garage Photos and Intro | Week 2: Garage Design Plans | Week 3: Empty Garage + To-Do List | Week 4: Painting the Garage
Our Garage Concrete Story
We've had a bit of trouble actually getting the concrete floors in, so you can imagine how happy I am to write about them this week!
Here's a backstory:
Our garage floors had sunk and were cracked in the middle.  We contemplated getting heated floors but it was too expensive; decided to just pour new concrete on top.
The front section of our garage was jackhammered so that there would be a good slope, whereas the rest would have a few inches on top.
Concrete was supposed to get poured October 18th.
The contractors were worried that the old slab wasn't sitting on a strong enough sublayer, and wanted to rip everything out and start from scratch.
The Husband said that was also too expensive, and we'd chance having it crack again.
Last week I mentioned the concrete was supposed to get poured the next day
What happened this past week:
October 25th: Concrete supposed to get poured
October 26th: (Late) We get home and notice that the concrete had not been poured, and didn't get any notice why.
October 27th: Contact the company, only to find out that they didn't even know it hadn't got done (they have a sub-contractor that does the concrete finishing).  Turns out, the concrete delivery company was busy with something else and couldn't come out.  They call another company and schedule it for Monday October 30th.
(In the meantime, I get a second coat of paint on the walls)
October 27th-October 31st: We're away from home mostly; got back yesterday afternoon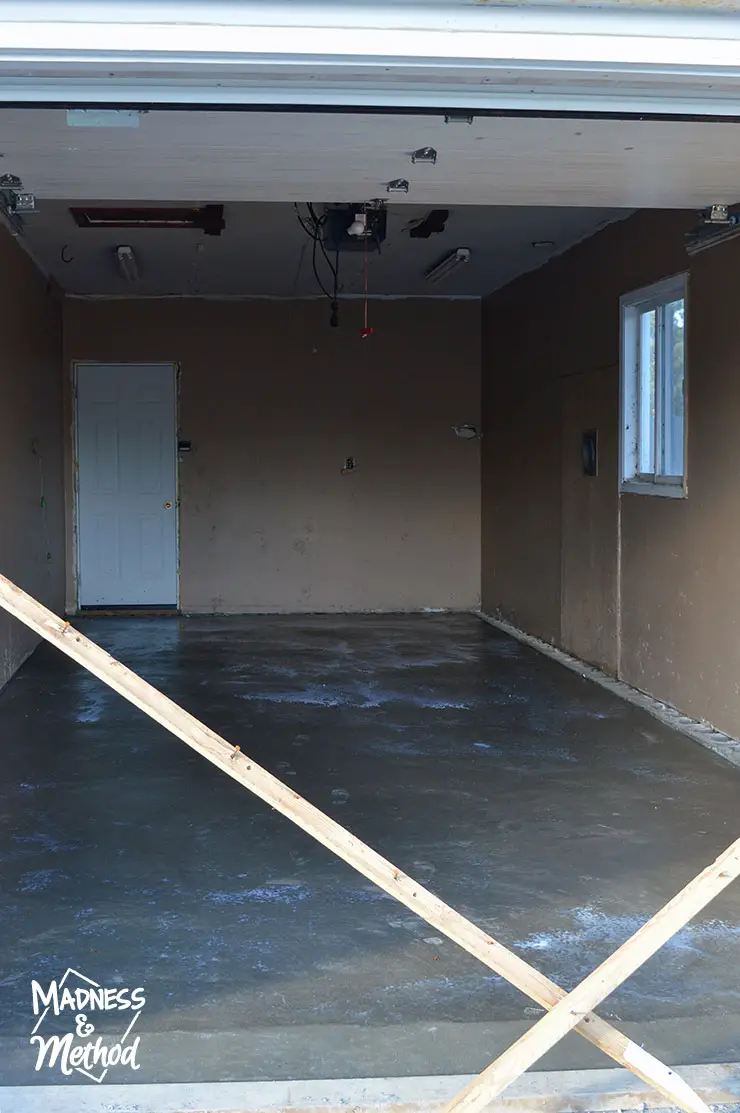 Halleluiah Halloween miracle!  The garage door is open, there's new concrete in there, and some sort of still-wet sealer on top.  They did end up pouring early Monday morning, but then the finisher had to go back the next day and seal everything.
We were hoping to be able to close our garage door for Halloween, but because it's been cold lately, they recommended keeping it open until the sealer could fully dry.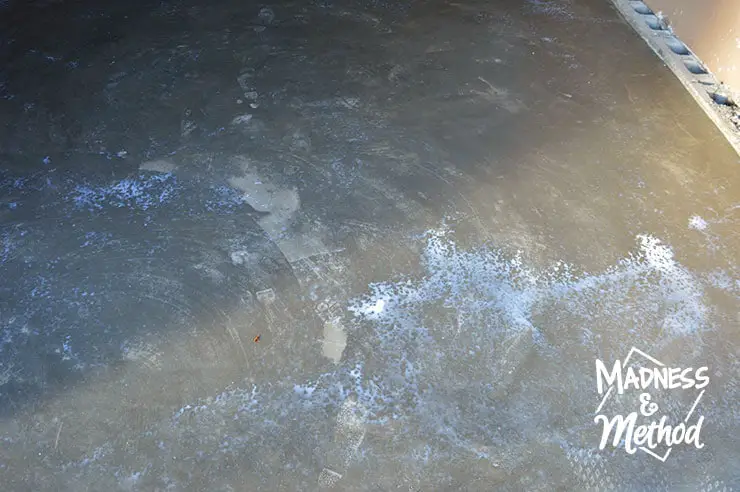 In my timeline, I forgot to include all the nightmares I had about concrete getting poured (or not getting poured).  I legitimately dreamed about our garage concrete several days in a row!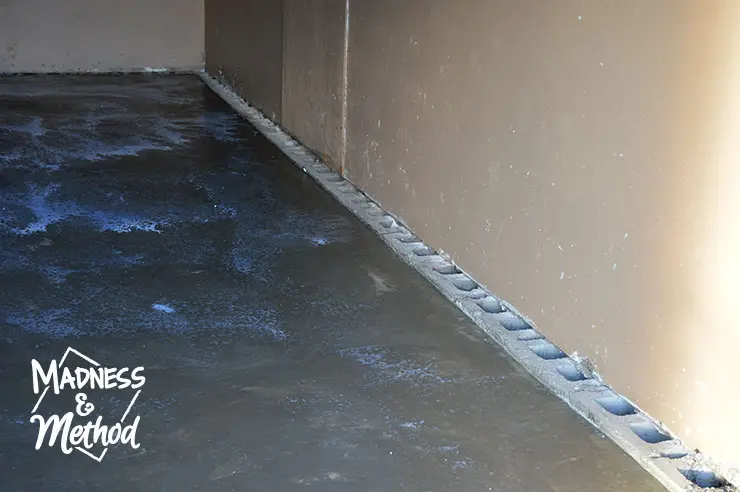 I had managed to get a second coat of paint on the walls on Friday evening (before we left for our friends' cottage).  I was hoping to do the edge around the ceiling when we got back Sunday night, but was too tired by then.  The Husband said I could do it on Halloween night (we're not at home a lot apparently!) but then we didn't want to walk on the floors because the sealer was still drying.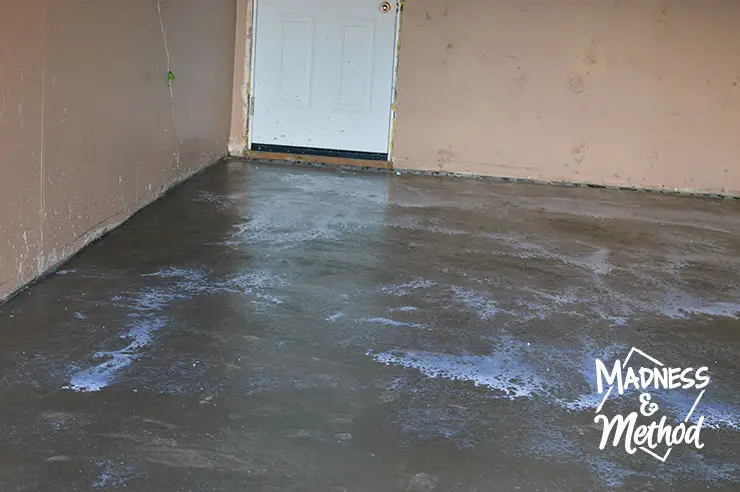 Turns out, there's a lot of concrete splatter along the bottom half of the walls that will need to be covered.  I literally had to rescue my paint-covered roller from the garbage bin this morning so I could re-use it for that…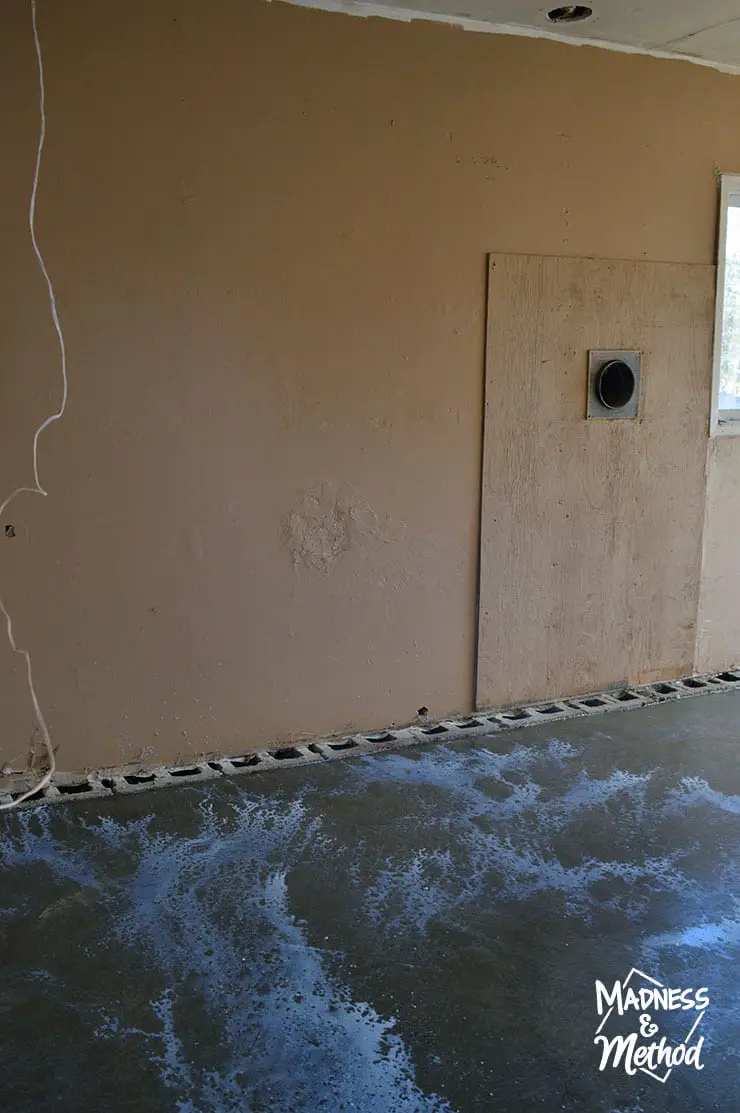 In one of my concrete nightmares, I dreamed that they painted weird patterns on top of our new concrete floors, including huge jellyfish.  It's funny that the drying sealer kind of reminds me of water and waves (ah my nightmare coming true!).
Here are the things we accomplished, along with a couple of added items!  (The full list was included in week 3!)
Updated to-do list:
Concrete floors resurfaced
Patch walls (and ceiling!?!?!?) -> no time for the ceiling, taking this off the list!
Paint ceiling
Edge around ceiling
Second coat of paint

Added: touch-up at base of walls to cover concrete mess

Install new pegboard
Install casing around door
Install new shelving unit
Purchase + install new heater
Build + install overhead wood storage
Figure out (and install) tool storage hooks
Organize all our stuff
You guys, our house is SO messy right now, and I can hardly stand it.  We had to push a bunch of junk over last night just to hide it from the trick-or-treaters, ha!

I'm hoping that we can get the pegboard installed first (I can paint the ceiling and near the ground after) because it's taking up a lot of space!
Oh and did I mention that it has gotten cold around here?  I went to tape up an old phone jack in the garage so that it didn't get stuck in the concrete, and my painter's tape would hardly adhere to the wall!  I'm thinking of painting the ceiling and doing some sort of small random pattern on the walls, but it will be kind of hard to do that if I can't use tape.
So I've told the Husband that it would be nice to have the heater installed as soon as possible, and he's literally now just started to look into options…
Oh and there was snow on the ground this morning…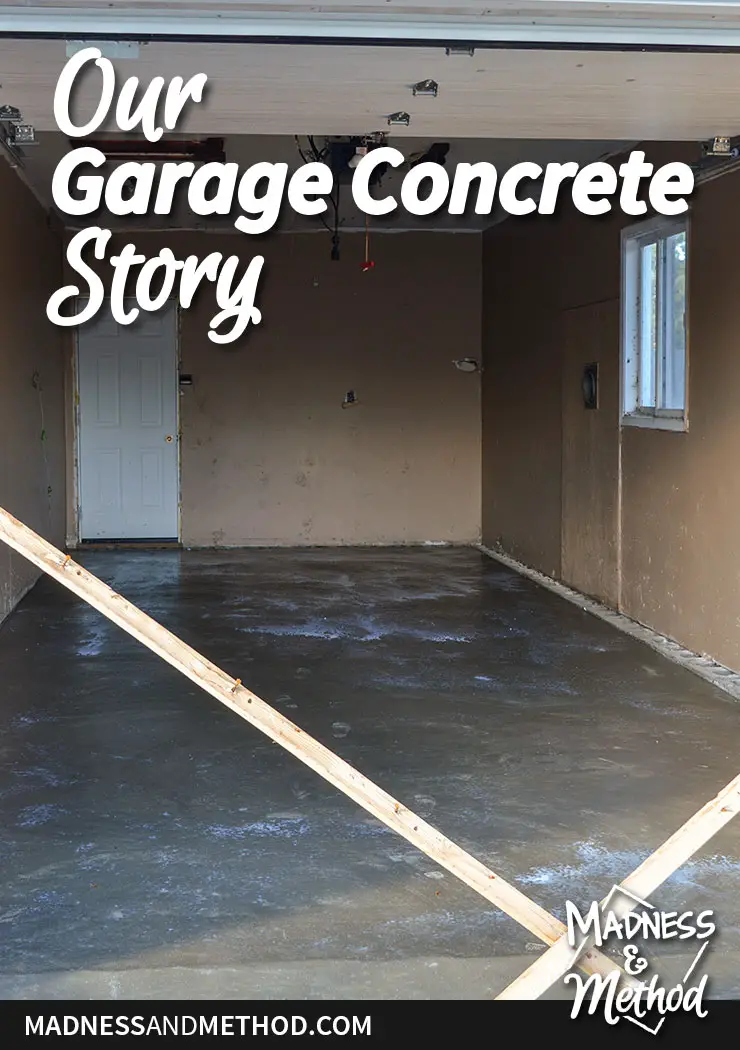 I still haven't officially told the Husband that we have one more week to complete this makeover, so I'm hoping I can push him to help me finish it all this weekend.  (And by officially, I mean that if he read my blog like I told him to, he would obviously know!).  Although he already has plans to go fishing… so let's cross our fingers than I can force him to help with all the stuff I can't do on my own (aka hanging that pegboard!).
So that's the story of our garage concrete, and I'm hoping my fellow One Room Challenge linking bloggers have accomplished way more this week. I'm off to read about the featured group's progress :)