Do you know anyone who has recently purchased a house or apartment?  Maybe a student moving away from their family for the first time?!  Whether you're a seasoned homeowner or a newbie renter, I've compiled a list of gifts for first-time homeowners that can apply to a variety of situations.  Think of it as a list of supplies you may need in an emergency – and might not have thought about getting ahead of time!
– Note: This post contains affiliate links. See more information about affiliates here.–
Last year I wrote about things to do before you move into a house, and this is sort of like a follow-up, so send it to your friends and family!  I linked to some products on Amazon that you can buy (I get a commission, so thanks!), but pretty much everything on this list can be purchased locally (or even donated!).
In no particular order (and with a couple of "fun" things sprinkled in), here are some gift ideas for first-time homeowners:
Linens: Think hand towels, dishtowels, shower curtain, bath mat.  You know how annoying it is to take a shower in your new home, only to realize you don't have a curtain or a bath mat?  Hit up a local Ikea or bath store for this stuff!  It's also a great way to easily add some colour/décor to your new place.
Food / Fruit basket / Casseroles: Know anyone who recently moved into a house and looking to help them out?  Sending a gift of food is an excellent idea because they'll be really thankful if they've been busy cleaning and painting.  Bonus points if you send meal(s) for a later time (just make sure they have room in their freezer!).
Wine bottle opener / Can opener: Oh the bottle of champagne you open to "christen" your new home.  What if you want some wine and don't have an opener, or it's a week after moving in and you've run out of family leftovers and need to resort to canned food?
BBQ Lighter: Whether they have a BBQ or not, a BBQ lighter comes in handy if you ever have to light candles (you know, for blackouts or romantic evenings).  Make sure to get a couple of candles too!  (Or, you can try an electric lighter)
Flashlight: Again, if there's ever a black-out (or they're testing the electrical panel and need to see), a flashlight should be found in everyone's home.
Power Strip: I can't tell you home many times I've gone to move furniture and electronics, only to realize I don't have enough plugs to power my stuff.  This is always something I buy at the last minute, and an extra one would always be welcome.
Door mat: What a fun thing to own to signify you're a new homeowner (or you can put in in your apartment!).  There are so many cute designs/sayings out there (click the link I added – there are tons!), or you can even DIY your own doormat.
Even MORE Ideas
TP / Paper towels: Make sure to keep at least a couple of rolls of toilet paper and paper towels in an easily accessible spot.  It's never fun to run out!
First Aid Kit: You can get pretty intense first aid kits, but the thing we seem to use the most are band-aids (which we refill maybe once a year) and a thermometer.
Coffee Pouring Cup: This will definitely depend on the homeowner, but you want to make sure you have coffee readily available in the mornings.  When we first moved into our home, neither the Husband nor I drank coffee (I still don't) so it wasn't something we ever thought about.  You know who does drink coffee?  Literally everyone.  So if you have friends or family staying over, you'll want to make sure to have something for them.  My parent's actually bought us a pour-over coffee thing, and you just need some coffee grinds, filters, and hot water and you've got yourself a happy guest.  (They usually brought their own coffee grinds from home…)
Fire Extinguisher:  I think we have two of these, and although I've never had to use one (thank goodness!) I always feel more assured when I know it's available.  There are many sizes/options available, so just make sure you get one that will cover the basic house fire situations, and that isn't too big to use.  (And don't forget that they do expire after a while).
Fire / CO2 Detectors: You need to have at least one of these installed on each floor.  A lot of times the previous homeowners will leave some, just make sure to test them out.
Batteries: An assortment of the common sizes (like AA + AAA) is good.  Obviously, if you have some electronics that you know takes a special size, have extras of those too.
Multi-Bit Screwdriver:  A lot of new homeowners might think… I'm never going to use a screwdriver!  Oh how wrong you are :)  If you get a multi-bit screwdriver, you can easily fit it in a drawer, and you will probably use it at least once in the first few months you move in.  This is definitely the first tool anyone should own, so it should be on everyone's list!
Plunger:  The best for last, ha!  A plunger is another "emergency" thing that you don't realize you need… until you really need it! This one I linked to is an accordion-style, so definitely the easiest to use for a first-timer. This one also comes with a toilet brush, so double-win :)
Other Gifts for First Time Homeowners…
If, like me, a new homeowner wants to paint their home, you can offer your time and services to help them get setup (or even help them move-in, clean, etc.).  They may need some cleaning supplies, so double-check and bring a few options when you visit.
Another thing I use almost every day?  A measuring tape!  While I do probably use one more than the average person, it's always a handy thing to have (especially if you want to make sure your furniture fits in your new place!).
People moving away from their parents, or living on their own for the first time may need to amass a large amount of home stuff (and probably don't have a lot of cash to buy new).  Think about donating your used dishes, unwanted furniture, or some home décor items.  Just remember to figure out if they need that stuff first, before bringing it to them!
Other not so fun things you may need?  How about some furnace filters or a fly-swatter.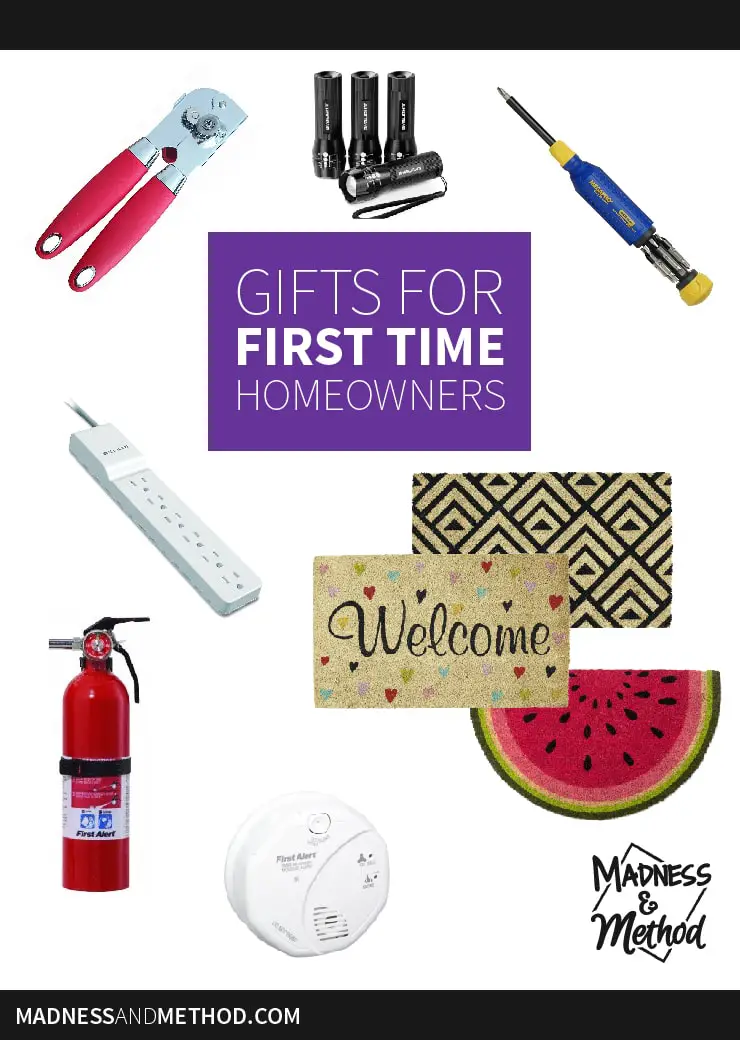 I hope this lift of gifts for first-time homeowners comes in handy, whether you're a first-time homeowner or not!  Since it's back to school time right now, a lot of these will apply to students on their own as well :) And don't forget to read my tips on things to do before you move into your first home.
Can you think of anything else to add?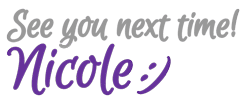 Shop This Post