I hope you guys enjoyed the living room's Holiday Home Tour last week, and are all caught up in what will be happening the rest of this month.  This week I'll be going over some simple party prep and 5 of my tips for hosting a holiday party (or a party any time of the year really!).  I'm nowhere near being a party-planning pro, but let's pretend :)
So we hosted our party the last weekend in November, the same day I put up my Christmas décor actually.  We invited a bunch of friends over for a holiday turkey dinner and everyone brought a (pre-planned) dish to share.
Party Tip 1: Have guests bring food
This really helped us because we had a lot less to cook, and it's more cost-effective if you're looking to save some money.  AND people are guaranteed to like at least the thing they brought… so there's assurance against any picky eaters haha!
We have a finished basement (that I have not yet shown on the blog, so feel free to enjoy the picture above in the meantime) and there's a brick fireplace with a little nook/hole.  I think the idea is to put wood there for the fire… but … it's a gas fireplace… so there's really just an empty hole.  I put our mini-fridge there, but after realizing that we never used the mini-fridge, I just un-plugged it, but kept it in the hole.
ANYWAYS – I wanted to create a drink station upstairs, so I had the Husband lug the little fridge up.
He is soooo strong.
Haha, and loves outlandish compliments.
BUT YES, back to the simple party prep!
I cleared off the stuff from the top of our Ikea cabinet (but really just shoved them in the baskets below).  Read the living room post to see how it looks normally.
I rolled on some kraft paper (that I use as wrapping paper) and taped the sides down.
Party Tip 2: Create a designated drink zone
Are you okay with people going in and out of your fridge?  Do you have space for anything they may bring?  Setup a drink zone to mitigate these problems!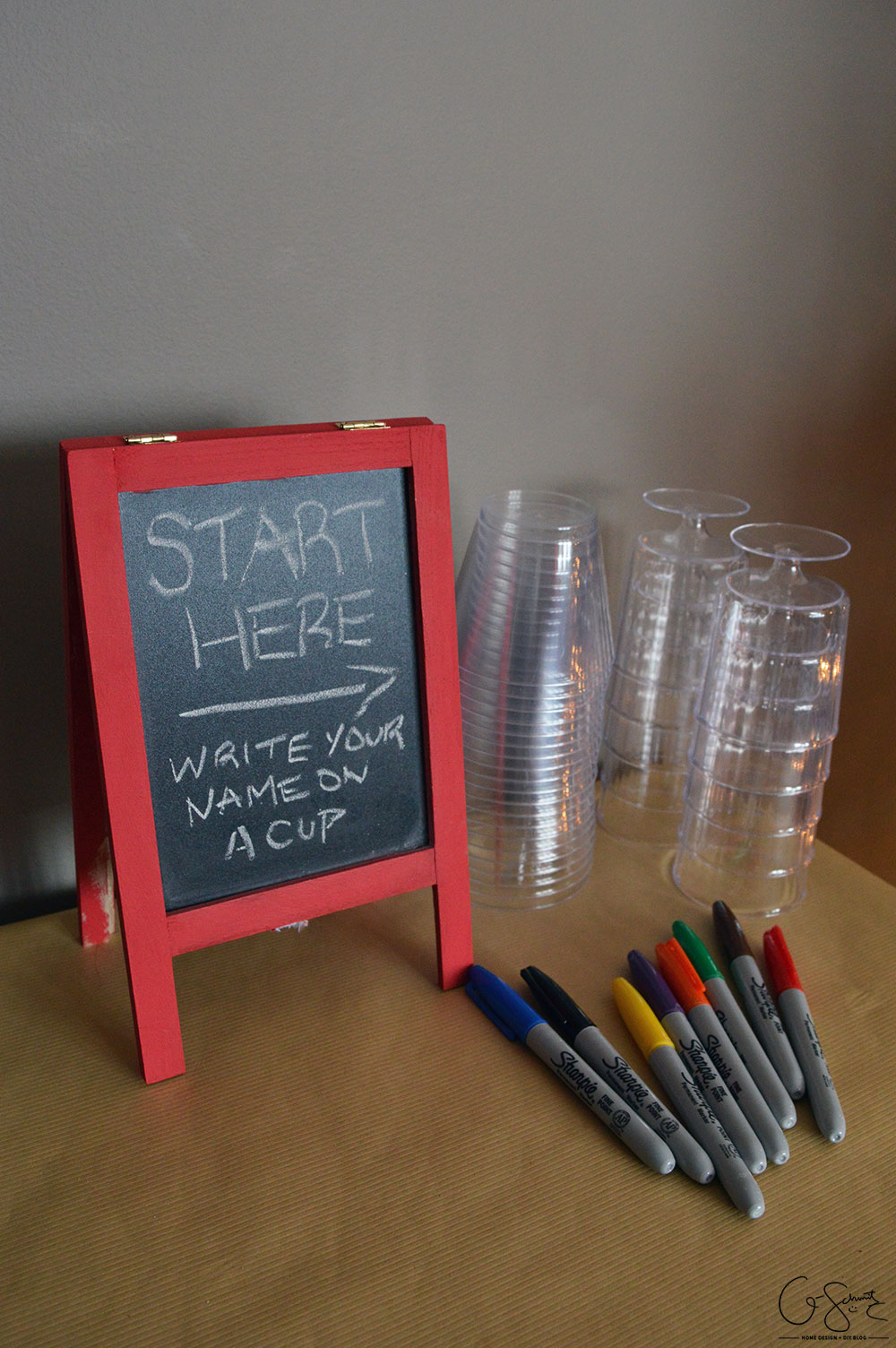 I had a cute little chalkboard/whiteboard sign that I got from Haven, and I painted the wood part red to match our living room.  I didn't buy too many accessories for the party, but did pick up some clear plastic glasses from the dollar store.  By leaving a bunch of markers out, people could write their names on their cups so they wouldn't get mixed up.
You could always use real glasses and those little wine charms, but for some reason people always misplace their drinks throughout the night, and we don't have that many cups!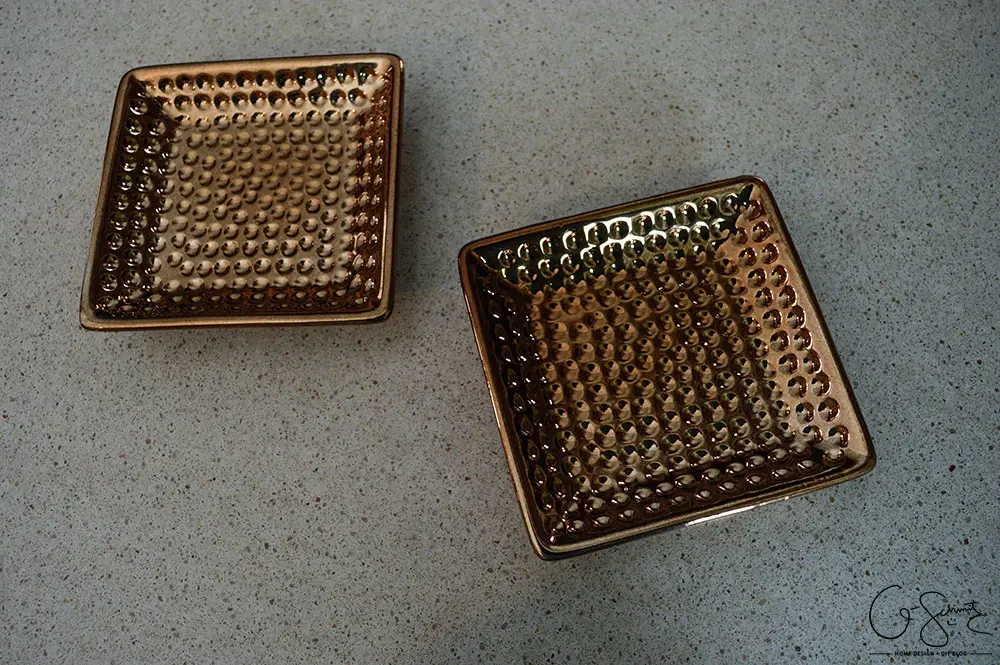 Wait, I lied.  I also bought they little copper trays from the dollar store as well.  I think I am fully obsessed with the copper trend now, and couldn't turn them down.  I had no idea what I was going to use them for (they're supposed to be candle holders) but they were cheap.
Party Timeline:
Friday: Made homemade buns
Saturday AM: Decorated the living room
1:30pm: Defrosted lasagna in the oven, put drinks in the freezer, butter out
2:30pm: Turkey in the oven, lasagna in the fridge, drinks in the fridge
4:00pm: Nap :)
5:00pm: Flipped turkey
6:00pm: Turkey out, lasagna back in, all other food warming up
6:35 ish: Eating time!
Okay, I figured I had to tell you my timeline to explain why the drinks were the in the freezer.  Basically, I didn't want warm drinks but the turkey was taking up all the fridge space, so I had a bunch of shuffling to do.
If you're planning a party, you may not necessary serve turkey, so you won't have that problem.  But you will want drinks, and you will probably want them cold :)
Our mini-fridge was setup at one end of the cabinet, and the cups were at the other end.  I tried to keep the fridge empty so that people coming in would have a cold spot to leave their drinks.  If you don't have fridge space, you could substitute a cooler with ice, or even leave the drinks outside (you know, if you live somewhere cold and are planning a party during the winter months!).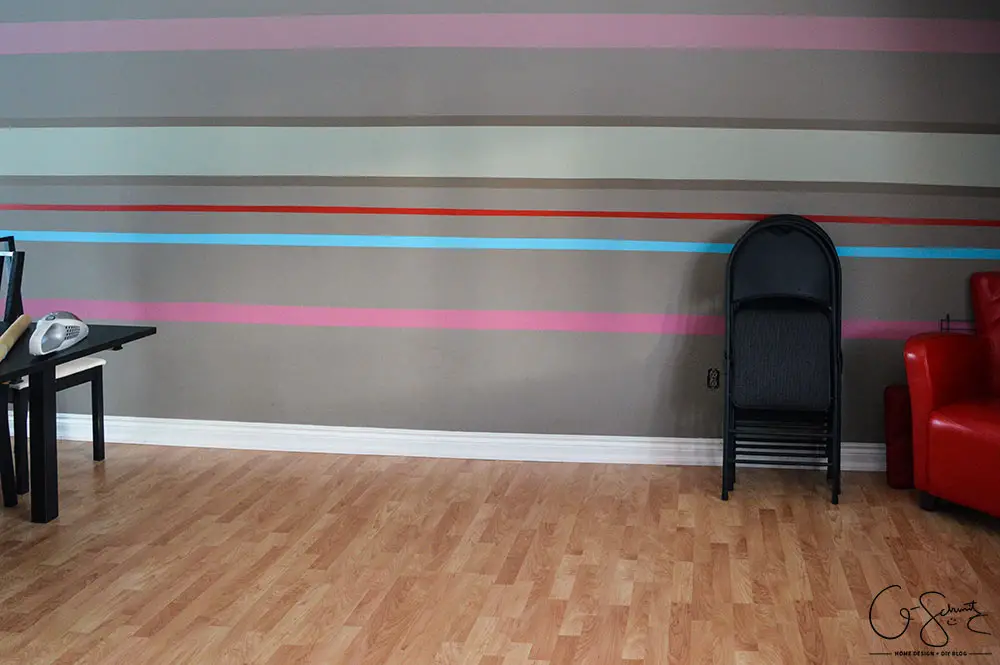 We were going to be seating 16+ people, so our normal dining room table wouldn't suffice.  To make room, I had the Husband move the couch downstairs I helped the Husband move the couch downstairs.  I was putting up the decorations on the tree and turned around to see him with the couch literally on his back about to take a step.  OH NO YOU DUMMY! (and I forced him to let me help).
Party Tip 3: Have enough seating for your guests
Hence the movement of the couch, so we could add proper chairs around an additional table (all borrowed from family, thanks!) AND we also added more seating downstairs.
Now, I'm a pretty simple person, so having a non-decorated table is something I'm used to.  I did setup some disposable tablecloths and did a real fancy runner using my trusty kraft paper roll.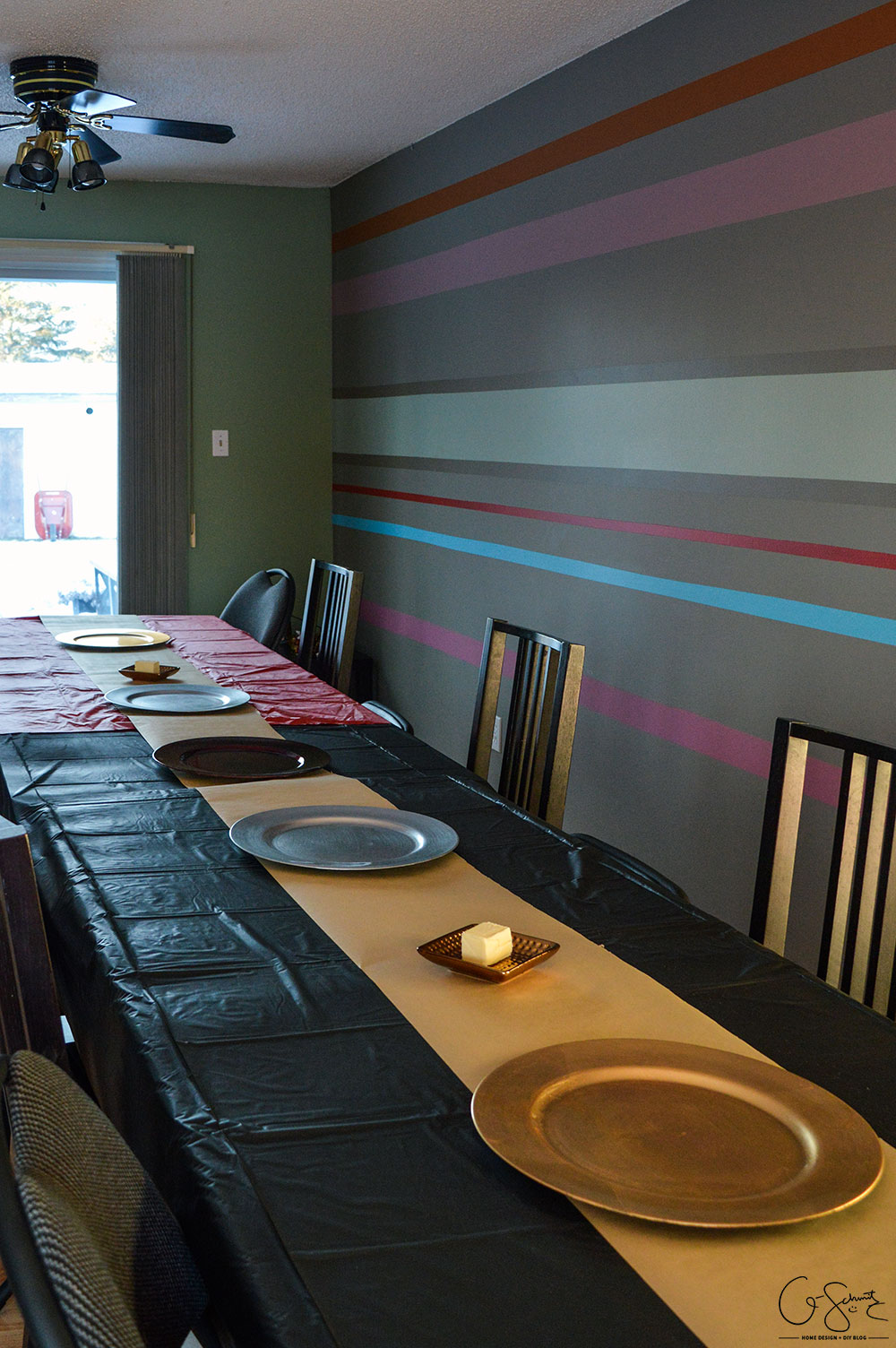 Some decorative chargers helped jazz up the space, but were actually there to mark out the places for me to put the food on later.  Oh, and I used the little copper trays as my butter dishes :)
I took the drinks out of the fridge around the time when the first guests started showing up.  Some cut up garnishes, ice cubes, and all the accessories for Caesars were included.  For those who don't know, for Caesars you need:
Print Recipe
Ingredients
Clamato juice

Vodka

Celery salt rim

Tabasco/hot sauce

Worcestershire sauce

Celery garnish

Pickle juice (super-secret Husband ingredient)
Instructions
1
Line the edge of a tall glass with celery salt
3
Sprinkle a bit of hot sauce and Worcestershire sauce
4
Optional: pour less than a shot of pickle juice
5
Fill glass with clamato juice
6
Garnish with a piece of celery
The Husband loves Caesars, but out of those ingredients I only like Worcestershire sauce and celery… so I clearly forgot to check if we had vodka.  We did not :(
But hey, we had some really good virgin Caesars ingredients!
Other drinks I got included Pepsi, Coke, Sprite, Ginger Ale, margarita mix, orange juice, cranberry juice, Fanta and water.  I also got some diet varieties.
Can I mention now that I don't drink pop, and have no idea how picky people are with their beverage choices?  Anyways, I probably got waayyyyy too much – but at least we didn't run out!
Party Tip 4: Have guests help out
I had read/heard this somewhere a long time ago – to never be 100% ready or it will be awkward with the first guests who arrive (you need to warm them up and put them at ease I guess).  But I mean, any excuse to not have things done is good right?  For this reason, I left all the cutting up of veggies, cheese, meats to the last minute, and let people help out.
So yes, this tray is gorgeous, but I cannot take any credit (other than providing the food and eating some – but that doesn't count!).
Party Tip 5: Provide snacks
I may forget this one (especially if the Husband springs the whole "people are coming over" thing on me), but having snacks is THE BEST IDEA.  People love eating, and it's good to have snacks if people are waiting for a meal to cook (as in our case) or even just because!  If you're having a more relaxed party and/or not serving a meal, than you can combine tip 1+5 and have people bring snacks.
So I hope you've enjoyed my simple party prep ideas and can use some (or all) of them in the future!  If nothing else, at least you found out how to make a Caesar and that I don't drink pop (or Caesars!).  Have you hosted any parties lately or are you planning on having some people over for the holidays?  I'd love to find out what other tips you might have – leave them in the comments!