Today I'm sharing a BUNCH of things that I love and I'm going to talk about how they would work in my future dream house… but also our current house.  So, if you're just starting to collect home items (maybe it's your first house as a couple or you're moving away from your parents) I have some great home basics from Wayfair.ca that you'll love and be able to incorporate with many different colour schemes and design styles!
– Note: This post contains affiliate links. See more information about affiliates here. –
Last week I introduced you to a few different blogs I follow, as I've been trying to define my décor style more lately.   I want to decorate my home with a cohesive vision in mind, and some of the things I've bought (or inherited!) in the past, while functional, don't really fit with what I like and enjoy.  I think that I'll slowly be incorporating more "me" into my décor, so you might see some new additions in the near future.
As a Wayfair Homemaker, I was asked to feature some of my picks for items on Wayfair.ca, and I knew that it would be a great way to continue the trend from last week, and talk about my style (while highlighting the things I like).
Shopping in the states?  Scroll to the purple box at the bottom to see some items linked on Wayfair.com!  
And of course, ever the practical person that I am, I knew I wanted to some list things that weren't "just" pretty, but functional as well :)
(Scroll down to find out more information on why I chose each item!)
 

Caso Platino 400 Thread Count 100% Cotton Sheet Set
Everyone needs a good set of cotton sheets! I like that these come in a few colours, and work for extra deep mattresses.

 

Supreme Bath Sheet
Once you go bath sheets you never go back! The extra-large size is so much more convenient, and white matches all décor.

 

Orlando Upholstered Panel Headboard
I've always wanted a padded headboard – and this one is nice and straight across!

 

Elegancia Diamond Weave Cotton Throw Blanket
I have these in the black and white pattern. I love that you get two throws which makes layering easier!

 

33 Quart Buckle Up Square Box
Everyone needs storage bins and having 6 clear ones that match is so handy! I use under-the-bed storage bins all the time.

 

Ruthwell Canopy Striped Upholstered Storage Bedroom Bench
Such a fun, bold ottoman that could easily be placed in any room! And STORAGE!

 

Geometric Pouf OttomanPouf ottomans are very on-trend right now, and the bold graphic is super fun (and can probably hide a little stain or two).

 

Nova Square Beaded 19 Piece Dinnerware Set
A plain set of dishes can be accessorized with different table accents and can work in fancy or casual settings.

 

Cameron Side Chair
These chairs are super versatile and can be used in the dining room or an office. I really like the all black version and that they come in a set of two!

 

Jane Bi-Sectional with Ottoman
What a great looking, modern sectional and I love all the different fabric and colour options! I think "sterling gravel" is my favourite.

 

Chi 25.75″ Bar Stool
What's not to love about these stools!? They come in either black or white with bold, gold legs and a built-in foot rest!.

 

The Candlestick Phone
I've ALWAYS wanted an antique phone with a separate ear and mouth piece, and this one is gorgeous and functional!

 

Laundry Basket
This is definitely a laundry basket that you won't be embarrassed to leave out! You could use it as décor too, and have a place to hold spare blankets, pillows, etc.

 

Rattan Storage Stool with Cotton Liner
This storage basket could double as a side table and I really like the natural look and interesting shape. I can't pick which colour I like more!
Great Home Basics
At one point, we had 4 sets of sheets for our bed (one was not even opened yet) and spoiler alert: no one needs that many sheets!  We only use two sets, but my favourite ones are 100% cotton, so I definitely use those more!  Every set of sheets I'm going to get from now on is going to be 100% cotton.
We got bath sheets as a housewarming gift, and I'm never going back to regular sized bath towels again (they're extra-large).  The only reason I haven't gotten rid of our regular-sized towels is because the Husband has a habit of hoarding towels in his (stinky) gym bag and I don't really want him to use my nice big bath sheets :)
For years I've wanted a white padded headboard, and I know that we will have one in our future house!  Currently our bed is in front of the window… so no headboard for now…
I'm pretty sure I got these for Christmas and they match our upstairs living room perfectly!  I think I might keep the dark one in the guest room so that Tootsie doesn't get her hair all over it :)
I talk about my love for under the bed storage bins ALL the time.  These come in a pack of six, and are a bit smaller than the normal long ones – but they certainly are handy.
Storage. Stripes.  What more do I need in my life?  Wayfair had a feature on their website with black and white striped décor, and I'm pretty sure I saved all the things!
Also from the Wayfair black and white showcase, this pouf ottoman would certainly fit in our upstairs living room!  I haven't given a pouf a real try, but I assume they're a happy medium between the casual sitting of a beanbag chair, with the design and style of an ottoman.
You guys, I almost hesitated to put this on my list of picks.  Not because I wasn't sure if it fit, but because I LOVE this set of dinnerware so much (and I don't want everyone to buy all the ones in stock!).  It's probably my favourite thing on this list because I've always wanted square white plates and bowls.  I've also realized that we've never used the mugs that match our dinnerware, so I thought I would have to buy each of the items individually (sets normally include the mugs).  I almost cried when I saw these and I'm pretty sure the Husband is tired of me mentioning them.  I will be buying these, not sure when, but they will be mine!  Now all I have to do is decide if I want all white, or half white and half black…
This style of chair is supppperrrr popular, but I like these all black ones – it's just something extra fancy!  I would definitely use them as dining chairs, but they would also work really well as an office chair.  I'm kind of rethinking my rolly office chair since the mister likes to crawl near my feet… and I will for sure be upgrading from the dining room chairs we have now (white upholstery does not go well with feeding babies!).
I'm planning on having this sofa in our future house as I've always wanted an L-shaped medium gray sofa.  This one is perfect!  The dark couches we have upstairs show wayyyy too much Tootsie hair, I'm thinking the "Sterling Gravel" colour might match a lot of décor, and hide a lot of hair :)  I could totally put this downstairs or upstairs… so whichever couches go caput first will be replaced with this one!
You know when you just see something and you're like yup – that's what I want!  I could literally design my future kitchen based off these, and I really like the built in foot rest.  I also realllllyyy like these acrylic and rose gold ones, but they're out of stock.
I've always wanted an old phone with a separate mouth and earpiece, so I was pleasantly surprised when I found a few on Wayfair.ca.  I feel like since we're "one of the weirdos" who still uses a home phone, might as well be cheeky about it!
This laundry basket is super cute, and it comes in two colours!  I would totally use it in our basement as a place to hold our pillows and blankets, and it has a lot of good reviews too.
Another gorgeous natural looking basket, this one could double as a side table and comes in two colours.  Another contender for the basement… but then again I could get both colours and put one upstairs…
Shop Items at Wayfair.com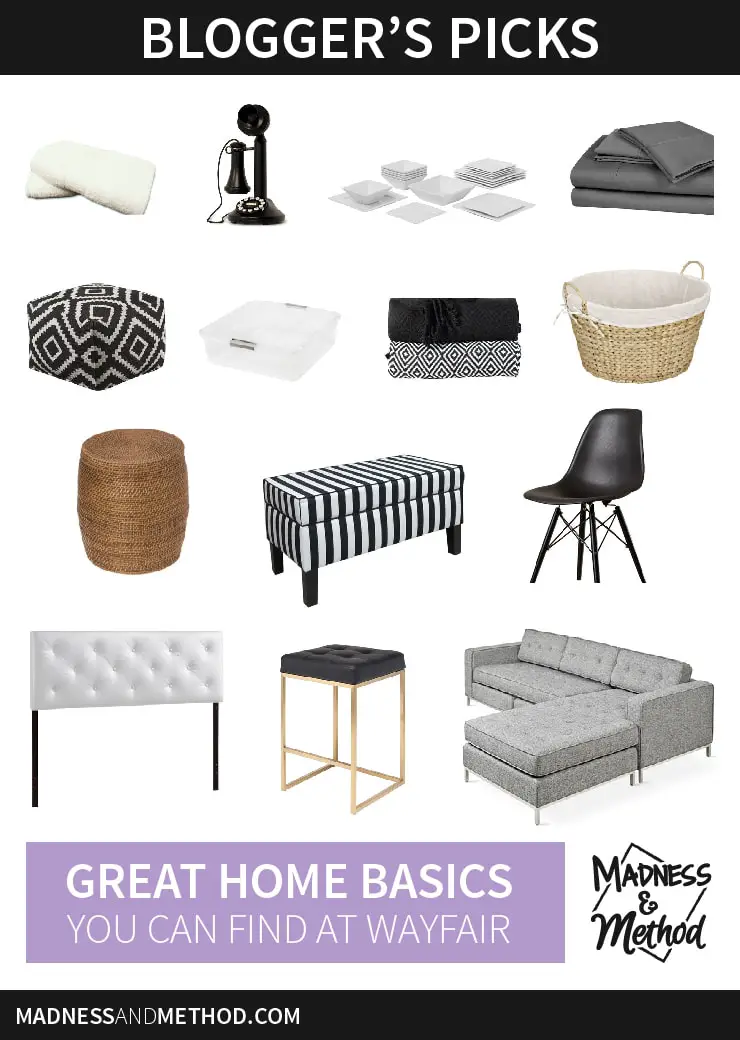 So what do you think of my picks?  Do you have some of these great home basics at your house?  If not, which items could you bring in and match with your style?
I always talk about our "future house" and all the great things we're going to have, but I want those nice things now (and not in 5+ years when we actually build our house!).  So, as I mentioned before, you might see some of these new additions in the future!
Surround yourself with things you love :)