We are nearing the end of our basement renovation, and I can't help but notice that we only have one room left to update in our house.  The laundry room has been sitting ignored for far too long, and, although we don't have any plans to update it this year, I have come up with a great laundry room moodboard that will be a good starting point for this future project!
– Note: This post contains affiliate links. See more information about affiliates here. –
When The Home Depot Canada reached out about sharing some new mosaic tiles, I was like YESSSSS!  You guys know how much I love tiles and I could probably talk about tiles all the time!  Actually, I may be a bit obsessed with tiles because that's always the one aisle I have to browse through at Home Depot whenever I am there (no matter if we have a renovation going on or not).  We were just on vacation, and the Husband even pointed out a tile store to me… so clearly my obsession is well known.  I'm happy to say that this post was created in collaboration with The Home Depot Canada and I'll be sharing a laundry room moodboard inspired by some new mosaic tiles and other Home Depot products!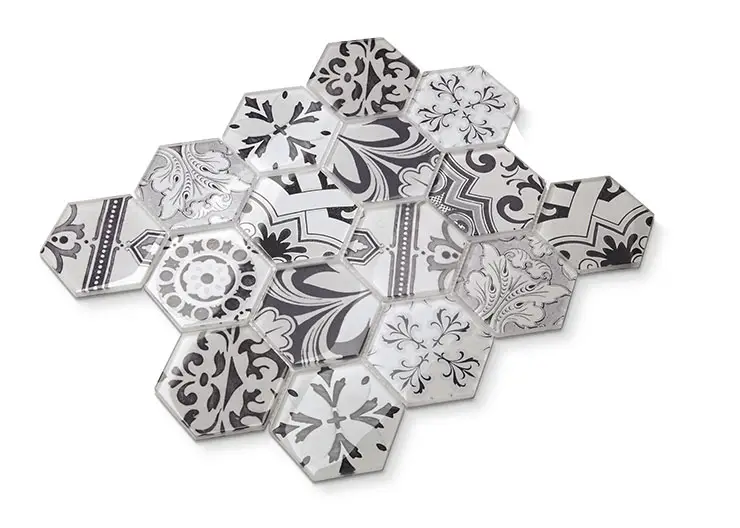 I chose to feature the Jeffrey Court Morris Block Mosaic tiles.  I really like the hexagonal pattern (simplest to cut and install!) and the black and white patterns are super easy to match with different colours and décor.  Each individual tile is about 3″ wide, so not too big and not too small.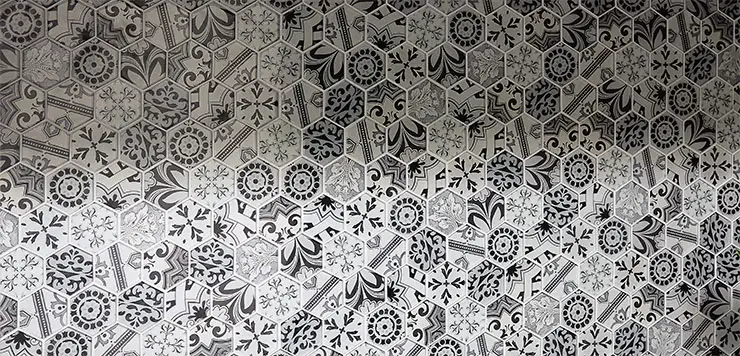 These random pattern graphic tiles are becoming more popular, and it definitely is a fun way to add some boldness to your décor.
I'm such a fan of black and white, and could easily see these in a variety of different kitchen styles.  In fact, they would work perfectly in our future kitchen – but since that is still WAY in the future, I knew that it would be more realistic to incorporate them into a laundry room moodboard.
Laundry Room Moodboard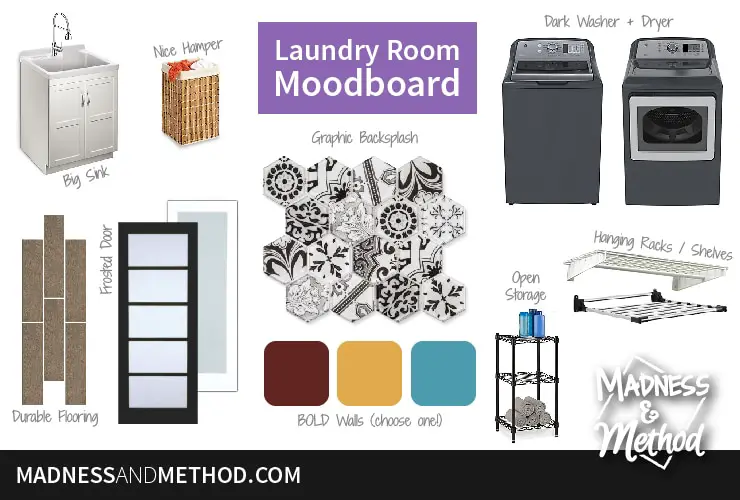 Laundry Sink: I like a big laundry tub – but I don't really like the "normal" open ones (like what we have).  We installed a similar laundry sink to this one at our last house, and I loved it!
Hamper: We don't have a permanent hamper in our laundry room, and it's kind of annoying to remember to bring an extra one down all the time.  I really like the look and shape of this bamboo option.
Washer/Dryer: How fun are these dark appliances?  I'm not really into front load washers, so like that they have an option for top-load in a great modern finish.
Floor Tiles: The Husband wanted to install wood-look tiles in our basement bathroom addition, but I didn't think the scale would be right for that small space.  I told him we could compromise and get wood-look tiles in the laundry room, and I'm also planning on installing them throughout our future house.
Frosted Door: I LOVE the idea of having a frosted door with a cool "laundry room" graphic, and it would totally match the frosted door we have for the bathroom.  The only problem with the door frame we have now is that it's a custom size, so I would not be able to get a standard door…
Storage Shelf: You definitely need lots of heavy-duty storage in a laundry room (to hold all the washing detergents and what not) and having them open is so much more convenient than opening a door or drawer all the time.
Hanging Racks: I use a regular drying rack each time I do laundry, but every now and then I need somewhere to dry shirts on a hanger.  These are wall mounted, and some options even let you fold them down when not in use.
Mosaic Tile Backsplash: Of course, the main focal point of the room would be the backsplash.  Depending on the size/style of your laundry room, you could go with a full wall install, or even stop it above the washer/dryer and paint the top portion of the walls.
Bold Wall Colour:  I shared a few options of some colours that would easily work with all the different elements; but because all the accessories are neutral, you can really go with almost anything.
Ready to see the mockup of what I came up with for our space?
I really like how the bold graphics of the mosaic tiles don't completely takeover the space, but still adds a lot of fun and visual interest to the laundry room.  As always, I like to keep my big furnishings on the white and black scale and bring in colour with paint.
You could always tile the entire wall, or stick with a neutral paint and bring in bold colours with accessories (or, you know, piles of dirty clothes ha!).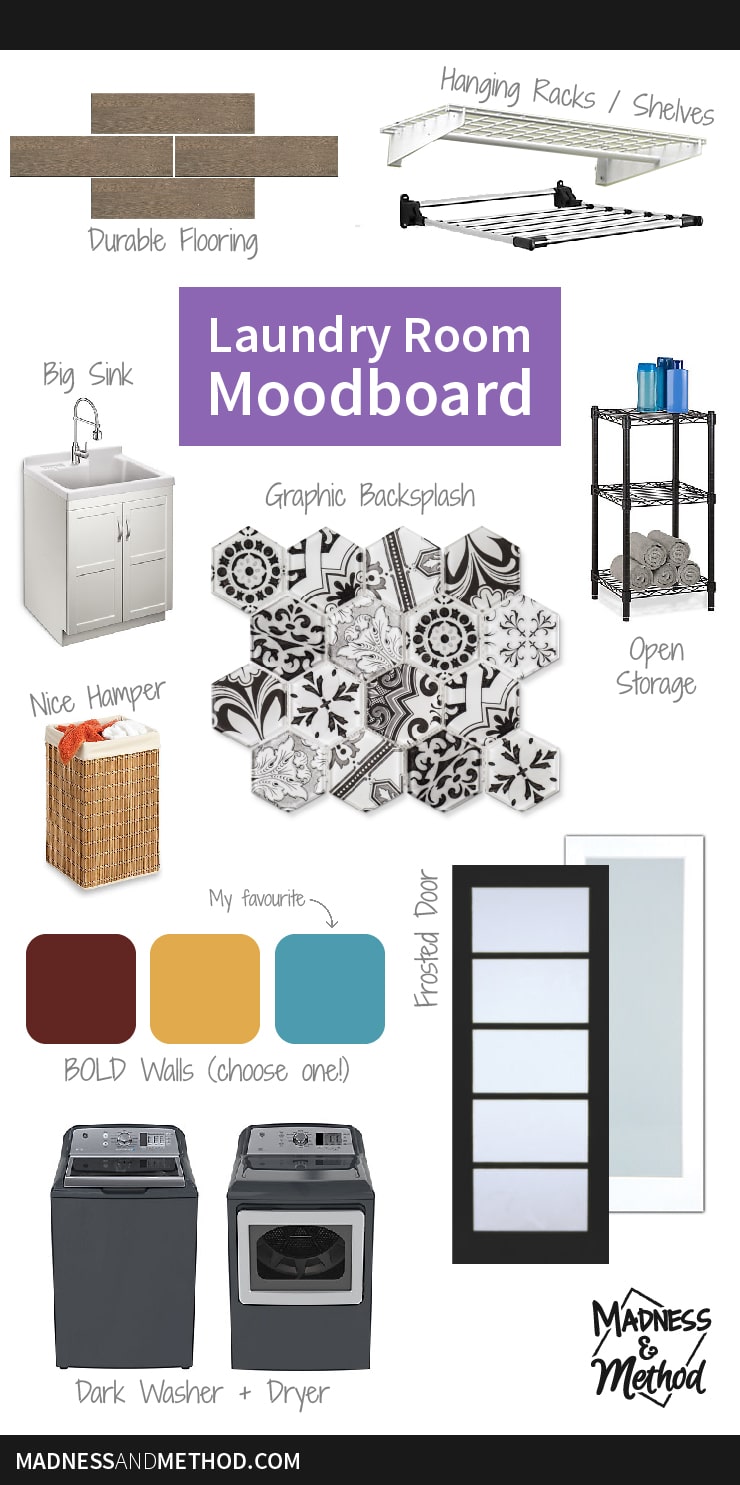 Is your laundry room dark, old and outdated like ours is and/or are you planning to do a refresh in the future?  No matter the size of your space, you can use some or all of the elements in my laundry room moodboard to create a great area, inspired by the new mosaic tiles from The Home Depot Canada.
And of course, you could always use the mosaic tiles in a kitchen or bathroom… and you know I'd love to talk about those options too haha!